direct to consumer
Christopher Gavigan — co-founder of the consumer goods empire Honest Company — is trying to bring order to the unregulated market of CBD.

Just weeks after the Honest Company's Wall Street debut, CEO and co-founder of Santa Monica-based Prima is charming investors of his own with a line of pricey hemp-infused serums and supplements.
The company announced a lofty $9.2 million seed-plus round on Friday led by Greycroft, H Ventures, Defy and Lerer Hippeau.
The startup prides itself in sending each formulation through clinical trials and tests with third-party regulators. CBD-infused supplements are currently unregulated by the Food and Drug Administration, leaving manufacturers and retail stores to set their own standards and regulations.
Gavigan is eager for an FDA stamp of approval, which he said will guide retailers currently left weeding through the saturated market of hemp-infused products.
He first launched the company in 2019 as an educational platform about hemp and cannabinoids, the compounds found in cannabis.
Five months later, the brand unveiled a line of dietary supplements, face creams and a "bath gem" that dissolves in hot water. Gavigan called the daily CBD supplement — priced at $45 per bottle of 30 softgels — "the essential nutrient for stress management for everyone."
"Stress, as we all know, is the epidemic of today," he said.
Each product contains CBD extracted from hemp grown on small farms in Oregon, the "Napa Valley of hemp right now," said Gavigan.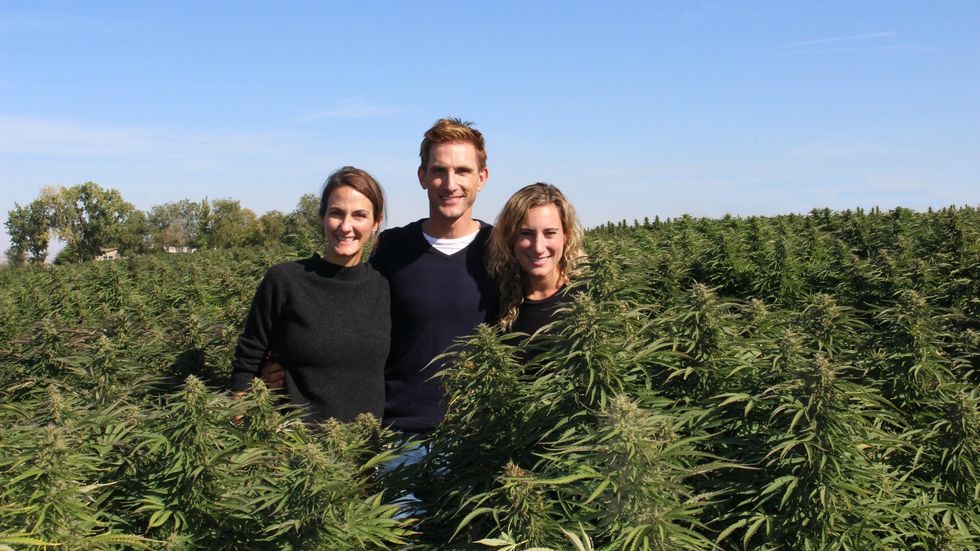 In 2020, he and his co-founders helped makeup retailer Sephora develop its own CBD standards to self-regulate new brands and products. That came after companies like Target started introducing "clean" product standards to mark diapers, detergent and cleaning products produced without ingredients dubbed toxic or unsafe.

It's the same approach to consumer goods Gavigan and Jessica Alba took for The Honest Company, which pledges sustainable goods free of 2,500 "questionable ingredients."
Before his stretch at The Honest Company, Gavigan served as CEO of Healthy Child Healthy World, a nonprofit advocating for safer, non-toxic consumer products for children.
"We have our own standards," the chief executive said of Prima. "We've banned over 2,800 ingredients we'll never use. Brands need to have that rigor within their own supply chain and formulation principles."
Prima sells direct-to-consumer and at a handful of retailers — Sephora, Nordstrom, Thrive Market and Erewhon — and will expand to new ones this summer. Prices are steep, but Gavigan said the company is planning to "amend pricing to make our products even more accessible."
More than 30 years ago, a young LL Cool J debuted the first single off his "Rock The Bells" album.
At the time, hip hop was still a new cultural force, and few young rappers were thinking about preserving its traditions. Now, many of those who helped build the global culture are gone – from the Wu Tang Clan's Ol' Dirty Bastard to Tribe Called Quest's Phife Dawg to, most recently, Shock G – and LL Cool J is trying to build a brand for classic hip hop, one that pays back some of its artists.
Named Rock The Bells after the song of the same name, the Los Angeles-based company sees itself as a content and commerce brand dedicated to the OG's of hip hop, some of whom have an ownership stake in the company.
Its website offers a curated mix of classic hip hop merchandise like Kangol bucket hats, Timberland boots and Gucci and Louis Vuitton accessories, as well as stories and video content. The brand also includes a SiriusXM Radio channel, which launched in 2018.
Former BET and Coca Cola executive James Cuthbert sits at its helm, helping LL Cool J steer the company.
The startup recently raised $8 million through a recent Series A funding round led by Raine Ventures. Cuthbert has big plans for that new cash infusion including a documentary series and live experiences, even a Rock The Bells music festival.
Cuthbert, 39, joined Rock The Bells in October, leaving his job as senior vice president of brand strategy and marketing at BET. He sat down with dot.LA to discuss his role, the new funding, Rock The Bells' mission and how it is uplifting classic hip hop artists for those who grew up with their music as well as those just discovering it.
One thing that LL Cool J has said is that Rock The Bells was intended to uplift classic hip hop artists, many who didn't make the money off their music that some feel they should have. Big Daddy Kane, Run DMC, Eric B, Salt-N-Pepa, Fab 5 Freddy, Risk, Crazy Legs, Roxanne Shanté and Jonathan Mannion all have ownership in the Rock The Bells brand. How does that change what you do and how you carry out your mission?
JC: If you think about it, we're the only brand that's literally owned and operated by a culture that they created. Hip hop evolved to be, literally, the biggest influence on global popular culture. We want to call ourselves the preeminent brand of classic and timeless hip hop and really build the bridges from today to tomorrow. By having these icons that own part of Rock The Bells, not only does that allow us to honor them, but more importantly that allows us to make sure that we shepherd this culture forward in the most authentic way.
Why is it important to honor the OGs of hip hop?
JC: They built what we stood upon. Cultures that survive and thrive and continue and push forward are the ones that continue to tell the stories and have the mythology that it sits under. When you lose your past you can be destined to become defined by what's happening now. When I think about honoring the past, there's an opportunity for us to really just carry the torch, but most importantly ensure that this culture continues to thrive.
It's no different than any other genre you think about, like films. If you only looked at the films that came out in the last three years and said, "hey man I want to make movies now." Or should you go back and say "hey I'm gonna go all the way back and look at what John Singleton or Hitchcock are like, and I want to look at some of these others"? This is a whole level of creativity. There's value in what's happened in the past and the creativity of what was done. And I think it's easy to see that in almost every other facet of our life and hip hop culture is no different.
You talked about honoring the past and then carrying the mission into tomorrow. What are some of the things you've learned that are important to what people are doing today?
JC: One of the things we've learned is this idea of building bridges. This is not just about honoring the past. This is about connecting the culture to the future. So we talk about this idea of sparking intergenerational conversations between fathers and sons, mothers and daughters, where they can speak about the elements of hip hop, what music they like and how that connects to today or even fashion, we think about different retro trends that allow people to connect. There are these natural cultural connections and bridges. Hip hop didn't start because a bunch of people said, "let's make some money and let's come up with a business model". It started to give a voice to the voiceless. It was born out of: "I have a voice, I have something to say and I want to share it with the world."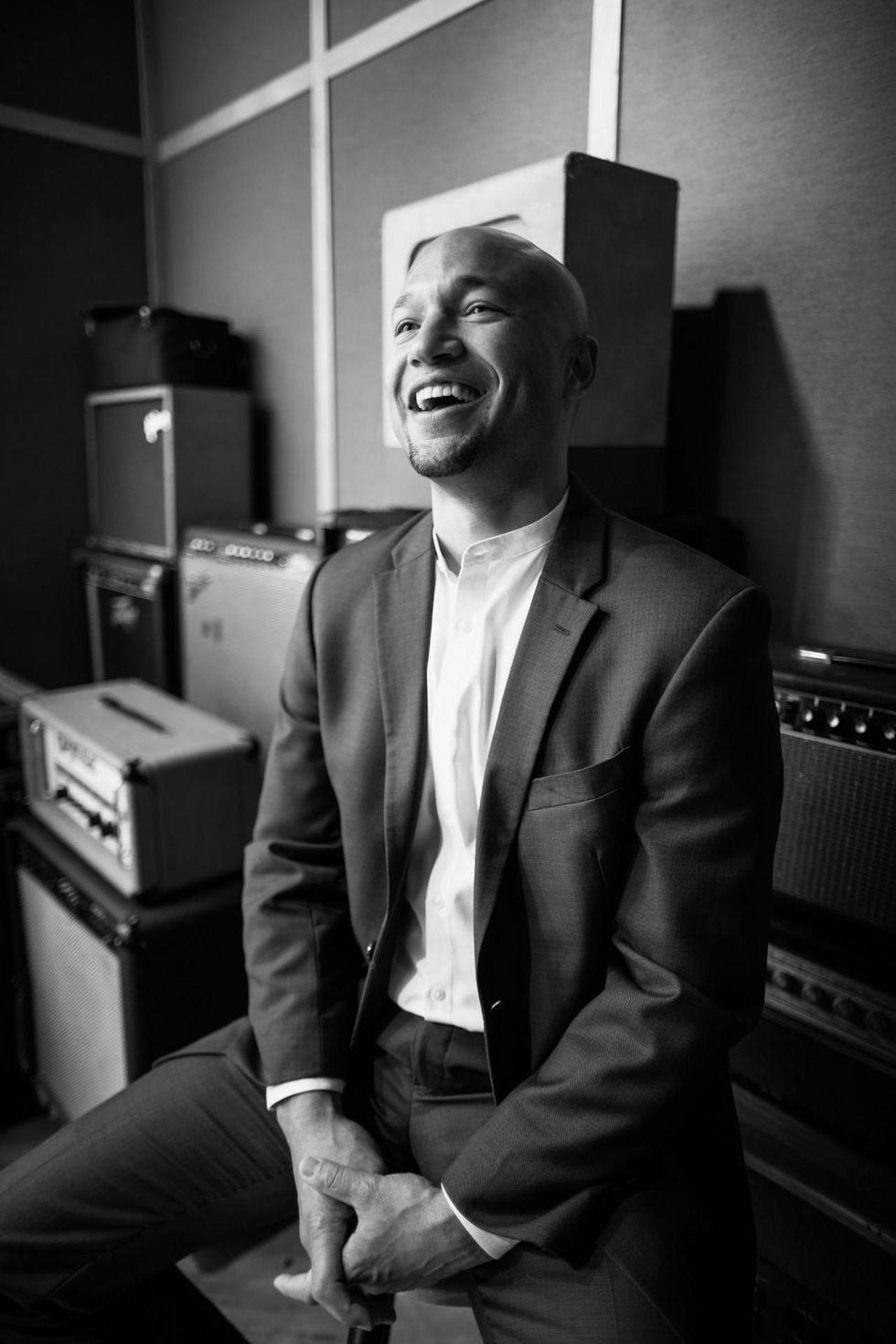 Rock the Bells President James Cuthbert
Image courtesy of Rock the Bells
What are you going to be doing with the new funding?
JC: A lot of what we'll be spending the money on is building out a world-class team that can work across all three pillars. The way that we think about marketing is content, commerce and experiences. The future of content is commerce, the future of commerce is content. Those two are integrated. When you do an experience, of course there's going to be a commerce element. And if you do an experience, you should be creating content, maybe a documentary around it.
How are you expanding your direct-to-consumer business?
JC: From a content perspective, you're going to start seeing custom content being created. You'll see episodic content that ties back to classic hip hop. We're going to see that start to roll out at the tail end of this month and early into May. You'll start to see long-form docuseries and content currently in development, some really cool, big ideas and some amazing talent that we're beginning to partner with to create that. When this culture is elevated, there's such amazing stories and given the care that it deserves, it wins in the marketplace.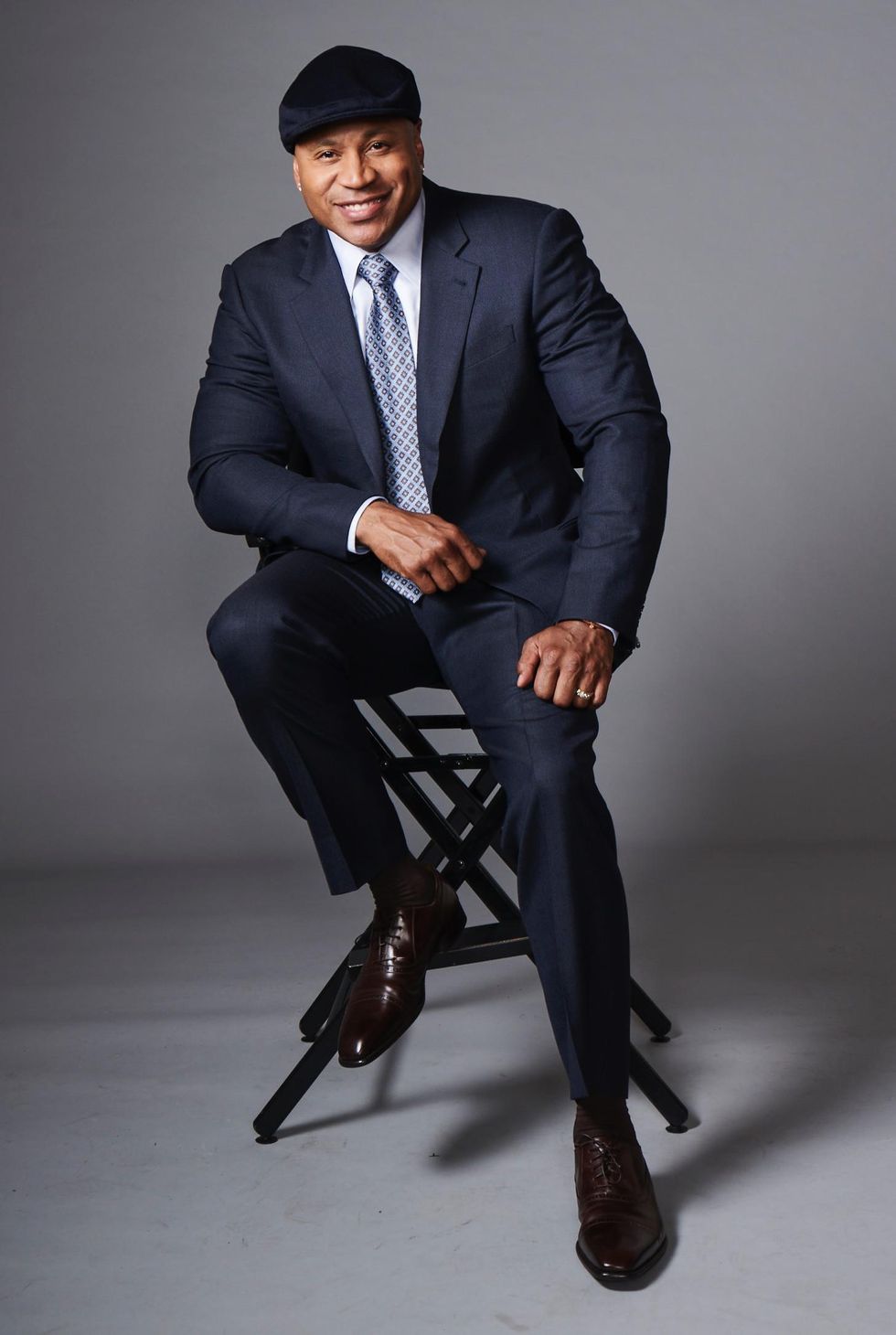 Hip hop icon and Rock the Bells CEO LL Cool J
Photo by Peter Yang
How does being in L.A. influence what you're doing?
JC: We're positioning ourselves to be global, but hip hop is also hyperlocal. There's amazing talent and a hip hop culture that lives in L.A. Obviously, there's some amazing things that happen on the film side in L.A. so being there especially when you think about content or long-form content, is kind of being on the tip of the spear of new technologies that allow us to really engage our audience.
Some of hip hop's most iconic rappers have been lost in recent years. Thinking about everyone from Phife Dawg to Ol Dirty Bastard and most recently the death of DMX. What is the impact on your audience?
JC: DMX had such a powerful story, ODB as well, but when you really dive in, these people highly impacted our lives. Their sincerity, their authenticity, their ability to overcome, their voice, their uniqueness. And as you listen to the music over and over again and watch the interviews, they impact your journey. When somebody passes away that lives within the lexicon of classic hip hop, oftentimes you don't realize the impact until they're gone. You're like," I have never met this person but feel like somebody punched me in the stomach," so how can we honor them and lift them up and make sure their stories continue to get elevated?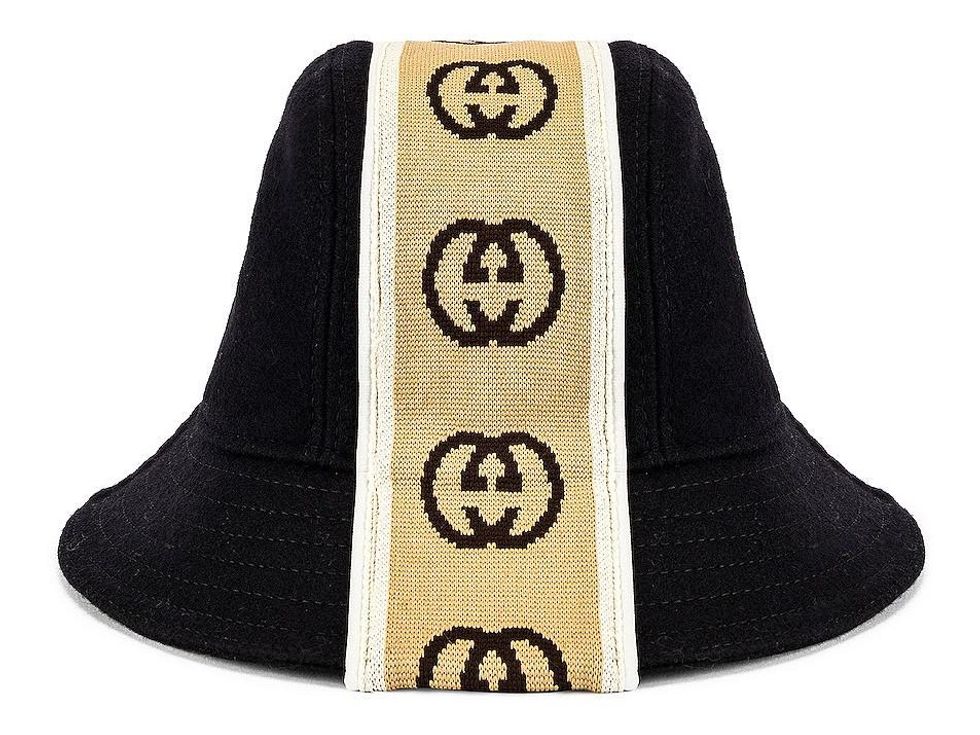 How has the death of George Floyd, Duante Wright and so many others along with the wave of protests and national conversations about racial injustice altered the way you look at your work?

JC: As a Black-owned company and a culture-first company, when I look at the employees, you're still coming into work, but you're dealing with so much weight. Racial injustice is something that's been a cancer on American society for a long time and when it percolates it kind of comes into the zeitgeist and you think about how that's vocalized in a very unapologetic way through hip hop.
It first affects the human beings that are working at Rock The Bells, but most importantly there's a responsibility for us to amplify those voices and make sure that we're pushing towards justice. What is some of the good work that needs to be done? What's our role in doing that good work for the community to make sure that that doesn't happen again?

Have you seen an influx of support as a Black-owned business? You're elevating Black brands?
JC: In some respects, we've seen some of that. LL Cool J put out a really impactful freestyle today that's still one of the highest performing pieces of content we put out because it was honest and it was true, talking about injustice. What I have seen is different companies and brands and potential partnerships where people are starting to unveil and not be afraid to say what's true, which is always good to hear. You're seeing some behavior changes and some actual sweat from some of these different partners in the community. For us, we kind of live it everyday. We're not necessarily looking for incremental support, but what we're looking for is positive change.
Rock The Bells launched during the pandemic. There's been a decline in global retail sales of licensed products because of the cancellation of live music events during the pandemic. How has this affected you?
JC: I would say we're a little bit early on as we start to license some of our products out. I'll say that we're actually doing pretty good. I think we're going to exceed our plan on our commerce business this year. There's a lot of new trends and things that are happening, live commerce is one of them, which has kind of exploded in places like Asia. How are you entertaining people? How do you also allow them incremental opportunities to buy? How is that commerce integrated in the content in a way that doesn't feel forced? People will continue to purchase if you're driving significant value and they believe in what your brand stands for.
What is the most profitable part of the company? What do you see growing?
JC: Some of the "experiences" stuff is fairly profitable. The business model for virtual events has been rejiggered, but there's an opportunity to share a really meaningful, impactful and engaging experience online. Rock The Bells merch has been incredibly profitable for us. We have rocked it with our SIRIUS XM channel. Rock The Bells [channel] has been working very well for us and it's really allowing us to speak out our brand proposition on radio and creating a meaningful, highly curated listening experience for fans of classic hip hop.
What's on the horizon for Rock The Bells? You already talked about the docu-series. Is there anything else we should be looking out for?
JC: In general, when you think about Rock The Bells, you should always see classic hip hop through a modern lens, which is classic hip hop elevated. What you'll continue to see is us taking this culture, and doing the best that we can do to elevate it. I'm going to do something that won't just appeal to the people that are kind of like raised with it, but the whole next generation is going to be able to enjoy these stories, enjoy the commerce items and the really cool merch and eventually come to some experiences that will be able to see it come to life.
From Your Site Articles
Related Articles Around the Web
FabFitFun wasn't always a purveyor of goodie-filled subscription boxes.

In 2010, Michael Broukhim and his brother Daniel Broukhim co-founded the West Hollywood-based startup with Katie Echevarria Rosen Kitchens, a longtime journalist, as a blog and newsletter, which served up editorial content on beauty, fashion, fitness, and wellness. But ad-supported newsletters at the time were a challenging proposition and transforming a pure media play into a profit-making machine remains a notoriously difficult endeavor. Those challenges spurred brother Michael to seek inspiration for a pivot elsewhere.
"We weren't super optimistic on the idea of an ad-supported newsletter achieving what we wanted to achieve and in terms of making a dent in this world," says Michael, who serves as co-CEO with Daniel. "Once we had our audience, we could start asking them questions, and we talked to them. We did see things in the subscription space we thought were really interesting."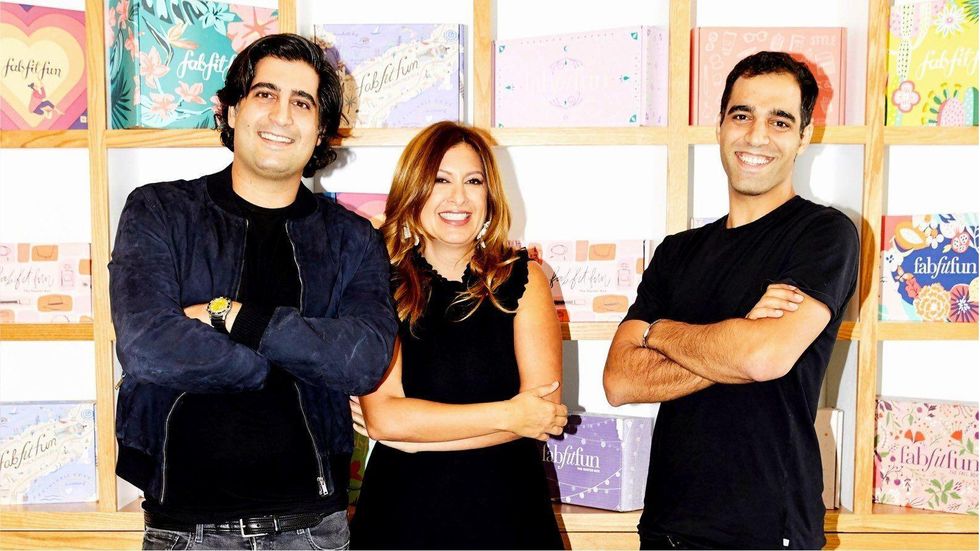 Brothers Daniel (left) and Michael Broukhim co-founded FabFitFun with journalist Katie Echevarria Rosen Kitchens.
Inspired by the swag bags doled out at the glitzy L.A. events he regularly attended, Broukhim saw a market opportunity. Swag bags often delighted people with unexpected items. What if FabFitFun offered subscription boxes brimming with a mix of items from different categories that offered the same element of satisfaction one felt in receiving and picked through a swag bag?

In March 2013, FabFitFun launched its first membership box — a run of 2,000 boxes that sold out in 24 hours. In the eight years since, that number has multiplied exponentially, with the startup now assembling nearly two million boxes a quarter for subscribers who pay either $49.99 per box or $179.99 for four boxes a year for full-sized products from over 1,000 brands ranging from Alice + Olivia to West Elm.
This April, the startup took another step to appease loyal users. Starting this summer, they'll be able to pick and choose all the items they'd like in their quarterly boxes or forgo their box completely for credit to shop on FabFitFun's site. (Previously, FabFitFun allowed subscribers to pick some, but not all, the items in their forthcoming boxes.)
"We want every woman of every sort of personality, skin tone and body type to find products that they love within the box," explains Kitchens. "In order to make that happen, there has to be a wider variety of choices so they feel that the box was tailored to them in a much deeper way."
FabFitFun's announcement follows a banner year for the startup, in which revenues almost doubled from 2018 to $600 million in 2020. As a way to keep more users happy, it's smart — addressing one of the fundamental problems of the subscription box model, which was founded on the notion of surprising and delighting shoppers who don't necessarily know what their orders will contain. But that same element of serendipity also meant some users were inevitably disappointed.
"One of the problems with subscription boxes is you might like some of the items, but you may really feel like some of the other things are a waste of your money — versus saying, 'Hey, I got to have eight things that were fantastic,'" says Charlene Li, founder of the analyst firm Altimeter.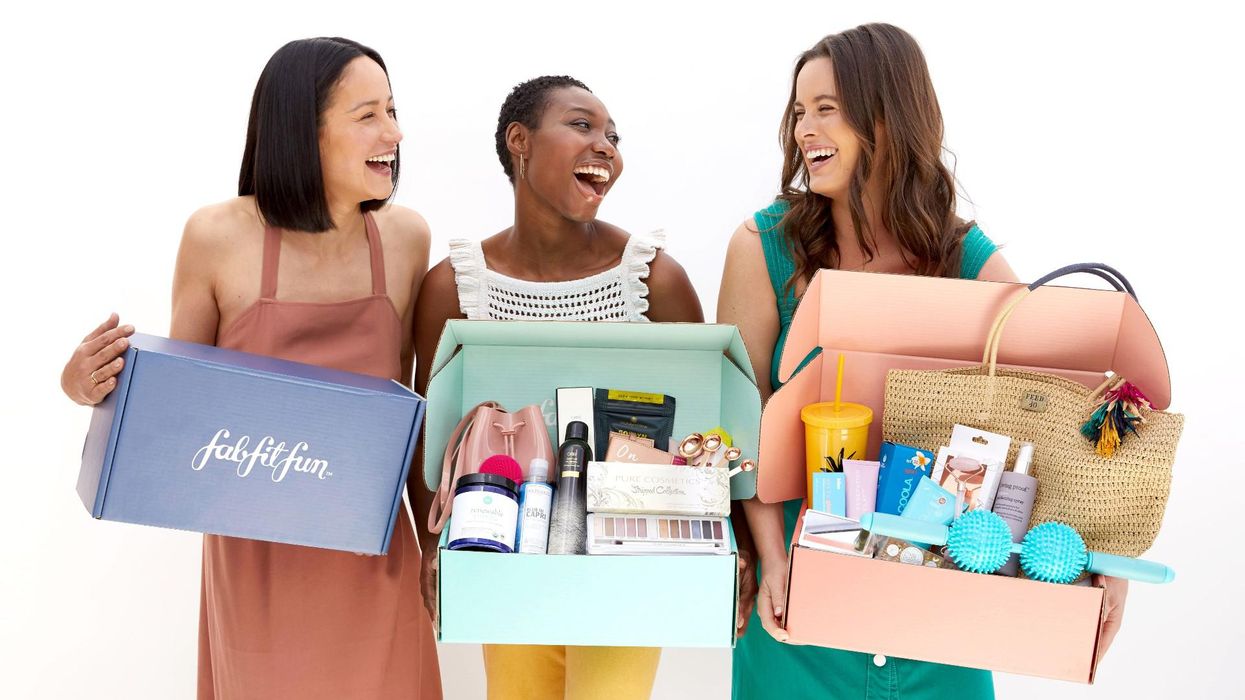 Despite some setbacks, which included streamlining operations and layoffs in February 2020, FabFitFun has largely succeeded where many subscription box startups over the years have failed entirely, either because they failed to find their niche or their targeted niche was too narrow. Even Birchbox, which is largely credited with spearheading the subscription box model, has struggled, with rounds of layoffs over the years.

Broukhim remains vague on what lies ahead for his startup, which currently employs about 550 employees and operates a 650,000-square-foot fulfillment center in Chico, California — roughly the equivalent of 11 football fields. But in the long run, FabFitFun's co-CEO wants to develop an online shopping experience that emulates the feeling many millennials and Gen Zers had growing up and going to the mall with friends, although he declines to specify how the startup will accomplish that.
With rapid revenue growth, there's also speculation of an IPO on the horizon, although Broukhim quickly dispels that rumor.
"We don't have any plans at this point, but what I'd say is we're always focused on what's doing what's right for the company and what's right for delivering this very unique experience to our members and to our brand partners," he says. "I think at some point along that trajectory 'being public' is going to be the right step for us, but we haven't made a determination yet on timing."
Until then, the startup will continue doing what it does best by bringing highly-anticipated orders — by the box-full — to shoppers' doors.
From Your Site Articles
Related Articles Around the Web