finance
finance
Cornerstone OnDemand, the Santa Monica–based learning and talent management software company, is shaking things up. Shareholders approved on Tuesday a $5.2 billion deal to take the company private.
In an all-cash transaction, Clearlake Capital Group (also based in Santa Monica) takes ownership of the company through a combination of equity and debt, buying the outstanding shares at $57.50 per share.
Adam Miller, founder & co-chairman at Cornerstone, says the move is designed to give the company more flexibility to pursue avenues of growth that might be unpalatable to shareholders that expect growth on a quarterly basis.
"We saw both organic and inorganic opportunities to grow in ways that would be difficult to do as a public company," he said. "It's difficult to do both of those things at the same time as a public company. But as a private company you can do those things in sequence and get the benefit of a longer-term strategy."
Cornerstone, which was founded in 1999, had been publicly traded for over a decade. Their products are used by many universities and corporations such as Dell, Hyatt, Walgreens and Cannon. The company had been thriving during COVID, posting earnings above expectations in Q2 2021, and exceeding their growth from the same time period last year by 16%, which likely contributed to the 31% premium that Clearlake paid for the stock buyout.
Cornerstone, which employs roughly 2,700 people, is no stranger to acquisitions. In February 2020, the company acquired their largest competitor, Saba Software for $1.295 billion. The move left Cornerstone fairly leveraged, Miller says, so the transition to go private appears to come as a means to help the company to continue expanding aggressively. In the COVID world, where so much of education has transitioned into online formats, the company is hoping increased flexibility will allow it to fully take advantage of the expanding market.
Cornerstone currently boasts 75 million users spread across 6,000 different customers. For those users, Miller says, the experience should change very little. "The end user experience will only improve as we have more resources we can deploy for our engineering team, and as we have the ability to think—again—longer term," he said.
With shareholder approval sealed, Cornerstone's deal to go private should close on Friday.
From Your Site Articles
Related Articles Around the Web
On this episode of the L.A. Venture podcast, hear Matt McCall discuss his journey into entrepreneurship and wearing life like "a loose sweater."
McCall is well-known to the L.A. venture community as a partner at the Pritzker Group. The company came from a very large family office, which owned The Hyatt, Royal Caribbean and the Marmon group, among others.
McCall set up the group's venture investing office about a decade ago, focusing on seed- and Series A-stage companies.
"The way that we've approached the businesses, we have an active seed program where we'll do quite a few number of seed deals each year -- between $250K and $1 million. And the idea is for that to kind-of build out our farm system. Then probably half of our [later-stage] deals come out of our seed deals and then the other half come through traditional means," said McCall.
Pritzker has invested in consumer companies including Coinbase, Dollar Shave Club and Cameo, as well as enterprise companies such as Matchbox, Project 44 and SMS Assist.
McCall's deep experience has made him a kind-of coach for area entrepreneurs.
"I would argue that I think the biggest issue is when something happens to the company, you need to put the mask on yourself first. It's your own fear that needs to be managed as a VC," said McCall.
McCall also shares his insight on investing in consumer companies and vertically integrated brands, as well as his views on cryptocurrency. Click on the playhead above to hear more.
From Your Site Articles
Related Articles Around the Web
Ted Mico created an automated customer service platform that works with companies like Crate & Barrel and subscription box service FabFitFun because he hated chat bots.
His three-year old company Thankful was born after his own experience waiting two weeks to hear back from customer service and throwing his phone in frustration across the room far too many times.
"When it comes to customer service, suddenly when you add technology you end up with some hideous chatbot experience," he said.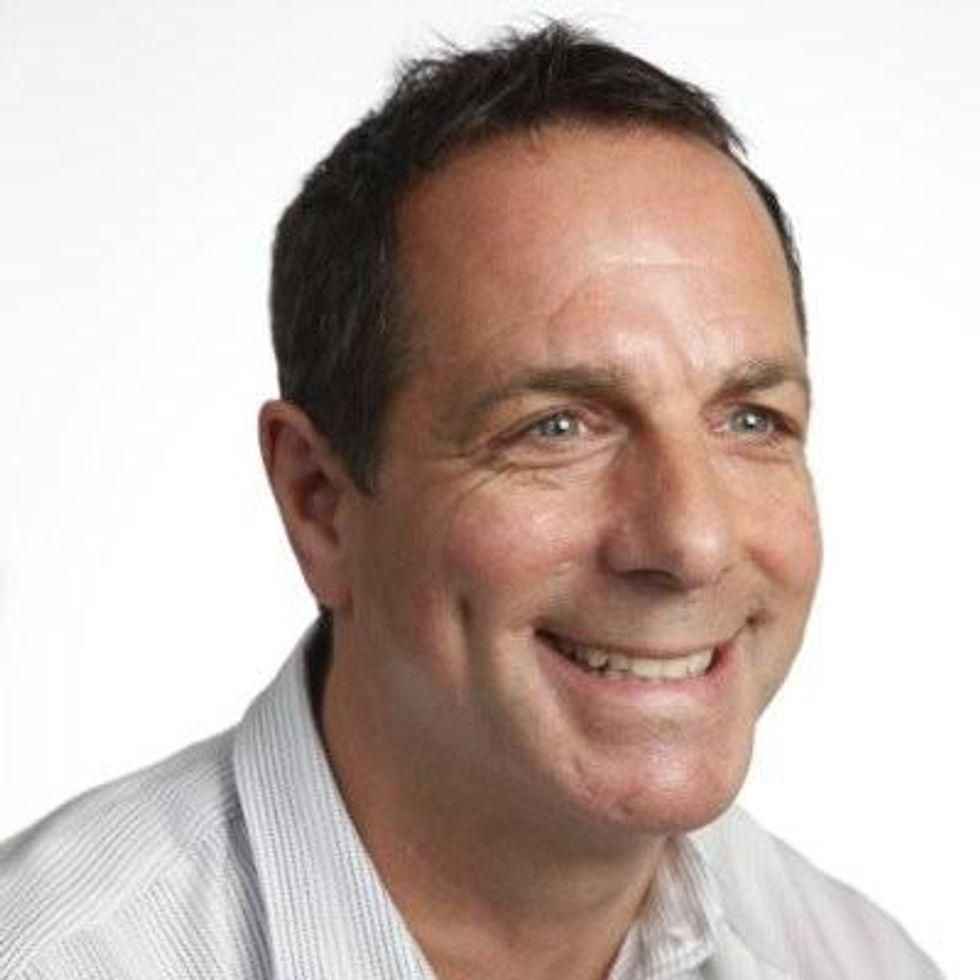 Ted Mico is Thankful's co-founder and CEO.
Thankful establishes customer relationships through their service platform routing and tagging help desk tickets. A Thankful AI "agent" fields customer queries via text or email. Mico said that Thankful can resolve up to 50% of all help desk tickets without a human.
Among the companies that use his service are MeUndies, makeup brand Morphe and sock-seller Bombas.
"In each one of our average lifetimes we will spend 43 days, dealing with customer service," Mico said. "All those customer queries we can solve without customer service people being involved, then they can be involved in other things and everybody gets better service."
The Venice-based company announced this week they raised $12 million in Series A funding led by Alpha Edison, a capital firm that invests in early-stage companies using AI, data and behavioral science. In addition, Bonfire, TenOneTen, Greycroft, Omega, and Miramar also invested in this round. The funds will be used to develop the product.

As more shopping is done online, more complaints and problems are being resolved through chat bots and other automated systems. It has swelled the ranks of the customer service industry. Thankful competes with other AI-driven companies including Bay Area competitors Netomi and Forethought.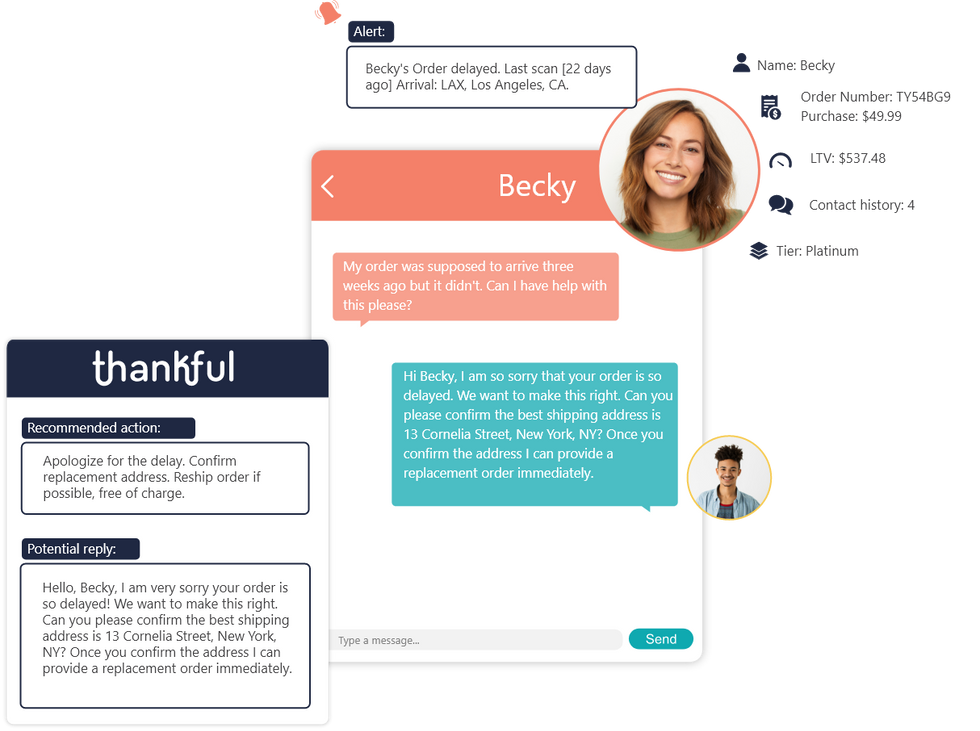 Thankful charges a platform fee based on volume. Though Thankful is not profitable, there are over 50 brands using the platform.
Mico thinks customer service will be regarded as the most viable sales and marketing channel of the future. Despite many outlets like Yelp using the star rating system helping restaurants and businesses learn about customer's comments and complaints, it isn't quick enough. There's an expectation for immediacy which has been fueled by technology and was heightened by the pandemic.

"Customer service is usually the last thought for most companies and we think that within five years, it will be the first," Mico said. "If you actually think of customer service as the most important thing, that customer journey is sacrosanct."
From Your Site Articles
Related Articles Around the Web