west hollywood
west hollywood
As Amazon Fresh and Instacart race to deliver groceries to your front door, a new kind of shopping experience has quietly joined the market.
Enter Robomart's small fleet of Mercedes vans stocked like convenience stores and guaranteed to show up at your house in under 10 minutes.
In West Hollywood, residents who run out of toilet paper or laundry detergent can pay $2 to hail the miniature stores straight to their home addresses. The pharmacy van's sliding doors open to reveal rows of paper products and over the counter medicine. There's also a snack car stocked with cold soda and candy.
"Who's our target demographic?" said Ali Ahmed, founder and CEO of Robomart. "It's pretty much everyone."
The Santa Monica-based company pitches the car as a robot, but that might depend on how you define "automated." Vans are navigated by drivers who are trained to keep the tinted windows rolled up and wait quietly for customers to browse products.
For contactless checkout, the company relies on radio-frequency identification, or RFID, which uses small sensors that pick up movement from little white tabs taped to each item.
After a shift, drivers bring the vans back to an operating zone where REEF, the company known for managing ghost kitchens, replenishes products and counts inventory.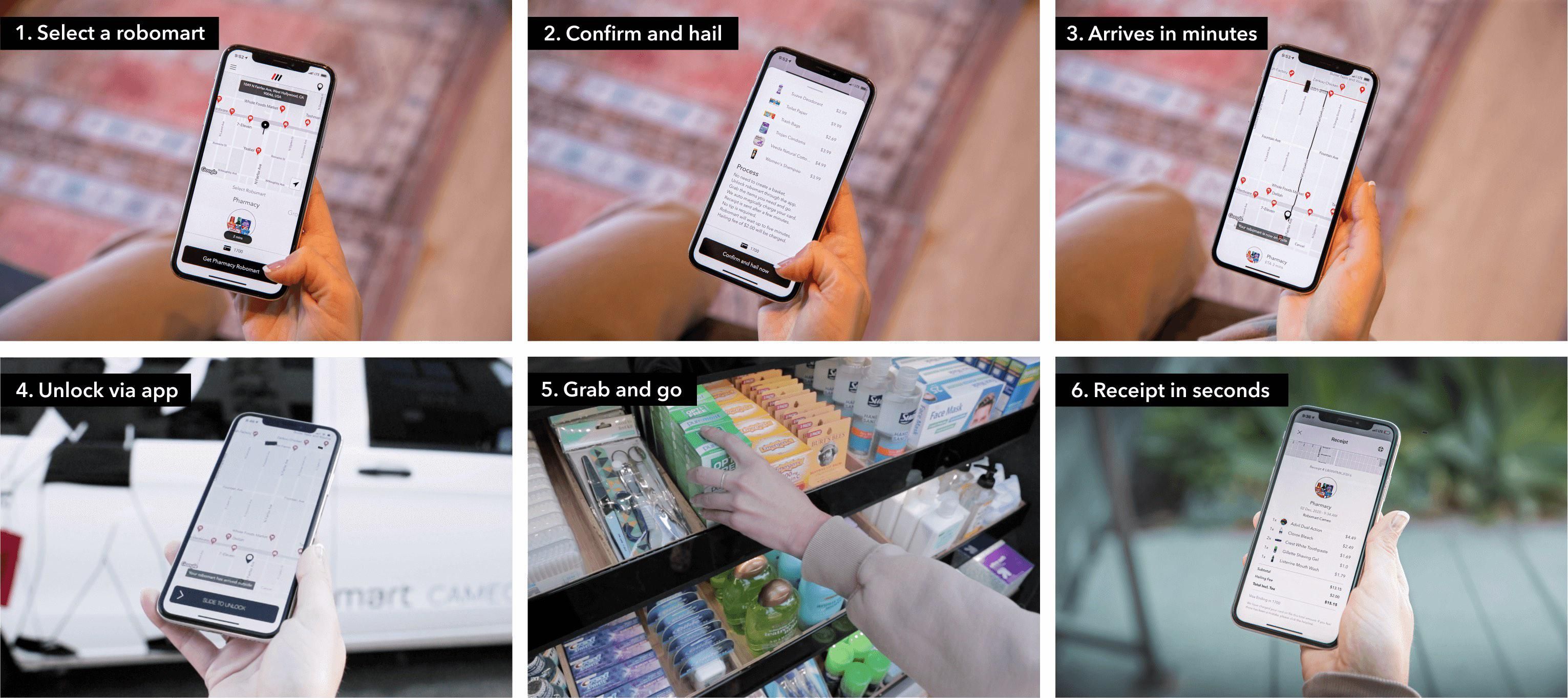 I tried the service out. After hailing the van and waiting a little over eight minutes, my pharmacy Robomart pulled up and I started shopping. The shelves displayed a standard selection of toiletries and medicine cabinet items you might find at a gas station convenience store.
Prices were lower than I expected (the same tube of Colgate toothpaste from the nearest CVS cost $1 more) but variety was limited. And there are still glitches.
The van doors slid shut once I ended my transaction on the app. I idled outside the car for a few extra minutes talking to the Robomart driver when an email arrived listing my purchases, minus a bottle of conditioner I picked up.
Ahmed promptly sent a note to inform me the mistake was a "human error" that he suggested was caused by the Robomart driver. He said my chat threw off the sensors that are supposed to track what customers take. To work properly it requires the driver to leave immediately after the purchase.
He said to fix the problem, he plans on installing a two-way speaker system for customers to chat with the driver or a customer support agent.

Already, there's a small video camera inside each van "as a backup check." Where exactly they're planted and what is done with that footage is unclear.
The van is still somewhat of a beta version and far from what Ahmed first envisioned. His prototype in 2018 was completely self-driving, a dream he's had to put on ice for now as have other delivery and ride hailing services.
Ahmed declined to say how much capital he's raised but said the company is backed by Wasabi Ventures, SOSV, The Automation Fund, Hustle Fund, Archetype Ventures, Hardware Accelerator and W Ventures.
The CEO is eying groceries, deli food and pantry essentials next.
"The alternative, I feel, is actually driving to the store," he said. "We save that entire headache."
From Your Site Articles
Related Articles Around the Web
A combination of Zoom, Minecraft, Twitch and Wordpress with the spirit of Burning Man. That's how Daniel Liebeskind describes Topia, the browser-based social world-building platform he built to bring genuine interactivity to virtual conferences and events.
On Wednesday, his West Hollywood-based startup announced it's raised $5 million in seed investment, led by Seven Seven Six, the venture fund led by Reddit co-founder Alexis Ohanian. Bonfire Ventures also participated in the round.
"Our digital lives are not going away at all," said Ohanian during an online chat earlier this week with Liebeskind. "This is going to be the gateway for so many people to have so many great experiences, and we're all grateful here at Seven Seven Six to be leading this round of funding."
Topia allows users to explore virtual worlds customized by artists and designers. As users navigate a given world and come into proximity of other users, each of their video feeds come into view, enabling them to strike up a spontaneous conversation.
The world in which those conversations take place are built by Topia's open-source community of creators, who have already designed such novel spaces as an interactive theatrical experience and an NFT museum. Asana, a project-management software firm, used Topia for a digital party to celebrate its IPO last fall.
Just months after its May 2020 launch, Topia hosted 25,000 people for Virtual Burning Man. It will host a virtual version of this year's festival as well, for which it may experiment with two-way interactivity between the in-person and livestreamed events.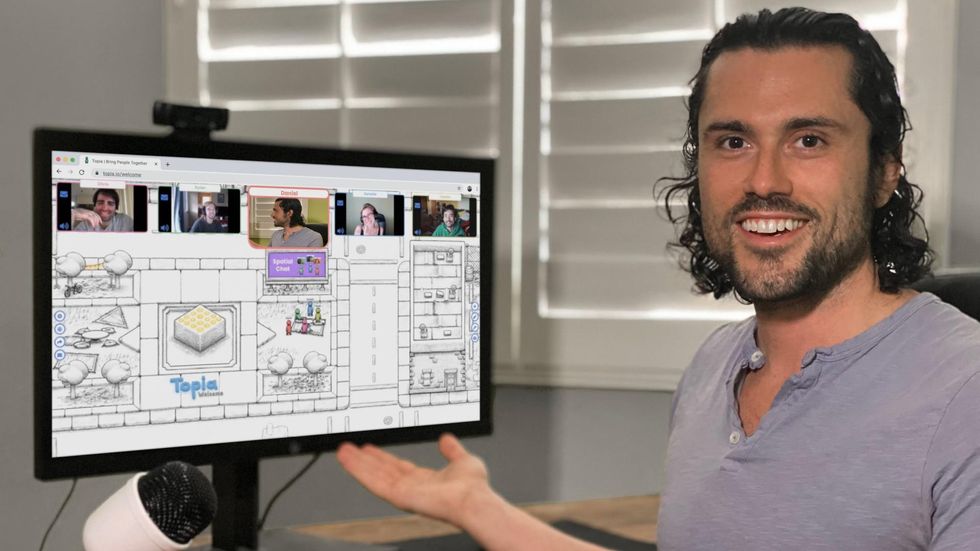 Topia founder Daniel Liebeskind
"This has been a lifelong journey of trying to build my own community and trying to build software that helps people have more authentic human connection," said Liebeskind. A multiple-time "Burner" himself, he said he built Topia to emulate certain elements of Burning Man from the beginning, including the serendipity that accompanies wandering through the Nevada desert and happening upon a new community of people who share common interests.

With the investment, Liebeskind plans to expand his eight-person team and stand up a marketplace within Topia that helps creators make money. The new creator payment ecosystem launches Wednesday. Liebeskind said his top performance metric will be the amount of money his startup pays out to creators on the platform.
As for where that cash comes from, and how the company itself makes money, Liebeskind said Topia is pursuing multiple revenue streams. The platform is mostly free to use, but certain features require payment, including customized URLs and incorporating single sign-on functionality into an event. The company is also building out an SDK and allows for ticket sales and subscriptions, which it will split with creators who design the worlds where those gatherings take place.
Creators can build their own Topia worlds and sell them as templates for others to use or build upon, similar to how Wordpress provides a marketplace for website templates and plugins. The designers can get paid for selling those templates and will also receive a percentage of the micro-transactions that take place within those worlds.
"The last bastion of things that I personally believe will ever be automated away are the things that are so uniquely human and empathetic and creative," said Ohanian, "so it's vital that we create new ways to properly reward that creativity and that empathy with money."

The marketplace launches with a collection of scenes designed by artists, including former Riot Games and Magic Leap Art Director Daren Bader, Void Bastards Creator Ben Lee and Ubisoft Senior Environment Designer Karen Stanley.
Topia has hosted about 1,000 events each month since its launch, for groups ranging from families to schools to big corporations.
Liebeskind has been building software since he was a kid and returned to tech full-time after a brief post-college foray into investment banking. He began creating the Topia business plan in late 2018, and constructed an early VR prototype in 2019.
"When the pandemic hit, I thought, 'Now is the moment for this thing that I was planning on building over the next 10 years'," he said.
Ohanian said that one of Reddit's most well known features, the "Ask Me Anything" Q&A format, was created by users, and told Liebeskind that he is excited by the user-generated trajectory of Topia.
"You'll be sitting here 10 years from now, being surprised by something where you're just like, 'Oh, I never would have imagined that,'" Ohanian said.
"The best of the internet is when you bring people together around a shared interest, and they make connections they never would have made otherwise," he added, reflecting on what has helped make Reddit into one of the internet's most popular destinations. "Leading this investment in Topia is a chance to look back now at community building [on the internet] from first principles."
From Your Site Articles
Related Articles Around the Web
FabFitFun wasn't always a purveyor of goodie-filled subscription boxes.

In 2010, Michael Broukhim and his brother Daniel Broukhim co-founded the West Hollywood-based startup with Katie Echevarria Rosen Kitchens, a longtime journalist, as a blog and newsletter, which served up editorial content on beauty, fashion, fitness, and wellness. But ad-supported newsletters at the time were a challenging proposition and transforming a pure media play into a profit-making machine remains a notoriously difficult endeavor. Those challenges spurred brother Michael to seek inspiration for a pivot elsewhere.
"We weren't super optimistic on the idea of an ad-supported newsletter achieving what we wanted to achieve and in terms of making a dent in this world," says Michael, who serves as co-CEO with Daniel. "Once we had our audience, we could start asking them questions, and we talked to them. We did see things in the subscription space we thought were really interesting."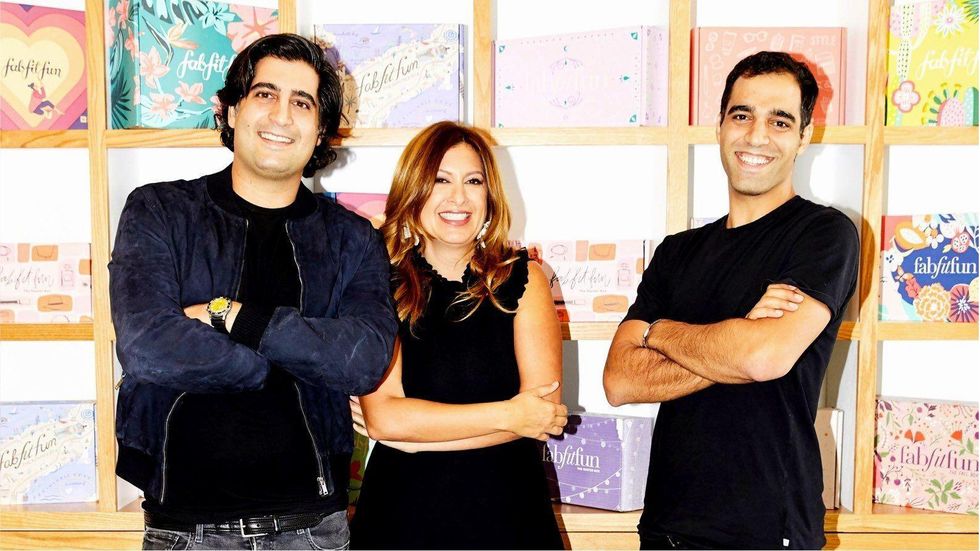 Brothers Daniel (left) and Michael Broukhim co-founded FabFitFun with journalist Katie Echevarria Rosen Kitchens.
Inspired by the swag bags doled out at the glitzy L.A. events he regularly attended, Broukhim saw a market opportunity. Swag bags often delighted people with unexpected items. What if FabFitFun offered subscription boxes brimming with a mix of items from different categories that offered the same element of satisfaction one felt in receiving and picked through a swag bag?

In March 2013, FabFitFun launched its first membership box — a run of 2,000 boxes that sold out in 24 hours. In the eight years since, that number has multiplied exponentially, with the startup now assembling nearly two million boxes a quarter for subscribers who pay either $49.99 per box or $179.99 for four boxes a year for full-sized products from over 1,000 brands ranging from Alice + Olivia to West Elm.
This April, the startup took another step to appease loyal users. Starting this summer, they'll be able to pick and choose all the items they'd like in their quarterly boxes or forgo their box completely for credit to shop on FabFitFun's site. (Previously, FabFitFun allowed subscribers to pick some, but not all, the items in their forthcoming boxes.)
"We want every woman of every sort of personality, skin tone and body type to find products that they love within the box," explains Kitchens. "In order to make that happen, there has to be a wider variety of choices so they feel that the box was tailored to them in a much deeper way."
FabFitFun's announcement follows a banner year for the startup, in which revenues almost doubled from 2018 to $600 million in 2020. As a way to keep more users happy, it's smart — addressing one of the fundamental problems of the subscription box model, which was founded on the notion of surprising and delighting shoppers who don't necessarily know what their orders will contain. But that same element of serendipity also meant some users were inevitably disappointed.
"One of the problems with subscription boxes is you might like some of the items, but you may really feel like some of the other things are a waste of your money — versus saying, 'Hey, I got to have eight things that were fantastic,'" says Charlene Li, founder of the analyst firm Altimeter.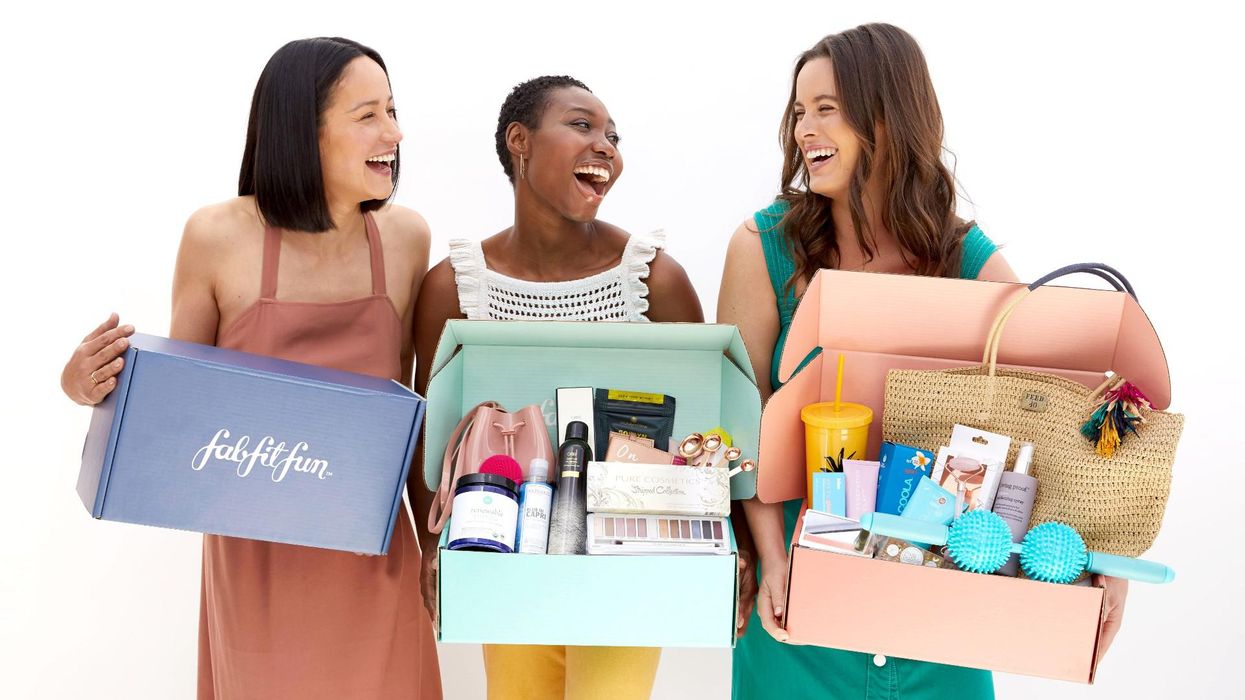 Despite some setbacks, which included streamlining operations and layoffs in February 2020, FabFitFun has largely succeeded where many subscription box startups over the years have failed entirely, either because they failed to find their niche or their targeted niche was too narrow. Even Birchbox, which is largely credited with spearheading the subscription box model, has struggled, with rounds of layoffs over the years.

Broukhim remains vague on what lies ahead for his startup, which currently employs about 550 employees and operates a 650,000-square-foot fulfillment center in Chico, California — roughly the equivalent of 11 football fields. But in the long run, FabFitFun's co-CEO wants to develop an online shopping experience that emulates the feeling many millennials and Gen Zers had growing up and going to the mall with friends, although he declines to specify how the startup will accomplish that.
With rapid revenue growth, there's also speculation of an IPO on the horizon, although Broukhim quickly dispels that rumor.
"We don't have any plans at this point, but what I'd say is we're always focused on what's doing what's right for the company and what's right for delivering this very unique experience to our members and to our brand partners," he says. "I think at some point along that trajectory 'being public' is going to be the right step for us, but we haven't made a determination yet on timing."
Until then, the startup will continue doing what it does best by bringing highly-anticipated orders — by the box-full — to shoppers' doors.
From Your Site Articles
Related Articles Around the Web