health and beauty
health and beauty
"Learn to do something."
Dermalogica founder Jane Wurwand credits her mother's advice for motivating her and her sisters into higher education and independence. Two of her sisters became nurses. Another became a lab technician. Wurwand studied skin therapy.
"She wanted to make sure that whatever happened, we would have an ability to earn money, to be financially independent with a skill set that we had learned and therefore it could never really be taken away," said Wurwand.
Today, Wurwand is the founder of a multimillion-dollar international brand with a dedicated following. On this week's episode of the Behind Her Empire podcast, she tells her story and what inspired her entrepreneurial passion.
After landing a job as a hairdresser in South Africa for a while, Wurwand found herself moving to California.

"If you've never emigrated to the United States, I will tell you, it was the golden ticket in Willy Wonka's chocolate bar. You did not say no, especially to a green card."
Wurwand soon learned California required a license to become a cosmetologist and found that few places provided the proper training for skin therapists like her. With only $14,000, she launched her own skin therapy courses in a small classroom in Los Angeles.
Those lessons would eventually become her company Dermalogica, one of the world's premier skincare brands.
"We started as an education company, and three years later, launched Dermalogica, because we realized there was no American-made professional salon product either. That's kind of crazy. I mean, who knew," said Wurwand.
Hear more of the Behind Her Empire podcast. Subscribe on Stitcher, Apple Podcasts, Spotify, iHeart Radio or wherever you get your podcasts.
dot.LA Audience Engagement Intern Joshua Letona contributed to this post.
From Your Site Articles
Related Articles Around the Web
The beauty and fashion industry isn't as skinny and white as it once was. Makeup for darker skin tones are more widely available, shapes are changing and so are perceptions. This year, Leyna Bloom graced the cover of Sports Illustrated. She's a trans woman of color. But sometimes, it can all feel a bit inauthentic.

That's how Brittany Chavez, a 30-year-old whose parents hailed from Nicaragua and Guatemala felt when she founded
Shop Latinx
. Her lifestyle and makeup ecommerce site debuted last October as home for Latinx and BIPOC (Black, Indigenous, and People of Color) brands
"We've relied on these platforms to bring us visibility for far too long," she said. "Sometimes that visibility can kind of hurt our communities because it results in erasure because it is inauthentic. It's people that don't look like us who don't come from our backgrounds that dictate what the Hispanic or Latinx marketing strategy is."
For decades people of color felt alienated from a beauty and fashion industry that often set unrealistic and often pale expectations of beauty. But that has been changing.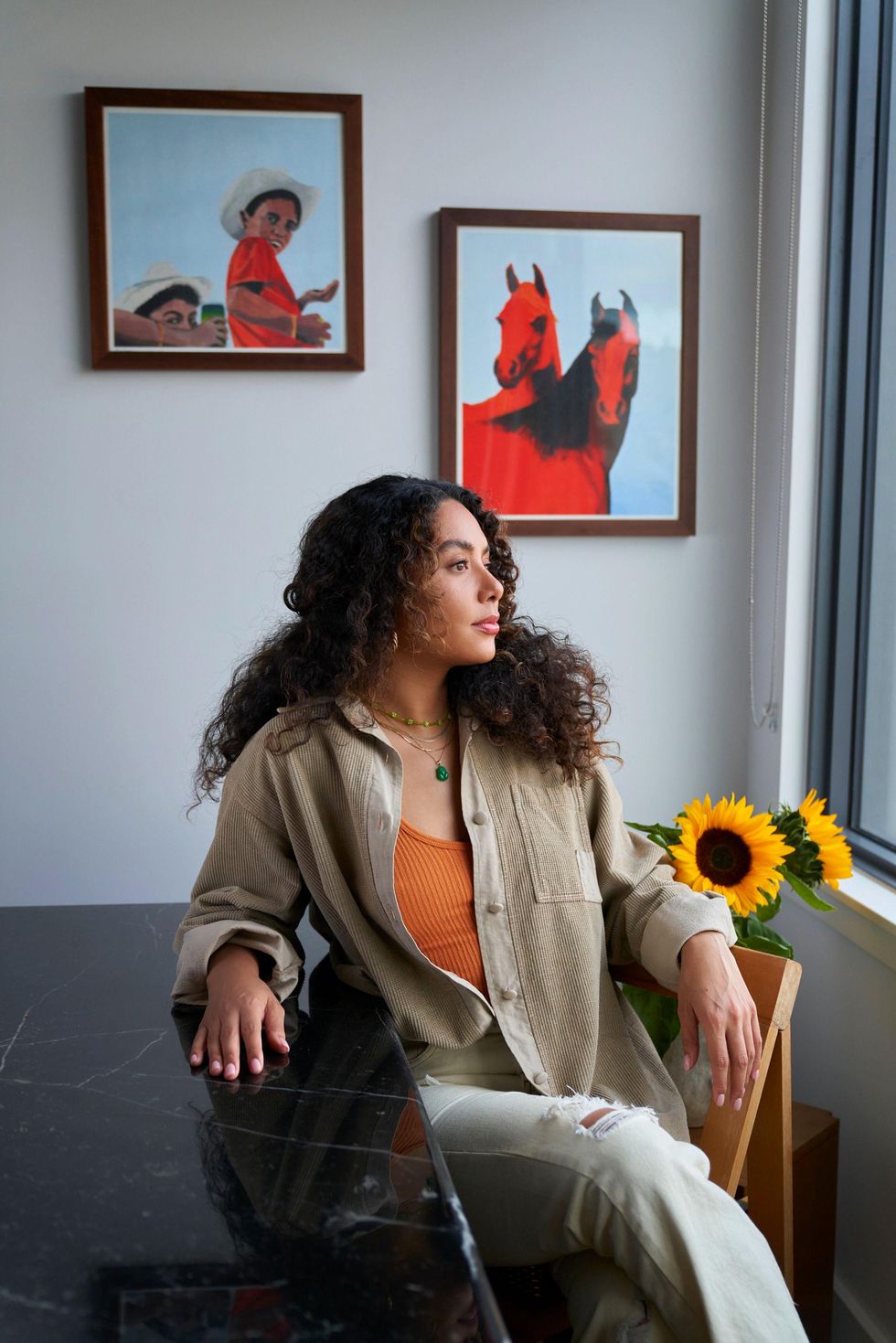 There is a surge for diverse inclusive brands in the beauty and lifestyle space. Makeup giant Sephora has created a section online to showcase Black-owned brands. And it plans to double its BIPOC-founded brands, according to their Executive Vice President Artemis Patrick.
Still, Chavez said that doesn't feel like enough, especially for Latinos, who can have very different cultural experiences. Her family comes from Central America, a very different country from the small island of the Dominican Republic or the Portuguese speaking Brazil or the U.S. neighbor Mexico.
"I think because for far too long we've been portrayed as a monolith," she said.
Shop Latinx targets the millennial and Gen Z Latina in the U.S. During the pandemic, she said, she saw a spike in sales. The marketplace is a collection of brands by Latinx founders and creators like Nopalera (an emerging Mexican-owned botanical brand for bath & body), Shocks of Love, (a fragrance house at the intersection of wellness, art, & beauty), MCLC, (footwear that empowers the sole).
On Friday the startup announced it raised $1 million in pre-seed funding backed by Precursor Ventures, Backstage Capital, Debut Capital, 2PM, Humble Ventures, Hispanics in Philanthropy, Silicon Hills Capital and Techstars.

The money raised will be used to expand their online presence and hire to expand their current team of four. Chavez told dot.LA that getting backing to launch the site wasn't easy.
"I feel like founders, especially founders of color, like we feel like we have to beg VCs to bet on us. When in fact we're doing them a favor," Chavez said. Statistics constantly bear that out.
But, the Cal Poly Pomona grad said she is hoping to see more Black and brown and BIPOC leaders in positions like hers.
She founded the company, she said, because she wanted to dictate her own terms.
"Instead of trying to rise the ranks of corporate, let me just bet on myself, I literally have nothing to lose because I'm starting from ground zero anyway."
Correction: An earlier version stated that Shop Latinx debuted this October. Shop Latinx has been out for a year.
Frame Fitness co-founder Melissa Bentivoglio discovered reformer Pilates through her doctor while struggling to recover from a broken pelvic bone in 2006. Immediately, she fell in love with the low-impact form of exercise.

Just a few years later, the longtime fitness instructor is launching a suite of at-home fitness equipment and software aimed at Pilates enthusiasts. Bentivoglio and her husband, Lee Belzberg, said their Los Angeles company, Frame Fitness, will focus on 'reformer' Pilates — a type of Pilates performed with equipment, rather than mats.
"The Pilates world is very steep in foundation, but often it lacks innovation, I had the idea to create my own reformer," Bentivogolio said.
The at-home fitness industry has surged during the pandemic. Stationary-bike-maker Peloton's stock jumped more than 400% in 2020, according to Barron's. Gyms, on the other hand, took a hit. Gold's Gym and 24 Hour Fitness both filed for bankruptcy protection in 2020. (Notably, the founder and former CEO of 24 Hour Fitness, Mark Mastrov has invested in Frame Fitness just last week in a seed funding round.)
At-home fitness grew exponentially during the pandemic, as gyms shuttered and their members looked to other ways to get in shape. The couple is betting their equipment will appeal to Pilates enthusiasts, a segment within the fitness industry that -- unlike running or cycling -- isn't the focus of most at-home workout stations.
Frame Fitness prides itself on being an asset to all levels from beginners to experts.
Reformer Pilates is often recommended for beginners because it allows them to control the amount of resistance and movement.
Frame Fitness's home reformer includes a 24.5 inch, sweat-resistant touchscreen and a wheeled frame that allows users to fold it up and stash it under their bed or in a closet. The company also offers other related accessories, including a weighted bar, a Pilates ball, a Pilates ring, and hand weights.
Investors funded the company even though Frame fitness products are not yet on the market. Bentivoglio said her experience as an instructor who has already designed a Pilates reformer -- the unique equipment used for the discipline -- provided them some comfort.
Bentivoglio previously teamed up with an industrial designer to create all 16 of the commercial Pilates equipment in her Ontario, Canada-based brick-and-mortar studio.
Frame plans to take orders for its reformer, which retails at $2,999 later this month. It's set to roll out in early 2022.
In addition to the retail price, there is also a $45 monthly cost for the class subscription or a $500 annual membership. Bentivoglio said that consumers can expect on-demand workouts that range from classical instruction to cardio infused Pilates, high-intensity boot camp classes and even yoga and prenatal stretches. Frame Fitness prides itself on being an asset to all levels from beginners to experts.
The $5 million seed round, which was announced last week, was led by Mastrov, Crunch Fitness Worldwide CEO Jim Rowley, Core Health and Fitness CEO Michael Bruno and Ernie Moody, founder of Action Gaming. It closed in March 2020.
Bentivoglio said she's found investors are extremely interested in backing at-home fitness ventures.
"There's the substantiation of appetite, there's a large investment appetite for connective at-home fitness," she said.
Correction: An earlier version of this post misstated when Frame Fitness will be taking preorders for its new products and the date the seed round was closed.
From Your Site Articles
Related Articles Around the Web