entertainment
entertainment
Netflix's subscriber base grew by 4.4 million in the last quarter, propelled in part by a new dystopian hit series, "Squid Game," which the company has called its "biggest series launch ever."

The growth helped Netflix rake in $7.5 billion in revenue during the third quarter of 2021, up 16% from the prior year.
The streaming giant's third quarter revenue roughly matches what analysts expected to see ($7.48 billion), but Netflix exceeded expectations when it came to new subscribers, as analysts anticipated about 3.84 million additions, according to CNBC.
Across the globe, Netflix says 214 million people now pay to watch movies and shows via its service.
As for "Squid Game" specifically, Netflix told investors that about 142 million "member households" watched the show in the first month since its release.
Netflix typically shares the number of accounts that stream its top movies and shows, but later this year the company says it will "shift" to another metric. Netflix plans to measure "engagement as measured by hours viewed," instead of household views, which it claims will be a "slightly better indicator of the overall success."

Netflix shares closed on Tuesday up by a fraction of a percent.
While Netflix enjoys a relative surge of users, tension is mounting inside the company as workers coordinate a walkout over its handling of Dave Chappelle's comedy special, "The Closer."
Meantime, crews working behind the scenes in Hollywood have also
threatened to walk off sets
run by Netflix and other members of the Alliance of Motion Picture and Television Producers over working conditions and pay. A
tentative deal was reached
between unionized crew members and major studios over the weekend, however entertainment workers
could still reject the agreement
in the coming weeks.
From Your Site Articles
Related Articles Around the Web
Tens of thousands of entertainment workers are on the cusp of striking against the trade group that represents
Disney, Netflix, Apple and other industry giants
. Union members will walk off of sets and onto picket lines starting on October 18 at 12:01 a.m. Pacific, unless an agreement is reached on a new contract, the International Alliance of Theatrical Stage Employees (IATSE)
warned today.
Talks between union representatives and the Alliance of Motion Picture and Television Producers (AMPTP) have stalled for months but will continue this week "in the hopes of reaching an agreement that addresses core issues," IATSE said. A strike could grind film and TV productions to a halt across the U.S.
With the date for a potential mass walkout now set, it will function as both a deadline and another notch in the union's pressure campaign to convince the AMPTP to make concessions on a host of issues, including meal breaks, weekend rest periods and bigger payouts from streaming services.
"The pace of bargaining doesn't reflect any sense of urgency," union President Matthew Loeb said. "Without an end date, we could keep talking forever. Our members deserve to have their basic needs addressed now," he added.
The AMPTP — which also counts AT&T, Sony Pictures and Paramount as members — has not yet publicly responded to the October 18 deadline.
Today's announcement follows an October 4 strike authorization vote, which empowered Loeb to call a mass walkout over deadlocked negotiations. At the time, 53,411 union members voted overwhelmingly in support of the strike authorization.
Reality caught up with science fiction today when Star Trek actor William Shatner, a.k.a. Captain James T. Kirk, briefly crossed into outer space aboard Blue Origin's New Shepard suborbital spaceship.
In the process, the 90-year-old Shatner took the title of oldest human in space, less than three months after 82-year-old aviation pioneer Wally Funk set that record on Blue Origin's first-ever crewed flight.
"How about that, guys?" Shatner could be heard saying during the descent. "That was unlike anything they described. … That was unlike anything you could ever feel."
Today's mission at Blue Origin's Launch Site One in West Texas was the 18th for the New Shepard breed of spaceships, including 16 uncrewed flights over the past six years. It marked a bright day for Jeff Bezos' Kent, Wash.-based space venture, coming amid a set of challenges and controversies.
The flight followed the pattern set by July's milestone mission, which carried Funk, Bezos, his brother Mark and Dutch student Oliver Daemen across the 100-kilometer (62-mile) space boundary known as the Karman Line.
Today, Shatner was joined by three other spacefliers: Chris Boshuizen, a venture capitalist who co-founded Planet Labs; Glen de Vries, a co-founder of Medidata Solutions who is now an executive at Dassault Systems; and Audrey Powers, Blue Origin's vice president of New Shepard mission and flight operations.
Boshuizen and de Vries paid an undisclosed fare for their trip, while Shatner and Powers flew on Blue Origin's behalf.
Before heading out to the launch pad, Blue Origin crew trainer Sarah Knights presented the quartet with commemorative coins. "Heads we go, tails we don't," Shatner joked.
While the booster flew itself to a touchdown on a landing pad not far from the launch pad, the four space travelers returned to their seats for a parachute-aided descent back to the Texas desert. The trip took 10 minutes and 17 seconds.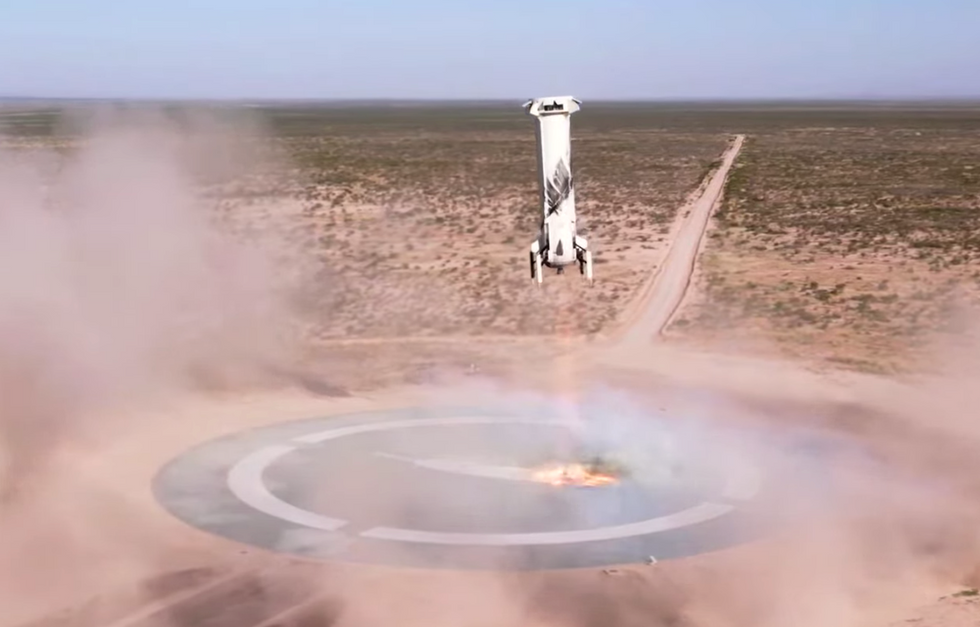 The crew capsule sits at its landing site.
After the landing, Bezos opened the hatch and ushered the crew out for a round of hugs from friends and family — and a spray of celebratory champagne.
"Everybody in the world needs to do this," Shatner told Bezos as he stood outside the capsule. "It was unbelievable. … To see the blue colors just whip by, and now you're staring into blackness. … There is Mother Earth and comfort, and there is space. Is there death? I don't know.
"What you've given me is the most profound experience I can imagine," said Shatner, seemingly overcome. "I'm so filled with emotion about what just happened. It's so extraordinary. I hope I never recover from this."
Bezos then gave each of the fliers a custom-made astronaut pin and a hug. Thousands of postcards were packed aboard the capsule for the Club for the Future, Blue Origin's nonprofit educational program, and they'll be returned to senders now that they've come back from space.
Shatner was the star of today's mission, thanks to his long-running status as a space-show celebrity. He was the starship captain in the original "Star Trek" series in 1966-1969, in an age before his three shipmates were born, and went on to roles in a string of Star Trek movies as well as non-spacey films and TV series.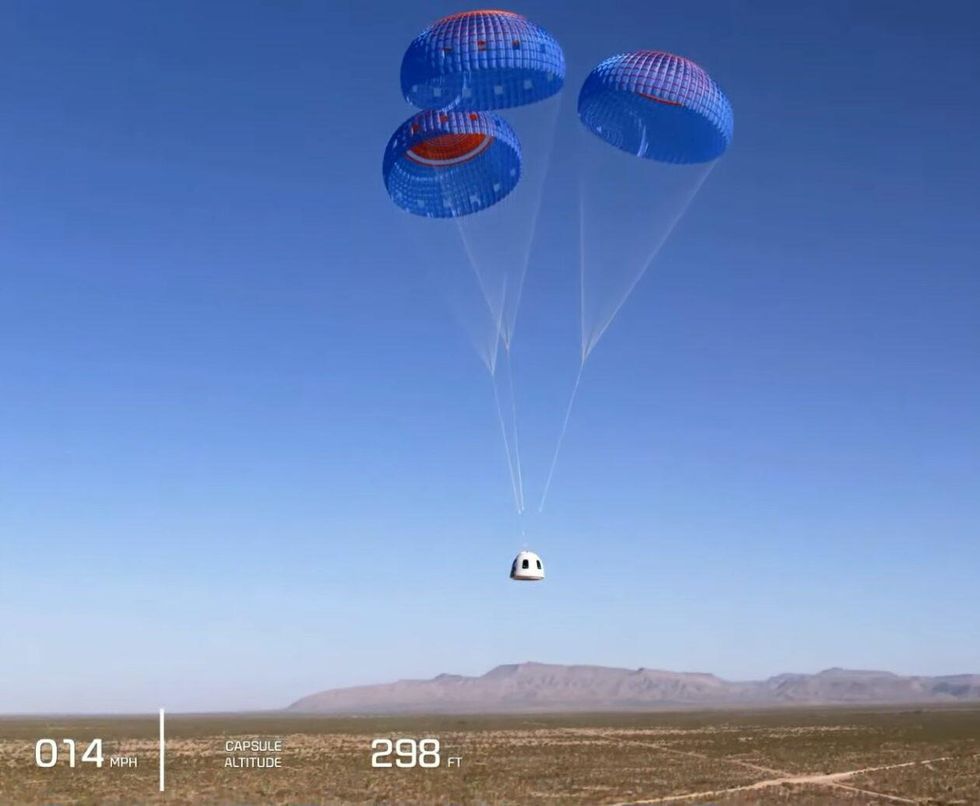 The New Shepard crew capsule descends to its touchdown.
He's also served as a pitchman for Priceline, and at times, Shatner sounded as if he was playing that role in an unofficial capacity for Bezos and his space vision. "Jeff Bezos' concept to make living and building in space, and to make pollution a thing of the past — what noble ambitions those are, and somebody has to start it," he said in a pre-launch video released by Blue Origin.
So far, New Shepard seems to be the most successful element of Blue Origin's multi-pronged space program. After July's first crewed mission, Bezos said that his 21-year-old space venture had racked up nearly $100 million in private sales for future suborbital spaceflights. The next crewed flight is expected to take place late this year, and there'll be uncrewed research missions as well.
Blue Origin has faced setbacks on other fronts, including delays in the development of its next-generation BE-4 rocket engine and its orbital-class New Glenn rocket. This spring, it lost out to SpaceX in a multibillion-dollar competition to build the first lunar lander to carry astronauts for NASA's Artemis moon program. A ruling on Blue Origin's legal challenge is expected next month.
The crew capsule sits at its landing site.
There have been signs of internal dissension as well: Last month, an essay attributed to 21 current and former Blue Origin employees accused the company of laxity when it comes to sexual harassment and flight safety.
According to the essay, most of the authors "would not fly on a Blue Origin vehicle" due to safety concerns. Perhaps in response to the essay, today's Blue Origin webcast made a point of emphasizing the safety of the New Shepard system.
"There are a lot of people at Blue that would be excited to fly on New Shepard, and I'm happy to count myself as one of them. It's a fantastic system. It's a very robust system," Andrew Lake, senior director of New Shepard safety and mission assurance, said in a pre-recorded interview.
"Well, I hope we get to go one day," replied Ariane Cornell, who doubles as a launch commentator as well as Blue Origin's director of astronaut and orbital sales.
This article originally appeared on GeekWire.
From Your Site Articles
Related Articles Around the Web