Andria Moore
This is the web version of dot.LA's daily newsletter. Sign up to get the latest news on Southern California's tech, startup and venture capital scene.
When I woke up this morning, I didn't expect to end up on the set of the Peabody award winning show, "The Good Place" with its countless picnic tables stretching across cobblestone streets set against the backdrop of pastel-colored building props.
On Tuesday, Microsoft's M12 Venture fund, corporate VC firm Comcast Ventures, and The Mini Fund, a micro VC firm, hosted a panel discussion on the intersection of AI, gaming and entertainment at the Universal Studios backlot.
The panel featured Haiyan Zhang, General Manager of Gaming AI at Xbox, Michael Stewart, Partner at M12 and Stan Vishnevskiy, CTO & Co-Founder of Discord.
One of the hot topic questions that kept resurfacing: how do we regulate AI use? And perhaps more importantly, how do we balance regulating AI without sacrificing the freedom to create?
Stewart believes part of the solution is to create "clean datasets," where the content produced by the AI model is in line with what the creator intended it to be. "Even if you labeled or watermarked AI output from a model, how do you control people's use of that within the boundaries of the owners of the data set that went into it?" Stewart posed to the crowd.
He argued that, at the end of the day, it's not just about "intercepting illegitimate content or harmful content" but that you have to fix the problem of ownership and licensing around AI content before you "can turn generative AI into a useful machine for commerce."
Adding that, "there are still open questions on do you own what you're generating? So you've got to solve that before you turn generative AI into a useful machine for commerce."
Amidst concerns around deepfakes and AI's role in the spread of misinformation, all three panelists explained how its rapid expansion has forced them to evaluate the best ways to implement AI into their products.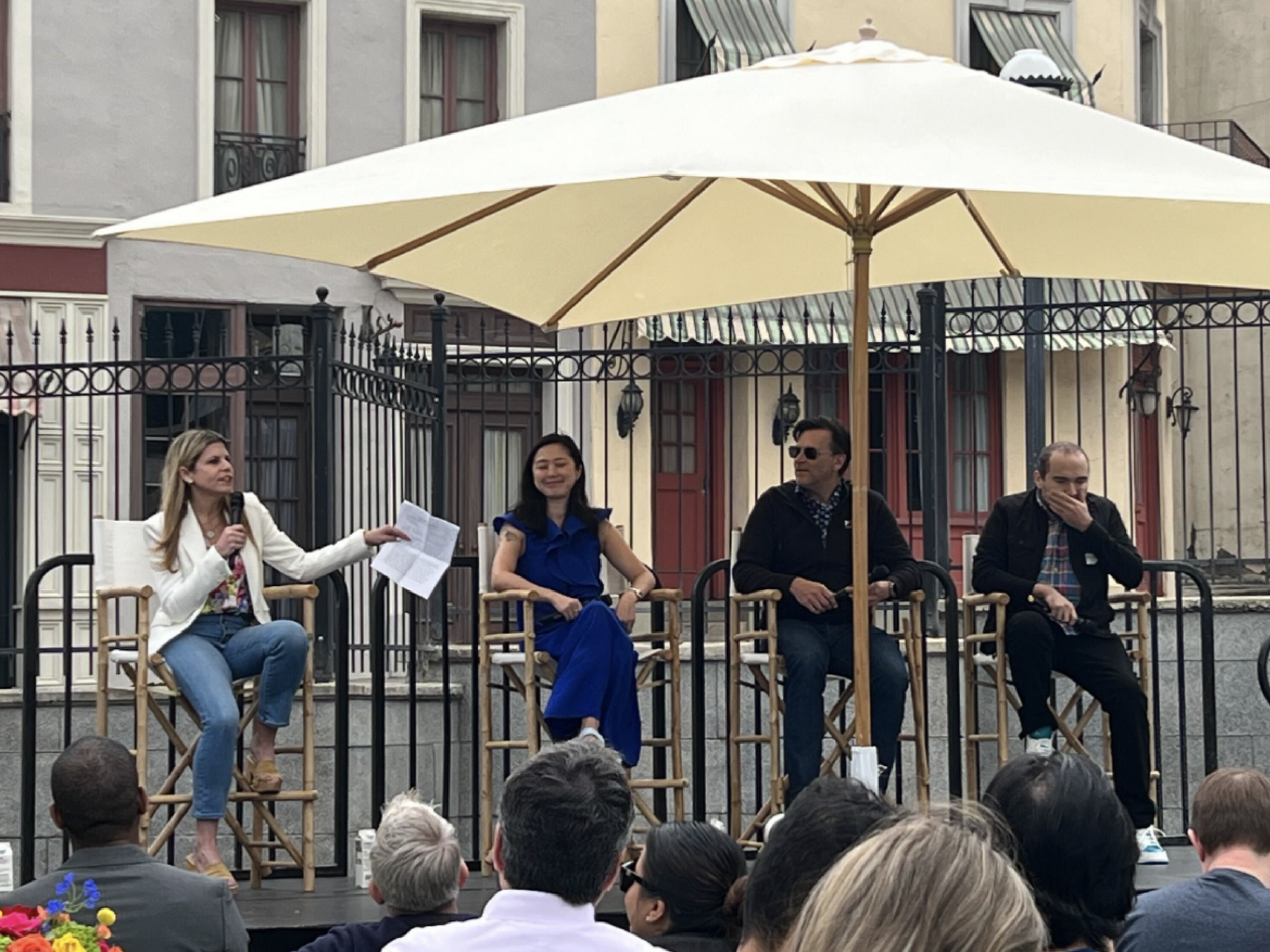 "As ChatGPT and these things sprung up, we took a step back and said, 'What would it mean for us to do it [AI integration] on Discord?'" said Vishnevskiy. "And for us that's a multiplayer experience where you can spend time with others."
Vishnevskiy pointed to Midjourney as one example of AI's rapid expansion in a public space. "The coolest part about generative AI is it kind of democratizes it," Vishnevskiy said. "You don't have to be an ML engineer to play with it. And so when we started we were like, 'Wow, this is people doing stuff together...so we worked closely with [Midjourney] to see could we give them even higher reach than our cap, so at that point you could have more than a million people on a Discord server."
Zhang said Xbox's "whole thesis" is helping users create engaging, meaningful experiences and in an AI-driven world, part of that includes implementing AI tools that can help creators. The gaming manager is particularly enthused about the application of AI in helping enhance the experience of players with disabilities.
"You see AI coming in to level the playing field," Zhang said. "How can we have adaptive games that adapt to your capability?"
That said, Zhang said the verdict is still out on how AI is going to shape the future of humanity.
"Life has really changed," she said. "Is the AI stuff just gonna be here…or is it going to fundamentally change what we do for work, what we do for play, how we realize our ultimate achievement, how we realize our creativity?"