music tech
After a public spat with Universal Music Group, Triller has bounced back with some serious star power.
The short-form social video app's parent company, Triller Network, acquired Verzuz, the online music battle platform launched last March by rappers Timbaland and Swizz Beats on Instagram Live.
As part of the deal, the two musicians will become "large shareholders'' in the Triller Network and will split some of their equity with the 43 artists who have already performed on Verzuz, including John Legend, Brandy, DMX and Alicia Keyes.

Since Verzuz debuted, just as lockdowns upended live music, it has gained 5.5 million Instagram followers and forged temporary partnerships with Apple Music and Twitter. Until now the program's premise has been dueling pairs of artists flaunting portions of their discographies to compete for viewers' adoration. The Verzuz brand has plans to expand beyond music, however, into sports, comedy and live events, the statement said.

Financial terms of the deal were not disclosed.
Triller recently sparred with Universal Music Group, which pulled its extensive song catalog from the app and called Triller's statement about the situation "removed from reality."
Triller was sued in November by Wixen Music Publishing for copyright infringement, though that case was recently dismissed on a legal technicality. The company has also had several public spats over whether it has juiced Triller's user numbers.
Following Triller Network's expansion into boxing late last year, sources familiar with the company floated Triller's intentions of going public via a SPAC. These sources said the valuation of the potential move would be dependent on a prospective acquisition by Triller. It is unclear whether Verzuz was that acquisition target and whether the SPAC plan will still go through.
From Your Site Articles
Related Articles Around the Web
Neal Sarin experienced some great results from meditating – better sleep, more creativity and sharper intuition, he said – but he realized not everyone has the time or resources he invested to learn the practice.
Now Sarin, a former A&R director at South Asian music streaming company Jio Saavn, is aiming to use music to bring meditation to the masses with Sona, his new app that launches today.
"As a society we've been conditioned to view music as a means of entertainment, when really music is healing and medicinal," Sarin said.
Sarin formed his company in 2019 and has worked with eight composers across the world to build an exclusive library of songs meant to help users tap into brain states that mirror the effects of meditation.
Plenty of other apps aim to do similar things. Headspace and Calm guide users through meditation practice to bring them more mindfulness and less stress. And there's no shortage of playlists on Spotify or YouTube purporting to help listeners "chill" or "focus."
But Sarin said a few factors make Sona different.
One is a proprietary composition process for the app's music. Sarin, who is also a musician, described this process as a set of eight or nine elements that are conducive to helping listeners achieve a meditative brain state. These include a slow tempo and frequent repetition of musical phrases. But it's important to him that these guidelines don't overly restrict his composers' creativity.
"We're never going to be in the business of licensing a bunch of rain sounds or sine waves that apparently are stress-reducing. We're in the business of creating music," Sarin said.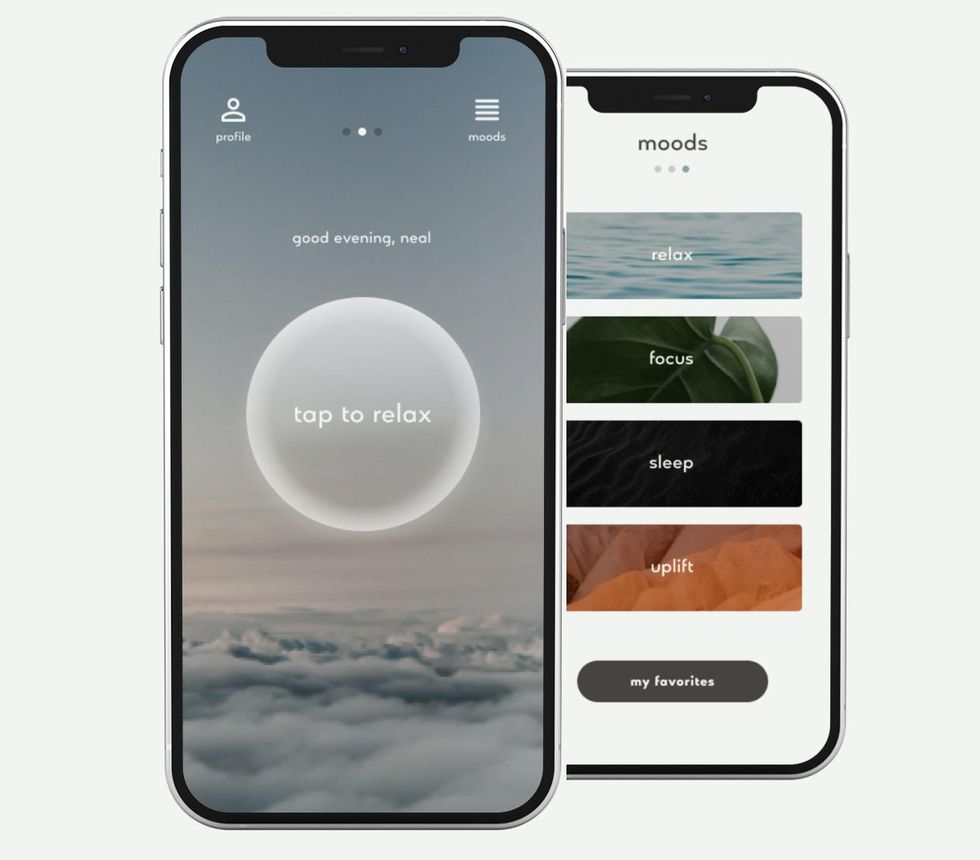 Sona pays composers on a per-song basis and retains 100% of the master copyright and 50% of the publishing rights, he said. The current stable of eight composers are spread as far as London and Tel Aviv, in addition to New York and L.A.

"Something that I say to composers when we're working with them is that we've got to think about making ambient pop songs," Sarin said.
Another differentiator, he noted, is Sona's focus on science.
"We don't want to just say that our music has therapeutic benefits and meditative benefits," Sarin said. "We actually want to validate it."
In 2020 Sona tested the effects of its music through a study it commissioned with the neuroscience division of market research firm Nielsen, which subsequently sold that subsidiary, now called NielsenIQ.
Working with 64 participants, all non-meditators and split by gender, the study used an EEG to monitor electrical activity in their brains. Half listened to Sona songs for 10 minutes, and half listened to traditional easy listening tunes, á la John Mayer.
"Participants demonstrated greater memory and attention during Sona music and less attentional focus and more relaxation after the music," NielsenIQ's head of science and research Avgusta Shestyuk wrote in an email.
Her group used a proprietary method that looks at so-called theta, gamma and alpha brainwaves to measure these outcomes, she added. The results have not been peer reviewed, but Sarin said the research plan was approved by an independent review board.
In the future, Sarin wants to study the long-term effects of Sona's music as well, such as whether ongoing use leads to improved sleep or reduced stress over a sustained period of time.
"We take research very seriously and moving forward we'll be conducting a lot more," he said.
The company has recruited several scientific advisors, including UC Berkeley neuroscientist Robert Knight and the president of the Sleep Research Society of America.
When Sarin was at Jio Saavn, he mostly worked with pop and hip-hop artists, including Nas and Marshmello. But he was struck by the gap between what he viewed as a broad demand for the benefits of restorative music and the low investment that companies make in it.
"Why aren't we signing [restorative] composers and developing them the same way we do hip-hop and pop artists?" he remembers thinking.
Sarin bootstrapped his company, though he said he is in active conversations with investors.
The app will run on a freemium model, with a limited version available for free; those users will be able to listen to songs that fall under Sona's "relax" category. For $3.99 a month or $29.99 a year, premium users will have access to Sona's full library of songs, including those classified under "sleep," "focus" and "uplift", in addition to extra features like reminders, timers and favoriting.
Sona may also eventually license its music. But adding advertising is unlikely.
"I think that would deter from the whole purpose of the application itself," Sarin said.
From Your Site Articles
Related Articles Around the Web
SoundCloud is upending how musicians get paid on its platform, and some think it could lead to a new paradigm that provides better streaming deals for most artists.
The German company behind the platform that millions of musicians use to find their audience announced plans Tuesday for a new revenue model it's dubbing "fan-powered royalties."
It's a form of the often-debated but never-implemented "user-centric" payment system, which contrasts the dominant "pro-rata" model used by Spotify, Apple Music and others.
The move comes amid a broader debate over whether the economics of streaming are fair to musicians, who often earn as little as 13% of the money that streaming generates.
The gist of user-centric payment is that the money from a given user gets allocated directly to the artists whom that user listens to. Here's a simplified example: Say the money that comes in from user Tom is $10 per month (whether through advertising or subscription), and Tom splits all of his streams equally among three artists. At the end of the month, those three artists will equally split Tom's $10.
Pro-rata works differently. In that case, Tom's $10 gets pooled with the money that comes in from all users across the platform. At the end of the month, that pile of cash gets distributed to artists (more accurately, to rights holders) in proportion to the fraction of total streams across the platform that each artist saw over that month. So Tom's $10 gets split up into many tiny amounts, most of which go to artists he never listened to.
Critics say pro-rata models tend to favor bigger artists, especially those with a penchant for producing singles that make it into specific playlists.
Some industry observers argue the user-centric model could prove a better deal for the many musicians who aren't Beyonce-level superstars. SoundCloud said its new model will benefit independent artists with loyal fans.
Studies of the effects of user-centric models on leveling the playing field have broadly been inconclusive. Those studies have been limited, though, by low participation from rights holders, such as record labels, which are often reluctant to allow their tracks to be part of an experiment.
SoundCloud's move is a step toward a better understanding of the impact of a user-centric model. Yet it, too, will be limited. The new model will only apply to a subset of about 100,000 artists who use specific SoundCloud features, according to reporting from Music Ally. And compared to streaming giants like Spotify, Apple and Amazon, SoundCloud brings in substantially lower royalty payments on the whole.
Over the last several months the UK government has been interviewing industry stakeholders as part of a formal inquiry into whether streaming's business model is unfair to musicians and whether changes are necessary.
At the UK government panel last week, which featured representatives from Spotify, Apple and Amazon, all three companies expressed willingness to experiment with new models. They stressed, however, that doing so would require compliance with the wider industry, including record labels, who control most of the relevant copyrights. As a platform that mostly caters to independents, implementing a new approach is a relatively lighter lift for SoundCloud.
The new model will launch on April 1st–and there are no indications this is an April Fools' joke. Seriously.
From Your Site Articles
Related Articles Around the Web