nft
The founders of Afterparty see themselves as on the forefront of a so-called "Web 3," a reimagined internet that relies less on private intermediaries like Google and Facebook, and enables more direct connections between creators and their fans through the blockchain.
The L.A.-based startup launches Thursday to provide tools for creators to both mint NFTs and host online events that require crypto tokens for entry. It's also bringing on Eytan Elbaz, founder of mobile gaming giant Scopely, as an investor and giving him the title of co-founder.

Barely five months old, Afterparty was founded by Dan Rahmel, previously of Music Audience Exchange, and David Fields, a former strategist at Disney and head of investments at former Disney CEO Michael Eisner's The Tornante Company. It aims to empower creators by making it easier for them to create NFTs.
Fields said the status quo of the creator economy forces creators to cater to social media platforms' algorithms, and drowns out the true fans in comment sections. But through NFTs and the closely related "social tokens," which enable individuals and groups to issue cryptocurrencies linked to themselves, Web 3 may be changing the balance.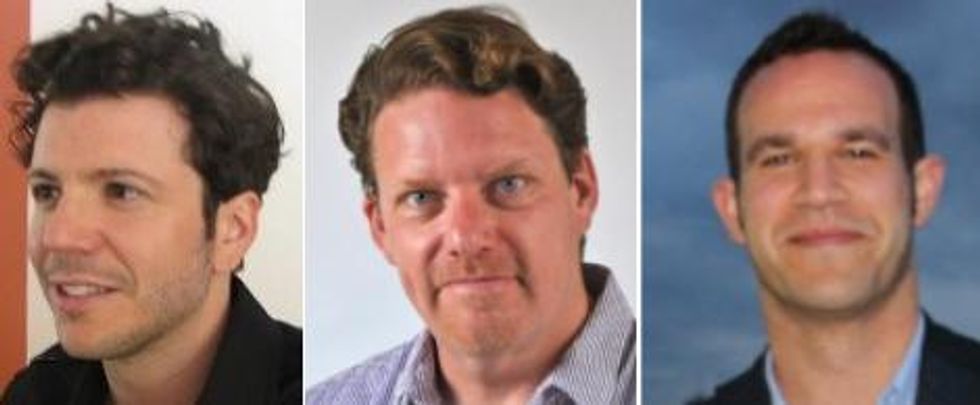 Afterparty co-founders (from left) Eytan Elbaz, Dan Rahmel and David Fields
At Disney, Fields helped lead the Pixar acquisition in 2006, and with Eisner he invested heavily into the creator economy when it was being fueled by a nascent YouTube.

"I think we're entering a second, just as powerful disruptive wave with crypto networks," Fields told dot.LA. "We are at as profound a moment for the creator economy and entertainment industry as we saw with broadband internet coming in."
Afterparty provides design templates to help creators mint NFTs. Designers can submit frameworks and earn compensation from the platform if their submissions are used.
The company itself issues a crypto token as well, which can be required to access events on the platform. The token also provides owners with voting power to make decisions on things like what the company should do with the money. In this way, Afterparty aims to become a so-called decentralized autonomous organization, with majority ownership held by its community via these "governance tokens."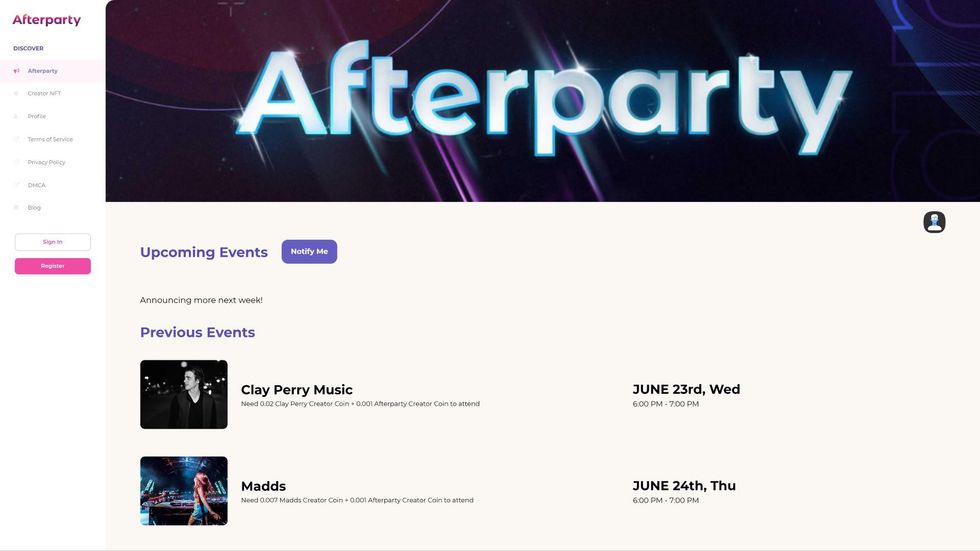 A screenshot of Afterparty's website.
During the company's beta period, held in June and July, artists Clay Perry and Tropix earned $500 and $1,000 in direct income, respectively. Jon Youshaei, who hosts a popular Clubhouse show about the creator economy, also participated in an event.

"We felt like we were selling picks and shovels in a gold rush," Fields said. The company has focused so far on musicians but plans to expand into broader creator categories.
Elbaz, one of the L.A. tech community's biggest success stories, is himself a musician, like his co-founders.
"NFTs are at a critical inflection point where the merging of music and art with digital assets will take the industry in whole new directions," he said in a press release. "We're now at a place where we must facilitate how creators and fans can exchange them seamlessly."
The NFT markets have been up and down lately, with some platforms seeing record highs while others have plummeted. Though it may seem like the hype cycle has hushed following the NFT mania that crested with digital artist Beeple's $69 million sale in March, administered by auction house Christie's, the Aftrparty team and the crypto community at large see the party just beginning.
"I think we're going to see an explosion of really exciting new experiments," Fields said.
Related Articles Around the Web
A new film about a tech titan starring Anthony Hopkins is being released next month, not on Netflix or in theaters but on an NFT platform.

L.A.-based startup Vuele is releasing "Zero Contact," a film featuring Hopkins as a character whose secret invention could either solve mankind's problems or destroy the world.
In September, Vuele will auction off a one-of-one NFT linked to the film, which will grant the owner early access to the release along with a host of extra features like bonus footage. The company considers itself the "first direct-to-consumer, full-length feature film NFT viewing and distribution platform."
It will release subsequent versions of the NFTs, available as drops for which users must queue up. Each round will tender a higher number of NFTs, with each granting owners fewer associated perks. Users will be able to display and trade their NFTs on the Vuele platform.
Vuele (pronounced "view-lee") is a joint venture between L.A.-based CurrencyWorks, a publicly-traded cryptocurrency platform, and Beverly Hills-based Enderby Entertainment.
Cameron Chell, founder of both CurrencyWorks and Vuele, said his interest in NFTs crescendoed in February when he saw the hundreds of thousands of dollars that was being spent on Topps' blockchain-based offering of Garbage Pail Kids, a set of characters originally launched in the '80s to parody the Cabbage Patch Kids franchise. That same month sales in NBA Top Shot NFTs hit their all-time high, and Chell's business thesis crystallized.
"Creating an entire community and an economy around something that people have passion in seemed very, very viable," he said.
He co-founded Vuele the next month. Filming wrapped in February 2021. Now the company is aiming to bring about what Chell calls an "incremental form of distribution for the movie industry," with Zero Contact as its maiden voyage.
Intellectual property in film can be rife with complexities, ranging from exhibition windows to geographies. To simplify the experiment, Vuele acquired full rights to the film, directed by Enderby Entertainment's Rick Dugdale. Chell would not disclose how much the company paid.
His hope is that by managing the intellectual property for this first go-round, Vuele will be able to point to the experience as a case study for future negotiations with other content owners.
"A lot of people have talked about using blockchain for distribution of entertainment content since before anybody knew how to say 'NFT'," said Richard Thompson, an entertainment-tech lawyer. The decentralized database technology offers promise for simplifying royalty payments and potentially protecting against piracy, he said.
"But the typical way that NFTs work today doesn't lend itself very well to film distribution," Thompson added, noting that the tokens are best for specific, unique digital objects and that films aren't necessarily a great use case. "Somebody will come up with something really cool and workable that may change the way that entertainment content is distributed, but not until a bunch of dumb people who don't get it have tried stupid things and failed."
Chell, however, thinks the community of film fanatics will prove fertile ground for NFTs.
To make money, Chell said that when Vuele owns the IP outright, it will take the NFT primary sale and a percentage of secondary trades, then look to transfer the film into "traditional distribution" channels, such as selling it to a streamer. In cases where it partners with a distributor or producer, it will do a revenue split.
Whether Jack Dorsey intended it or not, when the Twitter founder sold his first tweet as a non-fungible token (NFT) for nearly $3 million in March, he helped to bring the blockchain-based financing technology mainstream.
He also gave a the company behind its sale some free, high-profile marketing. On Thursday, that startup announced it had capitalized on it to the tune of $3 million from a stable of celebrity investors.
Cent, the company behind the Valuables platform that mints tokens from tweets, will use the funding to further build out tools to help creators make money through NFTs.
Cent began as a social media platform in 2017 meant to help creators earn money via crypto payments. In late 2020 it launched Valuables, which allows users to identify a tweet they'd like to purchase as an NFT; if the tweet owner accepts, Cent mints the NFT and effects the transaction.
"Their insight was in surfacing the inherent value of the authentic, candid, human artifact," said Ron Martinez, a San Francisco-based intellectual property and digital technology entrepreneur.
Investors include Dreamworks and Quibi founder Jeffrey Katzenberg, Zynga founder Mark Pincus, LinkedIn founder Reid Hoffman, and musician-entrepreneur will.i.am. Galaxy Interactive and In/Visible also participated in the round.
Cent co-founder and chief executive Cameron Hejazi formerly worked in advertising, where he said he saw social media platforms racking up billions while the creators they relied on got peanuts.
Cent co-founder and chief executive Cameron Hejazi
"My mission is to try to help the people who are spending all this time creating value on the internet turn that into a sustainable source of income for themselves," he said.
Though Cent has offered few concrete details of its plans, Hejazi said he not only wants to help creators profit from their output, but also to be able to own their audience data.
He envisions creators calling on their audiences on platforms like Twitter, TikTok and Instagram to follow them on the Cent platform, where the creators will be able to own the audience data.
"We'd really like to see the proliferation of these open, interoperable systems," Hejazi said. "All the major companies have operated in closed ecosystems, which was appropriate at the time, but is no longer needed."

NFTs enable digital assets like .jpg files, songs and videos to be certified unique and therefore potentially valuable. They reached a fever pitch in March when Christie's, the auction house, helped digital artist Beeple sell one of his works as an NFT for $69 million.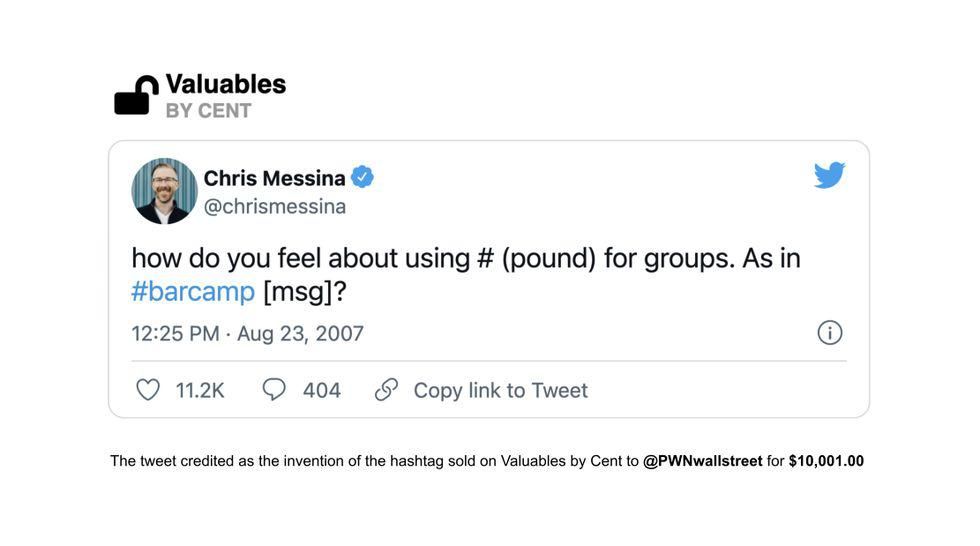 NFT skeptics have gawked at such eye-popping sums, much of which has been fueled by cryptocurrency whales who've made a killing and are incentivized to see the technology grow. More and more ideas have filed in, ranging from using NFTs to unlock in-person experiences to turning human excrement into a collectible.
It remains to be seen if the cynics will be proven correct. Data from NFT analytics site CryptoSlam offers evidence of both a market cooldown and an acceleration.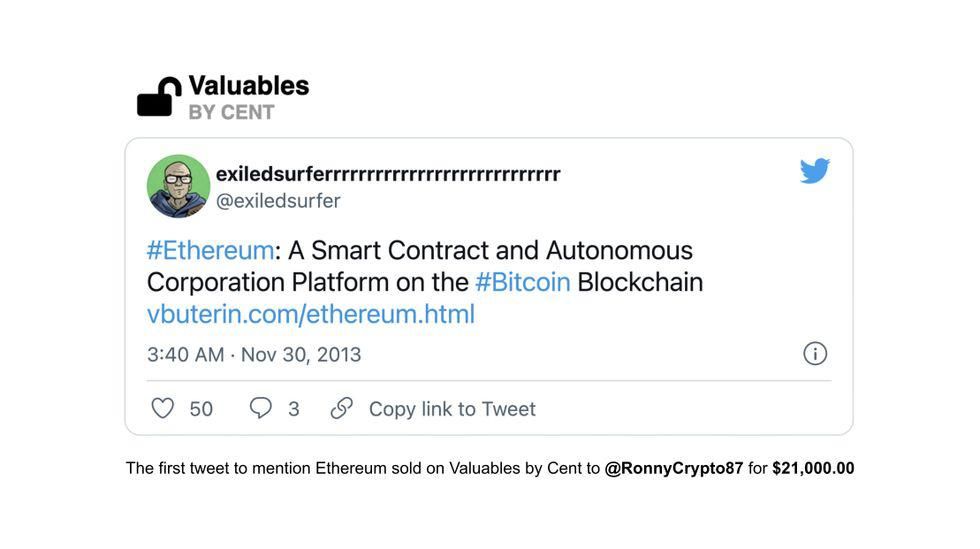 The birth of the hashtag and the launch of Ethereum, minted as NFTs.
NBA Top Shot, which turns basketball highlights into collectibles, stood alongside Beeple as a symbol of the NFT exuberance. It sold over $224 million worth of NFTs in February and another $208 million in March. But by July, sales had plummeted to $22 million.
Others have picked up the slack and then some. AxieInfinity, a gaming platform that allows users to earn money by raising digital creatures that have been minted as NFTs, saw almost $667M of NFT sales in July, according to CryptoSlam. That far surpassed its previous high, set in June, of $122 million. And it's already sold over $135 million worth of NFTs in August.
CryptoPunks, which sells low-resolution character icons as NFTs, has had a similar trajectory. It reached a $98 million peak in March, but saw a new high in July with over $135 million in sales. In the first five days of August it has already sold nearly $90 million worth.
"We're witnessing the first generation of NFTs," Hejazi said. "I think the opportunity is around getting people a footing in what it means to create an NFT and what it means to own an NFT."
Cent earns a 5% commission on NFT sales and 2.5% on any secondary trades. Creators earn the remainder of the primary sale and 10% of the secondary. The company has about 50,000 users on Variables, from which it generates about $20,000 in monthly revenue, Hejazi said. It also earns revenue from its Cent social platform, but he would not disclose how much.
Professionals who work with creatives may welcome the new monetization opportunity.
"I am normally very cynical about this kind of thing and names of celebrity investors don't impress me, but this looks promising," said entertainment-tech lawyer Richard Thompson. "An NFT platform that is oriented toward creative people who have some sort of following is needed now."
dot.LA Explains: What Are NFTs?