nft
This week on the L.A. Venture podcast, hear from Mike Jones, the founder and CEO of studio and venture firm Science Inc. Jones is considered an expert on scaling and robust business strategy. He runs Science Inc. with Peter Pham, Greg Gilman and Tom Dare.
Starting in the late 90s, Jones began creating and managing his own businesses. He created UserPlane, an instant messaging service that was acquired by AOL early in his career. Following that, he was the turnaround CEO of MySpace— helping the company navigate losing its legacy status — and has invested in a number of notable brands, including GoodReads, Maker Studios Inc., HelloSociety and DogVacay.
Science is often considered an incubator. It was also the first investor in Dollar Shave Club and has also helped scale Mammoth Media, Arrive Outdoors, pray.com, Liquid Death and PlayVS. Jones has also been named one of the most influential people in Los Angeles.
Science has a venture funding studio, a blockchain fund and a late-stage SPAC. The company is best known for its venture arm, which is investing out of its $100 million Fund III.
Jones also works with these companies as an advisor. He says it's important to him that the founders he invests in are willing to learn and be highly adaptable to new strategies.
His background at MySpace, he says, gives him a unique perspective on the future of social media. He says he has respect for Snap founder Evan Spiegel, but adds he thinks social media needs to be more empathetic.
"in a world where when you and I meet up in person, we have millions of micro expressions on how we're communicating with each other," he says, "like pheromones, and all the other components that go into two people standing next to each other and actually having a conversation. We have to rebuild that digitally."
This is why he argues that founders' intent and message are so important.
"The thesis of an authentic brand is 'I make this product because I believe it's the right thing to do. And it has a purpose'," he says, beyond profit.
Mike offers his insights on investing, the 2020 ecommerce boom, the future of NFTs and his passion for cyrptocurrency.
"One thing that's 100% true is I've never seen retention correct itself. If you need to change retention substantially, you need to make substantial changes to the business." — Mike Jones
dot.LA Engagement Intern Colleen Tufts contributed to this post.
Want to hear more of L.A. Venture? Listen on Apple Podcasts, Stitcher, Spotify or wherever you get your podcasts.
From Your Site Articles
Related Articles Around the Web
Daria Shapovalova and Natalia Modenova want to sell you clothes, but not the type that hangs in your closet.
Their virtual outfits can be cropped into your next Instagram post to make followers think you paid thousands of dollars for a dress designed by Alexander McQueen's nephew.
Their Los Angeles-based digital fashion startup DressX is building a library of designer dresses, sweatshirts and purses that cost far less than the real thing. And, they say, without the environmental cost of production, shipping and waste.
"It's for content creators who don't want to spend additional money on clothes," said Shapovalova, DressX's co-founder. "They can shoot their prerecorded videos for Stories and TikTok just from the camera."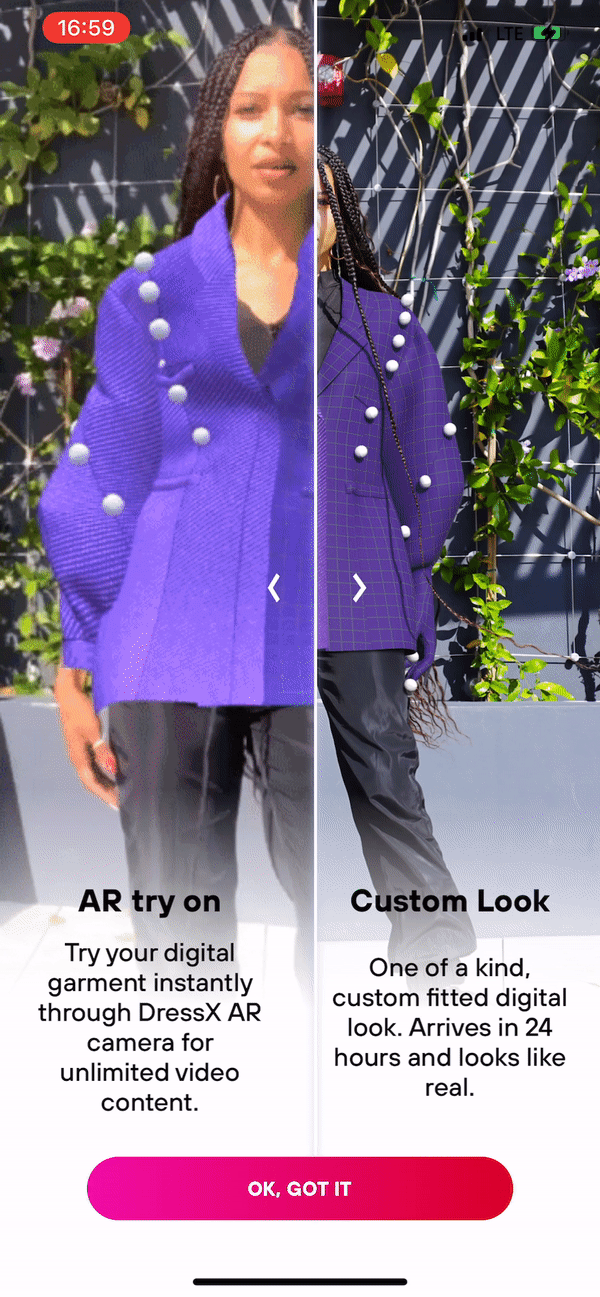 After scrolling through pages of clothes, customers check out with a credit card and upload a photo of themselves with any special requests.
"They're like style notes," said Modenova. "For example, I want to have my bag on top of the dress."
The DressX team then gets to work, layering the digital clothes on top of the customer's picture. A day later, a finalized image is emailed back to the user along with a file of the item.
Once the startup's mobile app goes live later this month, users can pay a monthly subscription fee to access certain garments as augmented reality filters. Think of it like premium Snapchat filters for couture fashion, where content creators can film YouTube videos or Instagram Stories while wearing virtual outfits.
On Tuesday, DressX closed a $2 million seed round to launch that platform and build out its NFT marketplace.
Before COVID-19, the DressX executive team ran a pop-up showroom in L.A. called More Dash, where customers could film digital content in rented outfits. They transitioned online last August and started marketing to millennial and GenZ-aged consumers pushing back against the fast fashion industry.
"Imagine you're 15 years old, you don't have enough money to buy dresses that you wish to buy," Shapovalova said. "In digital fashion, you can wear almost anything."

The company now lists clothes and accessories from over 100 3-D and traditional fashion designers including Ukraine-based Paskal and shoe brand Buffalo London. Between 12% to 30% of each sale goes back to the designer, excluding items from DressX's own clothes designed in-house.

There's a $25 sweatshirt printed with a Paul Cezanne painting and a $100 interactive couture dress programmed with Google technology. In April, DressX hosted an online fashion show with Gary James McQueen — nephew of designer Alexander McQueen — who sold the clothes for digital purchase only.
"This is breaking the boundaries of the existing fashion industry," said Shapovalova, a former fashion TV show host who helped launch Ukraine's Fashion Week.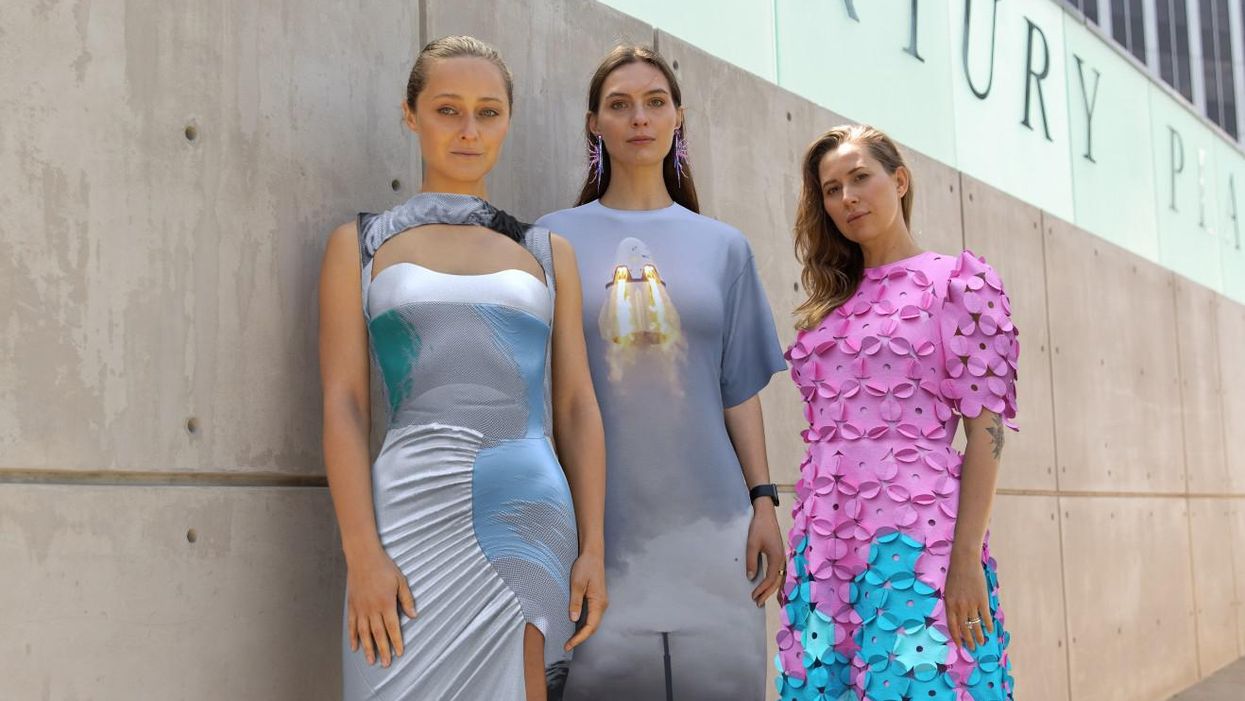 From left: DressX CEO Daria Shapovalova, COO Natalia Modenova and Head of Product Julie Krasniienko. (All the clothes featured are 100% digital).Photo by Olga Helga
Next year, she said the company aims to launch new features for users to wear DressX clothes on Zoom or Google Meet.

The seed round was led by The Artemis Fund and Alpha Edison. Additional funding came from Unlock Venture Partners, One Way Ventures, Signal Peak Ventures, TLF Ventures, Startup Mavericks and Angel investors from fashion, tech and blockchain industries, the company said.
From Your Site Articles
Related Articles Around the Web
Mattia Cuttini's "Produkt Hi-res-50-10" is a culmination of the Italian visual artist's 12 years of creative experimentation with rubber stamps and Xerox machines, which he sold earlier this year for over $5,000 on digital art marketplace SuperRare.
But Cuttini cannot take sole credit for the piece. Some is due to the artificial intelligence software that he fed with dozens of abstract images he's crafted over the years and which synthesized them into the new creation.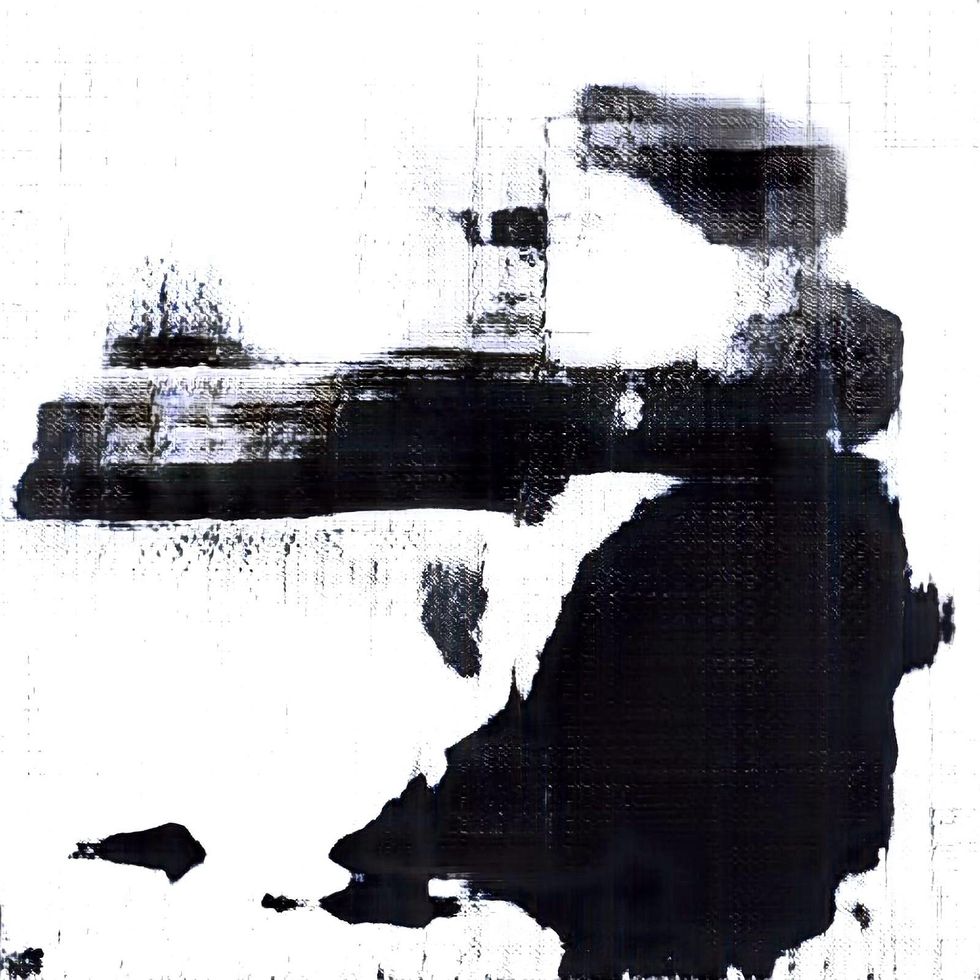 Mattia Cuttini's "Produkt Hi-res-50-10"
Playform, the company behind the software, wants to provide more visual artists with technology that serves as a creative partner and can generate novel digital artworks based on the artist's previous works. Backed by Khosla Ventures, the company's technology stems from founder Ahmed Elgammal's research.
Now the startup is shifting its center of gravity to Los Angeles.

"What we want to do is create a world in which artists can make a living doing what they love," said Jennifer Chang, the Southern California native who the company announced Friday will take over as CEO.
Formerly head of marketing for the remote company, Chang inherits the mantle from outgoing CEO Ahmed Elgammal, a computer science professor at Rutgers who will remain the company's chief technology officer.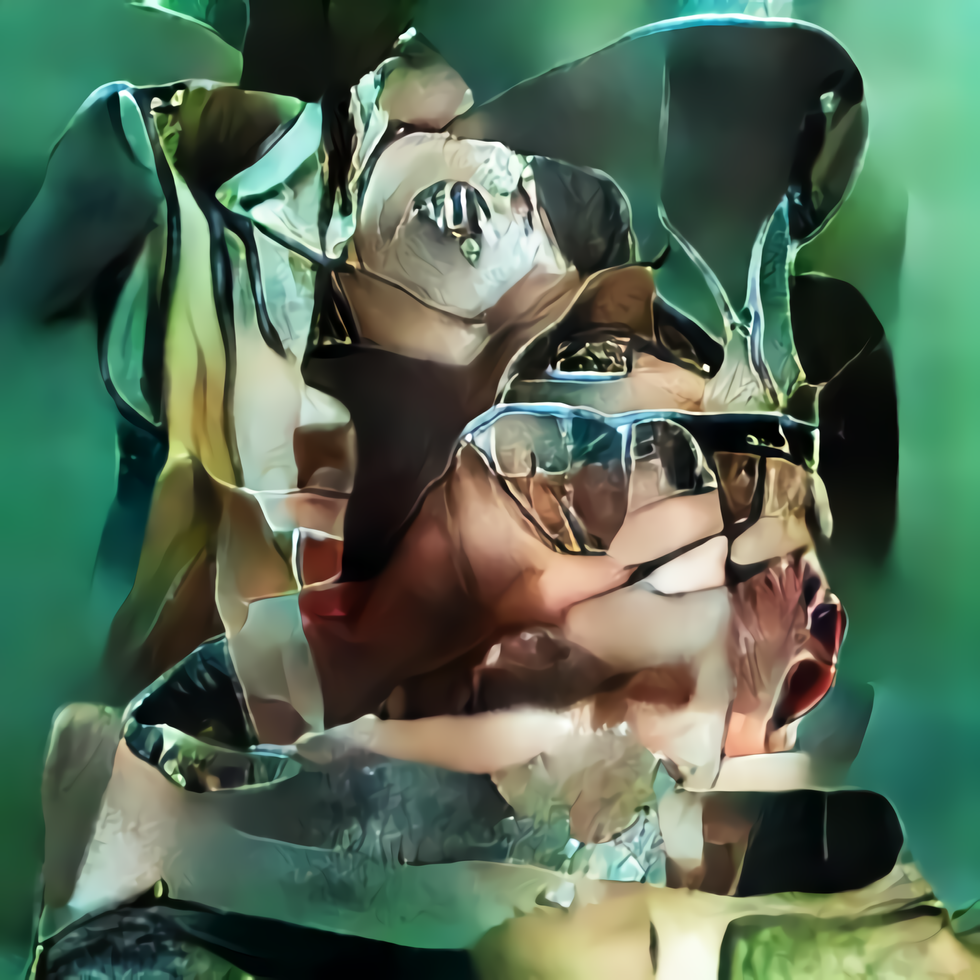 A work by Chris Trueman created with Playform
The rising popularity of NFTs has provided digital artists with new financial opportunities, enabling their works to more easily be certified as authentic, thanks to the blockchain.

Cuttini is one of about 15,000 artists who've used Playform, Chang said. He's also one of about 35 who've worked with the company as part of its residency program, through which Playform provides artists access to its software, co-markets the output, and takes a percentage of the sale.
"Between all these new, emerging technologies like AI, which is creating new ways of producing artworks, and blockchain, which is creating new ways of selling artworks, this is the time of the artist; they're in a position that just wasn't accessible before, other than to a very select few," Chang said.

Playform is one of several generative AI tools available to artists. Some, like Runway ML, are available for free with limited features. Many require some degree of technical know-how.

To use Playform, artists need not know how to code. They feed a set of images to the software, which uses a type of AI invented in 2014 called a "generative adversarial network" to create novel pieces. The model can work with as few as 30 inputted images, a relatively low input volume for GANs. Processing time varies depending on the variety of the inputted images, but can take as little as 30 minutes, Chang said. The software includes several features for artists to guide the output.
The company charges $5 per hour of usage, or a monthly subscription fee.
Copyright ownership can get murky when human artists work alongside machines to generate new creations, but Playform gives artists full control of the IP.

"We're committed to empowering artists and helping them succeed," said Chang, who earned her MBA from USC and considers creativity the consistent theme in her career path.
The new CEO has worked in Disney's ABC division and at numerous startups focused on helping creative people develop monetization opportunities. For her, Playform is a new opportunity to bolster creative people through technology.
Artificial intelligence poses an ever present threat of replacing humans in any realm where it is deployed. But Chang sees Playform, along with technologies like the blockchain, as tools poised to help rather than harm artists.
"This new ecosystem provides the infrastructure necessary to really enable digital artists to thrive," she said.
Chang inherits a company with 10 full-time employees distributed across North America and Asia, but anticipates growing her team through her L.A. network and capitalizing on the region's artistic community.
"This is a very creative city and it's full of really creative talent," she said, "and I'm really excited to be building a business here."