Samson Amore
Samson Amore
Samson Amore is a reporter for dot.LA. He previously covered technology and entertainment for TheWrap and reported on the SoCal startup scene for the Los Angeles Business Journal. Samson is also a proud member of the Transgender Journalists Association. Send tips or pitches to samsonamore@dot.la and find him on Twitter at @Samsonamore. Pronouns: he/him
SpaceX is sending a spacecraft right into an asteroid as part of a test tonight to see if that's a viable way to dispel asteroids dangerously close to our planet.
The mission is called the Double Asteroid Redirection Test (DART for short), and it's paid for by NASA, which wants to test out new ways to avoid potentially deadly asteroids careening down to Earth by smashing them up in outer space before they even get close to the planet's atmosphere.
A SpaceX Falcon 9 craft carrying the DART craft (which is unmanned, for obvious reasons) will launch late Tuesday from the Vandenberg Space Force Base and make an orbit around the sun before it runs into an asteroid named Dimorphos.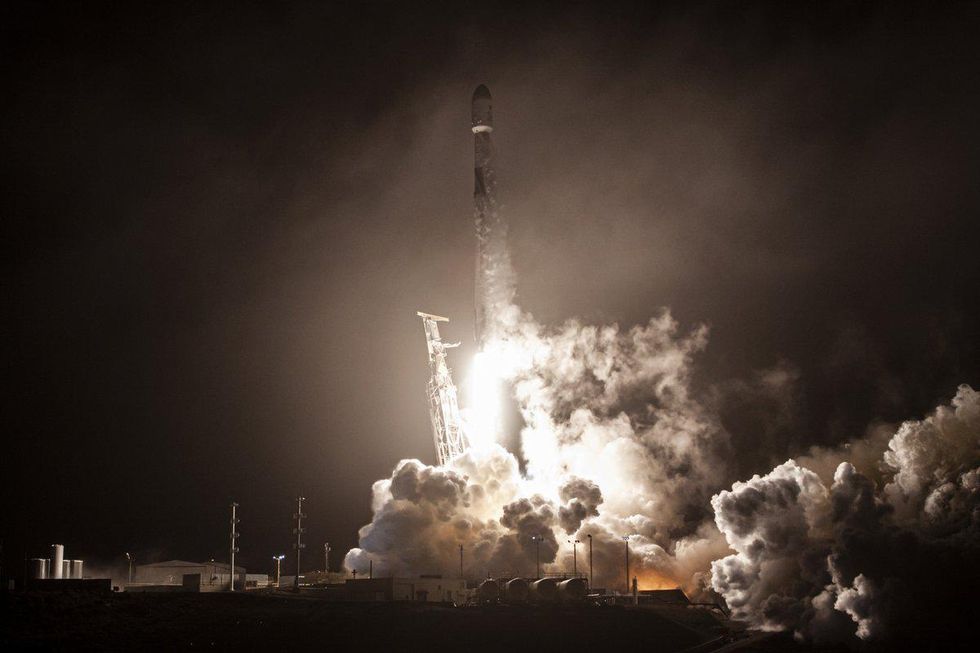 The impact won't happen until this fall, when the asteroid is the closest to the Earth (but still about 6.8 million miles away). SpaceX confirmed overnight on Tuesday the craft was deployed and on track for a collision in several months.
The asteroid isn't in immediate danger of crashing into the planet –NASA said it makes a full orbit around the sun once every two years – but its regularity makes it an easy target to test this theory on.
"This asteroid system is a perfect testing ground to see if intentionally crashing a spacecraft into an asteroid is an effective way to change its course, should an Earth-threatening asteroid be discovered in the future," NASA said in a statement Tuesday.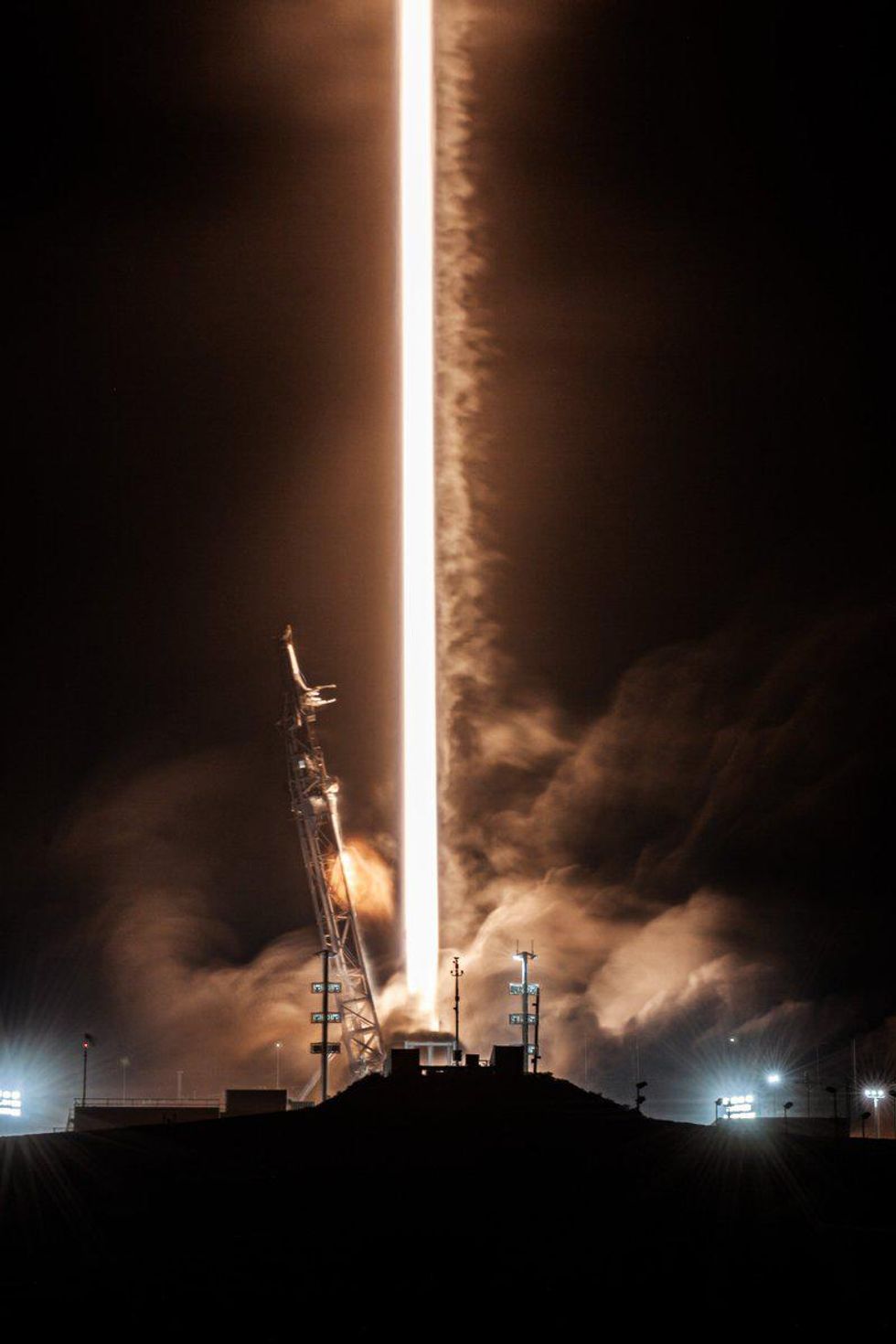 NASA administrator Bill Nelson told the New York Times that even though the mission sounds like it's ripped from the pages of science fiction, it could actually work.
The mission, Nelson told the Times, is the first test of its kind and "something of a replay of Bruce Willis's movie, 'Armageddon,' although that was totally fictional."
The space agency added that "no known asteroid larger than 140 meters in size has a significant chance to hit Earth for 100 years," but it also said that it's only aware of about 40% of those asteroids out there as of last month — so it might be a good idea to test this capability now, in case a larger one does come close.
The craft is set to lift off from the base located on the California coast (between Santa Barbara and San Luis Obispo) at 10:20 p.m. PST on Tuesday, Nov. 23.
Southern California residents may be able to witness a plume of white smoke in the sky around midnight Pacific Time tonight as the craft takes off.
To watch the live feed of the launch, check NASA's YouTube channel, which will start broadcasting at 9:30 p.m. PST this evening. SpaceX's launch page on its website also links to the upcoming NASA live stream, and it'll also likely post updates on its Twitter page as the launch progresses and the Dragon rocket lands.

Editor's Note: This story has been updated to reflect when the impact is expected.
From Your Site Articles
Related Articles Around the Web
A group of activist shareholders is calling for Activision Blizzard's chief executive Bobby Kotick to resign after accusations surfaced that he concealed alleged sexual harassment and rapes at the company.

Washington, D.C.-based SOC Investment Group (formerly known as CtW Investment Group), wrote a letter to the Activision Blizzard board of directors on Wednesday demanding Kotick exit the company immediately.
"After the new revelations, it's clear that the current leadership repeatedly failed to uphold a safe workplace — a basic function of their job. Activision Blizzard needs a new CEO, board chair, and lead independent director with the expertise, skill set and conviction to truly change the company's culture," said SOC Investment Group executive director Dieter Waizenegger.
"Activision has become a case study for how disregard for workers' wellbeing and human capital management can put company performance at risk."
Activision didn't immediately respond to dot.LA's request for comment.
SOC is the investing arm of the Strategic Organizing Commission, a group of unions that represent over four million workers with investments over $250 billion.
Last month an outcry from investors at SOC prompted CitiBank to agree to an audit of how it may contribute to discrimination and to announce it would commit $1 billion to organizations working to close the racial wealth gap. SOC is also an outspoken investor in newly public electric vehicle firm Rivian and Electronic Arts.
The demand comes in response to a Wall Street Journal report that Kotick knew of alleged sexual harassment and rapes that took place at the company three years ago but failed to discipline any culpable employees or inform the board of directors.
Kwame Bell, a spokesperson for SOC Investment Group, said it owns 3.8 million shares in Activision.
The group also advised Activision's board Chairman Brian Kelly and Robert Morgado, the board's lead independent director, to resign by Dec. 31, "in order to ensure that the board has leadership capable of leading this effort" to reform Activision's company culture.

Read the four-page letter in its entirety here.
Waizenneger added that the growing number of employees reporting harassment or assault — reports Activision admitted in an October letter to employees are increasingly frequent — are proof of "leadership failures and lack of board oversight."
Activision employees have been organizing under the moniker A Better ABK (ABK being a shortened version of the game publishers' three divisions, Activision, Blizzard and King) and this morning circulated a petition demanding Kotick's removal that gained over 500 signatures from current workers and contractors.
The group has been a vocal critic of Activision for awhile now, and has written similar missives to them urging the board of directors to stop giving Kotick bloated performance-based bonuses.
SOC also wrote Activision in August calling for Morgado to step down and be replaced by a woman or woman of color by the end of this year, and urging the mostly male board to commit to gender balance on the board by 2025.
"We call on Mr. Kotick to resign as CEO of the company, and on the board of directors to take responsibility for failing to recognize and address what the California Department of Fair Employment and Housing has described as a 'frat boy' workplace culture to flourish," SOC Investment Group wrote in the letter.
From Your Site Articles
Related Articles Around the Web
After a two-year pandemic-induced hiatus, the L.A. Auto Show is returning with a crush of Southern California electric vehicle makers debuting cars ahead of next week's show and new ones announcing they will enter the local market for the first time.

While there's a handful of new cars being introduced at this year's show, local automakers have yet to deliver any vehicles to customers and are planning to do so within the next five years.
One of the newest local entrants is Vietnamese electric automaker VinFast. The company bills itself as a higher-end car. It announced this week it would establish a headquarters in L.A., its first American outpost and a key foothold for the company as it looks to bring its electric vehicles to a Western market.
Another newbie in the region's brimming EV industry is Brea-based Mullen Automotive. Launched this year, the company is going after the middle market, with the price on their Mullen FIVE SUV starting at $55,000. It was one of the only electric carmakers to boast its manufacturing is entirely based in the United States –most other builders with local footprints opt to manufacture overseas and then ship to the States for further fine-tuning or regulatory adjustments.
Here's a look at some of the wheels made by local carmakers being showcased at this year's Auto Show next week, Nov. 19-28.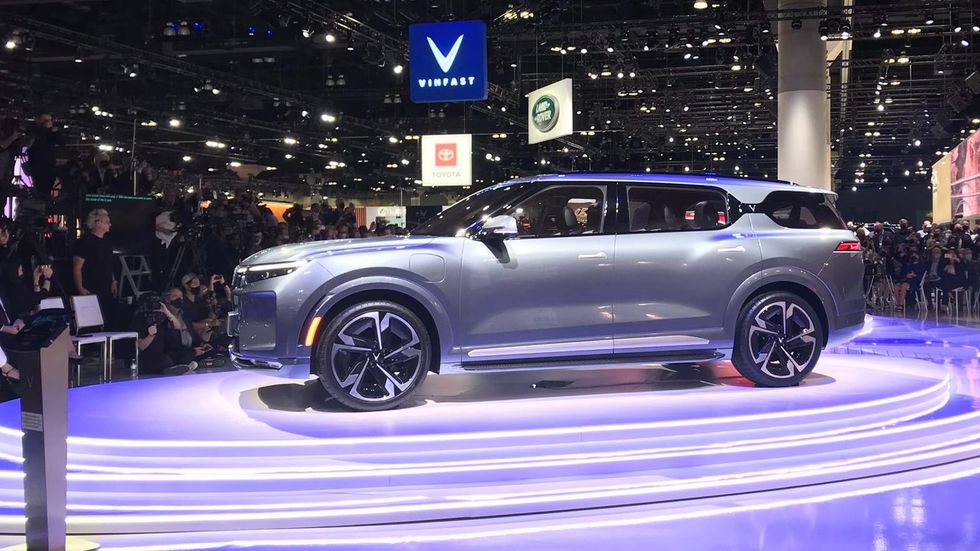 VinFast will debut two electric SUVs, the VF e35 and VF e36
VinFast
VinFast is a subsidiary of Vingroup, a Vietnam conglomerate that's the country's largest publicly listed company. The firm is trying to make a splash at its first Auto Show this year, springing for a large billboard outside the Los Angeles Convention Center and opting for one of the biggest reveals during the press days.
VinFast will sell two electric SUVs, the VF e35 and VF e36. The company's global CEO Michael Lohscheller said during a presser one of its core values is speed, and not just in terms of miles per hour -- both vehicles will be available for pre-order in the first half of next year, and deliveries are planned to begin in fourth quarter 2022.
The VF e35 is around the size of the Tesla Model Y, and it will have an estimated range of 250 miles. The VF e36 is slightly larger and more powerful, with a range of about 340 miles. Internally, both cars are reminiscent of Teslas, with a focus on minimalist features and a large, central screen. VinFast hasn't yet set pricing for either car.
VinFast is opting for a unique model with its batteries -- it will lease them to customers with the promise of replacing them once they are less than 70% charge and believes that this model can help lower the price point for buyers.
VinFast launched in 2017 and announced this week that it will establish its U.S. headquarters in Playa Vista. The company's manufacturing will be done at its newly-constructed facility in Vietnam, where nearly everything is automated and roughly 1,200 robots control 90% of the production line. Lohscheller also said VinFast plans to have some production facilities in North America by 2024.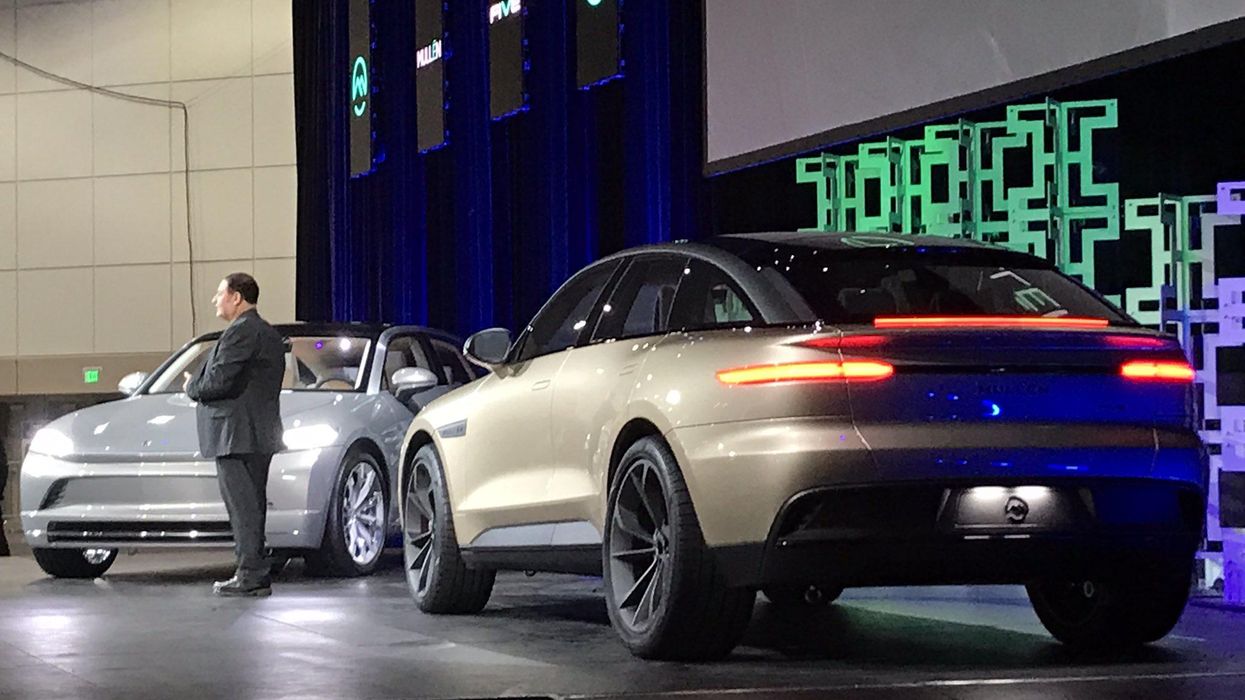 Mullen FIVE model
Mullen Automotive
Los Angeles-based publicly traded automaker Mullen will reveal its first vehicle at the Auto Show, the Mullen FIVE crossover SUV.
With a range of roughly 325 miles and max speed of 200 miles per hour, the Mullen FIVE could be one of the fastest EVs on the market -- and it'll boast a rapid acceleration time of 0-60 in a mere 1.9 seconds.
The Mullen FIVE will cost between $55,000 and $75,000 before incentives and CEO David Michery said during the presser production is scheduled to begin in fourth quarter of 2023. The vehicles aren't expected to begin shipping until second quarter 2024.
Mullen is also working on a line of electric fleet vans and its Dragonfly electric sports car is already available for reservations after debuting in 2019. The car's max speed is a roaring 125 miles per hour and its range is about 236 miles.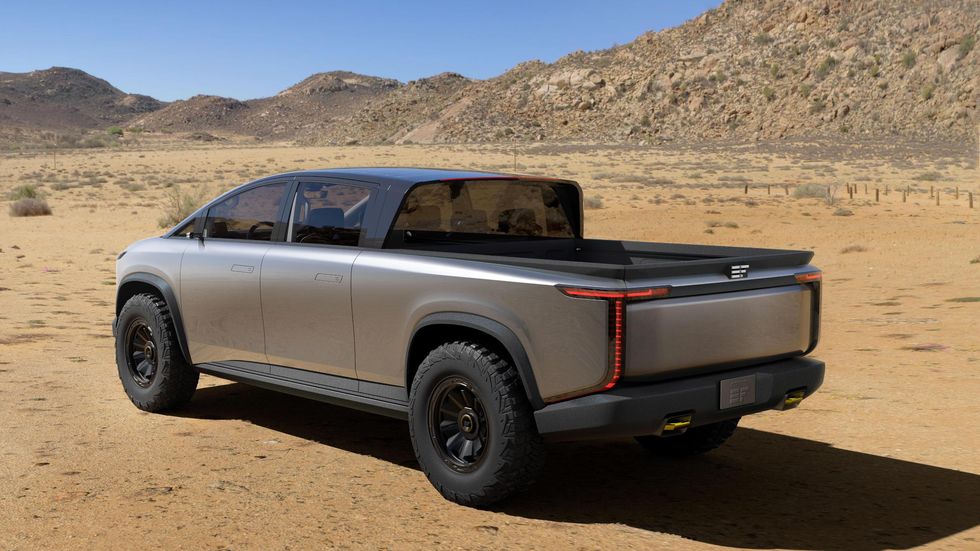 Edison Future's EF1-T electric pickup truck
Edison Future
Anaheim-based Edison Future will be at the Auto Show to showcase its two vehicles, the EF1-T electric pickup truck and the EF1-V electric delivery van.
Both vehicles are solar-powered in addition to being charged electrically, a feature Edison hopes will reel in more customers who might be worried about running out of battery while far from a charging station.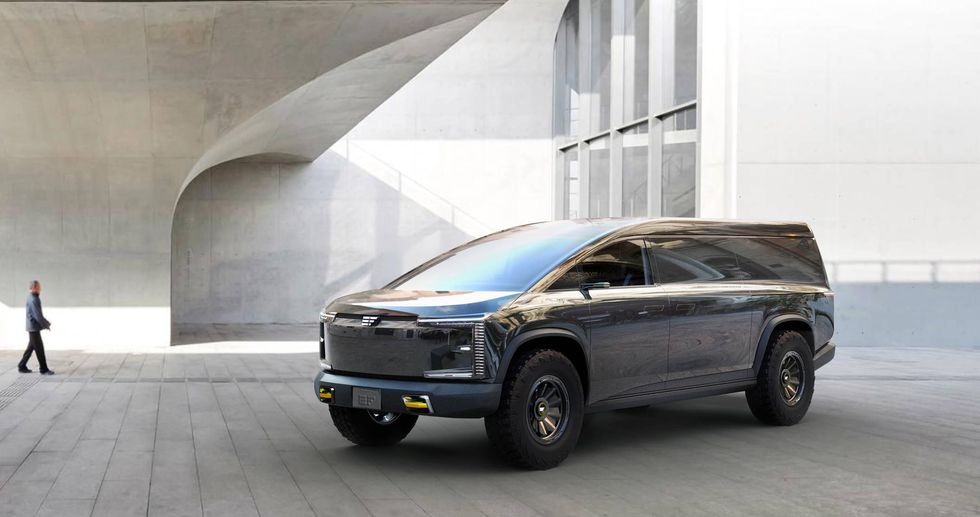 Edison Future EF1-V electric delivery van
Several models of the EF1-T will be available, with a distance range of 300 miles to 450 miles on a full charge. Edison Future hasn't yet disclosed pricing for the electric truck or delivery van, and it didn't disclose a range for the van either.
Edison Future said during a press conference that it'll begin accepting reservations as soon as this month, and aims to deliver its cars starting in 2025.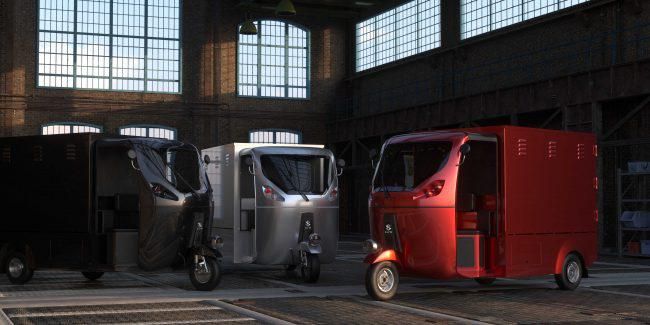 Bilit Electric's GMW Taskman
Biliti Electric
Biliti Electric, a new company which launched this year and is based in Culver City, debuted an electric delivery vehicle at the Auto Show, called the GMW Taskman.
The vehicle is designed for commercial deliveries like Amazon and some models are already in use -- CEO Rahul Gayam said in a press conference Taskman vehicles have already delivered 12 million packages.
The vehicle has a range of 80-90 miles, but that can be greatly expanded thanks to a fold-out solar panel, which Gayam said can provide an added 110 miles. "You can rely on the sun for a 100% recharge," Gayam said.
The three-wheeled Taskman can carry loads of up to 1,500 pounds and is being produced by GMW Electric in India. Earlier this month, Biliti announced it raised $400 million from new investor GEM, which it said it will use to grow the business and accelerate its manufacturing to sell on a global scale.
Biliti said it will sell the Taskman in the U.S., U.K, Japan, Europe, U.A.E., India and Africa, with tiered pricing ranging from $4,000 to $8,000 per vehicle depending on the country purchasing (a lower price is available for India and other developing countries, Gayam said).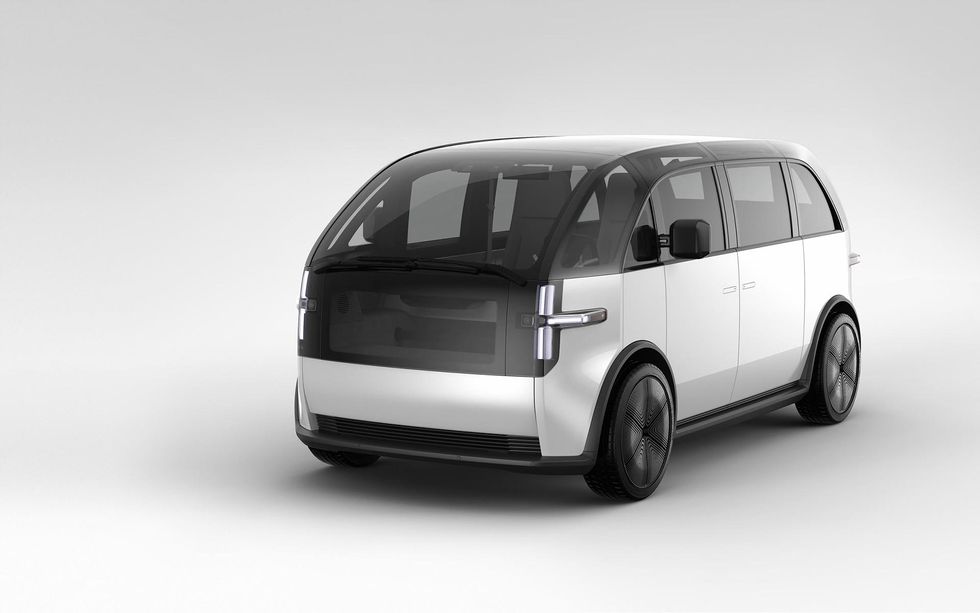 Canoo's electric van
Canoo
Canoo makes several electric vehicles including a loft-inspired lifestyle vehicle, a larger multi-purpose delivery vehicle, a pickup truck and one car that's yet to be named or revealed.
This year Canoo decided not to present at the Auto Show, perhaps because it's in the midst of some corporate transitions -- the formerly Torrance-based company announced this week it would move its headquarters to Bentonville, Arkansas and add factory capacity in Pryor and Tulsa, Oklahoma.
Canoo opted for a smaller display at this year's show than usual, showcasing a demo of its lifestyle vehicle that it'd previously debuted several years ago. The company's stock rallied this week after it reported Q3 earnings and CEO Tony Aquila said it would accelerate its delivery timeline, beginning assembly of its vehicles a year ahead of schedule in 2023.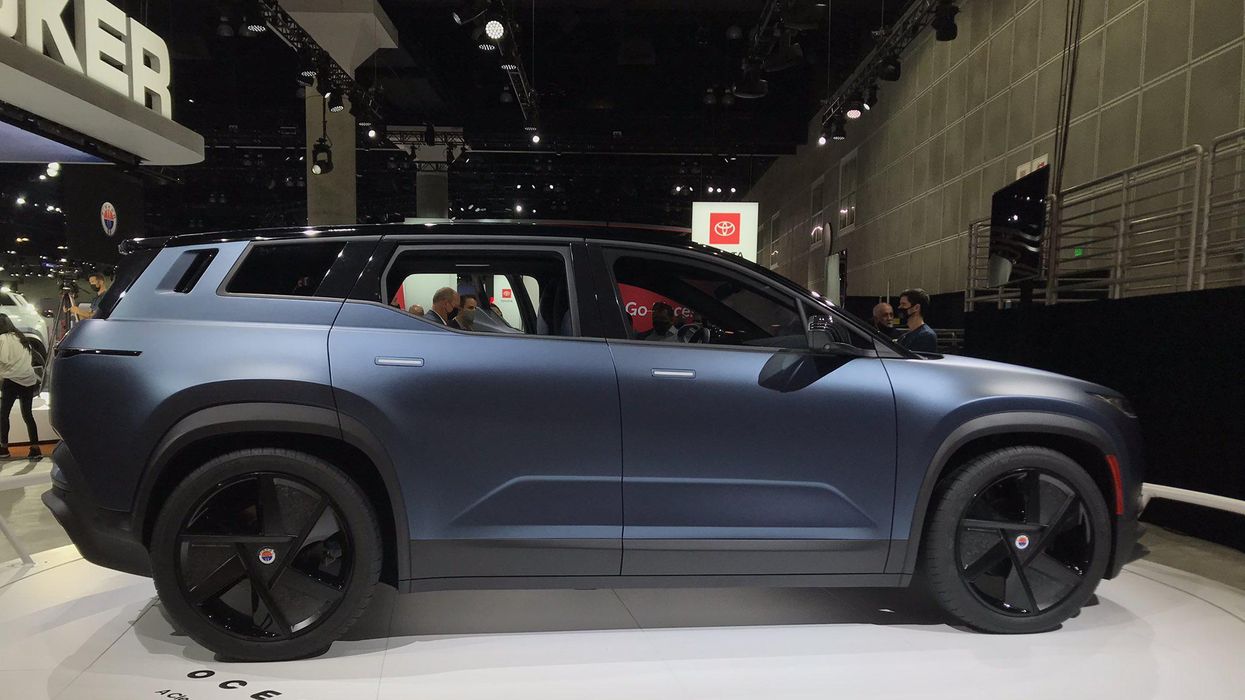 Fisker's Ocean SUV
Fisker
The Torrance-based car company founded by Henrik Fisker in 2016 will spring for a large display of several of its vehicles including the flagship Fisker Ocean SUV. Fisker said it will start production on the vehicles beginning in 2022.
On Wednesday the company debuted several versions of the Fisker Ocean vehicle, which it's been hyping up for several years. The Fisker Ocean One will be the company's first produced vehicle, limited to 5,000 units and retailing for about $69,000. The Ocean One will reach a range of 350 miles per full charge.
The full-wheel drive Fisker Ocean Sport is Fisker's lowest-priced offering, retailing for around $37,500 and packing 275 horsepower and a range of 250 miles on a full charge.
Fisker will also sell the Fisker Ocean Ultra, which will retail for roughly $50,000 and can go 0-60 miles per hour in a mere 3.9 seconds. The all-wheel drive car will have a range of up to 340 miles and 540 horsepower.
For speed enthusiasts, Fisker is lastly offering the most expensive version of the Ocean, the Ocean Extreme, which will feature a rotating center display and adds 10 miles of charge and 10 extra horsepower to the Ocean Ultra model.
The Ocean cars will begin production one year from today, Nov. 17, 2022. Fisker is contracting a production facility in Austria run by Magna Steyr to do the manufacturing and will then ship worldwide.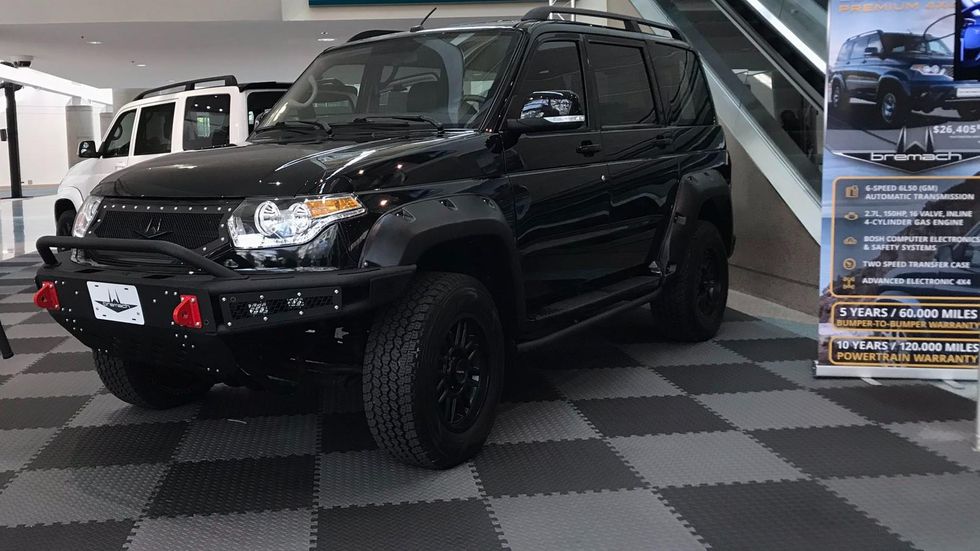 Bremach's 4x4 electric SUV
Bremach
A European-based automaker with an outpost in Costa Mesa, Bremach manufactures its SUVs and pickup trucks in Russia and then assembles and adjusts them for local regulations at its Southern California facility. It's the only company on the list that has a gas-powered vehicle.
Bremach's cars include a 4x4 SUV which will retail for an eye-poppingly low price of around $26,405.00. Its BRIO electric pickup truck is expected to retail for $27,882.00.
Neither car has been released to dealers but Bremach is taking pre-orders now for a planned delivery of 2022.
Unlike most other vehicle sellers, Bremach CEO and co-founder Ray Hoogenraad said the company will sell its cars through dealerships exclusively, so customers can get the full test drive experience. "I don't think it does the vehicle justice when you see it on the internet," Hoogenraad said during the press conference.
Editor's note: An earlier version of this story said Bremach's vehicle was an electric car. It runs on gas.
From Your Site Articles
Related Articles Around the Web