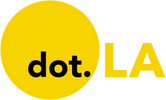 Get in the KNOW
on LA Startups & Tech
X
Samson Amore
Samson Amore
Samson Amore is a reporter for dot.LA. He previously covered technology and entertainment for TheWrap and reported on the SoCal startup scene for the Los Angeles Business Journal. Samson is also a proud member of the Transgender Journalists Association. Send tips or pitches to samsonamore@dot.la and find him on Twitter at @Samsonamore. Pronouns: he/him
The Los Angeles Tourism Department partnered with curiosities and travel website Atlas Obscura for a first of its kind digital interactive map of L.A. County's top attractions, just in time for the summer influx of tourists.
Visitors to L.A. – or locals looking for a fun reason to leave their apartments – can scroll the interactive map on a browser or download the app.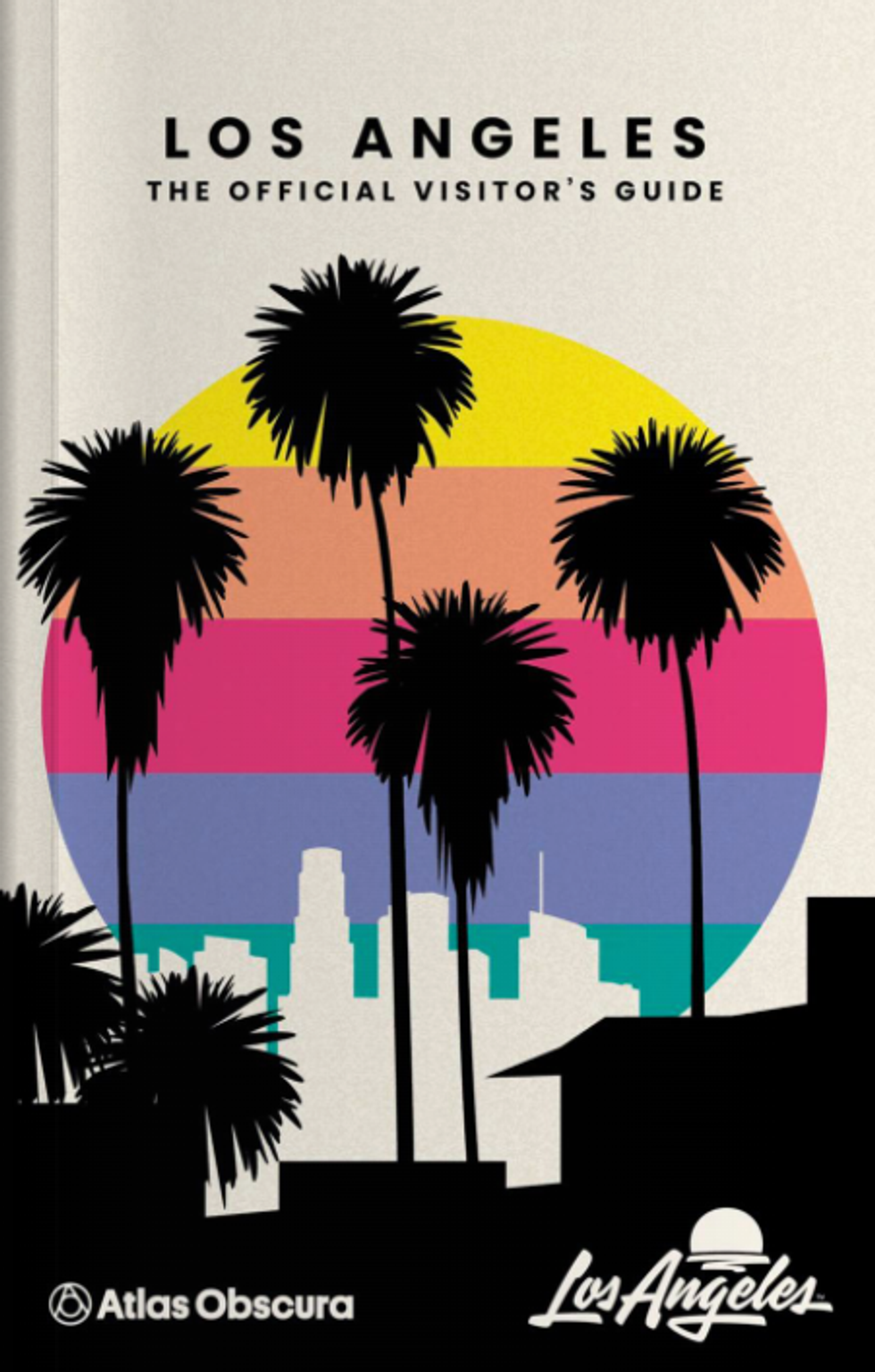 Image courtesy of the L.A. Tourism Dept.
The "Discover Los Angeles" map can be broken down by neighborhood or by a series of "guides," which all feature as part of the larger promotional campaign roll-out known as the Explorer's Guide to L.A
Atlas Obscura and the Tourism Department also published a hardcover edition of the Explorer's Guide, along with several other speciality breakout guides, including the Meeting Planners Guide, artistic Visitor's Map and, for those with more expensive tastes, the L.A. Luxury Guide to the city's pricier pursuits. The paper versions of the guides have QR codes for travelers to scan and take information with them on the go.
This year's collaboration with Atlas Obscura gives the Tourism Department's previous guide a much-needed update – it was previously a whopping 136-page PDF document created in 2020.
The Explorer's Guide includes a mix of places you'd expect to see on the map, like Griffith Park and the museum at the La Brea Tar Pits. It also has some unlikely spots sourced from Atlas Obscura's network of local explorers who recommended their favorite places to visit: the Palos Verdes Peninsula, Venice Canals or the Watts Towers, a stunning, monumental public art exhibit of mosaic steel towers that was built by one Italian immigrant over a 34-year period.

30 neighborhoods are discussed in the guide, from classic tourist destinations like Hollywood and beach cities like Santa Monica and Venice to lesser-known but still exciting enclaves like Leimert Park, Frogtown and Little Ethiopia. There's also several maps for specific interests – taqueria lovers will find new spots to nosh with the taco map, and there's also a map of the Downtown Arts District, spots to stargaze and sports venues.

"For myself and the writers and editors on this project, many of them L.A. natives, getting to write and curate the official visitors guide to the city of L.A. was an absolute dream," Atlas Obscura co-founder Dylan Thuras said in a statement. "We hope that these guides will inspire all the curious travelers arriving in L.A., to try new things, as well as providing new adventures for longtime L.A. residents. There is really no limit to what L.A. has to offer."
From Your Site Articles
Related Articles Around the Web
Shutterstock
Employees at Activision Blizzard are growing increasingly frustrated with the game publisher's refusal to issue any guidance about how the potential repeal of federal abortion protections could impact workers in its offices across the nation.
Several current Activision Blizzard employees told dot.LA the Santa Monica-based game publisher has refused to communicate with staff about the issue. The employees asked to remain anonymous for fear of losing their jobs.
Activision's dismal track record of preventing female employees from being discriminated against or sexually harassed at work has led to a bevy of lawsuits from shareholders, government watchdogs, current and former workers and the family of one former employee who died by suicide on a company outing five years ago. This is all being sorted out as the "Overwatch" publisher struggles to complete a $69 billion merger with Microsoft.
An Activision spokesperson shared the following statement with dot.LA Thursday: "We are committed to an inclusive environment that is supportive of all of our employees. As a company, providing fair and equitable health care is a top priority, and we will closely monitor developments in the coming weeks and months."
In a May 5 Slack message shared with dot.LA by an Activision employee, Blizzard President Mike Ybarra did address some of his team's concerns. "I realize we are late and I am sorry," Ybarra wrote. "It has been incredibly stressful for Blizzard (and me personally) as we read the news."
Ybarra added in his message that leadership at Blizzard met and discussed the leaked SCOTUS draft early last week and "outlined some actions and we are working with ABK to express our views and requested a path forward."
"These are real time conversations and we're part of a 10,000+ person company and I want to help the broader employees we value and have across organizations. I realize this isn't very helpful but I'm being honest with where we are and what we are discussing across the company," Ybarra's message concluded.
Employees who received Ybarra's message said they felt it was an underwhelming response given that Activision operates offices in several states where abortion is already under attack at the state level, including Arkansas and Texas – where it has a sizable presence of support staff, designers, engineers and producers. One worker said the response from Ybarra only came after employees began asking directly about the issue at work.
"There's been no communication from the top down," said Emily Knief, a senior motion graphics designer who's worked for Activision Blizzard for over 15 years. Knief added there's been "lots of support from within," but nothing from executives yet.
"It's completely irresponsible that they continue to remain silent, as the very lives of their employees hang in the balance," Knief said.
Knief told dot.LA she's seen a shift in messaging in her cumulative decade-plus at Activision Blizzard. She said in the past "we used to get communication internally, sometimes within hours" related to similar issues.
ABetterABK, the workers group that's advocating for change and a company-wide union at Activision, issued a statement Wednesday: "We believe there's never been a more urgent time to support those who rely on that care, not just with words, but actions, and that starts with us standing firm on our positions towards these issues," the group tweeted.
Kate Anderson, a quality assurance tester for Activision working in Minnesota, told dot.LA employees are upset at a lack of communication.
Anderson, who uses gender neutral pronouns, said they'd feel supported if Activision offered to match donations to pro-abortion organizations that employees support, as it's done with past issues. They also noted Activision could offer to cover the costs for going out of state for reproductive care, which Microsoft, Amazon and some smaller gaming firms have already promised.
Earlier this week, game producer Javiera Cordero began keeping a public running thread of studios that have publicly taken a stance on abortion, and the list so far is mostly indie developers – though Bungie, the gaming firm Sony bought for $3.6 billion earlier this year, issued its own statement in support of workers last week.
Two workers who requested to remain anonymous for fear of retaliation told dot.LA they speculated Activision's silence could be a reflection of its conservative leadership.
Last year CEO Bobby Kotick donated at least half a million dollars to Republican super PACs through a secret side company called Norgate, including contributions to a political action committee run by Senate Minority Leader Mitch McConnell, who has said a nationwide ban on abortion "is possible."
In a statement emailed to dot.LA May 13, a spokesman for Kotick disagreed with that assessment.
"The idea that Norgate is 'secret' is preposterous and false. It is a legitimate limited liability corporation lawfully incorporated in the state of Delaware whose records are public," the spokesman said. "Mr. Kotick has donated roughly the same amount to of money to Democrats and Republicans, generally to candidates who share his passion for supporting the country's military veterans and their families."
In a report last December, Activision said 26% of its executives are women. Still, it admitted that last year it lost nearly as many women as it hired because of retirement or resignation.
"The reality is that the C-suite is far divorced from the general ethos of the company at large," Knief said. "There are two companies, really: The C-suite, with what's allowed to be publicly stated, and everyone else, the people that make and support the games... and they are often at complete opposite ends of the spectrum on issues and how we should proceed."
Editor's note: This story was updated to reflect additional comment from Bobby Kotick.

From Your Site Articles
Related Articles Around the Web
Courtesy of Rivian
Rivian missed earnings expectations in its first quarter as production constraints and supply chain delays continued to slow down vehicle deliveries.
The electric automaker reported a first quarter net loss of $1.6 billion and posted first quarter revenue of $95 million, compared to expected revenue of roughly $130.5 million.
The numbers were an improvement over the $2.5 billion net loss the company reported last quarter and barely beat analysts' loss expectations—enough to boost its stock by roughly 8% in after-hours trading Wednesday.
In a shareholder letter Wednesday, Rivian said it expects to continue burning cash as it ramps up production.
"This dynamic will continue in the near term, but we expect it will improve" as production outpaces labor and overhead costs, the company said.
Rivian built 2,553 vehicles and delivered 1,227 in the first quarter, according to its report, bringing the total number of vehicles delivered to 2,148. The company needs to increase production by ten times if it's to hit its revised forecast of 25,000 vehicles this year and 150,000 vehicles per year by 2023.
The direct-to-consumer auto startup said as of May 9 it received over 90,000 orders in the U.S. and Canada for its R1 vehicle. It also has another order to supply Amazon with 100,000 commercial electric delivery vans.
But the company has built fewer than 5,000 cars since it started production, a small figure for a company that plans to one day dominate at least 10% of the global auto market.
"Of course our focus as an organization for 2022 is to get more R1s and EVs on the road," Rivian CEO R.J. Scaringe said during the company's earnings call. "The majority of our time is focused on ensuring our teams are driving towards ramping [up] production and deliveries to customers."
In a bid to compensate for slower-than-expected sales, Rivian earlier this year tried to raise the price of its vehicles by 20%, but buyers quickly objected and one shareholder sued. The company later backtracked.
To meet production goals, Rivian said it's ramping up hiring at its plant in Normal, Ill. and planning to break ground on a new $5 billion, 2,000-acre factory outside of Atlanta, Ga., which came with a hefty $1.5 billion tax break from the local government. That factory is expected to create 7,500 local jobs. Rivian said it will produce 400,000 cars annually once it reaches full capacity.
Between its planned Georgia factory and its plant in Illinois, Rivian expects to produce 600,000 cars each year when it's fully up and running.
Those plans have failed to impress Rivian's big-name shareholders, many of whom have sold off significant portions of their stock, including Ford, which sold 8 million Rivian shares this week – though it still maintains a stake. Ford originally had plans to develop an electric Lincoln SUV with Rivian, but the deal fell through last November.
Amazon backed Rivian in 2019 and said in its April earnings report it had taken a $7.6 billion loss on its investment.
In the last three months, Rivian's stock tanked more than 60%, and since its IPO in November 2021 the stock is down over 75%.
From Your Site Articles
Related Articles Around the Web