blockchain
Daria Shapovalova and Natalia Modenova want to sell you clothes, but not the type that hangs in your closet.
Their virtual outfits can be cropped into your next Instagram post to make followers think you paid thousands of dollars for a dress designed by Alexander McQueen's nephew.
Their Los Angeles-based digital fashion startup DressX is building a library of designer dresses, sweatshirts and purses that cost far less than the real thing. And, they say, without the environmental cost of production, shipping and waste.
"It's for content creators who don't want to spend additional money on clothes," said Shapovalova, DressX's co-founder. "They can shoot their prerecorded videos for Stories and TikTok just from the camera."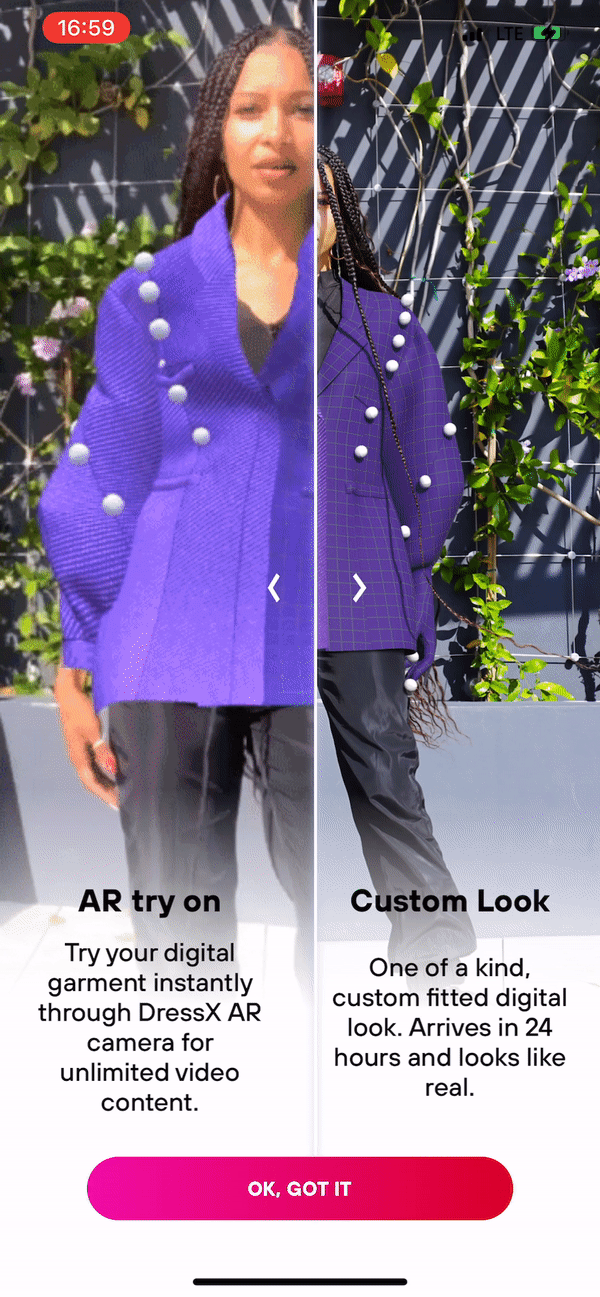 After scrolling through pages of clothes, customers check out with a credit card and upload a photo of themselves with any special requests.
"They're like style notes," said Modenova. "For example, I want to have my bag on top of the dress."
The DressX team then gets to work, layering the digital clothes on top of the customer's picture. A day later, a finalized image is emailed back to the user along with a file of the item.
Once the startup's mobile app goes live later this month, users can pay a monthly subscription fee to access certain garments as augmented reality filters. Think of it like premium Snapchat filters for couture fashion, where content creators can film YouTube videos or Instagram Stories while wearing virtual outfits.
On Tuesday, DressX closed a $2 million seed round to launch that platform and build out its NFT marketplace.
Before COVID-19, the DressX executive team ran a pop-up showroom in L.A. called More Dash, where customers could film digital content in rented outfits. They transitioned online last August and started marketing to millennial and GenZ-aged consumers pushing back against the fast fashion industry.
"Imagine you're 15 years old, you don't have enough money to buy dresses that you wish to buy," Shapovalova said. "In digital fashion, you can wear almost anything."

The company now lists clothes and accessories from over 100 3-D and traditional fashion designers including Ukraine-based Paskal and shoe brand Buffalo London. Between 12% to 30% of each sale goes back to the designer, excluding items from DressX's own clothes designed in-house.

There's a $25 sweatshirt printed with a Paul Cezanne painting and a $100 interactive couture dress programmed with Google technology. In April, DressX hosted an online fashion show with Gary James McQueen — nephew of designer Alexander McQueen — who sold the clothes for digital purchase only.
"This is breaking the boundaries of the existing fashion industry," said Shapovalova, a former fashion TV show host who helped launch Ukraine's Fashion Week.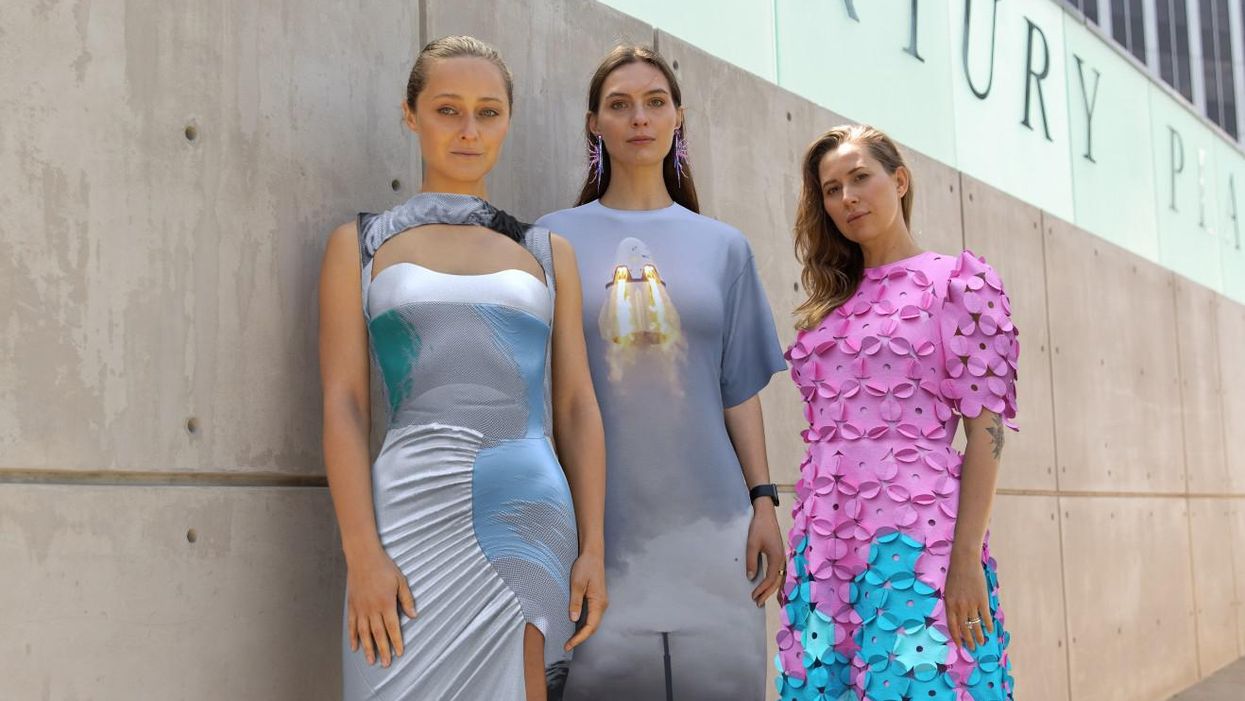 From left: DressX CEO Daria Shapovalova, COO Natalia Modenova and Head of Product Julie Krasniienko. (All the clothes featured are 100% digital).Photo by Olga Helga
Next year, she said the company aims to launch new features for users to wear DressX clothes on Zoom or Google Meet.

The seed round was led by The Artemis Fund and Alpha Edison. Additional funding came from Unlock Venture Partners, One Way Ventures, Signal Peak Ventures, TLF Ventures, Startup Mavericks and Angel investors from fashion, tech and blockchain industries, the company said.
From Your Site Articles
Related Articles Around the Web
Mattia Cuttini's "Produkt Hi-res-50-10" is a culmination of the Italian visual artist's 12 years of creative experimentation with rubber stamps and Xerox machines, which he sold earlier this year for over $5,000 on digital art marketplace SuperRare.
But Cuttini cannot take sole credit for the piece. Some is due to the artificial intelligence software that he fed with dozens of abstract images he's crafted over the years and which synthesized them into the new creation.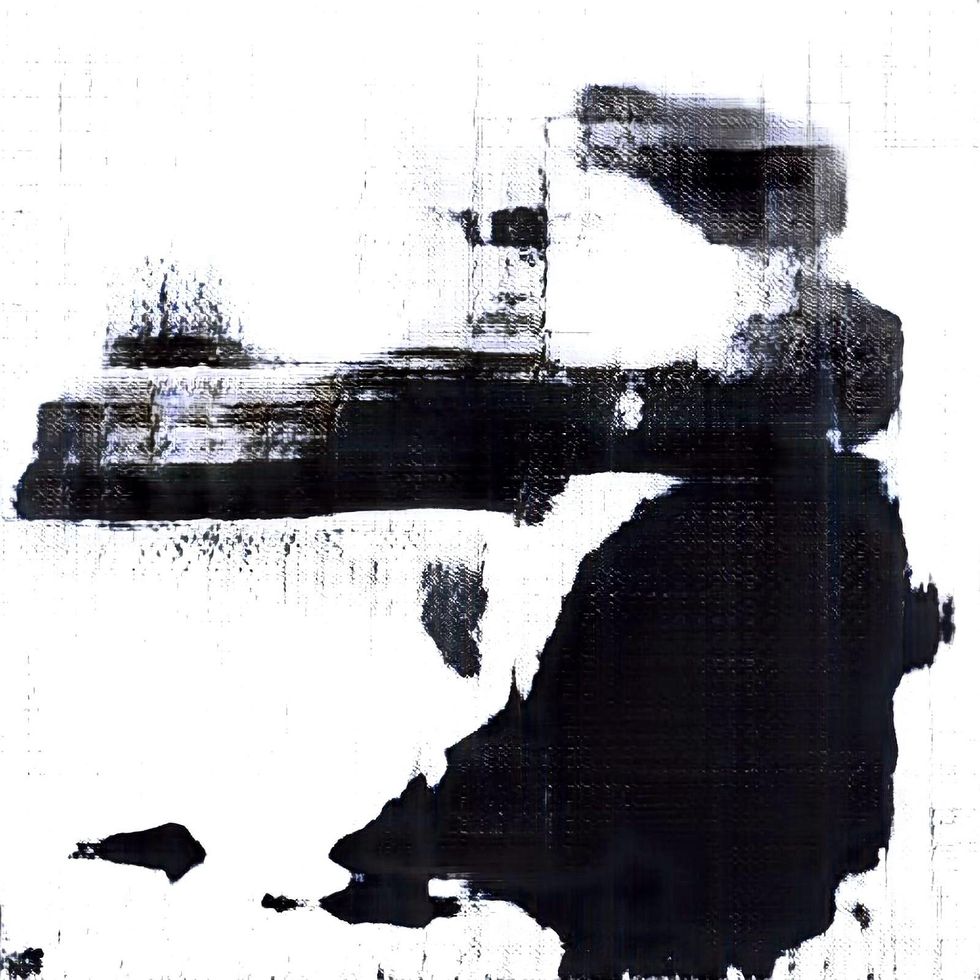 Mattia Cuttini's "Produkt Hi-res-50-10"
Playform, the company behind the software, wants to provide more visual artists with technology that serves as a creative partner and can generate novel digital artworks based on the artist's previous works. Backed by Khosla Ventures, the company's technology stems from founder Ahmed Elgammal's research.
Now the startup is shifting its center of gravity to Los Angeles.

"What we want to do is create a world in which artists can make a living doing what they love," said Jennifer Chang, the Southern California native who the company announced Friday will take over as CEO.
Formerly head of marketing for the remote company, Chang inherits the mantle from outgoing CEO Ahmed Elgammal, a computer science professor at Rutgers who will remain the company's chief technology officer.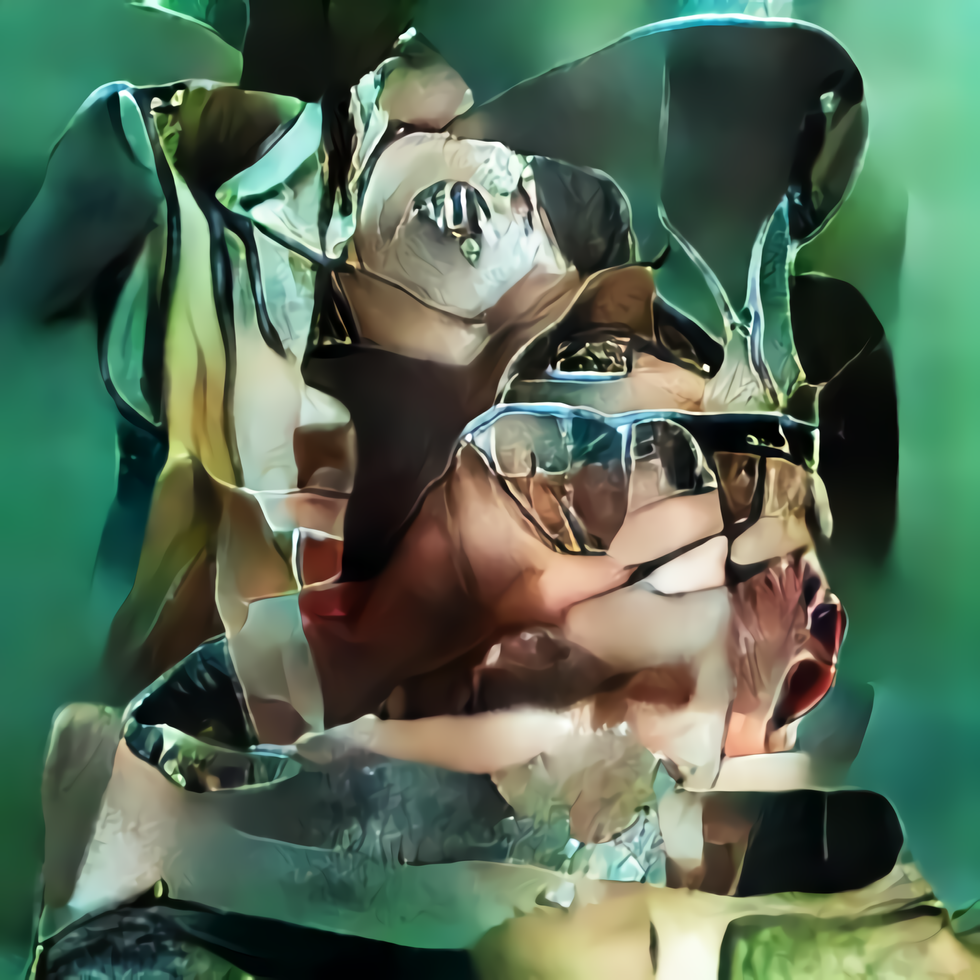 A work by Chris Trueman created with Playform
The rising popularity of NFTs has provided digital artists with new financial opportunities, enabling their works to more easily be certified as authentic, thanks to the blockchain.

Cuttini is one of about 15,000 artists who've used Playform, Chang said. He's also one of about 35 who've worked with the company as part of its residency program, through which Playform provides artists access to its software, co-markets the output, and takes a percentage of the sale.
"Between all these new, emerging technologies like AI, which is creating new ways of producing artworks, and blockchain, which is creating new ways of selling artworks, this is the time of the artist; they're in a position that just wasn't accessible before, other than to a very select few," Chang said.

Playform is one of several generative AI tools available to artists. Some, like Runway ML, are available for free with limited features. Many require some degree of technical know-how.

To use Playform, artists need not know how to code. They feed a set of images to the software, which uses a type of AI invented in 2014 called a "generative adversarial network" to create novel pieces. The model can work with as few as 30 inputted images, a relatively low input volume for GANs. Processing time varies depending on the variety of the inputted images, but can take as little as 30 minutes, Chang said. The software includes several features for artists to guide the output.
The company charges $5 per hour of usage, or a monthly subscription fee.
Copyright ownership can get murky when human artists work alongside machines to generate new creations, but Playform gives artists full control of the IP.

"We're committed to empowering artists and helping them succeed," said Chang, who earned her MBA from USC and considers creativity the consistent theme in her career path.
The new CEO has worked in Disney's ABC division and at numerous startups focused on helping creative people develop monetization opportunities. For her, Playform is a new opportunity to bolster creative people through technology.
Artificial intelligence poses an ever present threat of replacing humans in any realm where it is deployed. But Chang sees Playform, along with technologies like the blockchain, as tools poised to help rather than harm artists.
"This new ecosystem provides the infrastructure necessary to really enable digital artists to thrive," she said.
Chang inherits a company with 10 full-time employees distributed across North America and Asia, but anticipates growing her team through her L.A. network and capitalizing on the region's artistic community.
"This is a very creative city and it's full of really creative talent," she said, "and I'm really excited to be building a business here."
Just when the world thought the NFT craze couldn't get more strange, Matty Mo walked into the picture.

The contemporary artist announced an auction of his new non-fungible token "The Most Sh*ttiest NFT," this week.
The NFT, a 360-degree video of a sculpture made by Mo, is the first NFT ever to be minted using human fecal matter -- Mo's own, to be revoltingly exact. Proceeds from the sale will go towards funding research on the relationship between gut health and autism spectrum disorder.
The piece was commissioned by Los Angeles-based Seed Health, which sells a subscription-based probiotic supplement for gut health. Ara Katz, co-founder and co-CEO of Seed Health, contacted Mo directly with the idea last April.
Katz said there is a stigma surrounding the study of stools, and that this is a problem because stools can store a lot of information about a person's overall health. Ever the entrepreneur, she also recognized the blockchain's potential to deliver this message to a wider audience.
"The opportunity to reveal the potential through projects like this, of the area that stool and the microbiome has now offered us, and unlocking so many new discoveries and understandings of human health and pathology is a very important thing for us," Katz told dot.LA.
Given the track record of both Mo and Seed Health, this partnership makes sense. Among other publicity stunts, Mo's art collective, "The Most Famous Artist," took credit for several metal monoliths that mysteriously appeared around the globe and garnered international headlines.
Seed Health also isn't a stranger to unusual projects like this. In 2019, the organization created the #GiveAShit campaign with auggi, an AI company studying gut health. The campaign encouraged people to send in pictures of their feces to train AI to perform stool analyses. The campaign won a World Changing Ideas Award from Fast Company.
To create the sculpture, Mo took his own excrement and had it lyophilized, or freeze-dried. The fecal matter was then put into a capsule. A capsule of this type, known as a "crapsule," is used to perform FMTs (Fecal Microbiota Transplants) for patients with bacterial infections such as C. diff, a common bacterium that causes severe diarrhea. Mo then cast the crapsule in 19 layers of glass, creating a cube shape.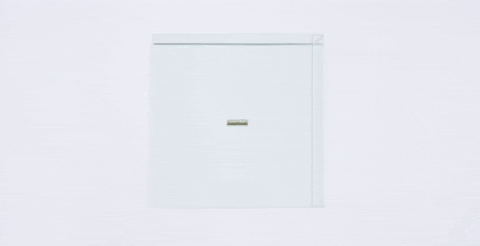 "The Most Sh*ttiest NFT" was commissioned by Los Angeles-based Seed Health.
"The Most Sh*ttiest NFT" is currently being auctioned off at a starting price of one ether or ETH, which worth $2,272 at the time of writing this article. The target price is 50 ether or $113,600. Whoever wins the auction will receive both the NFT and the physical sculpture. If the NFT gets resold, its new owner will not necessarily get to own the sculpture as well.

Once the auction is closed, microbiome researchers Sarkis Mazmanian and Christopher Mason will select a research project to receive the proceeds as a grant.
The project selected will focus on the link between gut health and autism. According to Mazmanian, many people with autism also have gastrointestinal issues, and more research is necessary to understand the link between the two conditions.
"Participating and expanding the narrative of NFTs towards one that includes the idea that NFTs can be a force for good is one objective for this project," said Mo. "The second objective is to inspire other artists to participate in projects that fuse art and science and propagate important messages out into the world."
Mazmanian agreed, adding that the COVID-19 pandemic has politicized science, and that a project like this could help mend that wound.
"I'm just really happy to be a part of something where different swaths of the general public see the scientific method, see our motivation, see our process, and realize that the ultimate objective of most scientists is to just help as many people as they possibly can," said Mazmanian.