ai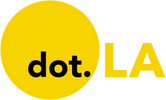 Get in the KNOW
on LA Startups & Tech
X
ai
Courtesy of Mercedes-Benz/Bosch
Sign up for dot.LA's daily newsletter for the latest news on Southern California's tech, startup and venture capital scene.
Angelenos famously hate parking, but soon their cars may be able to park themselves thanks to a collaboration between Mercedes-Benz and German engineering firm Bosch.
At a demonstration in Downtown Los Angeles on Wednesday, Mercedes and Bosch gave the first U.S. test run showcasing the fruits of their collaboration: an electric Mercedes-Benz 2022 EQS 580 luxury sedan capable of navigating itself into a parking spot.
Painted in bright teal stripes, the sedan first let its driver out at a designated spot. Then, a tap of a Mercedes-Benz phone app locked the vehicle and sent it, at a gradual pace, to the first available parking space. Later, a ping from the app woke up the car—which turned itself on, pulled out of the parking spot and slowly made its way to the driver's pickup point.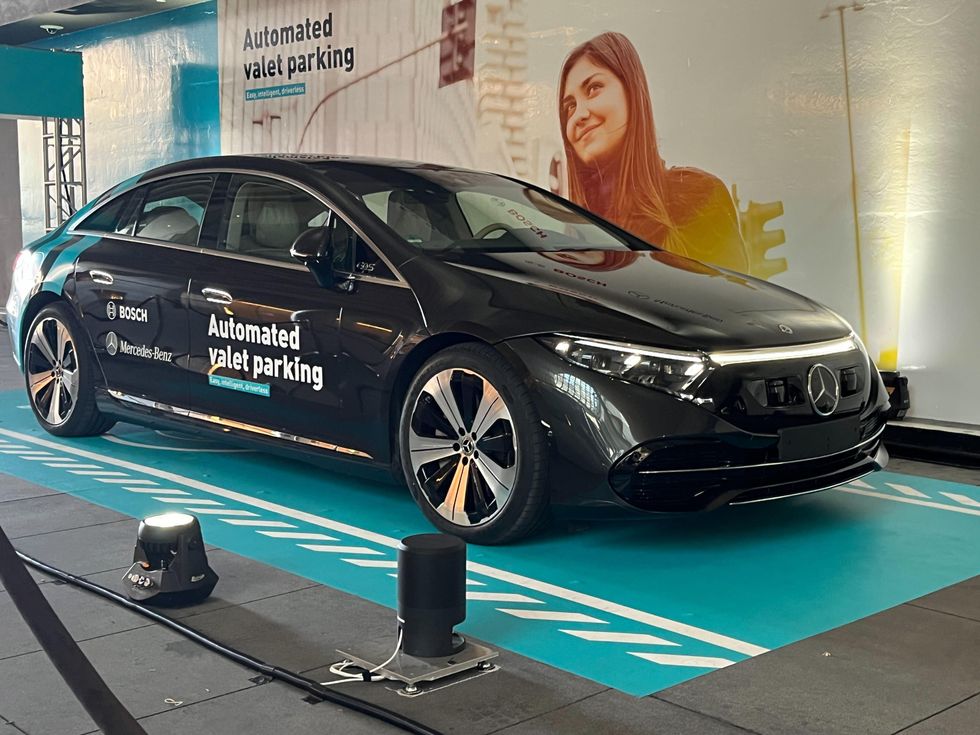 Painted in bright teal stripes, an electric Mercedes-Benz 2022 EQS 580 pulls into a parking spot with no driver. Courtesy of Mercedes-Benz/Bosch
A Bosch engineer stepped in front of the car several times as it was driving to demonstrate its safety features; if sensors detect a presence or any motion in front of the car, they'll tell it to stop a safe distance away. (For extra security, a person walked alongside the car with an emergency shut-off button.)
Kay Stepper, Bosch's senior vice president of automated driving for North America, noted that the self-parking technology relies on sensors and cameras built into its surrounding environment, which guide the car into its space. (The sensors are installed on the ground, while the cameras are mounted above.) He added that the technology could be applied to any type of car, so long as a manufacturer makes it compatible with its vehicle.
"The unique thing is really that we are not using any of the in-vehicle sensors—it's a purely infrastructure-based solution," Stepper told dot.LA.
The demo marked the first time that Mercedes and Bosch have tested the technology outside of Germany. In their home country, the driverless parking capability is already installed and ready to use at Stuttgart Airport pending final regulatory approval, according to Philipp Skogstad, Mercedes' president and CEO of North American research and development.

A handful of other auto industry names are also investing in automated valets, including the Volkswagen Group-owned CARIAD, which demonstrated its technology at an industry summit in Munich last. Yet another competitor is Maryland-based STEER. Other companies focused on autonomous technology from more of a road-driving perspective are Google's Waymo and, of course, Tesla.
Skogstad acknowledged the increasingly crowded playing field. "Automated driving is such a complex task requiring so many pieces to come together that nobody can do that alone," he said. "No matter how much money you have, you need partners."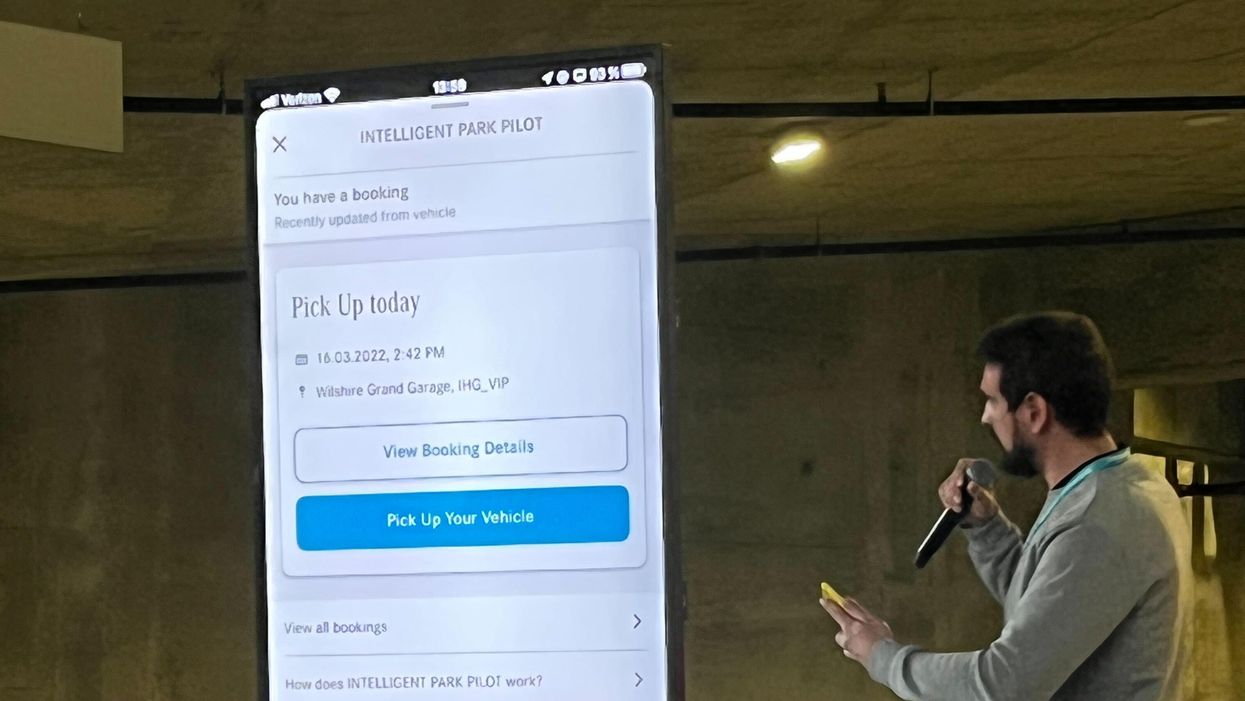 A Bosch engineer tests the self-parking car's pick-up options.Courtesy of Mercedes-Benz/Bosch
Stepper noted that Bosch is "intensely" focused on finding collaborators in the "smart infrastructure" space who can help it implement a driverless parking network. The next step, he added, is to convince local parking operators to invest in the technology. Without human error (consider that driver in your apartment building's garage who's always double-parked), he estimated that a fully-automated parking lot could fit up to 20% more cars.
And what about the valet workers—such as those on hand at the demo, who were kind enough to park cars for the event's attendees the old-fashioned way? A Bosch spokesperson noted that they wouldn't exactly be put out of business, as self-parking garages would still need humans to operate and maintain their technology and act as a safeguard.
From Your Site Articles
Related Articles Around the Web
Courtesy of Pearl
Sign up for dot.LA's daily newsletter for the latest news on Southern California's tech, startup and venture capital scene.
A West Hollywood-based startup has received Food and Drug Administration clearance for what it calls the first artificial intelligence-enabled product that can read dental x-rays and identify cavities, plaque and other dental conditions.
Second Opinion is an AI detection platform created by Pearl, a dentistry startup founded in 2019 to leverage machine learning and AI to help dentists detect problems in otherwise healthy teeth. The startup raised $11 million in Series A funding in 2019 from Craft Ventures and Santa Monica-based Crosscut Ventures.
To develop Second Opinion, Pearl gathered over 100 million dental x-rays from dental practices and academic institutions. The AI platform points out discrepancies found in an x-ray and also serves as a patient communication tool, allowing dentists to show different models of a patient's teeth and point out problem areas.
"I do think that this is going to become very fundamental to the category [of dentistry] very quickly, and therefore will actually serve as a model for the rest of medicine—for how to infuse and deploy a AI widely at scale, with the ultimate benefit and potential of really elevating the standard of care in a provable way," Pearl founder and CEO Ophir Tanz told dot.LA.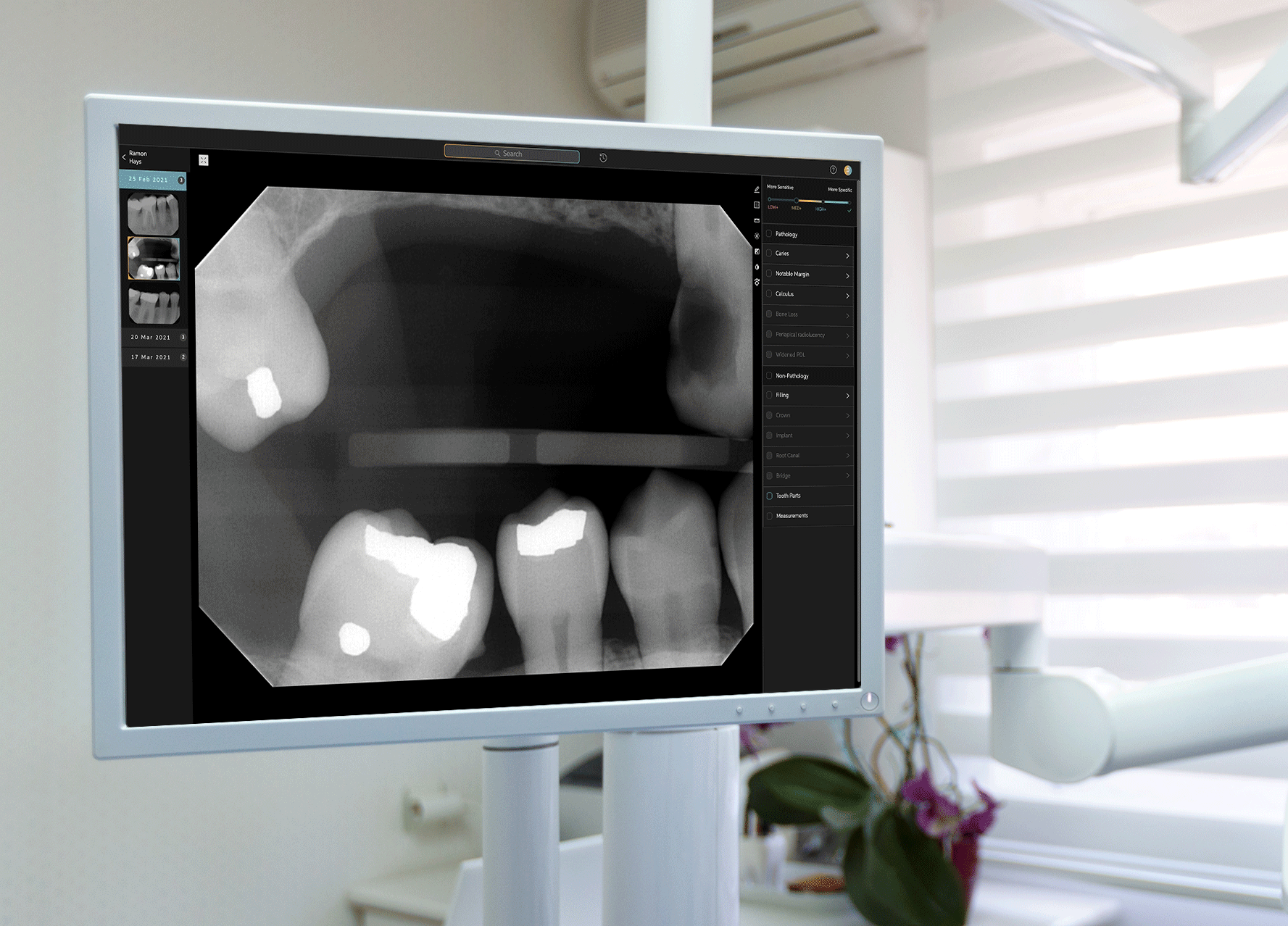 Pearl's AI program examine teeth.Courtesy of Pearl
The FDA's clearance comes amid ongoing skepticism from some within the medical community about the effectiveness of AI applications. A presentation made by the American College of Radiology to the FDA in 2020 reported that 95% of clinicians thought AI was too inconsistent or inaccurate to be used by medical practices. Though the FDA is the largest regulatory body in health care, it has no consistent framework for signing off on a piece of AI that can guide diagnostics, such as the number of reference images used, the diversity of its dataset or its accuracy rate. This has slowed down the clinical adoption rate of such technologies—and while the FDA has proposed a framework to address some of these challenges, nothing has been implemented yet.
Second Opinion's journey to receiving FDA clearance involved a multi-year process to test every single use case that the platform is trained to do—such as identifying tooth decay, plaque, bone lesions around a tooth and a handful of other discrepancies in otherwise-healthy teeth. Receiving FDA clearance entails a separate and different process than receiving FDA approval; while the former indicates that a product is as good as existing alternatives already on the market, the latter requires a different set of processes for more novel or riskier products to prove that their benefits outweigh potential drawbacks. Tanz noted that the FDA sought only clearance for Second Opinion, and neither required nor asked for approval to allow the product to be marketed in the U.S.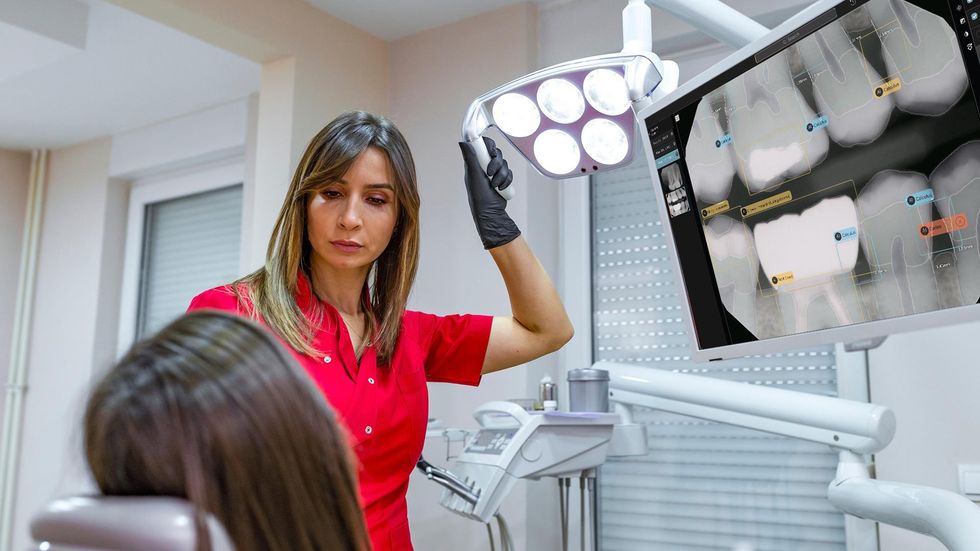 A patient goes under the lights in the dentist's office.Courtesy of Pearl
Though some critics claim that AI can't pick up on certain nuances that a human dentist might, Pearl contends that those critics often fail to account for the counter-argument of human error. Through the nonprofit Dental AI Council, the startup commissioned a study that found when presenting a panel of 136 dentists with an X-ray to review, roughly half of them found a cavity, while the other half found none.
Tanz said he is not interested in expanding Pearl's services into radiology at large, and acknowledged that bottlenecks in the FDA process make it harder to develop, clear and adopt similar technology. Already, the startup has received regulatory approvals from Canada, Australia, the U.K., the European Union and the United Arab Emirates, and is working with roughly 4,000 dental organizations and radiograph manufacturers.
"We think of this as a utility, kind of like water or power," Tanz said. "You're not going to have any dental practice where this is not going to be powering the radiographic side of things… We really do believe that this will be integrated into every practice in the world in a relatively short period of time."
Update, March 10: This article has been updated to clarify the difference between FDA clearance and FDA approval, and to specify that Pearl's Second Opinion product did not require FDA approval to be marketed in the U.S.

From Your Site Articles
Related Articles Around the Web
Provided by Ryan Abbott
Sign up for dot.LA's daily newsletter for the latest news on Southern California's tech, startup and venture capital scene.
Computers can now write poems, paint portraits and produce music better than many humans. But when it comes to the realm of intellectual property law, artwork made by machines can't receive copyright protection, a federal agency has decided.

The U.S. Copyright Office refused to grant a copyright this month for an image made by an artificial intelligence program called Creativity Machine—ruling that "human authorship is a prerequisite to copyright protection." The case will now head to federal court as the AI program's owner, Stephen Thaler, plans to file an appeal, according to Ryan Abbott, a Los Angeles-based attorney representing Thaler.
Thaler, the founder of the Missouri-based AI firm Imagination Engines, tried to copyright "A Recent Entrance to Paradise," a picture that was autonomously created by Creativity Machine's algorithm without any human help. Thaler listed the program as the artwork's author and sought a copyright as the machine's owner.
The case arrives as artists are increasingly using AI to help generate artwork, including works produced by autonomous machines. Abbott, a partner at L.A.-based law firm Brown, Neri, Smith & Khan, noted that AI-produced artwork is creating significant commercial value, such as an AI-authored painting that sold for $432,000 at auction in 2018.
"The United States Copyright Office has a policy of not allowing that sort of work to be protected," Abbott told dot.LA. "That sort of policy is going to stand in the way of people developing machines that are going to make socially-valuable creative works: songs, movies, music. This is really an area where the United States should be a global leader in promoting AI development."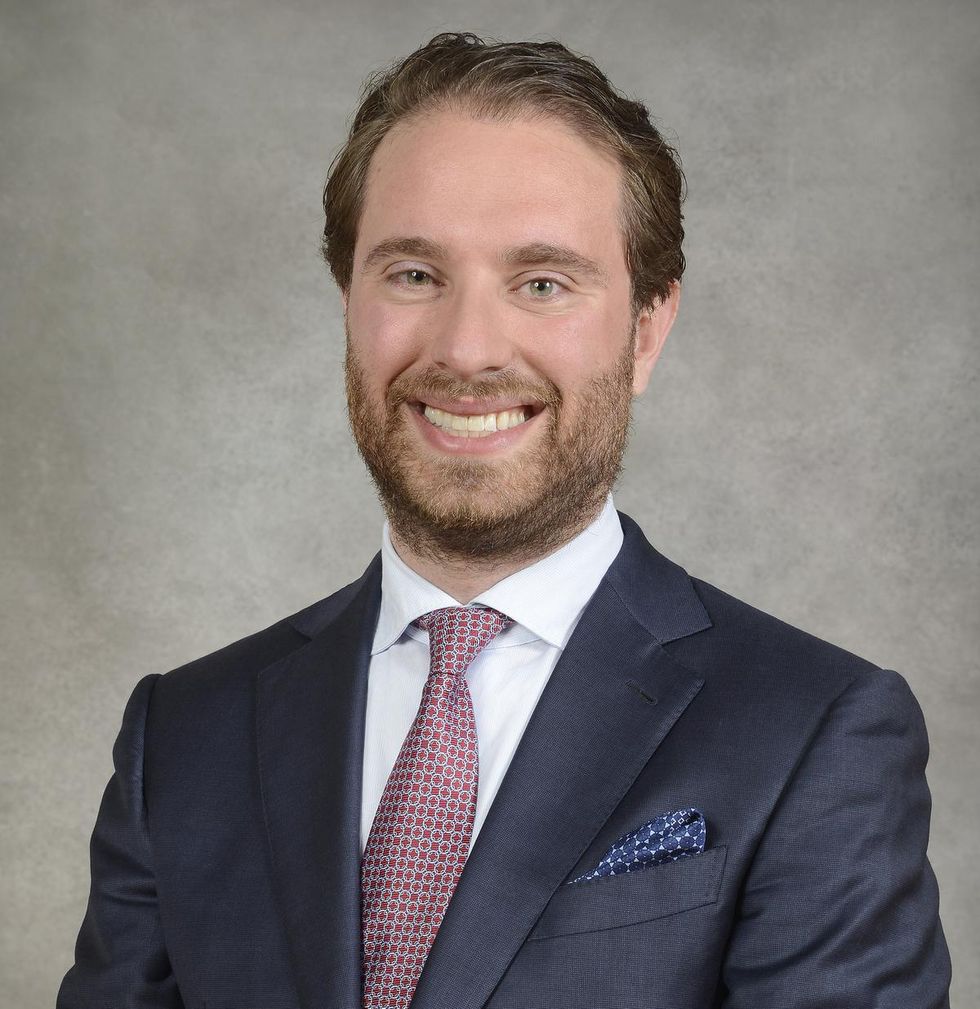 Ryan Abbott, the attorney representing Stephen Thaler.
Provided by Ryan Abbott
Working on behalf of Thaler, Abbott has led a series of legal test cases for AI-generated intellectual property, including patents for inventions created by AI programs. As far as the Creativity Machine artwork, the Copyright Office had twice previously rejected Thaler's claims in 2019 and 2020, finding that the work "lacked the required human authorship" necessary to win a copyright. In the most recent request for reconsideration, Abbott argued that the human authorship requirement was unconstitutional and unsupported by case law.
But in ruling against Thaler again, the Copyright Review Board's three-person panel cited several cases in which courts refused to extend copyright protection to non-human creations. In 1997, a federal appeals court ruled that a book allegedly "authored by non-human spiritual beings" could only gain copyright if a human curated the revelations. Similarly, in a separate 2018 case, a monkey was not awarded a copyright for photos that it took with a camera.

"Thaler must either provide evidence that the work is the product of human authorship or convince the Office to depart from a century of copyright [legal theory]," the Copyright Board wrote in its Feb. 14 ruling. "He has done neither."

Abbott contends that Thaler's case is different from the monkey ruling cited by the Copyright Board, given that "no one is trying to have a machine own a copyright." Rather, Thaler wants to own the copyright for artwork created solely by a machine that he built, Abbott said.
"It's going to be a real issue when someone has AI that makes a song that is genuinely commercially valuable—that's playing on the radio, that people want to listen to," Abbott noted. "Then there's a question: Do I just put my name on this so I can get streaming royalties? Or do I admit the machine made it, in which case I can't stop anyone from using it however they want?"
Abbott said he plans to appeal the board's decision in federal court in Washington D.C.
Despite its seemingly inhospitable stance toward AI-created artwork, the Copyright Office's ruling shouldn't be a major issue for artists using AI as a collaboration tool, according to Ahmed Elgammal, founder of AI software firm Playform. The startup (which is led by L.A.-based CEO Jennifer Chang) creates AI-enabled tools for artists; one of Playform's products lets artists upload dozens of their own images and uses AI to generate them into something new. (Art created through Playform's technology was featured in an episode of the HBO series "Silicon Valley.")
Elgammal said he wasn't surprised by the Copyright Office's decision in the Creativity Machine case, as U.S. copyright laws are designed to account for the human creative process. (Other countries like China, he noted, have granted copyrights to autonomous AI.) Still, Elgammal doesn't see the debate becoming a major issue for artists using AI to assist in their work.
"Artists are using AI as a tool [in] the same way [that] artists are using the camera," he said. "You cannot claim the camera is the artist. Artists are using cameras to create photographs, and that's how photographs get copyrighted."