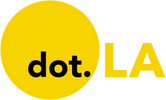 Get in the KNOW  
  on LA Startups & Tech  
X
Meet the 24-Year-Old Trying to Disrupt the Intellectual Property Industry
Sam Blake
Sam primarily covers entertainment and media for dot.LA. Previously he was Marjorie Deane Fellow at The Economist, where he wrote for the business and finance sections of the print edition. He has also worked at the XPRIZE Foundation, U.S. Government Accountability Office, KCRW, and MLB Advanced Media (now Disney Streaming Services). He holds an MBA from UCLA Anderson, an MPP from UCLA Luskin and a BA in History from University of Michigan. Email him at samblake@dot.LA and find him on Twitter @hisamblake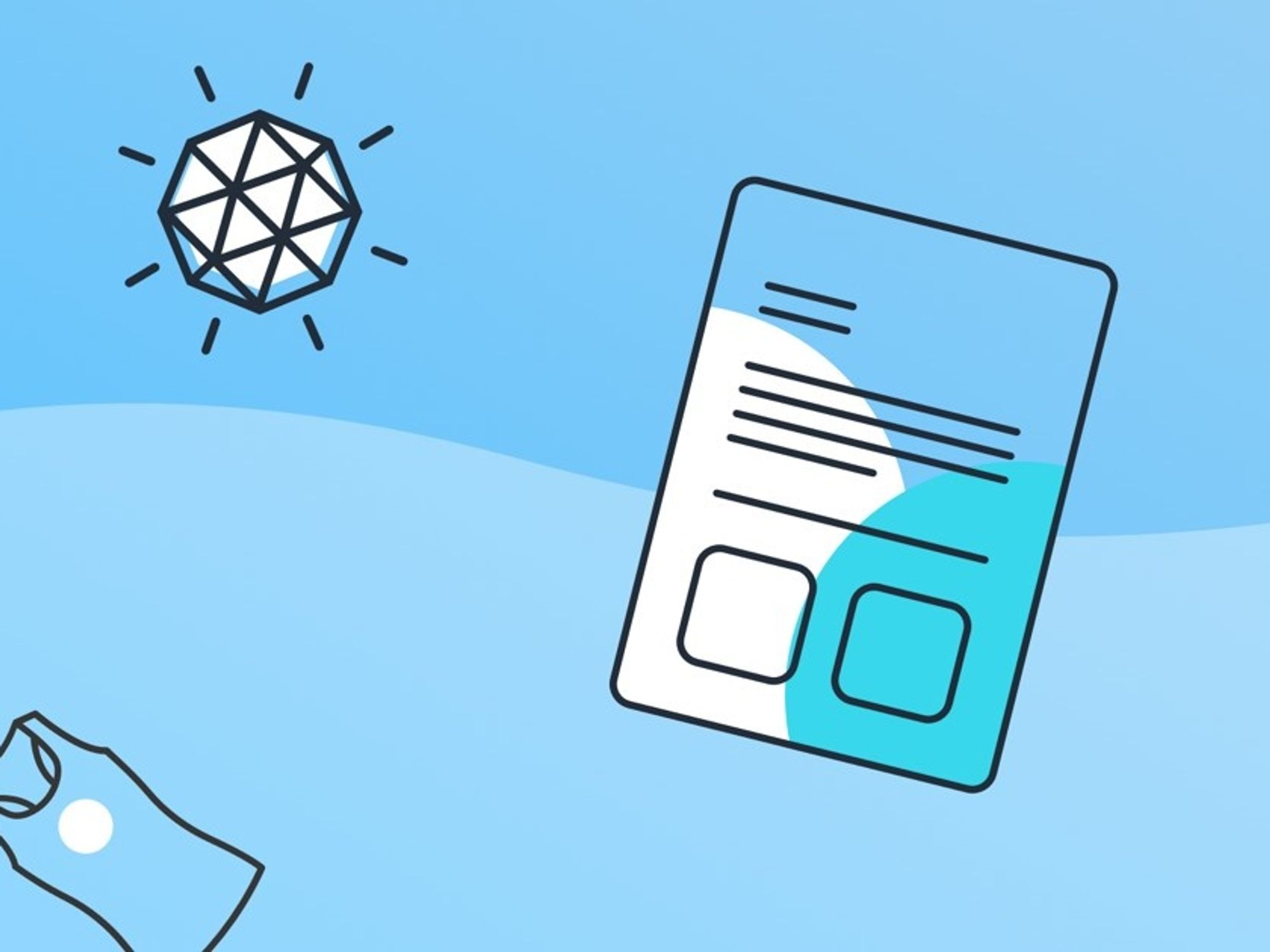 Nate Cavanaugh has a penchant for prophecy. The 24-year-old founder of Venice-based Brainbase wrote a letter to his future self when he was 13 in which he presciently asked, "Do you still want to start your own computer company?" At 18, in a high school assignment describing his role model, he chose Mark Zuckerberg, and proclaimed that "I, too, plan on starting my own technology company in college... (and) plan to drop out of college once I can comfortably support myself."
---
According to plan, he enrolled at Indiana University and promptly founded Guuf, an esports tournament platform, before leaving school and selling the company shortly thereafter. Inspired by a talk on the problem of patent trolls from Union Square Ventures' co-founder Fred Wilson and a blog post on the subject by Elon Musk, at 19 Cavanaugh formed Brainbase, a technology company meant to simplify and streamline the management of intellectual property (for example, trademarks, patents, copyright).
Five years later, the company has around 40 employees and its customers include BuzzFeed, the Vincent Van Gogh Museum, and Sanrio (of Hello Kitty and friends fame). Its flagship product is called Assist, which includes a dashboard for tracking royalty payments and schedules; analytical tools for comparing IP asset performance by property, territory, partner, category and distribution channel; automated invoice generation and contract management; and artificial intelligence tools to identify potential opportunities for exploiting IP.

Now, fresh off an $8 million Series A led by Bessemer Ventures with participation from L.A.-based Struck Capital, Alpha Edison, Bonfire Ventures, and Tera Ventures, Brainbase is expanding its product suite with a marketplace to facilitate IP-oriented transactions and a tool to enable IP filing and renewal. In a statement about the investment, Kent Bennett of Bessemer described Brainbase as bringing "the archaic, paper-shuffling world of IP management into the 21st century."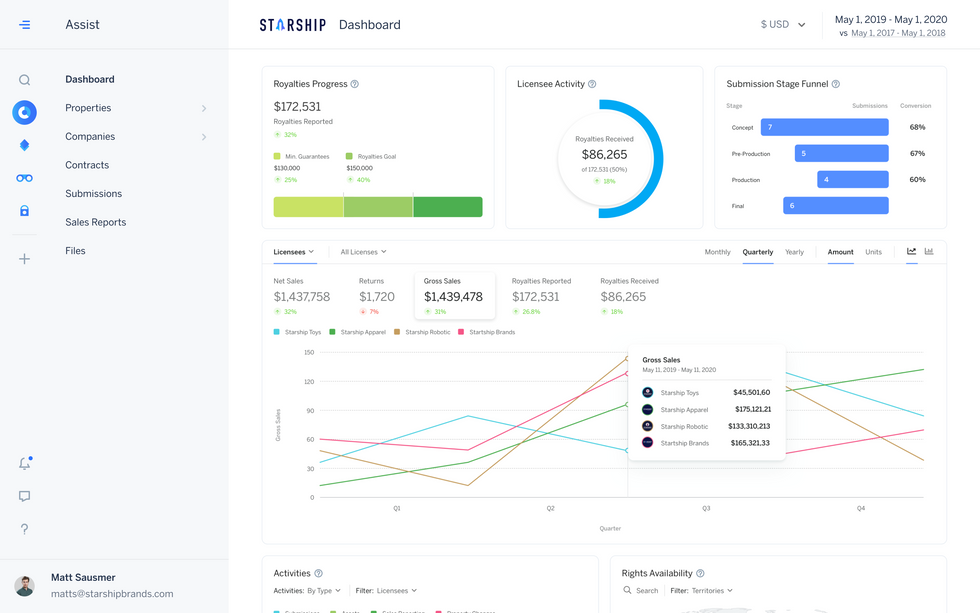 Brainbase's Assist product helps customers manage their IP
Cavanaugh has long been interested in business and tech. His dad is a serial entrepreneur himself whose current venture, Ready Nutrition, recently signed brand partnerships with NBA superstar Giannis Antetokounmpo and L.A. Rams pro-bowler Aaron Donald. As a 10-year-old kid he remembers marveling at videos of Steve Jobs, which he often rewatches now that he, too, runs a business. "The reality is it's in my genes," he says.

dot.LA caught up with Cavanaugh to ask about his journey so far and what motivates him to keep going, sometimes in the face of skepticism around his youth. His latest prediction? He says the next stage for Brainbase is going to be hard, but he's up for the challenge.
dot.LA: Tell me about your background and how that led to the company you sold after dropping out of college.
I'm originally from Pittsburgh and I grew up in an entrepreneurial family. My dad had been starting companies since I was born, so I was essentially interning at startups from the time I was eight years old. In my junior year of high school I started a website design and services business, and I was making enough money from it that I didn't want or need to go to college.
But I went to Indiana, largely because of Mark Cuban – he's from Pittsburgh, too, and he went there. I knew I didn't want to finish, but I don't think I had the risk tolerance to just not go; I wasn't ready to be a full-time founder yet. I didn't want to keep doing my website business so I decided I'd go, and try to start a startup with the intention of leaving early.
I'd been interested in gaming and esports, and as I kept learning about venture capital I thought a services business would be interesting. There was a company called Major League Gaming that was doing well at the time and my freshman year I formed a company that was basically a platform to facilitate esports tournaments. That was really before esports took off and frankly I think we sold it a bit too early.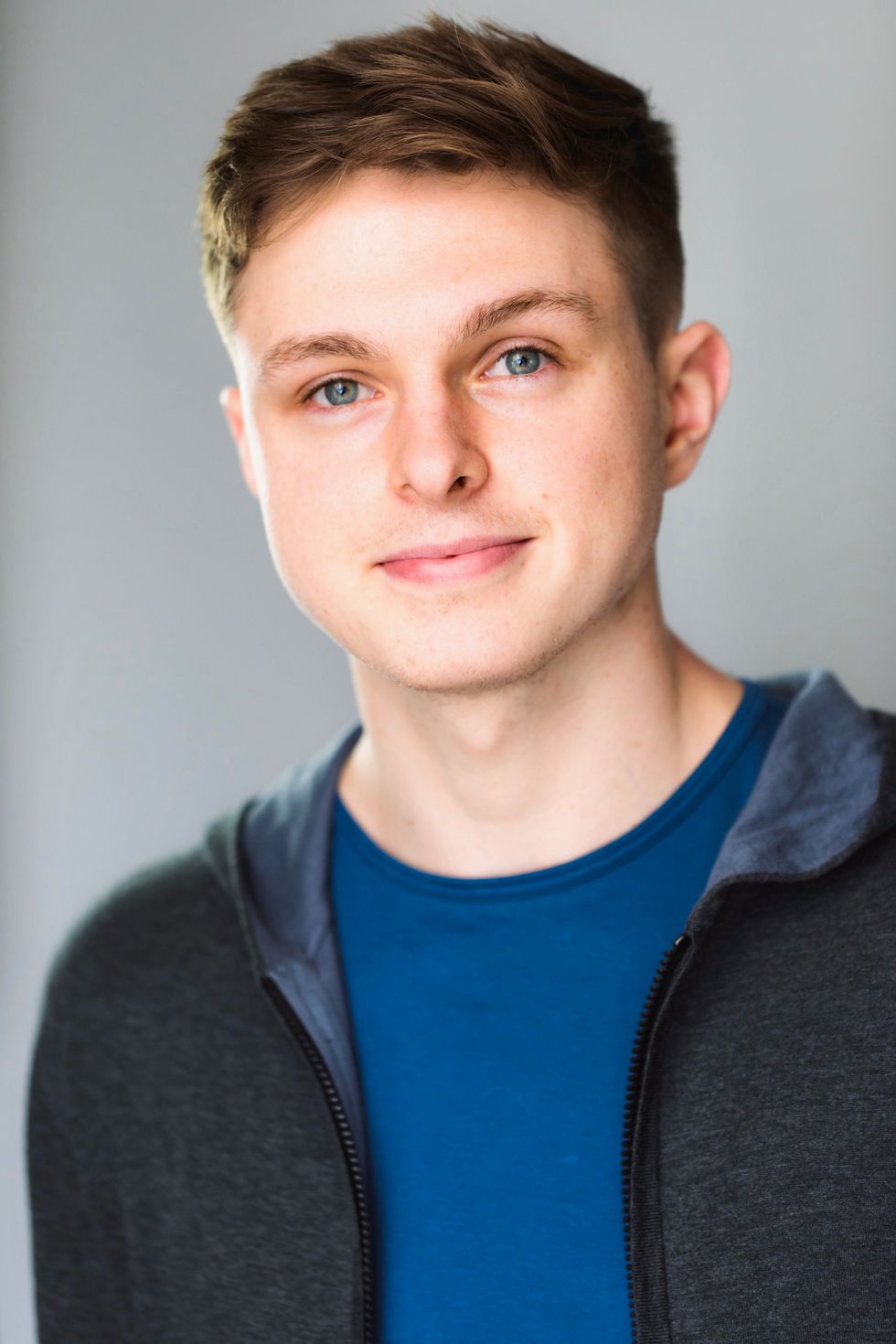 Nate Cavanaugh is the founder of Brainbase
You're now on your third company and you raised over $12 million before turning 24. Have you had any pushback along the way because of your age?
Of course. There's a lot of negative press about young founders who aren't ready to run companies at scale. Until you sign that first set of impressive customers or raise money, you get doubted. I was 21 when Brainbase first raised VC funding and I didn't have traditional domain expertise in intellectual property. I was basically self-taught, and there were a lot of people that questioned our story.
What kept you going?
I'm extremely competitive. When I commit to something I have a will to succeed. And dropping out of college to start something makes you want it to succeed extra badly and do whatever it takes to make it work.
What would you consider some of your biggest personal achievements so far?
I'm a big believer that raising money is not necessarily a successful milestone – you need a strong outcome from that, so there's still a lot of work to do. But the fact that we were able to get a round done with Bessemer during COVID-19 was certainly not easy and I'm proud of that. We also recently did a deal with a big university for trademark licensing; I applied there for undergrad and was denied, so getting rejected and then getting them as a customer is kind of a a funny accomplishment.

And the customers we've been able to get, like Sanrio; they're one of the biggest licensors in the world and we got them as a customer within 12 months of starting.
Also one of our first investors was the founder of Duolingo, a unicorn, and they're from Pittsburgh, so I was proud of that too.
How did your dad's business experience impact you?
He had two businesses when I was growing up that got up to a fairly impressive scale, and then he wound them both down to start Ready Nutrition when I was in high school. So he was starting a clean-slate startup when I was a junior. I saw that grow from a one-person business to making nine figures in revenue. I worked as an unpaid intern and I saw how he ran meetings, interacted with employees, how he closed deals. That gave me a lot of valuable experience early on. It's one thing I don't talk about too much when I'm fundraising – as a founder you want your merits to live separately from that – but I was fortunate to be able to grow up with that.
How has your relationship with your dad evolved as you've had your own success?
We have an interesting dynamic. My family is still in Pittsburgh – when he and I talk it's almost all about work; it's the nature of our relationship. It's interesting to be able to talk about different ways we've done things. His business is bootstrapped, whereas we just closed a Series A. It's been really cool to be able to bring my experience with tech, VC and startups and to hear about his side of things in consumer goods. It's fun to be able to talk about and learn from the challenges he and I are going through.
Who else do you consider your role models?
Of the people in my network, I spend a fair amount of time with Adam Struck, the founder of Struck Capital; he's been a helpful mentor and is on our Board. Severin Hacker (co-founder and CTO at Duolingo) and Kent Bennett (Partner at Bessemer Ventures) have also been helpful. It's been great being able to go to them for function-specific questions.
I've been a fan of Steve Jobs and how elegantly Apple markets their products. I still go back and watch his interviews with Kara Swisher. I'd watch those when I was 10 years old.
I also admire Ben Horowitz; his book The Hard Thing About Hard Things is excellent. Andy Grove (former CEO of Intel), too. And I'm also interested in Peter Thiel, who often provides a contrarian view compared to the mainstream tech narrative.
What's your impression of the L.A. tech scene?
I've been really impressed, on a couple of levels. There's sufficient seed-stage capital from funders and the Series A market is maturing. I still think for Series B and beyond most founders think you need to go to NYC or San Francisco to raise, or at least to make the process competitive. And from a recruiting standpoint, there are so many impressive companies here and the region has a ton of engineering talent. So from the capital and recruiting standpoint it's only maturing and I expect that'll keep growing.
This interview has been edited for clarity and brevity.

---
Sam Blake primarily covers entertainment and media for dot.LA. Find him on Twitter @hisamblake and email him at samblake@dot.LA
Sam Blake
Sam primarily covers entertainment and media for dot.LA. Previously he was Marjorie Deane Fellow at The Economist, where he wrote for the business and finance sections of the print edition. He has also worked at the XPRIZE Foundation, U.S. Government Accountability Office, KCRW, and MLB Advanced Media (now Disney Streaming Services). He holds an MBA from UCLA Anderson, an MPP from UCLA Luskin and a BA in History from University of Michigan. Email him at samblake@dot.LA and find him on Twitter @hisamblake
https://twitter.com/hisamblake
samblake@dot.la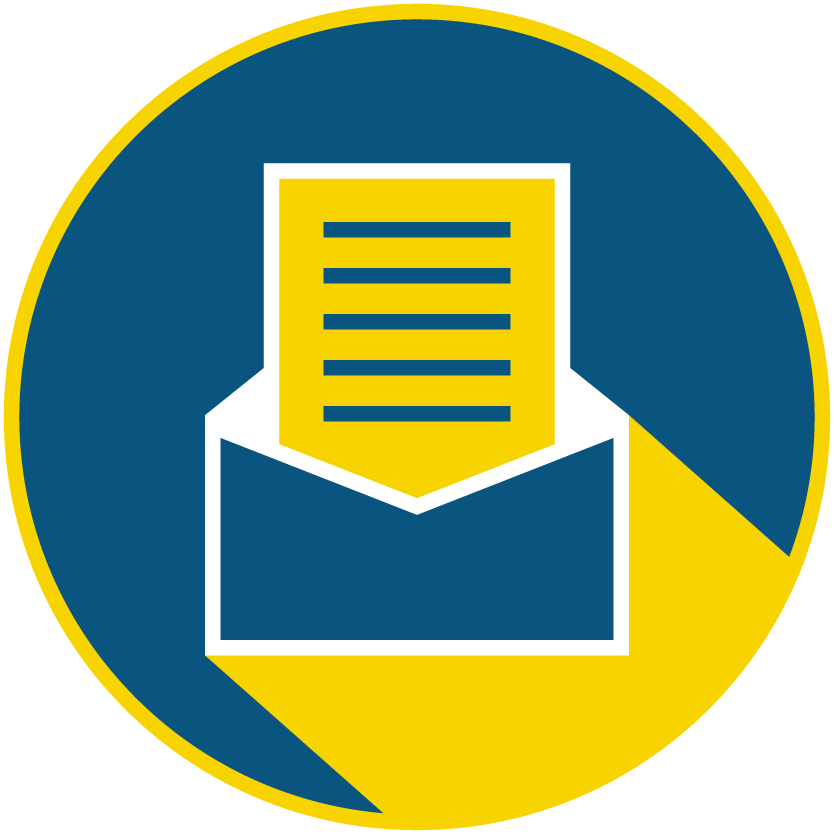 Subscribe to our newsletter to catch every headline.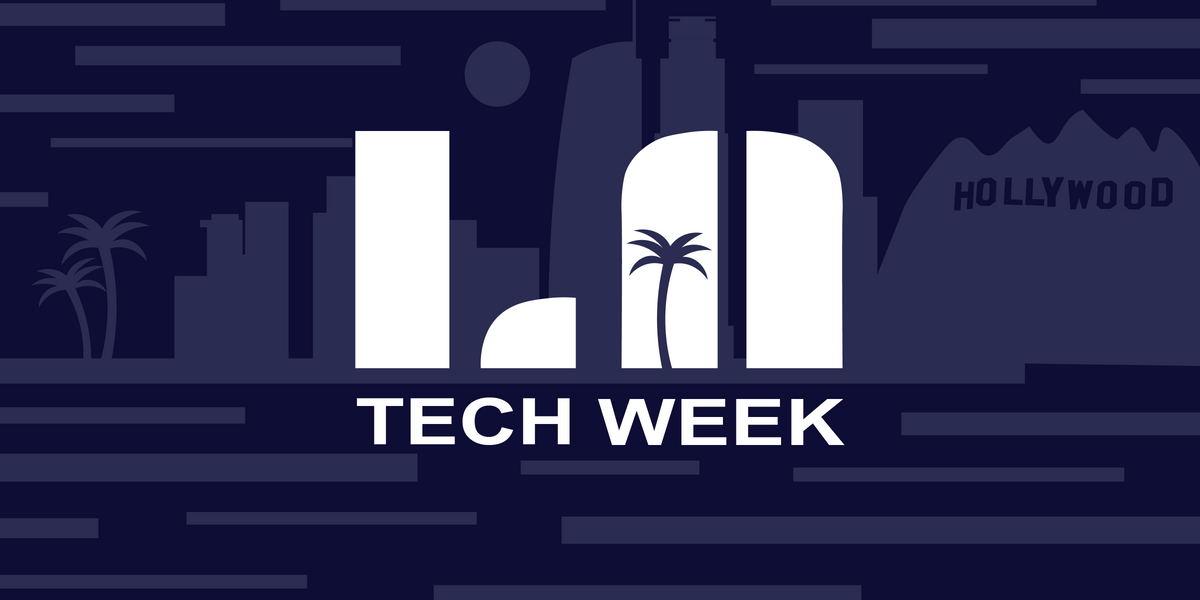 Evan Xie
L.A. Tech Week has brought venture capitalists, founders and entrepreneurs from around the world to the California coast. With so many tech nerds in one place, it's easy to laugh, joke and reminisce about the future of tech in SoCal.
Here's what people are saying about the fifth day of L.A. Tech Week on social:
Samson Amore
Samson Amore is a reporter for dot.LA. He holds a degree in journalism from Emerson College. Send tips or pitches to samsonamore@dot.la and find him on Twitter @Samsonamore.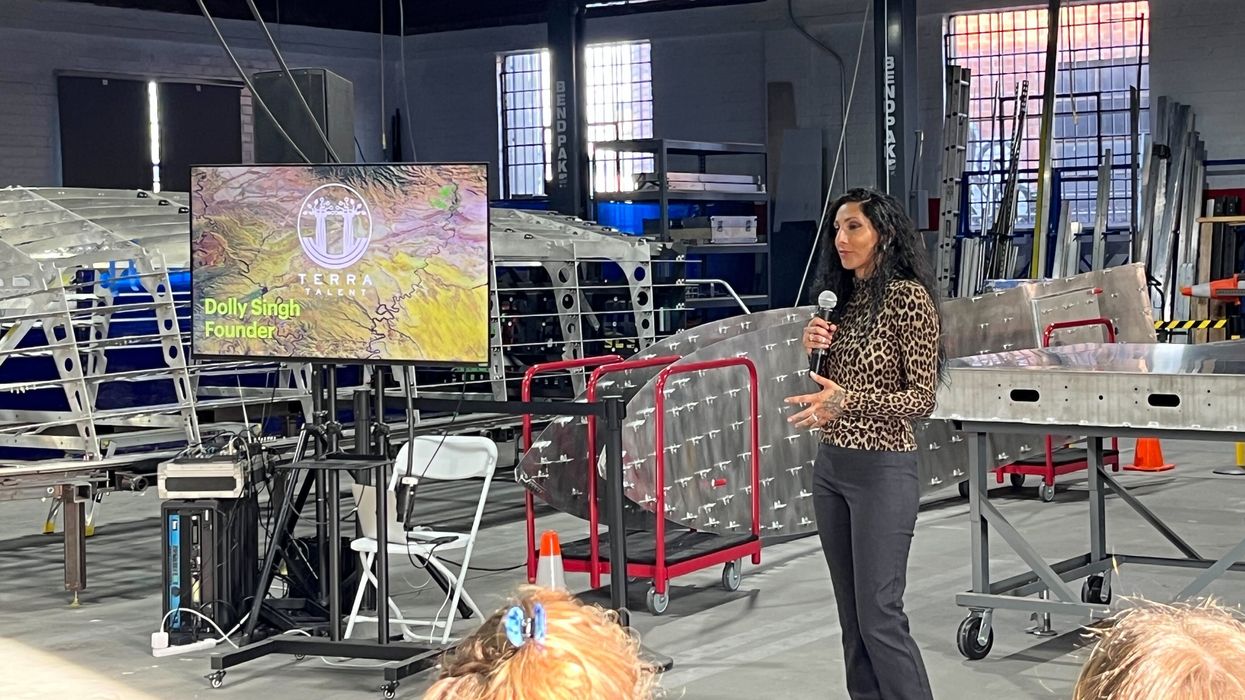 Samson Amore
At Lowercarbon Capital's LA Tech Week event Thursday, the synergy between the region's aerospace industry and greentech startups was clear.
The event sponsored by Lowercarbon, Climate Draft (and the defunct Silicon Valley Bank's Climate Technology & Sustainability team) brought together a handful of local startups in Hawthorne not far from LAX, and many of the companies shared DNA with arguably the region's most famous tech resident: SpaceX.
Here's a look at the greentech startups that pitched during the Tech Week event, and how they think what they're building could help solve the climate crisis.
Arbor: Based in El Segundo, this year-old startup is working to convert organic waste into energy and fresh water. At the same time, it also uses biomass carbon removal and storage to remove carbon from the atmosphere and sequester it in an attempt to avoid further damaging the earth's ozone layer. At the Tech Week event Thursday, Arbor CEO Brad Hartwig told a stunned crowd that Arbor aims to remove about five billion tons of organic waste from landfills and turn that into about 6 PWh, or a quarter of the global electricity need, each year. Hartwig is an alumni of SpaceX; he was a manufacturing engineer on the Crew Dragon engines from 2016-2018 and later a flight test engineer at Kitty Hawk.
Antora: Sunnyvale-based Antora Energy was founded in 2017, making it one of the oldest companies on the pitching block during the event. Backed by investors including the National Science Foundation and Los Angeles-based Overture VC, Antora has raised roughly $57 million to date, most recently a $50 million round last February. Chief operating officer Justin Briggs said Antora's goal is to modernize and popularize thermal energy storage using ultra-hot carbon. Massive heated carbon blocks can give off thermal energy, which Antora's proprietary batteries then absorb and store as energy. It's an ambitious goal, but one the world needs at scale to green its energy footprint. According to Briggs, "the biggest challenge is how can we turn back variable intermittent renewable electricity into something that's reliable and on demand, so we can use it to provide energy to everything we need."
Arc: Hosting the panel was Arc, an electric boating company that's gained surprising momentum, moving from design to delivering its first e-boats in just two years of existence. Founded in 2021, the company's already 70 employees strong and has already sold some of its first e-boats to customers willing to pay the luxury price tag, CTO Ryan Cook said Thursday. Cook said that to meet the power needs of a battery-powered speedboat, the Arc team designed the vehicle around the battery pack with the goal of it being competitive with gas boats when compared to range and cost of gas. But on the pricing side, it's not cheap. Arc's flagship vessel, the Arc One is expected to cost roughly $300,000. During the panel, Cook compared the boat to being "like an early Tesla Roadster." To date Arc Boats has raised just over $35 million, according to PitchBook, from investors including Kevin Durant, Will Smith and Sean "Diddy" Combs.
Clarity Technology: Carbon removal startup Clarity is based in LA and was founded by Yale graduate and CEO Glen Meyerowitz last year. Clarity is working to make "gigaton solutions for gigaton problems." Their aim? To remove up to 2,000 billion pounds of carbon from the atmosphere through direct air capture, a process which uses massive fans to move chemicals that capture CO2. But the challenge, Meyerowitz noted in his speech, is doing this at scale in a way that makes an actual dent in the planet's emissions while also efficiently using the electricity needed to do so. Meyerowitz spent nearly five years working as an engineer for SpaceX in Texas, and added he's looking to transfer those learnings into Clarity.
Parallel Systems: Based in Downtown LA's Arts District, this startup is building zero-emission rail vehicles that are capable of long-haul journeys otherwise done by a trucking company. The estimated $700 billion trucking industry, Parallel Systems CEO Matt Soule said, is ripe for an overhaul and could benefit from moving some of its goods off-road to electric railcars. According to Soule, Parallel's electric battery-powered rail vehicles use 25% of the energy a semi truck uses, and at a competitive cost. Funded in part by a February 2022 grant from the U.S. Department of Energy, Parallel Systems has raised about $57 million to date. Its most recent venture funding round was a $49 million Series A led by Santa Monica-based VC Anthos Capital. Local VCs including Riot Ventures and Santa Monica-based Embark Ventures are also backers of Parallel.
Terra Talent: Unlike the rest of the startups pitching at the Tech Week event, Terra Talent was focused on building teams rather than technology. Founder Dolly Singh worked at SpaceX, Oculus and Citadel as a headhunter, and now runs Terra, a talent and advisory firm that helps companies recruit top talent in the greentech space. But, she said, she's concerned that all the work these startups are doing won't matter unless we very quickly turn around the current trendlines. "Earth will shake us off like and she will do just fine in 10,000 years," she said. "It's our way of living, everything we love is actually here on earth… there's nothing I love on Mars," adding that she's hopeful the startups that pitched during the event will be instrumental in making sure the planet stays habitable for a little while longer.

Samson Amore
Samson Amore is a reporter for dot.LA. He holds a degree in journalism from Emerson College. Send tips or pitches to samsonamore@dot.la and find him on Twitter @Samsonamore.
https://twitter.com/samsonamore
samsonamore@dot.la
Decerry Donato
Decerry Donato is a reporter at dot.LA. Prior to that, she was an editorial fellow at the company. Decerry received her bachelor's degree in literary journalism from the University of California, Irvine. She continues to write stories to inform the community about issues or events that take place in the L.A. area. On the weekends, she can be found hiking in the Angeles National forest or sifting through racks at your local thrift store.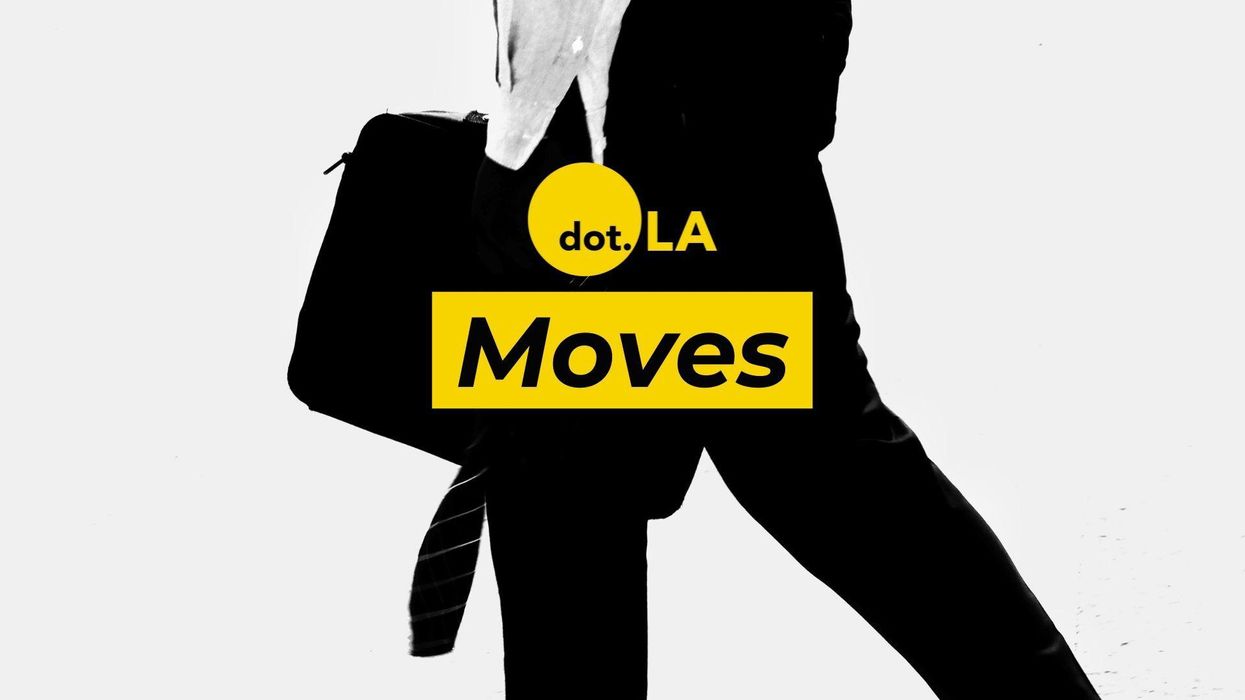 LA Tech 'Moves':
"Moves," our roundup of job changes in L.A. tech, is presented by Interchange.LA, dot.LA's recruiting and career platform connecting Southern California's most exciting companies with top tech talent. Create a free Interchange.LA profile here—and if you're looking for ways to supercharge your recruiting efforts, find out more about Interchange.LA's white-glove recruiting service by emailing Sharmineh O'Farrill Lewis (sharmineh@dot.la). Please send job changes and personnel moves to moves@dot.la.
***
LeaseLock, a lease insurance and financial technology provider for the rental housing industry named Janine Steiner Jovanovic as chief executive officer. Prior to this role, Steiner Jovanovic served as the former EVP of Asset Optimization at RealPage.
Esports platform PlayVS hired EverFi co-founder and seasoned business leader Jon Chapman as the company's chief executive officer.
Biotechnology company Visgenx appointed William Pedranti, J.D. as chief executive officer. Before joining, Mr. Pedranti was a partner with PENG Life Science Ventures.
Pressed Juicery, the leading cold-pressed juice and functional wellness brand welcomed Justin Nedelman as chief executive officer. His prior roles include chief real estate officer of FAT Brands Inc. and co-founder of Eureka! Restaurant Group.
Michael G. Vicari joined liquid biopsy company Nucleix as chief commercial officer. Vicari served as senior vice president of Sales at GRAIL, Inc.
Full-service performance marketing agency Allied Global Marketing promoted Erin Corbett to executive vice president of global partnership and marketing. Prior to joining Allied, Corbett's experience included senior marketing roles at Disney, Warner Bros. Studios, Harrah's Entertainment and Imagi Animation Studios.
Nuvve, a vehicle-to-grid technology company tapped student transportation and automotive sales and marketing executive David Bercik to lead the K-12 student transportation division.
From Your Site Articles
Related Articles Around the Web
Decerry Donato
Decerry Donato is a reporter at dot.LA. Prior to that, she was an editorial fellow at the company. Decerry received her bachelor's degree in literary journalism from the University of California, Irvine. She continues to write stories to inform the community about issues or events that take place in the L.A. area. On the weekends, she can be found hiking in the Angeles National forest or sifting through racks at your local thrift store.