Sam Blake
Sam primarily covers entertainment and media for dot.LA. Previously he was Marjorie Deane Fellow at The Economist, where he wrote for the business and finance sections of the print edition. He has also worked at the XPRIZE Foundation, U.S. Government Accountability Office, KCRW, and MLB Advanced Media (now Disney Streaming Services). He holds an MBA from UCLA Anderson, an MPP from UCLA Luskin and a BA in History from University of Michigan. Email him at samblake@dot.LA and find him on Twitter @hisamblake
The prospect of internet fame is no longer enough to bring in the best and brightest. Instead, paying for content has become table stakes for these platforms as they battle one another and compete in the broader attention economy.

Netflix chief executive Reed Hastings made that clear in a recent earnings call, when he called YouTube — rather than other streaming services or theater chains — his company's "second largest direct competitor."
Within the last two years, at least 10 platforms have announced they'll be paying creators for their work, but the size of the purse, what type of content they're funding and how differs by platform.
"These types of funds are what a lot of creators have been waiting forever for, and as soon as one platform starting doing it, the others had to follow suit," said David Rhodes, a multiplatform content creator with over 10 million followers across his 12 accounts, who has earned a few thousand dollars from Snapchat's creator fund.
Whether this new funding will be enough to lure talent and sustain quality content remains to be seen, but the financial arms race has been welcomed by many creators.
Here's a quick look at each:
TikTok has said that within three years, its creator fund will grow to over $1 billion in the U.S. and more than double that globally. Only residents of certain countries are currently eligible, and successful applicants must meet other criteria, including having at least 10,000 authentic followers and receiving 100,000 views in the last 30 days. To apply, users must have a creator account, which is free to make, and submit an application via the app. Payouts are based on video views and engagement, and no caps have been set for outlays per day or to a given user, the company says.
YouTube's "shorts fund" is a $100 million pool that will be distributed through 2022. Available to creators in India and the U.S., it is an effort to boost YouTube's presence in the short-form video market via its new "Shorts" product. Phil Ranta, a social media veteran and CEO of Wormhole Labs, said he has seen lots of creators with relatively modest followings earn "bonkers" views via Shorts. YouTube says it will reach out to creators whose Shorts earn the most views and engagement each month, and called the fund "the first step in our journey to build a monetization model for Shorts on YouTube."
Snapchat is offering $1 million per day to creators on "Spotlight," a TikTok-like video-broadcasting feature launched late last year that heralded Snap's departure from an exclusive focus on peer-to-peer messaging. Anyone can submit clips to Spotlight and be eligible for the funding. Payments are distributed based on an algorithm that checks whether a post passes a "value threshold" within seven days. Snap has said factors the algorithm looks for will vary but may include unique views and performance relative to other users' posts.
Facebook set aside $25 million for a Black creator fund in 2020, available to U.S. residents with at least 10,000 Facebook or Instagram followers. The program launched in August and applications are now closed. Instagram, owned by Facebook, does not have a general creator fund, though its head, Adam Mosseri, has suggested it might create one in the future. Reports have surfaced indicating that Instagram has sought to lure some creators to its platform with lavish payments.
Pinterest has a creator fund that reportedly measures $500,000 and is open for application; participants receive $25,000 in cash and ad credits and participate in a four-week workshop. Clubhouse has indicated it will offer application-based creator grants but has not publicized details, and ran an inaugural creator accelerator program that closed applications in March. Substack offered $25,000 each to four selected writers in 2020 while OnlyFans provided four £20,000 grants to UK-based musicians.
How Some Artists Are Gaming 'Creator Funds'
The largest funds are algorithmic and the factors that trigger payouts are a moving target, but that doesn't mean they can't be gamed.
"There's always an exploit," said Ranta, noting that conversations among creators and agents often include sharing tactics for what seems to be working.
One hack he cited pertains to Snap's Spotlight fund. Some creators with big followings have found they can post to Spotlight as frequently as every five minutes with simple videos such as blowing a kiss to the camera, and earn money for it, Ranta said.
Accessing the funds can also simply mean posting relentlessly.
"The more content you can push out the better," said Rhodes. "Although some videos may do well and some won't, you're still increasing your chances of videos taking off and earning money."
Rhodes said it's key to find "formula," and "ride it out until it stops working — or until the novelty wears off — and then switch it up and try different things until you find a new formula that works, and ride that one, too."
Ranta noted that a good way to know what a platform algorithmically prefers is to monitor the company's press releases and best practices guides.
"You put those two together and you kind of get it," he said.
Conversations about how to hit the moving target also take place on forums like TubeBuddy, in addition to Reddit and Discord. Proceed with caution, though.
"Those are really hit or miss," said Ranta, or downright "unfounded gossip."
Hedge-fund billionaire investor Bill Ackman is getting a 10% share of one of the world's largest music companies, valued at $40 billion, and performing some Wall Street-styled gymnastics to do it.
Ackman launched the largest SPAC ever last summer with the goal of acquiring a "mature unicorn" to take public with his new blank-check company. Those plans have changed. Ackman's SPAC – Pershing Square Tontine Holdings Ltd. – will instead be acquiring a piece of Universal Music Group: a carveout from an already publicly-traded company, Vivendi, which itself was planning on going public.
By doing so, Ackman fulfills his SPAC's obligation to acquire a company within two years. But Tontine will live on, only as a new type of financial entity: a so-called SPARC.
UMG is expected to go public on the Amsterdam-based Euronext exchange later this year.
Tontine will pay about $4 billion for its 10% stake in UMG – the world's largest record label by market share, whose expansive roster includes Kanye West, Lady Gaga and Taylor Swift. UMG's sweeping catalog provides Ackman and his shareholders access to an asset that has steadily been attracting investors, who've paid big sums for music publishing rights as digital music soars.
The deal must still be approved by shareholders of UMG's parent company Vivendi. A vote is scheduled for Tuesday.
Meanwhile, the deal meets Ackman's acquisition obligation, and leaves him flush with about $2.9 billion in cash still available to the blank-check company. Tontine will continue searching for another acquisition target, according to a company statement.
Shareholders will get a slice of UMG along with rights to purchase shares of a future acquisition, under the arrangement that inspired the term SPARC, or special purpose acquisition rights corporation. Those rights, or warrants, are expected to be tradeable on the NYSE or Nasdaq, Tontine said.
The financial engineering puts a spin on the SPAC, one of the hottest Wall Street trends of late.
Tontine said it was attracted to UMG's 5% revenue growth in 2020, when streaming proved resilient during the pandemic. Music streaming comprises the majority of UMG's revenues.
Competitor Warner Music Group went public in 2020 at a market value of $15.6 billion. That provided a tidy sum to Len Blavatnik, who bought WMG for $3.3 billion in 2011.
Tontine's 10% stake in UMG is expected to settle within a few weeks.
Shares in Tontine closed flat Monday at $22.70. They fell sharply, however – about 13% – when news first surfaced earlier this month that it was exploring a 10% UMG acquisition.
"During the course of our negotiations with Vivendi, it became clear that various tax, legal and other strategic considerations precluded Vivendi from entering into a 'traditional' de-SPAC merger transaction, and from selling more than 10% of UMG," the Tontine announcement said. "Even with the additional complexity, time, legal, and other costs that these constraints created, we were convinced that the opportunity to acquire such an extraordinary business was the best option for our shareholders."
Tontine will hold a livestream presentation and Q&A about the deal on Wednesday.
Related Articles Around the Web
Three Black creators are offering NFTs tied to holograms of themselves performing the iconic dance moves they pioneered that spread through social media and sparked discussion over how to compensate digital performers.
The "Renegade" took social media by storm in 2020. TikTok's biggest stars and millions of others uploaded videos of themselves performing the dance. But the routine's then-14-year-old creator, Jalaiah Harmon, told the New York Times she didn't get credit for the dance nor any income that could have come with it. Later her viral dance became a Fortnite emote that players could buy for their characters to perform, but any licensing arrangement made with Harmon was not made public.
As of today, Harmon's dance, along with Cookie Kawaii's "Throw it Back" and Blanco Brown's "The Git Up," have collectively been viewed on TikTok over 10 billion times, but monetizing their creations has been challenging.
Working with La Cañada-based AR production house Jadu, and their Culver City-based studio partner Metastage, the three creators have each made a hologram of themselves performing their dances. These will be sold at auction as NFTs on Juneteenth on NFT marketplace OpenSea,.

One NFT has been minted for each of the three holograms. The creators will receive a majority percentage of the auction sale, along with a percentage of any secondary sales. Jadu will receive minority percentages.
Black creators not getting properly compensated has sparked controversy over how to properly give credit in the fragmented, copycat world of user-generated media. NFTs present one way forward, and doing so was a big motive for Jadu.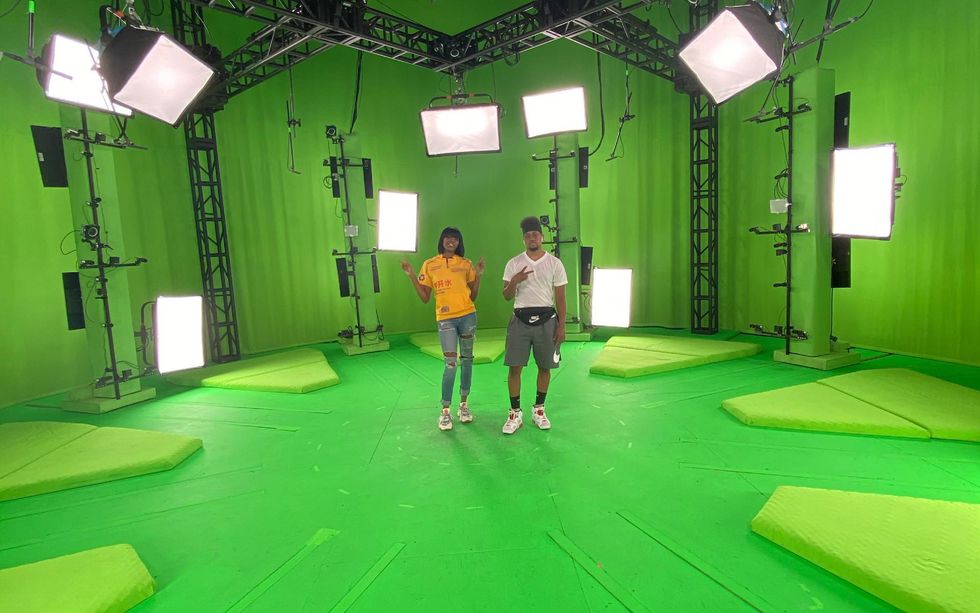 NFTs allow creators to retain an ongoing stake in a digital asset. Smart contracts can automatically reroute a percentage of any secondary sale to a creator's account.

"We were really looking to find artists that have been either overlooked or have not received the appropriate cultural and financial compensation," said Jadu chief operating officer Jake Sally. "Everyone should know who Jalaiah, Blanco Brown, and Cookie Kawaii are."
The three holograms will be available for use on the Jadu app, which allows users to interact with holographic celebrities and create free videos that can be shared across social media. Owners of the three NFTs will be displayed on the app.
Sally said enabling people to use these holograms should help the value of their associated NFTs increase over time – value that the creators can capture through their perpetual stake in any secondary sales.