The founders of Afterparty see themselves as on the forefront of a so-called "Web 3," a reimagined internet that relies less on private intermediaries like Google and Facebook, and enables more direct connections between creators and their fans through the blockchain.
The L.A.-based startup launches Thursday to provide tools for creators to both mint NFTs and host online events that require crypto tokens for entry. It's also bringing on Eytan Elbaz, founder of mobile gaming giant Scopely, as an investor and giving him the title of co-founder.

Barely five months old, Afterparty was founded by Dan Rahmel, previously of Music Audience Exchange, and David Fields, a former strategist at Disney and head of investments at former Disney CEO Michael Eisner's The Tornante Company. It aims to empower creators by making it easier for them to create NFTs.
Fields said the status quo of the creator economy forces creators to cater to social media platforms' algorithms, and drowns out the true fans in comment sections. But through NFTs and the closely related "social tokens," which enable individuals and groups to issue cryptocurrencies linked to themselves, Web 3 may be changing the balance.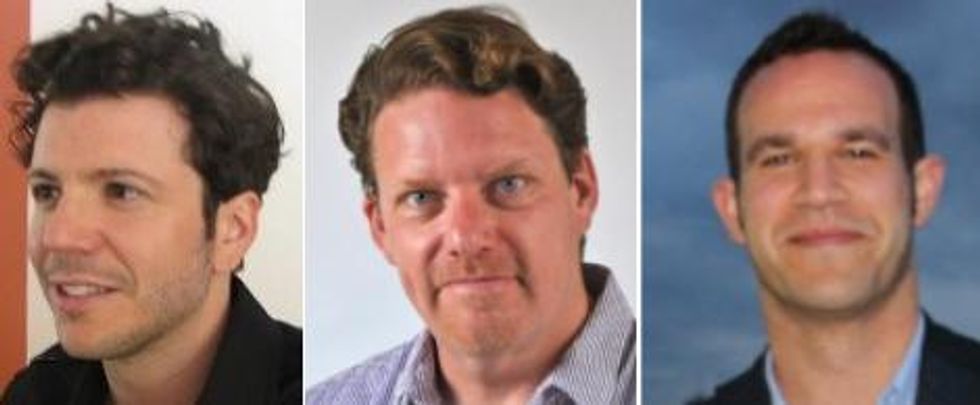 Afterparty co-founders (from left) Eytan Elbaz, Dan Rahmel and David Fields
At Disney, Fields helped lead the Pixar acquisition in 2006, and with Eisner he invested heavily into the creator economy when it was being fueled by a nascent YouTube.

"I think we're entering a second, just as powerful disruptive wave with crypto networks," Fields told dot.LA. "We are at as profound a moment for the creator economy and entertainment industry as we saw with broadband internet coming in."
Afterparty provides design templates to help creators mint NFTs. Designers can submit frameworks and earn compensation from the platform if their submissions are used.
The company itself issues a crypto token as well, which can be required to access events on the platform. The token also provides owners with voting power to make decisions on things like what the company should do with the money. In this way, Afterparty aims to become a so-called decentralized autonomous organization, with majority ownership held by its community via these "governance tokens."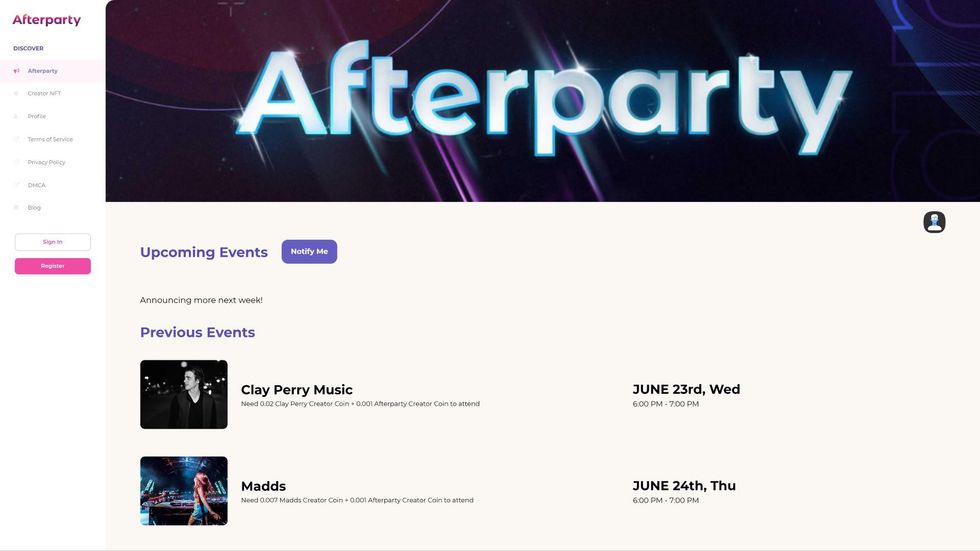 A screenshot of Afterparty's website.
During the company's beta period, held in June and July, artists Clay Perry and Tropix earned $500 and $1,000 in direct income, respectively. Jon Youshaei, who hosts a popular Clubhouse show about the creator economy, also participated in an event.

"We felt like we were selling picks and shovels in a gold rush," Fields said. The company has focused so far on musicians but plans to expand into broader creator categories.
Elbaz, one of the L.A. tech community's biggest success stories, is himself a musician, like his co-founders.
"NFTs are at a critical inflection point where the merging of music and art with digital assets will take the industry in whole new directions," he said in a press release. "We're now at a place where we must facilitate how creators and fans can exchange them seamlessly."
The NFT markets have been up and down lately, with some platforms seeing record highs while others have plummeted. Though it may seem like the hype cycle has hushed following the NFT mania that crested with digital artist Beeple's $69 million sale in March, administered by auction house Christie's, the Aftrparty team and the crypto community at large see the party just beginning.
"I think we're going to see an explosion of really exciting new experiments," Fields said.