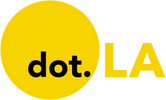 Get in the KNOW
on LA Startups & Tech
X
Sam Blake
Sam Blake
Sam primarily covers entertainment and media for dot.LA. Previously he was Marjorie Deane Fellow at The Economist, where he wrote for the business and finance sections of the print edition. He has also worked at the XPRIZE Foundation, U.S. Government Accountability Office, KCRW, and MLB Advanced Media (now Disney Streaming Services). He holds an MBA from UCLA Anderson, an MPP from UCLA Luskin and a BA in History from University of Michigan. Email him at samblake@dot.LA and find him on Twitter @hisamblake
The founders of Afterparty see themselves as on the forefront of a so-called "Web 3," a reimagined internet that relies less on private intermediaries like Google and Facebook, and enables more direct connections between creators and their fans through the blockchain.
The L.A.-based startup launches Thursday to provide tools for creators to both mint NFTs and host online events that require crypto tokens for entry. It's also bringing on Eytan Elbaz, founder of mobile gaming giant Scopely, as an investor and giving him the title of co-founder.

Barely five months old, Afterparty was founded by Dan Rahmel, previously of Music Audience Exchange, and David Fields, a former strategist at Disney and head of investments at former Disney CEO Michael Eisner's The Tornante Company. It aims to empower creators by making it easier for them to create NFTs.
Fields said the status quo of the creator economy forces creators to cater to social media platforms' algorithms, and drowns out the true fans in comment sections. But through NFTs and the closely related "social tokens," which enable individuals and groups to issue cryptocurrencies linked to themselves, Web 3 may be changing the balance.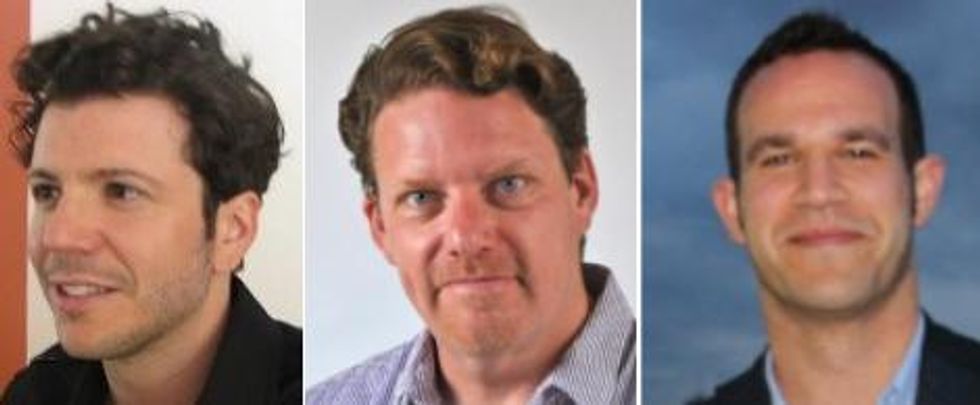 Afterparty co-founders (from left) Eytan Elbaz, Dan Rahmel and David Fields
At Disney, Fields helped lead the Pixar acquisition in 2006, and with Eisner he invested heavily into the creator economy when it was being fueled by a nascent YouTube.

"I think we're entering a second, just as powerful disruptive wave with crypto networks," Fields told dot.LA. "We are at as profound a moment for the creator economy and entertainment industry as we saw with broadband internet coming in."
Afterparty provides design templates to help creators mint NFTs. Designers can submit frameworks and earn compensation from the platform if their submissions are used.
The company itself issues a crypto token as well, which can be required to access events on the platform. The token also provides owners with voting power to make decisions on things like what the company should do with the money. In this way, Afterparty aims to become a so-called decentralized autonomous organization, with majority ownership held by its community via these "governance tokens."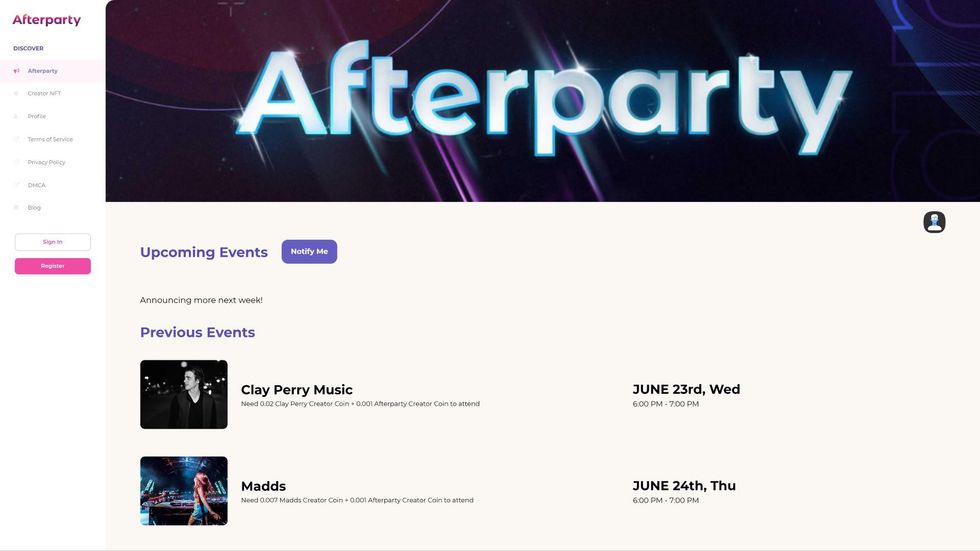 A screenshot of Afterparty's website.
During the company's beta period, held in June and July, artists Clay Perry and Tropix earned $500 and $1,000 in direct income, respectively. Jon Youshaei, who hosts a popular Clubhouse show about the creator economy, also participated in an event.

"We felt like we were selling picks and shovels in a gold rush," Fields said. The company has focused so far on musicians but plans to expand into broader creator categories.
Elbaz, one of the L.A. tech community's biggest success stories, is himself a musician, like his co-founders.
"NFTs are at a critical inflection point where the merging of music and art with digital assets will take the industry in whole new directions," he said in a press release. "We're now at a place where we must facilitate how creators and fans can exchange them seamlessly."
The NFT markets have been up and down lately, with some platforms seeing record highs while others have plummeted. Though it may seem like the hype cycle has hushed following the NFT mania that crested with digital artist Beeple's $69 million sale in March, administered by auction house Christie's, the Aftrparty team and the crypto community at large see the party just beginning.
"I think we're going to see an explosion of really exciting new experiments," Fields said.
From Your Site Articles
Related Articles Around the Web
A new film about a tech titan starring Anthony Hopkins is being released next month, not on Netflix or in theaters but on an NFT platform.

L.A.-based startup Vuele is releasing "Zero Contact," a film featuring Hopkins as a character whose secret invention could either solve mankind's problems or destroy the world.
In September, Vuele will auction off a one-of-one NFT linked to the film, which will grant the owner early access to the release along with a host of extra features like bonus footage. The company considers itself the "first direct-to-consumer, full-length feature film NFT viewing and distribution platform."
It will release subsequent versions of the NFTs, available as drops for which users must queue up. Each round will tender a higher number of NFTs, with each granting owners fewer associated perks. Users will be able to display and trade their NFTs on the Vuele platform.
Vuele (pronounced "view-lee") is a joint venture between L.A.-based CurrencyWorks, a publicly-traded cryptocurrency platform, and Beverly Hills-based Enderby Entertainment.
Cameron Chell, founder of both CurrencyWorks and Vuele, said his interest in NFTs crescendoed in February when he saw the hundreds of thousands of dollars that was being spent on Topps' blockchain-based offering of Garbage Pail Kids, a set of characters originally launched in the '80s to parody the Cabbage Patch Kids franchise. That same month sales in NBA Top Shot NFTs hit their all-time high, and Chell's business thesis crystallized.
"Creating an entire community and an economy around something that people have passion in seemed very, very viable," he said.
He co-founded Vuele the next month. Filming wrapped in February 2021. Now the company is aiming to bring about what Chell calls an "incremental form of distribution for the movie industry," with Zero Contact as its maiden voyage.
Intellectual property in film can be rife with complexities, ranging from exhibition windows to geographies. To simplify the experiment, Vuele acquired full rights to the film, directed by Enderby Entertainment's Rick Dugdale. Chell would not disclose how much the company paid.
His hope is that by managing the intellectual property for this first go-round, Vuele will be able to point to the experience as a case study for future negotiations with other content owners.
"A lot of people have talked about using blockchain for distribution of entertainment content since before anybody knew how to say 'NFT'," said Richard Thompson, an entertainment-tech lawyer. The decentralized database technology offers promise for simplifying royalty payments and potentially protecting against piracy, he said.
"But the typical way that NFTs work today doesn't lend itself very well to film distribution," Thompson added, noting that the tokens are best for specific, unique digital objects and that films aren't necessarily a great use case. "Somebody will come up with something really cool and workable that may change the way that entertainment content is distributed, but not until a bunch of dumb people who don't get it have tried stupid things and failed."
Chell, however, thinks the community of film fanatics will prove fertile ground for NFTs.
To make money, Chell said that when Vuele owns the IP outright, it will take the NFT primary sale and a percentage of secondary trades, then look to transfer the film into "traditional distribution" channels, such as selling it to a streamer. In cases where it partners with a distributor or producer, it will do a revenue split.
From Your Site Articles
Related Articles Around the Web
Photo by Mika Baumeister on Unsplash
Boosted by "Cruella," "Loki" and "Luca," Disney Plus added 12.4 million subscribers between April and June, bringing its total to 116 million. Disney beat Wall Street expectations for revenues and subscribers to its streaming star, and saw its theme parks return to profitability for the first time since the pandemic began, the company reported Thursday.
Disney stock shot up more than 5% in after-hours trading.
The theme parks, traditionally Disney's cash cow, were brutalized by the pandemic to the tune of $1.6 billion in lost income over the previous nine months, the company said. But in the quarter ending July 3, that business line saw a profit of $356 million, a big swing from its $1.8 billion loss in the same period last year.
But chief executive officer Bob Chapek is all in on streaming, reiterating that Disney Plus is his company's "top priority." Disney turned over $17 billion in total revenue, of which about 25% came from its streaming entities, which also include Hulu and ESPN Plus.
People across the entertainment industry are watching closely to see how Disney handles its increasingly heated battle over the theatrical-release window and whether it can deftly handle relationships with Hollywood talent. The company is facing a lawsuit from Scarlett Johansson, who claims Disney breached her contract by debuting "Black Widow" on Disney Plus the same day as in theaters.
Chapek doubled down on Disney's stance of taking release strategies film by film.
He confirmed that Marvel's "Shang-Chi" will go ahead with an exclusive release in theaters in September, yet not without a hint of regret.
"When we planned 'Shang-Chi,' that title was planned on being in a much more healthy theatrical environment and at this point, unfortunately, due to distribution agreements we have and just the practicalities of last-minute changes, it wouldn't be possible" to change it, he said.
Instead, Chapek said the company is viewing the film's 45-day exclusive window as "another data point" to inform Disney's future decisions.
The company did not comment directly on the performance of "Black Widow," which debuted after the quarter's end. Chapek did, however, echo Disney's prior dismissal of Johansson's argument.
"Since COVID has begun, we've entered into hundreds of talent arrangements and by and large they've gone very, very smoothly," he said.
Disney remains well behind Netflix in terms of subscribers, but the company thinks it has plenty of room for continued growth. Following launches this quarter in Thailand and Malaysia, it plans to expand its footprint in Japan, South Korea and Hong Kong later this year.
About 40% of Disney Plus subscribers come from its international Disney Plus Hotstar package, which charges varying rates by geographic markets. Disney Plus costs about $8 per month in the U.S., but worldwide the average monthly revenue per user is just over $4 – a figure that declined almost 10% on the quarter.
Disney also announced a "Disney Plus Day" on November 12, the two-year anniversary of the service's launch. Chapek described it as an effort to boost subscribers, in conjunction with strategic releases of new content, including a Thanksgiving Day debut of a six-part series about The Beatles directed by Peter Jackson.
Buried in the earnings report was a $217 million writedown of DraftKings. Disney acquired about 6% of the sports betting website when it bought 21st Century Fox in 2015. Sports are emerging as an increasingly important battlefront in the streaming wars, and some investors have been calling for Disney to make its ESPN brand more of a focal point in its streaming efforts.