space tech
space tech
Reality caught up with science fiction today when Star Trek actor William Shatner, a.k.a. Captain James T. Kirk, briefly crossed into outer space aboard Blue Origin's New Shepard suborbital spaceship.
In the process, the 90-year-old Shatner took the title of oldest human in space, less than three months after 82-year-old aviation pioneer Wally Funk set that record on Blue Origin's first-ever crewed flight.
"How about that, guys?" Shatner could be heard saying during the descent. "That was unlike anything they described. … That was unlike anything you could ever feel."
Today's mission at Blue Origin's Launch Site One in West Texas was the 18th for the New Shepard breed of spaceships, including 16 uncrewed flights over the past six years. It marked a bright day for Jeff Bezos' Kent, Wash.-based space venture, coming amid a set of challenges and controversies.
The flight followed the pattern set by July's milestone mission, which carried Funk, Bezos, his brother Mark and Dutch student Oliver Daemen across the 100-kilometer (62-mile) space boundary known as the Karman Line.
Today, Shatner was joined by three other spacefliers: Chris Boshuizen, a venture capitalist who co-founded Planet Labs; Glen de Vries, a co-founder of Medidata Solutions who is now an executive at Dassault Systems; and Audrey Powers, Blue Origin's vice president of New Shepard mission and flight operations.
Boshuizen and de Vries paid an undisclosed fare for their trip, while Shatner and Powers flew on Blue Origin's behalf.
Before heading out to the launch pad, Blue Origin crew trainer Sarah Knights presented the quartet with commemorative coins. "Heads we go, tails we don't," Shatner joked.
While the booster flew itself to a touchdown on a landing pad not far from the launch pad, the four space travelers returned to their seats for a parachute-aided descent back to the Texas desert. The trip took 10 minutes and 17 seconds.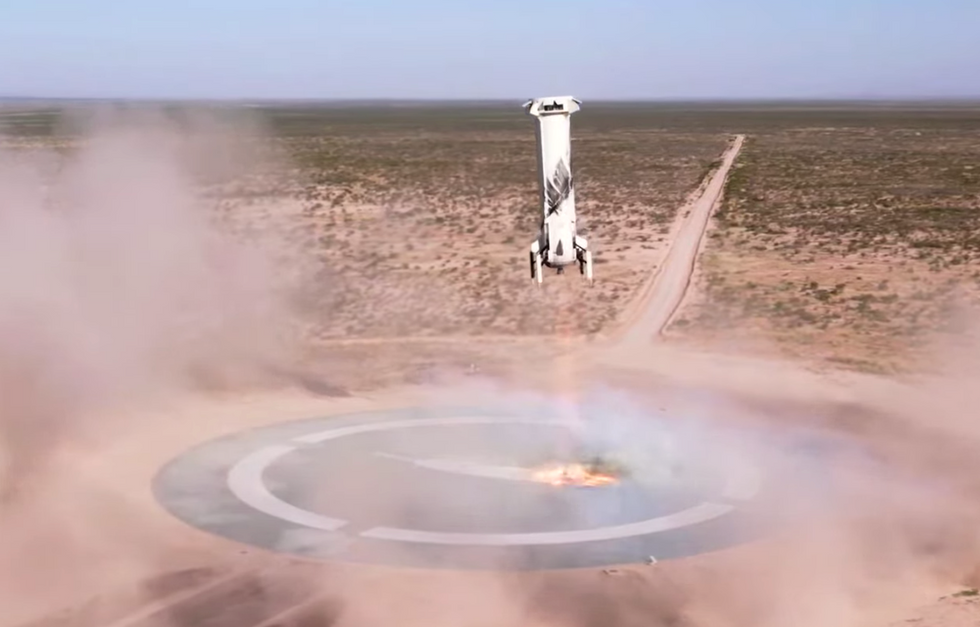 The crew capsule sits at its landing site.
After the landing, Bezos opened the hatch and ushered the crew out for a round of hugs from friends and family — and a spray of celebratory champagne.
"Everybody in the world needs to do this," Shatner told Bezos as he stood outside the capsule. "It was unbelievable. … To see the blue colors just whip by, and now you're staring into blackness. … There is Mother Earth and comfort, and there is space. Is there death? I don't know.
"What you've given me is the most profound experience I can imagine," said Shatner, seemingly overcome. "I'm so filled with emotion about what just happened. It's so extraordinary. I hope I never recover from this."
Bezos then gave each of the fliers a custom-made astronaut pin and a hug. Thousands of postcards were packed aboard the capsule for the Club for the Future, Blue Origin's nonprofit educational program, and they'll be returned to senders now that they've come back from space.
Shatner was the star of today's mission, thanks to his long-running status as a space-show celebrity. He was the starship captain in the original "Star Trek" series in 1966-1969, in an age before his three shipmates were born, and went on to roles in a string of Star Trek movies as well as non-spacey films and TV series.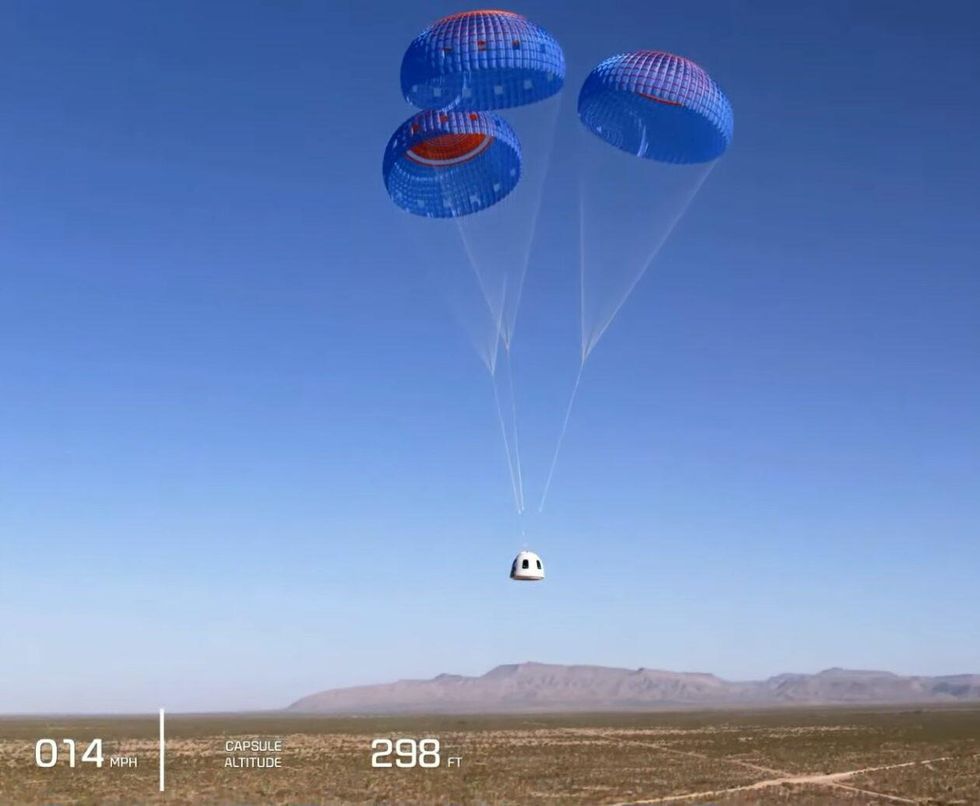 The New Shepard crew capsule descends to its touchdown.
He's also served as a pitchman for Priceline, and at times, Shatner sounded as if he was playing that role in an unofficial capacity for Bezos and his space vision. "Jeff Bezos' concept to make living and building in space, and to make pollution a thing of the past — what noble ambitions those are, and somebody has to start it," he said in a pre-launch video released by Blue Origin.
So far, New Shepard seems to be the most successful element of Blue Origin's multi-pronged space program. After July's first crewed mission, Bezos said that his 21-year-old space venture had racked up nearly $100 million in private sales for future suborbital spaceflights. The next crewed flight is expected to take place late this year, and there'll be uncrewed research missions as well.
Blue Origin has faced setbacks on other fronts, including delays in the development of its next-generation BE-4 rocket engine and its orbital-class New Glenn rocket. This spring, it lost out to SpaceX in a multibillion-dollar competition to build the first lunar lander to carry astronauts for NASA's Artemis moon program. A ruling on Blue Origin's legal challenge is expected next month.
The crew capsule sits at its landing site.
There have been signs of internal dissension as well: Last month, an essay attributed to 21 current and former Blue Origin employees accused the company of laxity when it comes to sexual harassment and flight safety.
According to the essay, most of the authors "would not fly on a Blue Origin vehicle" due to safety concerns. Perhaps in response to the essay, today's Blue Origin webcast made a point of emphasizing the safety of the New Shepard system.
"There are a lot of people at Blue that would be excited to fly on New Shepard, and I'm happy to count myself as one of them. It's a fantastic system. It's a very robust system," Andrew Lake, senior director of New Shepard safety and mission assurance, said in a pre-recorded interview.
"Well, I hope we get to go one day," replied Ariane Cornell, who doubles as a launch commentator as well as Blue Origin's director of astronaut and orbital sales.
This article originally appeared on GeekWire.
From Your Site Articles
Related Articles Around the Web
Karman Missile & Space Systems acquired Systima Technologies as part of Karman's push into the markets for space and hypersonic system infrastructure.

Karman, headquartered in Los Angeles, was created just in the past year with backing from Trive Capital, a Dallas-based private equity firm. In addition to Systima, Karman's business divisions include AMRO, AAE Aerospace, Aerospace Engineering Corp. and TMX Engineering.
Financial terms of the transaction were not disclosed.
Washington-based Systima currently has about 230 employees — and last year it purchased the Harbour Pointe Tech Center in Mukilteo to serve as its headquarters, reportedly at a price of $46.75 million. In the wake of the acquisition, Systima's leadership team will continue as equity holders and senior leaders of Karman.
The 21-year-old venture, founded by President Tom Prenzlow, specializes in integrating energetic and mechanical systems into the structural design of mission-critical space and hypersonic systems. One of its fastest-growing product lines is the fabrication of high-performance composite structures that use high-temperature materials for missile and launch platforms
Systima's projects include the development of pyrotechnically actuated hatch mechanisms for NASA's Orion deep-space crew capsule, fabrication of a ring-shaped separation joint system for NASA's heavy-lift Space Launch System rocket, and work on hypersonic flight and missile systems for the Defense Department.Those projects mesh well with Karman's business plans.
"We have been watching the Karman business come together over the past year and believe with conviction that the strategic rationale of investing in the space, missile and hypersonic supply chains is absolutely critical," Prenzlow said in a news release. "The vast set of differentiated capabilities, capacity, talented team and incredible complementary fit of Systima with Karman gave us confidence that this was the right home for Systima and its employees."
Karman CEO Tony Koblinski said the acquisition was "another big milestone."
"Systima's robust engineering capabilities allow Karman to work collaboratively with our customers in an earlier stage of a platform's development to identify the ways that Karman can add value," he said.
David Stinnett, a partner at Trive Capital, said Karman "can now address highly engineered content from tip to tail of a rocket."
This article originally appeared on GeekWire.
Are they space tourists? Citizen spacefliers? All-civilian astronauts? Whatever you call them, the four teammates who are due to go into orbit today in a SpaceX Crew Dragon capsule require creating a new category.
"I know there's controversy over what you should be called," retired NASA astronaut Scott Kelly told the foursome today in a tweet. "But when you strap into a rocket and launch into orbit, you can call yourself anything you want: astronot, astronut, astronaut — whatever."
There's Jared Isaacman, the billiionaire CEO of Shift4 Payments, who's paying for the launch and is the mission commander … Hayley Arceneaux, the 29-year-old cancer survivor who's due to become the youngest American to go into space … Sian Proctor, the professor and artist who'll back up Isaacman as America's first Black space pilot.
And then there's Chris Sembroski, a former Air Force missile technician and Lockheed Martin engineer from Everett, Wash. Sembroski got his chance to train for the mission and climb onboard the Dragon when an old college buddy of his won a charity sweepstakes — and then gave the reservation to him.
"I think that just really puts me in a very special spot, where not only do I feel very lucky to be here, but I have a huge responsibility to pay that forward," Sembroski said during a pre-launch briefing.
Liftoff atop a SpaceX Falcon 9 rocket is set for 8:02 p.m. ET (5:02 p.m. PT) from the historic Launch Complex 39A at NASA's Kennedy Space Center. But although the three-day Inspiration4 mission starts out from a NASA-owned facility, the space agency has minimal involvement.
This will be the first non-governmental crewed flight to orbit, and the first crewed SpaceX flight to pass up going to the International Space Station. Instead, the foursome will go into an orbit higher than the space station — higher than humans have flown since the space shuttle missions to the Hubble Space Telescope.
During the flight, Isaacman and his crew will conduct science experiments, teach classes from space and conduct auctions and other charity activities aimed at benefiting St. Jude Children's Research Hospital. Sembroski will even play a tune on his ukulele, although he admitted to "a little bit of stage fright." If all goes according to plan, the Dragon will descend to a splashdown in the Atlantic Ocean on Saturday.
Streaming coverage of the countdown, launch and in-space operations is due to begin about four hours before launch via SpaceX's website.
On one level, the Inspiration4 mission is a billionaire's attempt to turn the crew's personal space adventures into a fund-raising campaign for St. Jude. Isaacman's objective is to raise $200 million for the hospital, and he's already committed $100 million of his own money. That's on top of what he's paying SpaceX: Although Isaacman isn't saying how much the launch is costing, the fare is thought to be in excess of $100 million (but not as high as $200 million).
On another level, the first essentially non-governmental, "all-civilian" flight to orbit is meant to blaze a trail for wider access to space — not just by trained test pilots and other professional astronauts, but by regular folks.
And on yet another level, Inspiration4 could be seen as one more not-so-small step toward SpaceX CEO Elon Musk's vision of establishing beachheads for humanity on other worlds.
"This is the organization that is going to, in large part, get us to the moon, certainly with eyes toward Mars, right?" Isaacman said. "And there are a lot of risks on a six-month journey like that. So it's better to start taking some steps now, in a very well thought-out, mitigated way, so that we can continue to reach toward those extraordinary goals, like making life multiplanetary."
For all those reasons, one of Inspiration4's mission managers, Todd "Leif" Ericson, argues that the flight could mark the true beginning of a second space age. And Ericson isn't some starry-eyed space geek: He's a former Air Force test pilot who's also a veteran of Virgin Galactic's suborbital space program.
Ericson talked about the mission and its significance during an interview on the eve of the launch. Here's an edited transcript of the Q&A:
Ericson: "This mission is a great example of what a commercial entity like SpaceX is capable of doing on short notice. Dragon had never been higher than ISS, at about 420 kilometers, and we told them that for this mission, we want to do something significant. We want to start taking those first steps out toward becoming an interplanetary species — which means we've got to start working our way above low Earth orbit. They went through the analysis, and we were able to come up with an orbital altitude of 575 kilometers. That is the highest humans have been since, really, Apollo — save two missions, which are basically the shuttle's Hubble deployment and repair missions. That's a pretty significant thing.
"And then, SpaceX decided to create this cupola for viewing the Earth and deep space. The time from inception to flight-ready hardware was basically six months. Try to do that on a government contract!"
GeekWire: Were there any things that needed to be changed in terms of the training because this is a non-NASA mission?
Ericson: "That's a huge theme for everybody on this mission. We're building on the backs of giants. All that NASA has done is being leveraged for this. The training is as intensive as what any NASA crew would get for flying Dragon, but it's tailored to our mission. We're not going to the ISS, so there's no requirement for worrying about proximity operations or docking, but there are things like the cupola and mitigating the risks there."
GeekWire: Everybody wants to know how it's been for non-professional astronauts to go through that training, and what this portends for the future.
Ericson: "I've been very interested in that myself. I think this mission marks the dawn of what I'd call the second space age. It's the space age where space is accessible, no longer just for nation states, but for corporations and normal individuals. Up to this time, NASA has had the luxury of being able to hand-select the best of the best, physically and academically. But the next generation is going to require us to put up a lot more than the 600 people we've put in orbit over the last 50-plus years.
"You need to figure out how average people fare in space. What restrictions are really there? It's easy for a medical team to put in stringent requirements when you've got the world's population to pick from. But as you start opening that aperture and allowing more and more people to come, you surely can't be as selective. And I think there are also some interesting benefits when you start opening that aperture."
GeekWire: You get people with different perspectives.
Ericson: "Right. Up to this point, it's been a lot of test pilots, scientists and engineers. It's been a very left brain-focused thing. But from the perspective of benefiting humanity, how do we do this in a way that opens up other aspects that are less tangible? I think those aspects are equally important, and in some ways more important, to this goal of exploration and becoming an interplanetary species."
GeekWire: I wanted to ask about your own experience going through the mission — for example, being in a Netflix documentary series. I'm betting that's a bit more than you would have bargained for.
Ericson: "Here's what I think is so wonderful about this mission: It's the emphasis on St. Jude's. Jared has said many times that it's one thing to go to space and have the opportunity to do what he's doing. There are so many amazing things are going to happen because of that. But if we do that without remembering what's going on back here on Earth, we've missed the boat. Jared's 'bumper sticker' is, "Hey, if we can go to space, we need to be able to cure childhood cancer back here on Earth and take care of some of these other problems.'
"I think that's what's been so cool about being part of this: the outward focus. Jared is not focusing this on himself. He doesn't want to, because he recognizes that's not the important part. You know, with the flights of Sir Richard Branson and Jeff Bezos, there's been this focus on 'billionaires in space.' And there's been kind of a negative connotation to that. I hope that the Netflix documentary highlights the fact that this is really about much more than just four people going into space. If you look back at the history of humankind, we've only advanced because we've taken the time and the capital to go beyond where we've gone before.
"Space exploration is expensive, right? Initially, it's going to take people like Jared, who have the financial means to do so, to start pushing that envelope. Aviation is a great example. It initially followed a very similar course, right between World War I and World War II. The industry transitioned from being essentially the domain of government to finding civil applications. This thing that was a military instrument can now benefit humankind as a whole. That's where I think we're at with space travel right now.
"I applaud guys like Jared who are willing to take the resources that they've worked hard to obtain and put them toward something that will ultimately benefit all of humankind. I think it's a very noble endeavor, and I'd hate for that to get lost in the narrative. It's so easy to just chalk it up as a 'billionaire joyride to space,' and as you know, this is so much more than that."
This story originally appeared on GeekWire.
From Your Site Articles
Related Articles Around the Web