manufacturing
When Jeff Wilke, CEO of Amazon Consumer Worldwide, made the surprise announcement in August that he was leaving, he said he felt it was time to do something else.

"Time for me to take time to explore personal interests that have taken a back seat for over two decades," Wilke wrote in a heartfelt letter to Amazon's 1.13 million employees.
Wilke has been vague about what those interests are until he recently sat down for an extended conversation with dot.LA. (He also shared his views on Amazon, which you can read here.)
While Jeff Bezos, who announced his own retirement as CEO in February, is focused on space exploration, Wilke's interests are decidedly less celestial – investing in underrepresented founders and restoring American manufacturing.
It is full circle for Wilke, who grew up in Pittsburgh where he saw once-prosperous factories shutter their doors.
"I watched the decline of industry and the effect that it had on the people of Pittsburgh and it really left a mark on my life," he said.
Initially, Wilke went about as far from the rust belt as one can get. After graduating from Princeton with a degree in chemical engineering, he went to work at Andersen Consulting (now Accenture) writing software. The job paid well but Wilke found it unsatisfying.
"I got to a point where I decided I couldn't keep doing what I was doing," he said. "I needed to make a career change."
He went to get an MBA at the Massachusetts Institute of Technology where, unlike most of his colleagues who were focusing on finance and consulting, he enrolled in the Leaders for Global Operations program. (He served as co-chairman of the program's governing board for over a decade.)
After graduation, he worked in plant operations at the industrial conglomerate AlliedSignal – which was later absorbed by Honeywell – before being poached by Amazon at the age of 33 to be vice president and general manager for operations.
Wilke said he was attracted to Amazon after reading Bezos' now-legendary 1997 shareholder letter, which stressed the importance of investing for the future.
"I loved the focus on long-term free cash flow instead of the quarter-to-quarter financial targets which drive most public companies," Wilke said. "And I loved the idea that success at Amazon would likely depend on both computer science and operational excellence."
In a Wall Street Journal article announcing the hire, Amazon's then-president Joe Galli said he was counting on Wilke to take the company's nascent network of distribution centers "to a whole new level of productivity and excellence."
It is safe to say Wilke got the job done, helping Amazon go from $2 billion in revenue in 1999 to now more than $1 billion a day.
Now he is deploying some of his wealth as an angel investor in startups including Fernish, Pacaso, Dolly, SparkToro, Convoy, Lockstep, Cyrus Bio, All Voices, Pure Watercraft, Alpine BioSciences — and most significantly — Re:Build Manufacturing.
Here is the second part of our conversation, edited for length and clarity. Read part one here.
I'm interested in what you've done in manufacturing. What do you see as your role?
Jeff Wilke: When I showed up at Amazon in 1999, I had created a playbook for operational excellence, built on these experiences and leveraging what had been built through lean manufacturing in the auto industry and other places. Starting in 2000, we applied it in retail for the first time and that was a terrific experience. But after I had made my decision to leave Amazon, I started to have some conversations with a friend who is a grad school classmate, Miles Arnone, and is now a co-founder of Re:Build Manufacturing about what more the U.S. could do to make sure it would remain competitive in this vital industry. We decided to build a new American manufacturing company that would ultimately build U.S. factories and hire U.S. workers. We decided to start with some acquisitions of existing companies, but the goal over time is to build new operations. We're hoping with the right mix of technology, skilled people, long-term focus, the right leadership principles – that the U.S. can successfully compete in manufacturing once again.
When you say 'compete,' what does that mean? You know better than anyone that this is a globalized economy. Consumers want cheap things shipped to them overnight and it's cheaper to make most things overseas. So can the U.S. really be a manufacturing powerhouse?
I think it can. I don't think it's going to be able to do it by copying what happened in Asia over the last 30 years. We can't have factories filled with unskilled, low-paid workers. But I think we can have the right hardware technologies alongside humans who are higher skilled. And you mentioned a key word, which is consumer desire for speed and speed isn't just a consumer thing. When you think about a lean process where you take as much time out of the process as you can, producing things in Asia thousands of miles away is not lean. Lean would be having production close to customers so processes can react faster.
Do you think we'll see iPhones or Kindles produced here?
I don't think you could do that overnight. But, I think that over time we'll build up the multiple tiers of suppliers that are necessary to build something like an iPhone and, maybe even one day, a version of that kind of complex consumer electronics product here in the U.S.
It's interesting because the logistics jobs at places like Amazon have actually replaced a lot of manufacturing jobs...
There have been millions of jobs created as a result of companies like Amazon. One thing to keep in mind, though, is that delivery in some sense replaces your labor, which was unpaid, to get in your car and drive somewhere to buy something and come back. And those are new jobs that are created in the economy as opposed to shifting from one thing to another. Certainly in a bunch of towns in the U.S. where manufacturing withered, they were very grateful that Amazon built the fulfillment center that paid really well and offered people who didn't have great skills the chance to improve their lives and I think that trend will continue. The kinds of jobs that I think we're going to build at Re:Build Manufacturing will be typically higher-skilled jobs and, consequently, higher pay.
It's unusual to hear people in tech talk about manufacturing. Tech is usually seen as part of the problem...
I think that a software-only economy is more fragile than an economy that also embraces the complicated dance between software and hardware. My experience over the last 21 years helping to build Amazon was one where that dance was critical to the success of the firm. Amazon is a great software company, but it had to learn to be a great operator in the physical world, too.
You also said you had other interests you were going to pursue. What are some other things you're excited about doing that?
If you go back to May, I came to a conclusion that really changed the way I was getting involved in activities that were making a difference in DEI [diversity, equity and inclusion]. I admitted that I had subscribed to this idea that just facilitating achievement would solve racial inequality; If I just help the smartest people of color to get into a good school or to get a good job, that everything else will take care of itself. But it's not enough. So one of the things I started to do is think about my investing choices and which firms that I backed with my own money and my own time. And the truth is until recently all the firms that I would have listed had the advantage of privilege. So my friend Ron Conway [Founder & Co-Managing Partner at SV Angel] called months ago to ask if I would invest my money and time helping two guys named Austin Clements and Ajay Relan to build an L.A.-based fund called Slauson and Co. Normally I wouldn't have looked at something that was really new where they had no track record. But, if everybody is making that decision and that's how we're allocating capital, we're never going to overcome the inequality that has compounded over all these years.
You've been splitting your time between Seattle and in L.A. How come?
I decided to start spending some time down here as my wife turned her writing skills toward scripts. She's lately been working with a composer who's in L.A. on a musical. There's such a creative vibe here in L.A and I think for us, spending some of our time here has been really good for her. And if you spend any time in Seattle in the winter it's easy to understand why you might want to get a little bit more sun in the winter months.
Is she going to be doing any projects for Amazon Studios?
(Laughs) I don't know. I don't have any kind of "in" at this point so it's up to her, but she'll certainly pitch every great studio and Amazon is one of them.
What are you reading on your Kindle right now?
I am reading a Churchill biography. I've tended to read leadership biographies and I find it interesting to focus on both the superpowers that make leaders successful and especially their humanity and all the weaknesses that they have to overcome. And every one of us has both. I think sometimes when we look at history we tend to want to polish away humanity and weakness and focus just on these superpower things. Well, I don't think there are any superheroes. There are only real people who have devoted themselves to great causes.
Part 1: Jeff Wilke's reflections on his time Amazon.
Lead illustration by Eduardo Ramón Trejo.
From Your Site Articles
Related Articles Around the Web
A work collaboration and inventory management software for aerospace manufacturers — including rocket-part maker Phase Four — First Resonance is poised to take off.

The startup raised a $3.5 million Series A on Wednesday, and will use the funding to expand its footprint in Los Angeles.
Eventually, the downtown-based company wants to be the software behind a new wave of mobility, from jetpacks to air taxis.
First Resonance initially targeted aerospace companies, but has since expanded to other industries, including automotive and robotics. CEO Karan Talati said the company eventually plans to help build air taxis.
"We're bringing on companies even right now that start to get into the kind of blurry lines of what the future of mobility looks like," Talati said.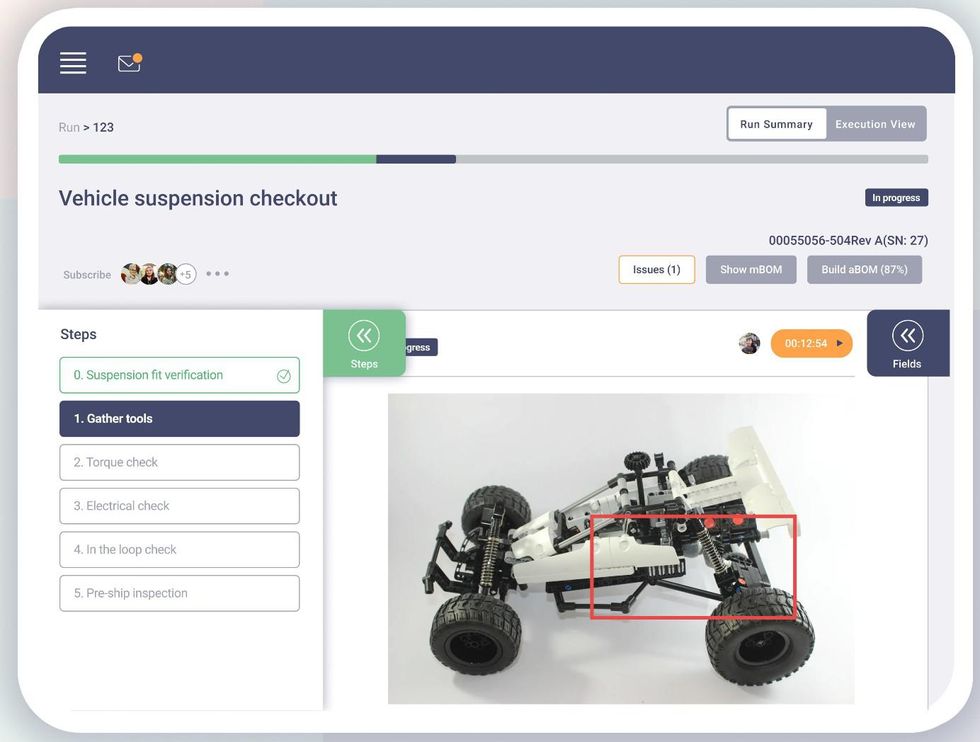 A screenshot of First Resonance's inventory management software.
The new round of funding will allow the company to double — "if not triple" — its headcount by the end of this quarter and develop its main product, the Ion factory management software, which allows manufacturers to automate and streamline operations.

The funding round was led by Blue Bear Capital, a Beverly Hills-based venture capital firm that looks to invest in automation, artificial intelligence and the industrialization of renewable energy.
First Resonance has now raised a total of $5.3 million since its 2018 launch.
The startup began working remotely last March. Its six-person team is made up of engineers that come from top manufacturers in town including SpaceX, Toyota and NASA.
Blue Bear Capital partners Ernst Sack and Vaughn Blake decided to invest in First Resonance because they saw the long-tail potential for First Resonance's software as the market for electric cars soar and the space market expands.
First Resonance CEO Karan Talati
Manufacturing in both of those areas requires a complex set of processes.
"At the global level, the revolution of next-gen manufacturing is critical to solving the climate and mobility challenges that we'll be facing in the years ahead," Blake said. "First Resonance' software ignites that revolution by enabling the manufacturing workflows required to electrify transport, reach orbit and propel satellites."
The software lets factories automate their manufacturing and manage their supply chains, freeing up more time for engineers to focus on futuristic designs, Talati said. It also uses data visualization and analytics to help builders troubleshoot design issues.
First Resonance is already backed by notable firms including Santa Monica-based Wavemaker Partners and Westwood-based Fika Ventures, but Blue Bear has a foothold in Texas, where aerospace activity and manufacturing are exploding, giving it an edge over other firms. Elon Musk has reportedly moved to Austin, and some of SpaceX's manufacturing has migrated to Boca Chica Village in Texas.
"It's been really great [to access] new customer acquisition or networks, with their extended team in San Francisco as well as Texas," Talati said, noting at First Resonance has plans to expand far beyond Los Angeles' borders.
From Your Site Articles
Related Articles Around the Web
Shay Sethi sorts boxes of old t-shirts and sweaters in his small factory near downtown L.A. His startup, ambercycle, recycles old polyester garments to create new fabric and has caught the attention of socially conscious consumers from around the world. Many regularly send him their worn pants and used jackets.
"This is insanity. We're not even doing any marketing" said the 27-year-old co-founder, who says he receives the unsolicited packages weekly.
The L.A. company might not be a household name, but it has pocketed millions in government grants and venture capital, and made a deal with clothing retail giant H&M to make recycled clothes.
On Friday, five years after launching, the manufacturing business debuted a clothing line with local designer Come Back As A Flower partly made with their recycled polyester. Their model is Aleali May, the first female to design a unisex sneaker for Air Jordan.
"We started with this idea of 'can you take an old t-shirt and use those materials to just make a new t-shirt, instead of using materials from the earth like cotton or polyester'," he said.
Clothing retailers from Zara to H&M have slowly been trying to reduce their massive waste as pressure mounts from consumers, policymakers and activists.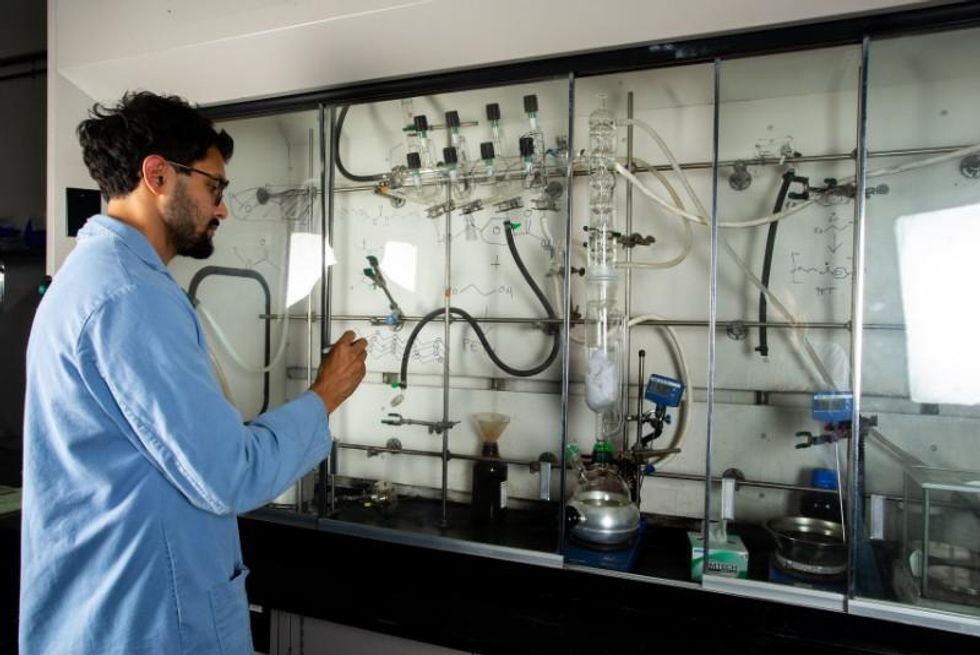 Cheap, fast fashion has fueled Americans consumption of clothes. A sizable amount of that ends up in landfills — about 11.3 million tons of textiles in 2018, according to the most recent figures from the Environmental Protection Agency.

Sethi said he is working with several large clothing retailers that are trying to figure out how to cut waste.
"I haven't found a single place that says, 'oh, we're not interested in moving to a more sustainable fashion industry'," he said.
Ambercycle was founded with government grants from the National Science Foundation and the Department of Defense, which lists environmental sustainability as a national security threat. A few angel investors and funds, including Y Combinator, the Lemelson Foundation and H&M Foundation, also backed ambercycle's initial $4 million round.
It's attracted the interest of Swedish clothing giant H&M, an investor that's also looking to utilize ambercycle's technology in future collections.
Sethi and his co-founder Moby Ahmed began working on the idea as undergraduate students at UC Davis. Back then, the pair planned on selling their technology to big chemical companies. But they noticed that recycling and garbage processes in the textile and fashion industries were lagging behind. So they started a business instead.
But it's not easy. Their patented technology breaks down the molecules of textile waste to generate small polyester pellets. First, reactors built in their factory downtown separate the fibers of each item while removing dyes and stains. Those pellets are then spun into polyester yarn used to make new clothes.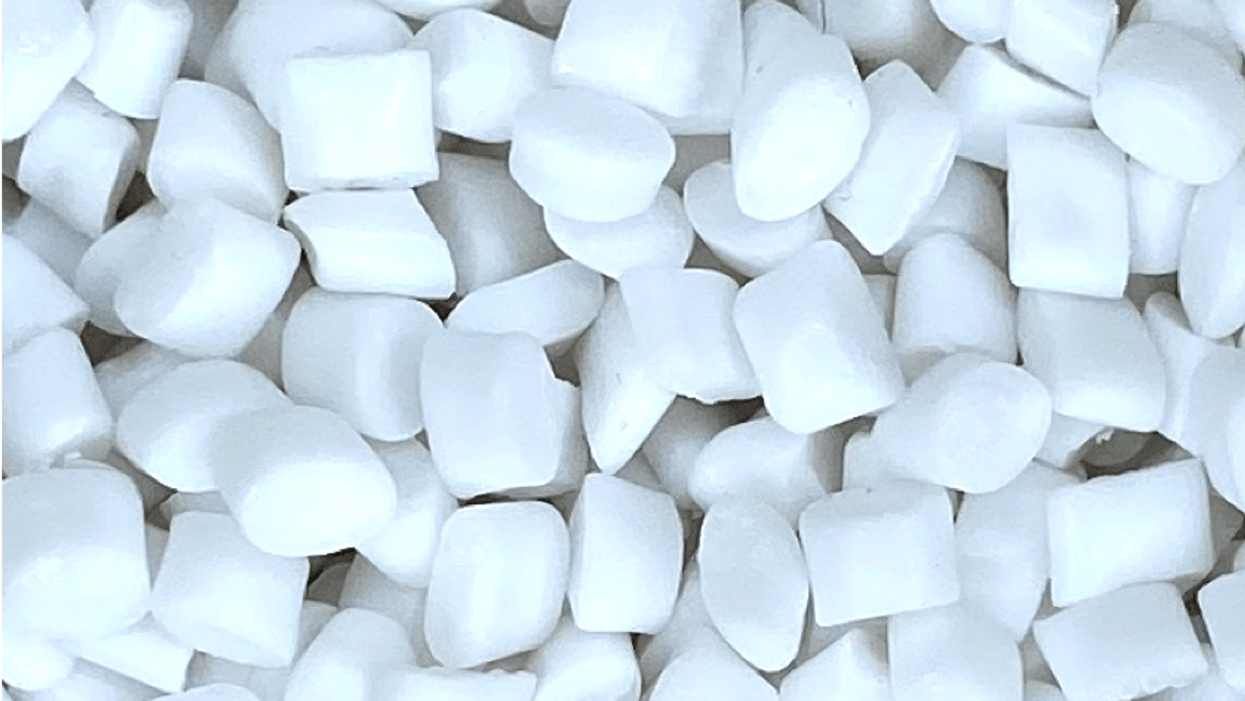 Ambercycle's patented technology breaks down the molecules of textile waste to generate small polyester pellets.
The startup's factory downtown can process about 50 garments a day, mostly old shirts and textile waste or excess from big name businesses. It's hardly enough to make garments in mass. Even ambercycle's own clothes are 90% virgin polyester. To make 100% recycled polyester, Sethi would need a new factory.

Sethi has plans to build a large commercial plant that can eventually manufacture 50,000 tons of material each year, the amount large garment factors typically produce. If he succeeds, it would be a rarity. Few clothing companies produce and source in the U.S.. Most instead rely on cheap overseas labor and material.
But the fundraising for that factory doesn't appeal to venture capital or other traditional sources, he said.
"The idea of building a plant is seen as unsexy," he said. "We haven't gotten too much interest from the traditional technology investor. This is not in vogue yet."
So, Sethi is looking elsewhere for funding as consumer interest in sustainable fashion brands grows.
Related Articles Around the Web