Photo credit: Carlos Acosta
On Wednesday, Los Angeles-based footwear prototyping lab FCTRY LAb raised $6 million in funding. Co-founded by the former head of Yeezy-Adidas Innovation Lab Omar Bailey and former Wall Street executive Abhishek Som, the lab will help independent designers cut down the time it takes for their designs to reach the market. Traditionally, it takes 8 to 12 months to bring a sneaker into production, but FCTRY LAb touts that they can do the same amount of work in one to three months.
The funding will be used to build out the lab, purchase tech equipment like 3D printers and continue growing the team. The round was led by Slauson & Co and other investors who participated include the co-founder of Tinder, co-founder of WeWork, the West Coast Head of Warburg Pincus, a number of NBA & NFL stars among others.
In 2019, Bailey led the Innovation Lab at Yeezy-Adidas for three years where he worked on bridging the gap between conceptual designs and physically wearable footwear for the brand as Yeezy continued to become a household name.
Bailey claims that FCTRY LAb will help democratize sneaker production and provide independent designers the opportunity to grow, create their own products and bring them to market. He spoke with dot.LA about his journey and the future of designing sneakers.
What was your experience like working at Adidas?
I received a call from Adidas and I was actually living in India at the time. I was wrapping up some work that I was doing out there with a brand where I was helping them run part of their shoe factory in addition to their sample lab for shoes that we are bringing to market to sell and Adidas reached out because they got a hold of my CV. They basically said we felt like you have the pedigree to run a facility for Yeezy because Kanye West didn't want to wait for samples and prototypes that come from China anymore. They(Adidas) knew that I had this very unique hybrid experience that they felt that I could fit that role. So my job was to run this domestic facility and bring these ideas and concepts to physical form so that they can be scaled and taken to market.
What inspired you to start your own innovation lab?
I started drawing sneakers at the age of seven. It was really out of the violence and crime that came around in the early 90s with Air Jordan shoes. There's actually a famous Sports Illustrated article that says "Your Life or Your Shoes," and I have that on my phone to this day and look at it from time to time. It was that moment that scared the shit out of my parents. They didn't want to buy me the shoes as a result of that and so I started drawing sneakers just out of pure necessity, if I couldn't have the physical shoes, then I could draw them on paper.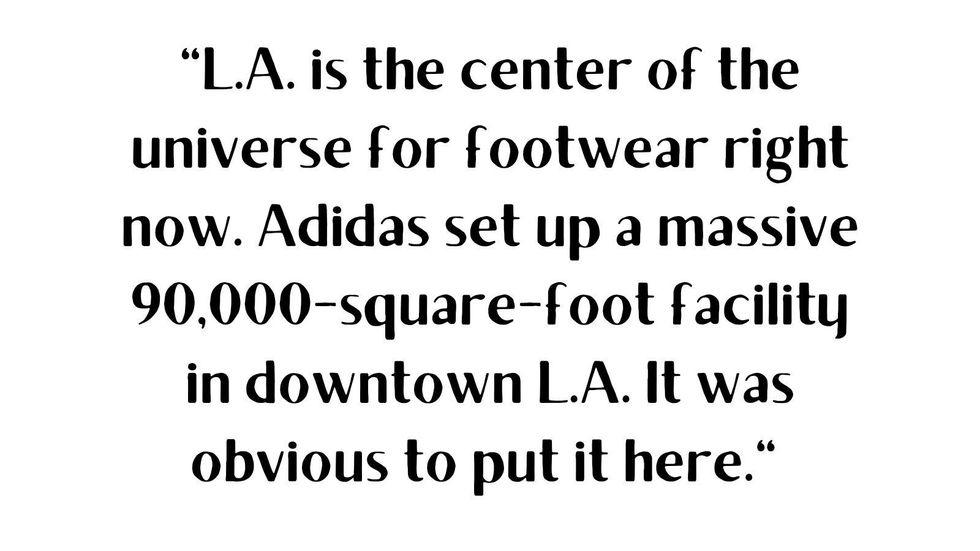 quote from head of FCTRY Labs Andria Moore
What will FCTRY LAb be doing?
We're building independent brands that live within our company, and they all sort of live and breathe on their own. We are able to empower those creators to own a bigger piece of the pie than they would have gotten with a big brand, which is basically non-existent. They would be restricted to a single-digit royalty if they were lucky. We are looking to assist those who have the ambition to start their own brands and build their own products and take it to market and we get a little piece of every single one.
What is an enabled footwear innovation lab?
It means that we have the ability to do all the heavy lifting and prototyping for footwear. What I mean by that is, a lot of people think that a factory is an end all be all with development. But the factory's job is to take a concept and scale it. They don't want to sit with a creator and watch them create a design. They have no interest in that. That's what we do. We're able to define the product through its design, through its method of production in the lab. And essentially what we're doing is we're developing the answers to the test that can then be handed off to a factory so that they can scale it and take it to mass production.
Can you share who FCTRY LAb will be partnering with?
We have some big names that I can tell that you are definitely very familiar with. We also have big-time athletes who have won recent Super Bowls, to entertainers and celebrities who, at one point were probably some of the most famous people on the planet.
Why did you position your lab in Los Angeles?
L.A. is the center of the universe for footwear right now. Adidas set up a massive 90,000-square-foot facility in downtown L.A. It was obvious to put it here. I just love it and I moved here three and a half years ago and man, I love this place.
Given your experience, what in your opinion are the qualities in a shoe that makes it trendy and sellable?
Comfort is obviously important. People bring that up, but honestly, I've always believed that it starts with what it looks like and the design. Very early on in my career, one of the things I learned was, how to create a silhouette that looks interesting enough for someone who walks into a retail store. There are 50 other shoes on the wall, so how do you make somebody walk toward that one among the rest? It always starts with the design, the aesthetic, the shape and the form. As that draws someone in even closer, they start to see, feel and touch even more details on the shoe. If there's a way for you to tie a story to it, it makes it even better.