aerospace
aerospace
UP Partners' Ben Marcus has been fascinated by flight since he was young. After stints as a founder of aerospace startups, he's now working on funding some of the most ambitious companies in the space.
Marcus joined this episode of LA Venture to talk about his fascination with flying, founding UP Partners and the future of transportation.
Marcus and his longtime best friend Cyrus Sigari met at the Santa Monica airport as kids. The two shared a love for everything involving planes. They ended up going to college together, became pilots – and eventually started their first company together, jetAVIVA, the world's largest broker of business jets.

As a young pilot, Marcus said he would fly over the traffic on the freeway asking himself, "Why is it that I'm one of the lucky ones that gets to be up here in the sky and everybody else is stuck in traffic? How do I get all these people up here in the sky with me?"

Marcus went on to found Airmap, a company that became a leading provider of an unmanned aircraft traffic management software. Now at UP Partners, a a $230M Fund I investing in entrepreneurs who are making transportation better, Marcus still has his hands in the aviation world – in particular, in laying the groundwork for a new infrastructure for a new breed of aerial vehicles.
He's also deeply interested in how to move goods in more efficient and safer ways. Zipline, one of their portfolio companies, is focused on delivering humanitarian aid, including blood and medicine, to the places that need it most.
"For a long time, we've been hearing about Amazon, maybe someday delivering your toilet paper or your toothbrush by drone. But today, Zipline is delivering thousands of packages a day using drones in Africa," said Marcus.
UP Partners is looking to support companies that are innovating in automation and electrification, Marcus said. Autonomy and automation in flight advanced beyond other sectors some time ago. Passenger and commercial 747s have been capable of auto landing for decades. The difficulty, Marcus said, has been in convincing FAA regulators to embrace innovation.
"So how do you take this really fantastic technology and make it acceptable to the public and fit within a regulatory construct?," said Marcus. He envisions a slow roll out of the type of technology that can change the industry, most likely in cargo planes testing automation in rural environments where there are fewer people in harm's way. Eventually, as it proves itself, he said, automation will find broader acceptance in passenger vehicles.
Electrification is another game-changing technology Marcus sees on the horizon. Because electric batteries don't last as long as a typical fuel, Marcus thinks the technology will first roll out to aircrafts flying below 3,000 feet, on shorter-distance flights. Still, he thinks there could be far more of those flights, for instance, turning a 45-minute drive from Santa Monica to Pasadena into a 5 minute ride.
"These aircrafts will be quiet. They won't emit any carbon when they fly. They will be fast, smooth, comfortable — and I think we'll develop a very compelling service," said Marcus.
dot.LA Engagement Intern Joshua Letona contributed to this post.
Hear the full episode by clicking on the playhead above, and listen to LA Venture on Apple Podcasts, Stitcher, Spotify or wherever you get your podcasts.
From Your Site Articles
Related Articles Around the Web
Relativity Space, the startup that was founded in Seattle and is now building 3D-printed rockets in Southern California, has brought in a Microsoft executive to lead its growing software engineering team and expand upon its AI-powered "Factory Operating System."
Scott Van Vliet, who headed up the team behind the Microsoft Teams collaboration platform as a corporate vice president, will oversee more than 150 of Relativity's employees on its Integrative Software and Additive Manufacturing teams as senior vice president of software engineering. He'll be based in the Los Angeles area.
Before his four-year stint at Microsoft, Van Vliet played a leading role in the development of Amazon's Echo devices and Alexa voice-assistant platform. He told GeekWire that he's looking forward to helping Relativity Space revolutionize industrial applications for 3-D metal printing, just as he helped Microsoft and Amazon blaze trails for collaborative software and AI assistants.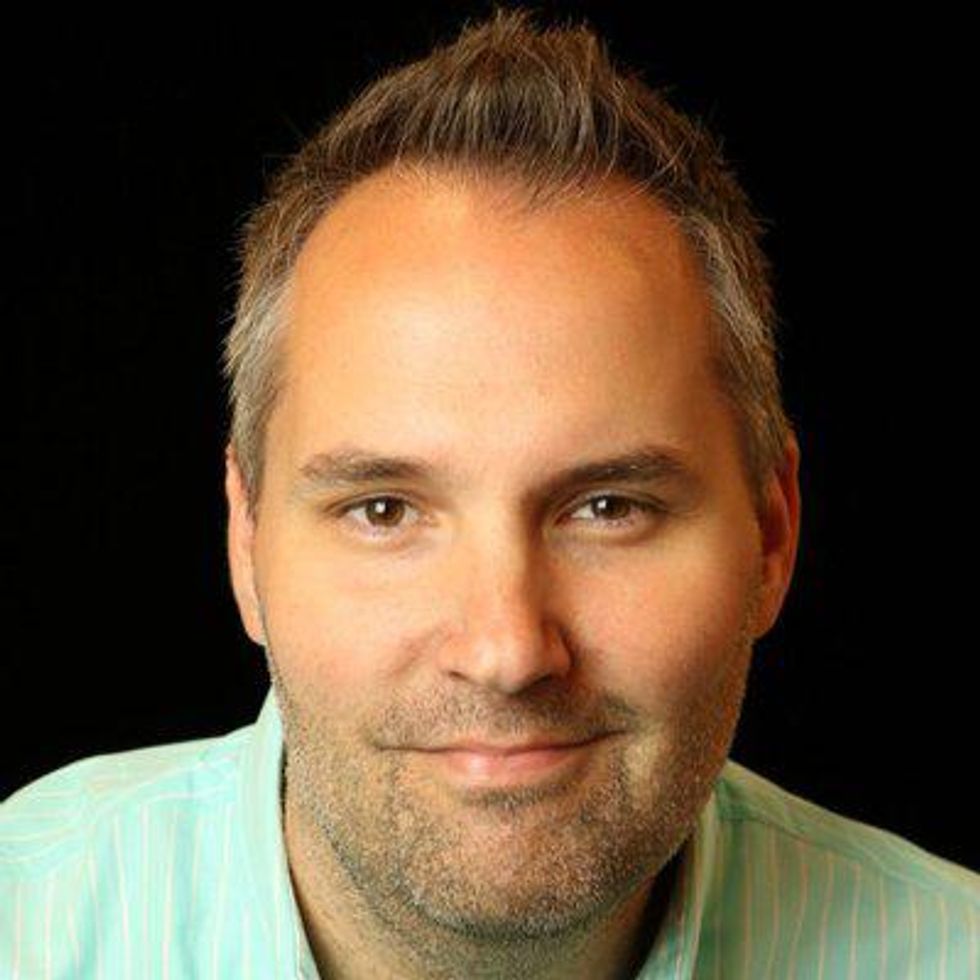 Scott Van Vliet has left Microsoft to become the senior vice president of software engineering at Relativity Space.
Image via Twitter
"Thinking about where we're going with our Stargate family of printers, and the technologies that we're building across the stack, we can apply similar models of machine learning to transform the way we do predictive modeling, predictive printing, and build the products that we're going to build," Van Vliet said.
Relativity Space's first big product, its Terran 1 rocket, is due for its first launch this year, and the company is already working on a more powerful, fully reusable rocket called the Terran R.
Relativity CEO Tim Ellis, a veteran of Jeff Bezos' Blue Origin space venture who co-founded the company in a Seattle co-working space in 2015, said software will be key to the future of Relativity Space — and the future of the launch industry.
"Scott's really the most senior hire the industry has made in software," Ellis told GeekWire. "That's exciting to me, because I very much do believe the quote from Andreessen-Horowitz that 'software is eating the world.' … Everything that Relativity is doing, transitioning manufacturing to more software- and data-driven approaches, is inevitable. We're just the farthest along."

Relativity is betting that automation and 3-D printing will dramatically reduce the cost of building rockets, resulting in far cheaper access to space.
The Factory Operating System is a key concept in Relativity's approach: Van Vliet said he and his team will aim to boost the capabilities of a software platform that knits together all the processes involved in building rockets from piles of powdered metal. He compared the FOS to the platforms provided by Microsoft Windows, or Microsoft Teams, or Amazon's Alexa voice assistant software.
"Frankly, it's going to be the platform that enables things we haven't even thought about yet — capabilities that the engineers and designers on our team will start to unlock as we think about an end-to-end integrated experience that can apply to any purpose," Van Vliet said. "That's the most exciting thing for me: building this platform that will accelerate the vision of Terran 1 and Terran R as well as other industries."
Ellis acknowledged that the operating system he and Van Vliet have in mind could be applied more widely to other manufacturing markets — for example, planes, trains and automobiles. But at least for the time being, he insists that everything Relativity Space does will be focused on building the infrastructure needed to get to Mars, and eventually get industry going on the Red Planet.
Like SpaceX founder Elon Musk, Ellis is fond of saying that Relativity Space's long-term goal is to make humanity a multiplanetary species. "We're still only the second company in the world that has this core mission of wanting to make humanity multiplanetary," he said. "And I do hope that there's more. I hope we inspire dozens to hundreds of companies to be ambitious and go after these big plans."
But unlike Musk, Ellis isn't planning to build satellites.
"We see the opportunity for doubling down on our own platform and making our own better end products," Ellis said. Focusing on software-optimized additive manufacturing is "an investment in that approach," he said.
Ellis said Relativity Space's fourth-generation Starbase 3-D printers are already theoretically capable of turning out a Terran 1 rocket in six days, and turning out a Terran R rocket in 30 days.
"There are other parts of the factory process — downstream processing, machining, inspections — and really, Scott and his team are going to be accountable for achieving that rate," Ellis said.
Relativity seems likely to have the required wherewithal: Last June's $650 million Series E funding round for Terran R sent total investment past the $1.3 billion mark, and total valuation is said to be in excess of $4 billion.
The company now has more than 600 employees, roughly double the workforce it had a year ago. Those workers aren't just at the headquarters in Long Beach, Calif.: There are teams working in Washington, D.C.; at NASA's Stennis Space Center in Mississippi; at Vandenberg Space Force Base in California; at Cape Canaveral Space Force Station in Florida — and even in Kent, Wash., not far from Blue Origin's HQ. (Relativity says its Seattle-area office has four employees.)
"We were at a little over 100 at the beginning of the pandemic," Ellis said. "I believe we're the fastest-growing launch company in history, in terms of headcount growth and rate of growth over that period."
And Relativity is still growing: Its career website lists more than 100 job openings. "This is an investment in hiring far more software engineers, data scientists, computer vision, machine learning," Ellis said. "It's really a kind of doubling down on a very different type of team that hasn't existed in aerospace before to this level."
Van Vliet said he's long dreamed of working in the space industry, and he can hardly wait to jump in.
"I definitely have a lot to learn, getting involved with the company and starting, but I think there's just such an incredible footprint already," he said. "That's what's most exciting for me — there's the experience that I have scaling up and leading large teams, and there's an incredible set of assets that exist already."
This story originally appeared on GeekWire.
From Your Site Articles
Related Articles Around the Web
NASA's Pasadena-based Jet Propulsion Laboratory will continue to launch an array of missions next year as it works towards its goals of expanding humanity's knowledge of both our solar system and the forces that formed and continue to shape our planet.
The NASA lab is run by Caltech and works on a number of projects each year that range from exploring the farthest reaches of our solar system to missions that seek to gain a better understanding of our planet's ever-changing environment and atmosphere.
The Ingenuity helicopter and the Perseverance rover will continue to roam Mars until they die – which could be decades (the Curiosity rover launched in 2011 and is still active today).
Ingenuity is exploring the boundaries of flight on the red planet, and recently completed the first 30-minute remote flight on another planet. The Perseverance rover will continue to record data and collect samples of Mars rock. It'll seal those samples away in about a dozen airtight tubes, which NASA hopes to soon bring back to Earth for study.
Bobby Braun, director for planetary science at the JPL, told dot.LA he expects to learn much more about Mars and whether or not it could ever be habitable in coming years. He also noted the JPL is working with European space agencies to develop flight systems that will allow the samples to come back to Earth for testing.
"It all relates to this quest to bring a very specific piece of Mars back to the Earth for study," he said.
Now that Ingenuity is proven to be capable of longer flights, as long as it has a reliable solar power supply to recharge it can continue guiding rover missions.
"Ingenuity and Perseverance are buddies on Mars," Braun said. "Ingenuity is flying ahead of perseverance and it's scouting out the area that Perseverance is thinking of going to and giving us information about where we should go and what rocks we should sample before perseverance even gets to that location."
Braun said the majority of NASA's JPL missions in the upcoming year will be carried into space by SpaceX crafts, usually the Falcon Heavy rocket. The government hasn't run a space shuttle mission since 2011, and has found it much cheaper to rely on private contractors like SpaceX for crafts.
Another mission, called Psyche, is helmed by Arizona State University and JPL and involves a plan to study a metal asteroid of the same name.
The metallic asteroid, which orbits the sun between Jupiter and Mars, and it could lead to valuable insights about our Earth's core. It's basically impossible to measure the core of our own planet, but JPL scientists think this rock could be part of a nickel-iron core of an early planet from around the time of the Big Bang. Exploring it and taking measurements could help us learn more about how our own planet was formed.
The Psyche craft is expected to lift off in a SpaceX rocket from Florida's Kennedy Space Center by August 2022 and reach the asteroid by 2026, Braun said.
Asteroids can tell us a lot about our planet's formation. Another NASA JPL mission, the Near Earth Asteroid (NEA) Scout, will test the use of a solar sail. The goal is to use a solar sail to send a small cube satellite on a solar wind to reach and observe an asteroid close to our planet.
Braun said that while NASA isn't tracking any asteroids dangerously close to Earth now, he noted, "we do know that long ago in the geologic past the Earth was bombarded by asteroids," so NASA wants to be learn more.
NEA Scout is designed by the JPL in partnership with the Huntsville, Alabama-based Marshall Spaceflight Center.
Braun said NASA's JPL also wants to study dust by launching a mission called EMIT which will send an imaging spectroscope to the International Space Station to measure the minerals in the Earth's driest and dustiest regions. Another NASA satellite already observed Saharan dust in Africa from space, and Braun said that dust—in particular, dust particles that arise from fires and are scattered in the air—is a key factor in understanding climate change. "Those airborne particles also contribute to the modeling of our climate and our understanding of the Earth as a system," he said.
NASA is also invested in getting a clearer understanding of the state of the Blue Planet's water. A Surface Water and Ocean Topography (SWOT) mission will launch a satellite from Vandenberg Space Force Base next November in partnership with space agencies in France, Canada and Britain.
According to Braun, the ocean is one of the Earth's most massive indicators of how carbon dioxide is being stored and released on Earth. "Better understanding the processes that govern our oceans is actually critical to having better models for climate change," he said.
From Your Site Articles
Related Articles Around the Web