bank of america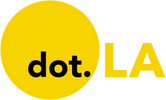 Get in the KNOW  
  on LA Startups & Tech  
X
bank of america
en.wikipedia.org
We're so excited to be bringing back our annual dot.LA Summit, held in-person October 21st-22nd at the Petersen Museum in Los Angeles. Featuring hundreds of top founders, investors and operators for the largest celebration of L.A.'s tech and startup ecosystem, this year's program has a lot going on... and there's still time to register!
Here's what to expect from this year's Summit.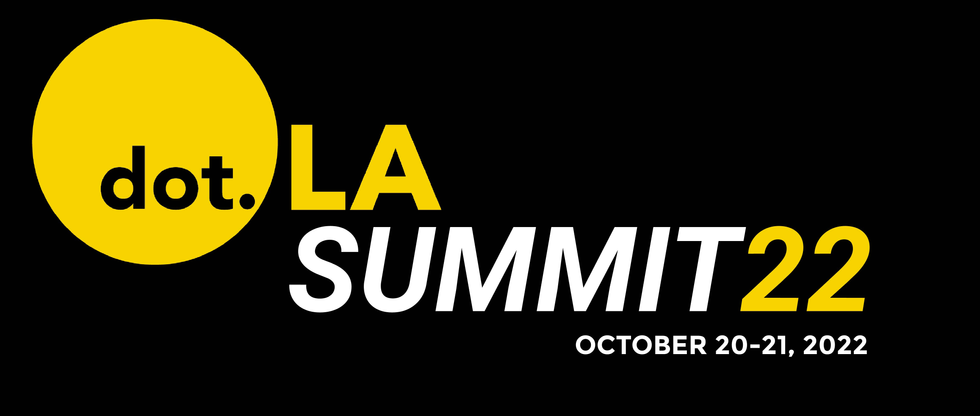 summit graphic dot.la
October 20th (Doors Open at 5 pm PST):
Join on us on our preview night, which begins with a VIP cocktail reception, three fireside chats and a pitch competition. First, we have 2021's "Entrepreneur of the Year" Alex Israel of Metropolis Technologies, who will be doing exclusive one-on-one interviews with Arena Club co-founder Brian Lee, followed by two-time Dodgers All-Star Shawn Green.
After that, dot.LA co-founder Spencer Rascoff will host a discussion with Julia Boorstin about her new book, "When Women Lead."
Finally, we wrap up the evening with our annual Pitch Competition, hosted by Fenwick. The winner will be announced the next day, during the main event!
October 21st (Doors Open at 7:30 am PST):
Get ready for a big day by exploring the Bond Exhibit at the Petersen Museum while enjoying a quick breakfast, then head on over to the main stage, where dot.LA co-founder and CEO Sam Adams will be joined by sweetgreen founder Jonathan Neman to discuss L.A.'s historically unique relationship to health food and salads... and what Angelenos eating habits can tell us about the future of sustainable eating.
Also on the main stage will be our Web3 panel on virtual avatars, hosted by reporter Samson Amore. Panelists include Tricia Biggio from Invisible Universe, Asid Malik from Jadu, and MELON CEO Josh Neuman. The panel will provide a chance for startups working on avatars to explain how we could navigate the web and interact with each other using our digital proxies.
Following that, Sam Adams will host another restauranteur and Los Angeles staple, Alex Canter from Canter's Deli and Nextbite, followed by a panel on tackling the housing crisis in Los Angeles hosted by dot.LA reporter Decerry Donato. This panel will discuss tech's impact on developments in the industry, including how tech can be used to address affordable housing, homelessness and innovation in a rapidly changing market and be hosted by Crate Modular's Jaren Grady; Deputy Mayor of Budget and Innovation of the City of Los Angeles Jeanne Holm and Ross Maguire of Azure Printed Homes.
Wrapping up the morning we have three breakout rooms, which include a workshop on Scaling Your Leadership, hosted by Evolution and moderated by Evolution Managing Director and Co-founder Matt Auron, featuring panelists Janine Davis, Carolyn Jones, and Erik Kellener. Following that, Pacific Western Bank will host a breakout session called Funding Growth Beyond The Term Sheet. Attendees can also sit in on a panel on Creators, Curators, and Community Builders, hosted by dot.LA writer Lon Harris and featuring guests Jon Bodenheimmer from Spotter, Evan Britton from Famous Birthdays, Jamie Gutfreund of Whaler and Rosie Nguyen of Fanhouse. The panel will focus on the creator economy and how Big Tech money has changed the way influencers monetize their brands.
After a two-hour lunch, we'll return with three more breakout rooms. First up is Charging Up Clean Mobility, hosted by dot.LA writer David Shultz and featuring Paul Gioupis from Zeem Solutions, Ramy El-Bartrawi from EV Mobility and Scott Painter from Autonomy. Following that we have Revolutionizing Online Marketplaces moderated by Grace Kangdani from Bank of America and sponsored by Zoolatech, featuring panelists Roman Kaplun from Zoolatech and Dan Dan Li from Popshop Live. And finally we have Equity in the L.A. Ecosystem, featuring Kojuan "Ko" Trinidad-Williams of L.A. Tech and featuring panelists including Stuart McCalla from Evolution, Marcos Gonzalez from Vamos Ventures, Derek Smith from Plug In South LA and Aisling Carlson from Diversity VC.
At 3 p.m., join Spencer Rascoff as we close out our conversation portion of the day in talks with Dana Settle, managing partner at Greycroft, for Founders & Funders: The Artistry Between Transformative Entrepreneurs and Key Investors. The two will discuss the unique relationship between founder and anchor VC in the world of high-growth startups.
Our last main stage panel will be Health in the Post-Roe Era, moderated by Kathryne Cooper of Jumpstart Nova. This panel seeks to address the discrepancy in intent and action from investors in the tech, and financial sides of reproductive health care, while also sharing developments in health tech for those living in the Post-Roe-Era. Panelists include Crystal Adesanya from Kiira Health, Kiki Freeman of HeyJane, Cindy Adam of Choix, and Dr. Jessica Nouhavandi, co-CEO, co-founder and lead pharmacist of Honeybee Health.
Following that, dot.LA will be presenting its annual Startup Awards, and announcing the winner's of the previous night's Pitch Competition. Enjoy appetizers and cocktails as we close down the evening with a mixer hosted by dot.LA, and chat with our editors and journalists about the future of LA Tech.
Register today for dot.LA's Summit 2022, we can't wait to see you there!
dot.LA Summit 2022 would like to thank its official sponsors, including: Bank of America, Fenwick, Metropolis, Zoolatech, Pacific West, Evolution, TriNet, RSM, Satellite Teams, Coda Search, iWallet, CoMotion, ELIQS, Popl, Curbivore, Not Flat Photos and WeWork.
live.staticflickr.com
Despite intensifying competition in the streaming wars, Bank of America analysts said on Tuesday they see Netflix remaining content king and predict shares of the Los Gatos company will jump to $680 per share by this time next year.
Netflix was trading around $541 midday Tuesday.

The streaming wars are in the midst of a heated round of consolidation. Amazon shelled out for MGM in late May, following a mega merger between WarnerMedia, which runs HBO Max, and Discovery. Both deals remain subject to regulatory approval.
To keep up, BofA analysts said in a research report they suspect Netflix is eying franchises and other intellectual property it can spin into new films and shows to bolster its selection. That would be the opposite approach that its competitor Amazon took when it spent $8.45 billion to gobble up MGM Studios for the iconic Hollywood studio's library content.
Netflix has been moving deeper into ecommerce, aiming to gain an edge over other streamers, but analysts are unimpressed.
This spring, Netflix opened a new online store, which sells gear like apparel and action figures tied to some of its content. And the streaming giant is reportedly looking to hire gaming executives, as reported by The Information. But the analysts said neither move is likely to give them a leg up.
Movies and Series
Netflix will be welcoming several new films each year from its recently announced multiyear partnership with Steven Spielberg's production studio, Amblin Partners. The analysts cheered the deal, calling it "instrumental" in bolstering Netflix's movie pipeline. They also called out the second seasons of "Lupin" (debuted in June), "Bridgerton" and "The Witcher" (both debuting later this year) as Netflix's most important original content right now.
Down the road, the analysts are watching what may come of the UK government's plans to regulate U.S. streaming services. It is unclear what changes will result, but the analysts highlighted the U.K. Culture Secretary's fears that some viewers may consider hit series "The Crown" as nonfiction. The government's plans are set to be announced later this week.
After closing its first fund in December with $25 million in dry powder, VamosVentures, which bills itself as the first Latinx-owned venture fund to focus on Latinx and other diverse founders, decided it could stretch its ambitions.
Companies like Apple and Bank of America were knocking on the door, and VamosVentures decided it might as well capitalize on the increasing desire of corporate America to show they cared about diversity as well as a loosening of regulations that made it easier for banks to invest in venture funds.
"We had a good group of folks that didn't make the deadline," said Marcos Gonzalez, founder and managing partner of VamosVentures, who has previously been an angel investor and worked in private equity. "A couple new LPs showed up that were really motivated to do something in the DEI [diversity, equity, and inclusion] space and certainly the social justice space."
The fund plans to focus on health and wellness, future of work, consumer packaged goods and financial technology startups.
With the additional checks – which also come from Twitter, the Ford Foundation and the global alternative asset firm TPG, VamosVenture announced this week it has doubled its fund to $50 million. The new investors join PayPal, which signed on last year.
Rather than back more startups, the additional capital will mostly be used to write bigger checks of between $250,000 and $1 million.
"We will be able to take larger ownership positions," Gonzalez said, adding that he will also be able to hire more staff.
Just 2% of VC investment partners in L.A. identify as African American or Latino, according to PledgeLA. Nationally, a 2018 Deloitte study found 80% of investment partners at U.S. venture firms were white and only 3% were Black and 3% Latino.
Gonzalez said he is pleased to see companies like Apple recognizing the value of diversity and promoting more non-white managers.
"When I started this five years ago, there weren't that many. Now you run into one every week," he said. "There's been a lot more momentum around diversity."