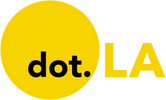 Get in the KNOW
on LA Startups & Tech
X
Drew Grant
Drew Grant
Drew Grant is dot.LA's Senior Editor. She's a media veteran with over 15-plus years covering entertainment and local journalism. During her tenure at The New York Observer, she founded one of their most popular verticals, tvDownload, and transitioned from generalist to Senior Editor of Entertainment and Culture, overseeing a freelance contributor network and ushering in the paper's redesign. More recently, she was Senior Editor of Special Projects at Collider, a writer for RottenTomatoes streaming series on Peacock and a consulting editor at RealClearLife, Ranker and GritDaily. You can find her across all social media platforms as @Videodrew and send tips to drew@dot.la.
Photo by Joshua Letona
When you first move to Los Angeles, one of the strangest sights is the blocks-long queues of people waiting patiently to get into a handful of micro-boutiques on Fairfax Avenue, where four doors down from the Supreme store you could go for a nosh at Cantor's Deli.

One line on Friday stretched impossibly long—past the intersection of Rosewood, where it swapped to the other side of the street, young men leaning against the chainlink fences of Walt Whitman High School's football stadium. If you squinted, it almost looked like the line stretched all the way past Melrose, a third of a mile away.
Every single person in line was hoping to get into eBay's three-day sneaker pop-up, Wear 'Em Out. Yes, the "We Sell Your Stuff on eBay" store seen in "The 40-Year-Old Virgin" is now a reality—except for the notable difference that eBay is the one doing the selling, off-platform.
The location's proximity to Supreme doesn't seem like a coincidence; the store's real estate, tiny space and limited selection cultivated an air of exclusivity and scarcity. This can boost hype, but also emboldens entrepreneurial-minded buyers with deep pockets to take advantage of the small supply—snatching up as much stock as possible to resell at a future date.
To combat this phenomena while still trying to stoke the "hype" in hypebeast was the challenge; a "one pair per customer" rule can be enough to thwart some potential buyers from going near the place, while not exactly being the hardest system to game. But Wear 'Em Out had found a different kind of incentive system—offering steep discounts to anyone willing to actually put the shoes on their feet and walk them out the door. The catch was that they'd first have to navigate a short obstacle course of gravel, fake grass and sooty rocks; say bye-bye to the coveted NIB (New In Box) label that bumps shoes up from their retail price to thousands of dollars or more on secondary selling platforms like Grailed, GOAT, StockX, and eBay itself.
"People are treating sneakers like investments," according to Garry Thaniel, eBay's general manager of sneakers. "We love our sellers, but wanted to embrace the idea that everything doesn't have to be a business decision. Sometimes it's just about enjoying them."
Thaniel was wearing a fresh pair of Nike Air Force Ones, a blinding white sneaker notoriously unforgiving to scuff marks. That's kind of the point; growing up in Baltimore, Thaniel recalled, come April or May everyone would show up wearing the pristine sneakers only to see them worn out by the end of the summer. The next spring would bring new shoes, and the cycle began again.
Here's a taste of what was in stock on Friday:
The New Balance 2002R "Protection Pack" in Sea Salt ($385)
A Nike x Travis Scott Air Max 270 "Cactus Trails" collab ($400)
2 different versions of the Yeezy Boosts: a 700 Bright Blue ($355) and the 350 V2 Dazzling Blue ($415).
4 different Air Jordans: Retro 1 "'Cool Grey" 2021, ($335); Retro 6 "UNC White" ($325); 1 Retro High "OG Patent Bred" ($330); 1 Retro High 85 "Georgetown" ($425);
The Union x Nike Dunk Low "Passport Pack - Pistachio" ($650).
Each pair would cost $100 less to wear out the door.
While he couldn't give us any more specifics on the following days' selection, Thaniel told dot.LA that every collection was put together by Offset, he of the popular hip-hop group Migos.
And what did Thaniel think about moving eBay's sneaker game to a permanent brick-and-mortar location, a la Amazon Style's new store on the other side of town in Glendale?
"That would be a great idea," Thaniel mused. "We'd have to talk internally about it." He mentioned that eBay's policy of collaborating with sellers had led to this prime real estate, since they were technically operating in a portioned section of SoleStage's already diminutive interior.
Leaving the store, a scroll through my phone revealed an interesting development: Gucci, the renowned legacy Italian loafer brand, had just opened its first location in the metaverse.
From Your Site Articles
Related Articles Around the Web
Image by Joshua Letona
Starting today, Glendale's most meme-able outdoor mall, The Americana at Brand, will be home to the Amazon Style store—the ecommerce giant's first foray into brick-and-mortar apparel retail. We got an early sneak peak inside the new digs (located on the corner with Sprinkles Cupcakes, next to H&M and the Apple store) and were able to try out some of its tech-enabled features, which—as ever with Amazon—seek to make the act of shopping as easy as possible.
1. It's Bigger Than It Looks—Even From the Inside

The floor is massive—laying out original products from Amazon's own apparel lines alongside name brands like Theory, Adidas and Calvin Klein, as well as several other lines that have up until now only existed online. But the actual store is much larger than the two floors that most customers will only ever see.
Amazon Style is just the front—the homepage, if you will—behind which a large warehouse facility keeps a gigantic surplus of inventory. A floor-to-ceiling glass window on the main floor gives shoppers just a peak behind the scenes, as employees help load industrial-sized elevators with racks of goods to send upstairs to the dressing rooms.
2. Online Shopping IRL

When perusing the store's bouquet of cottagecore maxi dresses, Kendall & Kylie blazers and, yes, a whole section dedicated to Y2K apparel, one doesn't just pick an item off the rack and take it with you while you shop. Instead, each rack has a barcode that you can scan via the Amazon Shopping app, which has your sizes pre-loaded from previous purchases. (You can opt for a different size if you choose.) That cues an AI-enabled algorithm to start searching through the store's warehoused catalog and zip the desired item over to the second floor, where the dressing room provides its own glimpse into the future of shopping.
The store also boasts a version of The Drop, an Amazon staple that allows online customers to shop entire influencer-curated collections for a 30-hour flash window.
3. Changing Stations of the Future—Today
Your phone also acts as your keycard to get into your personal dressing room. To prevent waiting, you are put in a virtual cue the moment you scan your first item; should the Amazon app prompt that your room is ready while you're still shopping, a tap of your screen allows you to hold your spot in the queue while freeing up the room for someone else. (And if your phone dies while you're waiting, Amazon says a Style employee on the floor will be happy to help you keep your place in line, or hook you up with a charge.)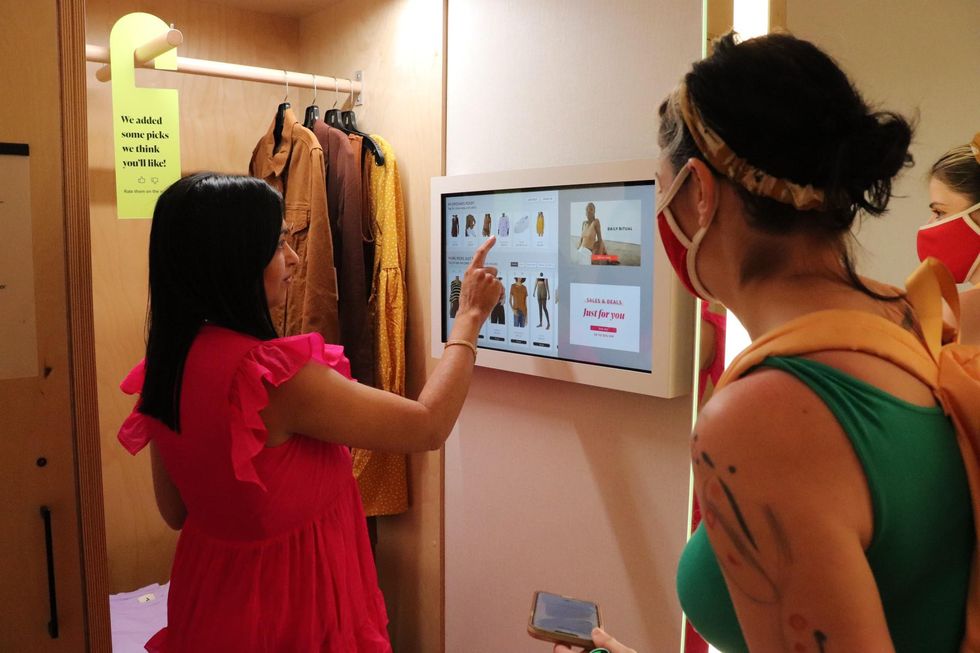 Amazon Style's dressing rooms offer a tech-enabled twist to trying on clothes.Image by Joshua Letona
The changing room is like its own parlor trick. Designed to look like a walk-in closet, one wall has a full-length mirror and a giant touchscreen while another has all the clothes you scanned in your style and size preference. Expect to see a few surprises in there, as Amazon's algorithm picks out other stuff you might want to try on based on your picks. It would be spooky if it wasn't so convenient—an IRL mashup of the online retailer's "Recommended Based on Your Purchases" and "Frequently Bought Together" features.
If an item doesn't fit quite right or you want to see how a skirt looks in blue instead of black, just tap the touchscreen to request a variant. Or an entirely new outfit, as the screen makes available everything in the facility. Then just bring it down to checkout—perhaps the wildest part of this ride.
4. Palming the Bucks
Checking out of Amazon Style's flagship store is what really blew my mind—although apparently it's because I haven't been to one of the Amazon Go, Amazon Fresh or Whole Foods locations where cashless checkouts have been an option in select stores since 2020.
I assumed you could just walk out the door with your purchase, because I watch "Saturday Night Live" sketches for news. While the Go payment option isn't available at Amazon Style, there are several checkout options to keep the experience as frictionless and non-cumbersome as possible.
One way is to take the clothes you want out of the dressing room and go directly to Amazon's palm-enabled checkout kiosks. That's right: Register on the spot for an Amazon One account, and you need merely to wave your hand over a little black device that reads your palm and charges your on-file payment method. It's super convenient for everyone except $10 boardwalk psychics, who just may be put out of business by such technology.
For the more traditional set, you still have the option of paying via credit card or cash.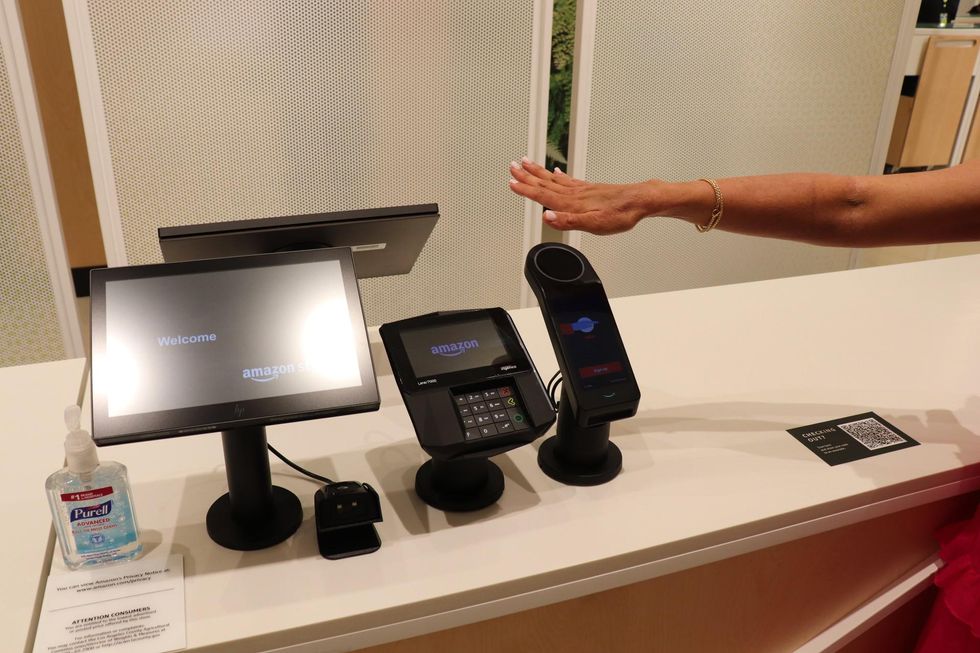 Shoppers can check out of Amazon Style with the wave of a palm. Image by Joshua Letona
5. Supply & Demand & Return
Amazon Style's brick-and-mortar location opens up a variety of new ways to shop, return and exchange clothing. For instance, you can order a load of clothes online and pick them up in the store; anything you don't want can be returned in the store without you ever having to print a shipping label.
See something you like but don't have time to try it on? Just scan the barcode, pick it up at the front of the store and pay on your way out without ever going into a dressing room.
The Amazon Shopping app also boasts a Deals feature, which automatically sorts for the best price on items to help customers either save money (or believe they are).
While Glendale is home to the only Style store so far, Amazon isn't ruling out more locations. With fewer retailers able to afford rents on America's main strips and shopping malls, Amazon's resources—and its unique position at the intersection of tech and retail—make it easy to envision more Style stores on the horizon.
From Your Site Articles
Related Articles Around the Web
Courtesy of Showtime
This is the web version of dot.LA's daily newsletter. Sign up to get the latest news on Southern California's tech, startup and venture capital scene.
"Are you an a--hole?"

We're two seconds into "Super Pumped: The Battle for Uber," Showtime's foray into Bad Tech Founder TV, and it's already the cringiest of the bunch. Which is saying something, considering its current competition is Jared Leto doing an Israeli-by-way-of-Paolo Gucci accent to portray WeWork's ousted CEO Adam Neumann ("WeCrashed") and Amanda Seyfried power-bassing her monologues as Theranos founder Elizabeth Holmes ("The Dropout").
But there's something about the way "Super Pumped" creator Brian Koppelman tells the tale of Travis "TK" Kalanick, the foul-mouthed founder and former CEO of Uber, that just strikes the wrong note. Maybe it's because Joseph Gordon-Levitt, who plays Kalanick, is so terribly miscast as a misogynistic, expletive-filled tech bro.
Super Pumped: The Battle For Uber | Series Premiere | Free Full Episode (TVMA) www.youtube.com
Or maybe it's that "Super Pumped" wants it both ways: It's decided to be an anti-hero story, yet wants you to root for that anti-hero to hook up with Arianna Huffington (played by Uma Thurman) after manipulating her onto his board. We need to think TK is cool, because look at all his "dope" hyper-relevant cultural references—like name-checking characters from the Paul Thomas Anderson movie "The Master" and comparing his crew to "The Untouchables." And yikes, did this 20-something just opine about The Rolling Stones? Nothing says "I was written by a 55-year-old screenwriter" like a character who yearns for Mick Jagger's pomp.
In its desire to cast its subject as a crass pop culture-obsessed edgelord whose life story is narrated by none other than Quentin Tarantino (did he own Uber stock or something?), "Super Pumped" ends up being an unfortunate B-rate mashup of "The Wolf of Wall Street" and "The Big Short," without any of the former's joie de vivre or the latter's ability to stand as info-tainment.
Because even if this was all true—even if Kalanick really was as "colorful" a figure as "Super Pumped" wants him to be—as far as founders go, he's never going to be as interesting when compared to people like Neumann or Holmes. His upbringing and subsequent success is neither hard-won nor a result of hyper-privileged handouts; by the show's own admission, Kalanick came from a normal middle-class home (he grew up in Northridge) and had a typical upbringing before dropping out of UCLA and entering the startup world.
See, the real interesting story about Uber is the company's origin story, and not that of its founder: How it went from a scrappy startup with one major investor and grew into a monster with so much money behind it that it became one of Silicon Valley's most mysterious unicorns. It's a story about how too much money and hype can corrupt a brand; Uber might have started as the underdog taking on local taxi commissions, but with investors shoveling cash into it and sending its valuation through the roof, it developed more aggressive tactics to win by whatever means necessary against rivals like Lyft and outmaneuver big guns like Apple, Google and, uh… China.
Along the way, Uber morphed from a genuine public service that did right by its crowdsourced network of drivers into a monopolistic behemoth all too willing to exploit the millions of contractors comprising its driver fleet. And oh, yeah—the rampant sexual harassment, data mining, corporate espionage and more was all horrible, too. And it certainly all happened under Kalanick's watch.
Was it Kalanick who corrupted Uber's shining ideals with his hubris, or the other way around? Maybe the more interesting story would have been to explore who—with all that VC money and mounting pressure for growth to appease investors—would be able to withstand the temptation to play dirty. But no: "Super Pumped" is the mostly not-true story of an evil manchild who leveraged his one good idea against the father-figure investors who trusted him with their money, and ended up losing his company—only to make out as a billionaire and launch another decacorn somewhere else.
What do we learn? It's hard to tell. It's a fantasy that I'm sure benefits someone to peddle, but the real losers of "Super Pumped" aren't on the show at all—they're the viewers. — Drew Grant