diversity in tech
diversity in tech
Snap Inc. is expanding its Yellow Accelerator program, opening it up twice a year — for eight companies per cohort.
Launched in 2018, the Santa Monica-based company's accelerator has invested in 38 companies so far.
Snap looks for startups that are at the intersection of tech and creativity and offers a $150,000 investment. Their 14-week curriculum helps startups develop their businesses with mentorship from Snap's executive team as well as industry experts including Twitch co-founder Kevin Lin, Grammy award winning producer Jonathan Yip and NBA star Baron Davis.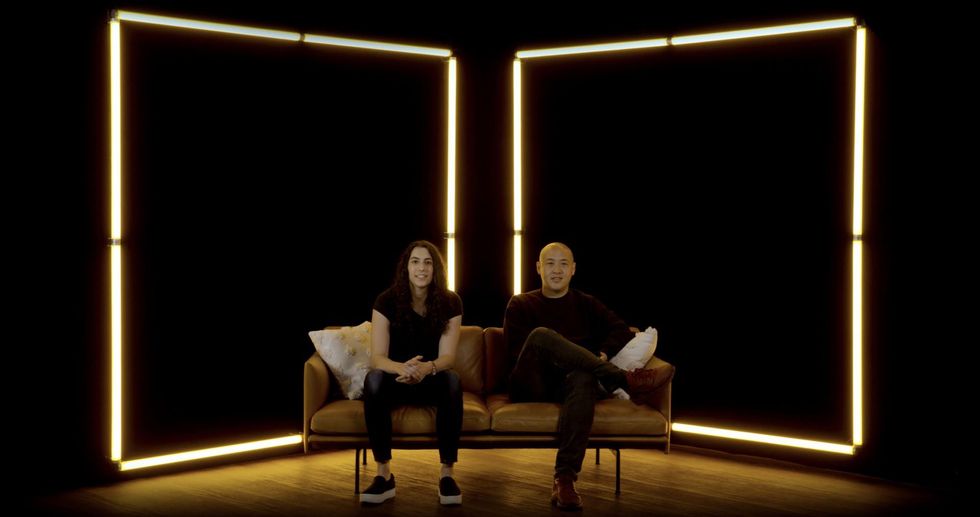 Snap Yellow accelerator program heads Alexandra Levitt (left) and Mike Su.
Director Mike Su said Snap is looking for companies that are mission driven and align with business objectives such as "helping people express themselves," "live in the moment," "learn about the world" and "have fun together."
Applications for Spring 2022 are open until January 21st and the cohort kicks off in April 2022. Participants in the past have included the digital greeting card and gifting startup Givingli; Shappi, the travel startup to help Ecuadorians shop in the U.S. and subscription-based audio road-trip app, HearHere.
The previous class was all remote (due to the pandemic). Moving forward, Snap will continue the virtual format but add two in-person engagements. The first will be at orientation.
"[A] huge part of the value of joining an accelerator program is getting to know the founders that you will be in the program with," said Alexandra Levitt, a senior manager for the program. "An in-person orientation would allow for all the different founders to meet, to engage and get to know one another."
The second in-person engagement will be on Demo Day, where founders will showcase their businesses and teams, as well as the progress they've made during the course of the program.
Snap boasts that 75% of the startups that have participated in its accelerator program have a female and/or BIPOC founder. Startups come from around the globe, with 40% of Snap's accelerator participants hailing from abroad. That's in part because so much of the program has been run online, Su said.
"Moving into a virtual environment has obviously given us a tremendous opportunity to serve founders across the globe in different circumstances that we might not have been able to in the past," Su said.
From Your Site Articles
Related Articles Around the Web
Two weeks before her first son was born, entrepreneur Natalie Gordon became frustrated with the limited options for baby registries. So she created her own — as a side project.

That side project is now a fast-growing, multimillion-dollar business known as Babylist.
Gordon joined this week's episode of the Behind Her Empire podcast to discuss how she built her startup with little VC investment and how the "failure" of her previous business set her up for success at Babylist.
"One thing I've really learned over the years is actually putting that thing that you've been working on a really personal level out there into the world is such a test of vulnerability," Gordon said, adding that the process opened her up to trusting her early customers, and understanding what they needed.
"[It was] so good to realize that people are kind. People don't really care. It's only the very first step in a journey."
In 2011, Gordon closed down her first business and took on consulting projects to make ends meet. She came up with the idea for Babylist after becoming frustrated with the options available for baby registries at the time.
Over the past 10 years, she has grown Babylist into the best baby registry service for parents, according to Healthline, with relatively little VC funding. Babylist created 1.2 million registries in 2020 alone. The company has doubled its revenue each year for the past three years and is on track to make $250 million in revenue this year.
In the rest of this episode, Gordon talks about she balanced new motherhood with growing a new company, why you shouldn't compare yourself to others, steps she took to scale her company without significant VC funding, and so much more.
dot.LA Audience Engagement Editor Luis Gomez contributed to this post.
Want to hear more of the Behind Her Empire podcast? Subscribe on Stitcher, Apple Podcasts, Spotify, iHeart Radio or wherever you get your podcasts.

Like most tech companies, Snap Inc. employees are largely white and male and the company has been grappling with its lack of diversity.

On Wednesday, its CEO Evan Spiegel gathered an all-star group of influential leaders in Southern California's tech space from Google to Spotify and Headspace for some well-intentioned hand wringing.
"I think all of that is really hard to turn into real change unless each individual team member deeply understands and cares about diversity, equity and inclusion," said Spiegel, referring to a host of new internal metrics and systems the company has implemented.
Backstage Capital founder Arlan Hamilton, who is Black, was more blunt: Hire people of color.
CEOs "can create all these products, but they can't hire women or underrepresented groups onto their tech teams." said Hamilton, whose firm invests in startups founded by people of color, LGBTQ or women –a group she estimates accounted for about 10% of all venture investment. She sat alongside Spiegel at one of the company's panels. "The better question is to ask someone else why so why is it so hard for them."
Snap released its first public diversity report in April. The company reported this year it increased hiring racial and ethnic minorities in leadership from .5% to 13.6%. Asians make up 33.4% of staff. 4.9% of Snap's staff is Black, and 6.9% are Hispanic or Latinx.
Still, the Santa Monica-based company is overwhelmingly white, and male – nearly 50% of the company was white in its 2020 survey, while 66% was male.
The problem isn't unique to Snap; nearly all tech companies are reckoning with pressure to become more socially responsible and invest in a staff that's both diverse and talented.
"There have been reports that have come out, including from two portfolio companies of ours, that kind of prove that mostly, those promises were broken or haven't come to fruition yet," Hamilton said. "But there's still time to make up for that and I think the proof is in the pudding."
Snap's day-long diversity conference was an effort to own the narrative on a topic that has long dogged the industry.
Snap has "committed to becoming an anti-racist company" recently after being called out as part of the larger community of tech companies falling short on hiring a diverse workforce.
In 2019, the Wall Street Journal reported Snap paid settlement to three women who alleged they were targeted for layoffs because of their gender -- Snap denied this, and said that nearly three-quarters of the layoffs were men.
Shortly after, in June of 219, Snap hired Oona King to be its vice president of diversity, equity and inclusion after a maelstrom of bad press. The following month, the company announced it would do an investigation into allegations of racism and sexism.
Spiegel touted Snap's participation along with companies like Google and PwC in a recently released Action to Catalyze Tech (ACT) report that recommends tactics executives can take to make their companies more diverse.
The report calls itself "the blueprint for anyone who wants to promote equity in tech," and calls for hiring historically underrepresented talent, like people who are LGBTQ+ and/or people of color.
From Your Site Articles
Related Articles Around the Web