warnermedia
warnermedia
As 2022 dawns, the Justice Department's long-awaited decision on the Discovery/ WarnerMedia/ AT&T merger shines most brightly on the entertainment industry's horizon.

Few, if any, experts believe the merger will not go forward. Even a casual observer of Discovery Chairman (and potential future CEO of the expected Discovery/ WarnerMedia marriage) David Zaslav's behavior at Beverly Hills' Polo Lounge would conclude that all systems are go for government approval of the long-anticipated deal.
Discovery/ WarnerMedia is a bellwether of more consolidation to come, as legacy entertainment companies such as The Walt Disney Company, Sony Pictures Entertainment, Viacom/CBS (home of brands as diverse as Paramount Pictures and BET) and Lionsgate eyeball a future where they're either the target of acquisition or the buyers themselves.
Some may question downgrading The Walt Disney Company to a stable of "next tier" entertainment labels, but in a world where Apple, Netflix, Amazon and Tesla/SpaceX could easily gobble up any of the legacy entertainment ventures, nothing's off the table.
As gaming and gambling revenues continue to dwarf quaint, 20th century consumer pleasures such as movie and episodic content consumption, look for unusual mergers and acquisitions where unexpected corporate giants seek to add "Hollywood" to a much larger portfolio of diverse assets, once unimaginable together.
If 2020 and 2021 were notable for being the era of the "Streaming Wars," look to 2022 and beyond to be remembered for The Age of Unexpected Partnerships.
One thing is certain, in Hollywood, nothing ever remains constant.
Despite intensifying competition in the streaming wars, Bank of America analysts said on Tuesday they see Netflix remaining content king and predict shares of the Los Gatos company will jump to $680 per share by this time next year.
Netflix was trading around $541 midday Tuesday.

The streaming wars are in the midst of a heated round of consolidation. Amazon shelled out for MGM in late May, following a mega merger between WarnerMedia, which runs HBO Max, and Discovery. Both deals remain subject to regulatory approval.
To keep up, BofA analysts said in a research report they suspect Netflix is eying franchises and other intellectual property it can spin into new films and shows to bolster its selection. That would be the opposite approach that its competitor Amazon took when it spent $8.45 billion to gobble up MGM Studios for the iconic Hollywood studio's library content.
Netflix has been moving deeper into ecommerce, aiming to gain an edge over other streamers, but analysts are unimpressed.
This spring, Netflix opened a new online store, which sells gear like apparel and action figures tied to some of its content. And the streaming giant is reportedly looking to hire gaming executives, as reported by The Information. But the analysts said neither move is likely to give them a leg up.
Movies and Series
Netflix will be welcoming several new films each year from its recently announced multiyear partnership with Steven Spielberg's production studio, Amblin Partners. The analysts cheered the deal, calling it "instrumental" in bolstering Netflix's movie pipeline. They also called out the second seasons of "Lupin" (debuted in June), "Bridgerton" and "The Witcher" (both debuting later this year) as Netflix's most important original content right now.
Down the road, the analysts are watching what may come of the UK government's plans to regulate U.S. streaming services. It is unclear what changes will result, but the analysts highlighted the U.K. Culture Secretary's fears that some viewers may consider hit series "The Crown" as nonfiction. The government's plans are set to be announced later this week.
AT&T has decided to shed its entertainment assets in exchange for $43 billion and intends to merge them with Discovery into a new entertainment company, the companies announced Monday. The deal, which is expected to close in mid-2022, will still need to be approved by regulators.

The new company will combine streaming services HBO Max, which falls under AT&T's WarnerMedia subsidiary, and Discovery Plus, into a publicly traded parent company that is yet to be named.
Together, the new company will control nearly 200,000 hours' worth of programming and will invest about $20 billion per year in making more, said David Zaslav, the Discovery boss who will run the new firm. That level of spending will outpace the current content investment plans of two of the new service's biggest competitors: Netflix (which plans to invest $17 billion per year) and Disney ($8 billion to $9 billion on Disney Plus and $14 billion to $16 billion across Hulu, Star and ESPN Plus).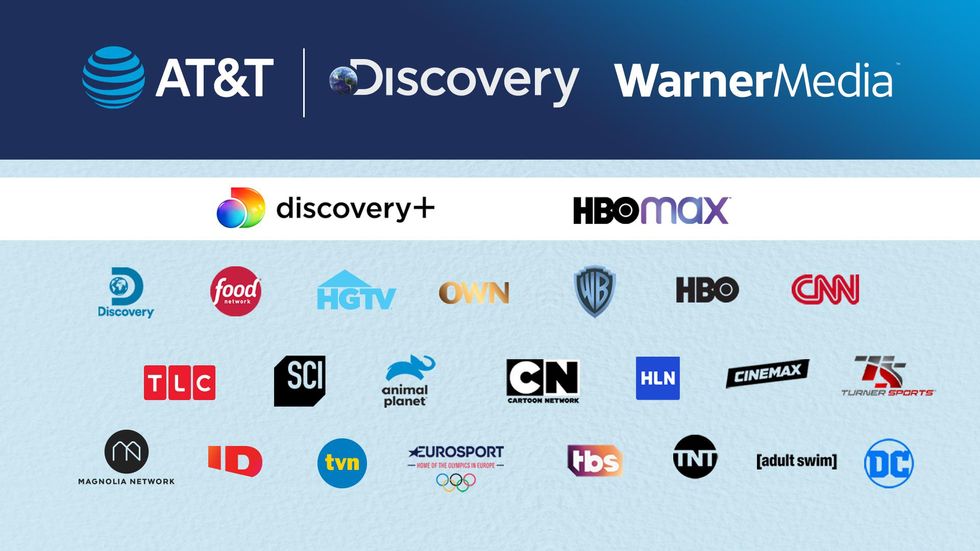 It is not yet clear the extent to which consumers will notice a change. Subscribers to HBO Max may receive a discount to Discovery Plus, and vice versa. Or a new service combining the companies' assets may yet launch. WarnerMedia's brands include HBO, TNT, TNN, CNN, Cartoon Network and Warner Bros Studio. Discovery's include HGTV, Food Network and Animal Planet.

Whether they are combined or remain separate, analysts say the content offerings of the two companies are complementary; Discovery's focus on reality television is an area where Warner's cupboard is relatively bare.
Among other implications, the move brings some foreseen consolidation to the streaming market. The nature of entertainment makes bundling content an economically advantageous strategy; that's partly why it's so hard for a niche streaming platform to succeed.
With over 200 million and 100 million subscribers respectively, Netflix and Disney have a big lead over a combination of HBO Max and Discovery Plus, which together serve around 60 million subscribers. Yet both of those leading platforms have been experiencing slowing growth and declining share prices following a banner 2020 that saw subscribers climb quickly amid the pandemic.
The merger will see some collateral damage ripple throughout the entertainment industry. In the announcement of the deal, the two companies boasted it would save the combined company $3 billion in "cost synergies" which, as with most mergers, will likely mean substantial amounts of people losing their jobs.
WarnerMedia's boss Jason Kilar is reportedly negotiating his exit. The former head of Hulu has become somewhat of a symbol of the move-fast-and-break-things approach to modernizing traditional entertainment, to the chagrin of many. Discovery's boss, David Zaslav, has been tapped to run the new company, according to the companies' statements.
Other players in the streaming market are also on notice. There are still likely more services in existence than consumers are willing to pay for, according to industry analysts.
Sony has seemingly committed to retaining its "arms dealer" strategy. NBCUniversal and ViacomCBS' platforms, Peacock and Paramount Plus, appear to have more ground to make up in a market that is even more competitive.
If the deal is approved, AT&T's shareholders would receive 71% worth of the new company's stock, with Discovery's shareholders receiving the remainder. The name of the new company is expected to be announced next week.
From Your Site Articles
Related Articles Around the Web