events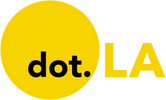 Get in the KNOW
on LA Startups & Tech
X
events
Photo by Briland Graves
On Tuesday evening, dot.LA hosted a Proptech Salon to create space and encourage proptech founders and investors to discuss how Southern California real estate startups are disrupting the industry. Over 70 invited guests gathered at WeWork's Century City location, including Michael Martin of Avenue 8, Nick Marino of TruLiv and Andrew Swerdloff of StayOpen.
The event kicked off with a conversation with JoyHub co-founder and CEO Elizabeth Braman, who announced the data aggregation and business intelligence platform will soon change its name to Revolution RE. Prior to starting JoyHub, Braman spent time at crowdfunding real estate platform Realty Mogul as senior managing director.

Braman said the inspiration for creating JoyHub came from the problems she saw in the real estate industry around the lack of data consistency and the overwhelming amount of data that real estate operators of apartments and rental properties have to make sense of. She saw a need for a tool that could simplify the data for real estate companies so they could use it effectively.
"I learned that legacy technology created a lot of problems," she said. "Proptech and all these new innovative solutions were compounding the problem by creating massive amounts of data silos."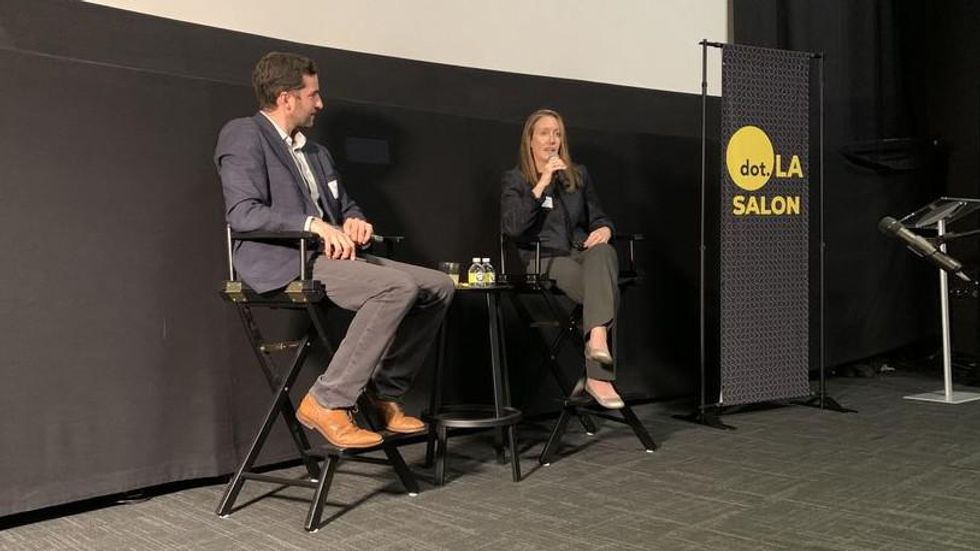 dot.LA CEO Sam Adams and JoyHub co-founder and CEO Elizabeth Braman at dot.LA's Proptech Salon on May 10, 2022.Photo by Briland Graves
With any new venture or startup, there's always a risk of it failing, she said:
"Anyone who tells you that starting a company during a pandemic is easy is not being truthful," she said, adding that she was lucky that she was able to work with a team she already knew well from her first startup experience.
For much of the rest of the startup community, times are looking more challenging than they were not long ago.
"The high-gross C, D unicorn-type companies are having a very challenging time raising up rounds," dot LA Executive Chairman Spencer Rascoff said. "And A and B—not so great."
Rascoff offered some advice to young companies hoping to weather the storm.
"Realistically, you should try to tighten your belt as much as possible to extend the runway as long as possible so that if you can't get a round done this year, you prioritize survival over growth," he said. "Because there'll be time for growth later."
Another hot topic in proptech was virtual real estate. The concept of the metaverse has grown in popularity as new virtual environments go online. Celebrities like Snoop Dogg already own land in some of these new worlds. In December, one of his fans purchased a plot of land for $450,000 just to be the rapper-entrepreneur's virtual neighbor.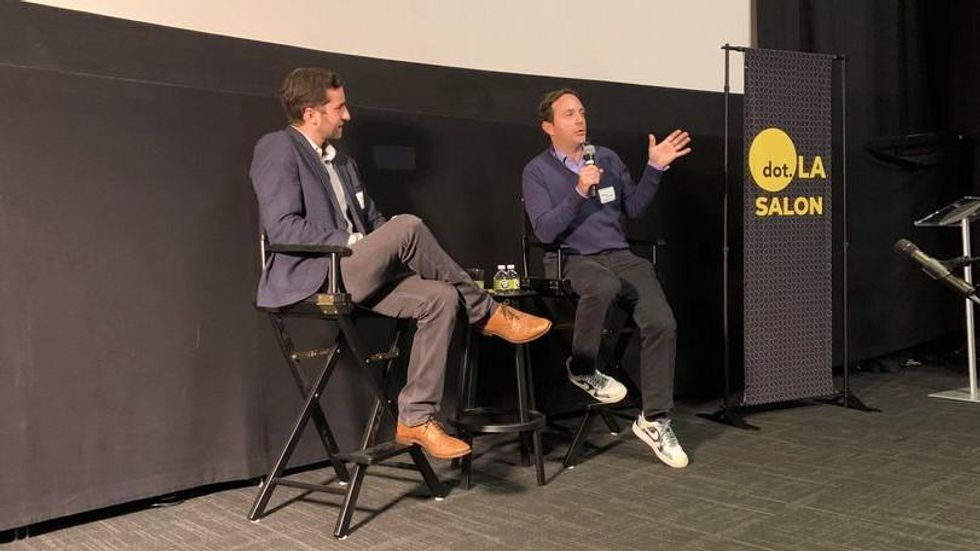 dot.LA CEO Sam Adams and Chairman Spencer Rascoff at dot.LA's Proptech Salon on May 10, 2022.Photo by Briland Graves
As an investor, Rascoff said he's skeptical about buying land in the metaverse.
"The big reason why I'm overall skeptical of this is for some of these things, you need counties to play ball," Rascoff said. "But it's fun and interesting to talk about how title might be disruptive through blockchain."
The night was capped with a question from dot LA CEO Sam Adams:
"If given a million dollars to invest, where would that money go?"
Braman said she would have to diversify and choose cannabis along with venture funds.
Rascoff admitted his answer was less exciting, but said he'd would use the money to buy a "basket of growth tech stocks that are at two-to-five-year lows."
Correction: An earlier version of this post misspelled StayOpen co-founder Andrew Swerdloff's last name.
From Your Site Articles
Related Articles Around the Web
By now, everyone has heard about 5G but Verizon says the wireless network technology goes far beyond faster web surfing and streaming.

Tech industry leaders and venture capitalists gathered for a final dot.LA 2021 Summer Series event at the Verizon 5G Labs in Playa Vista on Thursday to get a first-hand look at the technological promises of the new generation of wireless. The event was sponsored by Compass real estate agents Ari Afshar of Voyage Real Estate, Lauren Forbes and Jen Winston.
Luke Wang, 5G Labs lead for Verizon, moderated a speaker panel featuring Pam Allison, head of 5G Labs strategy and partnerships, Ian Nelson, senior manager of business development of Ryot, and Corey Laplante, chief operating officer of Mixhalo.
Verizon 5G Labs co-hosted the event with dot.LA.
"L.A. is at the very intersection of tech media entertainment, and 5G is completely changing the game for all kinds of use cases across the super industry," said Sam Adams, CEO of dot.LA, in his introductory remarks at the event.

Nelson, who works on technology that relies on fast wireless speeds, said 5G has been greatly beneficial in his line of work.
"I tend to think about 5G as an accelerant to degree, right? It does enable quite a bit of features and ways to interact with content and products, but it really does benefit when you tie it to other technologies," said Nelson.
Allison talked about the accessibility of 5G for people with newer phones.
"The first is nationwide 5G and that you know, if you have a 5G phone, it means you get 5G almost anywhere that you can typically get 4G," said Allison.
Laplante lauded Verizon for what the company has been doing outside of being just a mobile carrier and entering the entertainment space.
"Look at the NFL deal that they just struck two or three weeks ago. It's a 10-year deal. They're in all these stadiums, the opportunity and scale, there's like nothing we could achieve with another mobile carrier," said Laplante.
From Your Site Articles
Related Articles Around the Web
Nominate Innovators for dot.LA's Startup Awards

We are thrilled to announce the dot.LA Startup Awards 2021, a celebration of the most innovative people and companies in the L.A. startup and tech community. The event will be hosted live on Friday, October 29th, during the dot.LA Summit. We will recognize and celebrate L.A.'s most coveted startup pioneers, rising tech companies and disruptive innovators.
Nominations are open for company submissions in six categories. Get involved and nominate a startup or an individual to win an award by clicking here. Nominate who you think should win each category!
Description of award categories are below.
The winners will be announced live at the dot.LA Summit. In addition, the winners will have the opportunity to participate as panelists in the Next Gen breakout session during the Summit.
Award Categories
Pivot of the Year: This award celebrates a startup's ability to revamp by changing its business model and strategy in the face of adversity.
Social Justice Award: This award recognizes a company or individual who has made the biggest impact on driving social justice
to create a positive, significant and sustainable impact.
Rising Entrepreneur: This entrepreneur is new in the LA startup scene and has emerged as a forward thinking innovator and leader. Despite his/her age, the Entrepreneur of the year has a pioneering spirit and a promising future.
Rising Startup: This startup is less than two years of age from incorporation and has shown major development based on market growth, innovation and impact of products and services. This newcomer has the greatest potential to disrupt its market and global tech community.
Entrepreneur of the Year: This entrepreneur has a fearless spirit while their partners, teammates and clients are inspired by their vision on a daily basis. They have made notable achievements this past year in regards to funds raised, sales, impact of product and leadership in the tech ecosystem.
Startup of the Year: This company has shown the greatest development over the past year based on innovation and impact with goods and services. This startup has the most promising potential for an exit and potential to reach unicorn status.
About the dot.LA Summit: Don't miss the go-to Summit for L.A.'s booming startup community, held October 28th – 29th at the Fairmont Miramar. Guests will include early-to-late stage VCs, as well as growth-stage and angel investors. The Summit will encompass cutting-edge programming, fast pitch competitions, an awards show, networking, social events and more!
The Summit will feature a curated selection of disruptive and innovative L.A.-based startups as well as keynote speakers and panelists made up of Founders, CEOs and C-level executives working in tech, media, entertainment and healthcare.