hbo max
Despite intensifying competition in the streaming wars, Bank of America analysts said on Tuesday they see Netflix remaining content king and predict shares of the Los Gatos company will jump to $680 per share by this time next year.
Netflix was trading around $541 midday Tuesday.

The streaming wars are in the midst of a heated round of consolidation. Amazon shelled out for MGM in late May, following a mega merger between WarnerMedia, which runs HBO Max, and Discovery. Both deals remain subject to regulatory approval.
To keep up, BofA analysts said in a research report they suspect Netflix is eying franchises and other intellectual property it can spin into new films and shows to bolster its selection. That would be the opposite approach that its competitor Amazon took when it spent $8.45 billion to gobble up MGM Studios for the iconic Hollywood studio's library content.
Netflix has been moving deeper into ecommerce, aiming to gain an edge over other streamers, but analysts are unimpressed.
This spring, Netflix opened a new online store, which sells gear like apparel and action figures tied to some of its content. And the streaming giant is reportedly looking to hire gaming executives, as reported by The Information. But the analysts said neither move is likely to give them a leg up.
Movies and Series
Netflix will be welcoming several new films each year from its recently announced multiyear partnership with Steven Spielberg's production studio, Amblin Partners. The analysts cheered the deal, calling it "instrumental" in bolstering Netflix's movie pipeline. They also called out the second seasons of "Lupin" (debuted in June), "Bridgerton" and "The Witcher" (both debuting later this year) as Netflix's most important original content right now.
Down the road, the analysts are watching what may come of the UK government's plans to regulate U.S. streaming services. It is unclear what changes will result, but the analysts highlighted the U.K. Culture Secretary's fears that some viewers may consider hit series "The Crown" as nonfiction. The government's plans are set to be announced later this week.
AT&T has decided to shed its entertainment assets in exchange for $43 billion and intends to merge them with Discovery into a new entertainment company, the companies announced Monday. The deal, which is expected to close in mid-2022, will still need to be approved by regulators.

The new company will combine streaming services HBO Max, which falls under AT&T's WarnerMedia subsidiary, and Discovery Plus, into a publicly traded parent company that is yet to be named.
Together, the new company will control nearly 200,000 hours' worth of programming and will invest about $20 billion per year in making more, said David Zaslav, the Discovery boss who will run the new firm. That level of spending will outpace the current content investment plans of two of the new service's biggest competitors: Netflix (which plans to invest $17 billion per year) and Disney ($8 billion to $9 billion on Disney Plus and $14 billion to $16 billion across Hulu, Star and ESPN Plus).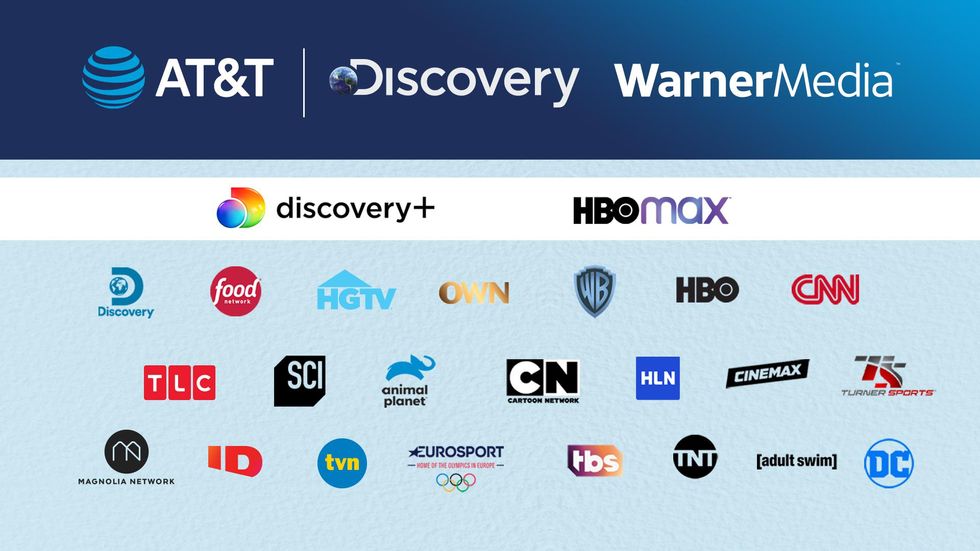 It is not yet clear the extent to which consumers will notice a change. Subscribers to HBO Max may receive a discount to Discovery Plus, and vice versa. Or a new service combining the companies' assets may yet launch. WarnerMedia's brands include HBO, TNT, TNN, CNN, Cartoon Network and Warner Bros Studio. Discovery's include HGTV, Food Network and Animal Planet.

Whether they are combined or remain separate, analysts say the content offerings of the two companies are complementary; Discovery's focus on reality television is an area where Warner's cupboard is relatively bare.
Among other implications, the move brings some foreseen consolidation to the streaming market. The nature of entertainment makes bundling content an economically advantageous strategy; that's partly why it's so hard for a niche streaming platform to succeed.
With over 200 million and 100 million subscribers respectively, Netflix and Disney have a big lead over a combination of HBO Max and Discovery Plus, which together serve around 60 million subscribers. Yet both of those leading platforms have been experiencing slowing growth and declining share prices following a banner 2020 that saw subscribers climb quickly amid the pandemic.
The merger will see some collateral damage ripple throughout the entertainment industry. In the announcement of the deal, the two companies boasted it would save the combined company $3 billion in "cost synergies" which, as with most mergers, will likely mean substantial amounts of people losing their jobs.
WarnerMedia's boss Jason Kilar is reportedly negotiating his exit. The former head of Hulu has become somewhat of a symbol of the move-fast-and-break-things approach to modernizing traditional entertainment, to the chagrin of many. Discovery's boss, David Zaslav, has been tapped to run the new company, according to the companies' statements.
Other players in the streaming market are also on notice. There are still likely more services in existence than consumers are willing to pay for, according to industry analysts.
Sony has seemingly committed to retaining its "arms dealer" strategy. NBCUniversal and ViacomCBS' platforms, Peacock and Paramount Plus, appear to have more ground to make up in a market that is even more competitive.
If the deal is approved, AT&T's shareholders would receive 71% worth of the new company's stock, with Discovery's shareholders receiving the remainder. The name of the new company is expected to be announced next week.
From Your Site Articles
Related Articles Around the Web
The movie business is breathing a provisional sigh of relief today after weekend box office numbers show "Godzilla vs. Kong" broke several pandemic-era records. But Hollywood still has reason to worry.
In its debut domestic weekend, the Warner Bros. film played on over 3,000 screens and raked in $32.2 million, both highs since lockdowns began. None of these figures would represent big wins in normal times, though this is hardly normal.
Pre-pandemic average opening weekend of 2019's top four box-office hits was about $200 million. And for the first time, Warner Bros., Disney and other studios have simultaneously released what would normally be theatrical tentpoles on their streaming services.
"It's clear that wherever audiences are ready to safely return to the theater, they have, and we're thrilled with the results," Jeff Goldstein, who heads domestic distribution at Warner Bros. Pictures, said in a release announcing the numbers.
The new data suggest Hollywood, which had an abysmal box-office year with theaters across the country shuttered, is headed in the right direction – even if the cinema business is in decline. And with only 55% of theaters operating in North America according to Comscore, and most of them at limited capacity, there is still plenty of room for recovery.
The box office figures represent about a 50% increase in screen count and 278% jump in revenue from Disney's "Raya and the Last Dragon," the most recent big-name film to debut in the U.S., in early March.

The film also set pandemic-era records for largest opening day since lockdowns began ($9.6 million, on Wednesday last week) and largest single day ($12.5 million, on Saturday). Overall, it has earned $48.5 million since its mid-week release. Including international, where it has been showing for about two weeks, it's brought in over $285 million.
For further comparison to the film's $32.2 million weekend, the pandemic-era debut of "Wonder Woman 1984" took in about $16.7 million domestically over Christmas weekend, while "Tenet" earned $20.2 million over its opening weekend in September.
Like "Wonder Woman" and "Raya," "Godzilla vs. Kong" viewers had the option to watch the new film on a streaming platform. "Raya" was sold for $30 on Disney Plus, while the other two were available on HBO Max for no extra fee. The extent to which this impacted their box office performance is unclear.
Given the relative success of "Godzilla vs. Kong," though, there may be some cause for optimism that the magic of the silver screen still has its charms–perhaps especially so for spectacles like superheroes, explosions and nuclear lizards fighting giant monkeys.