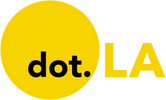 Get in the KNOW  
  on LA Startups & Tech  
X
en.wikipedia.org
Your Guide to the dot.LA Summit 2022
Drew Grant
Drew Grant is dot.LA's Senior Editor. She's a media veteran with over 15-plus years covering entertainment and local journalism. During her tenure at The New York Observer, she founded one of their most popular verticals, tvDownload, and transitioned from generalist to Senior Editor of Entertainment and Culture, overseeing a freelance contributor network and ushering in the paper's redesign. More recently, she was Senior Editor of Special Projects at Collider, a writer for RottenTomatoes streaming series on Peacock and a consulting editor at RealClearLife, Ranker and GritDaily. You can find her across all social media platforms as @Videodrew and send tips to drew@dot.la.
11:32 AM | October 14, 2022
We're so excited to be bringing back our annual dot.LA Summit, held in-person October 21st-22nd at the Petersen Museum in Los Angeles. Featuring hundreds of top founders, investors and operators for the largest celebration of L.A.'s tech and startup ecosystem, this year's program has a lot going on... and there's still time to register!
Here's what to expect from this year's Summit.
---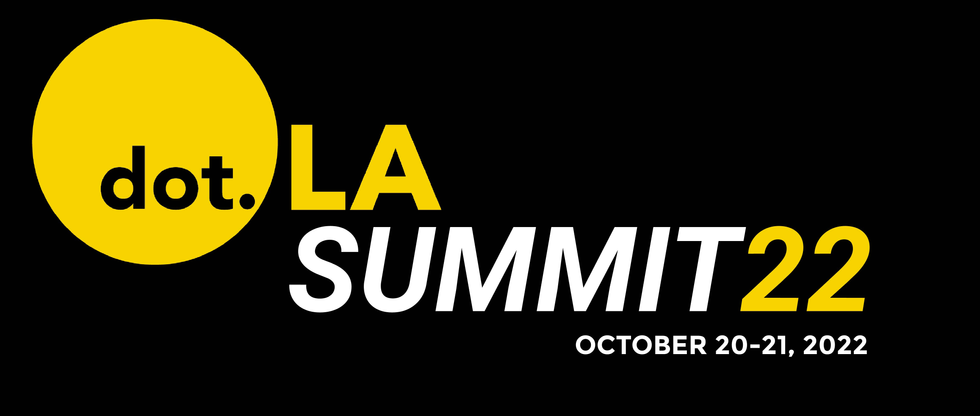 summit graphic dot.la
October 20th (Doors Open at 5 pm PST):
Join on us on our preview night, which begins with a VIP cocktail reception, three fireside chats and a pitch competition. First, we have 2021's "Entrepreneur of the Year" Alex Israel of Metropolis Technologies, who will be doing exclusive one-on-one interviews with Arena Club co-founder Brian Lee, followed by two-time Dodgers All-Star Shawn Green.
After that, dot.LA co-founder Spencer Rascoff will host a discussion with Julia Boorstin about her new book, "When Women Lead."
Finally, we wrap up the evening with our annual Pitch Competition, hosted by Fenwick. The winner will be announced the next day, during the main event!
October 21st (Doors Open at 7:30 am PST):
Get ready for a big day by exploring the Bond Exhibit at the Petersen Museum while enjoying a quick breakfast, then head on over to the main stage, where dot.LA co-founder and CEO Sam Adams will be joined by sweetgreen founder Jonathan Neman to discuss L.A.'s historically unique relationship to health food and salads... and what Angelenos eating habits can tell us about the future of sustainable eating.
Also on the main stage will be our Web3 panel on virtual avatars, hosted by reporter Samson Amore. Panelists include Tricia Biggio from Invisible Universe, Asid Malik from Jadu, and MELON CEO Josh Neuman. The panel will provide a chance for startups working on avatars to explain how we could navigate the web and interact with each other using our digital proxies.
Following that, Sam Adams will host another restauranteur and Los Angeles staple, Alex Canter from Canter's Deli and Nextbite, followed by a panel on tackling the housing crisis in Los Angeles hosted by dot.LA reporter Decerry Donato. This panel will discuss tech's impact on developments in the industry, including how tech can be used to address affordable housing, homelessness and innovation in a rapidly changing market and be hosted by Crate Modular's Jaren Grady; Deputy Mayor of Budget and Innovation of the City of Los Angeles Jeanne Holm and Ross Maguire of Azure Printed Homes.
Wrapping up the morning we have three breakout rooms, which include a workshop on Scaling Your Leadership, hosted by Evolution and moderated by Evolution Managing Director and Co-founder Matt Auron, featuring panelists Janine Davis, Carolyn Jones, and Erik Kellener. Following that, Pacific Western Bank will host a breakout session called Funding Growth Beyond The Term Sheet. Attendees can also sit in on a panel on Creators, Curators, and Community Builders, hosted by dot.LA writer Lon Harris and featuring guests Jon Bodenheimmer from Spotter, Evan Britton from Famous Birthdays, Jamie Gutfreund of Whaler and Rosie Nguyen of Fanhouse. The panel will focus on the creator economy and how Big Tech money has changed the way influencers monetize their brands.
After a two-hour lunch, we'll return with three more breakout rooms. First up is Charging Up Clean Mobility, hosted by dot.LA writer David Shultz and featuring Paul Gioupis from Zeem Solutions, Ramy El-Bartrawi from EV Mobility and Scott Painter from Autonomy. Following that we have Revolutionizing Online Marketplaces moderated by Grace Kangdani from Bank of America and sponsored by Zoolatech, featuring panelists Roman Kaplun from Zoolatech and Dan Dan Li from Popshop Live. And finally we have Equity in the L.A. Ecosystem, featuring Kojuan "Ko" Trinidad-Williams of L.A. Tech and featuring panelists including Stuart McCalla from Evolution, Marcos Gonzalez from Vamos Ventures, Derek Smith from Plug In South LA and Aisling Carlson from Diversity VC.
At 3 p.m., join Spencer Rascoff as we close out our conversation portion of the day in talks with Dana Settle, managing partner at Greycroft, for Founders & Funders: The Artistry Between Transformative Entrepreneurs and Key Investors. The two will discuss the unique relationship between founder and anchor VC in the world of high-growth startups.
Our last main stage panel will be Health in the Post-Roe Era, moderated by Kathryne Cooper of Jumpstart Nova. This panel seeks to address the discrepancy in intent and action from investors in the tech, and financial sides of reproductive health care, while also sharing developments in health tech for those living in the Post-Roe-Era. Panelists include Crystal Adesanya from Kiira Health, Kiki Freeman of HeyJane, Cindy Adam of Choix, and Dr. Jessica Nouhavandi, co-CEO, co-founder and lead pharmacist of Honeybee Health.
Following that, dot.LA will be presenting its annual Startup Awards, and announcing the winner's of the previous night's Pitch Competition. Enjoy appetizers and cocktails as we close down the evening with a mixer hosted by dot.LA, and chat with our editors and journalists about the future of LA Tech.
Register today for dot.LA's Summit 2022, we can't wait to see you there!
dot.LA Summit 2022 would like to thank its official sponsors, including: Bank of America, Fenwick, Metropolis, Zoolatech, Pacific West, Evolution, TriNet, RSM, Satellite Teams, Coda Search, iWallet, CoMotion, ELIQS, Popl, Curbivore, Not Flat Photos and WeWork.
Drew Grant
Drew Grant is dot.LA's Senior Editor. She's a media veteran with over 15-plus years covering entertainment and local journalism. During her tenure at The New York Observer, she founded one of their most popular verticals, tvDownload, and transitioned from generalist to Senior Editor of Entertainment and Culture, overseeing a freelance contributor network and ushering in the paper's redesign. More recently, she was Senior Editor of Special Projects at Collider, a writer for RottenTomatoes streaming series on Peacock and a consulting editor at RealClearLife, Ranker and GritDaily. You can find her across all social media platforms as @Videodrew and send tips to drew@dot.la.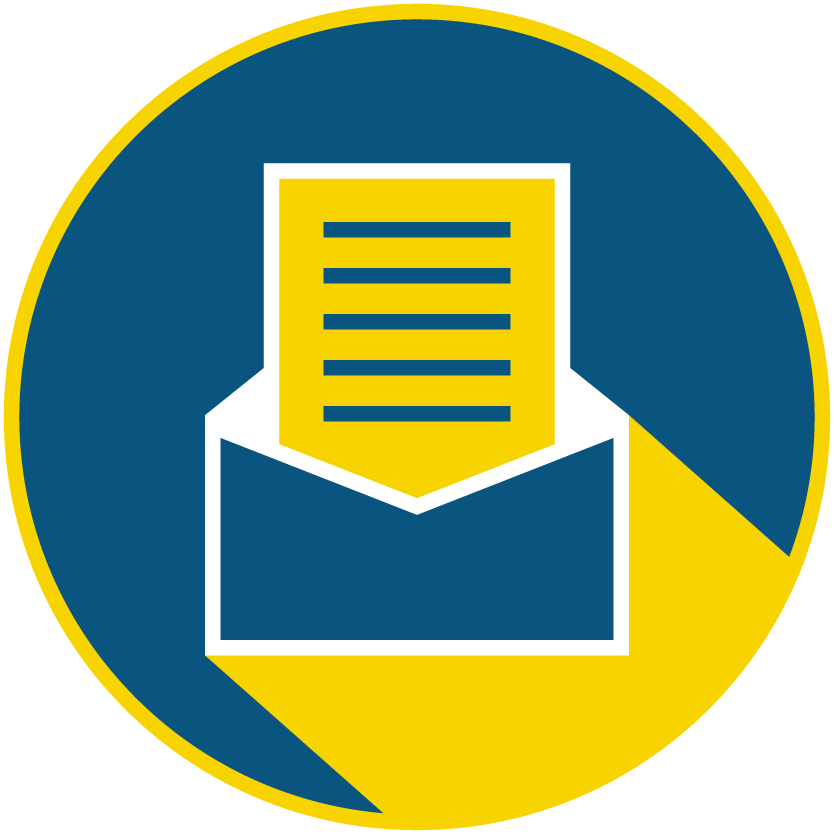 Subscribe to our newsletter to catch every headline.
05:00 AM | November 01, 2022
Located roughly a hundred miles east of San Diego, the Salton Sea is California's largest landlocked body of water, for now.
Measuring 5 miles across and 35 miles long in its current form, the lake was created by diverting water from the Colorado River into the region for agricultural purposes. Once a vacation destination renowned for its wildlife and wetlands, a series of environmental mishaps and mismanagement have left the lake toxically salty, shrinking and often malodorous. Conditions have gotten so bad that Palm Springs Life Magazine called the region's transformation "the biggest environmental disaster in California history" in March of 2020.
But against this unlikely backdrop, new life—or at least new industry—is scrambling to set up shop in the region. The Salton Sea, it turns out, is rich with lithium, an element that has taken center stage in the world's transition to clean energy and its ever-growing demand for batteries. From smartphones to electric vehicles, there's a pretty good chance that the last battery you used had lithium ions inside. Prices for the metal reached an all time high in September, and futures are up more than 400% since the start of 2021. With Biden's new economic policy outlined in the Inflation Reduction Act, there are strong financial incentives to move battery production back to North America.
If that's going to happen the Salton Sea could very well become the lithium capital of North America, or to paraphrase Governor Gavin Newsom, the region could become the "Saudi Arabia of lithium," and the players are already starting to assemble.
Currently, there are three companies attempting to set up plants in the Salton Sea for direct lithium extraction: EnergySource Minerals, Controlled Thermal Resources and BHE Renewables, a branch of Berkshire Hathaway. All three companies have similar business strategies from a high level, all of which involve geothermal power plants. These plants, which are common in many parts of the world, draw hot, salty water from deep in the ground to create steam which drives a turbine to produce electricity. What makes the Salton Sea so special is that its geothermal brines just happen to contain lithium.
In a 2017 study, researchers from the U.S. DOE Office of Energy Efficiency and Renewable Energy analyzed more than 2,000 samples of geothermal fluid from U.S. sources and found that only 1% had significant lithium concentration. This rare confluence of geothermal activity and lithium presence provides an opportunity for companies to generate electricity and mine lithium simultaneously.
Beyond their marriage of geothermal energy and lithium extraction, the three companies begin to diverge.
According to former dot.LA engagement editor Luis Gomez — whose newsletter Lithium Valle, is essential reading on this topic — EnergySource seems to be out in front early.
"They claim to have the technology that's patented, they claim to have done the research, they claim to have the funding, and they claim they're ready to go and start production," says Gomez. "They are kind of considered the canary in the coal mine."
According to a report from the United States Department of Energy, EnergySource plans to eventually scale production up to over 20,000 metric tons of lithium hydroxide per year using its proprietary Integrated Lithium Adsorption Desorption technology.
Construction on the plant was slated to start earlier this year, but has been delayed. EnergySource has said publicly that lithium production might begin in the second quarter of 2024, but it's unclear whether this date will also be pushed back. The company has a long history of operating in the region, having run the John L. Featherstone geothermal plant since 2012. The new venture into lithium would leverage that same plant, but without more details about how their proprietary technology works, there's not much to do but wait and see.
One potential problem facing all three lithium extraction companies is that the Salton Sea geothermal brines are not the same as the brines in evaporation ponds similar to those in Argentina, Chile and Bolivia, where more than half of the world's lithium is produced. Specifically, the deep geothermal brines in the Salton Sea contain more silica and transition elements, which may complicate the chemistry of purifying the lithium. Still, many researchers are extremely bullish on the prospect of tapping into these reserves. Alex Grant, The Principal at Jade Cove, a research organization focusing on direct lithium extraction technologies, says that much of the skepticism surrounding the technology can be attributed to competing financial interests that are trying to squash the nascent tech's potential in favor of an established method.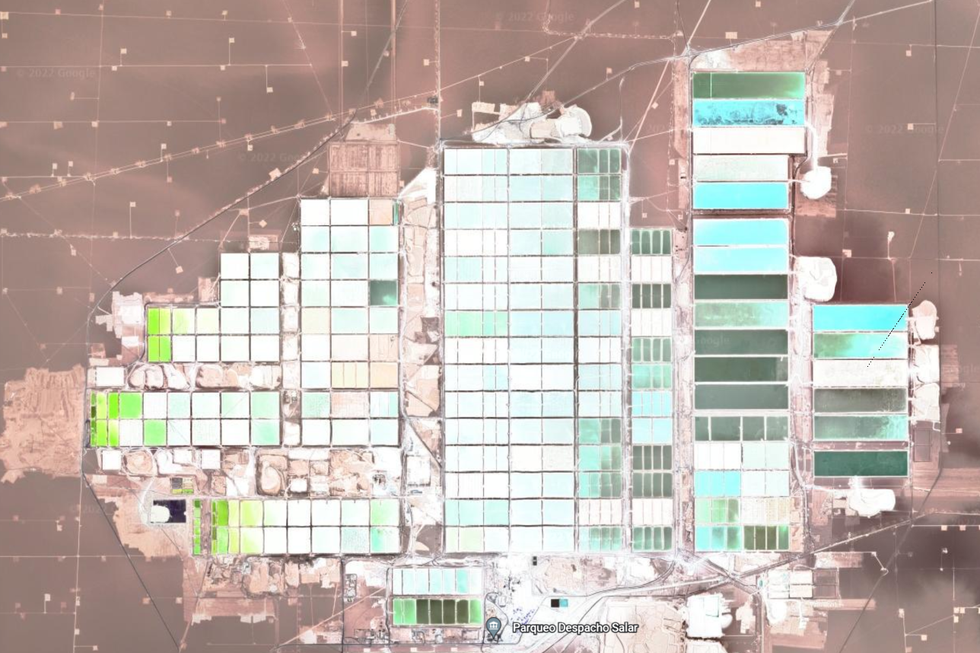 Lithium Mines in the Atacama Salt Flats, Chile from an altitude of 15km via Google Earth. The facility is about 10km wide.
Google Earth
For its part, BHE Renewables, operating as CalEnergy, runs a fleet of 10 geothermal plants in the Imperial Valley. The company had previously announced its intent to set up a direct lithium extraction demonstration plant sometime before the end of 2022 to assess the viability of lithium extraction. If that pilot program goes well, the company could build a commercial-scale facility as early as 2026 with a projected annual capacity of 90,000 metric tons of lithium.
Obviously, having the backing of Berkshire Hathaway comes with advantages and capital. Add into the equation another $15 million in DoE grant money obtained last winter, and BHE appears to be well positioned as a major player in the long term.
Finally, there's Controlled Thermal Resources. As the only company not already operating a geothermal business in the region, CTR is something of an outsider and dark horse. By 2024, the company hopes to build both a geothermal energy plant and a direct lithium extraction plant to operate in parallel, projecting a capacity to extract 300,000 metric tons of lithium carbonate equivalent annually by 2030. As dot.LA previously reported, Controlled Thermal Resources has partnered with Statevolt, a company that intends to build a $4 billion gigafactory nearby that will run on power from CTR's geothermal plant and make batteries from the lithium it extracts. It's a beautiful closed-loop business model. But again, all of this relies on the direct lithium extraction technology, and details are scant.

According to Gomez, despite the typically cut-throat nature of the energy industry, the relationship between the three upstarts in the Salton Sea is often surprisingly cooperative at the moment.
"They want the others to succeed because it kind of gives them the confidence that their technology is also eventually going to succeed," he says. "It gives confidence to investors."
Which is all to say, there may well be space for all three companies if the technology is as solid as they claim. If that's the case, the Salton Sea and its surrounding region may have yet another miraculous transformation up its sleeve.
David Shultz
David Shultz reports on clean technology and electric vehicles, among other industries, for dot.LA. His writing has appeared in The Atlantic, Outside, Nautilus and many other publications.
08:00 AM | October 21, 2022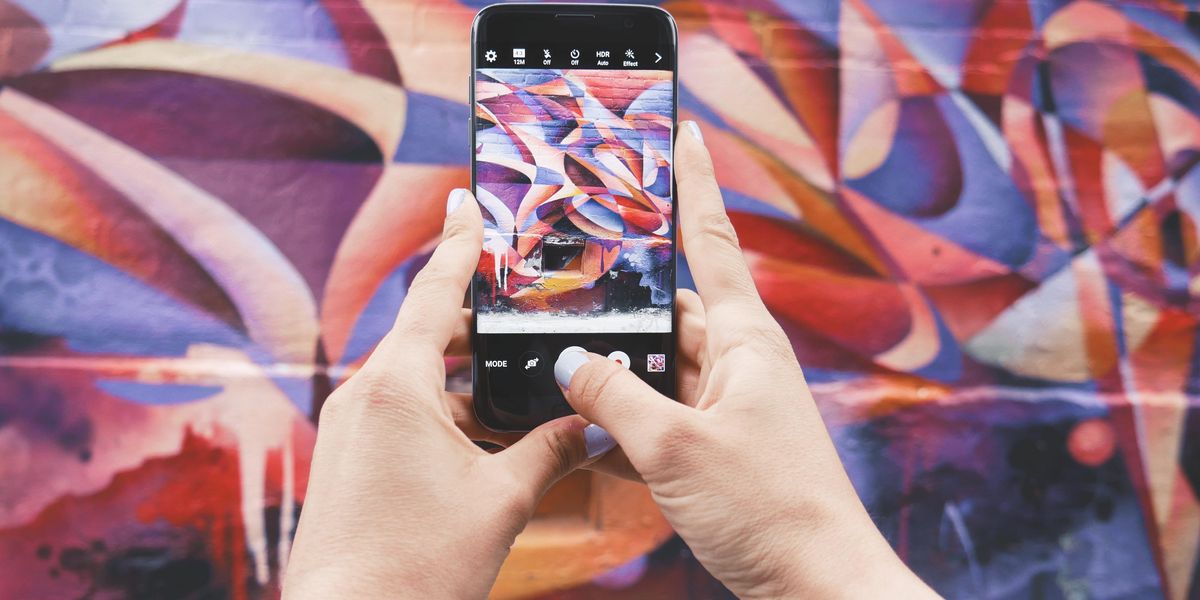 Anasofia Gomez spends her early mornings filming herself journaling, picking up coffee and getting ready for the day. By 9 a.m., she's ready to start her full-time job as a social media marketer.

The Los Angeles-based creator is just one of the 53% of non-professional creators in the United States who maintain a full-time job while also creating monetized content. Colloquially speaking, Gomez is considered a micro-influencer—creators with followers that range from 1,000 to 100,000.
Gomez treats her content creation as a second job: she starts her day at 6 a.m. just to film her content, which often features her outfits and local recommendations, and ends her days at 11 p.m. by posting her daily video. This level of dedication has earned Gomez almost 38,000 TikTok followers and partnerships with brands like perfume company Dossier and FitOn—a fitness app.
Jon Davids, the CEO of influencer marketing company Influicity, says brands often partner with micro-influencers to create a larger volume of content. Similar to their partnerships with normal influencers, companies will send micro-influencers free products in exchange for a promotional video. Depending on the influencer, some companies will pay over $200 per video.
The difference, of course, is that since companies can pay micro-influencers less, they'll get more content for their money. For example, he says a mega-influencer may charge $5,000 for one video, while companies can take that same budget and work with roughly 30 micro-influencers.
"You can get lots and lots and lots of content without paying massive amounts of money for it," Davids says. "And, frankly, the supply is just there."
But Gomez says the money is often inconsistent. A month-long deal can briefly boost her income, but that doesn't guarantee a partnership for the upcoming months. The inconsistency isn't without its benefits, however. Gomez says that since she doesn't rely on these partnerships for income, she can be more particular about what companies she works with.
Gomez has even turned her micro-influencing, work-life balance into content. Her series documenting her attempts to make the most of her time outside of work has taken off. Gomez's first video about her "promise to get off the couch and seize life" has over 10 thousand likes. As such, she's since maintained a series of videos focused on how she uses her time outside of work.
In fact, the "5 to 9" trend, which features people showing off their detailed routines before and after work, often with homemade meals and elaborate skincare routines, can get creators thousands of views. Other micro-influencers highlight content specifically about their careers: lawyers translate legal jargon, nurses discuss their work hours and teachers share their classroom management strategies. Which is to say, for many non-professional creators, quitting their full-time job would likely alter their content and potentially alienate their audience.
To that end, Davids says, these niche communities, such as influencers who make content about engineering or waste management, are often where micro-influencers thrive.
"The micro-influencers that we have today really didn't exist five or six years ago," Davids says. "People who had very, very small audiences on social weren't doing it to have any kind of professional presence—they were just kind of creating content for their friends and family."
Which is why, Davids adds, amateur content creators can actively engage their followers on a more personable level than many mega-influencers.
Nonetheless, Gomez has thought about pursuing content creation full-time. But, she finds that she enjoys the security her traditional job provides compared to the lack of financial consistency from her influencing endeavors.
"You just never know what the future is with social," Gomez says. "I think you really do have to be in a really good place [financially] to be able to say, 'I'm going to quit my job and just do content creation.'" Amen.
Kristin Snyder
Kristin Snyder is dot.LA's 2022/23 Editorial Fellow. She previously interned with Tiger Oak Media and led the arts section for UCLA's Daily Bruin.