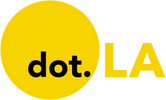 Get in the KNOW  
  on LA Startups & Tech  
X
Illustration by Ian Hurley
What Are LA's Hottest Startups of 2022? See Who VCs Picked in dot.LA's Annual Survey
Harri Weber
Harri is dot.LA's senior finance reporter. She previously worked for Gizmodo, Fast Company, VentureBeat and Flipboard. Find her on Twitter and send tips on L.A. startups and venture capital to harrison@dot.la.
05:00 AM | January 31, 2022
In Los Angeles—like the startup environment at large—venture funding and valuations skyrocketed in 2021, even as the coronavirus pandemic continued to surge and supply chain issues rattled the economy. The result was a startup ecosystem that continued to build on its momentum, with no shortage of companies raising private capital at billion-dollar-plus unicorn valuations.

---
In order to gauge the local startup scene and who's leading the proverbial pack, we asked more than 30 leading L.A.-based investors for their take on the hottest firms in the region. They responded with more than two dozen venture-backed companies; three startups, in particular, rose above the rest as repeat nominees, while we've organized the rest by their amount of capital raised as of January, according to data from PitchBook. (We also asked VCs not to pick any of their own portfolio companies, and vetted the list to ensure they stuck to that rule.)
Without further ado, here are the 26 L.A. startups that VCs have their eyes on in 2022.
Harri Weber
Harri is dot.LA's senior finance reporter. She previously worked for Gizmodo, Fast Company, VentureBeat and Flipboard. Find her on Twitter and send tips on L.A. startups and venture capital to harrison@dot.la.
06:00 AM | December 14, 2022
Evan Xie
Labor shortages are hitting many industries hard, but in senior living homes, lack of staff is even more of a problem, especially in dining rooms. In a bid to support a sagging workforce, some senior homes run by operator Front Porch are trying out hospitality robots.
So far, the Servi robots designed by Redwood City-based Bear Robotics have received a warm reception from both guests and customers. In a two-month pilot program with senior home operator Front Porch beginning in June, four of Bear Robotics' Servi food running and busing robots were deployed in two Front Porch locations – San Francisco Towers, and Casa de Mañana in La Jolla.
Front Porch noted in its recent report on the test program that its dining services have been "particularly hit hard" during the COVID-19 pandemic, and the organization is hoping to keep its remaining staff from burning out by supplementing their shifts with robot busboys (busbots?).
Here's a glimpse at what the tech looks like: Servi robots have three shelves to stack dishes and can handle up to seven entrees depending on plate size, can carry up to 66 pounds, and they're designed to be relatively compact–17 inches wide and about three and a half feet tall. A smaller version, the Servi Mini, can carry 2 trays, while its larger counterpart, Servi Plus, can handle up to 10 plates at once.
Hospitality robots are still a novelty, especially in North America. But as costs to produce critical components of these bots come down and more stressed restaurant managers see the cost-benefit analysis swing in their favor, that could change.
"The innovation that's happening within the food service industry is really impressive. This will likely become much more commonplace," Bear Robotics' co-founder and Chief Operating Officer Juan Higueros told dot.LA.
The goal is not to replace servers with Servi, but allow them to spend more time taking orders and interacting with the senior home residents, Higueros said. Bearing in mind that loneliness can be fatal for our aging population, and that coronavirus only further isolated people, it's easy to see how for an elderly person living alone, even an extra five minutes chatting with someone at lunch could change the tune of their day.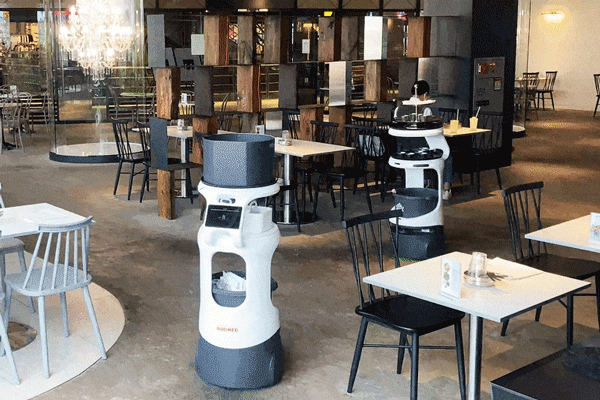 Image courtesy of Bear Robotics
Every robot has sensors and three cameras that network with its AI brain to help steer itself and avoid obstacles, and an auto-return feature sends it back to its place in the kitchen when jobs are done.
In addition to Front Porch, Servi robots are currently deployed at a number of places across California, including Downtown L.A.-based restaurant Chiguacle Sabor Ancestral de Mexico, Ten-Raku Korean barbeque in Lynwood, John's Incredible Pizza in Carson and a Denny's location in Hawthorne.
"We do think that the United States is probably going to become the biggest market for us over the course of the next couple of years," said Higueros. "A lot of folks see the ROI because obviously [they] have tremendous turnover," said Higueros. "It's kind of like an insurance policy in the sense that you at least have the food runner in place, in case they decide to leave you on a Friday night."
Not to mention, the cost. At $25 to $30 per day the robots cost a fraction of the typical salary of a person working at a nursing home. For its part, Front Porch saved $6,665 on overtime in one month.
"In the past we would have asked a staff member to come back for a split shift after working the morning shift. Now we run with the labor we got with the support of the robots," Front Porch noted.
Two other senior living centers not affiliated with Front Porch in L.A. are also using Servi robots: Regency Grand of Cascade Senior Living in West Covina and Merrill Gardens at Rolling Hills in Rancho Palos Verdes. Hotels also use them, some Marriott and Hyatt locations employ the robots now. In total the company has Servis active in 43 states, and aims to expand to all 50 by next year. With plans to deploy more in casinos and airline lounges all over the country.
A crucial step towards even furher adoption of waiter bots depends on how customers respond. As a 2021 Boston University Hospitality Review report noted, "consumers' acceptance of service robots is determined not only by its functionality (e.g., perceived usefulness and ease of use), but also by social-emotional and relational elements that robots can provide." In other words, any interaction that leaves a guest unsettled could be a setback. But, in Servi's case, since it doesn't mimic any humanoid features, its existence in a support capacity to human staff is more tolerable.
More than half of the residents at the communities that piloted Servi bots said it felt like the robots let them have more quality time with staff. 65.4% of residents told Front Porch the robots improved their overall dining experience. One resident anonymously surveyed said the robot was "much cuter than I thought it was going to be." Another added there were "originally many naysayers, the chair of the committee really pushed for it [and] complainers have been won over."
Some servers, however, found hiccups. Several noted that they felt the robots were too slow.
"At first it was great/ helpful; first courses are great, but when they couldn't talk to each other, it got frustrating," one server wrote. Others reported their job being "less painful" since the robots helped mitigate some of the physical labor that comes with the job.
There were, of course, some glitches too. Sometimes bumpy carpets would cause the robots to spill food. A server noted, "one robot gets lost sometimes." Servers suggested that Bear Robotics make the robots louder, as one person saw that a robot "got very close to a resident that was walking very slowly," but avoided a collision. But by and large the feedback was positive. One server said they wished the Servi robots were bigger so they could "fit an entire table's worth of food without worrying about it tipping over." Another waiter joked that the Servi could only be improved by making it able to clean the table for the waiter.
And most importantly, when servers at both senior living facilities were asked how they'd feel if the robots were taken away after the two-month pilot, the recorded response was pretty unanimous: "We'd be screwed."
Samson Amore
Samson Amore is a reporter for dot.LA. He holds a degree in journalism from Emerson College. Send tips or pitches to samsonamore@dot.la and find him on Twitter @Samsonamore.
https://twitter.com/samsonamore
samsonamore@dot.la
TikTok | Solen Feyissa | Flickr
See our timeline below for key developments TikTok's story over the last 10 years, starting with the founding of ByteDance and moving through the app's rise to popularity and the mounting concerns about data privacy and security.
March 2012: Internet entrepreneur Zhang Yiming founds ByteDance in Beijing.
August 2012: ByteDance launches its first product, Toutiao, an AI-powered news aggregator.
July 2014: Alex Zhu launches Musical.ly, an app that enables users to create short-form lipsync music videos; Musical.ly is headquartered in Shanghai with an office in Santa Monica.
July 2015: Musical.ly hits #1 in Apple app store.
September 2016: ByteDance launches Douyin, an app with similar functionality as Musical.ly; within a year, the Chinese app achieves 100 million users and 1 billion views per day.
September 2017: ByteDance brings Douyin outside of China's Great Firewall under the name of TikTok; the app does well in numerous Asian markets.
November 2017: ByteDance acquires Musical.ly for $1 billion; the company starts operating Musical.ly in the US, Douyin in China and TikTok in other markets.
August 2018: ByteDance merges Musical.ly with TikTok and migrates all user profiles to TikTok; Alex Zhu becomes TikTok senior vice president, saying, "Combining Musical.ly and TikTok is a natural fit given the shared mission of both experiences – to create a community where everyone can be a creator."
October 2018: ByteDance achieves a record $75 billion valuation, making it the world's biggest privately backed startup.
February 2019: Lil Nas X releases "Old Town Road" on TikTok, catalyzing a viral sensation that ultimately reaches #1 on Billboard's charts.
February 2019: TikTok is fined $5.7 million for child data privacy violations.
September 2019:Washington Post reports that TikTok may be censoring protests in Hong Kong.
September 2019: Leaked documents show TikTok instructs its moderators to censor videos that mention various subjects deemed offensive by the Chinese government and Communist Party, The Guardian reports.
October 2019: U.S. Senator Marco Rubio calls on the U.S. government to investigate the national security implications of ByteDance's acquisition of Musical.ly, citing concerns over the Chinese government and Communist Party's use of TikTok to censor content and silence open discussion.
October 2019: U.S. Senators Chuck Schumer and Tom Cotton ask U.S. Acting Director of National Intelligence to assess the national security risks from TikTok and other Chinese-owned apps, and request a congressional briefing on the findings.
October 2019: Alex Zhu begins reporting directly to ByteDance head Zhang Yiming; he had previously reported to the head of Douyin.
November 2019: The U.S. government launches an investigation into ByteDance's acquisition of Musical.ly on the grounds that ByteDance did not seek clearance when it acquired Musical.ly.
TikTok reportedly has 26.5 million monthly active users in the U.S. at this time.
December 2019: The U.S. Defense Department's Defense Information Systems Agency issues a recommendation that military personnel delete TikTok from all smartphones.
Q4 2019: TikTok becomes the most downloaded app in the world and second in the U.S.
January 2020: Several U.S. military branches ban TikTok on government-issued smartphones.
March 2020: U.S. officials reach out to TikTok to discuss political disinformation.
April 2020: TikTok surpasses 2 billion downloads and sets the record for quarterly downloads.
May 2020: Various child privacy groups file a complaint with the U.S. Federal Trade Commission that TikTok is violating the Children's Online Privacy Protection Act (COPPA) and flouting terms agreed to following its February 2019 settlement.
A TikTok spokesperson says the company "takes the issue of safety seriously for all our users, and we continue to further strengthen our safeguards and introduce new measures to protect young people on the app."
May 2020: ByteDance hires former Disney executive Kevin Mayer as chief operating officer and TikTok chief executive officer.
June 2020: Teens organize on TikTok to fool Trump administration into anticipating high attendance for the President's Tulsa, Oklahoma campaign rally.
June 2020: India bans 59 Chinese apps including TikTok, citing national security and data privacy concerns; the move comes amid ongoing skirmishes between the two countries on the China-India border.
July 2020: Australia Prime Minister Scott Morrison launches an investigation into TikTok surrounding data concerns.
July 2020: U.S. Secretary of State Mike Pompeo confirms the U.S. is looking into banning TikTok over concerns the app is sharing data with China; the next day, President Trump says he is considering a ban, framing it as a potential retaliation tactic against China for its handling of the coronavirus pandemic.
Aug. 2, 2020: Microsoft issues a blog post citing a conversation between chief executive Satya Nadella and President Trump around the company's potential acquisition of TikTok.
Aug. 4, 2020: Australia Prime Minister Scott Morrisson says there is not sufficient evidence to suggest a TikTok ban is necessary.
Aug. 6, 2020: President Trump issues an executive order banning American companies from transacting with ByteDance or its subsidiaries, namely TikTok; the U.S. Secretary of Commerce is to identify specific prohibited "transactions" 45 days after the order is issued.
Aug. 14, 2020: Trump issues another executive order demanding ByteDance "divest all interests and rights" in its assets and property that enable TikTok's U.S. operations, and data collected via TikTok in the U.S., within 90 days. The order says the U.S. investigation into ByteDance's acquisition of Musical.ly presented "credible evidence" that ByteDance "might take action that threatens to impair the national security of the United States."
Aug. 17, 2020: Oracle enters the discussion as a reported TikTok suitor.
Aug. 18, 2020: President Trump says he would support Oracle buying TikTok. Oracle's cofounder and CTO Larry Ellison had previously said he supports Trump and had fundraised for him in February 2020.
Aug. 24, 2020: TikTok announces it is suing the Trump administration over the ban for failure to protect due process. Separately, a U.S.-based TikTok employee also sues the administration, stating, "I am a patriot"
Aug. 26, 2020:Kevin Mayer steps down from ByteDance and TikTok, citing a diminished role in a letter to colleagues. Rumors swirl that he was left out of ByteDance's negotiations with potential acquirers
Aug. 27, 2020: Walmart issues a statement that it is interested in partnering with Microsoft to acquire TikTok.
Aug. 28, 2020: L.A.-based Triller, a TikTok upstart competitor, is reported to have issued a bid for TikTok along with investment firm Centricus.
Aug. 29, 2020:The Chinese government issues new export rules that complicate the exportation of TikTok's underlying technology – namely its "For You" algorithm – to any foreign buyer.
Aug. 31, 2020:CNBC reports TikTok has chosen a buyer, with an expected sale price of $20 billion - $30 billion.
Sept. 3, 2020: With uncertainty over whether a buyer will be able to acquire TikTok's algorithm, and debate mounting over how that affects the value of the company, numerous outlets negotiations are likely to slow as the Chinese government increases its involvement.
Sept. 13, 2020: Microsoft says in a blog post that "ByteDance let us know today they would not be selling TikTok's US operations to Microsoft." The company says it would have made "significant changes" to ensure security, privacy, online safety and combatting disinformation.
Sept. 14, 2020: Oracle confirms that it has been selected by ByteDance to become a "trusted technology provider" with TikTok. The company says the proposal was submitted by ByteDance to the Treasury Department over the weekend. Treasury Secretary Steven Mnuchin says on CNBC that the proposal includes making TikTok-global a U.S. headquartered company with 20,000 new jobs.
Mnuchin adds that the Committee on Foreign Investment in the United States is reviewing the proposal this week for national security implications, and will make a recommendation to the president, who will then review the proposal.

Sept. 19, 2020: President Trump tells reporters he approved the deal in concept between Oracle and TikTok's parent company ByteDance, in which Oracle and Walmart would partner with the app in the U.S. The U.S. government postpones a planned ban on TikTok for one week.
Sept. 27, 2020: A federal judge in Washington temporarily blocks President Trump's order banning TikTok, granting the social media firm a reprieve just hours before it was to be removed from mobile app stores. The judge says Trump's order was "largely a unilateral decision with very little opportunity for plaintiffs to be heard," according to the Washington Post.
Oct. 30, 2020: TikTok averts a U.S. ban again after a federal judge in Pennsylvania temporarily blocks restrictions set to take place on Nov. 12—the Trump administration's deadline for ByteDance to close a deal in the U.S.
Nov. 7, 2020: Democrat Joe Biden defeats President Trump in the presidential election, the Associated Press and other media outlets confirm. A few days later, an advisor to President-elect Biden says it is "too early to say" Biden's thoughts on TikTok.
Nov. 11, 2020: TikTok asks a judge to extend the deadline for its sale by 30 days. The company says it hasn't heard an update from the administration in weeks.
Nov. 12, 2020: The U.S. Commerce Department says it won't enforce the sale deadline imposed by Trump's order "pending further legal developments." The department cites the Pennsylvania ruling from October that found the TikTok crackdown exceeded the government's power.
Nov. 13, 2020: The U.S. government extends its deadline by 15 days, giving TikTok until Nov. 27 to strike a deal that allays the government's national security concerns.
Nov. 26, 2020: ByteDance gets another week to sell off TikTok's U.S. business. A spokesperson for the Treasury Department tells CNBC that the government granted the extension until Dec. 4 "to allow time to review a revised submission" that it recently received.
Dec. 4, 2020: The latest deadline passes without an approved deal to sell TikTok. The Treasury Department says it won't extend the deadline again, but there are "no plans to enforce anything," a source tells The Washington Post.
Dec. 14, 2020: The Federal Trade Commission orders TikTok—along with Snap, YouTube, Twitter and other social media and streaming sites—to turn over information about how they collect and use information about users.
Feb. 10, 2021: Newly-inaugurated President Joe Biden slams the brakes on forcing a TikTok sale. In court papers, Biden administration lawyers file a motion to postpone the cases related to a potential ban of the popular social media app.
June 9, 2021: President Biden revokes Trump's executive order that sought to ban TikTok and replaces it with one that calls for a broader review of foreign-controlled apps that may pose national security risks.
June 25, 2021: CNBC reports TikTok is tightly controlled by Chinese parent company ByteDance. Insiders tell the news outlet that ByteDance has access to TikTok's American user data and is closely involved in the Culver City company's decision-making.
July 20, 2021: Pakistan bans TikTok for the fourth time, citing "inappropriate content." The country lifts the latest ban a few months later.
Sept 27, 2021: TikTok announces that it has surpassed 1 billion monthly active users as the app continues to rapidly rise in popularity.
Oct. 26, 2021: During a public hearing, U.S. lawmakers press Michael Beckerman, TikTok's head of public policy for the Americas, on whether TikTok's Chinese ownership could expose consumer data to Beijing. Beckerman says "access controls for our data is done by our U.S. teams," adding that the data that TikTok collects is "not of a national security importance," according to the New York Times.
Dec. 17 2021: A Wall Street Journal investigation shows that TikTok's recommendation algorithm is flooding teens' video feeds with eating disorder content.
December 2021: TikTok overtakes Google as the most-visited website on the internet.
Feb. 8, 2022: Facing criticism over hosting harmful content, TikTok announces new rules aimed at preventing viral hoaxes, shielding the LGBTQ community from harassment and removing videos promoting unhealthy eating.
February 2022: As Russia invades Ukraine, TikTok is awash in raw footage from the battlefield and false and misleading clips. The war raises fresh concerns about TikTok's handling of misinformation on its platform.
March 2, 2022: A bipartisan group of state attorneys general launch an investigation into TikTok, examining whether the social media giant is harming children and young adults through the content on its platform.
March 11, 2022:Reuters reports that TikTok is close to a deal to store all of the video-sharing app's U.S. user data with American software giant Oracle. The partnership is aimed at resolving the U.S. government's national security concerns.
March 15, 2022: California lawmakers unveil a first-of-its-kind bill to let parents sue social media platforms like TikTok for allegedly addicting children to their apps.
March 31, 2022: Attorneys general from 44 U.S. states and territories urge TikTok and Santa Monica-based Snap to strengthen parental controls on their platforms, telling the social media giants that they must do more to protect kids online.
April 3, 2022: "The Unofficial Bridgerton Musical" wins a Grammy for Best Musical Theater Album. It's the first Grammy-winning album to originate on TikTok, solidifying the app's growing influence over the music industry.
April 15, 2022: The Department of Homeland Security and the Department of Justice launch probes into TikTok's moderation of content depicting child sexual abuse, according to the Financial Times.
April 2022: TikTok is the most-downloaded app in the world during the first quarter of 2022, according to a study from digital analytics firm Sensor Tower.
May 12, 2022: The mother of a 10-year-old girl who died after allegedly trying a dangerous "Blackout Challenge" sues TikTok. The case is one of several to claim the app's algorithm showed kids and teens videos of people choking themselves until they pass out.
June 17, 2022: BuzzFeed News publishes a bombshell report that TikTok's data on U.S. users was repeatedly accessed in China by employees of parent company ByteDance. The report raises fresh privacy and security concerns about the Chinese-owned social media app.
The same day, TikTok announces that it migrated all of its U.S. user traffic to servers operated by American software giant Oracle, an effort to assuage concerns that American data could fall into the hands of the Chinese government.
June 28, 2022: In the wake of the BuzzFeed report, Federal Communications Commissioner Brendan Carr urges Apple and Google to remove TikTok from its app stores. Nine Republican U.S. senators send a letter to TikTok with questions about the company's handling of American data.
June 30, 2022: TikTok responds to Republican lawmakers by detailing its plans on keeping U.S. data out of the hands of Chinese parent company ByteDance. The company's letter confirms that ByteDance employees in China can access TikTok data, but only when "subject to a series of robust cybersecurity controls" and approvals overseen by its U.S.-based security team.
July 5, 2022: Leaders of the U.S. Senate Intelligence Committee ask the Federal Trade Commission to investigate whether TikTok deceived the public about whether people in China could access American user data.July 29, 2022: Bloomberg reports the Chinese government requested TikTok host stealth, propaganda accounts—a move that TikTok executives denied due to their growing efforts to distance the platform from its Chinese origins.
August 5, 2022: The flood of information coming from within the organization leads TikTok to hire roles meant to prevent internal leaks.
August 11, 2022: A Forbes review of TikTok and ByteDance employees' LinkedIn profiles reveals that 300 current employees previously worked for Chinese state media publications. Fifteen employees apparently were employed by both at the same time.
August 16, 2022: Oracle begins its audit of TikTok's algorithm and content moderation process to determine if the Chinese government has interfered with the platform.
August 18, 2022: Developer Felix Krause finds that the app monitors all keyboard inputs and tags, which could record private data like passwords and credit card information. TikTok denies these claims.
September 14, 2022: TikTok Chief Operating Officer Vanessa Pappas appears before the Senate Homeland Security Committee and says its ongoing negotiations with the U.S. government "will satisfy all national security concerns." Notably, Pappas would not fully commit to cutting off U.S. data flow to China.
September 21, 2022: Former TikTok executives claim they were instructed to follow directions from ByteDance and had limited power to make internal decisions as people question TikTok CEO Shou Zi Chew's influence.
September 24, 2022: British regulators from the Information Commissioner's Office (ICO) send TikTok a warning over how the company handles children's data—a warning that could lead to a $29 million fine.
September 26, 2022: The Justice Department reaches a "preliminary agreement" with TikTok over national security concerns, though details are still being negotiated.
October 12, 2022: A BBC report finds that TikTok profited from refugees collecting donations via the app's live streaming feature, with some claiming the platform took up to 70% of the profits.
October 20, 2022: A Forbes report reveals that ByteDance intended to use TikTok to monitor the location of American citizens as a method of surveillance. TikTok denies these claims.
October 27, 2022: Even as the government places increasing pressure on TikTok, the Biden administration invites eight TikTok stars to the White House in an effort to reach Gen Z voters.
That same day, A Philadelphia judge rules that TikTok is immune in a lawsuit claiming the app was responsible for the death of a child participating in the "blackout challenge."