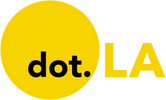 Get in the KNOW  
  on LA Startups & Tech  
X

MeWe Billed Itself as the Anti-Facebook. Now It's Going Hollywood.
Rachel Uranga
Rachel Uranga is dot.LA's Managing Editor, News. She is a former Mexico-based market correspondent at Reuters and has worked for several Southern California news outlets, including the Los Angeles Business Journal and the Los Angeles Daily News. She has covered everything from IPOs to immigration. Uranga is a graduate of the Columbia School of Journalism and California State University Northridge. A Los Angeles native, she lives with her husband, son and their felines.
and
Francesca Billington
Francesca Billington is a freelance reporter. Prior to that, she was a general assignment reporter for dot.LA and has also reported for KCRW, the Santa Monica Daily Press and local publications in New Jersey. She graduated from Princeton in 2019 with a degree in anthropology.
07:38 AM | April 13, 2021
The new chief executive of MeWe, the social network that billed itself the anti-Facebook, wants to lure in Hollywood talent — and is eyeing advertisers.

The move, steered by veteran tech and Hollywood executive Jeffrey Edell, is a departure for the Los Angeles company, which promises users it'll protect their privacy and prohibit manipulative algorithms with an ad-free network.
---
"I want to stay true to the privacy and those efforts, but I don't think it makes sense personally to be the quote anti-Facebook publicly," said Edell, who most recently was president of the entertainment and licensing company WTG Enterprises.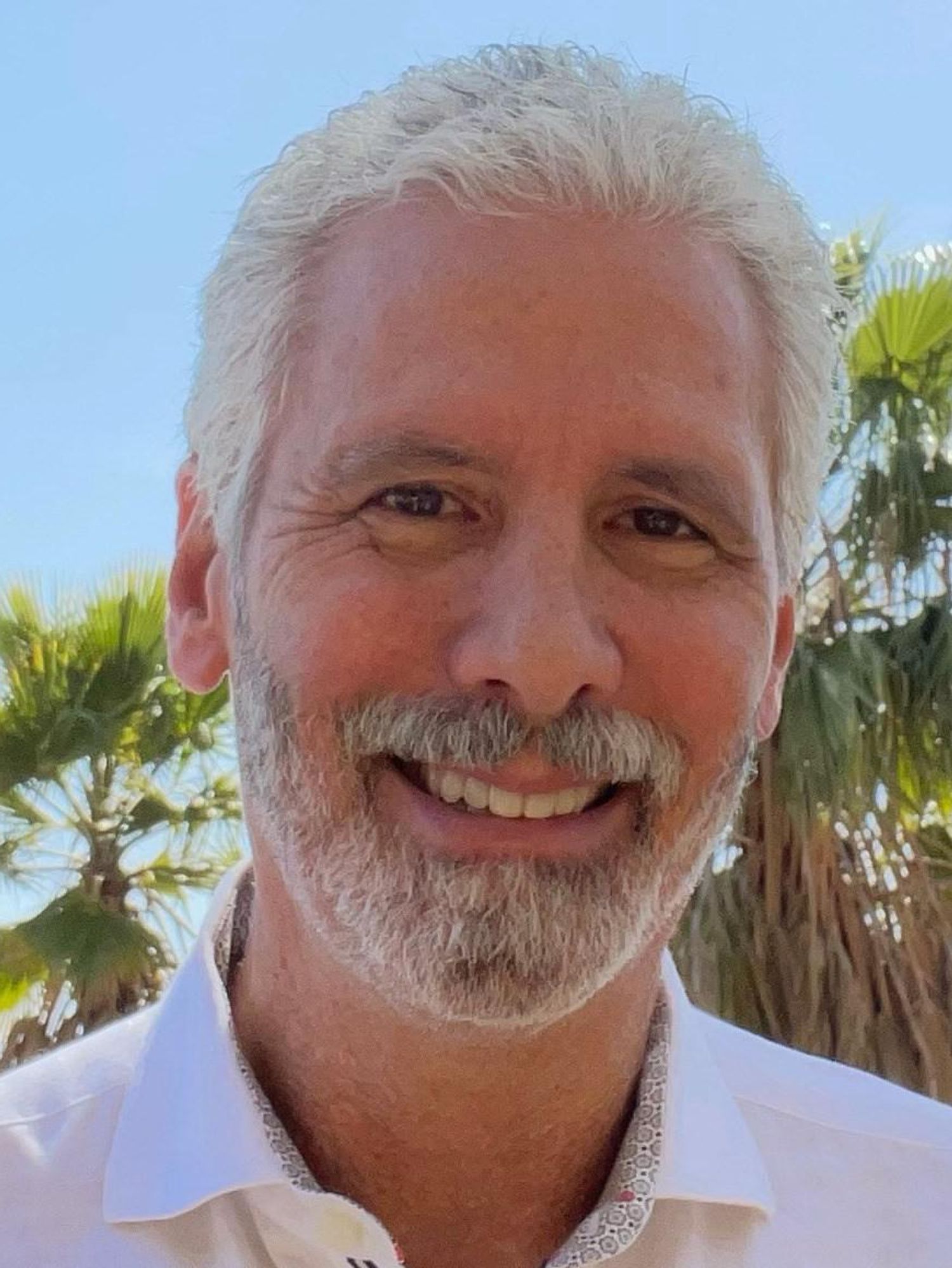 MeWe chief executive Jeffrey Edell
Since replacing founder Mark Weinstein — now the company's "chief evangelist" — last week as the network's chief executive, Edell has already signed on the comic duo Cheech Marin and Tommy Chong, better known as Cheech & Chong, to help promote the site.
"What I want to do is make the experience at MeWe an experience of chat and socializing around content, whether it be voice content like music or content that you would see documentaries, niche-based content, things like that," Edell said. "It would be really cool to have the ability to Chromecast or Rokucast, if you will, content that we would licensed or in our control and be able to have chat groups and socialize in and around that content."
The former chairman of Intermix Media, the parent company of MySpace, and a longtime executive for media distribution and licensing companies, Edell said he will use his Hollywood connections to build up partnerships. He noted that MeWe is already in talks with A-level talent.
About 17 million users are signed up worldwide for the free version of MeWe, about half in North America. The Culver City-based site appealed to some of those users by selling itself as privacy focused, with a "Privacy Bill of Rights" that vowed not to manipulate, filter or change newsfeeds or use facial recognition technology.

It kept those protections.
Unlike Facebook or Twitter, MeWe's revenue comes from subscribers who pay a monthly or annual fee to talk with a camera, access private chat rooms and get free emojis and other perks. Weinstein told dot.LA in March that the social platform makes $1 million each month from those subscribers alone.
Weinstein wouldn't disclose how many users pay for their accounts, but said 95% use the free version. MeWe has raised about $24 million from "high net-worth individuals," Edell said. And it's seeking another $20 million of funding from venture firms as it looks forward to creating new offices in a post-pandemic world.
Edell vowed to "stay true to the concept of privacy and security and protection of people's personal information." But, he says, he's open to partnering with advertisers to "give people the opportunity to make choices of what it is they want to see, listen to and do."
Until recently, the social network has relied on users' discontent with big social networks like Facebook to grow its base. When Facebook rolled out new WhatsApp privacy policies in January, upset users flocked to MeWe. The site gained 2.5 million users in one week. Some observers said it became a haven for anti-vaxxers and extremists.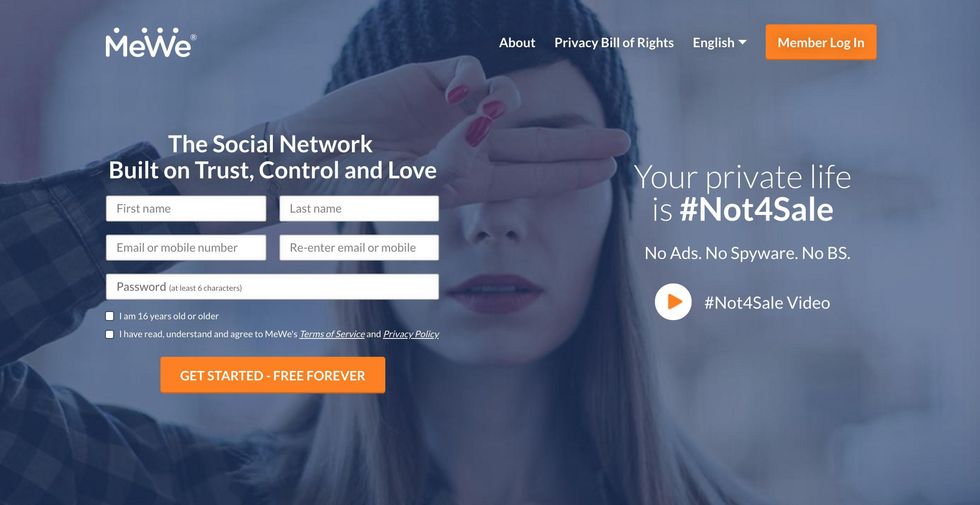 Edell wants the site to appeal to users widely and while continuing to moderate content, although he didn't say how.

"If you're going to have crazy theories, again as long as you're not damaging to people, you're not pointing a gun at Obama's head, you're not raiding the Capitol to get to Nancy Pelosi... then a person should be available to be as silly as they want and they can not make sense or make sense, just don't cross the line," he said.
"The subscription model is going to stay," Edell said. "And there won't be a situation where I know exactly how you behave, so I send you an advertisement to buy Nike shoes and get creepy like that, but I'm thinking there has to be a way – as we move towards the future – to give you the option to figure out what it is you want, and then give you a place within the platform you can go and get it," he said.
For instance, he said, members might be able to opt into stores or groups with advertisers. That strategy will be key, he said, if it's to make a dent in Hollywood, where studios and talent alike depend on social media.
"We just have to be more sensitive towards the entertainment community and the people that are going to be on that platform and not create conflict," he said. "That doesn't mean we still can't be different."
Rachel Uranga
Rachel Uranga is dot.LA's Managing Editor, News. She is a former Mexico-based market correspondent at Reuters and has worked for several Southern California news outlets, including the Los Angeles Business Journal and the Los Angeles Daily News. She has covered everything from IPOs to immigration. Uranga is a graduate of the Columbia School of Journalism and California State University Northridge. A Los Angeles native, she lives with her husband, son and their felines.
Francesca Billington
Francesca Billington is a freelance reporter. Prior to that, she was a general assignment reporter for dot.LA and has also reported for KCRW, the Santa Monica Daily Press and local publications in New Jersey. She graduated from Princeton in 2019 with a degree in anthropology.
https://twitter.com/racheluranga
rachel@dot.la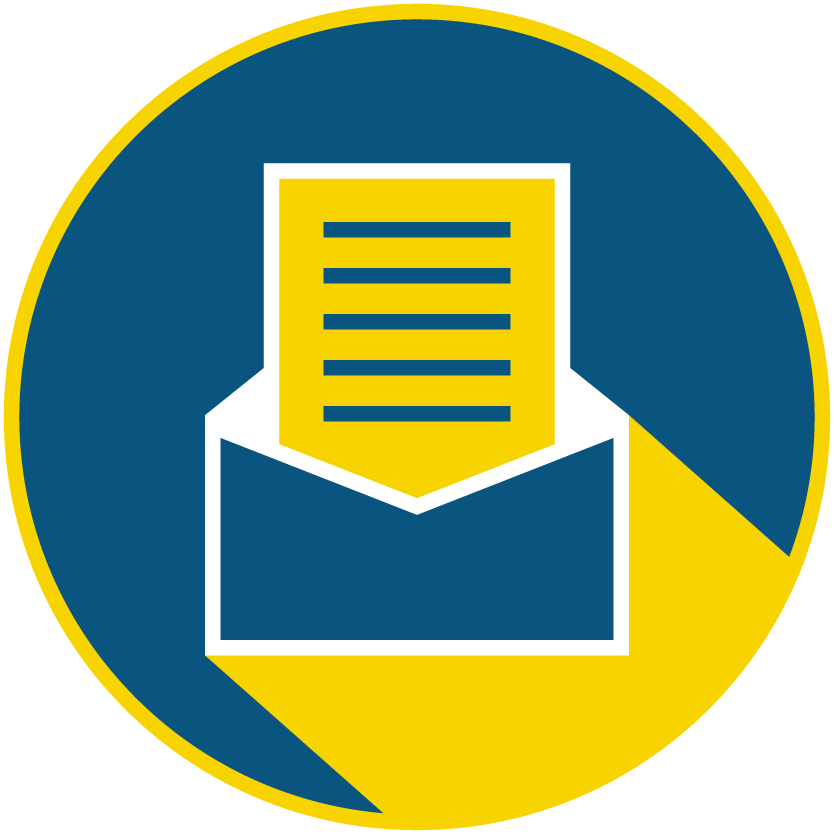 Subscribe to our newsletter to catch every headline.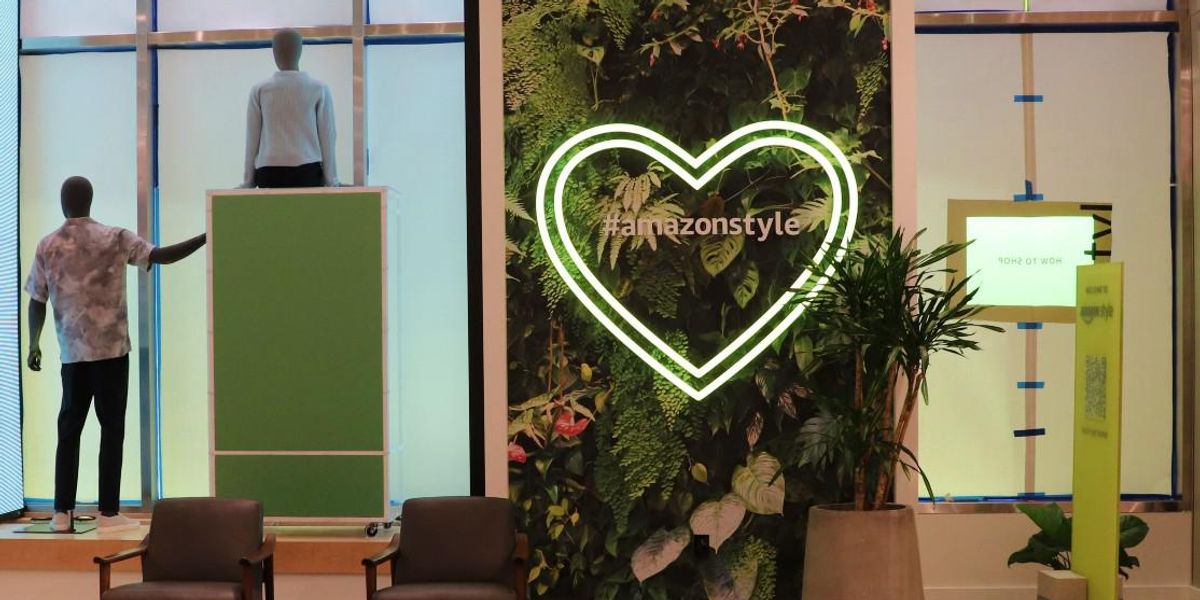 Image by Joshua Letona
Starting today, Glendale's most meme-able outdoor mall, The Americana at Brand, will be home to the Amazon Style store—the ecommerce giant's first foray into brick-and-mortar apparel retail. We got an early sneak peak inside the new digs (located on the corner with Sprinkles Cupcakes, next to H&M and the Apple store) and were able to try out some of its tech-enabled features, which—as ever with Amazon—seek to make the act of shopping as easy as possible.
1. It's Bigger Than It Looks—Even From the Inside

The floor is massive—laying out original products from Amazon's own apparel lines alongside name brands like Theory, Adidas and Calvin Klein, as well as several other lines that have up until now only existed online. But the actual store is much larger than the two floors that most customers will only ever see.
Amazon Style is just the front—the homepage, if you will—behind which a large warehouse facility keeps a gigantic surplus of inventory. A floor-to-ceiling glass window on the main floor gives shoppers just a peak behind the scenes, as employees help load industrial-sized elevators with racks of goods to send upstairs to the dressing rooms.
2. Online Shopping IRL

When perusing the store's bouquet of cottagecore maxi dresses, Kendall & Kylie blazers and, yes, a whole section dedicated to Y2K apparel, one doesn't just pick an item off the rack and take it with you while you shop. Instead, each rack has a barcode that you can scan via the Amazon Shopping app, which has your sizes pre-loaded from previous purchases. (You can opt for a different size if you choose.) That cues an AI-enabled algorithm to start searching through the store's warehoused catalog and zip the desired item over to the second floor, where the dressing room provides its own glimpse into the future of shopping.
The store also boasts a version of The Drop, an Amazon staple that allows online customers to shop entire influencer-curated collections for a 30-hour flash window.
3. Changing Stations of the Future—Today
Your phone also acts as your keycard to get into your personal dressing room. To prevent waiting, you are put in a virtual cue the moment you scan your first item; should the Amazon app prompt that your room is ready while you're still shopping, a tap of your screen allows you to hold your spot in the queue while freeing up the room for someone else. (And if your phone dies while you're waiting, Amazon says a Style employee on the floor will be happy to help you keep your place in line, or hook you up with a charge.)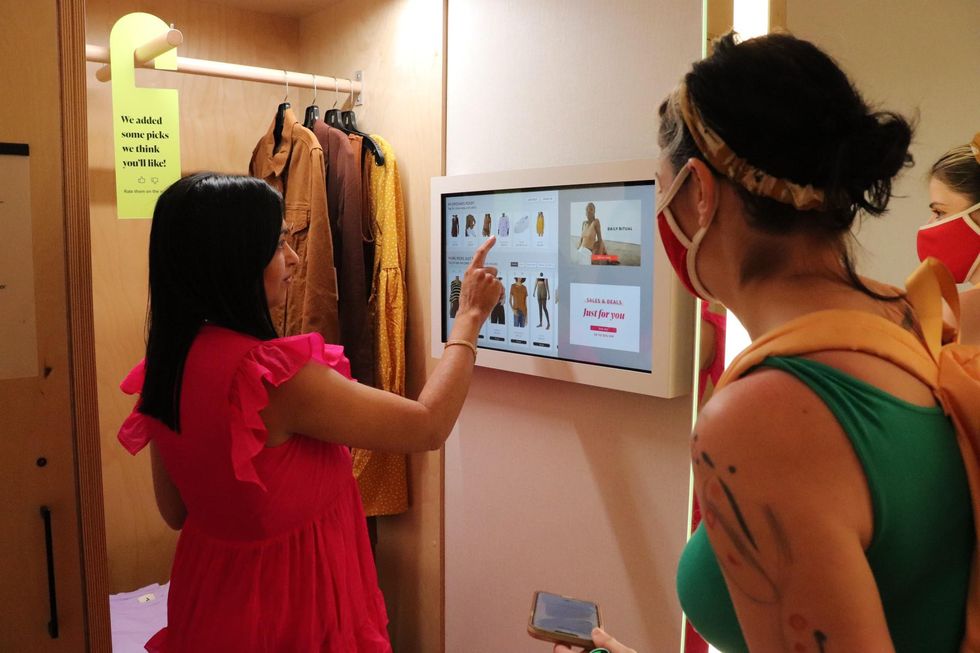 Amazon Style's dressing rooms offer a tech-enabled twist to trying on clothes.Image by Joshua Letona
The changing room is like its own parlor trick. Designed to look like a walk-in closet, one wall has a full-length mirror and a giant touchscreen while another has all the clothes you scanned in your style and size preference. Expect to see a few surprises in there, as Amazon's algorithm picks out other stuff you might want to try on based on your picks. It would be spooky if it wasn't so convenient—an IRL mashup of the online retailer's "Recommended Based on Your Purchases" and "Frequently Bought Together" features.
If an item doesn't fit quite right or you want to see how a skirt looks in blue instead of black, just tap the touchscreen to request a variant. Or an entirely new outfit, as the screen makes available everything in the facility. Then just bring it down to checkout—perhaps the wildest part of this ride.
4. Palming the Bucks
Checking out of Amazon Style's flagship store is what really blew my mind—although apparently it's because I haven't been to one of the Amazon Go, Amazon Fresh or Whole Foods locations where cashless checkouts have been an option in select stores since 2020.
I assumed you could just walk out the door with your purchase, because I watch "Saturday Night Live" sketches for news. While the Go payment option isn't available at Amazon Style, there are several checkout options to keep the experience as frictionless and non-cumbersome as possible.
One way is to take the clothes you want out of the dressing room and go directly to Amazon's palm-enabled checkout kiosks. That's right: Register on the spot for an Amazon One account, and you need merely to wave your hand over a little black device that reads your palm and charges your on-file payment method. It's super convenient for everyone except $10 boardwalk psychics, who just may be put out of business by such technology.
For the more traditional set, you still have the option of paying via credit card or cash.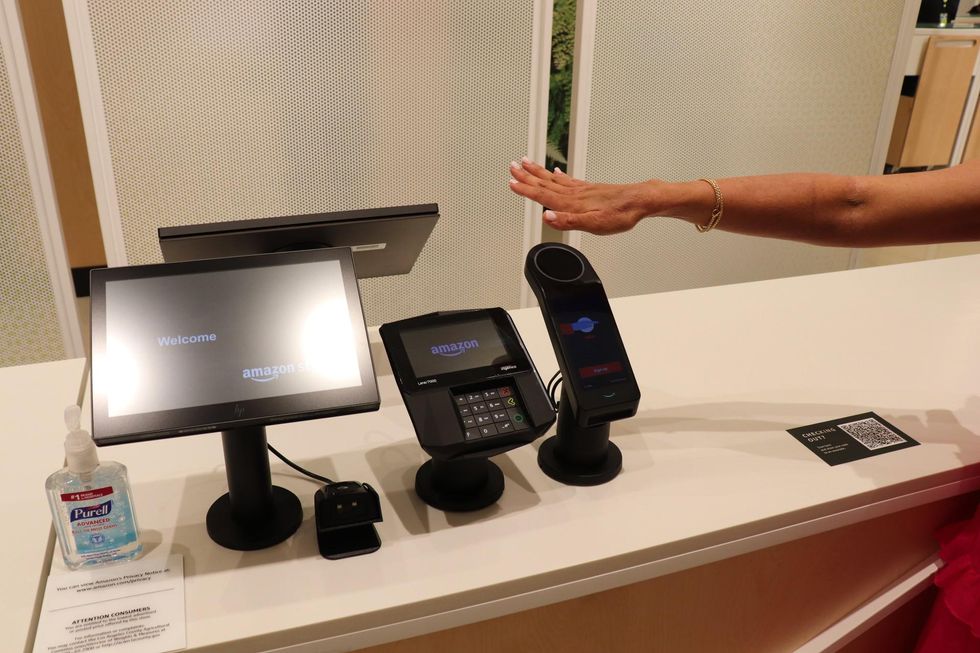 Shoppers can check out of Amazon Style with the wave of a palm. Image by Joshua Letona
5. Supply & Demand & Return
Amazon Style's brick-and-mortar location opens up a variety of new ways to shop, return and exchange clothing. For instance, you can order a load of clothes online and pick them up in the store; anything you don't want can be returned in the store without you ever having to print a shipping label.
See something you like but don't have time to try it on? Just scan the barcode, pick it up at the front of the store and pay on your way out without ever going into a dressing room.
The Amazon Shopping app also boasts a Deals feature, which automatically sorts for the best price on items to help customers either save money (or believe they are).
While Glendale is home to the only Style store so far, Amazon isn't ruling out more locations. With fewer retailers able to afford rents on America's main strips and shopping malls, Amazon's resources—and its unique position at the intersection of tech and retail—make it easy to envision more Style stores on the horizon.
Drew Grant
Drew Grant is dot.LA's Senior Editor. She's a media veteran with over 15-plus years covering entertainment and local journalism. During her tenure at The New York Observer, she founded one of their most popular verticals, tvDownload, and transitioned from generalist to Senior Editor of Entertainment and Culture, overseeing a freelance contributor network and ushering in the paper's redesign. More recently, she was Senior Editor of Special Projects at Collider, a writer for RottenTomatoes streaming series on Peacock and a consulting editor at RealClearLife, Ranker and GritDaily. You can find her across all social media platforms as @Videodrew and send tips to drew@dot.la.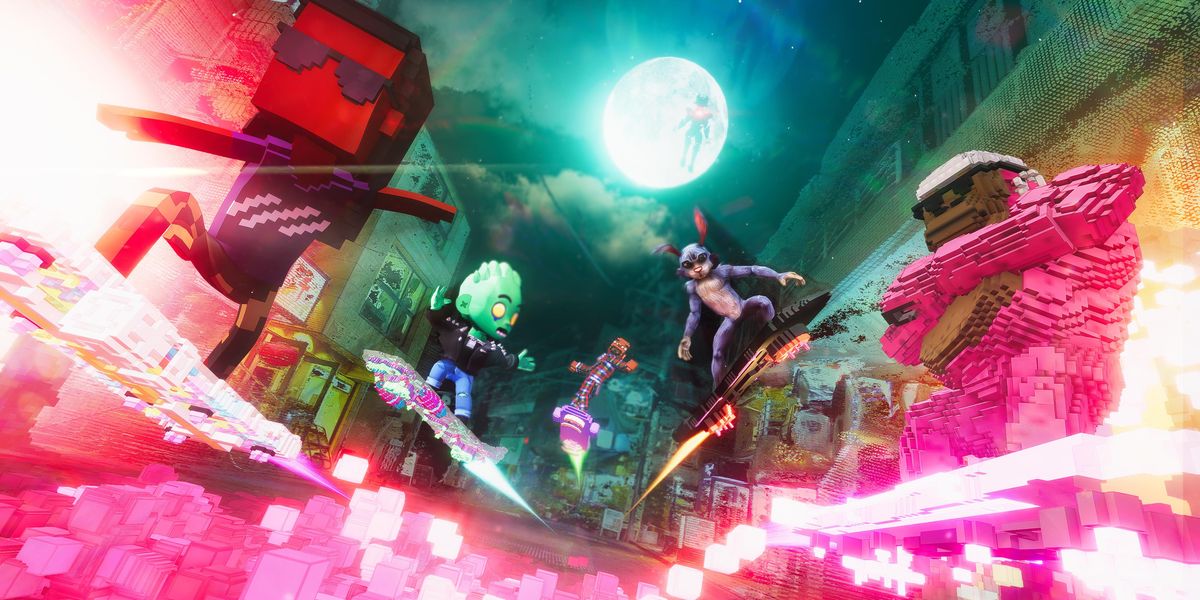 Photo courtesy of Jadu
Jadu, a Los Angeles-based augmented reality (AR) startup, has raised $36 million to build a gaming platform that lets players roam the real world with their NFT avatars.
Bain Capital led the Series A round and was joined by existing investor General Catalyst Partners. Other investors include LG Tech Ventures and Alumni Ventures. The new raise brings Jadu's total funding to more than $45 million.
Launched in 2020, Jadu is developing an AR mobile app that connects to players' Ethereum wallets, letting them turn their 3D animated NFTs into playable avatars. The app, which is expected to emerge from beta testing this summer, can integrate avatars from NFT collections like Deadfellaz, CyberKongz and FLUFs, as well as some from "The Sandbox" video game, according to Jadu.
Unlike other AR experiences where users navigate from a first-person point of view (think "Pokemon Go"), Jadu players can stay put and move their avatar characters around bedrooms or backyards. It has the effect of playing a third-person video game—with the real world as the landscape.
"Adding an avatar in the middle of [a player's] view is a novel concept for AR, and it's kind of counterintuitive," Jadu founder and CEO Asad J. Malik told dot.LA. "However, when you do it, suddenly it becomes really effective because your AR becomes super visual. You can actually see a representation of a character going around the room doing things."
\u201cThe near-term future of the Metaverse is AR not VR and @JaduAVAs is building it.\n\n1/13 - \ud83e\uddf5\u201d

— AJM \u2022 Jadu (@AJM \u2022 Jadu) 1650747301
The roughly 50-person company—which has much of its leadership team, including Malik, based in Los Angeles—started with an AR mobile app that let users dance next to life-like holograms of music artists like Lil Nas X and Pussy Riot. The idea was that users could record clips and post them on social media, showcasing complex AR experiences that weren't available on other platforms, according to Malik. Some videos went viral on TikTok, and the initial iteration of Jadu was briefly among the 30 most downloaded entertainment apps in Apple's App Store, Malik said.
But the goal was always to build a more expansive AR platform, and the Jadu team saw a chance to do that with the emergence of NFTs and the larger phenomenon of Web3, a vision for a decentralized version of the internet based on blockchain technology. Jadu quickly pivoted to building AR gameplay for Web3 avatars, selling accessories like jetpacks and hoverboards as NFTs. The startup earned more than $5 million from initial NFT sales, Malik said, and collects a 5% commission on the roughly $25 million in secondary sales those NFTs have done to date on platforms like OpenSea.
"We had always been looking for the right business model for AR and nothing had ever clicked," Malik said, adding that in-app purchases or ads didn't make sense. So when NFTs came along "that opportunity became so glaringly obvious to us that we immediately hard-pivoted," he added.

Jadu plans to spend the new funds to grow its team and build out the gaming platform. Malik said the company is focused on releasing its first collection of in-house avatar NFTs, which is expected to be its primary revenue source this year. As the platform matures, Malk could foresee Jadu eventually charging commissions for third-parties to develop game items or experiences on its platform, he said.
The Jadu founder contends the near-term future of the metaverse—the loosely-defined term for the immersive and extensive online worlds—is with AR and not virtual reality, where users are completely immersed in 3D digital environments. He noted consumers have been slow to adopt VR headsets like Meta's Quest or Sony's Playstation VR; by contrast, more than a billion mobile devices can support the AR experiences Jadu is developing, Malik said.
"People are building out the metaverse as this interoperable virtual world," Malik said. "We are building out what we call the 'Mirrorverse' as the AR reflection of that, and the 'Mirrorverse' exists on the physical planet—it exists on top of the world as we know it, and we think that's super compelling."
From Your Site Articles
Related Articles Around the Web
Christian Hetrick
Christian Hetrick is dot.LA's Entertainment Tech Reporter. He was formerly a business reporter for the Philadelphia Inquirer and reported on New Jersey politics for the Observer and the Press of Atlantic City.