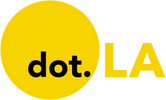 Get in the KNOW
on LA Startups & Tech
X
Decerry Donato
Decerry Donato
Decerry Donato is dot.LA's Editorial Fellow. Prior to that, she was an editorial intern at the company. Decerry received her bachelor's degree in literary journalism from the University of California, Irvine. She continues to write stories to inform the community about issues or events that take place in the L.A. area. On the weekends, she can be found hiking in the Angeles National forest or sifting through racks at your local thrift store.
Image by Joshua Letona
In this week's edition of "Raises": It was another slow week on the deal front, but one maternal health startup, with a mission to fight maternal mortality, landed a deal with growth equity business Goldman Sachs. Meanwhile, a Los Angeles-based investment firm is launching its 8th digital asset fund of $60 million.
Venture Capital
Mahmee, an integrated care delivery platform for maternal and infant health that connects patients, health professionals, and healthcare organizations to increase access to prenatal and postpartum care, raised a $9.2 million Series A funding round led by Goldman Sachs.
FutureProof Technologies, a climate risk analytics platform, raised $6.5 million in capital led by AXIS Digital Ventures along with Innovation Endeavors and MS&AD Ventures.
Anja Health, a doctor-backed cord blood banking company, raised $4.5 million led by Alexis Ohanian's Seven Seven Six.
Funds
Wave Financial LLC, a digital asset investment management company, is launching a $60 million fund to deploy capital via cryptocurrency.
Raises is dot.LA's weekly feature highlighting venture capital funding news across Southern California's tech and startup ecosystem. Please send fundraising news to Decerry Donato (decerrydonato@dot.la).
Image courtesy of ImmPACT Bio
"Moves", our roundup of job changes in L.A. tech, is presented by Interchange.LA, dot.LA's recruiting and career platform connecting Southern California's most exciting companies with top tech talent. Create a free Interchange.LA profile here—and if you're looking for ways to supercharge your recruiting efforts, find out more about Interchange.LA's white-glove recruiting service by emailing Sharmineh O'Farrill Lewis (sharmineh@dot.la). Please send job changes and personnel moves to moves@dot.la.
***
ImmPACT Bio, a clinical-stage company dedicated to the discovery of transformative chimeric antigen receptor (CAR) T-cell therapies for cancer patients, named Sylvain Roy as chief technology officer. Roy previously served as vice president of manufacturing operations at ImmunityBio.
Game Play Network, a gaming company with a patented software and technology platform which enables real money wagers on live horse races and casino-style games, appointed Ian Smith as chief technology officer. Prior to this role, Smith served as CTO at Rank Interactive.
Former co-president and chief creative officer at Wieden+Kennedy, Colleen DeCourcy joined social media giant Snap as chief creative officer.
Influencer management agency TalentX Entertainment welcomed Kimberly Duman and Vanessa DelMuro as managing directors. Duman previously served as senior director of talent campaigns at StyleHaul, where DelMuro was SVP of global talent.
SEO agency GR0 hired Paul Teddy as the new SEO director. Teddy previously worked at Wpromote, a digital marketing agency, as the senior director of SEO.
Media Guarantors, a company that brings filmmakers solutions to support their creative visions, welcomed Marina Lejsek as SVP legal and business affairs. Lejsek worked at Film Finances for the past decade, and was hired by current vice president Kamala Harris to work under her at the San Francisco District Attorney's office..
Video game developer Riot Games, promoted former product lead Jake Perlman-Garr to global head of corporate development.
Hadi Tabbaa joined multi-stage global investment firm B Capital as partner and global head of investor relations. Prior to this role Tabbaa served as marketing and investor relations at Coatue Management.
D.A. Davidson Companies, a financial services firm hired Adam Waite as managing director to cover the blockchain and digital assets ecosystem. Waite previously served as director at Piper Sandler.
From Your Site Articles
Related Articles Around the Web
Photo by Briland Graves
On Tuesday evening, dot.LA hosted a Proptech Salon to create space and encourage proptech founders and investors to discuss how Southern California real estate startups are disrupting the industry. Over 70 invited guests gathered at WeWork's Century City location, including Michael Martin of Avenue 8, Nick Marino of TruLiv and Andrew Swerdloff of StayOpen.
The event kicked off with a conversation with JoyHub co-founder and CEO Elizabeth Braman, who announced the data aggregation and business intelligence platform will soon change its name to Revolution RE. Prior to starting JoyHub, Braman spent time at crowdfunding real estate platform Realty Mogul as senior managing director.

Braman said the inspiration for creating JoyHub came from the problems she saw in the real estate industry around the lack of data consistency and the overwhelming amount of data that real estate operators of apartments and rental properties have to make sense of. She saw a need for a tool that could simplify the data for real estate companies so they could use it effectively.
"I learned that legacy technology created a lot of problems," she said. "Proptech and all these new innovative solutions were compounding the problem by creating massive amounts of data silos."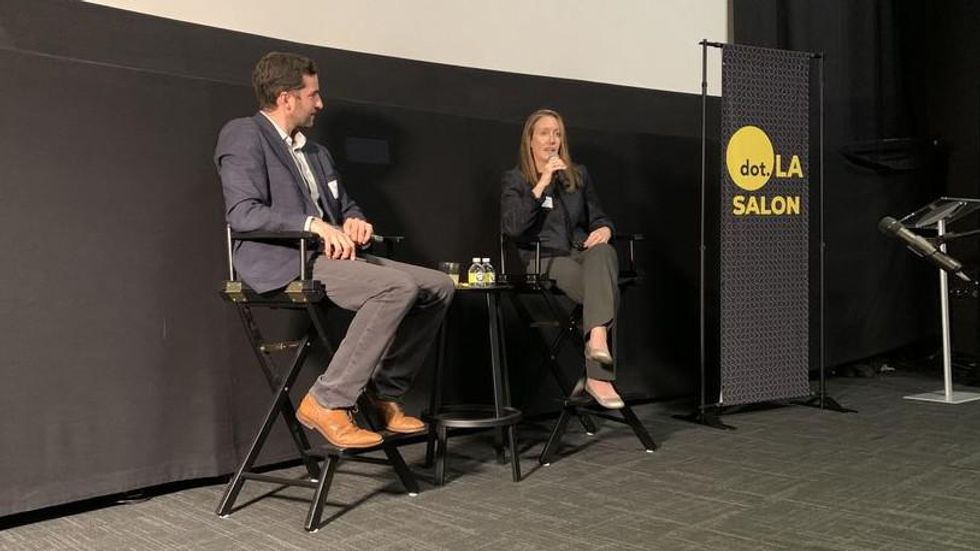 dot.LA CEO Sam Adams and JoyHub co-founder and CEO Elizabeth Braman at dot.LA's Proptech Salon on May 10, 2022.Photo by Briland Graves
With any new venture or startup, there's always a risk of it failing, she said:
"Anyone who tells you that starting a company during a pandemic is easy is not being truthful," she said, adding that she was lucky that she was able to work with a team she already knew well from her first startup experience.
For much of the rest of the startup community, times are looking more challenging than they were not long ago.
"The high-gross C, D unicorn-type companies are having a very challenging time raising up rounds," dot LA Executive Chairman Spencer Rascoff said. "And A and B—not so great."
Rascoff offered some advice to young companies hoping to weather the storm.
"Realistically, you should try to tighten your belt as much as possible to extend the runway as long as possible so that if you can't get a round done this year, you prioritize survival over growth," he said. "Because there'll be time for growth later."
Another hot topic in proptech was virtual real estate. The concept of the metaverse has grown in popularity as new virtual environments go online. Celebrities like Snoop Dogg already own land in some of these new worlds. In December, one of his fans purchased a plot of land for $450,000 just to be the rapper-entrepreneur's virtual neighbor.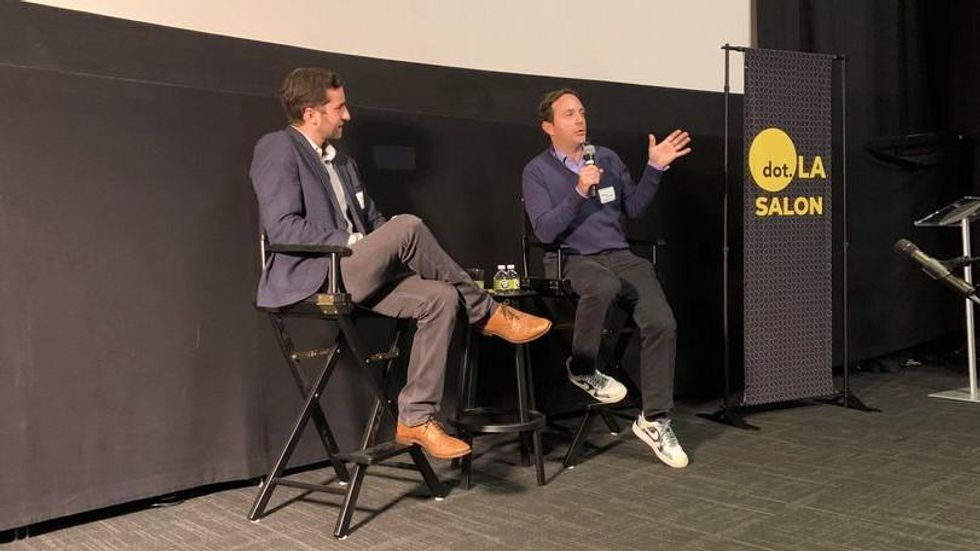 dot.LA CEO Sam Adams and Chairman Spencer Rascoff at dot.LA's Proptech Salon on May 10, 2022.Photo by Briland Graves
As an investor, Rascoff said he's skeptical about buying land in the metaverse.
"The big reason why I'm overall skeptical of this is for some of these things, you need counties to play ball," Rascoff said. "But it's fun and interesting to talk about how title might be disruptive through blockchain."
The night was capped with a question from dot LA CEO Sam Adams:
"If given a million dollars to invest, where would that money go?"
Braman said she would have to diversify and choose cannabis along with venture funds.
Rascoff admitted his answer was less exciting, but said he'd would use the money to buy a "basket of growth tech stocks that are at two-to-five-year lows."
Correction: An earlier version of this post misspelled StayOpen co-founder Andrew Swerdloff's last name.
From Your Site Articles
Related Articles Around the Web