Column: How We're Investing in Entertainment Tech in a Post-COVID World
Big Stories that Shook the Tech World in 2021
Harri Weber
Do you know something we should know about L.A. tech or venture capital? Reach out securely via Signal: +1 917 434 4978.
Harri is dot.LA's senior finance reporter. She previously worked for Gizmodo, Fast Company, VentureBeat and Flipboard. Find her on Twitter and send tips on L.A. startups and venture capital to harrison@dot.la.
07:07 AM | December 21, 2021
The pandemic raged on in 2021, forcing Californians to grapple with lockdowns and troubling variants while tech giants pushed their return to offices in perpetuity. Through it all, tech's boom time largely carried on as startups notched new fundraising records, thanks in no small part to blockchain hype, NFTs and web3.
Yet the exuberance was measured by weak IPOs, political pressure, and roaring demands from workers at Activision Blizzard, Netflix and Amazon, which altogether offered a taste of accountability for leaders in the industry. These and other key stories defined a whirlwind year for big tech and startups alike.
1. Tech Workers Speak Out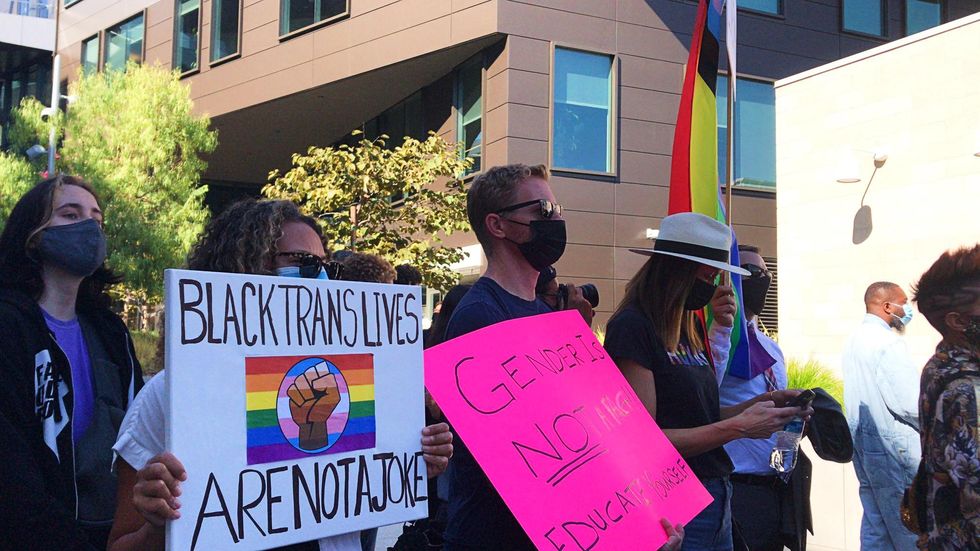 Netflix Employees, Counterprotesters Clash in Tense Walk-Out\u00a0Over Dave Chappelle Special Samson Amore
Through several walkouts and an open letter calling for CEO Bobby Kotick's resignation, Activision Blizzard employees repeatedly pressed the game maker in the second half of the year over its handling of reports of gender inequality, harassment, and retaliation.
Workers urged the company to address its "frat boy" culture and end forced arbitration, while the "Call of Duty" and "Candy Crush" publisher warned employees to "consider the consequences" of unionizing.
At Netflix, workers and counter protestors clashed over an incendiary stand-up special from Dave Chappelle. GLAAD, the LGBTQ advocacy group, criticized the multi-million dollar production, saying "Chappelle's brand has become synonymous with ridiculing trans people and other marginalized communities." In response to criticism, co-CEO Ted Sarandos said Netflix has a "strong belief that content on screen doesn't directly translate to real-world harm."
Meanwhile, Amazon faced protests across 22 countries this year over its wages, taxes, and impact on the planet. In Los Angeles, progressive advocacy groups Courage California and the Los Angeles Alliance for a New Economy hosted a virtual town hall for Amazon workers over its warehouse policies on Cyber Monday.
2. Streaming Shakes Up Hollywood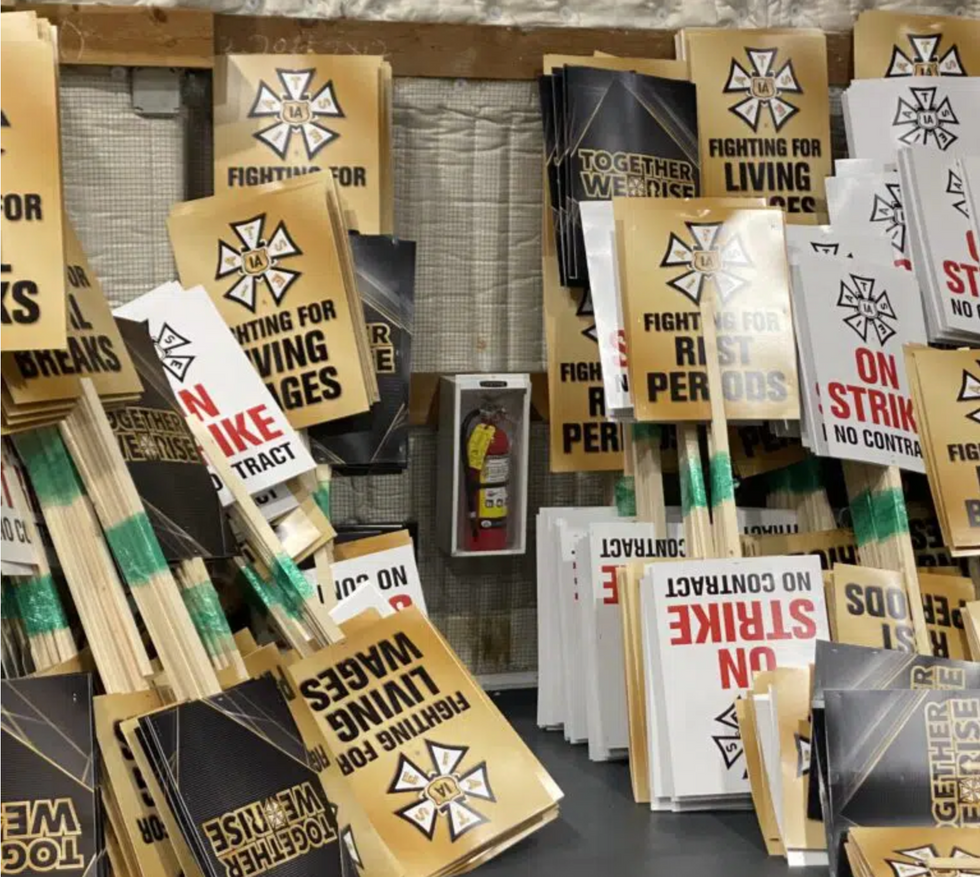 In the movie business, organized workers challenged Netflix, Apple, Disney, and Amazon over a contract that sets pay and quality-of-life standards for tens of thousands of behind-the-scenes crew members.
The standoff nearly ground production to a halt in Hollywood, and came as streaming giants won big at the Academy Awards and the Emmys. Ultimately, the crew members' union (the International Alliance of Theatrical Stage Employees) narrowly passed a new three-year deal, but not by popular vote, indicating an appetite for pushback in the years to come.
3. Political Pressure Ramps Up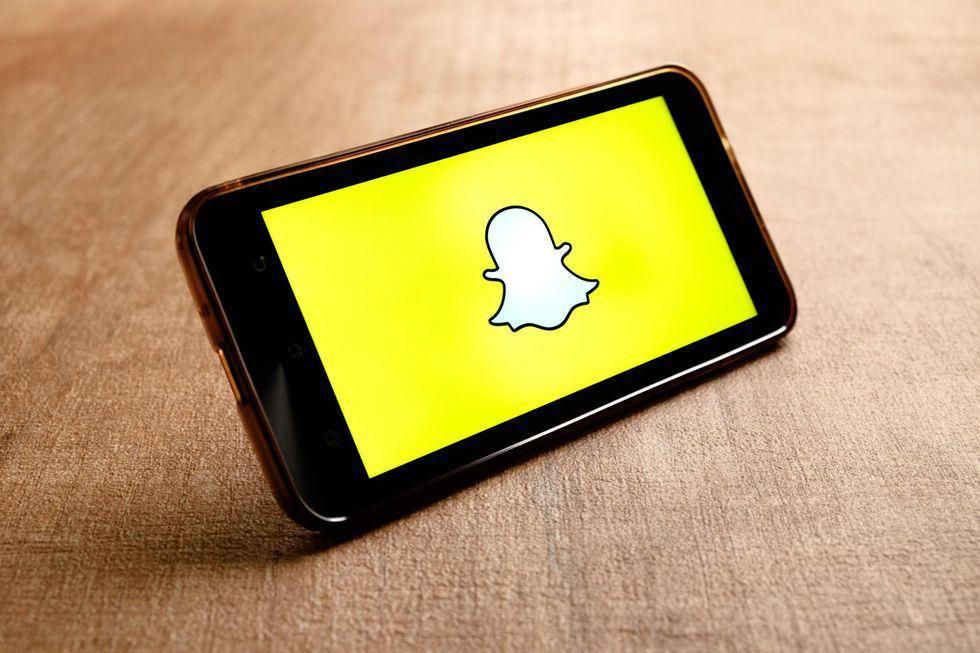 It was a banner year for congressional committees and hearings, although few if any national laws targeting tech came to pass thanks to a deadlocked Congress.
Leaders at Facebook and Google defended their practices while lawmakers probed their role in the Jan. 6 Capitol attack. And Santa Monica-based Snap, TikTok and YouTube fielded questions on social media drug sales and child safety issues while distancing themselves from Facebook.
However, California instituted a number of laws aimed in part at tech, including a rule requiring warehouses to disclose productivity quotas and new protections for workers who speak out about discrimination and harassment. Plus, a state judge ruled California's gig worker law Prop. 22 unconstitutional, though the battle over the ballot initiative is far from over.
4. Billionaires Touch Space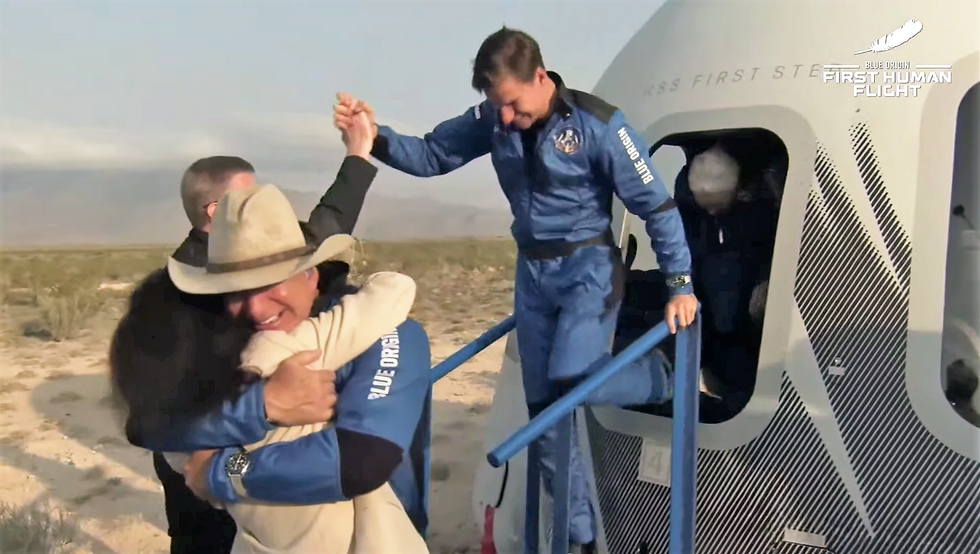 Wearing a cowboy hat, Jeff Bezos gets a welcome-back hug while crewmate Oliver Daemen, the world's youngest spacefarer, is helped out of the New Shepard capsule.
Billionaires Jeff Bezos, Richard Branson and Shift4 Payments founder Jared Isaacman literally reached for the stars this year in rockets produced by SpaceX, Blue Origin and Virgin Galactic.
The events launched a new era of private space travel, and raised questions over who gets to go to space, who pays for it, and the environmental cost of our interstellar dreams.
Elon Musk's personal space travel plans, however, remain a mystery.
5. EVs Get Their Moment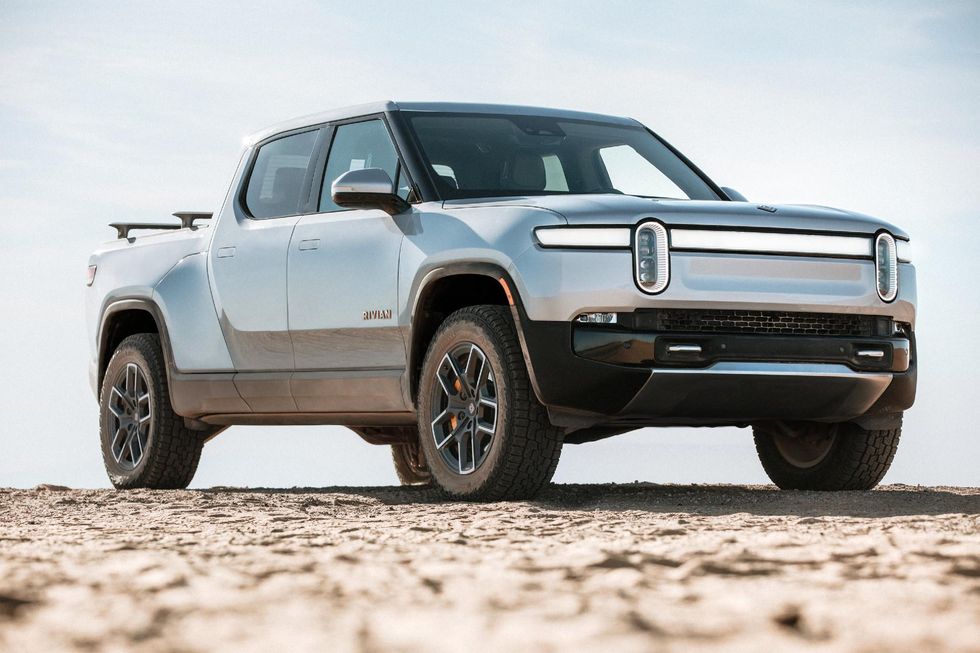 As extreme weather hammered the globe, investors plowed funds into climate tech — a vast sector featuring experimental carbon capture machines, electric bikes and scooters, hydrogen cars, heat pumps and everything in between.
Electric vehicles in particular stole the show this year as public investors sent Tesla's and Rivian's market caps into the stratosphere. Though Rivian's stock has since cooled off amid supply issues, at its height it topped the market caps of GM, Ford and Volkswagen while reporting little to no revenue.
A major infrastructure bill pushed by the Biden Administration could also rev up electric car sales. If it passes next year, it could give consumers a tax break on the cars and accelerate the development of a nationwide charging network.
6. Mega Deals: the New Normal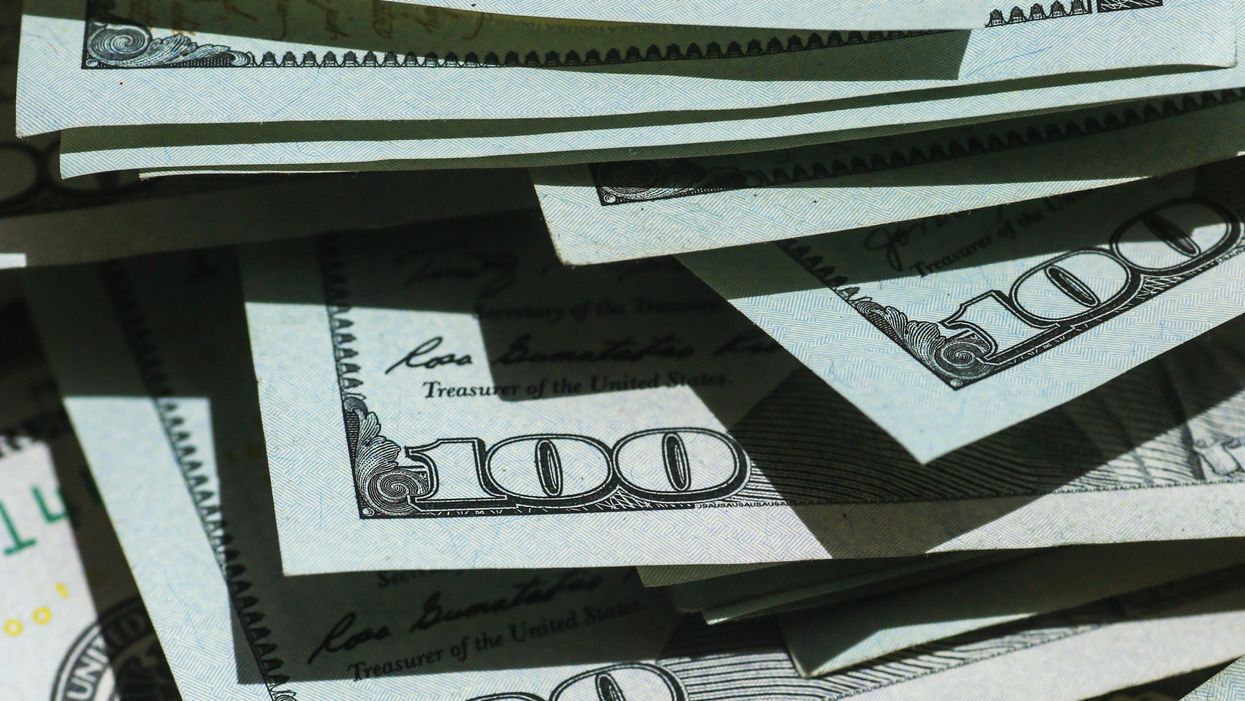 Photo by Giorgio Trovato on Unsplash
Whether we're in a tech bubble or not, this year startup valuations and deal counts soared as outside cash poured into the scene. In October, Pitchbook released a report counting 600 mega-deals (funding rounds of at least $100 million) this year in the U.S. alone — 138% more than it saw in the entirety of 2019. The data firm attributed the jump in part to a surge of funding from hedge funds and other non-traditional investors.
While many reports on the final quarter of the year are due out in January, seed deals hit new highs in L.A. during the first half of 2021. The pattern continued in the third quarter, mirroring the global trend. Among the driving forces was Web3, a term encompassing everything from speculative blockchain tech and cryptocurrencies to NFT-landen mobile games.
7. Tech Races to Go Public -- and Stumbles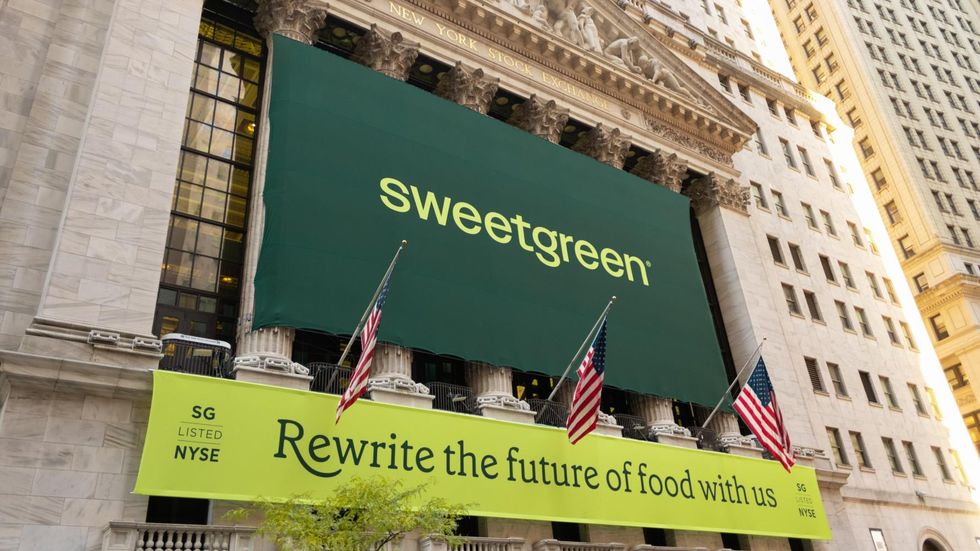 Apple, Microsoft, Google and plenty of other major tech stocks surged this year, but most newcomers to the public market stumbled in 2021. From their debuts, investment app Robinhood's stock dropped 45% to about $19 per share, salad maker Sweetgreen slipped about 43% to nearly $28 per share, wine subscription company Winc fell around 60% to $4.81 per share, and scooter giant Bird declined about 10% to 7.47 per share (all as of December 17).
Many tech firms went public (or at least announced plans to do so) through special-purpose acquisition companies, or SPACs. These shell companies have risen in popularity in recent years as vehicles to take businesses public, typically speedier and at a lower upfront cost than a traditional IPO. However, the Securities and Exchange Commission has scrutinized the practice and cautioned investors about the risks involved in such deals, which typically perform worse than traditional IPOs.
That doesn't mean SPACs will disappear in 2022. A number of tech firms are poised to go public via SPACs, including fraud prevention firm TeleSign and digital banking company Dave, and United Talent Agency recently launched its own gaming-focused SPAC on the Nasdaq.
From Your Site Articles
Related Articles Around the Web
Harri Weber
Do you know something we should know about L.A. tech or venture capital? Reach out securely via Signal: +1 917 434 4978.
Harri is dot.LA's senior finance reporter. She previously worked for Gizmodo, Fast Company, VentureBeat and Flipboard. Find her on Twitter and send tips on L.A. startups and venture capital to harrison@dot.la.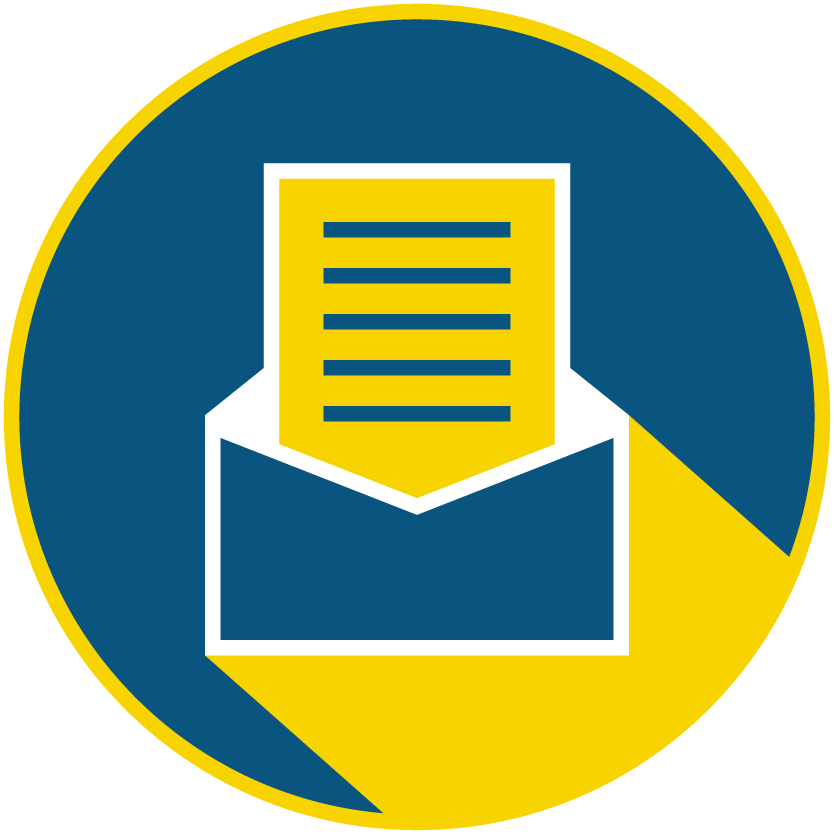 Subscribe to our newsletter to catch every headline.
05:00 AM | November 30, 2021
Behind Her Empirre
Dr. Mary Pardee has made gut health her life's work, leading her to found Modrn Med, a telemedicine and virtual wellness company based in Sherman Oaks.
And it was her own personal experience with intestinal issues that led her to become the kind of doctor that wouldn't tell her patients that "there's nothing else we can do," she told the Behind Her Empire podcast this week.

"I wanted to be the doctor that was nurturing, that gave alternatives and that really had an honest discussion about how mental health affects your gut health," she said. "So this has kind of been my journey, but is just in my own personal healing story to become the doctor that I didn't have."

As a doctor who specializes in integrative gastroenterology, hormones and gut-brain health, Dr. Pardee sees how stress impacts the gut health — and by extension, the overall health — of CEOs, moms, homeschool teachers and women in other high-stress environments.
"So you can see if you're in a period of chronic stress, which most people are, that you may not have a good libido, you definitely may not want to go to the bathroom because your digestive system is shut off," she says.
In this episode, Dr. Pardee also delves into the impact that gut health has on hormones, mental health and physical health and the importance of prioritizing self-care.
Hear more of the Behind Her Empire podcast. Subscribe on Stitcher, Apple Podcasts, Spotify, iHeart Radio or wherever you get your podcasts.
dot.LA Audience Engagement Editor Luis Gomez contributed to this post.
From Your Site Articles
Related Articles Around the Web
Yasmin Nouri
Yasmin is the host of the "Behind Her Empire" podcast, focused on highlighting self-made women leaders and entrepreneurs and how they tackle their career, money, family and life.
Each episode covers their unique hero's journey and what it really takes to build an empire with key lessons learned along the way. The goal of the series is to empower you to see what's possible & inspire you to create financial freedom in your own life.
04:00 AM | October 29, 2021
Pejman Nozad, a founding managing partner at Pear VC, joins this episode of LA Venture to discuss Pear VC's current initiatives, including its accelerator and fellowships. He's seen as one of the most successful angel investors in the area, and for good reason: he has made more than 300 investments in his lifetime.
"I'm a child of revolution and war and difficult times," said Nozad of his upbringing in Iran during the revolution.
Nozad went to college before dropping out. That's when his brother told him about his dream to go to America. After his brother was denied a visa multiple times, Nozad went himself to the embassy and got lucky; the woman in charge of the process liked him enough to approve him.
"When you're in [your] early twenties, you don't analyze much of the future. And then your risk-takers. I came to America in 1992 with $700 and I didn't speak any word of English," said Nozad.
Nozad went from working at a carwash, then a yogurt shop, to a (now famous) Persian rug store in Palo Alto. Many of his clients happened to be CEOs and venture capitalists; Nozad wanted to be part of that community.
"I was very lucky because I had access to people who normally nobody can see them, but I was hanging out with them at Sunday barbecues while selling carpets," said Nozad.
In his early days as an investor, Nozad bet on companies that included Dropbox and DoorDash. He said he took inspiration as a venture capitalist in lessons he learned from his time playing professional soccer in Iran.
"In soccer, you can score minute one, or you can score at minute 90. Both of them [are] one goal and you can win the game. So, when you go to fundraise, don't get disappointed if you hear a lot of nos, because the yes could be the last meeting after the whole two months," he said.
Want to hear more L.A. Venture? Listen on Apple Podcasts, Stitcher, Spotify or wherever you get your podcasts.
dot.LA Engagement Intern Joshua Letona contributed to this post.
From Your Site Articles
Related Articles Around the Web
Minnie Ingersoll
Minnie Ingersoll is a partner at TenOneTen and host of the LA Venture podcast. Prior to TenOneTen, Minnie was the COO and co-founder of $100M+ Shift.com, an online marketplace for used cars. Minnie started her career as an early product manager at Google. Minnie studied Computer Science at Stanford and has an MBA from HBS. She recently moved back to L.A. after 20+ years in the Bay Area and is excited to be a part of the growing tech ecosystem of Southern California. In her space time, Minnie surfs baby waves and raises baby people.