snapchat
snapchat
Virtual avatar company Genies wants to be the go-to option for online personas and it's targeting the wealth of talent and seasoned executives from the area's biggest tech firm, Snap Inc., to help make that goal a reality.
Genies' latest hire from the Venice-based social camera company is George "YJ" Tu, a former senior engineer who worked on its Snapchat app and Spectacles camera glasses. Prior to working at Snap, Tu worked for three and a half years as a senior engineer at Facebook and specialized in developing the company's mobile infrastructure.
Tu joins Genies as its director of engineering. Genies CEO and founder Akash Nigam told dot.LA Tu's main mandate is hiring engineers to continue developing its avatar creation platform and digital marketplace, where users can buy and sell digital collectibles and wearable items for their virtual selves.
Tu is the first engineering executive the company's hired since its launch in 2017, but it plans to devote a big chunk of its recent $65 million Series B raise to attracting new talent.
"I think we've landed quite a few Snap employees for a few reasons," Nigam said. "Genies and Snap are probably the two biggest social companies on the Westside in LA, so I think that's an attraction for people that are already local."
The company already has some big celebrity names using its tech to make and share avatars -- including Justin Bieber, Rihanna and hip-hop tycoons Migos -- and the next step is to bring in more users.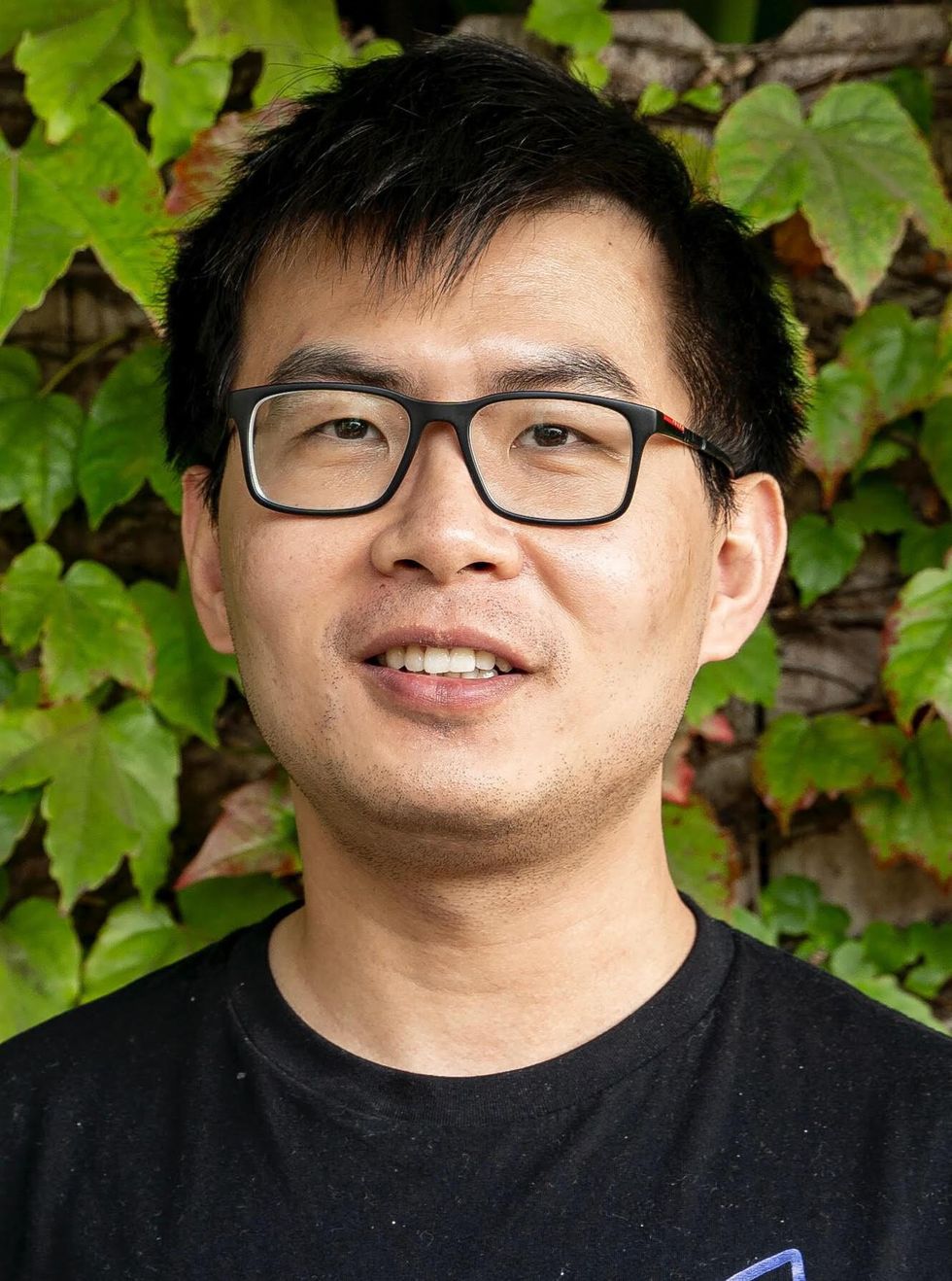 George "YJ" Tu is Genies' new director of engineering.
Nigam said the company's hired close to 30 new employees in the last three months, with about 80% of those hires being engineers. He added that roughly 90 people work at Genies, and estimated that 10% of them are ex-Snap employees.
"I think from a product perspective, we share a lot of philosophies and we're very similar in the way that we scheme and we game plan. Snap always is kind of shooting a few years in advance specifically within the social category."
Matt Sibka, Genies' vice president of recruiting, spent three and a half years at Snap creating a team for its CEO Evan Spiegel and was hired to do the same at Genies earlier this year. Genies competes with Snap's Bitmoji avatars, which got a 3D upgrade this July.
"Eighty percent of new spend after our fundraise, and anything moving forward for the next two years, is all going to be on engineering to become an engineering powerhouse," Nigam said. Genies has raised $110 million to date and Nigam previously told dot.LA the company wants to make "Ninety nine point nine percent of its revenue from selling digital goods.
Nigam said that the synergy between Genies and Snap wasn't a conscious choice, but noted that both companies have a similar vision – to advance augmented reality and encourage people to adopt virtual avatars that they can increasingly use as an extension of how they express themselves online.

Nigam's plan is to integrate Genies avatars into as many applications as possible. Currently the company has a deal with Facebook's Giphy that will let users bring their avatar with them to platforms where Giphy is integrated, like Facebook, TikTok or Snapchat – but Nigam said it wants to bring its avatars to popular games like "Roblox" too.
"That's the first API partnership, but we want to have hundreds of those," Nigam said. "So all of a sudden if you get ported into 'Roblox,' you can get any avatar."
Genies' next big goal is getting Generation Z to buy into the NFT hype by creating unique items for their avatars and then trading them. Genies is working with Dapper Labs, which operates NBA Top Shot and CryptoKitties, two of the most popular NFT exchanges, to create its own blockchain-based system for creating, verifying and selling digital goods.
Genies plans to make the marketplace available by the end of this year. Right now it's only accessible to celebrities, but Nigam said it'll open a beta version to customers by year's end.
"It almost becomes like a login authentication button, where you can port your Genie and your digital goods associated with it from one environment to the next, and in that case, we're kind of creating a new digital identity layer," Nigam said.
From Your Site Articles
Related Articles Around the Web
VidCon 2021 has been canceled because of heightened concerns over COVID-19 and the Delta variant and California's health and safety mandates.
The influencer industry's biggest event of the year had been scheduled for Oct. 22-24 at the Anaheim Convention Center. It would have marked TikTok's first year as the top sponsor, taking over the long-held title from YouTube.
"We were so confident that we'd be able to put on the VidCon you know and love this October and could not wait to reconnect with all of IRL," VidCon General Manager Jim Louderback said in a statement. "Unfortunately, due to the recent increases in COVID-19 cases and evolving health and safety mandates, we have come to the difficult but right decision to cancel VidCon this October. We just can't risk the health and safety of our attendees, creators, speakers, sponsors and staff — and we want to ensure we provide EVERYONE with the very best VidCon experience."
California's Department of Public Health announced Wednesday that people attending indoor events with 1,000 or more people must provide proof of vaccination or a negative COVID-19 test from within the prior 72 hours, starting Sept. 20.
The convention, which would have been in its 11th year, has been rescheduled for June 22-25, 2022 in Anaheim.
In 2019, VidCon's events attracted about 75,000 people and 120 brand exhibitors.
Anaheim spokesperson Lauren Gold said that convention brought an estimated $47 million into the city, including on hotel stays, shopping and dining or even visits to Disneyland and California Adventure.
The city expected more than 30,000 convention goers to attend this year.
"We are disappointed VidCon 2021 isn't going forward but understand their decision," Gold said in a statement. "VidCon brings excitement, energy, creativity and fun to our city. But, more than that, events such as these are critical for Anaheim's economic recovery. We look forward to hosting VidCon 2022 in June."
VidCon is an event that brings together online influencers and the viewers who engage with their content. It gives creators the opportunity to mingle with executives in entertainment and technology and to negotiate brand deals.
Since its last in-person conference, influencers have only become a hotter commodity. At least 10 social media platforms including Snap, Facebook, TikTok and YouTube have built funds to lure in creators as they battle it out for talent. TikTok's fund is set to grow to about $1 billion.
Typically taking place in the summer, the event in 2020 had been scheduled for June, but was canceled three months earlier at the onset of the coronavirus pandemic.
With TikTok taking over from YouTube as a brand sponsor, some said that it represented a symbolic shift in the social media landscape demonstrating TikTok's rise in popularity among content creators.
In response to questions from Buzzfeed as to whether TikTok will remain a title sponsor in 2022,
VidCon told the news outlet
it will "be sure to share sponsorship and programming updates in the near future."
Correction: An earlier version misstated the amount of attendees expected.
From Your Site Articles
Related Articles Around the Web
Snap shares soared as high as nearly 17% in after-hours trading Thursday after reporting its highest rates of revenue and user growth in four years.
It's not surprising the company grew compared to the same time last year, when advertisers pulled back spending, but Snap's rosy projections for the upcoming quarter suggest the post-pandemic bump wasn't a quirk.
Snap told investors on Thursday it forecasts 58% to 60% year-over-year revenue growth in the third quarter. Share prices approached the record-highs that Snap saw in February following the company's announcement that it anticipates 50% revenue growth for the next several years.
Analysts had expected a big year-over-year jump this quarter as the pandemic subsided and advertisers spent more. Snap nevertheless exceeded expectations, hitting 293 million users and more than doubling revenue.
CEO Evan Spiegel said he expects growth to continue as Snap moves deeper into ecommerce with ongoing investments in features like AR shopping.
Analysts agree that Snap has plenty of room to further monetize that, along with other relatively new features like Maps and Spotlight, the TikTok-like, algorithmically-surfaced video feed that Snap launched in November. The company grew its Spotlight daily active users 49% quarter-over-quarter.
Spiegel told investors Snap is not ready to turn Spotlight into a revenue generator.
"We've done small testing with advertising in Spotlight but for now we're just really focused on the core experience," Spiegel said. "We've got a great roadmap of improvements and we just don't want the team to get distracted, frankly, with monetization at this point."
Snap pulled in $3.35 per user globally, beating Wall Street expectations. Still, that figure still lags behind competitors like Twitter (around $5) and Facebook (over $13). Analysts believe that, too, gives Snap room to grow.
From Your Site Articles
Related Articles Around the Web