tiktok
Influencers use all kinds of tricks to earn a living from their massive collection of fans, but YouTube and TikTok influencer Piper Rockelle knew she stumbled onto something special with a feature that her fans loved. She's now turned it into an app.

The 14-year-old was taking selfies in her bikini and posing in crop tops sipping on a Philz coffee for her 6.1 million TikTok and 8.3 million YouTube followers, blurring the images out, writing "rare" on them, then posting them to social media asking people to join her fan club.
"I was inspired to create this app because ever since I started posting my Rares, my followers really seemed to be engaged with them," Rockelle told dot.LA in an emailed statement.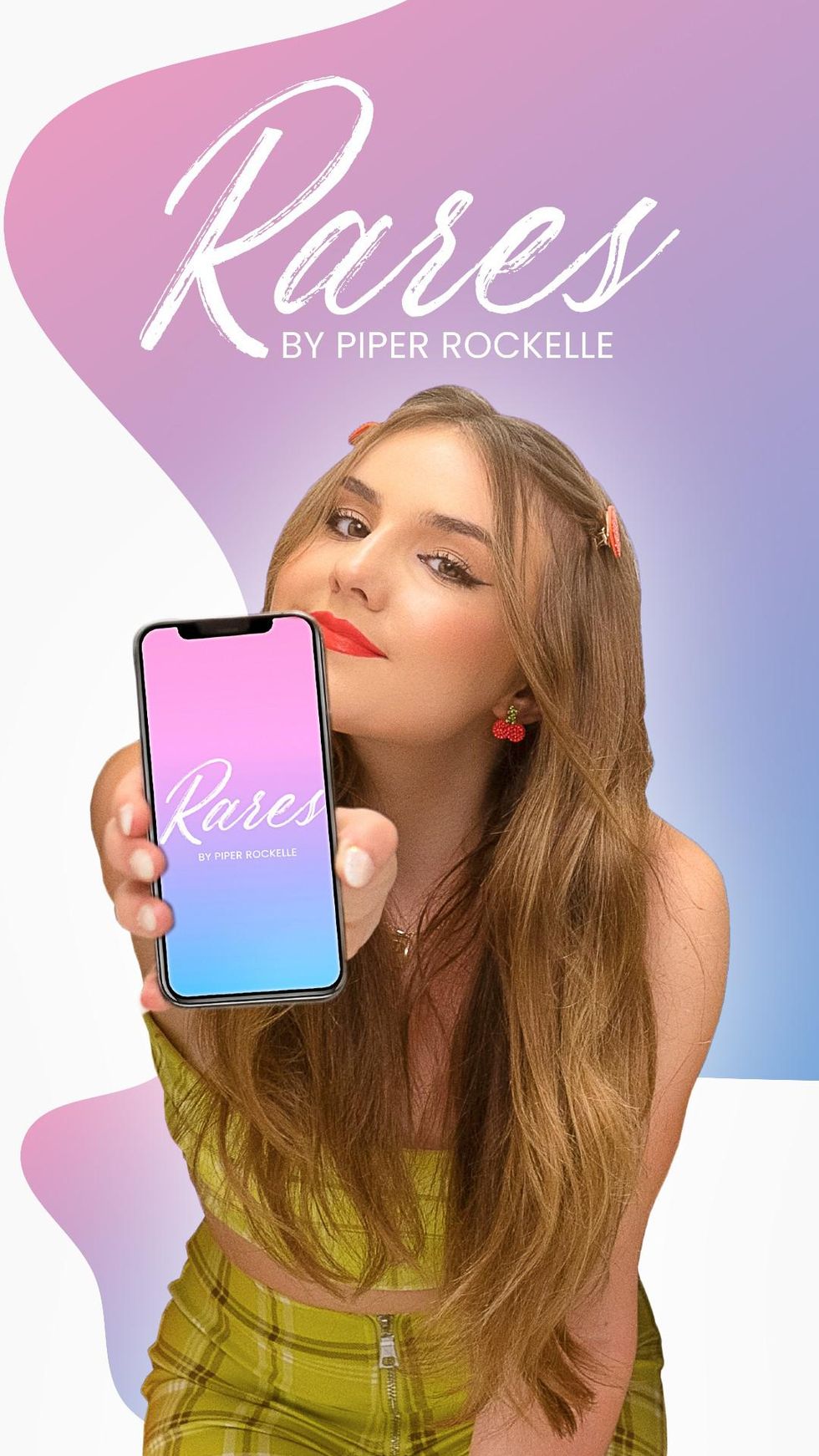 Influencer Piper Rockelle
The social media star hopes like many others to cash in on the creator economy. Last month she released a debut video for her song "Yesterday," but she's best known for her videos on the latest fashion trends as well as so-called challenges and pranks such as "last Youtuber to freeze wins."
The videos have garnered criticism for encouraging youth to engage in harmful and inappropriate behavior. In August, pop star Pink accused Rockelle's mother, who helps her set up shots, of exploiting her young daughter.

But as her social media fan base grew, she caught the eye of Koji founders Sean Thielen and Dmitry Shapiro.
The two launched Koji five months ago as a web-based platform to help social media influencers monetize their audiences, signing on 50,000 creators including Loren Gray, Randi Zuckerberg, and of course, Piper Rockelle.
The San Diego-based startup is a web-based app store that offers "mini-apps," a work-around from Apple store or Google Play, both of which have been accused of monopolistic practices. Last month, Apple made changes to its store after settling a lawsuit for $100 million brought by small app developers alleging that their pricing tiers and purchase offerings were monopolistic.
Rockelle's latest venture is akin to the unboxing phenomenon that YouTubers made popular. A "rare" is an image or video that can be unlocked via a password, through quiz questions or with money. The creators can add stickers, text or pixelation over the blurred out images through the app.

It launched this week on Koji's platform, which has garnered $16 million in venture funding, including backing from former Disney CEO Michael Eisner. The startup recently brought on Dreamworks' former head of global interactive Annie Morita as its chief operating officer. Morita most recently led Apple's expansion efforts in China.
"We want to bring that same innovation that app stores brought to the phone, we want to bring that to the creator economy," Shapiro said.
One of Koji's key features is its "Link in Bio" feature, a term borrowed from Instagram, which famously doesn't allow more than one link in user profiles, so companies like Linktree seized on the opportunity to create a work-around, allowing users to include multiple links through their site. Koji's "Link in Bio" similarly lets the platform's web applications connect to creators on TikTok, YouTube and other social media platforms.
Koji hosts over 100 apps, most of which let creators make money via donations or selling personalized video shout outs.
Any time a developer publishes an app on the Koji App Store, they can set the fees for other creators to use their app.
Rares' fee is 15%. When other creators use the app on their link in bios and make money from it, they keep 85% of the earnings. The remaining 15% is split between the developer and Koji.
Koji boasts that some of its creators have already made over $15k from the mini-apps on their link in bios.
Related Articles Around the Web
Designed with TikTok creators and amateur musicians in mind, Mayk.it wants to let you make music -- all on your phone.

The Los Angeles-based company is hoping to be part of the growing creator app space that is reshaping the relationship between traditional studios and aspiring artists. Mayk.it announced Tuesday it raised $4 million in a round of seed funding to expand its user base and develop more tools.
The T-Pain-backed music app allows users to find beats made by other users and sing over them to create their own music, meant to mirror a recording studio-like experience.
Other music-creating apps like Apple's Garageband and Soundtrap Studio also let users create and share beats and songs. But Mayk.it is intended to be simpler. It doesn't require users to make their own beats and doesn't come with the various tools found on other apps.
"There's a lot of sound waves, and faders and buttons and words that you have no idea what they mean," said Stefan Henriquez, the co-founder and CEO of the company. "And it's very, very complicated."
The app launched on the Apple App Store on a waitlist basis Tuesday after testing to a beta community of around 300 users.
Henriquez got the idea for the app at the start of the COVID-19 pandemic after he tried to start creating music, but found that most apps were complicated and difficult for amateur musicians like himself.
"If you really want to say something and you have a message and you're a good storyteller, there really shouldn't be any technical hurdles for you to express yourself with a song," said Henriquez, a former marketing head at TikTok. "And that's what we do with the app."
The app also isn't just limited to amateurs. Some artists have used the app as a way to quickly jot down ideas for music or to experiment with different types of music, he said. The app also lets artists avoid relying on music studios, which can be limited in capacity and costly to rent.
Ownership of music created on the app is split between the singer and the beat creator. The app is also setting up partnerships to help creators distribute their music, though Henriquez declined to share details.
The round of seed funding was led by Greycroft, Chicago Ventures, Slow Ventures and firstminute and included rapper T-Pain, former Spotify executive Sophia Bendz and YouTuber Mr. Beasts' Night media.
Henriquez said he's hoping the app helps decentralize music creation for a broader audience.
"Lots of content creators want to be 360 creators and want to be fully independent and do everything themselves," he said. "Having another creative (music) tool really, I think is probably the last dimension that was missing."
Correction: A previous version of the story misstated the number of beta users. It is 300.
Related Articles Around the Web
Flip is taking a TikTok approach to selling beauty products. The social media ecommerce platform lets users buy and post reviews of lipstick, hair gel and other beauty products.
Its secret weapon — like all social media — are the influencers that make the 60-second videos populating the app. The users get paid by Flip based on engagement, so they don't have to rely on the brands to hawk their goods.
Flip CEO Nooruldeen "Noor" Agha said his goal is to be the first "honest" ecommerce platform, where reviews are controlled by consumers rather than brands.
Flip just raised $28 million in Series A funding, which will go toward expanding its user base and making more brand deals, the company announced Monday. The round was led by Streamlined Ventures and included Mubadala Capital Ventures and BDMI.
Launched in 2019, the platform combines aspects of typical social media platforms — like short-form videos and individual profiles – with ecommerce.
The Los Angeles-based company has partnered with hundreds of beauty brands, including Hourglass, CoverGirl and Algenist. To deter fake reviews, users have to buy the product directly through Flip before making a review on the product, Agha said.
Social media has long been an attractive place for beauty creators. Several brands have emerged from YouTubers such as Jefree Star. And Instagram and other social media platforms have adopted in-app sales as the medium has become a revenue generator for brands.
Creators can receive compensation for their reviews based on the size of the audience they get, which Agha said gives them an incentive to be honest. Brands and creators can also host livestreams to showcase products.
"You will see people saying really bad stuff about products and raving about other products," said Agha. "No one is incentivized to be positive at all."
Agha declined to comment on exact user base or revenue figures, but said the app has over a million downloads. He said Flip is adding around 20-25 brands a week and hoping to continue adding brands.
Agha, who immigrated to the U.S. from Iraq a little over two years ago, said he thinks a platform focused on honesty is needed in the ecommerce industry.
"My vision and dream about this is to build the first truly honest commerce platform," he said, "where people genuinely come and look at reviews and you go, "I believe it's genuine' and not to look at it with 'what is the catch here?'"