Activision Blizzard Employees Plan Another Walkout, Demand CEO Resign
Samson Amore
Samson Amore is a reporter for dot.LA. He holds a degree in journalism from Emerson College. Send tips or pitches to samsonamore@dot.la and find him on Twitter @Samsonamore.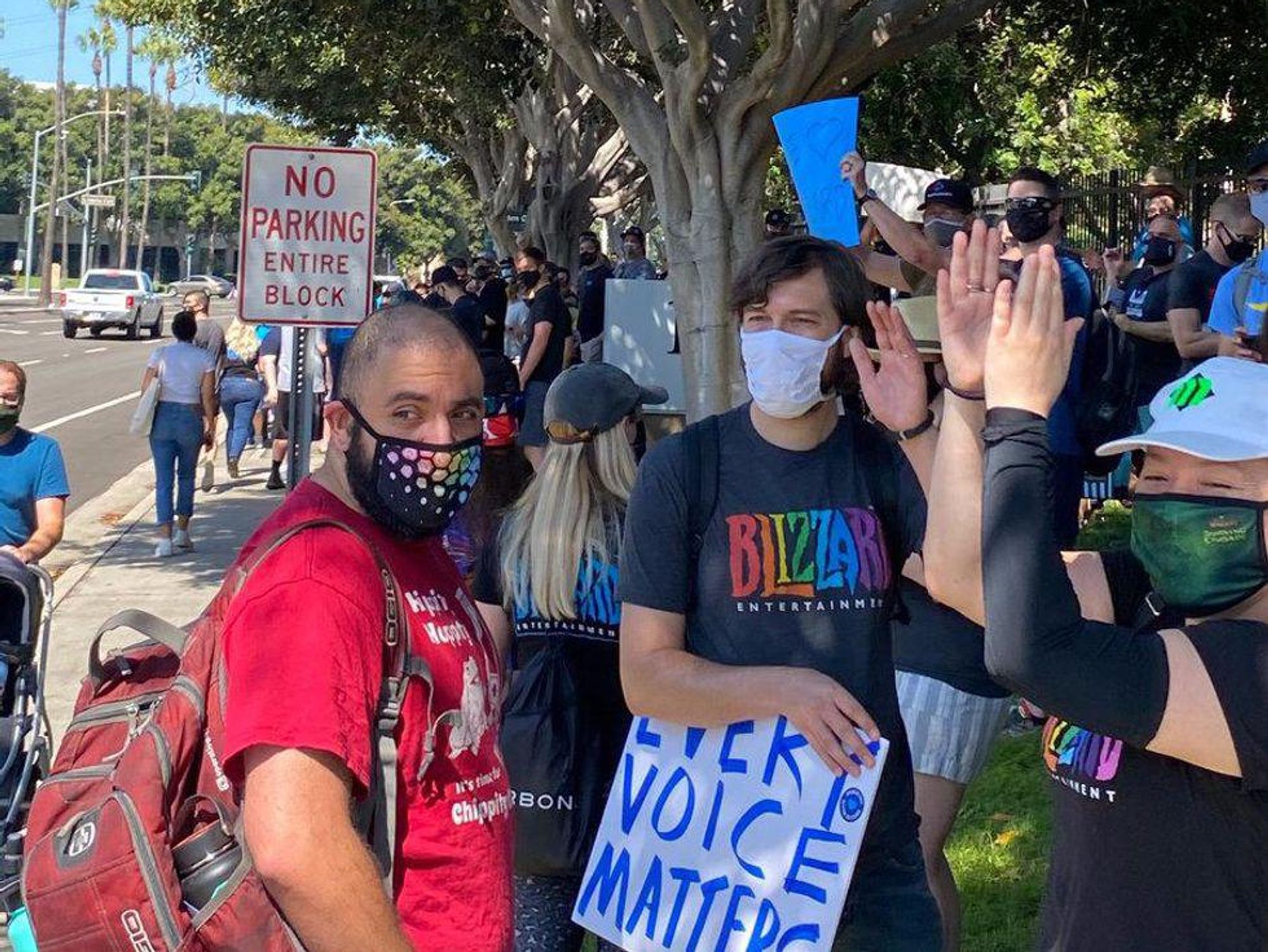 Sam Blake/ dot.LA
Employees at game publisher Activision Blizzard are planning to walk out once more after a bombshell report from the Wall Street Journal Tuesday detailed new assault claims and alleged that CEO Bobby Kotick was aware of a rape settlement at an Activision-owned studio nearly five years ago but refused to report it to the board of directors.
Shares of Activision slid more than 5% after the news broke.
---
The Wall Street Journal's Nov. 16 report said that in July 2018, a lawyer for a female employee working for Sledgehammer Games (the Activision-owned studio responsible for work on several games in its hit "Call of Duty" franchise) approached Activision and Kotick with a complaint of an alleged rape.
The employee said she had been raped in 2016 and 2017 by a male supervisor after being pressured to drink excessively at work events. The accuser's lawyer Harmeet Dhillon said in internal documents viewed by the Journal that the supervisor's name was Javier Panameno, who Activison fired two months after executives received word of the incident in 2018. The Journal also reported insider sources told them Activision settled this out of court, but that Kotick didn't tell the board of directors about the incident at all.
The scathing Wall Street Journal article also reported that Kotick protected Dan Bunting, the co-head of Treyarch, an Activision studio that works on "Call of Duty" games, who was accused by a female coworker of sexually harassing her in 2017 after "a night of drinking."
According to the Journal, Activision's HR department launched an investigation into Bunting in 2019, and urged he be fired, but Kotick "intervened to keep him" and Bunting was allowed to remain at the company partly because he led production on several blockbuster "Call of Duty" games. Bunting's LinkedIn profile indicates he left Treyarch this month after over 18 years with the company.
Walkout 2.0
Hours after the report was published, employee activists behind the group ABetterABK (an informal alliance of workers trying to organize for better treatment) posted on Twitter to say they were planning another walkout. Employees walked off the job in July to protest the company's "frat bro" culture and demand changes to its forced arbitration policies.
"We have instituted our own Zero Tolerance Policy. We will not be silenced until Bobby Kotick has been replaced as CEO, and continue to hold our original demand for Third-Party review by an employee-chosen source. We are staging a Walkout today. We welcome you to join us," the ABK Workers Alliance account tweeted Tuesday morning.
The "zero tolerance policy" line is a reference to a letter Activison sent to employees in mid-October after disciplining 20 employees and firing 20 more for misconduct. In the letter, Blizzard Executive Vice President for Corporate Affairs Frances Townsend said the company wouldn't tolerate retaliation for reporting misconduct and promised to invest more resources in training. Read that letter in its entirety here.
In a company statement provided via email by corporate spokesperson Rich George, Activision said, "We are fully committed to fostering a safe, inclusive and rewarding environment for all of our employees around the world. We support their right to express their opinions and concerns in a safe and respectful manner, without fear of retaliation."
The "World of Warcraft" publisher addressed the article in a statement posted to its website that appeared to attempt to discredit the Journal's reporting — it also said the Journal "ignores important changes underway" at the company.
"We are disappointed in the Wall Street Journal's report, which presents a misleading view of Activision Blizzard and our CEO," the statement read. "Instances of sexual misconduct that were brought to his attention were acted upon. The WSJ ignores important changes underway to make this the industry's most welcoming and inclusive workplace and it fails to account for the efforts of thousands of employees who work hard every day to live up to their and our values."
Kotick is one of the highest-paid public company leaders. His pay package was worth $154 million in 2020, though he recently asked the Activision board to reduce his pay to the legal minimum, $62,500, and said he would no longer take bonuses.
Activision is still under a U.S. Securities and Exchange Commission investigation, which is looking into how allegations of sexual harassment were handled by company executives. The company employs about 10,000 people worldwide.
In September, Activison paid $18 million to settle another similar lawsuit filed by the Equal Employment Opportunity Commission.
Drinking on the job is a frequent accusation against Activision. In an earlier lawsuit filed in July by the California Department of Fair Employment and Housing it was alleged that female employees were frequently groped by male employees who were drunk and on "cube crawls," where they'd drink "copious" amounts of booze and crawl on the ground to various cubicles where they'd then grope women and "engage in inappropriate behavior."
In a separate statement posted today, Activision's board of directors said the firm "remains committed to the goal of making Activision Blizzard the most welcoming and inclusive company in the industry. Under Bobby Kotick's leadership the Company is already implementing industry leading changes including a zero tolerance harassment policy, a dedication to achieving significant increases to the percentages of women and non-binary people in our workforce and significant internal and external investments to accelerate opportunities for diverse talent. The Board remains confident that Bobby Kotick appropriately addressed workplace issues brought to his attention."
Samson Amore
Samson Amore is a reporter for dot.LA. He holds a degree in journalism from Emerson College. Send tips or pitches to samsonamore@dot.la and find him on Twitter @Samsonamore.
https://twitter.com/samsonamore
samsonamore@dot.la