Read Activision Blizzard Employees' Letter to CEO Bobby Kotick
Sam Blake
Sam primarily covers entertainment and media for dot.LA. Previously he was Marjorie Deane Fellow at The Economist, where he wrote for the business and finance sections of the print edition. He has also worked at the XPRIZE Foundation, U.S. Government Accountability Office, KCRW, and MLB Advanced Media (now Disney Streaming Services). He holds an MBA from UCLA Anderson, an MPP from UCLA Luskin and a BA in History from University of Michigan. Email him at samblake@dot.LA and find him on Twitter @hisamblake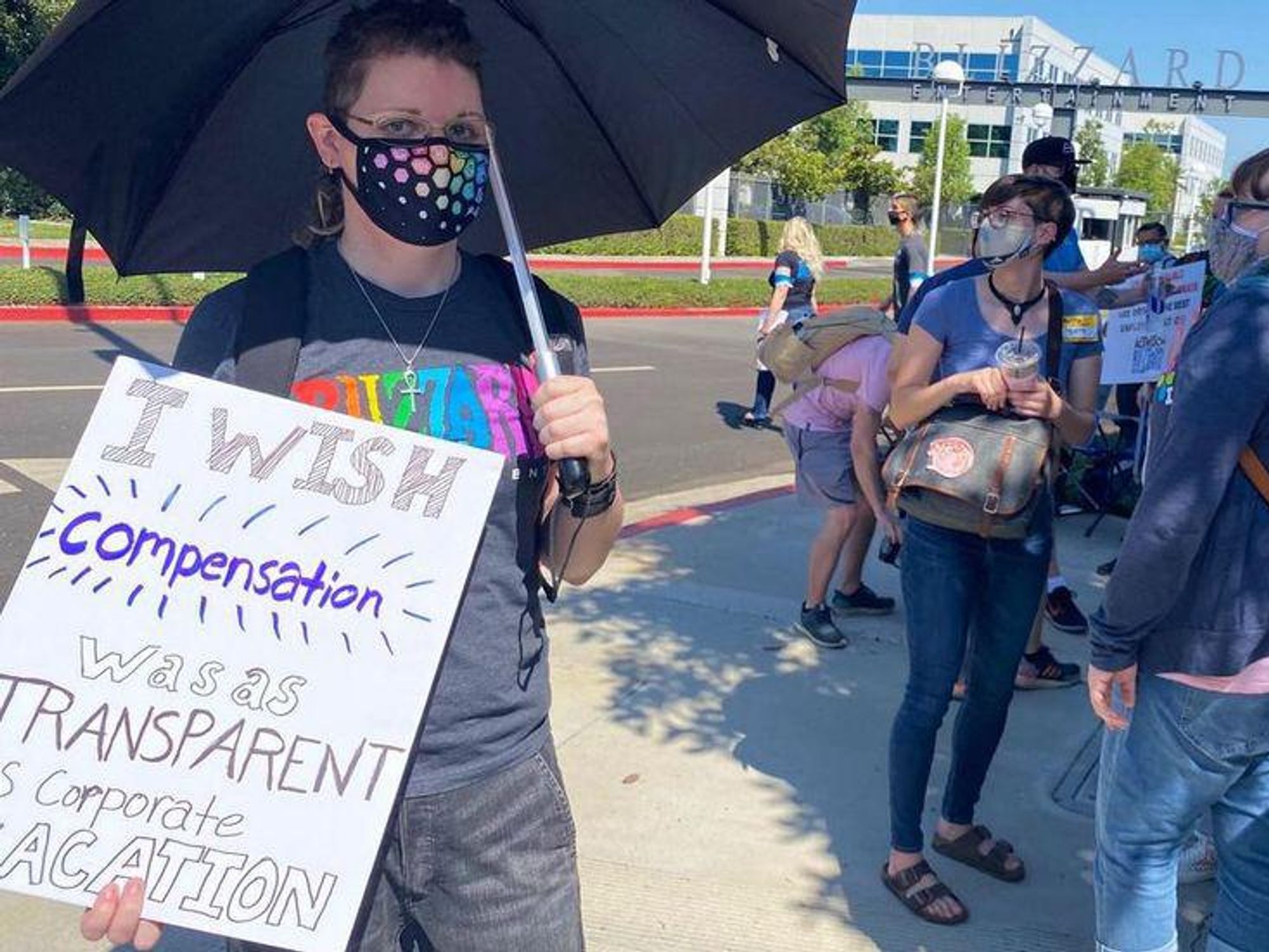 Photo by Sam Blake/ dot.LA
Activision Blizzard employees said more accounts of abuse, harassment and mistreatment are emerging since California filed a lawsuit earlier this month against the company.
In a letter to top executives sent Monday, workers outlined organizing efforts and called on them to create a safe work environment. The letter was released ahead of the company's forthcoming earnings call. At one point, shares dropped nearly 6% in day trading.
---
Over 500 employees have joined the so-called ABK Workers Alliance, the group that penned the letter, according to one of its leaders. They are "committed to defending our right to a safe and equitable workplace," the letter said, and claim that right "remains endangered."
Members of the group come from numerous studios across the conglomerate, including Activision, Blizzard and King. The gaming company is behind such hits as "World of Warcraft," "Call of Duty" and "Overwatch."
The letter is the latest in the ongoing Activision saga that kicked into gear two weeks ago when California sued the company for workplace discrimination and harassment, and escalated into an employee walkout last week.
In another open letter last week, employees issued four demands: ending forced arbitration; adopting inclusive recruiting and hiring practices; improving pay transparency; and auditing the company's practices with an employee-led diversity task force.
Activision's CEO Bobby Kotick responded to the demands, calling the company's initial response to the lawsuit "tone deaf" and committing to doing "a better job of listening now, and in the future."
But, the Alliance wrote on Tuesday, "the solutions [Kotick] proposed in that letter did not meaningfully address our requests."
The Alliance also criticized the company's selection of law firm WilmerHale to conduct an internal review. In its letter it said the firm "has a history of discouraging workers' rights" and that the partner leading the investigation "specializes in protecting the wealthy and powerful."
The organizers are building a worker-to-worker mentorship program; hosting listening sessions that will be disseminated across the organization; and will be facilitating monthly employee meetings to discuss workers' concerns and goals.
"We are doing what we can, and we call on you to do what we cannot," the letter concludes.
Read the full letter below:
Sam Blake
Sam primarily covers entertainment and media for dot.LA. Previously he was Marjorie Deane Fellow at The Economist, where he wrote for the business and finance sections of the print edition. He has also worked at the XPRIZE Foundation, U.S. Government Accountability Office, KCRW, and MLB Advanced Media (now Disney Streaming Services). He holds an MBA from UCLA Anderson, an MPP from UCLA Luskin and a BA in History from University of Michigan. Email him at samblake@dot.LA and find him on Twitter @hisamblake
https://twitter.com/hisamblake
samblake@dot.la