spacex
A tech billionaire and three other non-professional spacefliers blasted off today to begin the first non-governmental, philanthropic mission carrying a crew to orbit.
The founder and CEO of Shift4 Payments, Jared Isaacman, is paying what's thought to be in excess of $100 million for what's expected to be a three-day flight in a SpaceX Crew Dragon capsule.
Isaacman organized the Inspiration4 mission with SpaceX's help as a benefit for St. Jude Children's Research Hospital in Memphis. The 38-year-old billionaire kicked off the $200 million campaign with a commitment to donate $100 million himself.
SpaceX's Falcon 9 rocket lifted off from NASA's Kennedy Space Center in Florida at 8:02 p.m. ET (5:02 p.m. PT). "Punch it, SpaceX!" Isaacman told mission control.
On the webcast, every phase of the ascent drew raucous cheers from hundreds of SpaceX employees who gathered at the company's headquarters in California. Nearly half a million viewers watched the streaming coverage at its peak.
Minutes after liftoff, the rocket's reusable first-stage booster flew itself back to an at-sea landing on a drone ship in the Atlantic, while the second stage pushed the Crew Dragon the rest of the way to orbit.
After the Dragon reached orbit, Isaacman noted that he and his "all-civilian" crew had wedged their way to space through a metaphorical door that relatively few humans have gone through. "Many are about to follow," said Isaacman, an amateur jet pilot who's been trained to take control of the Dragon if its autonomous navigation system fails. "The door is opening now, and it's pretty incredible."
Although the flight started out from NASA-owned property, the space agency has minimal involvement in this mission.
Instead of heading for the International Space Station, as all of SpaceX's other crewed flights have done, this Crew Dragon will trace an orbit that rises as high as 363 miles (585 kilometers). That's higher than the space station, and higher than the Hubble Space Telescope. In fact, Inspiration4 will be humanity's highest-flying space trip since the space shuttle fleet's Hubble missions, which took place when the space telescope was at a slightly loftier altitude.
The high-altitude itinerary is in line with SpaceX's aspirations to go beyond Earth orbit — aspirations that Inspiration4 mission director Todd Ericson said were in line with Isaacman's view. "We want to start taking those first steps out toward becoming an interplanetary species, which means we've got to start working our way above low Earth orbit," Ericson told GeekWire during a pre-launch interview.
For this trip, SpaceX developed a cupola that's taking the place of the Crew Dragon's docking port and will provide a 360-degree view of Earth below or the sky above.
Today's launch marked the culmination of a process that began with a Super Bowl commercial and continued with months of training for Isaacman and his three crewmates. The training included hours upon hours of studies and simulations, a zero-gravity airplane flight, some nausea-inducing centrifuge sessions, high-G jet maneuvers and a climbing trip to Mount Rainier in May.
Isaacman's three crewmates were chosen in a variety of ways. They include:
Hayley Arceneaux, a survivor of childhood cancer who became a physician assistant at St. Jude. Hospital officials chose Arceneaux to fly at Isaacman's invitation. She's the first person to go into space with a prosthesis — a titanium rod that was put in her left leg during treatment for bone cancer. At the age of 29, Arceneaux is the youngest human to go into orbit and the youngest American to go into space. (Dutch student Oliver Daemen holds the world record for youngest in space by virtue of July's suborbital flight on Blue Origin's New Shepard spaceship. He was 18 at the time.)
Sian Proctor, 51, an Arizona-based educator and artist who's backing up Isaacman as the Crew Dragon's pilot. That makes her the first Black female pilot on an orbital space mission. Proctor was chosen through an online competition for users of Shift4's online payment system.
Chris Sembroski, 42, an Air Force veteran who lives in Everett, Wash., and works for Lockheed Martin as a data engineer. Sembroski has been a space buff since his youth, and entered Inspiration4's charity sweepstakes for the fourth spot on the mission. His ticket wasn't picked, but the winner turned out to be a college buddy of his. That buddy decided not to go and picked Sembroski to fly instead.
Sembroski will be in charge of managing the payloads aboard the Crew Dragon — including medical experiments, flown-in-space items that will be auctioned off to benefit St. Jude, and a ukulele that he'll play in space.
During the three days that they're scheduled to spend in orbit, the Inspiration4 foursome will monitor their radiation exposure, glucose levels and other health indicators. They'll conduct a variety of educational and outreach activities, including schoolroom classes and contacts with cancer patients. But they'll also have plenty of time to look out at Earth through their custom-made cupola.
"Of course I'm going to be looking down at my home in Western Washington," Sembroski said before liftoff. "I'm also looking to see what I don't see — and that's going to be lines on a map or those walls that seem to separate all of us."
This story originally appeared on GeekWire.
Are they space tourists? Citizen spacefliers? All-civilian astronauts? Whatever you call them, the four teammates who are due to go into orbit today in a SpaceX Crew Dragon capsule require creating a new category.
"I know there's controversy over what you should be called," retired NASA astronaut Scott Kelly told the foursome today in a tweet. "But when you strap into a rocket and launch into orbit, you can call yourself anything you want: astronot, astronut, astronaut — whatever."
There's Jared Isaacman, the billiionaire CEO of Shift4 Payments, who's paying for the launch and is the mission commander … Hayley Arceneaux, the 29-year-old cancer survivor who's due to become the youngest American to go into space … Sian Proctor, the professor and artist who'll back up Isaacman as America's first Black space pilot.
And then there's Chris Sembroski, a former Air Force missile technician and Lockheed Martin engineer from Everett, Wash. Sembroski got his chance to train for the mission and climb onboard the Dragon when an old college buddy of his won a charity sweepstakes — and then gave the reservation to him.
"I think that just really puts me in a very special spot, where not only do I feel very lucky to be here, but I have a huge responsibility to pay that forward," Sembroski said during a pre-launch briefing.
Liftoff atop a SpaceX Falcon 9 rocket is set for 8:02 p.m. ET (5:02 p.m. PT) from the historic Launch Complex 39A at NASA's Kennedy Space Center. But although the three-day Inspiration4 mission starts out from a NASA-owned facility, the space agency has minimal involvement.
This will be the first non-governmental crewed flight to orbit, and the first crewed SpaceX flight to pass up going to the International Space Station. Instead, the foursome will go into an orbit higher than the space station — higher than humans have flown since the space shuttle missions to the Hubble Space Telescope.
During the flight, Isaacman and his crew will conduct science experiments, teach classes from space and conduct auctions and other charity activities aimed at benefiting St. Jude Children's Research Hospital. Sembroski will even play a tune on his ukulele, although he admitted to "a little bit of stage fright." If all goes according to plan, the Dragon will descend to a splashdown in the Atlantic Ocean on Saturday.
Streaming coverage of the countdown, launch and in-space operations is due to begin about four hours before launch via SpaceX's website.
On one level, the Inspiration4 mission is a billionaire's attempt to turn the crew's personal space adventures into a fund-raising campaign for St. Jude. Isaacman's objective is to raise $200 million for the hospital, and he's already committed $100 million of his own money. That's on top of what he's paying SpaceX: Although Isaacman isn't saying how much the launch is costing, the fare is thought to be in excess of $100 million (but not as high as $200 million).
On another level, the first essentially non-governmental, "all-civilian" flight to orbit is meant to blaze a trail for wider access to space — not just by trained test pilots and other professional astronauts, but by regular folks.
And on yet another level, Inspiration4 could be seen as one more not-so-small step toward SpaceX CEO Elon Musk's vision of establishing beachheads for humanity on other worlds.
"This is the organization that is going to, in large part, get us to the moon, certainly with eyes toward Mars, right?" Isaacman said. "And there are a lot of risks on a six-month journey like that. So it's better to start taking some steps now, in a very well thought-out, mitigated way, so that we can continue to reach toward those extraordinary goals, like making life multiplanetary."
For all those reasons, one of Inspiration4's mission managers, Todd "Leif" Ericson, argues that the flight could mark the true beginning of a second space age. And Ericson isn't some starry-eyed space geek: He's a former Air Force test pilot who's also a veteran of Virgin Galactic's suborbital space program.
Ericson talked about the mission and its significance during an interview on the eve of the launch. Here's an edited transcript of the Q&A:
Ericson: "This mission is a great example of what a commercial entity like SpaceX is capable of doing on short notice. Dragon had never been higher than ISS, at about 420 kilometers, and we told them that for this mission, we want to do something significant. We want to start taking those first steps out toward becoming an interplanetary species — which means we've got to start working our way above low Earth orbit. They went through the analysis, and we were able to come up with an orbital altitude of 575 kilometers. That is the highest humans have been since, really, Apollo — save two missions, which are basically the shuttle's Hubble deployment and repair missions. That's a pretty significant thing.
"And then, SpaceX decided to create this cupola for viewing the Earth and deep space. The time from inception to flight-ready hardware was basically six months. Try to do that on a government contract!"
GeekWire: Were there any things that needed to be changed in terms of the training because this is a non-NASA mission?
Ericson: "That's a huge theme for everybody on this mission. We're building on the backs of giants. All that NASA has done is being leveraged for this. The training is as intensive as what any NASA crew would get for flying Dragon, but it's tailored to our mission. We're not going to the ISS, so there's no requirement for worrying about proximity operations or docking, but there are things like the cupola and mitigating the risks there."
GeekWire: Everybody wants to know how it's been for non-professional astronauts to go through that training, and what this portends for the future.
Ericson: "I've been very interested in that myself. I think this mission marks the dawn of what I'd call the second space age. It's the space age where space is accessible, no longer just for nation states, but for corporations and normal individuals. Up to this time, NASA has had the luxury of being able to hand-select the best of the best, physically and academically. But the next generation is going to require us to put up a lot more than the 600 people we've put in orbit over the last 50-plus years.
"You need to figure out how average people fare in space. What restrictions are really there? It's easy for a medical team to put in stringent requirements when you've got the world's population to pick from. But as you start opening that aperture and allowing more and more people to come, you surely can't be as selective. And I think there are also some interesting benefits when you start opening that aperture."
GeekWire: You get people with different perspectives.
Ericson: "Right. Up to this point, it's been a lot of test pilots, scientists and engineers. It's been a very left brain-focused thing. But from the perspective of benefiting humanity, how do we do this in a way that opens up other aspects that are less tangible? I think those aspects are equally important, and in some ways more important, to this goal of exploration and becoming an interplanetary species."
GeekWire: I wanted to ask about your own experience going through the mission — for example, being in a Netflix documentary series. I'm betting that's a bit more than you would have bargained for.
Ericson: "Here's what I think is so wonderful about this mission: It's the emphasis on St. Jude's. Jared has said many times that it's one thing to go to space and have the opportunity to do what he's doing. There are so many amazing things are going to happen because of that. But if we do that without remembering what's going on back here on Earth, we've missed the boat. Jared's 'bumper sticker' is, "Hey, if we can go to space, we need to be able to cure childhood cancer back here on Earth and take care of some of these other problems.'
"I think that's what's been so cool about being part of this: the outward focus. Jared is not focusing this on himself. He doesn't want to, because he recognizes that's not the important part. You know, with the flights of Sir Richard Branson and Jeff Bezos, there's been this focus on 'billionaires in space.' And there's been kind of a negative connotation to that. I hope that the Netflix documentary highlights the fact that this is really about much more than just four people going into space. If you look back at the history of humankind, we've only advanced because we've taken the time and the capital to go beyond where we've gone before.
"Space exploration is expensive, right? Initially, it's going to take people like Jared, who have the financial means to do so, to start pushing that envelope. Aviation is a great example. It initially followed a very similar course, right between World War I and World War II. The industry transitioned from being essentially the domain of government to finding civil applications. This thing that was a military instrument can now benefit humankind as a whole. That's where I think we're at with space travel right now.
"I applaud guys like Jared who are willing to take the resources that they've worked hard to obtain and put them toward something that will ultimately benefit all of humankind. I think it's a very noble endeavor, and I'd hate for that to get lost in the narrative. It's so easy to just chalk it up as a 'billionaire joyride to space,' and as you know, this is so much more than that."
This story originally appeared on GeekWire.
From Your Site Articles
Related Articles Around the Web
SpaceX's first all-civilian flight to space will take place this week in what is sure to be a taste of what commercial space flight could look like.

The Inspiration4 mission is scheduled for Sept. 15. The Crew Dragon carrying the Inspiration4 passengers will lift off from Cape Canaveral's Kennedy Space Center in Florida.
The mission –an estimated $200 million price tag– is funded entirely by Jared Isaacman, the 38-year-old billionaire CEO of financial tech company Shift4 Payments.
Isaacman will act as the mission commander alongside three other newbie space explorers, including 29-year-old Hayley Arceneaux, a bone cancer survivor who works for St. Jude and will be the youngest person in space following this flight; 41-year-old Air Force veteran and St. Jude supporter Chris Sembroski; and Dr. Sian Proctor, a 51-year-old space educator and trained pilot who will serve as the lead pilot on the mission.
Each member of the rookie astronaut crew was selected in a donation-based sweepstakes that aimed to raise $200 million for St. Jude's Children's Research Hospital – $100 million of which is directly from Isaacman. SpaceX stated the mission aims to "inspire support for St. Jude Children's Research Hospital and send a humanitarian message of possibility while representing a new era for human spaceflight and exploration."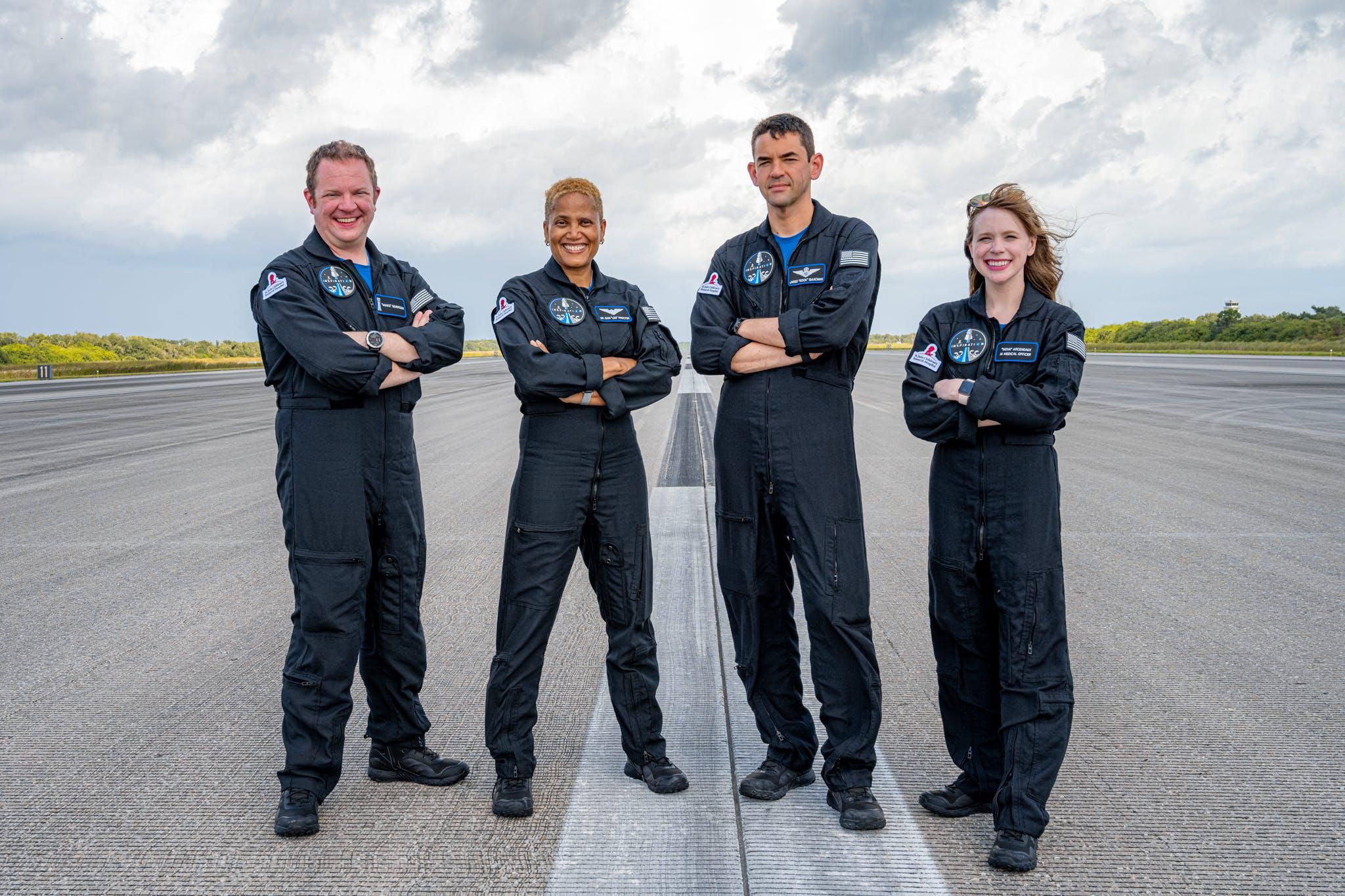 Inspiration4 astronauts Chris Sembroski, Dr. Sian Proctor, Jared Isaacman and Hayley Arceneaux.Image from inspiration4.com
The exact liftoff time isn't determined yet, but the launch is expected to happen no later than 8:02 p.m. EST Wednesday night.
SpaceX will post updates on its Twitter account, and live stream the launch on its YouTube page and website. Florida local news channel 10 Tampa Bay will also live stream its coverage of the launch on Facebook. Netflix will broadcast its own live stream on its app and YouTube page, and that 90-minute live coverage will begin at 5 p.m. PST tomorrow.

Inspiration4 will also carry beer -- but not for getting tanked in orbit. Isaacman decided to bring 70 pounds of hops on the shuttle, and they'll be auctioned off to a brewery to turn it into "space beer." The proceeds from the auction will also benefit St. Jude.
SpaceX turned heads when it announced the mission with a glossy Super Bowl ad earlier this year and since then four citizen astronauts have been undergoing intense training -- some of which is documented in a new Netflix series directed by Jason Hehir. In case that isn't a close enough look for hardcore space fans, Spacex is selling a "Feel the Heat" package for $250 each that gets onlookers as close to the launch pad as safety rules allow, just under four miles away.
Unlike past flights by Richard Branson's Virgin Galactic and Jeff Bezos' Blue Origin, this flight will linger in space for several days before touching back down, giving the passengers a chance to immerse themselves in intergalactic living. SpaceX modified its FAA-approved rocket to give the crew a better view of the cosmos by replacing the docking port with a 360-degree glass dome that will be the largest space window on a craft.
Correction: An earlier version of this post misstated the first name of astronaut Jared Isaacman.
Related Articles Around the Web