snap
snap
Snap, TikTok and YouTube executives defended their efforts to protect kids on their platforms as Congress members battered them with questions Tuesday about the algorithms, safety measures and practices they use to keep young people engaged with their apps.

All the executives broadly said that they thought certain explicit content for underage users should be restricted, but they didn't commit to backing specific legislation.
The Oct. 26 subcommittee of the Senate Commerce Committee hearing was chaired by Connecticut Democratic Sen. Richard Blumenthal. Today's meeting comes just after revelations that Facebook feeds exacerbated teens' body issues and algorithms steered them to harmful content.
Unlike Facebook, Santa Monica-based social media company Snap has largely evaded government scrutiny. But the company was in the spotlight as it fended off questions from lawmakers about its responsibility to keep drug sales off its Snapchat app. A bipartisan group of senators accused the company along with TikTok and YouTube of failing to protect children from pornography and posts encouraging suicide and drug use.
"It seems like every day that I hear stories of kids and teens who are suffering after interacting with TikTok, YouTube and Snapchat. Kids as young as nine have died doing viral challenges on TikTok," Tennessee Republican Senator Marsha Blackburn said. "We've seen teen girls lured into inappropriate sexual relationships with predators on Snapchat. You're parents, how can you allow this?"
Throughout her testimony, Jennifer Stout, Snap vice president of global public policy and John Kerry's former deputy chief of staff, tried to distance Snapchat from its competitors like Facebook, its subsidiary Instagram, TikTok and YouTube.
Stout attempted to portray Snapchat content as more heavily curated than its other social media counterparts, and argued that since it doesn't have a timeline feature, the app's main purpose is to facilitate direct messages between friends and groups of people who already know each other.
Stout also pushed back against accusations that Snapchat shows users a stream of unfiltered harmful content on its Discover page by saying that its "discovered content" is part of a walled garden that is monitored.
"It's intended to be a close ecosystem where we have better control of the content that surfaces," she said.
Sen. Mike Lee from Utah pushed back on this argument from Snapchat, saying his staff had set up a fake account for a 15-year-old and was swiftly bombarded by "wildly inappropriate" materials including an online sexualized video game, articles about porn stars and posts on why to not go to bars alone.
"I respectfully but very strongly beg to differ on your characterization that the content is in fact suitable for children 13 and up," Lee told Stout.
Minnesota Democratic Sen. Amy Klobuchar questioned whether Snap had done enough to prevent drug sales on the platform. Two teens in her state –19-year-old Devin Norrin and 23-year-old Ryan McPherson– died after taking pills from dealers they met on Snapchat selling what they thought were prescription painkillers like Percocet but were actually laced with fentanyl.
Klobuchar asked Stout if Snap would be more transparent about the "automated tools" it uses to identify and remove illegal drug-related content.
"We have stepped up and we have deployed proactive detection measures to get in ahead of what the drug dealers are doing. They are constantly evading our tactics, not just on Snapchat, but on every platform," Stout said.
Earlier this month, Snap announced in-app tools that funnel searches for drug-related words to an anti-drug education campaign and said it has cracked down on the sale of illicit drugs on the site.
The move came after the U.S. Drug Enforcement Agency reported a rise in the availability of fake prescription pills containing fentanyl and methamphetamine often purchased on social media sites used by teens. Parents whose children died because of fentanyl-related overdoses have complained the platform has become an e-commerce site for sale of these dangerous drugs.
Norrin and McPherson's cases aren't an anomaly; NBC News reported this month that teens and young adults have died from overdosing on fentanyl-laced pills they found through Snapchat in at least 14 states.
Klobuchar said social media companies should be held responsible if someone overdoses on drugs obtained through their apps.
"I think there's other ways to do this, too, such as creating liability when this happens, so maybe that'll make you work even faster so we don't lose another kid," Klobuchar said.
Snap Inc. shares plunged in after hours trading as much as 27% on Thursday after missing Wall Street revenue expectations. CEO Evan Spiegel blamed the miss on Apple's new privacy policies that disrupted the company's targeted digital advertising.
Snap recorded $1.07 billion in sales, missing analyst expectations of $1.2 billion.
Spiegel said Apple's iOS new ad tracking feature made it difficult for Snap advertisers to measure and manage ad campaigns. Spiegel also said Snap is working to build its own "flexible first-party tooling" to measure its customers' ad campaigns.
Earlier this year though, Spiegel told CNBC he felt the company was "well prepared" for upcoming changes to Apple's privacy policies and said he thought it could be "a good thing overall for consumers."
The ongoing global pandemic also threw a curveball to Snap's ad business. As advertisers across industries faced labor shortages and grappled with a weakened supply chain, they cut back on advertising costs. This in turn meant less ad dollars for Snapchat to stack.
"This (disruption) in turn reduces their short-term appetite to generate additional customer demand through advertising at a time when their businesses are already supply-constrained," Spiegel said. "The ongoing magnitude and duration of these global supply and labor disruptions are inherently unpredictable, and in the meantime we are focused on supporting our partners in this uncertain environment."
Following its earnings report Snap Inc. shares were down as much as 26%.
Snap reported daily active users of its Snapchat app totaled 306 million in Q3, up 23% from this time last year. This continues Snap's trend of growing its user base each quarter; the company reported it has recorded at least 20% growth in its user base in each of its last four consecutive quarterly reports.
Still, revenue this quarter was up 57% annually to roughly $1.1 billion. Snap cut down its net losses to $72 million, compared to roughly $200 million this time last year.
As of this quarter, Snapchat is 10 years old, aging out of startup status.
The company went public in 2017 with a $24 billion valuation. Spiegel said during Snap's Oct. 21 earnings call that the Snapchat app now reaches more than 500 million people worldwide.
Crucially the company did have more cash on hand this quarter. Snap's operating cash flow was out of the red this quarter, totaling $72 million compared to a negative $55 million in Q3 of last year.

Still, as it recognizes a decade of work growing its user base and revenue Snap still can't yet turn a profit and continues to compete for users with other social media platforms like TikTok and Instagram. Users spent less time making content on Snap's stories feature this year compared to Q3 2020 –Instagram operates a very similar feature that Snap competes with.
Spiegel keeps encouraging the company to push the limits of augmented reality software, betting investment in this emerging form of digital expression will bring a windfall of users and cash. This quarter nearly all of the company milestones Snap boasted about this quarter were focused on AR including the fact that five of its AR lenses accounted for 11 billion impressions in Q3.
"Augmented reality is one of our most exciting long-term opportunities because it is simultaneously very early in its technological development and already used by hundreds of millions of people," Spiegel noted. He said that over 200 million people engage with Snapchat's augmented reality features every day.
Update: This story has been updated to clarify Snap saw $72 million in net losses this year, not debt.
Virtual avatar company Genies wants to be the go-to option for online personas and it's targeting the wealth of talent and seasoned executives from the area's biggest tech firm, Snap Inc., to help make that goal a reality.
Genies' latest hire from the Venice-based social camera company is George "YJ" Tu, a former senior engineer who worked on its Snapchat app and Spectacles camera glasses. Prior to working at Snap, Tu worked for three and a half years as a senior engineer at Facebook and specialized in developing the company's mobile infrastructure.
Tu joins Genies as its director of engineering. Genies CEO and founder Akash Nigam told dot.LA Tu's main mandate is hiring engineers to continue developing its avatar creation platform and digital marketplace, where users can buy and sell digital collectibles and wearable items for their virtual selves.
Tu is the first engineering executive the company's hired since its launch in 2017, but it plans to devote a big chunk of its recent $65 million Series B raise to attracting new talent.
"I think we've landed quite a few Snap employees for a few reasons," Nigam said. "Genies and Snap are probably the two biggest social companies on the Westside in LA, so I think that's an attraction for people that are already local."
The company already has some big celebrity names using its tech to make and share avatars -- including Justin Bieber, Rihanna and hip-hop tycoons Migos -- and the next step is to bring in more users.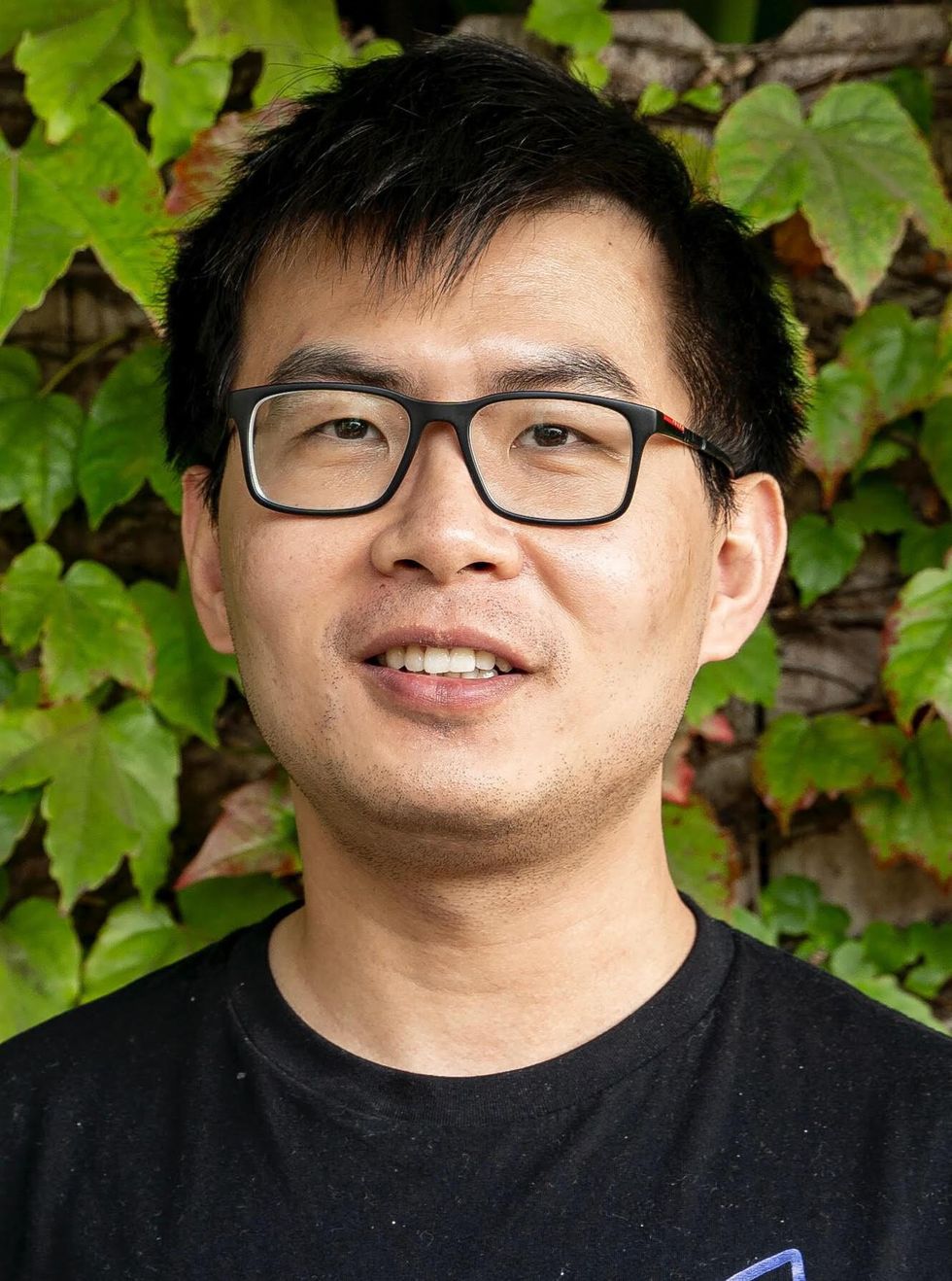 George "YJ" Tu is Genies' new director of engineering.
Nigam said the company's hired close to 30 new employees in the last three months, with about 80% of those hires being engineers. He added that roughly 90 people work at Genies, and estimated that 10% of them are ex-Snap employees.
"I think from a product perspective, we share a lot of philosophies and we're very similar in the way that we scheme and we game plan. Snap always is kind of shooting a few years in advance specifically within the social category."
Matt Sibka, Genies' vice president of recruiting, spent three and a half years at Snap creating a team for its CEO Evan Spiegel and was hired to do the same at Genies earlier this year. Genies competes with Snap's Bitmoji avatars, which got a 3D upgrade this July.
"Eighty percent of new spend after our fundraise, and anything moving forward for the next two years, is all going to be on engineering to become an engineering powerhouse," Nigam said. Genies has raised $110 million to date and Nigam previously told dot.LA the company wants to make "Ninety nine point nine percent of its revenue from selling digital goods.
Nigam said that the synergy between Genies and Snap wasn't a conscious choice, but noted that both companies have a similar vision – to advance augmented reality and encourage people to adopt virtual avatars that they can increasingly use as an extension of how they express themselves online.

Nigam's plan is to integrate Genies avatars into as many applications as possible. Currently the company has a deal with Facebook's Giphy that will let users bring their avatar with them to platforms where Giphy is integrated, like Facebook, TikTok or Snapchat – but Nigam said it wants to bring its avatars to popular games like "Roblox" too.
"That's the first API partnership, but we want to have hundreds of those," Nigam said. "So all of a sudden if you get ported into 'Roblox,' you can get any avatar."
Genies' next big goal is getting Generation Z to buy into the NFT hype by creating unique items for their avatars and then trading them. Genies is working with Dapper Labs, which operates NBA Top Shot and CryptoKitties, two of the most popular NFT exchanges, to create its own blockchain-based system for creating, verifying and selling digital goods.
Genies plans to make the marketplace available by the end of this year. Right now it's only accessible to celebrities, but Nigam said it'll open a beta version to customers by year's end.
"It almost becomes like a login authentication button, where you can port your Genie and your digital goods associated with it from one environment to the next, and in that case, we're kind of creating a new digital identity layer," Nigam said.
From Your Site Articles
Related Articles Around the Web