The digital copyright management system Pex scored a $57 million investment as it attempts to become a larger player online.
Chinese conglomerate Tencent and its subsidiary Tencent Music Entertainment participated along with investing firms the CueBall Group, NextGen Ventures Partners, Amarinthine and others.
Pex has built what it calls its "attribution engine" — free for rights holders and creators — to identify, attribute and license content on the internet.
The volume of music and video on the internet has grown exponentially with the popularity of social media and other online channels. In 2018, for example, 621 hours of content were uploaded to YouTube every single minute, said Pex Head of Business Development Wilson Hays.
Pex, founded in 2014, would not say what platforms it works with but said that its service helps these companies remain in legal compliance and limit the need to take down unlicensed material. Last year Pex bought Dubset, a rights management platform for music used on streaming services.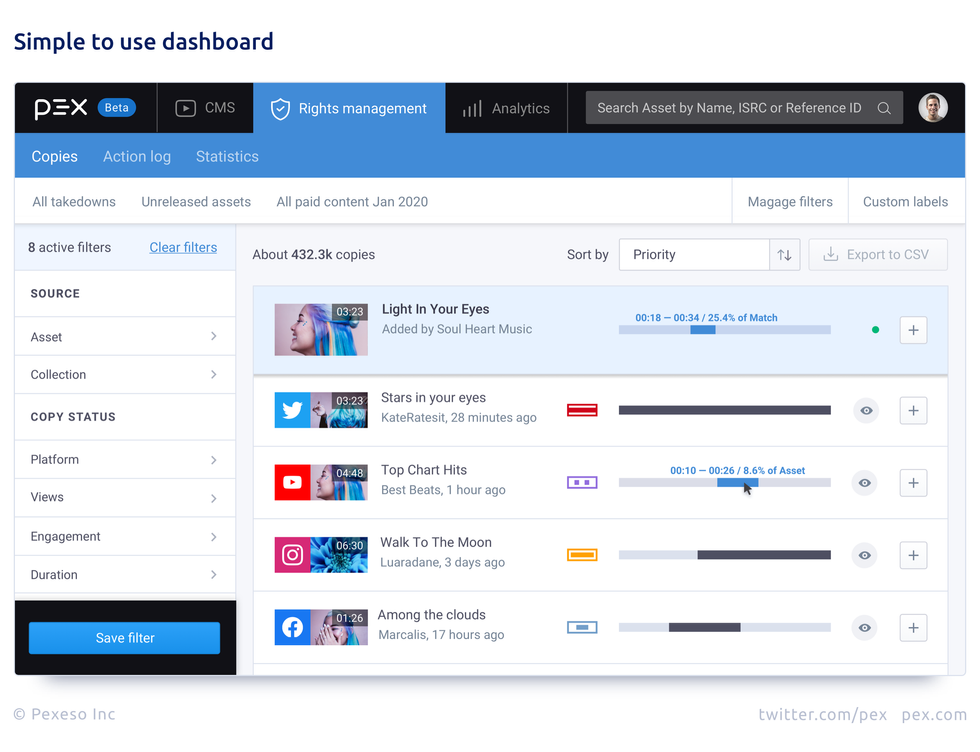 Pex's song-tracking dashboard
Governments across the world are rethinking what responsibility platforms should have for the content they publish. In the EU, for example, a new law coming into force this summer will effectively shift the burden of copyright compliance to platforms, and add new guidelines asking rights holders to make greater efforts to license music and other content that appears on its site. In the U.S., Congress has floated making illegal streaming a felony as part of its stimulus bill discussions.

"We don't see that there's a way to do that currently without some sort of underlying infrastructure that can tie multiple sides together," Hays said.
Beyond working with the typical stakeholders, Pex partners with law enforcement agencies to help them identify and prevent toxic content from appearing on user-generated content platforms, Hays said.
"It's not just enterprise software," said Hays, "It's really becoming more of a marketplace," adding that new partnerships and customers the company plans to announce in the coming months will show that in a new light.