'Entrepreneurship's Hard': The Weeknd, TikTok and the Hunger for Virtual Audiences
Sam Blake
Sam primarily covers entertainment and media for dot.LA. Previously he was Marjorie Deane Fellow at The Economist, where he wrote for the business and finance sections of the print edition. He has also worked at the XPRIZE Foundation, U.S. Government Accountability Office, KCRW, and MLB Advanced Media (now Disney Streaming Services). He holds an MBA from UCLA Anderson, an MPP from UCLA Luskin and a BA in History from University of Michigan. Email him at samblake@dot.LA and find him on Twitter @hisamblake
The Weeknd is set to perform live on TikTok tonight, showcasing not only the Grammy Award-winning artist's talent but also the fast-growing company that will turn him into an avatar for the performance.
Wave creates digital avatars for musicians to put on shows and interact with fans in real time. Its partnership with TikTok, the besieged social media app known for short dance videos, provides the Los Angeles-based company with its largest platform yet to showcase what it can do.
---
"This is the biggest concert we've ever done in terms of the number of attendees," Wave co-founder and chief executive Adam Arrigo told dot.LA. He expects millions of people to tune in on the app that President Donald Trump has threatened to shut down. That would far surpass Wave's recent draw of over half a million fans to a John Legend virtual concert.
The Weeknd concert will stream live on TikTok's official account, @tiktok, at 5:30 p.m. PST.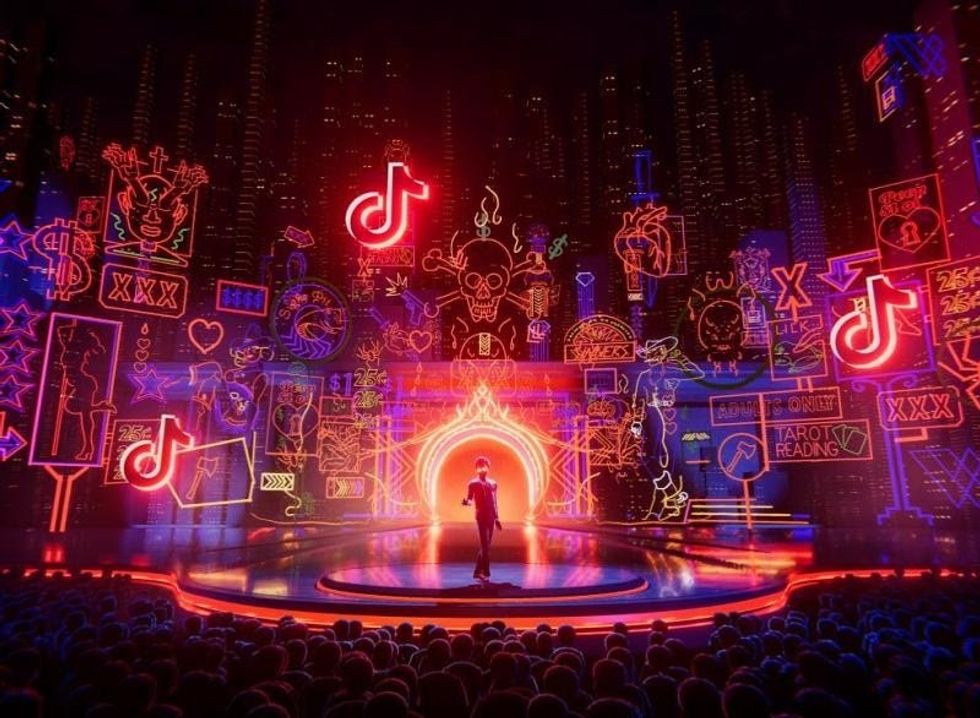 The Weeknd is set to perform live on TikTok on Friday, August 7, 2020.
TikTok's reach — over 800 million users — makes it an attractive partner for advertisers and others trying to grow and highlights the conundrum companies face in working with them.

Most of Wave's virtual concerts have been broadcasted on YouTube, Twitch, video game platforms and VR devices. TikTok is a new way for them to build audience.
The social-video company reached out to Wave, Arrigo said, and built out its platform to integrate Wave into it.
Arrigo said he's not worried about the ongoing tensions surrounding TikTok. On Thursday, President Trump issued an executive order that effectively gives TikTok 45 days to negotiate a sale to an American company before being banned. The president has cited national security concerns related to TikTok's sharing data with the Chinese government and offering a platform for the Chinese Communist party to spread disinformation.
"That hasn't been a concern," Arrigo said, "based on everything they've said with their servers. We trust them as a partner."
Arrigo said the folks at TikTok "never seemed worried" about the U.S. government's increasingly vocal concerns over its Chinese parent company, ByteDance.
As for how the still-unsettled saga may affect future projects, Arrigo said he is guided by his company's artist-first values.
"Entrepreneurship's hard," he said, "so I think ultimately it's about what you can and can't control…(For us) it's really about, how do we support creativity, support music, especially at a time right now when musicians need every avenue possible to make money. A lot are in danger of not being able to make a living."
The pandemic has stamped out most live performances, making platforms like Wave increasingly attractive to artists and the entertainment industry. In June, the company raised $30 million. It has since been focused on growing its executive team. In July, it brought on former Riot Games executive Jarred Kennedy as its COO, and Arrigo said more C-level hires are coming.
The Weeknd is not exactly a struggling artist. His recent album "After Hours" is the most-streamed R&B album in history, and the song "Blinding Lights" has inspired over 1.5 million TikTok videos.
Arrigo, a musician himself, said the partnership with The Weeknd was a big score for the company.

"Often for artists it's hard to work with new startups because you want your brand and creative qualities to be up to par," said Arrigo, whose home office includes his electric guitar, jazz bass, and keyboard. "We pride ourselves on being authentic artists on both the music and the visual level."
Arrigo likens a good company to a good band, where members collaborate best by listening to each other. Friday's event, to him, is a culmination of lots of hard work across several Wave teams, including engineering, business development, product management, and event producers that "continue to break down boundaries of what a concert can be."
"(This) is going to be our first real example at scale of what's possible now," he said, "and it's really just the beginning."
Sam Blake
Sam primarily covers entertainment and media for dot.LA. Previously he was Marjorie Deane Fellow at The Economist, where he wrote for the business and finance sections of the print edition. He has also worked at the XPRIZE Foundation, U.S. Government Accountability Office, KCRW, and MLB Advanced Media (now Disney Streaming Services). He holds an MBA from UCLA Anderson, an MPP from UCLA Luskin and a BA in History from University of Michigan. Email him at samblake@dot.LA and find him on Twitter @hisamblake
https://twitter.com/hisamblake
samblake@dot.la