'There Will be Drastic Changes to Come in Music Creation': Output Raises $46M to Change How Music is Made
Sam Blake
Sam primarily covers entertainment and media for dot.LA. Previously he was Marjorie Deane Fellow at The Economist, where he wrote for the business and finance sections of the print edition. He has also worked at the XPRIZE Foundation, U.S. Government Accountability Office, KCRW, and MLB Advanced Media (now Disney Streaming Services). He holds an MBA from UCLA Anderson, an MPP from UCLA Luskin and a BA in History from University of Michigan. Email him at samblake@dot.LA and find him on Twitter @hisamblake
03:36 PM | October 22, 2020
L.A.-based Output, a bootstrapped business founded in 2013 to help musicians overcome writer's block, announced its first ever fundraise, of $45 million from Summit Partners.
The company serves a range of musicians from hobbyists to professionals, providing them a library of loops and samples that they can then manipulate into unique songs of their own.
Immediate plans are to nearly double its staff and expand its product platform, with future goals of leading the evolution of digital music production.
Gregg Lehrman was no stranger to music composition. He had worked under world-famous composers such as Hans Zimmer writing music for film and TV and had produced big projects with BMG music publishing. But after setting out on his own, he found himself suffering from writer's block.
So, he said, "I made a piece of software for myself, as a music-maker — with no intention of starting a company."
---
Lehrman's tool, however, ultimately became a music-tech company called Output. Based in L.A.'s Chinatown district, its mission is to help people start making music.
Seven years after it was created, Output has agreed to its first ever fundraise: a $45 million minority-stake investment from Summit Partners.
"I think there will be drastic changes to come in music creation," Lehrman said, "and we want to be at the forefront of it."
His investors agree.
"We believe Output has the potential to reinvent the digital music production market," said Andrew Collins, managing director at Summit and lead investor on the deal. Collins will now join Output's board.
"The holy grail in digital music-making is to make it super easy for musicians to find content that they like and then make it sound unique to them, and that's exactly what Output does," Collins told dot.LA.
The list of artists and projects that have used Output is impressive: Kanye West, Coldplay, Justin Bieber and Rihanna among them, as well as the soundtracks to "Game of Thrones," "Stranger Things" and "Black Panther."
The company broke $1 million in its first year with no advertising, Lehrman said: "just a viral video and a good product." That first product line – which included digital instruments and effects – was software geared toward professional musicians, who purchase it for an upfront fee.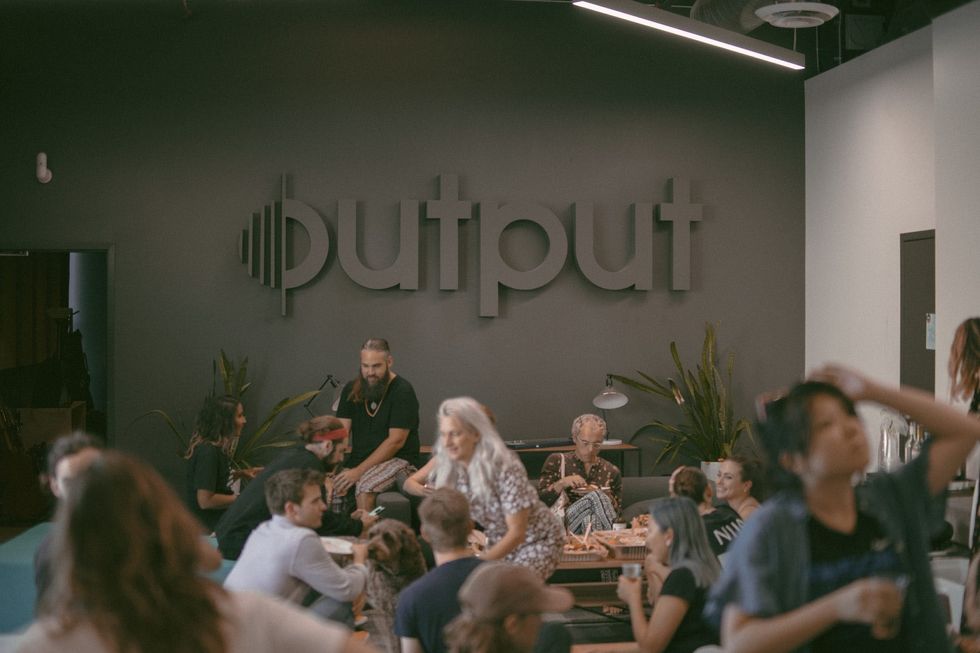 Courtesy of Output
In 2018, the company added a software-as-a-service (SaaS) product, called Arcade, which became particularly popular among musical hobbyists and digital-music newcomers. For a $10 monthly subscription, users receive access to thousands of loops and samples created by Output, which they can then manipulate and turn into their own unique tracks.

Most customers today use Arcade in conjunction with a digital audio workspace like Logic, Ableton or ProTools. Songwriters, whether professional or amateur, can set their rhythm and key, pull from Output's library of sonic building blocks and mold them like musical clay. Users can also upload and work with their own digital audio files.
Over time, Output has seen both its user base and its revenue streams shift away from the pros – which Lehrman said is a customer base with a natural limit – and toward hobbyists and digital-production newcomers.
Arcade, its SaaS product, has seen a 300% increase in monthly recurring revenue over the past 12 months. In just two years, it's grown to generate about 60% of Output's income.
"In the world of SaaS, it is incredibly rare to see both exceptional growth and capital efficiency." Collins said. "You don't see SaaS software growing this fast, profitably, fully bootstrapped. There's not a lot of those out there."
ARCADE by Output - Walkthrough www.youtube.com
As the popularity of Arcade has grown, Output's user base has shifted to about one-third professional musicians, one-fourth digital-music newcomers, and the rest hobbyists who are "really into making [digital] music."

Collins also likes the market tailwinds that Output is riding — namely, the democratization of music ideation and distribution. Output enables musicians to create new sounds, while platforms like Spotify and Soundcloud allow anyone to publish their tunes with just a few clicks.
The company's technology stack is a combination of digital signal processing (DSP) algorithms written in C++ and some machine learning. "We're going to see that continue to expand," Lehrman said.
Output also has a line of furniture and hardware products designed to help music-makers build out their home studios. It is currently working with Barefoot Sound – which Lehrman called "the Rolls Royce of speakers" – to manufacture a new speaker line.
With its new cash, Output plans to grow its staff, which currently numbers about 60. "We'll grow to north of 100," Lehrman said.
It will also build out its product offering, adding new tools to Arcade like digital instruments and expanding its mobile capabilities.
Output founder Gregg Lehrman has worked under world-famous composers such as Hans Zimmer writing music for film and TV.Courtesy of Output
"We feel strongly we can build a unified ecosystem that once you're in, you're familiar with everything," Lehrman said. "You don't have to learn 100 different applications; it can do 100 different things but you won't feel lost."

Collins pointed to several competitors, including Splice, LANDR, iZotope and Native Instruments, but noted that "nobody else has integrated a very robust curated library of content – sounds, loops, well-organized beats – that musicians can pull from and pull into a workflow engine (the software) and manipulate those sounds to create something that is completely unique."
Lehrman and Collins separately emphasized the Output team's passion for music. 50 of the 60 employees today make music on a daily basis, Lehrman said.
Summit primarily focuses on founder-led bootstrapped companies, which it provides with on-demand services like marketing and engineering.
"Management sets the agenda," Collins said.
For Lehrman, that'll be to further leverage technology: not to create music itself, but to help people create, just like it helped him overcome his own writer's block those years ago.
"From the first product to the last product," he said, "it's been about helping people be creative."
Sam Blake
Sam primarily covers entertainment and media for dot.LA. Previously he was Marjorie Deane Fellow at The Economist, where he wrote for the business and finance sections of the print edition. He has also worked at the XPRIZE Foundation, U.S. Government Accountability Office, KCRW, and MLB Advanced Media (now Disney Streaming Services). He holds an MBA from UCLA Anderson, an MPP from UCLA Luskin and a BA in History from University of Michigan. Email him at samblake@dot.LA and find him on Twitter @hisamblake
https://twitter.com/hisamblake
samblake@dot.la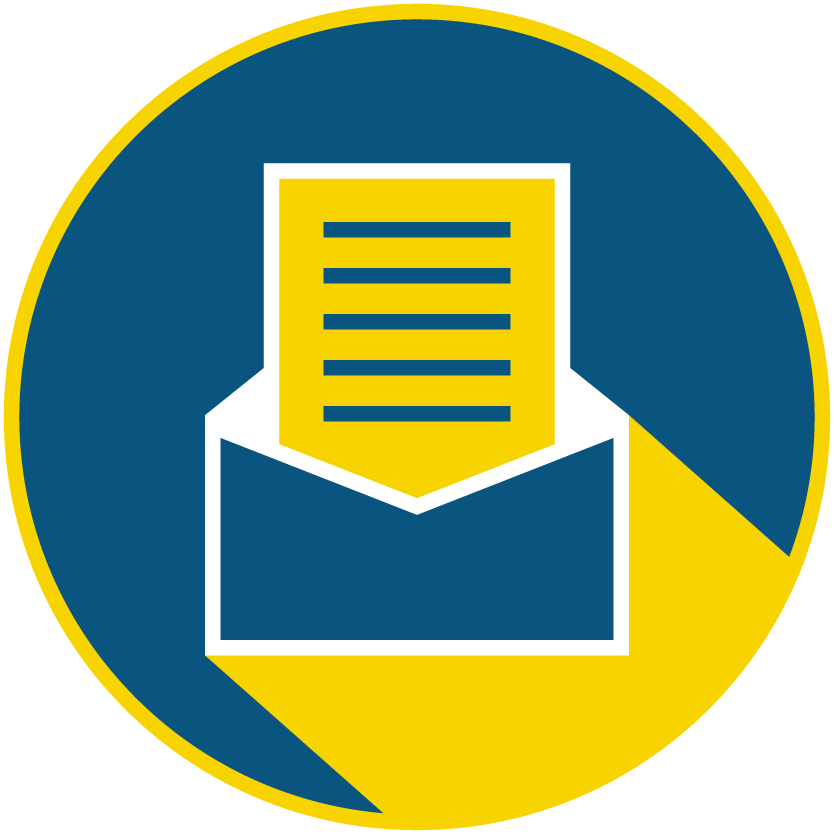 Subscribe to our newsletter to catch every headline.
06:05 AM | January 25, 2022
Image courtesy of Shutterstock
The age of the creator is upon us.
After years of gaining momentum, the creator economy has gone mainstream. Payment processing platform Stripe estimates the number of individuals who now see themselves as full-time "creators"—those who use online tools to sell digital content—grew 48% in 2021, while earnings across the industry are expected to soon eclipse $10 billion.
Major brands have taken notice, as influencers can garner loyal social media followings that outpace those of many Hollywood celebrities. Meanwhile, some top-tier influencers now make more than S&P 500 CEOs. As more Gen Z creators enter the workforce—looking for opportunities beyond traditional models—the industry is poised to grow at a breakneck pace. We talked with Famous Birthdays founder Evan Britton, whose platform tracks and measures the industry, as well as several emerging influencers about what to watch for over the coming year.
1. Gaming Influencers Grow
There is more gaming content now than ever. According to TwitchTracker, which catalogs streamers, 2021 was the most popular year ever for Twitch, which averaged more than 3.1 million daily viewers at its peak in May 2021. January 2022's numbers (2.9 million) are not far behind.
"Twitch streamers have highly engaged fans," said Britton. He pointed to Twitter as an example of a platform where many brands and personalities find it "hard to get engagement," yet where many streamers routinely manage to draw "thousands of likes and comments."
"Their fans are so engaged with them because they're watching them for hours on end," he added. "They just want more content."

Even though demand for gaming content is up, expect gaming creators to become more strategic about repurposing content in 2022.
"As a streamer, one of the biggest things right now is finding ways to continue to grow while being efficient," said gamer and Twitch streamer Nick Bartels. In the past, influencers in the gaming world would commit many hours to livestreaming their adventures—but when the game was over, traditionally, so was the stream, and few did anything with the resulting content.
Expect to see creators looking for ways to funnel growth into platforms even when they aren't streaming. Bartels said he's looking to work with an editor who can repurpose much of the live content he creates.
"One of the bigger concerns is burnout over air time," said Bartels. "It's part of the grind initially, but the last thing you're going to want to do after you stream is edit. You want to have some life balance."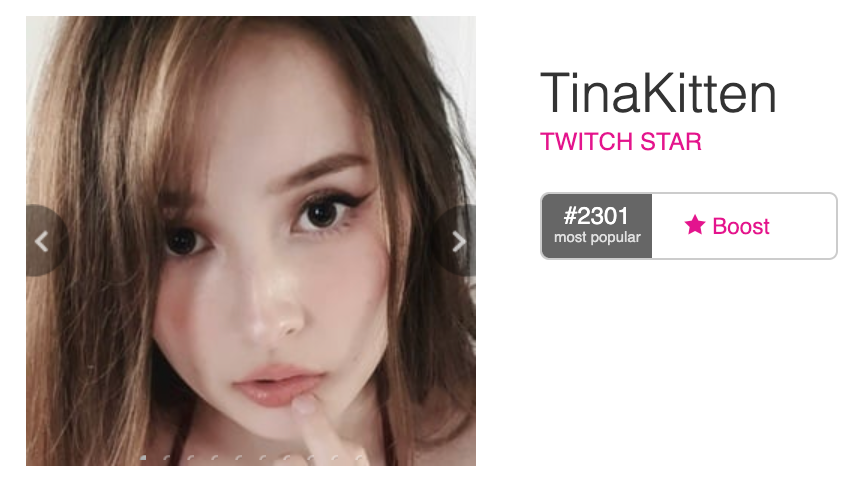 TinaKitten/ Famous Birthdays
Famous Birthdays' Gaming Influencers to Watch
2. The Blockchain Provides a New Source of Income and Experimentation
In years past, influencers relied largely on advertising dollars to monetize their massive audiences and provide them with an income. More recently, however, the blockchain—including cryptocurrency and NFTs— have stepped in, providing a new way to create community while growing revenue.
"The growth of cryptocurrency followed by the explosion of NFTs was a big trend in 2021 that will continue into 2022," said Britton. "Last year, creators sold digital art and communities sold limited edition collectables offering unique access and clout. This year, offerings will become even more creative."
Britton said one driver of this trend is entertainment and engagement. NFTs, or non-fungible tokens, provide a way for influencers to reward their most engaged users, as well as a way for audiences to literally invest in the creators they love. "I think it's a fun way for people to get involved and be part of a community," he noted. As creators build engaged communities of their own, NFTs could provide additional methods for them to monetize.
But there has been a dark side to influencers' interest in crypto. Earlier this month, Kim Kardashian and Floyd Mayweather were among a number of influencers accused of taking part in an online pump-and-dump crypto scam. TikTok has since banned promotional content related to financial services, including cryptocurrency, by adding them to its list of "globally prohibited industries."
While it remains to be seen just how effective NFTs will be as an investment tool, expect interest in the space to continue to grow.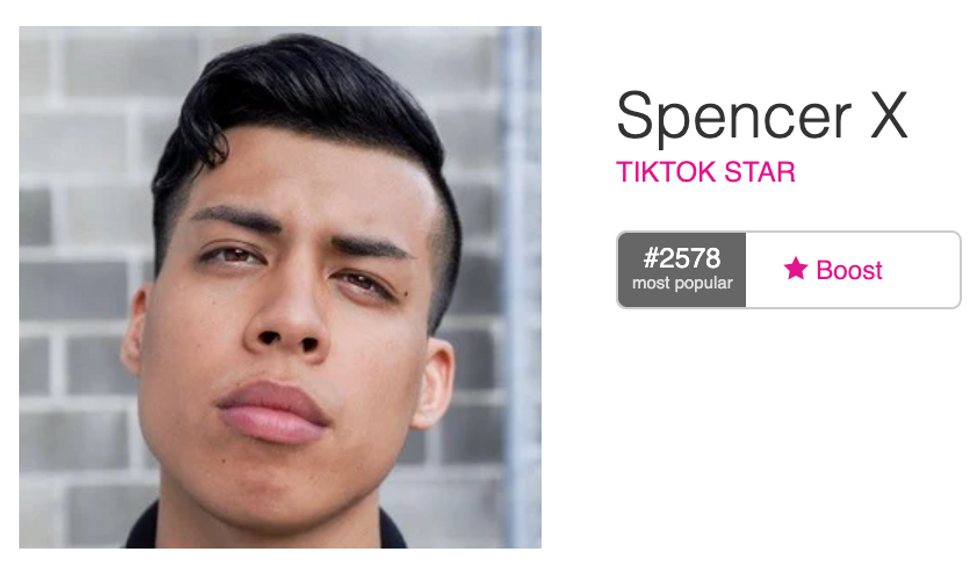 Spencers/ Famous Birthdays
Famous Birthdays' Influencers with NFT Projects to Watch
3. More Fun with Food
Food has emerged as a growing subset of the influencer economy, and several new platforms launched in 2021 looking to seize on that growing interest. Restaurants large and small have taken notice.
"One huge tailwind on TikTok has been creators offering up their unique recipes and fun takes on food," said Britton, who expects this trend to build throughout 2022. "TikTok is about fun, short videos. Everybody loves food and a lot of people like making food. It just has a lot of natural product-market fit with TikTok."
Videos showing food can be instrumental in convincing consumers to try new restaurants or menu items. In a survey by restaurant marketing firm MGH, 36% of TikTok users said they have visited or ordered food from a restaurant after seeing a TikTok video featuring that establishment.
Influencer Cassie Sharp found success in 2021 by creating bite-sized content around food challenges, like her popular "five random ingredients" challenge.
"I'm trying to find new challenges that garner similar engagement, and take short-form videos and turn them into long-form content so that I can take some of those views on my shorts and apply them on my long-form videos," she said, highlighting a trend common among creators in all verticals: repurposing content.
"The greatest thing about short-form content is you can throw it out there and see what catches," Sharp added. "If I get an audience for a specific short-form video, when I start making long-form videos people are already comfortable with it."
Her biggest takeaway so far: Clear bowls are essential for creating engaging food videos. "It's just more interesting to watch the butter and brown sugar melt together," she said.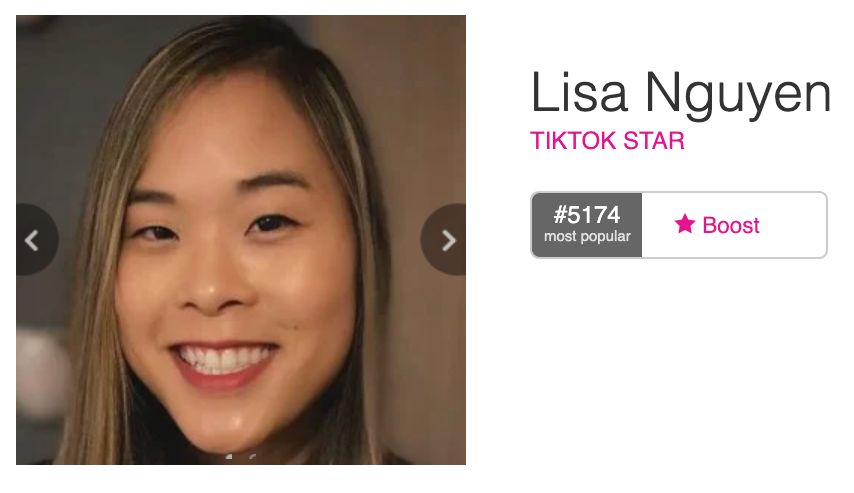 Lisa Nguyen/ Famous Birthdays
Famous Birthdays' Food-Focused Influencers to Watch
4. Social Shopping Upends Ecommerce
The pandemic helped cement ecommerce's rapidly growing advantage over brick-and-mortar shopping. As more influencers take to livestreaming platforms, expect the nature of online shopping to change.
"Facebook, Instagram and TikTok each facilitate live-shopping and YouTube launched livestreams to promote shopping ahead of the 2021 holiday season," noted Britton, who added that he expects live-shopping to become increasingly popular in 2022. "It took a while to get here, but it's growing."
Gen Z is certainly keen to buy in real time. Survey results from the 2022 Instagram Trend Report show 27% of users aged 13 to 24 shop directly on social media.
Instagram's native affiliate tool is just one example of this trend in action. The platform began testing the tool in 2021, incentivizing creators to include shoppable content not just in their feeds but also in their Instagram Stories and livestreams.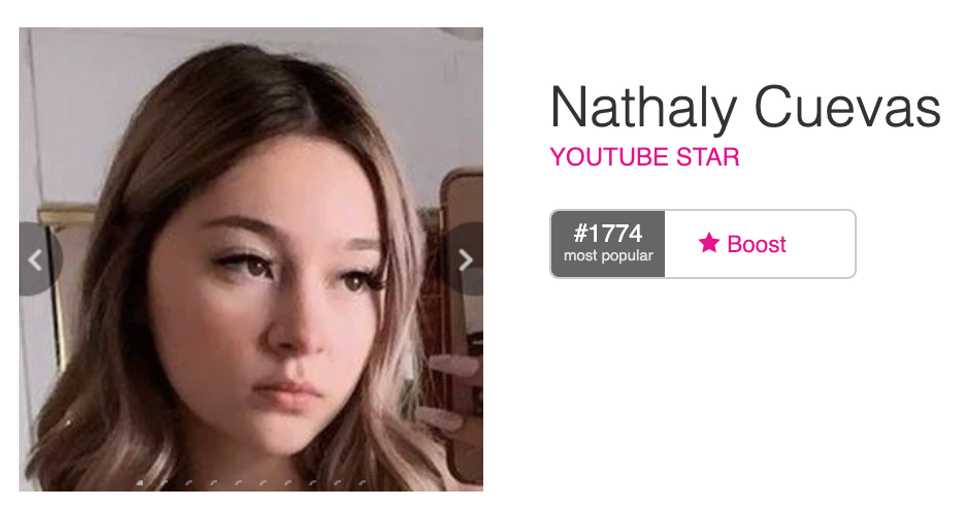 Nathaly Cuevas/ Famous Birthdays
Famous Birthdays' Ecommerce Influencers to Watch
Correction: An earlier version of this story misspelled Nick Bartels' last name.
From Your Site Articles
Related Articles Around the Web
Jolene Latimer
Jolene Latimer has her Master of Arts in specialized journalism and writes about sports, entertainment and personal finance.
05:05 AM | December 09, 2021
It started as a real estate company for startups. Today, Plug and Play operates what it calls an "innovation platform" that offers young companies office space, an accelerator program and — in some cases — invests in them.
On this episode of LA Venture, Plug and Play's CEO and founder Saeed Amidi talks about how he evolved the company into an accelerator and investment firm, and how he uses his platform to introduce many of the world's largest corporations to startups that are re-envisioning their industries.
Amidi initially started Plug and Play as a space for startups to build the companies, providing them with office space, in-house servers and infrastructure that could help them expand. After talking to his startup clients, Amidi realized what they really needed was money. Amidi saw an opportunity to serve as an intermediary to help his real estate clients grow.

"When we find a great entrepreneur, team and technology, we generally show them to 10 VCs and 10 corporate partners, and we capture their thoughts" on where the startup could improve — and whether they might want to invest, said Amidi.
Plug and Play now has about 540 corporate partners, including Walmart, McDonald's and Pepsi.
"They are some of the incredibly successful companies around the world that would like to use the [Plug and Play] platform to help them understand the future of commerce," he adds.
Today, Plug and Play's accelerator programs — there are 17 of them — host over a thousand startups in the United States alone, including one that recently launched in Downtown L.A. Internationally, that number is about double.
"We are really planning and hoping that with our location in L.A., we would have major content producers, major advertisers, join the platform," he said.
Plug and Play invests in about 250 startups a year, many of them in the automotive industry.
"The whole world is going through digital transformation so fast, that all of these large companies may be Mercedes or Ford or Chrysler, they are all hunting startups that can help them electrify faster, you know, beat Tesla in their autonomous race," said Amidi.
Amidi said people always ask him whether he considers retiring.
"I tell them if I find something else to do that I will have more fun. I will do it. But, in general, what drives me is how many entrepreneurs or startups use the platform to build their dreams," said Amidi.
Listen to LA Venture on Apple Podcasts, Stitcher, Spotify or wherever you get your podcasts.
dot.LA Engagement Intern Joshua Letona contributed to this post.

From Your Site Articles
Related Articles Around the Web
Minnie Ingersoll
Minnie Ingersoll is a partner at TenOneTen and host of the LA Venture podcast. Prior to TenOneTen, Minnie was the COO and co-founder of $100M+ Shift.com, an online marketplace for used cars. Minnie started her career as an early product manager at Google. Minnie studied Computer Science at Stanford and has an MBA from HBS. She recently moved back to L.A. after 20+ years in the Bay Area and is excited to be a part of the growing tech ecosystem of Southern California. In her space time, Minnie surfs baby waves and raises baby people.