tencent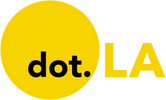 Get in the KNOW
on LA Startups & Tech
X
tencent
This is the web version of dot.LA's daily newsletter. Sign up to get the latest news on Southern California's tech, startup and venture capital scene.
Once again, Riot Games is taking a Chinese mobile gaming rival to court over claims that it's illegally copying intellectual property from its popular "League of Legends" franchise.

In recent years, West Los Angeles-based Riot has grown increasingly frustrated with a competing game developer called Moonton, which Riot claims is stealing IP and promotional tactics from "League of Legends" to use in a competing mobile title called "Mobile Legends: Bang Bang."
Last year, Shanghai-based Moonton was acquired for $4 billion by ByteDance. Yes, that ByteDance—the Chinese tech firm that owns video-sharing giant TikTok, whose Culver City offices are not far from Riot's Sawtelle headquarters.
The latest legal spat, now playing out in U.S. District Court for the Central District of California, is part of a larger battle between ByteDance and Tencent—the rival Chinese tech conglomerate that took control of Riot Games in 2015—for control over what's become a lucrative mobile gamer base. According to digital research firm Sensor Tower, games like "Mobile Legends: Bang Bang," which fall into the mobile multiplayer online battle arena (MOBA) category, generated more than $300 million in average monthly revenues globally last year, up 14% from 2020.
In its lawsuit, Riot alleges that Moonton's "Mobile Legends"—which counts 500 million downloads on Android since its release in 2016—rips off the aesthetic, characters and even the title of Riot's "League of Legends" franchise, which was created in 2009. The complaint claims that since 2015, Moonton has engaged in a "deliberate and sustained campaign to free ride on Riot's highly valuable rights" for "League of Legends," calling the situation "blatant copying." Riot actually sued Moonton in the same court in 2017 making the same argument—but a judge dismissed the suit, arguing that it should be heard in China instead. Now, Riot is trying its case again.
This time, Riot is taking issue with Moonton allegedly lifting from its newest "League of Legends" title, "Wild Rift," which was released in the U.S. early last year. "New characters, settings, and objects are regularly copied from 'Wild Rift,'" Riot notes in its new lawsuit, which was filed May 9. "Moonton often copies the modifications and updates, such that both games look and feel highly similar to gamers."
In its complaint, Riot requests that Moonton return any profits it gained in the U.S. from copying its "League of Legends" games. "[Monday]'s filing follows years of serial copying," a Riot spokesperson said in a statement to dot.LA. "This copying must stop."
Representatives for Moonton and ByteDance could not be reached for comment. — Samson Amore
The digital copyright management system Pex scored a $57 million investment as it attempts to become a larger player online.
Chinese conglomerate Tencent and its subsidiary Tencent Music Entertainment participated along with investing firms the CueBall Group, NextGen Ventures Partners, Amarinthine and others.
Pex has built what it calls its "attribution engine" — free for rights holders and creators — to identify, attribute and license content on the internet.
The volume of music and video on the internet has grown exponentially with the popularity of social media and other online channels. In 2018, for example, 621 hours of content were uploaded to YouTube every single minute, said Pex Head of Business Development Wilson Hays.
Pex, founded in 2014, would not say what platforms it works with but said that its service helps these companies remain in legal compliance and limit the need to take down unlicensed material. Last year Pex bought Dubset, a rights management platform for music used on streaming services.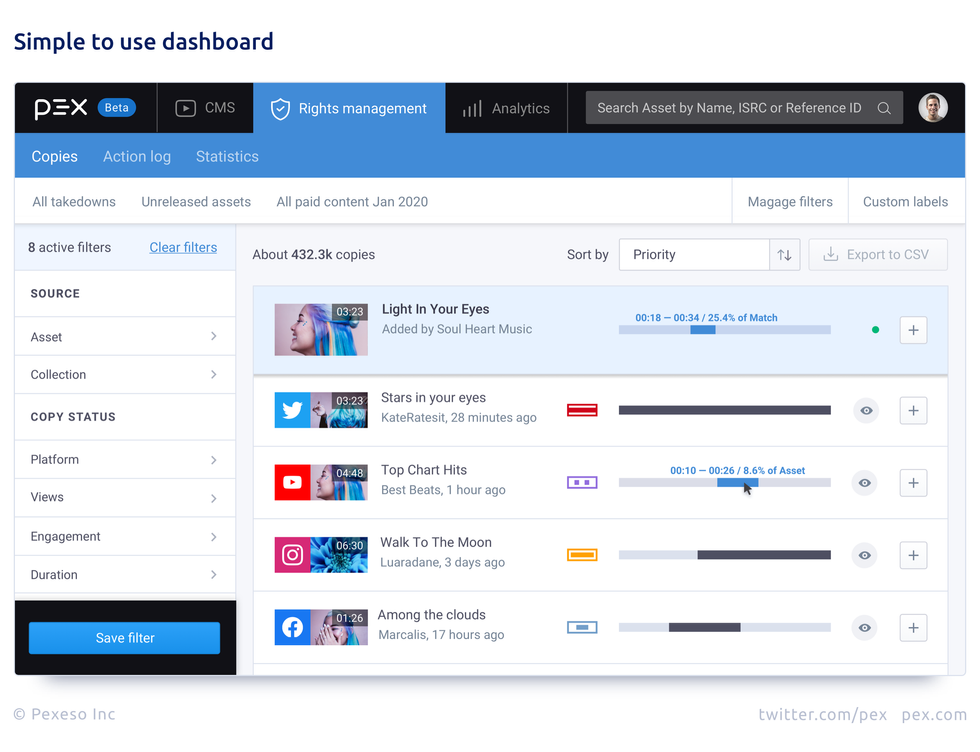 Pex's song-tracking dashboard
Governments across the world are rethinking what responsibility platforms should have for the content they publish. In the EU, for example, a new law coming into force this summer will effectively shift the burden of copyright compliance to platforms, and add new guidelines asking rights holders to make greater efforts to license music and other content that appears on its site. In the U.S., Congress has floated making illegal streaming a felony as part of its stimulus bill discussions.

"We don't see that there's a way to do that currently without some sort of underlying infrastructure that can tie multiple sides together," Hays said.
Beyond working with the typical stakeholders, Pex partners with law enforcement agencies to help them identify and prevent toxic content from appearing on user-generated content platforms, Hays said.
"It's not just enterprise software," said Hays, "It's really becoming more of a marketplace," adding that new partnerships and customers the company plans to announce in the coming months will show that in a new light.
From Your Site Articles
Related Articles Around the Web
Photo by John Matychuk on Unsplash
A consortium including the Chinese-based music platform Tencent Music Entertainment announced Friday it has bought another 10% stake in Universal Music Group, which values the company at 30 billion euros. It bumps the consortium's total stake in the L.A.-based music giant to 20%.
The move will help TME's parent company Tencent broaden its reach as a leading player in music and gaming across China.
"Tencent owns the three largest digital music services in China and has been investing in other services and music-based content around the world," said Larry Miller, a professor music business at NYU Steinhardt. "It provides a view of what is happening on the supply side at the world' largest music company."
The transaction is slated to close in the first half of 2021, subject to regulatory approvals, TME said.
UMG's parent company Vivendi SA also said Friday it has plans to sell additional minority stakes in Universal ahead of a listing in 2022.
The French media conglomerate said it would use cash from these transactions to reduce financial debt and finance share buyback and acquisitions.
Last month, Tencent
acquired a minority stake
in the L.A. virtual concerts company Wave and it also owns stakes in Spotify and Warner Music Group.
From Your Site Articles
Related Articles Around the Web