tencent
The digital copyright management system Pex scored a $57 million investment as it attempts to become a larger player online.
Chinese conglomerate Tencent and its subsidiary Tencent Music Entertainment participated along with investing firms the CueBall Group, NextGen Ventures Partners, Amarinthine and others.
Pex has built what it calls its "attribution engine" — free for rights holders and creators — to identify, attribute and license content on the internet.
The volume of music and video on the internet has grown exponentially with the popularity of social media and other online channels. In 2018, for example, 621 hours of content were uploaded to YouTube every single minute, said Pex Head of Business Development Wilson Hays.
Pex, founded in 2014, would not say what platforms it works with but said that its service helps these companies remain in legal compliance and limit the need to take down unlicensed material. Last year Pex bought Dubset, a rights management platform for music used on streaming services.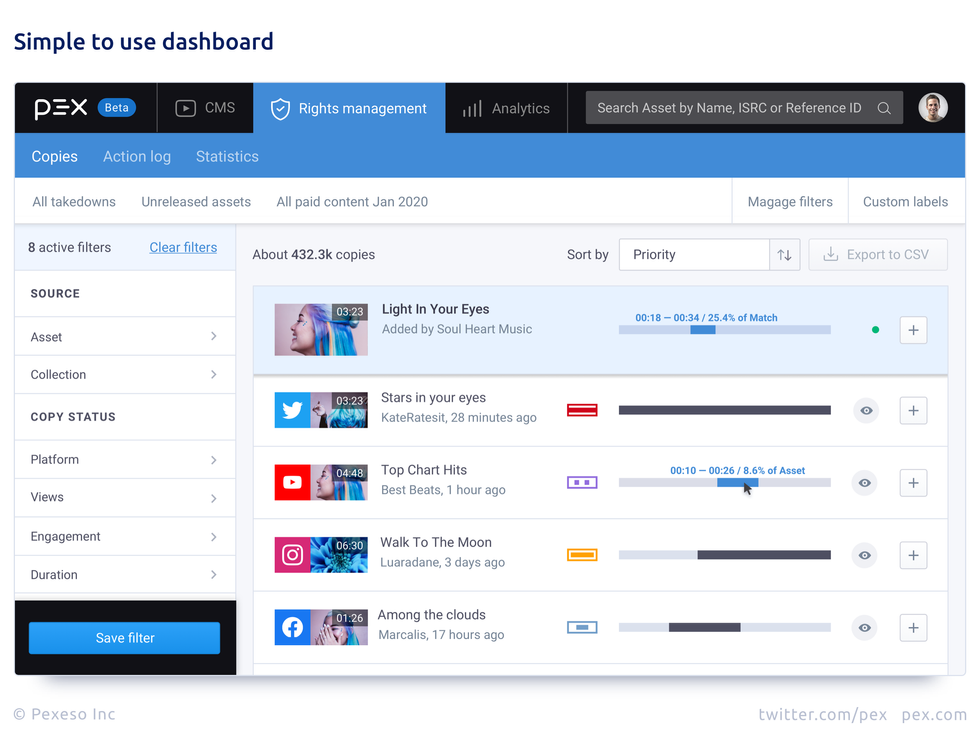 Pex's song-tracking dashboard
Governments across the world are rethinking what responsibility platforms should have for the content they publish. In the EU, for example, a new law coming into force this summer will effectively shift the burden of copyright compliance to platforms, and add new guidelines asking rights holders to make greater efforts to license music and other content that appears on its site. In the U.S., Congress has floated making illegal streaming a felony as part of its stimulus bill discussions.

"We don't see that there's a way to do that currently without some sort of underlying infrastructure that can tie multiple sides together," Hays said.
Beyond working with the typical stakeholders, Pex partners with law enforcement agencies to help them identify and prevent toxic content from appearing on user-generated content platforms, Hays said.
"It's not just enterprise software," said Hays, "It's really becoming more of a marketplace," adding that new partnerships and customers the company plans to announce in the coming months will show that in a new light.
From Your Site Articles
Related Articles Around the Web
A consortium including the Chinese-based music platform Tencent Music Entertainment announced Friday it has bought another 10% stake in Universal Music Group, which values the company at 30 billion euros. It bumps the consortium's total stake in the L.A.-based music giant to 20%.
The move will help TME's parent company Tencent broaden its reach as a leading player in music and gaming across China.
"Tencent owns the three largest digital music services in China and has been investing in other services and music-based content around the world," said Larry Miller, a professor music business at NYU Steinhardt. "It provides a view of what is happening on the supply side at the world' largest music company."
The transaction is slated to close in the first half of 2021, subject to regulatory approvals, TME said.
UMG's parent company Vivendi SA also said Friday it has plans to sell additional minority stakes in Universal ahead of a listing in 2022.
The French media conglomerate said it would use cash from these transactions to reduce financial debt and finance share buyback and acquisitions.
Last month, Tencent
acquired a minority stake
in the L.A. virtual concerts company Wave and it also owns stakes in Spotify and Warner Music Group.
From Your Site Articles
Related Articles Around the Web
The Chinese majority-owned Tencent Music Entertainment is acquiring a minority stake in the L.A.-based virtual concerts company Wave, giving the startup a door into the country's state-controlled internet.
Terms of the deal weren't disclosed but the agreement will allow Wave concerts to be distributed on TME's platforms, including QQ Music, Kugou Music, Kuwo Music and WeSing, that operate within China's "Great Firewall." The two companies will also collaborate on developing shows for TME Live, TME's livestreaming platform the company launched in March.
Tencent, TME's behemoth majority parent company, came under fire earlier this year when the Trump administration issued an executive order to ban WeChat, its messaging app, in the U.S. Much like the parallel TikTok ban, that order has not amounted to much.
Tencent is one of China's state-owned enterprises. The deal comes as Chinese authorities appear to be showing small signs that they could ease some of the restrictions on long-banned foreign sites.
For Wave, which renders artists into avatars for real-time performance and fan interaction in imaginative digital settings, the deal not only gives it – and the artists who work with the company – access to what can be a hard-to-reach market, but also the monetization expertise of TME.
In the third quarter this year, about 70% of TME's revenue came from "social entertainment services" such as virtual tipping and digital gifts. Those are tools that Wave already uses to an extent but which have been slower to take off in the West compared to the Asian markets, where such consumer behavior is far more ingrained. Wave's new partner may help to accelerate their use, at a time when artists are particularly hungry for more revenue.
Wave launched five years ago as a VR-only company but has since made its shows available on social media platforms including Twitch, YouTube and TikTok, in addition to gaming consoles and headsets. The company raised a $30 million Series B round in June. It has orchestrated over 50 shows for artists, including John Legend and The Weeknd, whose TikTok performance in August attracted over 2 million unique viewers.
TME is publicly traded on the New York Stock Exchange. In addition to Wave it also owns stakes in Universal Music Group, Warner Music Group and Spotify.
---
Sam Blake primarily covers entertainment and media for dot.LA. Find him on Twitter @hisamblake and email him at samblake@dot.LA