Why is Big Tech Buying Up L.A.'s Virtual Reality Startups?
Sam Blake
Sam primarily covers entertainment and media for dot.LA. Previously he was Marjorie Deane Fellow at The Economist, where he wrote for the business and finance sections of the print edition. He has also worked at the XPRIZE Foundation, U.S. Government Accountability Office, KCRW, and MLB Advanced Media (now Disney Streaming Services). He holds an MBA from UCLA Anderson, an MPP from UCLA Luskin and a BA in History from University of Michigan. Email him at samblake@dot.LA and find him on Twitter @hisamblake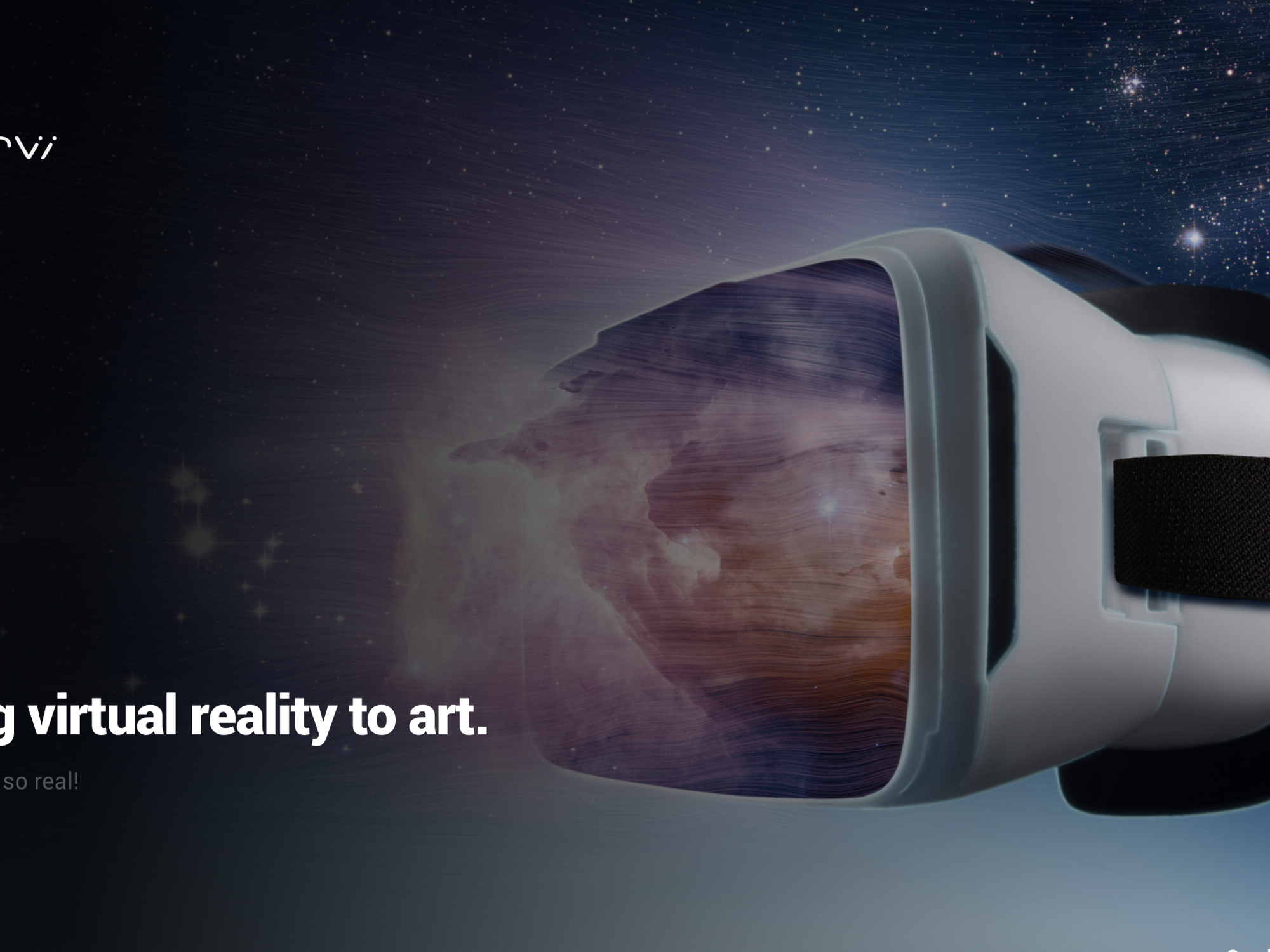 With two Los Angeles virtual reality (VR) companies joining Big Tech empires last week, the follow-up question is simple: What's going on? The answer is more complicated.
Apple's acquisition of Newport Beach-based NextVR and L.A.-based ViRvii's announcement that it signed an agreement with Facebook's Oculus come at a relative down period for VR. Looking specifically at Los Angeles-area startups, data from PitchBook shows that deal making in VR has fallen steeply from its peak in 2016-17 (see chart). Industry-wide, analytics firm Digi-Capital reported this month that investment in both AR and VR fell at the end of 2019 and beginning of 2020, down to levels not seen since 2013.
---
Some analysts and insiders point to misaligned expectations regarding VR's capabilities as the cause of the cool-off. But now momentum is building. And although neither tech giant has publicized its intentions behind these specific moves, their past actions and current trends suggest this is a turning point – which could go in one of several different directions.
"We still have a long road ahead of us," said Tuong Nguyen, an emerging technologies analyst at Gartner.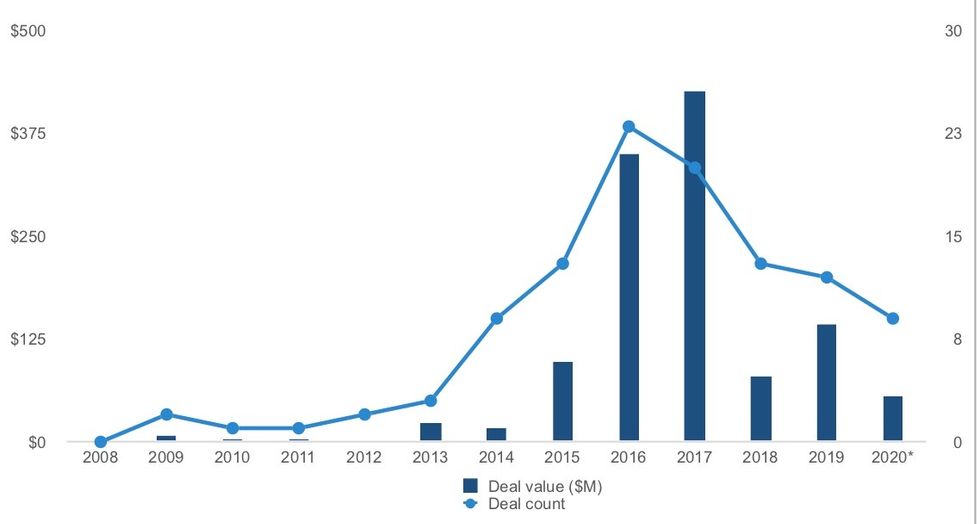 VC activity in Los Angeles-based virtual reality companies by deal value and count (as of 5/15/20).Data courtesy of Pitchbook
To understand how that road will look, it helps to first look back. Nguyen told dot.LA that consumer adoption to date has been slow for three main reasons. First is a lack of control: the interface by which people are meant to immerse themselves in VR is still a "work in progress." Second, the need to purchase hardware, which can be pricey, has hurt convenience. Third, content has been limited, with relatively few options to fuel the high-tech experience. "It's like subscribing to cable and only getting ten channels," Nguyen said.
What, then, is pushing Apple and Facebook to act now?
---
In the case of NextVR, which has focused on building VR experiences for live events and has forged partnerships with the NBA, Fox Sports and WWE among others, tech analyst Dan Rayburn doesn't necessarily see Apple's move as a push to expand its VR footprint. "I'm looking at this as a failed VR in consumer (application) and Apple being smart and seeing 40-some patents that tie to so many other pieces of their ecosystem... and engineers who understand the tech," he told dot.LA. "For the vast majority of consumers, people just aren't interested in it." Rayburn noted that the reported (though unconfirmed) acquisition price paid by Apple of $100 million would mean that NextVR, which had previously raised over $115 million across three funding rounds according to Crunchbase, has lost money–despite being widely considered a leader in consumer VR.
Others take a different view.
"One of the biggest issues with our industry is timing, and why and when certain things are valuable," said Cix Liv, a VR entrepreneur and member of LA's 2017 Techstars cohort, now based in the Bay Area. "It's going to get bigger and bigger. The question is just when."
Might that time be now?
Although investment in VR has fallen lately, a forthcoming report from research firm Parks Associates notes that U.S. consumer adoption of VR headsets grew from 6% of the approximately 102 million households with broadband in Q4 2019 to 10% in Q1 2020. Demand for VR headsets has reportedly outstripped supply during the coronavirus pandemic. Perhaps motivated by lengthy stays at home, Parks also found that as of Q1 2020, 16% of U.S. broadband households are "likely" to purchase a VR headset in the next 12 months.
Peter Csathy, a digital media entrepreneur and analyst, concedes that "VR's promise hasn't lived up to its hype. But that could change as a result of the global pandemic that has made consumers more comfortable with virtual experiences. And the coming onslaught of 5G will only accelerate VR further."
What does Big Tech make of it?
"I think they realize that VR (as well as AR) is the future of user experiences," Nguyen surmised. These moves look to him like the assemblage of technology and talent for a still uncertain outcome. "They're putting the pieces together for something that doesn't exist yet."
Nguyen also notes that, given a confluence of unmet expectations, intense competition among startups for funding, and the cool-down effect of the pandemic, "it'd be fair to say that (acquisition) prices are increasingly appealing."
"You see how today everyone wants to have a streaming service because winning the battle for streaming is how you get eyeballs on your content?" poses Brett Danaher, professor at Chapman University with expertise in the entertainment industry. "We'll see that battle with VR and AR as well, one day. I think smart companies want to stake out that territory early if possible."
Apple, numerous sources noted, has a reputation for taking a patient approach and swooping in at what it believes is the right time. "Apple has stood by, and has been waiting for the VR market to grow before making an effort to move into this space," said Kristen Hanich of Parks Associates.

Rumors have hinted that Apple is looking at designing its own headset in 2021-2022, according to Heiko Garrelfs at Hampleton Partners, a technology M&A advisory firm.
As for Facebook's partnership with ViRvii, a platform that aims to enable music fans to immerse themselves in an album-oriented experience – think being "inside" The Beatles' Yellow Submarine or Pink Floyd's The Wall alongside your friends, says founder Juan Dueñas – "if you spoke to anybody at Facebook," said Liv, "(they think) the next big phase of social is virtual."
Facebook's Mark Zuckerberg has previously called VR "the next major computing and communication platform." His firm, which bought headset-maker Oculus in 2014, appears to be retaining its optimism.
"Facebook is definitely interested in doing what it can to keep the momentum up and part of that is going to be investing in improving the VR experience and bringing more content to Oculus," observed Hanich.
The social media giant may also be looking to VR as its first opportunity to "control a user experience end-to-end from hardware to interface," notes Liv.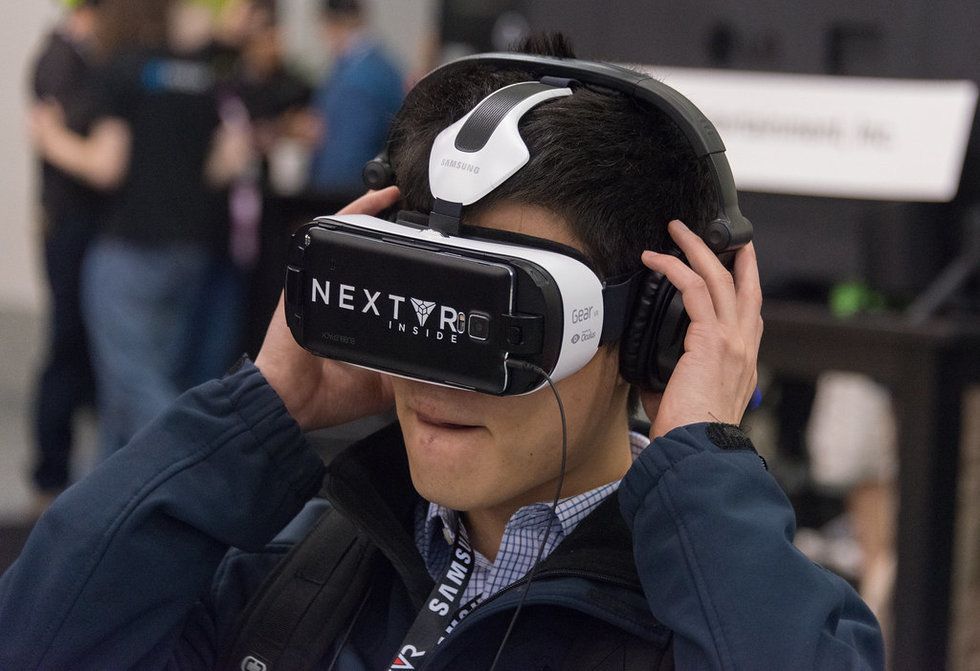 Silicon Valley Virtual Reality attendee trying on a NextVR headset..live.staticflickr.com
Human-Centric VR?
While moving forward with an optimistic eye toward the future of VR or simply acquiring valuable intellectual property and engineers are both viable motives for Apple's and Facebook's moves, there is also a third, more nuanced explanation.
"Apple's acquisition of NextVR and Facebook's partnership with ViRvii," says Csathy, "both demonstrate a new 'human' focus to VR experiences by big tech."
Indeed, Dueñas highlights ViRvii's "bottom-up" focus on music fans compared to the traditional "top-down" approach that has focused on concerts as a key reason why Facebook is interested in his startup.
"Concerts kind of suck," he said. "It was weird why VR was focused there. My idea was to bring it to where the technology and the art creates what you're immersed in."
What comes next?
"I'd expect all the leading vendors – Apple, Facebook, Google, maybe Microsoft – to be looking at these types of acquisition," said Nguyen.
As for what sort of startup might be a prime target, opinion is mixed.
Some analysts think platform technologies like ViRvii, rather than content, will attract interest. Others expect a continuation of growth in gaming and business and military applications, such as training simulations.
Liv thinks timing will continue to play a big role. Firms that are well placed given current and not-too-distant behaviors and technological capabilities will do well, he says. His own company, for example, has ridden the tailwinds of VR gaming. YUR.fit captures health data from VR gamers – who, like pickup basketball players, often sweat and burn calories as they play – to build a gamified exercise experience upon behaviors that are already happening. This contrasts with Magic Leap, a mega-hyped VR company that recently had to make massive layoffs: "That was an example of a company being too early," Liv concludes.
Los Angeles may continue to catch the eye of cash-rich giants looking to make acquisitions. PitchBook pointed dot.LA to the top 10 VC-backed VR firms in L.A. Might one of them be next?
L.A.'s Top VC-Backed VR Firms by Post-value (as of 5/15/20)
---
Sam Blake covers media and entertainment for dot.LA. Find him on Twitter @hisamblake and email him at samblake@dot.LA

Sam Blake
Sam primarily covers entertainment and media for dot.LA. Previously he was Marjorie Deane Fellow at The Economist, where he wrote for the business and finance sections of the print edition. He has also worked at the XPRIZE Foundation, U.S. Government Accountability Office, KCRW, and MLB Advanced Media (now Disney Streaming Services). He holds an MBA from UCLA Anderson, an MPP from UCLA Luskin and a BA in History from University of Michigan. Email him at samblake@dot.LA and find him on Twitter @hisamblake
https://twitter.com/hisamblake
samblake@dot.la