ed bugge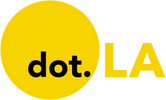 Get in the KNOW
on LA Startups & Tech
X
ed bugge
dot.LA sat down with Will Page, former chief economist of Spotify, and Ed Buggé, partner at leading L.A. entertainment law firm Hertz Lichtenstein Young & Polk, to discuss the future of music tech. The two explore livestreaming post-pandemic, the growing glut of music fighting for attention and potential new streaming regulations.

Assume the pandemic is over and we're all waking up to whatever resembles business-as-normal in the world of music and tech. What jumps out to you?
Will Page (WP): Live Nation's stock price has already reached its pre-pandemic peak, suggesting the market's mood is that we're indeed well on our way back to normal. But all the advancements in livestreaming won't go away once live music returns. The question is, how do they coexist?
Ed Buggé (EB): The sense of what's "normal" in music and wider media is constantly being challenged and disrupted, with the pandemic accelerating much of that change. That's what's so exciting about where we are now: There won't be a return to old ways of doing things.
Returning sectors like live concerts will coexist alongside new developments like the increased volume of livestreaming, which proliferated as artists used them to connect with fans during lockdown. Which livestreaming companies thrive once things normalize will depend on the quality of their tech, including VR and AR components that offer fans an immersive experience worthy of their attention in a world where physical shows are once again an option, (and) how well they enable artists to reach audiences on a previously unprecedented scale.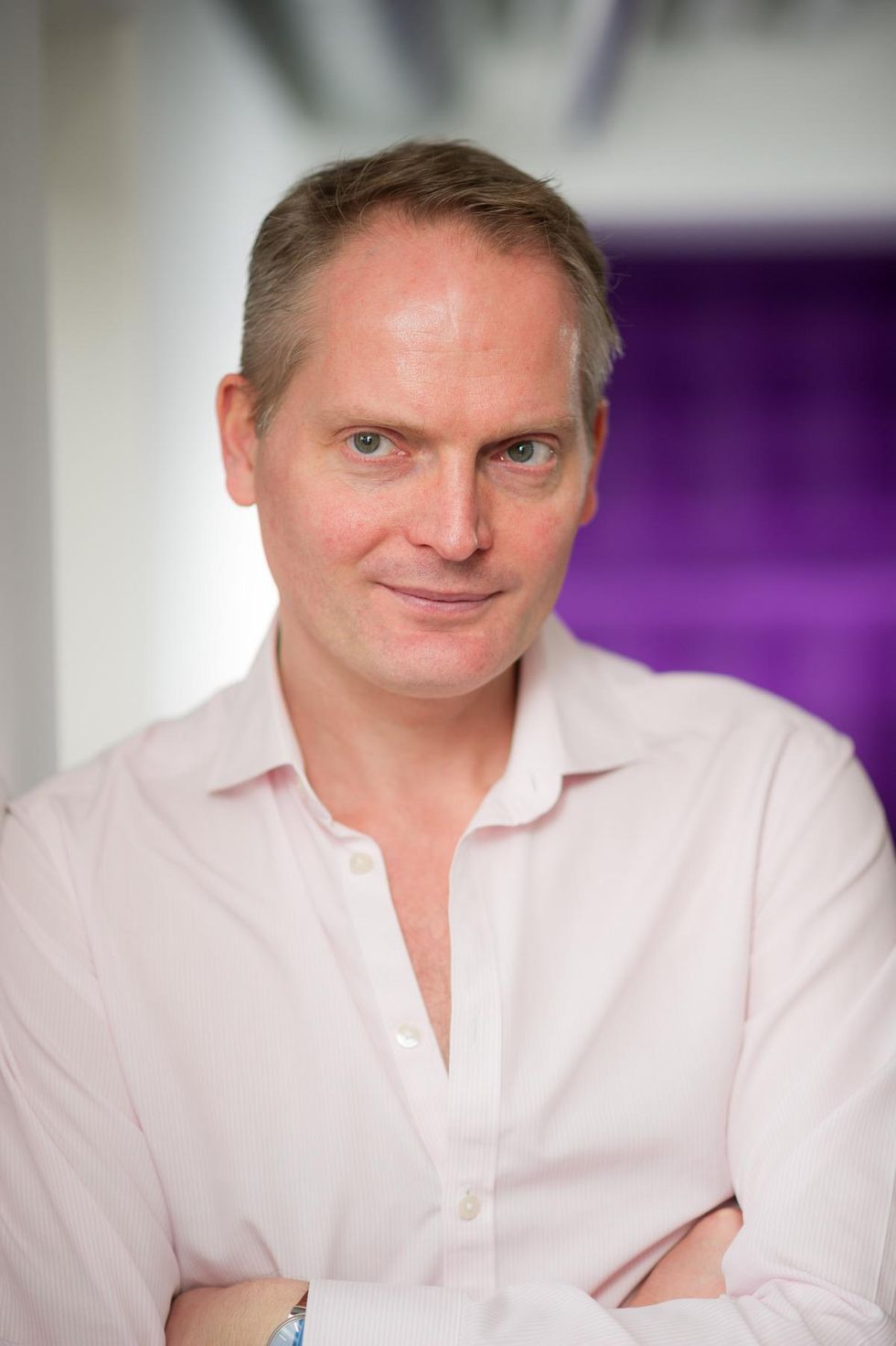 Will Page was Spotify's chief economist.
How does music's battle for attention look coming out of the pandemic?
EB: Competition for attention is only going to increase as post-lockdown life returns. Livestreaming and live concerts is just one example. There will be more songs, as independent distributors and service providers continue to grow. Social media, gaming and fitness industries will likely increase their power to dictate viral hits. And artificial intelligence will keep shaping music discovery and listening experiences – including "lean back" listening while other activities command our attention.
WP: Audio streams flattened in the second half of 2020 - that's a trend worth watching in 2021. We can expect more subscribers and more songs, but not more streams. The constraint of attention — only 24 hours in a day — will keep biting as kids game, teens TikTok and adults podcast.
Given that constraint, what's your take on whether 2020's flurry of investment into music copyright will continue?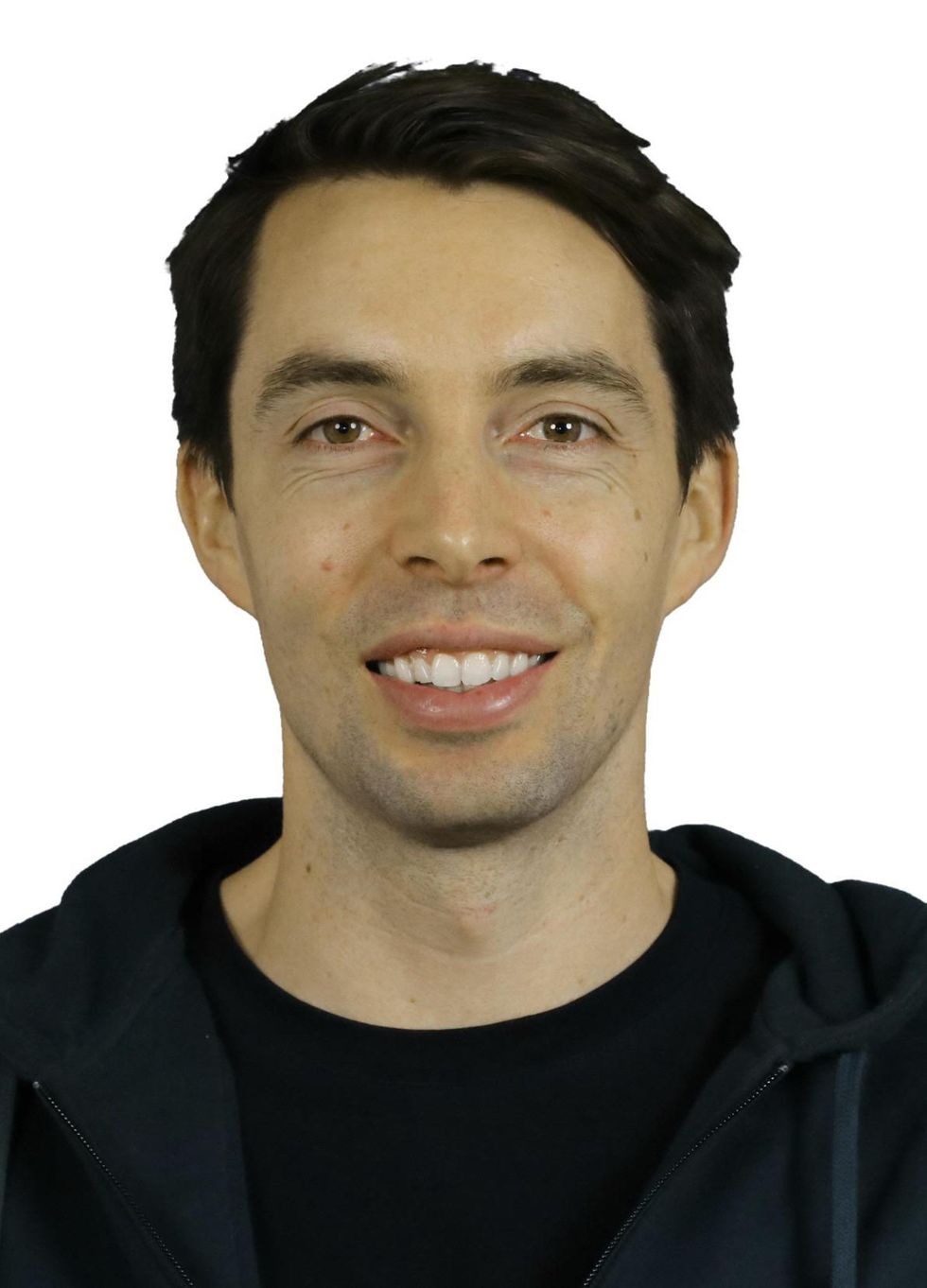 Ed Buggé is a partner at L.A. entertainment law firm Hertz Lichtenstein Young & Polk.
EB: Publishing catalogues are now firmly established as an asset class. The eye-catching prices being paid for them, with some acquisition multiples above 20-times annual earnings, is a long-term investment relying on the assumption that hit songs will continue to command attention for decades. Given the competition between potential purchasers right now, it's a great time to be an established songwriter with a catalogue to sell.

WP: I think there's too much trajectory logic at the moment. It's worrying that some people think that as the pie gets bigger, a given catalog's share of the pie will remain the same. There are too many variables (and not enough equations) for past performance to be a good indicator of the future. The next cohort of listeners could have a completely different demographic, geographic and cultural makeup from the last.
How can talented musicians get ahead of the curve when it comes to technological trends and position themselves for success?
EB: In such a crowded marketplace there needs to be something remarkable about what you are doing. The music, your story – the creative needs to stand out.
Once you've leapt that hurdle, the artist teams that will stay ahead are those who are prepared to embrace change. At the start of the year, breaking tracks through TikTok or gaming collaborations were innovative strategies; now they've quickly become established methods. That's the pace of change that we are seeing at the moment. So the question is - what's next and how can you be a part of it?

WP: Here's one example: I'm obsessed with the 'early access' model in gaming, where you monetize a new game whilst it's still in development. Minecraft is an early example, but to date, it rarely happens anywhere outside gaming. I think that may be about to change. Music can't afford to disappear into the studio for two years any more. It'll need to pivot and monetize whilst still in the studio.
The British government is currently examining whether the streaming economy needs reform. How might that ultimately ripple into the broader world of music-tech?
WP: This is a big one. Expect contagion as many more major music markets are called up in front of their respective governments in 2021 as politicians seek to establish (a) whether the streaming model is fair and (b) if it's not, whether intervention is merited. What's been made clear is there's a problem with the 'trickle down' economics of streaming. The UK government has a first-mover opportunity to explore ways of fixing this.
EB: With the pace of change in music and media, you inevitably have a legal and regulatory framework that has to play catchup. If the British government looks to enact legislation to alter the economics of streaming in favor of the artist, then it may act as a standard that regulators in other territories follow.
WP: Radio and television are heavily regulated, but streaming is not. The U.K. is taking steps to work out the 'if' and 'if so, how?' and the U.S. should be tracking developments here closely.
Beyond what we've covered, what else will you be watching for in 2021 music tech?
EB: Technology will continue to enable an increasingly direct relationship between artists and their fans. For example, providing access to exclusive content, physical and virtual merch drops and livestreaming concerts, as well as the ability for fans to communicate more directly, both with artists and with each other.
WP: Kevin Kelly (co-founder of "Wired") penned his 1,000 True Fans essay back in 2008, predating the launch of streaming. Now, it feels like we're subconsciously revisiting it. After all these years of success in music streaming with Amazon, Apple and Spotify, it's still largely impossible to directly pay for your favorite artists, nor can you communicate with them. You're seeing companies like Twitch make impressive moves into this space; MixCloud is also fostering direct relationships with curators. There's going to be more of that in 2021. Fans want to express their love to their artists directly, not via a platform.
Finally, what's in store for the Los Angeles music tech world in 2021?
EB: In L.A. we're seeing a wave of media and technology startups that will continue to disrupt and drive change in the industry. The high activity levels across fundraising and M&A also seems set to continue, as new players enter the market and incumbents focus on future-proofing their business models in such a fast-evolving landscape. There are few more exciting places to be right now.
WP: I'm not a native of Los Angeles, (as much as I want to move there), but what always strikes me about the city is the diversity of its people: Little Tokyo, K-Town, Tehrangeles, even one or two fellow Scots. Yet what I still don't see is media serving these expat populations. This is a universal problem and it leaves money on the table. I'd be hopeful that we'll see a new startup solve for curating to the diaspora in 2021.
This interview has been edited for brevity and clarity.

Super Hi-Fi's AI transports the skills of a trained radio DJ to digital music playlists. Spotify's former head of research Tristan Jehan recently joined as an advisor
Founded in 2018 by veterans of the digital music business, the company's customers include iHeartMedia, Sonos, Peloton and Octave Music Group
Its leaders envision a new audio listening experience — where everyone has a personalized, curated playlist, with artful, AI-generated sequences and layers of music, voice clips (e.g. news and podcasts), and branded messaging that drives new revenues to the music industry
Before the beat from "Baby Got Back" that underpins Nicki Minaj's "Anaconda" fades to silence at the song's end, a sound clip pops up, right on rhythm and with a similar energy, telling the listener what streaming service they're listening to. A new track seamlessly takes the baton from the Minaj song before the brief branded message concludes, and continues the upbeat mood as a music bed for a rapid sequence of audio clips – first a voice imploring listeners to get hyped, then a word from Kanye about his interview with Beyoncé, a snippet from that interview, and another in-the-spirit advert – before blending into the intro of the next song, Kanye's "Stronger": all of it interwoven as if it were a single track produced in a recording studio.
It is the automation of this art, once the preserve of skilled radio DJs, that Super Hi-Fi is bringing to the digital music industry. In doing so, the L.A.-based company thinks it can help music services and artists make more money, and give listeners a new and improved way of experiencing audio.
Super Hi-Fi's customers include iHeartMedia,
Founded in 2018 by a group of digital music business veterans, with customers that include iHeartMedia and Sonos, SHF recently announced that Tristan Jehan – a pioneer of applying AI and machine learning to music, most recently as head of Spotify's research team – has joined the company as an advisor.
Streaming, which has been powered in part by Jehan's work on recommendation algorithms, may have saved the music industry from piracy-fueled devastation, but Super Hi-Fi's founders believe companies like Spotify, Apple and Amazon have missed the mark in some important ways.
"We think digital services forgot that the primary user interface is your eardrums, not your eyeballs," Zack Zalon, Super Hi-Fi's chief executive, told dot.LA.
As a result, a listener cannot readily distinguish one service from another, he said. Visual branding can help, but especially as smart speakers grow more popular, listeners will have an increasingly difficult time knowing whether they are tuned in to Spotify, Apple Music, Pandora or any other service.
Zalon and Brendon Cassidy, another co-founder and Super Hi-Fi's chief technology officer, both built digital radio services for CBS, AOL, Yahoo and Cricket Wireless. They contrast the uniformity of streaming services to broadcast radio stations. Two stations in the same city, focusing on the same type of music, still tend to have their own personality, they say.

"It's not just the music," Zalon said. "It's the space between the songs that the radio stations are filling and (thereby) connecting with listeners in an emotional way."

Beyond differentiating the source of the sound, SHF believes that using the space between songs — as radio stations do — can transform the listening experience. Leaving aside stitching in voice clips and layering in all other kinds of audio, they say that even sequencing songs together is fraught with issues.
The two most common types of transitions that digital services use between songs are crossfading and brief pauses.
Pauses create dead air, which iHeartMedia's chief product officer Chris Williams told dot.LA is the "enemy of radio," because it takes listeners out of their flow and puts them in a position to make a decision: namely, whether to keep listening or not. "I want to minimize that," Williams said.
As for crossfading – which Zalon said tends to be applied uniformly across tracks, such as a six-second blend of the end of one song with the start of the next, irrespective of the songs' particulars – it doesn't always work. Williams said crossfading can be done without jarring the user or disrespecting the songs about 50% of the time, and ever less so as longer song lead-ins give way to snappy intros aimed at grabbing listeners' attention from the first note.
"Crossfades create crashes," he said.
A radio DJ, by contrast, is trained to avoid these issues.
"The techniques of trained radio DJs are pretty complicated," Zalon said. "Super Hi-Fi is AI that has all the skills of a trained radio DJ."
This AI is designed to help customers like iHeart provide listeners with custom playlists that artfully blend one song with the next – no matter which song it is – and incorporate additional sonic elements like branded logos, interview clips, voice segments and more to eliminate dead air while respecting the artistry of the underlying songs, and to potentially drive streaming revenues back up to or beyond the levels that CDs generated in their peak.
How Does It Work?
As Super Hi-Fi's first customer, iHeartMedia helped the company fine tune its AI model and algorithms.
"Their pool of some of the world's best music programmers and on-air DJs became in a way like our QA partners," Zalon said.
By now Super Hi-Fi has "fingerprinted" iHeart's entire music catalog – tens of millions of tracks, Williams said – to identify the songs' underlying characteristics: features like volume, rhythm, mood, vocal texture, tempo and more. Lots more.
"The data we have on the music takes up more file space than the music itself," Zalon said.
Super Hi-Fi's AI has also fingerprinted each of iHeart's 700 styles of sonic logo; there's a country version of the "You are listening to iHeart…", a hip-hop version, a reggae version, and so on.
So, too, with any audio file that any customer may want to include in a playlist.
"The real power of the AI is to understand all the content with enough depth to make pretty much any output decision that any service might want," Zalon said.
Results have been good for iHeart. Williams reported that since they've rolled out Super Hi-Fi across their streaming services, the company has seen listening durations double.
"That increases ad impressions," he said. "There are clear business upside reasons beyond aesthetically creating a better experience...and [achieving] clear differentiation [from competitors]."
The Next Song
After having recently reeled in Sonos and its new streaming service as a customer, Super Hi-Fi has its sights set on bigger streaming fish. Jehan may help them get to Spotify, and they'll also look to Apple Music.
Chief business officer John Bolton told dot.LA that Spotify's expansion into podcasts makes them a prime candidate to benefit from Super Hi-Fi's service. He pointed to their "Your Daily Drive" product – a mix of music they know listeners like and relevant news – and said he could see that sort of playlist growing to include podcast snippets, the weather, and various other forms of audio, all tailored to the listener's preferences and location.
"If we see this happen at scale you'll start to see listening experiences become something very different," said Bolton, who helped found Super Hi-Fi after leaving ByteDance, which acquired his social media-meets-music startup Flipagram.
Streaming platforms may well be working on their own blended-audio AI solutions, but Williams says iHeart has benefited by getting in with Super Hi-Fi early.
"Two years from now everyone should have this solution or some version but we'll have already taken this to the next step, so it gives me the opportunity to get ahead," he said.
Music lawyer Ed Buggé, partner at L.A.-based entertainment law firm Hertz Lichtenstein & Young, thinks Super Hi-Fi "could be an attractive target for digital streaming platforms (DSPs) as they look to differentiate their platform offerings."
Spotify's former chief economist agreed. Will Page said a major audio streamer could look to Super Hi-Fi as a way to stand out in a market of look-alike services competing for the same customers.
"All these services offer the same 60 million tracks for the same $9.99 price point. With so much similarity, the value of distinctiveness goes up," he said. "The end game could see it being acquired by a DSP."
More than Music
Even if Super Hi-Fi doesn't lure the big catches in streaming, it can serve other verticals, including digital fitness. Peloton is already a customer.
"They wanted something different," Zalon said. "They want to make sure there's no loss of energy between songs; there's nothing worse than having music drop off in the middle of a workout. So we've been working with them on the roadmap to use the AI to help create an exercise experience that never loses its energy." In addition to blending songs, this will include voice-over instructions from Peloton's instructors.
Retail music is another area the company's targeting. Octave Music Groups, which operates Apple Music for Business and manages the music that customers hear at Starbucks, along with many other bars, restaurants and stores throughout North America and Europe, is another Super Hi-Fi customer.
Just as a radio station manager works with a DJ to set ground rules for branding the station through its sonic choices – running a branded message every 15 minutes, a news break every 30, and keeping segues tight but breezy, for example – each customer works with Super Hi-Fi to customize the AI to fit its desired style.
In exchange for this AI-plus-support service, Super Hi-Fi receives a licensing fee. The company would not disclose its prices or finances, though Bolton said Super Hi-Fi has not raised any outside funding.
He thinks using AI to bring a new level of real-time curation, presentation and personalization can attract more advertising and subscription revenues to the music industry. That's all the more important in an era when live performance has evaporated.
"We have a big, bold vision and tech that can transform playlists into listening experiences that we think will eventually make the industry much more money and provide a much better product for consumers," he said.
---
Sam Blake primarily writes about media and entertainment for dot.LA. Find him on Twitter at @hisamblake and email him at samblake@dot.LA

From Your Site Articles
Related Articles Around the Web
Image courtesy of Wave
The pandemic has ravaged the music industry, but music-tech companies are poised to drive its growth into an industry where a music company is much more than music.
Los Angeles is home to a bustling ecosystem of startups empowering musicians through a variety of next-generation technologies.
The Takeaway: Innovations in music-tech offer new tools to independent artists to help them create music, manage money, reach fans and share their music in vivid, immersive ways.
The pandemic has hushed the music industry. Throbbing concert crowds have disappeared, artists' sales have plummeted and musicians' overall income has fallen precipitously. But a handful of Los Angeles-based tech startups are providing musicians with everything from socially-distanced collaborative recording to simplified back-office accounting.

"The L.A. music-tech scene is primed to drive this industry forward," says Ed Buggé, partner at L.A.-based entertainment law firm Hertz Lichtenstein & Young. "It's a hugely exciting time in the industry, with startup-driven disruption enabling new models for artists and media companies alike."
Buggé, who advises some of the world's leading tech and media companies, says the ecosystem of music-tech startups is poised to accelerate two big trends in the music industry.
One is the rise of independent artists. In 2018, indies – artists who own most or all of their material – earned 6.6% of total recorded music revenues. That's a 78% growth rate from 2015, which makes independent artists the fastest growing segment of the recorded music market. Entertainment research firm MIDiA says this change "could prove to be more impactful than even the rise of streaming."
The other trend startups are speeding up is the transformation of what a music company even is.
"Music is no longer just music," says Buggé, adding that audio is becoming inseparable from technologies spanning artificial intelligence, gaming, social media, as well as augmented and virtual reality.
Recording Studios at Home
Musicians today have far more access to high-quality production tools and capabilities than they once did.
Software packages like Logic Pro or Ableton have brought the recording studio's physical equipment and professional engineers right into an artist's living room, saving them thousands of dollars.
"In 2020, all you really need is the essentials – your phone, your laptop, and a good pair of headphones," says Americo Garcia, aka Boombox Cartel. Add in a good $100 microphone or two and an instrument and you've got a home studio.
"Back in the day you'd have to ship reels of tape and jump hoops and loops just to make a song happen. Nowadays you can email someone in Poland and say, 'hey man, let's start something,'" Garcia says. In addition to tools like Dropbox that enable file-sharing across the world, several companies have emerged to help musicians find and work with each other.
"If you think you need a label to blow up, you're wrong," Garcia says.
Meet Your Bandmates
Musicians' Jammcard profiles help them to collaborate
L.A.-based Jammcard has been called the "LinkedIn for musicians." Founded in 2017 by professional drummer Elmo Lovano, the company has nearly 10,000 members and has raised around $2 million from Quincy Jones, Twitch co-founder Kevin Lin and Lionsgate President Robby Melnick.
Lovano formed the company to streamline the process by which professional musicians find each other, rather than relying on word-of-mouth. He estimates that as many as 95% of Jammcard members are independent, and that their median income is around $70,000.
"A lot of the people that are on Jammcard are the people that support the big artists; Kendrick Lamar's not on Jammcard, but his entire band and crew are," Lovano says. "Sound engineers, stage managers, guitar techs – we like to say that it's for 'anyone that's on the bus or in the studio'."
Lovano says Jammcard is finalizing partnerships with Sony and Fender and has recently expanded its platform to enable digital payments to members for collaborating, performing and teaching. Jammcard also recently partnered with New York-based Splice, an online music production service that offers downloadable samples and plugins that make it "a lot more accessible and intuitive to start creating music," says Ankur Patel, Splice's head of corporate development. Jammcard's artists can host their sound samples on Splice and share in the proceeds.
Soundstorming is another L.A. company using tech to enable artistic collaborations. Users upload small segments of their self-produced audio files, allowing other members on the platform to provide feedback and even layer in their own bass grooves, vocal melodies, and drum beats to collectively compose a new track.

Build Your Own Label
Former UTA agent Milana Lewis created Stem Disintermedia in 2015 to "alleviate back office work so an artist can eliminate those costs and release content more easily."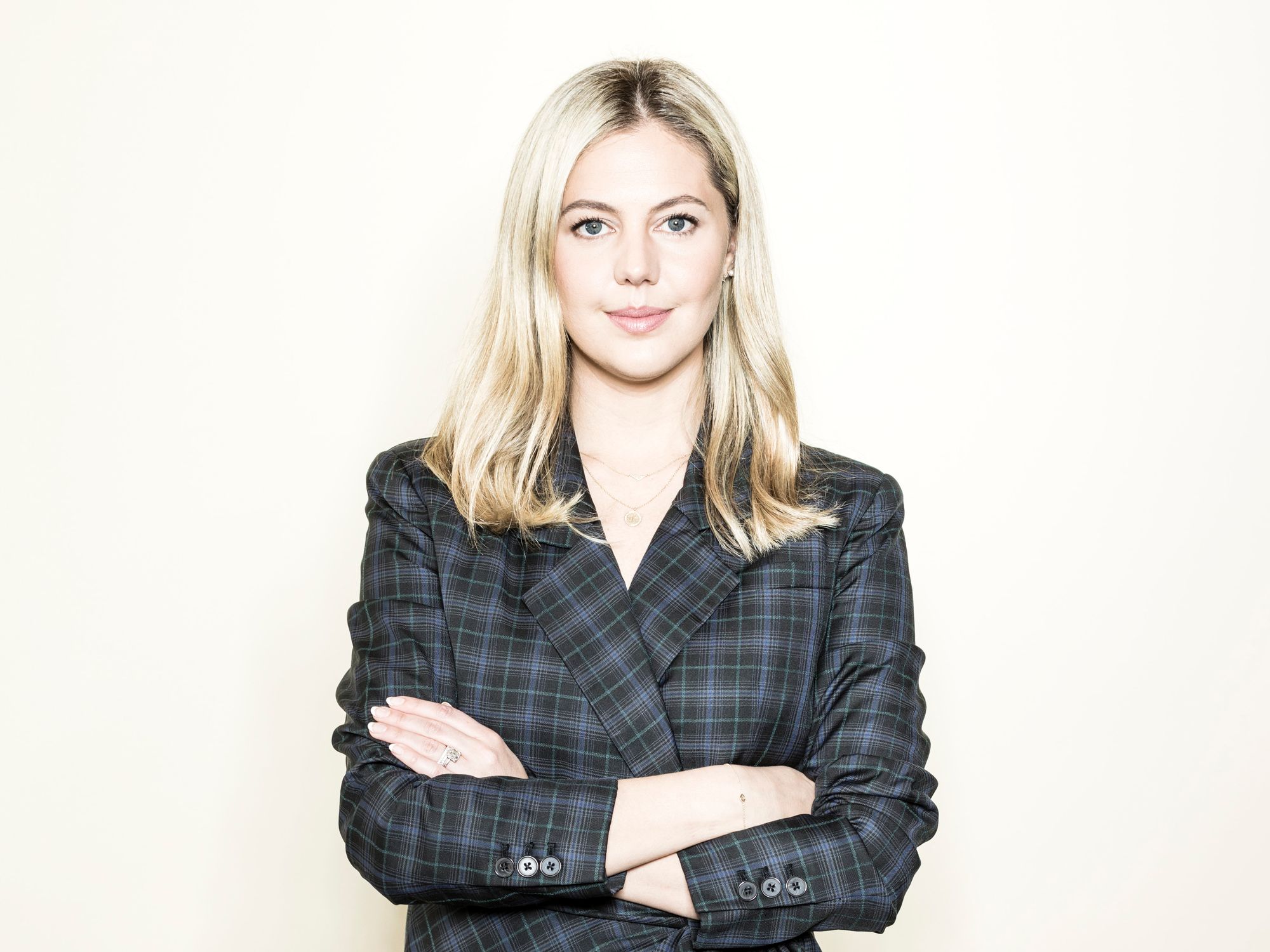 Stem co-founder and CEO Milana Rabkin Lewis
As an agent, Lewis saw how the complexities of music copyright were depriving musicians of opportunities to make money. "The administrative work was too burdensome for any individual artist to do," she told dot.LA. Artists would give up and say, ''I'm just going to put it up for free'" on sites like YouTube and Soundcloud.
Stem has raised over $12 million in funding, including two rounds from L.A. firm Upfront Ventures. The startup also recently launched its own $100 million debt-financing arm to allow artists to borrow money against their existing catalogs.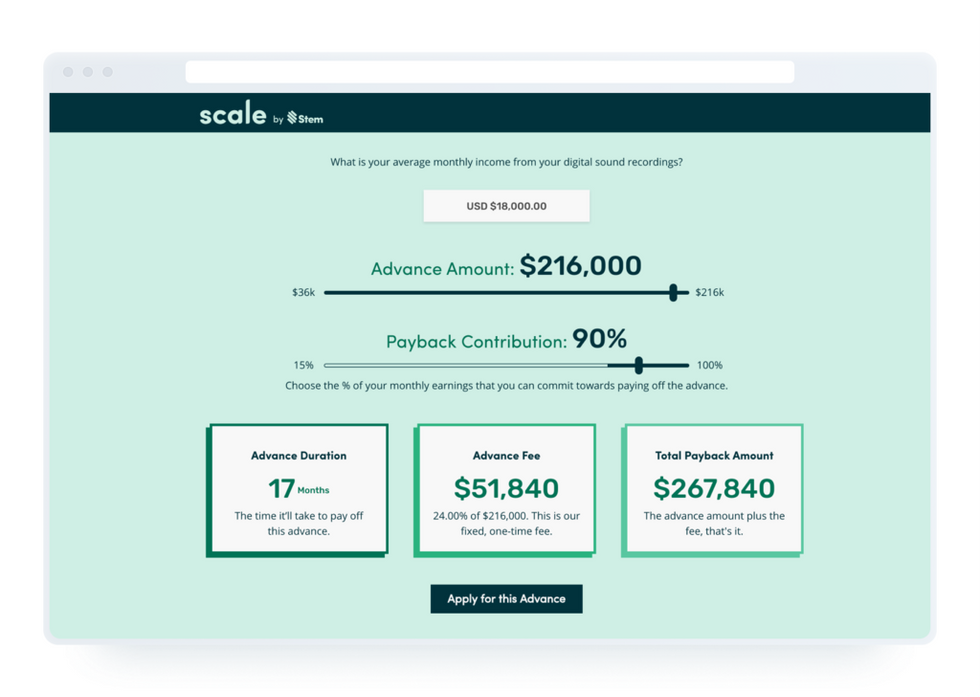 Stem's interface helps artists and their managers track their finances
Create Music Group, another startup formed in 2015 that helps artists take control of their accounting and distribution, has a similar origin story.

"We realized the YouTube landscape was poorly mismanaged," recalls Sam Casucci, partner and senior vice president of digital strategy at Create, recently named the second-fastest growing company in the country in the annual Inc. 5000 list. Create employs about 120 people and serves over 10,000 clients – mostly indie artists and labels, the company says. "There was a lot of music and (rights holders) who weren't getting paid what they should be," Casucci says. Create has since built technology on top of YouTube's rights-management platform to help artists make money.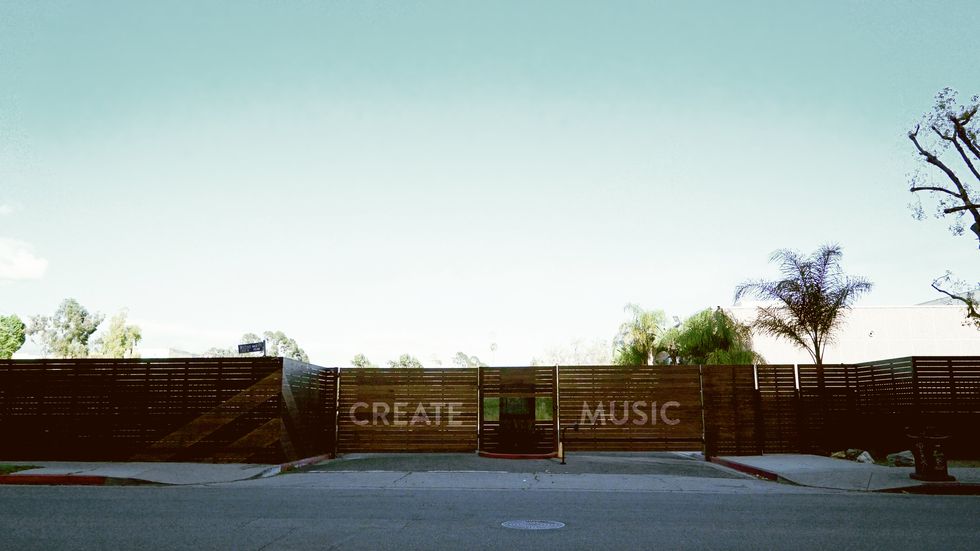 Create Music Group's Hollywood office
Independent artist and Create client Ray J told dot.LA, "They help you study everything that's going on and help you find money you might not have even known existed."
"When you sign to a major label you don't really get to see what's going on behind the scenes," says Ray J. "You can become your own record label now."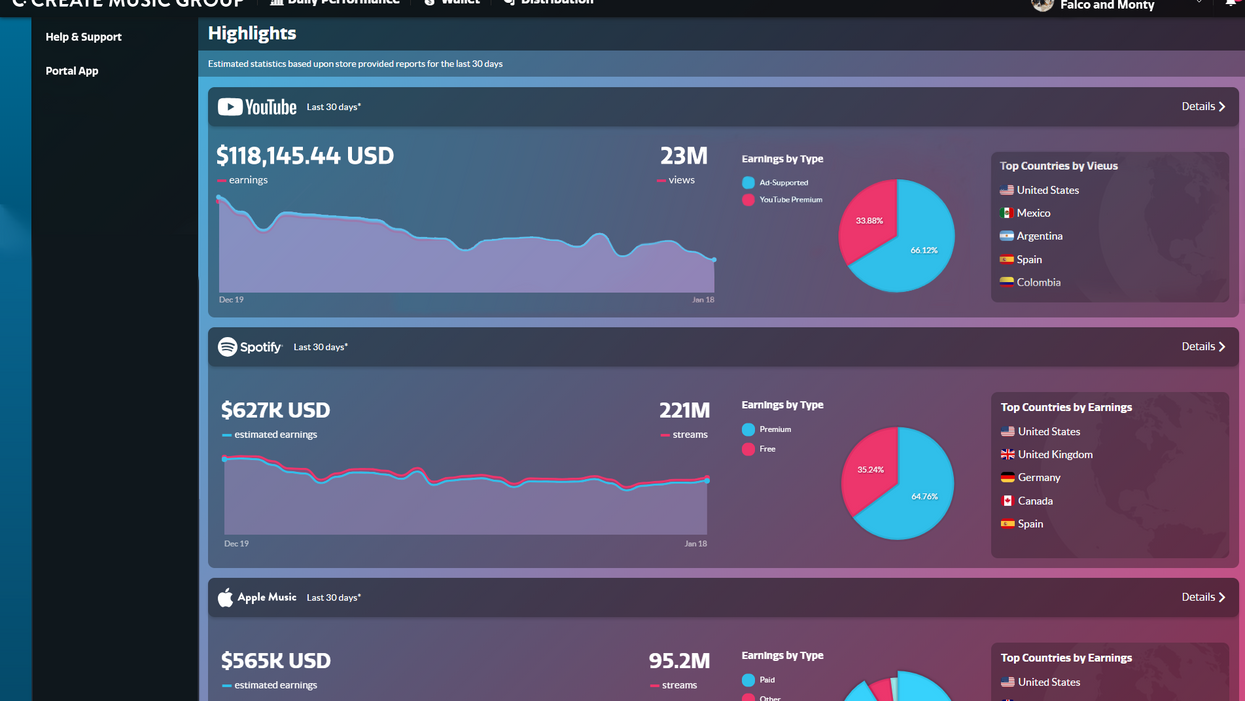 Create's dashboard to help musicians manage their copy rights
Get Paid

Elsewhere in L.A., Pex helps artists manage their monetization by following the data associated with their songs across the web. Wilson Hays, head of business development, says Pex monitors over 20 billion songs and videos on dozens of social media platforms.
The company indexes all that data – which comprises over three-times as much content as what's on YouTube, Hays says – and uses patented technology to allow the people behind the music to track and measure its online activity. It even allows artists to easily issue take-down notices if they wish.
Pex's song-tracking dashboard
"YouTube has Content ID and Facebook has Rights Manager, but outside those platforms, in the wild, you don't know how your content is being shared, moved, monetized, or pirated," Hays says. "We want to put control back in rights holders' hands."

That sort of control offers benefits to artists that they wouldn't necessarily have with a traditional label deal. One benefit is that payments come in faster. It also gives artists more freedom to manage their career trajectory.
And that freedom gives artists the choice in how they use the many emerging mediums by which they can share their music.
Reach an Audience
An artist who wants to interact directly with fans can post their songs on a host website like YouTube, TikTok, Soundcloud or Bandcamp and chat with their audiences on social media channels. But these platforms have limitations.
A post on Instagram, for example, carries no guarantee that it will reach an artist's fans; most followers do not see every post. Artists must also contend with the fact that the interests of social media platforms are not always aligned with their own.
Jake Udell, a music manager and entrepreneur with a reputation for digital wizardry, recognized social media's limitations early on.
"The thing I kept noticing was that the algorithms were making it really challenging for us to reach our audiences," Udell told dot.LA. "I didn't think there was a fix, though. We'd given up and sort of ceded our audiences to these social platforms."
Then he conducted an experiment. Tickets went on sale for an artist of his who had about twice as many fans in L.A. than New York. Not surprisingly, about twice as many purchases came in for the L.A. shows than the New York ones. Udell then decided to collect around 1,000 phone numbers from fans at a New York show.
"We found some random texting service online and just blasted them out," he recalls. "What happened next changed the way I thought about building audiences online forever."
7,000 tickets to two New York shows immediately sold out. Udell wrote about it on his blog, which is how he met Matthew Pelltier, chief executive of L.A.-based Community.com, where Udell is now head of activation.
"The algorithm has not really been an enabler" for musicians, Udell says. "What if we could just meet the fans where they're already at?"
That's exactly what Community does, he says, by providing artists (and other "Leaders") a SaaS platform for exchanging text messages with fans en masse.
"I think about it like this," Udell says. "How many social platforms have you joined over the last 10 years? Versus how many times did your phone number change?...The phone number is a true atomic unit of identity; it's not going anywhere."
What's more, Udell says 98% of text messages get opened in the first three minutes.
"On other platforms there's a guarantee of instant publishing, but there's no guarantee of instant distribution," he says. Whereas with Community, "the idea that you will always be able to reach your fans, this community, via text, is a really empowering thing not just for you personally but for your business."
Big-timers like Jennifer Lopez use Community, as do aspiring local band types. Prices depend on audience size. One feature: ability to segment fan outreach so that, for instance, a band coming to a specific town can message only the locals – "See you at the show tonight?"
Tour Virtually
Wave turns performers into digital avatars and puts them on virtual stages where they can entertain and interact with fans, who tune in via VR headset, gaming console or web browser.
"We started the company four years ago to help musicians make money," Wave chief executive Adam Arrigo told dot.LA. "We've been touring musicians and we know how hard it is."
Wave has now hosted over 50 events. Its recent concert featuring The Weeknd in partnership with TikTok reportedly drew a digital audience of over 2 million fans.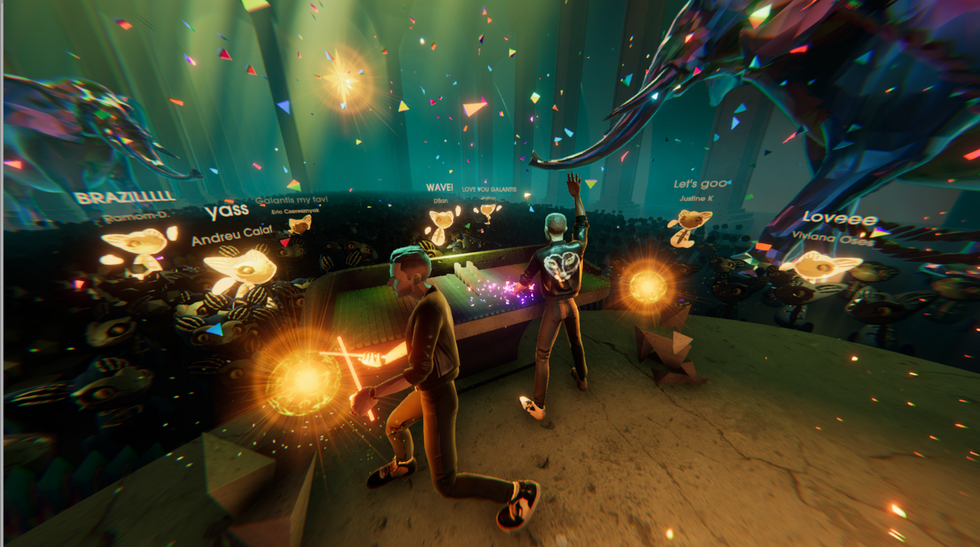 A Wave concert of Swedish band Galantis
Arrigo says his former role as a designer for the Rock Band video game franchise showed him how novel technologies can empower musicians.

"From working on that game I learned that when you create new experiences you can create additional revenue streams for the industry," he says.
Building on a blueprint established in part by L.A.-based Brud (whose digital influencer and singer Lil' Miquela currently has 2.6 million Instagram followers and attracts millions of views on YouTube), Strangeloop Studios is currently designing a cast of animated characters of its own.
Co-founder and chief executive Ian Simon, who is also on the creative team at Wave, says, "the long-term vision is to be a studio; to bring in storytellers and visual artists and creators to tell stories using these characters. The characters are a medium in themselves."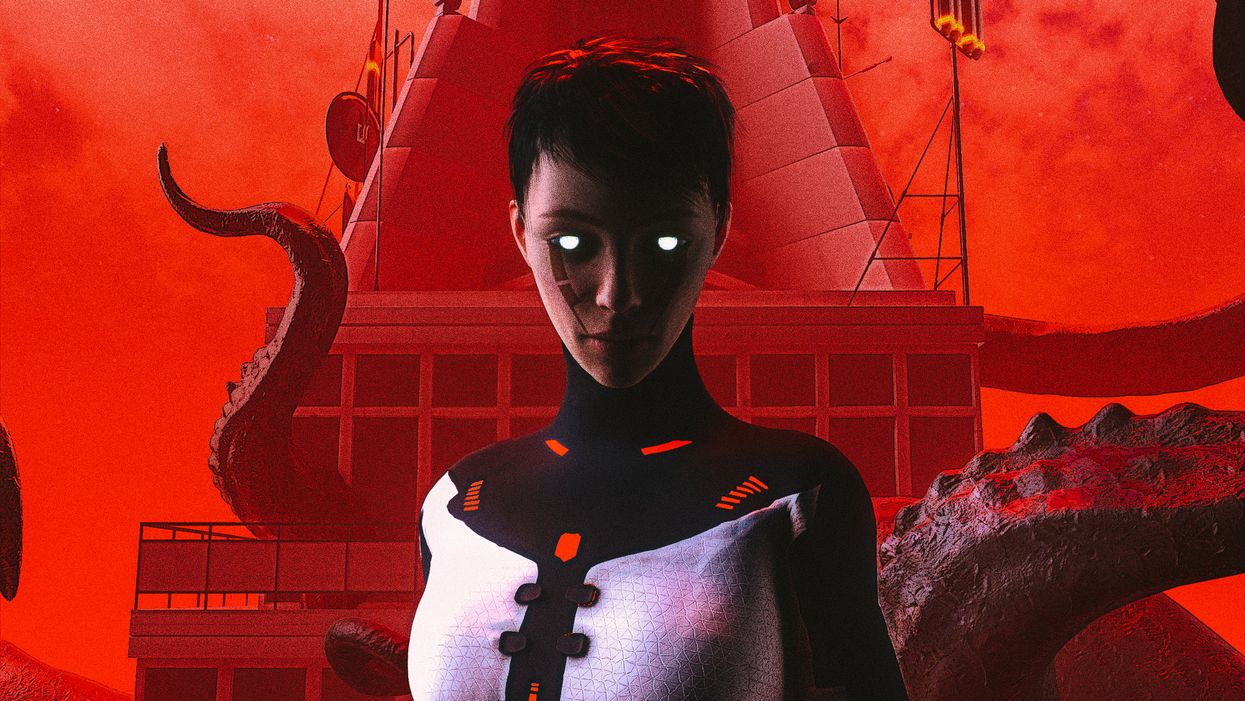 A character from Strangeloop Studios' virtual artist label, Spirit BombStrangeloop Studios
Those characters present musicians with scalable creative opportunities. "You can play the same show with the same character in multiple places at the same time," Simon says. "They're vessels for human collaboration – multiple musicians contributing songs, various visual artists creating content and fans informing the narrative and aesthetic trajectory of the characters."

"People are already listening to music on screens, even if the screen isn't really being leveraged," says Simon, whose small team includes former visual designers for megastars like Kendrick Lamar and Flying Lotus.
Immersive Music
ViRvii – a portmanteau of virtual, visual, and immersive – gives artists a new "paintbrush" for creating immersive fan experiences, says founder Juan Dueñas, who formerly founded My Mixtapez and was an early user of Oculus' development kit.
Dueñas says ViRvii will allow fans to "hang out" inside The Beatles' Yellow Submarine while the album plays in the background, for instance. Contemporary artists will be able to design VR experiences to accompany their releases. Despite the high-tech approach, Dueñas says he wants users to be able to get a homespun feeling of "sitting around a stereo or record player and smoking a joint and drinking a beer with friends and listening to your favorite album."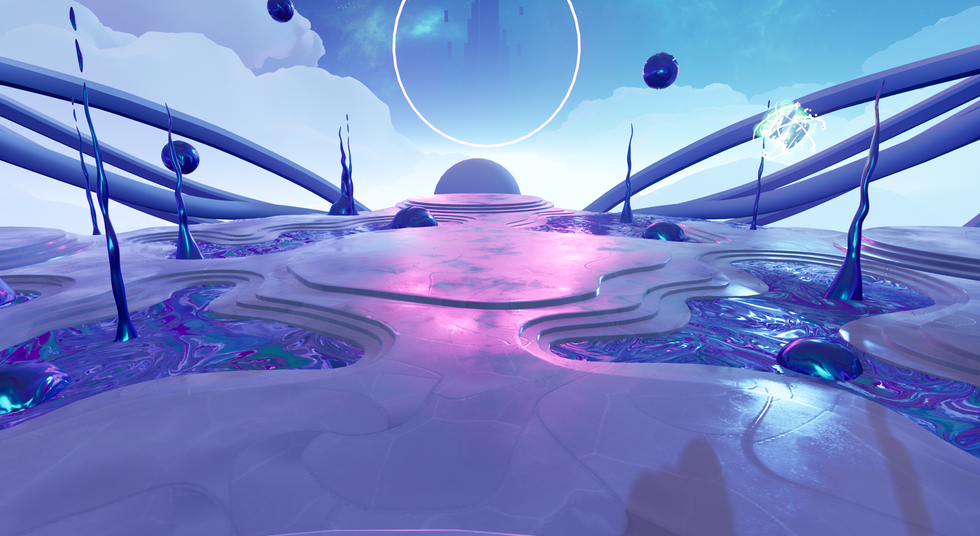 ViRvii's continuous VR world will immerse fans into albums
Formed in 2019 and now with a staff of 30, the L.A.-based startup recently announced a partnership with Facebook and its Oculus VR subsidiary.

Splashmob gives performers control of their audience's cell phone screens. They can preprogram the screens of anyone who opts in with features like polls, audiovisual media to accompany the main show, and merchandise sales portals. The screens can also be controlled in real-time, not unlike an effects technician manipulating phone screens rather than lights and sound.
Founder Blaise Thomas was formerly a sound engineer in London, where his work in recording studios and live performances got him thinking about how to enhance concerts, whether in-person or streamed.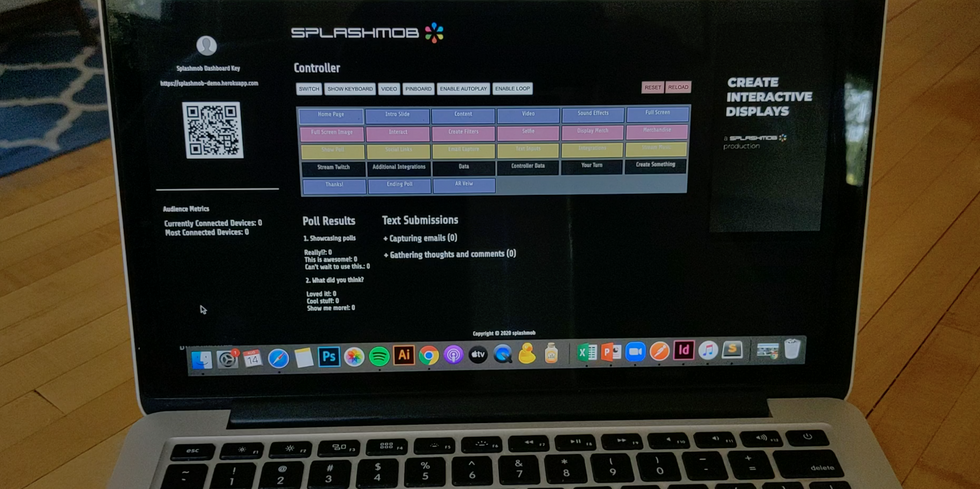 Splashmob's control panel gives performers the power to curate audience members' phone screens
"The flashlight on the phone is all well and good," Thomas says, "but how far can that go?"

Splashmob has collaborated with Dani Van de Sande and her L.A. startup, ULO, which along with Splashmob and Strangeloop was part of the 2020 Techstars Music cohort.
"Imagine you're wandering around Melrose Avenue on your way to dinner," Van de Sande writes, "and out of the corner of your eye you spot a bright, iridescent light. It looks otherworldly, like something from another universe."
These cocoon-like walk-in installations, called ULOs ("unidentified landing objects"), offer immersive, interactive experiences for the adventurous souls who enter. ULO plans to dot them around city-scapes.
"We're another avenue where artists can do something beyond releasing a video – by creating an experience for people," says Van de Sande, who formerly worked on augmented reality at L.A.-based Snap.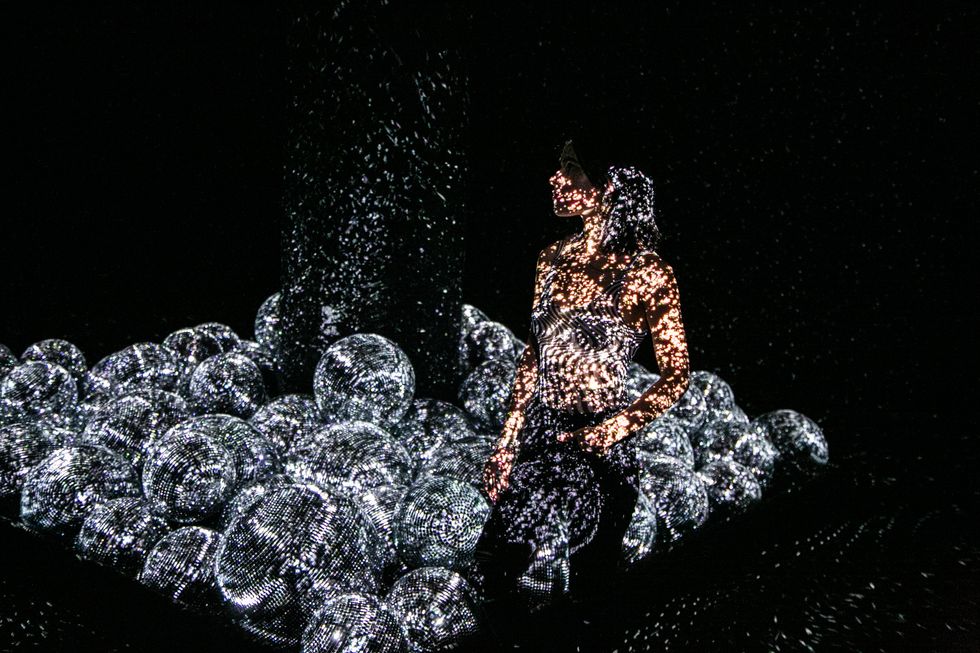 The Pandemic Has Changed the Music Industry Forever. Meet the LA Music-Tech Startups Poised to Reshape It. StillVika
These new visually oriented channels for sharing music may help to shrink the gap between the ear and the eye that Spotify founder Daniel Ek often invokes when he describes the growth potential for his company. Why, he has publicly wondered, is the total video market worth around 10-times more than audio, even though consumers spend about equal time with each?

Get a Side Gig
Cameo offers anybody with over 20,000 Instagram followers the opportunity to build a profile on its platform and set a price for which they will record a personalized video message. The company was formed in Chicago, but its chief executive Steven Galanis recently moved to L.A. With his move, Cameo's center of gravity has shifted.
"L.A. is the best place for me to be for Cameo right now," Galanis recently told dot.LA. "I've been focused on being the tech company to work for in Chicago and I think that's mission accomplished in many ways. Now my objective is to make Cameo that place in L.A."
L.A. was once the destination for artists with a guitar case and a dream. Now, many of them can pursue those dreams from home. Music-tech companies, however, are flocking in.
"It's not an accident that Techstars Music is in L.A.," says Bob Moczydlowsky, who runs the accelerator, which recently opened its 2021 cohort application, with an emphasis on attracting a diverse candidate pool. Moczydlowsky attributes L.A.'s centrality in this flourishing wave of music and tech innovation to two main factors. First is the access to an ecosystem of artists, managers, labels and touring companies. Second is the venture money in Silicon Valley.
"L.A. is less than an hour from the money and down the street from the culture," he says.
The growing entrepreneurial energy in L.A. looks set to provide Angelenos a front-row seat to a new, lasting stage for entertainment technology innovation.
---
Sam Blake primarily covers entertainment and media for dot.LA. Follow him on Twitter @hisamblake and email him at samblake@dot.LA