livestreaming
Moment House is a livestreaming platform that's gained traction building an audience among music fans, but CEO and co-founder Arjun Mehta doesn't see it as just another livestreaming platform.
Like the name suggests, Mehta is trying to mold the platform to create "moments" for creators and their megafans.
The platform's interactive features allow viewers to chat with performers and other fans live. And it's got some big name creators onboard, including rock band Tame Impala, Youtube star KSI and Tiny Meat Gang podcast hosts Cody Ko and Noel Miller, along with other podcasters to musicians.
"The creators that we love the most, we don't want to only receive content, we want to participate in experiences," he said. "The reason why is the same underlying psychology of why you get thrilled when your favorite artist has your city on their tour announcement, the same reason why, if you're a Christopher Nolan superfan, you want to see his next movie in theaters and not on HBO Max at home."
The Los Angeles-based startup announced Thursday that it raised $12 million in a round of Series A funding led by Forerunner Ventures.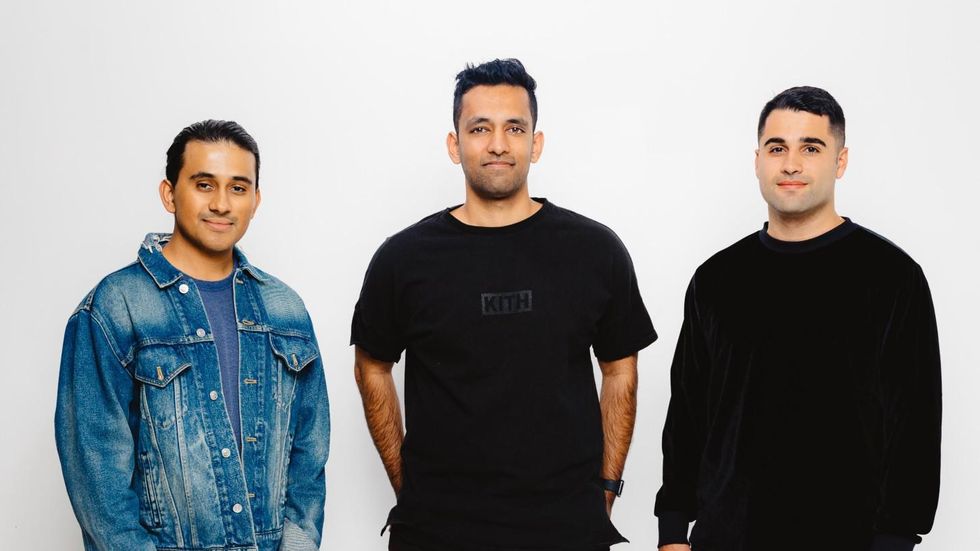 Moment House co-founders Arjun Mehta, Shray Bansal and Nigel Egrari
Moment House's platform allows creators to host pay-per view livestreams. The broadcasts aren't always live — some of the content is pre-recorded — but Moment House doesn't save recordings of streams and tickets can be limited in quantity, Mehta said.

Mehta declined to disclose specific details on revenue and viewership numbers, but said its highest performing streams have grossed several million dollars and peaked at hundreds of thousands of viewers.
It's targeted to fans of both small and large creators. But performances aren't always meant for everyone. The cost of entry acts and limited ticketing can act as a "filter" for the most dedicated fans, said Mehta.
"You're not gonna want this for everyone," he said. "It's only the creators you truly truly love."
The platform has features like smaller breakout chatrooms based on location or sub interest and Clubhouse-like call rooms where users can talk during streams — beyond the chatting features offered on established platforms such as Twitch or YouTube.
"When you think of a livestream, you think of literally a livestream with a text chat – not much innovation is happening," he said.
Creators can also use the platform to sell merchandise during streams. Moment House is also developing other tools to help fans connect once performances are over, though Mehta declined to comment on specifics.
The platform is so far only based on desktop. Moment House's Series A funding included UTA Ventures, IDEO, Dumb Money Capital, as well as former and current executives from Spotify, YouTube, Clubhouse and Discord.
Moment House, Mehta said, isn't trying to replace physical experiences, but rather give creators better tools to reach audiences they otherwise couldn't.
"Physical experiences are obviously amazing, we love them, we're not trying to compete with them or replace them at all," he said. "That being said, physical experiences alone are not enough."
"The problem is that fans are everywhere and creators can't go everywhere," he said. "And so the way we see it is that you need to have a hybrid approach as a creator in this modern world."
From Your Site Articles
Related Articles Around the Web
Naomi Campbell is offering a class on being "model ready"; you can chat directly with her.
She's part of a group of celebrities — including Lindsey Vonn, Amy Schumer, Judd Apatow, Madonna and the D'Amelio Sisters — giving livestream courses to small audiences on the celebrity-backed livestreaming platform Bright.
The Los Angeles-based startup raised $15 million to aid its quest to attract big name celebrities to its platform, it announced Thursday.
Bright sells tickets to courses held by celebrities and high-profile experts. Entrance to the class can cost anywhere from $15 to $50 and beyond per session and capacity is typically limited to under 100 people, as decided by the host.
Topics hosted on Bright range from entrepreneurship to self improvement to music. One lecture, called "Behind The Hype House," lets you hear from social media creator and Hype House founder Thomas Petrou. Actor and Entrepreneur Ashton Kutcher – also a lead investor in the company – hosts "The Perfect Pitch With Ashton Kutcher."
"All our partners share Bright's vision that people want to level up their lives by learning directly from those they admire," said co-founder and CEO Michael Powers in announcing the raise. "Through Bright, talent can better engage authentically with audiences by sharing their own knowledge and bringing their many interests and passions to the foreground."
The platform offers a chatting function to let users converse with creators, similar to fellow livestreaming platforms Twitch, Youtube and Instagram Live. But compared to those platforms, Bright's sessions are tightly scheduled, hosted by established names and limited in capacity — not to mention pricier.
The model of letting users get closer to experts and celebrities through the internet has also been piloted by platforms like San Francisco-based Masterclass, which allows people to watch tutorials and take courses hosted by professional writers, actors and chefs. That company was reportedly valued at $2.75 billion after a $225 million round of funding earlier this year.
Bright's round of funding was led by Sound Ventures, RIT Capital and Regah Ventures and included celebrities like Judd Apatow, Leslie Mann and Shawn Mendes.
With the infusion of funds, Bright launched Creator Studio, a feature allowing for instant polling and the ability to share learning materials on platform.
Bright works on the Zoom video conferencing platform. Users have to download Bright's Mac or IOS apps to attend the lectures; Bright's Android app is under construction.
The startup hopes to grab attention from celebrities by giving them a better way to reach fans. Powers, who declined a request for an interview, told dot.LA last year that hosts receive contact information from users who opt in to get updates on their courses.
"That allows the creators to then take those people to their mailing list. They can take them to their Shopify shop," he said at the time. "Whatever they have going on in their business, they can connect those people into that bigger universe of things they're doing."
From Your Site Articles
Related Articles Around the Web
As the COVID-19 pandemic destroyed small businesses, some struggling companies turned to livestreaming-based ecommerce business Popshop Live to stay afloat.
Now, Popshop Live wants to prove that ecommerce via live streaming is here to stay.
Valued at $100 million, the company announced a Series A round of funding Thursday. Popshop declined to disclose how much it raised in the funding round, though TechCrunch reported the funding was around $20 million.
The round was led by Benchmark and included TQ Ventures, Mantis VC and Access Industries.
Popshop Live also hired former Instagram and Instacart executive Bangaly Kaba to lead platform growth and former head of Uber Eats Jason Droege to lead expansion, the company announced.
Founded in 2019, Popshop is one of several Los Angeles-based startups competing in the emerging livestreaming ecommerce world that includes talkshoplive, a streaming service for celebrities, and Whatnot, a streaming service for collectibles.
"Livestream commerce is not just a trend in China and through the pandemic," said Popshop Live board member Matt Cohler in announcing the raise. "It is an emerging multi-billion-dollar phenomenon whose growth is accelerating every day."
The company sees itself as a combination of online commerce with the experience of in-person shopping. Customers can scroll through live feeds of merchants selling items, interact with sellers and purchase items through Popshop's app. The startup claims that traditional brick-and-mortar sellers are shifting their focus to its platform, after seeing higher sales and rates of customer convergence.
From Your Site Articles
Related Articles Around the Web