livestreaming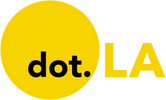 Get in the KNOW
on LA Startups & Tech
X
livestreaming
Big Changes Coming to Netflix After Catastrophic Earnings
Deadline reports that Netflix is in the early days of developing livestreams for unscripted shows or comedy specials. The idea is that Netflix could use it for live voting during competition series, such as the upcoming dance contest "Dance 100," or livestream reunion specials for its reality TV shows. Similarly, Netflix could livestream stand-up comedy events like its Netflix Is A Joke festival, though it may want to consider a tape delay in case another comedian is attacked on stage.
If successful, that could open the door for Netflix to add other live content, such as sporting events. The company has had success with sports documentaries, but Deadline reports that Netflix's livestreaming experiment is unrelated to those sports suggestions.
At the very least, livestreaming would give Netflix more variety with its content offerings. While media and tech companies in the streaming space are still figuring out how to retain subscribers, what's becoming clear is that giving consumers more choices—from whether to watch with ads or see a show live or on-demand—is a good idea.
Many Netflix rivals—from Amazon Prime Video to Paramount Plus—already air live content, and Disney Plus recently experimented with livestreaming through the announcement of the Oscars nominations. "Dancing With The Stars" is coming to Disney Plus this fall, making it the first live series to exclusively debut on that streaming platform.
Netflix's exploration of livestreaming is just the latest in a series of big changes underway at the company, from layoffs to canceled shows to a new culture memo. It's even possible that Netflix starts putting its original movies exclusively in theaters for extended periods, according to Bloomberg. Senior executives have reportedly discussed trying to release movies in thousands of theaters for roughly 45 days before making them available on Netflix, though there's no deal near completion.
Still, from commercials to live shows (and maybe movies in cinemas) Netflix is leaving no stone unturned—even if it means looking a lot more like the legacy media rivals it once sought to disrupt. —Christian Hetrick

Image courtesy of Snapchat
Social media giant Snap is teaming with Universal Pictures to present its first-ever virtual concert, starring Jennifer Lopez and Colombian singer Maluma.
The Santa Monica-based social media firm isn't exactly hosting the event, which won't be carried on its Snapchat platform and will be open to the public online. But Snapchat users are able to join the show and participate virtually via their Bitmoji avatars, who can watch, dance and interact with proceedings in real-time. The event marks Snap's first foray into virtual concerts, which have grown in popularity during the pandemic.
The virtual concert will stream on Thursday evening to promote the upcoming rom-com "Marry Me," starring Lopez and Owen Wilson. J.Lo and Maluma, who also stars in the movie, will take the stage in avatar form and perform songs from the film's soundtrack.
Big-name artists from Justin Bieber to Ariana Grande have recently performed in virtual concerts, giving fans the chance to see their shows without venturing into large crowds amid the pandemic. Virtual reality concerts are also emerging as a metaverse-related business opportunity, with investors betting on VR startups that stream concerts.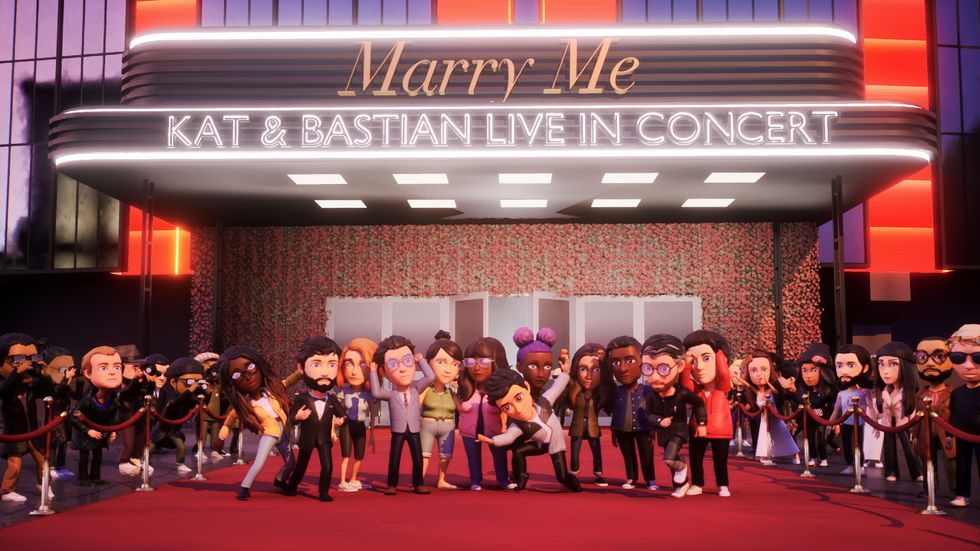 Snapchat's Bitmoji avatars pose on the red carpet for Jennifer Lopez's new movie "Marry Me."Image courtesy of Snapchat
While Snap is one of the biggest names in augmented reality (AR)—which it is deploying with success as an ecommerce offering—this week's show is not an AR experience. It's more like an interactive video that fans can access through a website, where they can see their Bitmoji avatar in the crowd and make them dance or blow bubbles. The virtual concert was developed by virtual events company OZ.
John Imah, Snap's head of brands and games partnerships, said in a statement that the virtual concert speaks to how brands and consumers are "mov[ing] closer to a future in which the virtual and real worlds… complement one another."
Wikimedia Commons
AmazeVR, a West Hollywood-based virtual reality startup that allows users to experience musical artists' VR concerts, has secured $15 million in new funding.
The funding round was co-led by Partners Investment and Murex Partners and was oversubscribed within three weeks, according to TechCrunch. The deal takes AmazeVR to nearly $31 million in capital raised since its launch in 2015, with the startup now plotting a Series B raise in early 2022 to fuel further growth, it told the publication. Founded by former executives of South Korean messaging app Kakao, the company has more than 40 employees across its offices in West Hollywood and Seoul.
AmazeVR's platform provides music lovers with a more immersive way to experience concerts from home. Fans can join concerts as avatars, come face-to-face with artists, and hang out with other users, co-CEO Ernest Lee told TechCrunch. AmazeVR is rolling out its first commercial VR concert this spring by bringing Grammy-winning rapper Megan Thee Stallion's show to select AMC Entertainment theaters across the U.S.
"Our goal is for the technology to be so good that it becomes invisible so that the fan's memory is not that of a great VR experience, but it's that they actually came face-to-face with their favorite artists in fantastical immersive environments, blurring the lines of reality," Lee said.
AmazeVR isn't the only L.A.-based VR firm to raise money recently. Concert livestreaming platforms Wave, Moment House, LiveXLive and LoopedLive, among others, have received investments over the past couple years as live concerts faded and artists went searching for another way to reach their audiences.