virtual reality
Standing in a Century City WeWork, I watched as an eerily lifelike hologram was beamed in and silence filled the room.

Once a technology reserved for theater, holograms have become cheaper and more accessible for the masses. So as Zoom became the default office during the pandemic, WeWork turned to ARHT media to create work and conference spaces that didn't require everyone to jam in.
ARHT Media, a Canadian-based hologram company founded in 2012 showcased their technology to press last month. The technology is being made available to WeWork members at the Century City location. It's not inexpensive though and can range in cost from $5,000 to $25,000. But both companies think with the pandemic changing the way business is done, more executives will be willing to spend for the virtual interaction.
As part of the presentation, CEO of ARHT Media, Larry O'Reilly and VP of product extensions at WeWork, Carla D'Alessandro appeared in hologram form.
"I appear life-sized in high resolution, and there's no noticeable latency in the audio. As an audience member, your brain is telling you, 'I'm in the room,'" O'Reilly said.
"That's really what our goal is, to create the illusion that the person is actually in the room with you." (For example, last month ARHT Media beamed in a woman living in London to a wedding ceremony in Canada because she couldn't attend due to COVID-19 travel restrictions.)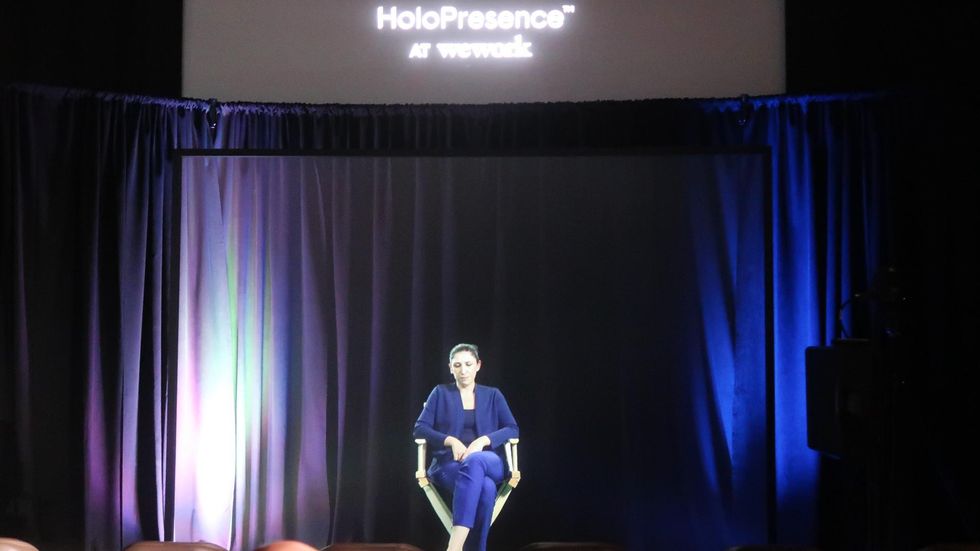 ARHT Media created holograms for AT&T, sports channel ESPN, Live Nation Entertainment, among others. As part of their deal with WeWork, HoloPresence will appear in 100 of the coworking giant's office spaces across the globe by the end of 2021 (LA is the first).
HoloPresence allows for an individual to beam into multiple locations at once, as well as beam in speakers from different locations and bring them on stage together as if they are there in person.
The hologram has been around for quite some time. Perhaps most famously, the deceased rapper Tupac Shakur showed up at Coachella in 2012, much to the audience's delight (and shock). "While [the Tupac performance] created a good image, it required a large footprint, took a long time to set up and tear down, and was expensive to deploy," O'Reilly told the small crowd.
By comparison, HoloPresence's technology can be set up in a matter of minutes. Someone opting for the more bare-bones option needs a green screen and a condensed version of what's available at WeWork offices – lights, monitors and a 4K camera. ARHT Media has set up remote studios in professional soccer locker rooms, hotel rooms, and homes. WeWork, will provide the equipment for any customer wishing to use the tech.
Three and a half years ago, it would have cost $85,000 to use HoloPresence for a single session and required eight technicians between the display and capture studio. Today, it takes one technician to be present in each studio for the technology to run smoothly.
To create the holograms the 4K video and audio files are captured, compressed, sent over the internet to Los Angeles and played back to the audience within 0.3 seconds of them speaking.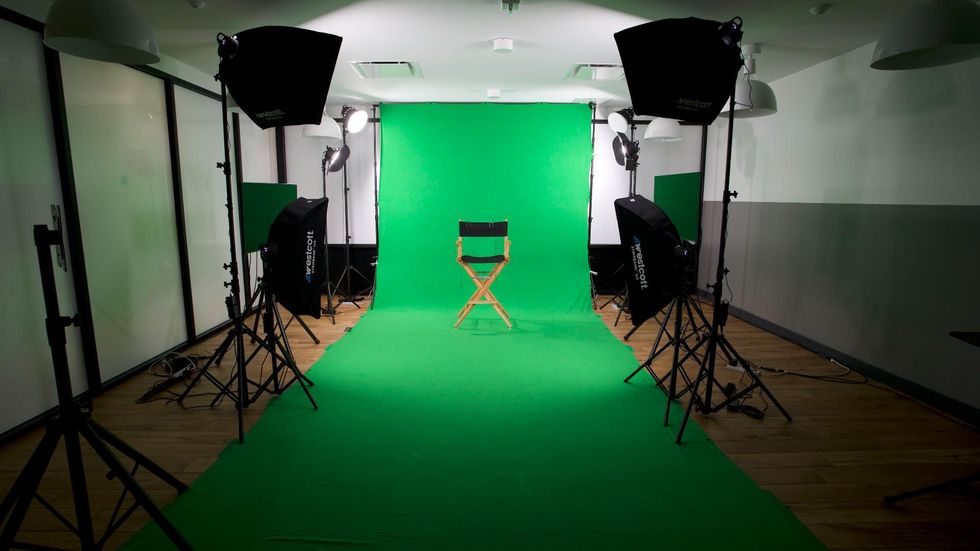 Here's How it Really Looks
As part of the live demo, WeWork representatives rounded myself and other attendees into groups of five to guide us to their "capture and display studio."
While I waited my turn, I was greeted by lights, and a green screen draped from the ceiling to the floor. The capture studio was reminiscent of photoshoot studios I'd visit before every high school dance.
I sat down in the director's chair, and the technician mic'd me up. I was in awe at how clear and smooth the technology was working. Seeing my hologram for the first time was bizarre because I never thought this was possible. I always thought this type of technology was only used for important people.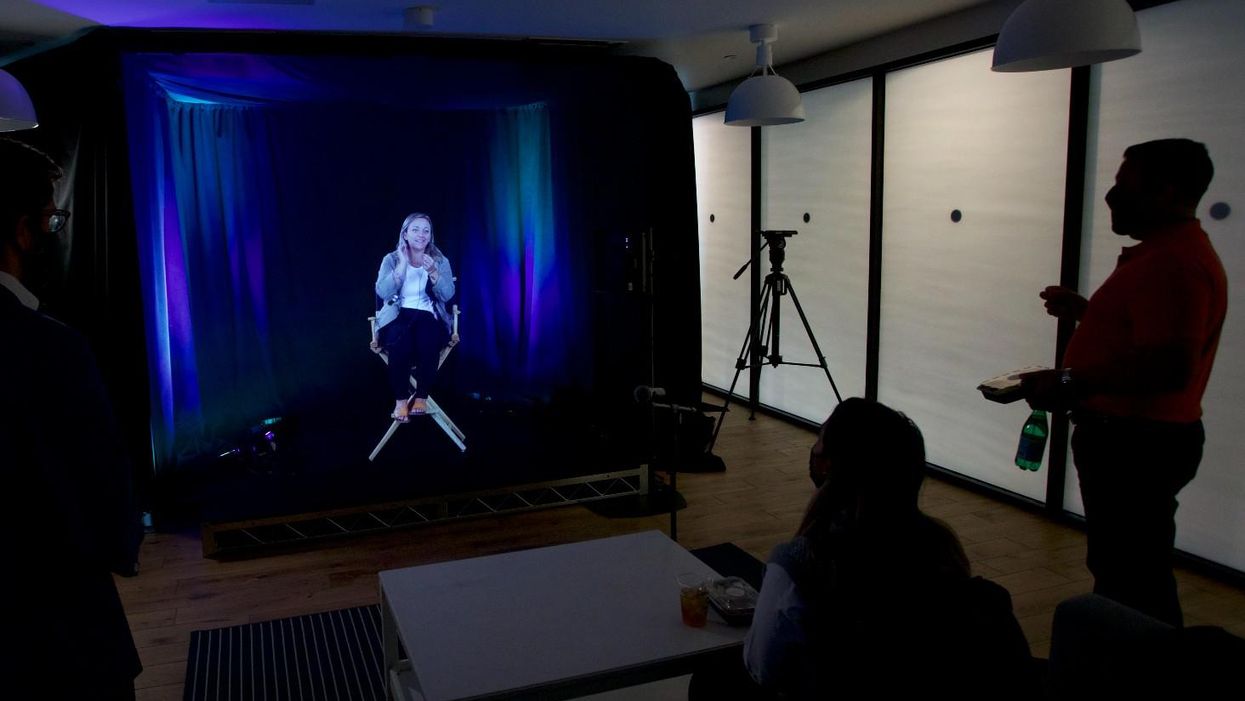 When I saw my hologram, it felt like I was looking into a mirror. The hologram of me was so accurate that I was able to see the wrinkles in my shirt, to my overgrown roots, and strands of hair that were out of place.
The biggest "wow" factor for me, there was no latency from what's being recorded and what's being displayed. It feels more engaging than your average Zoom call and you'll no longer encounter the dreaded mute button, or delays between voice and audio sync. I'm really looking forward to seeing this technology widespread as it can eliminate huge travel expenses, reduce carbon footprint and offer a work-life balance.
From Your Site Articles
Related Articles Around the Web
The Rattle opened a studio in Silver Lake last year, which it operates as something between a startup accelerator, art co-op, coworking space and venture studio. Its goal is to rethink the way musicians and artists are compensated for creating something new or groundbreaking.

"In the music economy, artists are treated like writers of music for some label or publisher, so that the grown-ups can go and sort it out afterwards," said Chris Howard, CEO of The Rattle. "We wanted to see if we could translate the principles of startups and entrepreneurship to artists."
This week, the Los Angeles and U.K.-based creative collective announced its first investments into Los Angeles-based companies.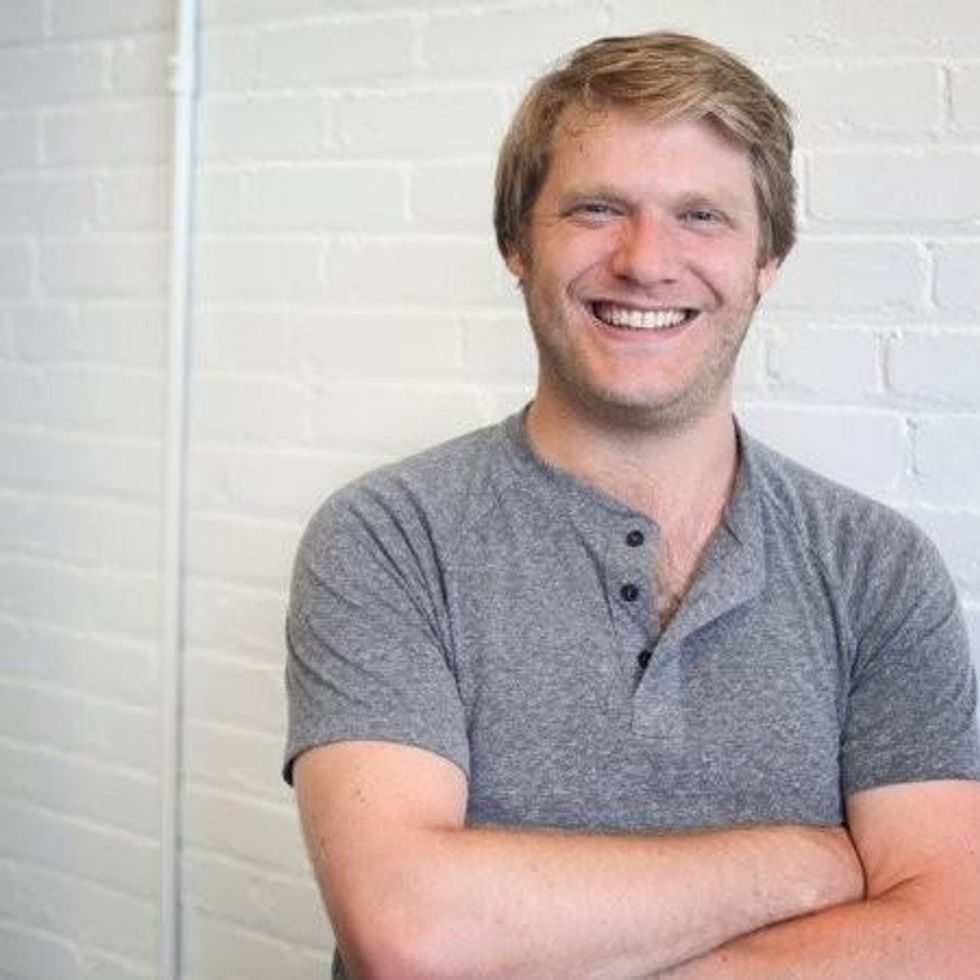 The Rattle CEO Chris Howard
They include a virtual reality tour guide platform, Animas, created by musician and artist Alexandria Rowan and FINKEL, an artist group that uses film and music to encourage people to explore new cultures.
Roughly 8,000 people have applied to join The Rattle since it launched in 2018, but it's only accepted about 400 artists and white-hat hackers between the U.K. and United States, according to its program director Brittaney Bunjong.
Only about 5% of applicants are accepted into its membership program. Only about 10% of those members receive a capital investment from the organization.
"I've found having outside eyes to provide direction on my choices as an artist and entrepreneur, learning about opportunities available to me, all has been appealing," Rowan said. "The co-working part of the process and getting to hang out with like-minded people has been wonderful."

The Companies
Rowan uses virtual reality to create tours of cities for new residents and help them meet their neighbors, an effort she sees as complementary to trends exacerbated by the pandemic, when people working from home in shut-down cities opted to move to more affordable locations.
Animas will hold a demo event using its VR in October. The team will pick a small, relatively unexplored city (sadly, Los Angeles is neither) to host and showcase local artists and vendors. The event will also encourage residents to purchase local art and get active by using the technology to do an augmented reality scavenger hunt.
FINKEL's co-founders are husband and wife duo Brian and Jane Spencer, They're musicians who started a band of the same name but wanted to expand into filmmaking. After a failed attempt at recording a concert in Antarctica during the pandemic, the couple began experimenting with other ways to use film to expose local musical talent and culture.
Their first project, called "Islanders," will debut this year; it'll be a multimedia project examining the local artist culture in Mackinac Island in Northern Michigan.
A Finance Model for Artistic Provocation
The Los Angeles group is no more than 150 people who pay a $125 monthly fee to access the office space, engineering support and networking.
Howard said the Rattle doesn't make a profit from membership fees but instead takes equity in the startups it co-founds.
"The goal is to help them become financially independent," Howard said. "We deliberately shifted to an equity business model, so that if we're going in hard with members, then we will only commercially succeed when they commercially succeed -- and that's a philosophical difference between ourselves in the music business."
Eligible startups will receive funding from The Rattle for the first year of their operations plus access to its studio and creative space at the historic Mack Sennett Studios in Silver Lake. The Rattle declined to provide details on funding.
"We did so many experiments with how to finance an artist early on, so that they can be a great artist and a great business builder at the same time," Howard said, adding that musicians are forced into making money in only one or two significant ways: selling the rights to reproduce the music, or performing. "But if you establish your own company right from the very beginning and build that company as your artist's brand, you can enter any industry you want," he said
Howard told dot.LA it'd been testing the model for about two years before making investments, thought it has helped launch or develop 40 companies to date, he said.
"We partner with specific members in our community who we believe are making the most provocative or the most challenging projects and we co-found a brand new company," Howard said.
The Rattle has raised $3.5 million to date and is backed by Crowdcube, the Future Fund, London-based Dig Ventures and European investment firm LeanSquare. Former Virgin Music managing director Steve Lewis and Outrun Ventures Partner Chris Adelsbach also backed The Rattle as angel investors.
From Your Site Articles
Related Articles Around the Web
As the pandemic slowed and halted clinical trials to test new drugs, the need for a virtual solution became clear to clinical researchers. El Segundo-based Lightship hopes to keep clinical trials going with a virtual process that allows patients to participate from home.
The three-year-old company is one of many in Los Angeles, including MedVector and Science37, investing in a new model of clinical drug trials that seek to virtualize and speed up a yearslong, data-intensive process heavily regulated by the Food and Drug Administration. Those trials are key to help doctors understand the efficacy and side effects of drugs before dosing their patients.

The approach has proved attractive during a pandemic that has forced traditional drug trials to slow down as researchers scrambled to safely conduct trials without putting participants in danger of COVID-19.
SEC filings from Monday show the startup raised $40 million from 10 undisclosed investors. Neither Lightship nor its previous investors responded to requests for comment.
But the move comes as the Food and Drug Administration shifts its thinking on clinical trials. In November, the agency updated its standards to accommodate patients participating in clinical trials from home. It also acknowledged the process was largely unfair because it failed to include underrepresented patients.
In issuing the guidance, Commissioner Stephen M. Hahn acknowledged "clinical trials requiring frequent visits to specific sites may place an added burden on participants."
The clinical trial process often excludes underprivileged people who would otherwise be prime candidates for the drug. That's because it requires participants to drive to hospitals or research sites, sometimes during the work day.
Lightship, though tight-lipped about its products, says on its website it aims to construct flexible clinical trial solutions for companies that want to accommodate patients that can't drive to a nearby facility for regular testing.
That could help clinical trials solve their diversity problem that some researchers argue have plagued the industry.
Clinical trials depend on racial and financial diversity because a drug's efficacy isn't based solely on the chemical composition of the drug – it also requires an extensive understanding of different environmental factors, such as someone's quality of sleep, outside stressors and genetics. Those factors can influence a drug's performance and they are part of what the FDA considers when it creates a drug's safety profile for doctors and patients before releasing the drug onto the market.
"If you don't include a diverse population in your clinical trial and really study those differences or similarities, you might end up having a situation where the product is out in the market and it has a different safety and efficacy profile [than what was originally written]," said Dr. Eunjoo Pacifici, a professor at the USC School of Pharmacy.
Lightship previously raised $10 million in a debt financing round in April, and nearly $20 million in venture capital in 2020.
MedVector, another LA-based startup tackling the virtual clinical trial space, raised $630,000 in March
for a product to help clinicians document a participant's vitals
without requiring them to travel. Another, Science 37,
raised $40 million in 2020
to construct flexible clinical trials.
Related Articles Around the Web