lolly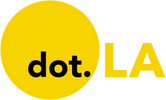 Get in the KNOW
on LA Startups & Tech
X
lolly
Summer 2021 was supposed to be the time for a post-pandemic romance. Dating apps in Los Angeles had plans to launch, reveal new features and get users back to meeting one another in real life.
Then came news that the U.S. wouldn't hit its vaccination targets and a new wave of infection emerged with the delta variant. As of July, it's still not clear when dating will return to normal. The rapid shift has left a number of new L.A.-based dating apps rethinking their approach.
Here's a quick look at some of the apps that have emerged from the pandemic, and some of the dating trends they've sparked.
A Social and Dating App For Gamers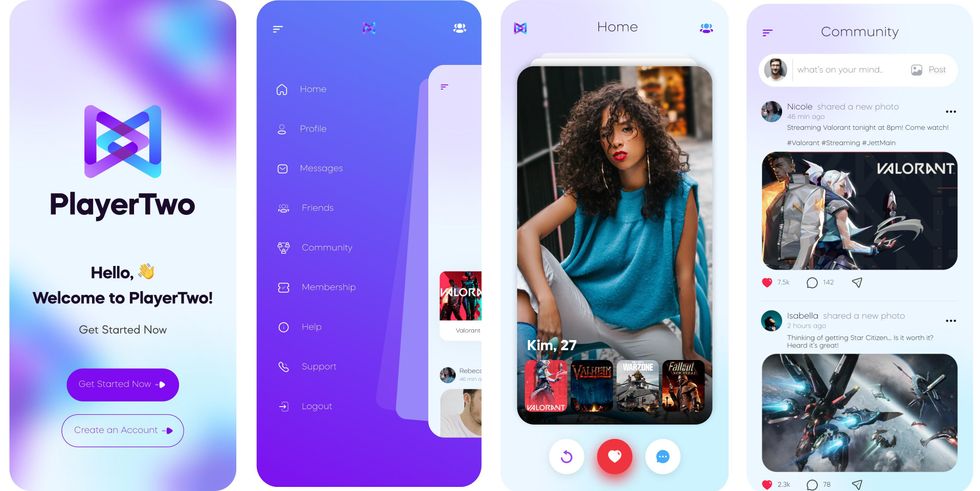 If there was a winning industry in the pandemic, it was video games. The industry surged during lockdown, and began to develop many of the characteristics of social networking and streaming sites.
San Fernando Valley filmmaker and avid gamer Sebastian Slaughter argues gamers, sometimes stereotyped as lonely homebodies, are the most social people in the world. That's where the idea for the dating site he's founding, PlayerTwo, came about.
PlayerTwo's community feature melds dating and streaming into a Facebook-style feed. Gamers worldwide can show off gaming clips, post about their favorite games, like someone's profile and comment on each other's videos.
"Hopefully, this app is something that can give people a middle ground to either stay indoors, and chat and play, or it can give them a platform for them to meet someone and go out and see them in person," said Slaughter.
It's not the only gamer-focused dating site out there, though. L.A.-based Kippo has been matching gamers with the help of cards that display users' favorite games, personality traits — even their astrological signs.
Slaughter said he hopes to differentiate his app by providing more community-building features.
"It's a stepping stone for people to begin chatting," he said. "Maybe there's a spark, maybe you're just looking to play with someone and you have free rein to find whoever, do whatever you want to do with the app."
PlayerTwo, which Slaughter bootstrapped himself, launches in August.
Blind Dating Goes Virtual
The idea for Blink was born out of an experience at a blackout restaurant in 2012.
"Literally, you can't see your hand in front of your face," said co-founder Taly Matiteyahu. "We were seated with other people at the table and had a conversation with them without having any idea what they looked like. And it was just an amazing conversation."
Later, when she met her dinner guests face-to-face, Matiteyahu realized she would have assumed they would have had nothing in common.
"I'm really passionate about helping people get past the implicit biases that they have without even realizing it," she said.
Matiteyahu and Laura Ciccone are working for other startups by day, while moonlighting to create their dating app.
With a focus on social audio, Blink schedules 10-minute speed dates with partners based on your age range, proximity and sexual orientation preferences. The app reveals only your date's name, and gives you a time to connect.
At the end, users are shown three pictures and have to figure out which one features the person they talked to, in order to test their assumptions. Ciccone sees the app as a kind of antidote to the current crop of dating apps that encourage fast-flipping through profiles to find a mate.
"Studies used to say that people swiped in four seconds. Now it's down to only one second of swiping," she said. "It's incredible, really. But like, is that really how you want to find love?"
Blink hopes to delight its users with unexpected matches, and serve an audience that hasn't been tapped by other apps.
"There are communities marginalized on other dating apps, we are definitely trying to kind of connect with as well. For example, Black women, Asian men, and people with various disabilities — they're not serviced very well by traditional dating apps," Matiteyahu said.
It got its initial funding through a Kickstarter campaign and is now seeking pre-seed funding.Their beta is scheduled to launch on August 6.
Dating Apps as Trust-Building
Graze takes the idea of virtual speed dating to video.
Launched last March at the start of lockdowns, the app lets users schedule five-minute Facetime calls after matching as a way of ensuring that they've found a good match before heading out on an in-person date.
The app evolved out of child actress Heather Hopkins' dating advice podcast. She said she was seeing so many dating apps promise, and fail, to find users the right date based on an algorithm. Hopkins said she was looking for something more organic.
"There is no science," she said. "It's about, you know, loving yourself. And then being in spaces where you increase that opportunity of meeting lots of different people and having real conversations and seeing what fits that's going to help you find the best person for you."
Though the app is available worldwide, Graze's core users are mainly Gen Z and millenials in Los Angeles and New York.
Graze has so far raised $1.5 million in pre-seed funding and is planning a big transformation, including a new name and a larger leadership team. Despite the challenges, Hopkins said she's looking forward to getting Graze's online conversations translated into real life connections with the upcoming changes.
"Another cool thing that happened to the pandemic is people definitely expanded their preferences, because they're like, 'well, I can't leave my house'. We had loved stories that happened because they were willing to expand those and they traveled to go see each other and hit it off."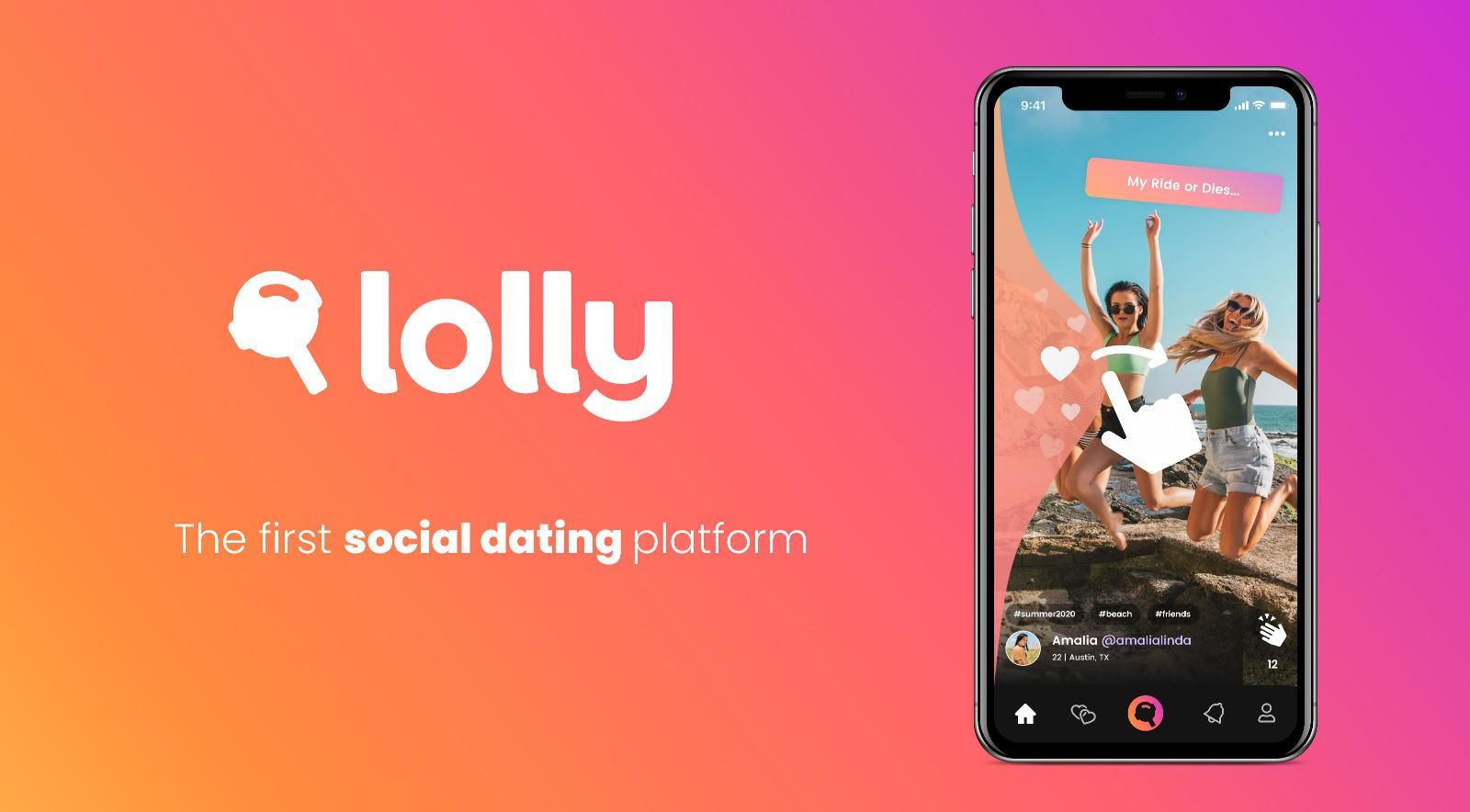 TikTok Meets Tinder
You'd be hard pressed to find a dating-app pandemic success story bigger than Lolly. The video-dating app that sees itself as TikTok-meets-Tinder has exploded in popularity after a soft launch earlier this year.
But co-founder Marc Baghadijian says its success had little to do with lockdowns.
"It doesn't change much — pandemic or non pandemic — people are using any apps. The pandemic actually had no change on our metrics," he said.
Still, Lolly's Gen Z co-founders are bringing in big tech names and celebrities as partners to help in hyping the app.
They include Disney actor Milo Manheim, Mike "Big Mike" Mijalk and "Too Hot to Handle's Harry Jowsey. Baghadijian said the company is also partnering with TikTok and has raised funds from former Ticketmaster executive John Pleasants.
"What is super important is that a lot of the social thought leaders are here. For a lot of the people that make things cool live in L.A. And we have a cool product. So naturally, this is like marriage," Baghadijian said.
Just as TikTok has, Baghadijian said, "made Instagram boring," so Lolly hopes to leverage social video to blow past dating apps like Tinder..
"Gen-Z doesn't like to do a lot of work. And they want to win," Baghadijian adds. "They want to meet people quickly."
Lolly, he said, aims to take all the friction out of online dating and inject more personality into users' profiles. The app is available in the app store, but hasn't yet officially launched, Baghadijian said. He plans to put a marketing budget behind it once a couple pending deals are finalized. "It's gonna be sick," he said. "We're going to be all over the place."
Image by Ian Hurley
College kids have hatched some of the biggest ideas throughout tech history, sometimes before they even finish school. But students who aren't as lucky as Mark Zuckerberg or Bill Gates usually have to backburner big ideas to focus on earning a degree and getting a job. Only then can they hope that their ideas will someday see the light of day.
California Crescent Fund, a new student-run venture capital firm that exclusively funds student startups based in Southern California, wants to offer young founders the option to turn their ideas into reality while they're still in school.
Based in Costa Mesa, Crescent, which refers to the arc of schools curving south from UC Santa Barbara to UC San Diego, is run primarily by six student or recent graduate co-founders — or "managing partners" — and a network of student "university partners" in engineering-heavy schools including UC Irvine, USC, UCLA, UCSD and the Claremont Colleges.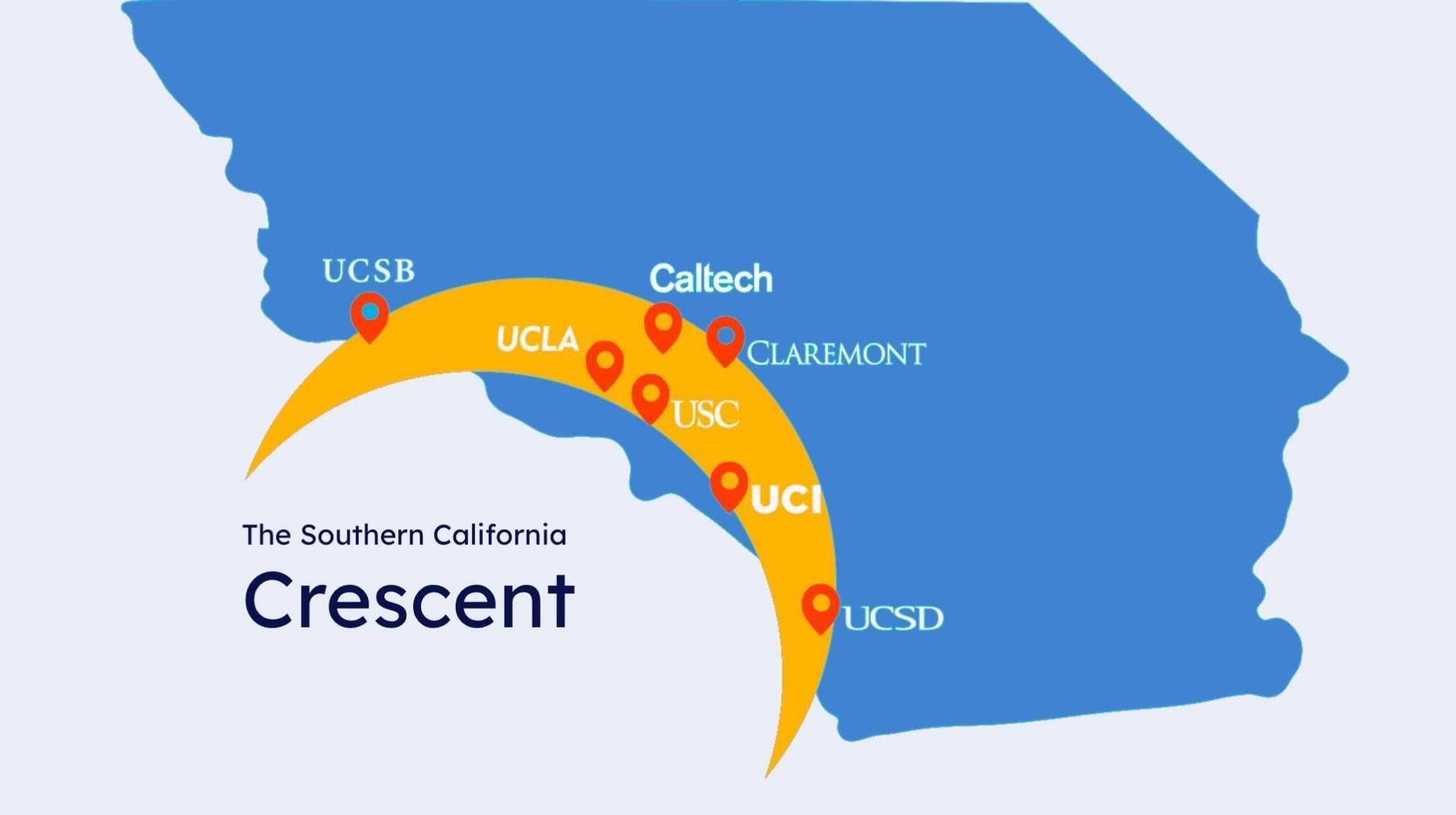 University partners keep an ear to the ground at their respective schools in hopes of finding the most promising startup ideas, which they then pass along to the folks at Crescent. Candidates who are deemed worthy receive a $40,000 check. Since the managing partners began fundraising in December 2020, they've raised $200,000 of soft-circle capital and added one company, Lolly, to their portfolio. Now, they're aiming to raise a total of $1 million in the next six months.

"A lot of these early-stage venture firms are trying to find the best deals" through accelerators, summer programs and scout networks, said Prerit Seth, a co-founder who graduated this year from UCI with a degree in economics and now works as an associate product manager at Citrix. "Having students directly on campus closes that gap." Investors typically spend at most a day or two with startup founders, he points out, but "the student partners on our campuses have known some of their peers for a long time."
Student venture funds are nothing new. The University of Michigan's Wolverine Venture Fund, the country's first student-run VC fund, was founded in 1997. Since then, groups like Contrary Capital, Dorm Room Fund, A-Level Capital and Rough Draft Ventures have sprung up to tap the student creator market. But by and large, said Seth, those funds are focused on Ivy League universities and a handful of Bay Area schools.
All but one of Crescent's co-founders went to Southern California schools, where they observed the wealth of engineering talent —and dearth of startup funding relative to the Bay Area — first-hand. So in the fall of 2019, Keyan Kazemian, a junior majoring in computer engineering at UCI, pitched the idea for Crescent to fellow junior Praneet Sah, who was on the same campus studying computer science and helming the school's Hedge Fund Society. Together they assembled the rest of the team and set out to secure funding from angel investors, institutions and high-net-worth individuals in the region.
"There is not a lot of capital available for the Southern California area," said Sah. "The bridge to that capital is different. We're trying to be that bridge."
Sah said the region's student startup ecosystem is bursting with so many ideas that the fund sees a dozen startups from their target schools every month. "Some with super-interesting ideas, some with straight-up weird ideas," he said.
So far, Crescent has invested in only one company: Lolly, a Gen Z video dating app described as TikTok meets Tinder, which went live in December 2020 and closed a $1.1 million seed round in January with help from the fund's $40,000 investment. A Crescent student partner at the Claremont Colleges named Zach Friedman knew Lolly co-founder Marc Baghadjian and his partners for years and introduced them to the Crescent team in late 2020.
"The thing about the fund that's so amazing is that they know who you are from third grade, because they went to high school, to middle school with you," said Baghadjian. "They know you better than any professional venture capitalist would know. Because they're my demographic and my age, and they get my product, they can give me better feedback than any adult would."
Like Lolly, many of the other consumer startups founded by younger generations are also geared toward youth, like the L.A.-based PearPop, which lets users bid for screen time with their favorite TikTok stars, and Poparazzi, a photo-sharing platform that lets users post photos to their friends' profiles. Funding from a student venture capital fund can help boost the product, and the profile, of youth-led startups, making them more visible to traditional investors. It also allows youth to drive their own tech trends, rather than let older investors dictate them.
According to L.A. Tech Week co-organizer Michelle Fang, student venture capital programs like Crescent are "empowering my generation to accelerate the bubbling tech scene here in Los Angeles beyond traditional means."
"Gen Z is among the first to adopt new products and drive internet trends, from Social Media 3.0 to crypto, and on," she added. Student VCs are "the perfect alignment to empower this same generation to invest in what they know best."
Crescent is currently accepting applications from students online, and though they see a lot of A.I., blockchain and biomedical startups, Seth said the fund is "industry agnostic—we're just trying to understand the trends." And to ensure the fund's perspective on tech remains student-focused, the co-founders, all of whom graduated this year, are preparing to hand over the keys to the fund to the next batch of Southern California students.
Lead art by Ian Hurley.
Editor 's note: This story has been updated to clarify the name of the Claremont Colleges.
From Your Site Articles
Related Articles Around the Web
Photo by Eray Alan
Kristen Anderson was four-and-a-half months pregnant when she got a private message on Twitter about a new self-proclaimed "creator house for entrepreneurs" in Los Angeles.
"We've rented out a $35 million mansion in Beverly Hills and have brought in some amazing founders to live together," the message read.
Anderson is no stranger to the world of venture capital and startup accelerators. She landed $8.1 million in funding for her company after finishing Y Combinator, a program that helped launch big names like Instacart and Airbnb.
But after a year of lockdown and stay-at-home orders, the job got lonely. So in February, just two weeks after learning about it, she booked a flight from Boston to Los Angeles to join Launch House, a live-in accelerator where mostly twentysomethings build their dream tech companies while chronicling it all for TikTok and Instagram.
And they're doing it from a 12,000 square-foot property they say was last rented by Paris Hilton.
In the living room, a whiteboard calendar lists upcoming events like "How to think about the future" and "hackathon presentations." One night, Anderson and her co-founder ordered pizza for the house in exchange for a brainstorm session.
"We just want to be with really smart, talented young people who are building amazing things," she said. "That helps us maintain energy."
The idea came from former Airbnb and Uber product manager Michael Houck, Google alum Brett Goldstein and Commsor co-founder Jacob Peters. The trio sees traditional startup incubators as a relic of the past.
Their goal is to recreate the basements and dorm rooms where the minds behind Google, Amazon and Apple began their empires. Only in their version, it's in a palatial setting replete with a waterfall and hot tub overlooking Los Angeles.
"Universities are no longer going to be the aggregators of great talent," said Peters, who's started to invest his own money — he won't say how much — in Launch House residents. "It's going to be small, niche communities that start in houses."
Perched on a hill in the 90210 zip code, the house reads part co-working space, part dorm-room with the pace of a reality show. Competition to get in is fierce. To secure a spot, applicants fill out an online questionnaire. For those who make the cut, an interview with the founders comes next.
Everyone pays rent, but they call it "membership."
"It's kind of syntax but it matters," Goldstein said. "This is a club and a community, and the physical living experience is just a small component."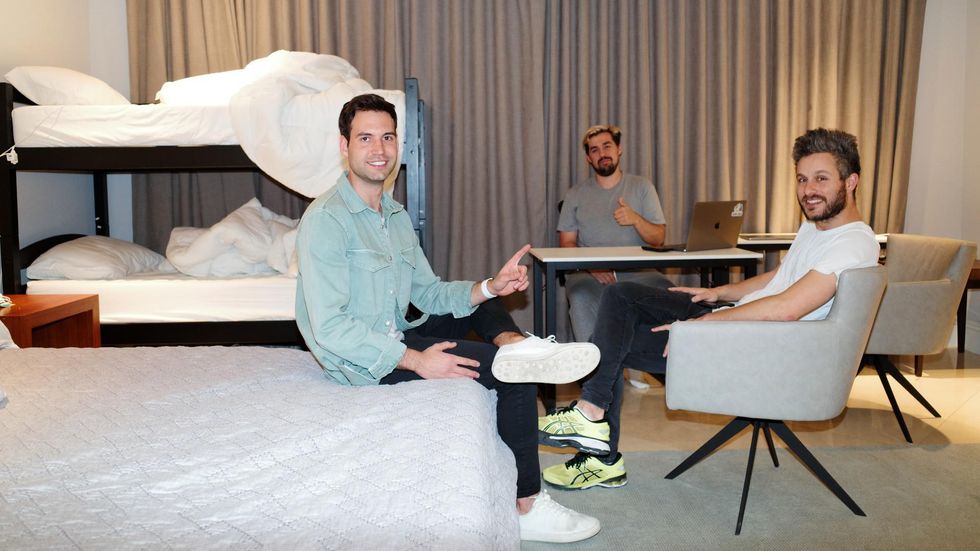 Commsor co-founder Jacob Peters, Airbnb and Uber product manager Michael Houck and Google alum Brett Goldstein.Photo by Eray Alan
The vision captures a very specific — and opportune — moment in L.A. The sway of TikTok celebrities and influencers has crashed into VC money. It's at this meeting point where socially-native entrepreneurs hope to make a name for themselves and their nascent companies.

Just take 21-year-old Marc Baghadjian, a senior at Babson College who wakes up for 5 a.m. Zoom classes some mornings before working on his startup late into the night. Earlier this month — right before moving in — Baghadjian landed $1.1 million for his TikTok-style dating app, Lolly. Baghadjian has used the house as a networking opportunity and it helped him land more investors. Recently he secured another $2.5 million in new commitments and his company's valuation tripled.
Influencers drop by almost every other day, Baghadjian said. In February, Lolly posted an ad on TikTok featuring 19-year-old Milo Manheim, a Disney Channel actor and "Dancing with the Stars" competitor.
(Jacobs said the house maintains a "very strict policy" when it comes to visitors and socializing. Guests are required to test negative for COVID-19 at the door, using self-administered rapid tests.)
But unlike veteran accelerators like Y Combinator, Launch House doesn't promise entrepreneurs any investment. The draw is something else — schmoozing, advice and social media exposure.
As the line between advertisement and content creation blurs, it's changing the way companies find both investors and consumers.
"What on Instagram is marketing and what is entertainment?" said Olav Sorenson, a professor specializing in entrepreneurship at UCLA's business school.
"People are no longer thinking about buying ad space as the way to market a product. They're thinking about how we generate word of mouth through connecting to influencers."
L.A. is "on the forefront of this," said Sorenson. "Entertainment itself is often very entrepreneurial."
'Let's Pretend This Is a TikTok Creator House'
At almost all hours of the day, entrepreneurs at Launch House work from slender white desks and office chairs scattered across the living room, decorated with sparkly art they say Hilton left behind. Others choose to work outside, on lounge chairs lining the pool.
"I spend a lot of time in the laundry room," said Kathryn Cross, a 22-year-old from Manhattan Beach. "That's a pretty big room and you can lock the door. I'll take calls from my car or in the garage."
Cross is a model, runs a Gen Z consultancy firm called Bridge Strategy and streams herself playing chess on Twitch for extra cash. She was worried about the lack of privacy before moving in, but said space and noise aren't issues. Even weekends are work days.
"At 2 a.m. on a Saturday, there will be someone sitting in a corner coding," she said.
And Cross doesn't want to leave. While Launch House was designed to bring on a new cohort of founders every month, many stay longer.
The concept for a live-in accelerator was born last summer, when some tech companies closed their offices and even dropped pricey leases. Fashioning themselves as "digital nomads," young entrepreneurs across the country took off for remote work spots. Their offices could suddenly be anywhere.
@launch_house

Reply to @alyssaasf - were a creator house for #startups #tech #fyp
Houck picked Tulum, Mexico. He already knew Goldstein and Jacobs through On Deck, a fellowship program for entrepreneurs cooking up new startup ideas, and asked them to tag along.

"On the way down, we got this cheeky idea," Goldstein said. "Let's pretend this is TikTok creator house."
The first version of Launch House was born there, in an AirBnb villa blocks from the beach, as a "co-living, co-working experiment," Peters said. It was set up like an upscale college campus for about 18 entrepreneurs to build software and apps. A big facet of that experiment was documenting it online.
"We made a website, an Instagram page and a TikTok," said Peters. "Our social accounts got immediate buzz. No one had ever really lifted that veil of mystique that often surrounds early-stage startup founders."
But, as Goldstein put it, the infrastructure in Mexico was "not there for us to give the right experience."
COVID-19 cases were still soaring last fall. There was a small outbreak at the house. Then, in October, Tulum was issued a warning when Hurricane Delta ripped through the Gulf of Mexico and into Louisiana.
"There were leaks in our place," he said. "The grocery store was closed because there was a hurricane. It was just kind of hot. We couldn't Instacart orders."
Joining LA's Influencer Buzz
The three relocated to L.A., a city clad with venture capitalists they already knew. And inside other extravagant houses across the city, young content creators were churning out TikToks and Instagram posts, signing deals with big name companies for advertisements.
"Paris Hilton moved out literally a week before we moved in," Peters said. "We turned a celebrity mansion into a hacker house," said Peters.
Hilton's PR agency did not respond to questions about whether she rented the house prior, but a few TikTok posts look to be filmed inside. Launch House has no ties to M13 Ventures, the firm founded by Hilton's fiancé, Carter Reum, according to M13 partner Christine Choi.
If the common areas resemble a glamorous WeWork, the seven bedrooms read more like dorms. Grey metal bunk beds, piles of laundry, books written by successful entrepreneurs.
Those are parts rarely seen on Launch House's social media accounts.
The goofy yet focused atmosphere inside the house — along with the success of those living there — are what the public sees.
Faraaz Nishtar, a software engineer, ended his lease in San Francisco to join Launch House. It's there he met Brendon Davis, a 23-year-old stunt YouTuber who films videos with members of Sway House, a buzzy TikTok house in Bel Air home to a group of young influencers. At least once a week, Davis drives to Launch House to brainstorm with Nishtar on pitching his app to content creators.
His startup, Alias, archives a user's digital footprint, which Nishtar hopes will become a "global directory" of online content. He scored half a million from investors like Balaji S. Srinivasan, a former general partner at Andreessen Horowitz, and later attracted a few new angel investors when he moved in. Peters included.
"Last night, we stayed up talking from midnight until 2 a.m. about the future of media," Nishtar said. "In college, people are dicking around and lounging. There's not much of that happening here."