Katherine Abando
Katherine Abando is a lifestyle writer and social media producer from Los Angeles. Her coverage interests include internet culture/tech and Asian American Pacific Islander (AAPI) identity. She enjoys learning about emerging entrepreneurs and digital trends that pop up on her social media feed. Follow her on Twitter @kaband0.
Kippo, a startup that makes a dating app for gamers was created by an ex-Wall Street trader and Raya engineer whose codes helped predict the success of stocks.
But David Park said Kippo doesn't believe in algorithms. The dating app for gamers lets users sign up to create profiles where they can highlight their favorite games, astrology signs and even has their type of personality. The app matches users, who can then chat and play games with each other. Although it's free, there's a $9.99 premium version.
The idea of an app without algorithms is a bit contradictory, coming from what's known as an algorithmic trader, whose startup uses codes to match people.
"An algorithm implies that, if there's enough information about you, the perfect algorithm will spit out the one perfect person for you," he explained. "And then that's it, you don't have to do anything, you don't have to use a dating app. It just tells you who the person is supposed to be with and game over. Right? We don't think that that's the end game."
Instead, he has an algorithm to fix the algorithm.
"We're going to figure out a way that you can do as little as possible, through our super-advanced algorithm," he said. "And our philosophy is we want to make a fun experience so that you enjoy dating, you enjoy meeting people, and you enjoy this entire experience."
Park, an avid gamer, said he thought gaming and dating were a perfect match. Gamers already loved to interact online. They don't want to play alone. Gaming with someone takes the pressure off of dating. It's a shared experience. In the early days of Kippo, Park met his current girlfriend on the app. Going a year and a half strong, gaming is an activity that both of them enjoy together with playing games, like Blade and Soul and It Takes Two.
"At the end of the day, the best environment to get people to be open to meet each other is one where they're comfortable, and they're having fun," he said. "So the goal for Kippo is to create a fun environment. I think a lot of dating apps have this stiffness to them, where it feels like you're going to a speed dating event, and there's a lot of pressure, and everyone's there for the same reason: dating. But if you say, 'Hey, this is a great place to meet new people.'"
Last year, Kippo raised a $2 million seed funding. It's using the cash to revamp the app. with the emphasis on 'experience'.
@chalupabatmangg

We don't do any of this bs at Kippo. We're not scummy like that. #datingapp #kippoapp #sus #scam
Early in his career, Park worked on Wall Street as a quantitative analyst also known as an algorithmic trader, using algorithms to predict the performance of tech companies. It was a prelude to his time at Raya, a celebrity dating app.
After he created the company with Cheeyoon Lee, he began talking on TikTok about dating app algorithms and scams, sometimes deriding other apps for "selling" data.
"Three ways that dating apps are scamming you—number one dating apps will create fake profiles of hot girls and guys and they will show it to you first especially new dating apps," he said in one video posted.
(..) Number two dating apps will hold back your matches unless you start paying (..) Number three dating apps are selling your data and it's scary how they know you based off your swiping patterns."
For his part, Park said they are focusing on getting 10 million Kippo users. The app had about 25,000 users per month last year.
But Park thinks gaming is evolving with esports competitions and spaces like Twitch where gamers can livestream their play. Even Alexandra Ocasio Cortez has used as a platform to reach her constituents. Dating is no exception. The pandemic saw record levels of growth in gaming, which is predicted by some to reach more than $200 billion by 2024.

"Everyone is becoming a gamer to some capacity," Park quipped. "If you look at Gen Z, pretty much all of them play some sort of social video game because video games are becoming more of a social thing than just an activity to do."

From Your Site Articles
Related Articles Around the Web
It can be easy to focus on the wrong things as an online creator. An obsession with posting content and counting followers can distract you from what counts — whether that's monetizing content or interacting with your fans.

Los Angeles-based Super, a platform that went into public beta last Tuesday, aims to make it easier for creators to build revenue models that fit their unique approach.
Co-founder Fernando Parnes, 26, had originally been working on a startup called Best Being, which was focused on matching individuals to wellness services. In December 2020, Best Being was rethinking its direction. At the time, Parnes was spending a lot of time watching DIY cooking videos on YouTube with his fiancee.
"We noticed a significant improvement in our day-to-day lives," Parnes said about the impact of the videos. "And that really kind of opened my eyes to the power that creators have," he added. "The first moment that I was like, wait, this is something really cool, the creator economy, there's really something there."
After huddling with his team and talking with some potential customers, he started on Super.
Leveraging Creative Freedom Beyond the Subscription Model
Super sees its advantage in allowing creators to own their communication pipeline with fans, moving beyond bombarding them with regular posts and emails and instead, giving them the flexibility to build experiences that fit their vision and approach.
"We allow our creators to create their own revenue models, '' said Parnes. "They've already come up with so much more than we ever could."
So far, those ideas include digital hosting open mic sessions, hosting pay-per-view live streams, as well as offering behind-the-scenes glimpses, courses and merchandise.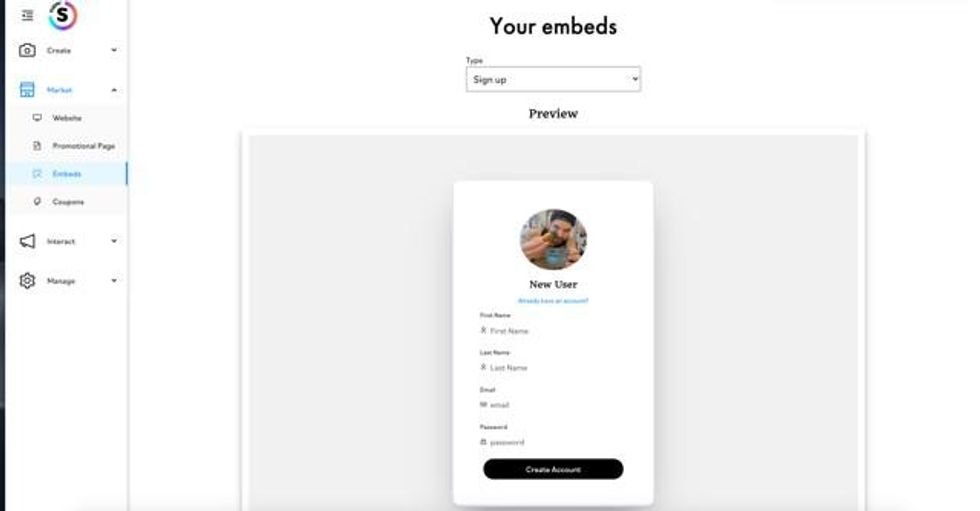 Competitors like Patreon place limits on the kind of experiences creators can implement, Parnes contends, forcing them into a subscription model and controlling access to their fans.

"If Patreon was like, 'no more, we are going to take you off the platform', there's very little you can do about that as a Patreon creator," Parnes said. "[On] Super, you own that data. You own the direct connection to your fan. So that's a big difference," said Parnes.
Super takes up to a 10% cut from creators when they make a sale on the platform. The company is also implementing a sliding scale fee that would reduce transaction fees for creators as they bring more fans onto the platform.
"The more fans you sign up, the more revenue you generate, the less you're going to pay in transaction fees," Parnes said.
He said he wants Super to be a stepping stone for creators to succeed financially without sacrificing their creative freedom. Part of that, he thinks, means moving beyond a focus on subscriber counts and on to metrics that matter.
"We actually don't look at subscriber count as a core metric," said Parnes, "Someone could have two million subscribers. What if a million of those are bots and the other 500,000 don't check out their account anymore?"
Instead, he's focused on helping creators build better relationships with their core, "super" fans. The startup doesn't exclude any type of creator on their platform — from chefs to musicians, vloggers, dancers and adult filmmakers.
"There's obviously certain types of content that promote hate, and things like that. Of course, any kind of creator that's promoting that sort of narrative—we wouldn't be comfortable working with," said Parnes.
Parnes said he's passionate about the creator economy. Los Angeles, at the center of the tech and entertainment worlds as well as icons in the creator economy such as Launch House, YES Theory, and Racket, made it an ideal place to launch.
To date, Super's platform hosts creators including ChefPk, Wes Walker, Mmonisy, Aprilynne Alter, Leo Guinan, Paige Finn Doherty, Footystars, and Teddy Zann, among others, and the company said it's in talks with more.
Super has raised a total of $110,000 in funding from
Behind the Genius Ventures
, as well as family and friends. This month, they'll begin raising their first round of pre-seed funding.
From Your Site Articles
Related Articles Around the Web
Summer 2021 was supposed to be the time for a post-pandemic romance. Dating apps in Los Angeles had plans to launch, reveal new features and get users back to meeting one another in real life.
Then came news that the U.S. wouldn't hit its vaccination targets and a new wave of infection emerged with the delta variant. As of July, it's still not clear when dating will return to normal. The rapid shift has left a number of new L.A.-based dating apps rethinking their approach.
Here's a quick look at some of the apps that have emerged from the pandemic, and some of the dating trends they've sparked.
A Social and Dating App For Gamers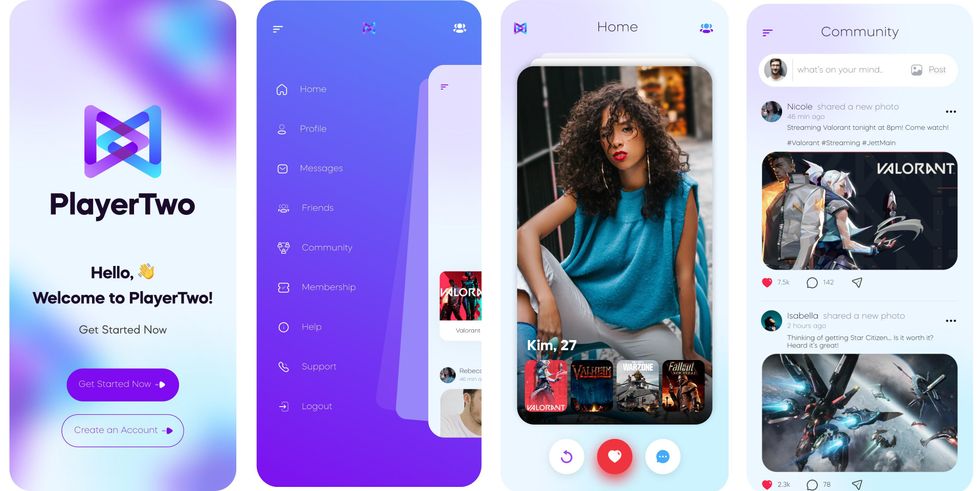 If there was a winning industry in the pandemic, it was video games. The industry surged during lockdown, and began to develop many of the characteristics of social networking and streaming sites.
San Fernando Valley filmmaker and avid gamer Sebastian Slaughter argues gamers, sometimes stereotyped as lonely homebodies, are the most social people in the world. That's where the idea for the dating site he's founding, PlayerTwo, came about.
PlayerTwo's community feature melds dating and streaming into a Facebook-style feed.Gamers worldwide can show off gaming clips, post about their favorite games, like someone's profile and comment on each other's videos.
"Hopefully, this app is something that can give people a middle ground to either stay indoors, and chat and play, or it can give them a platform for them to meet someone and go out and see them in person," said Slaughter.
It's not the only gamer-focused dating site out there, though. L.A.-based Kippo has been matching gamers with the help of cards that display users' favorite games, personality traits — even their astrological signs.
Slaughter said he hopes to differentiate his app by providing more community-building features.
"It's a stepping stone for people to begin chatting," he said. "Maybe there's a spark, maybe you're just looking to play with someone and you have free rein to find whoever, do whatever you want to do with the app."
PlayerTwo, which Slaughter bootstrapped himself, launches in August.
Blind Dating Goes Virtual
The idea for Blink was born out of an experience at a blackout restaurant in 2012.
"Literally, you can't see your hand in front of your face," said co-founder Taly Matiteyahu. "We were seated with other people at the table and had a conversation with them without having any idea what they looked like. And it was just an amazing conversation."
Later, when she met her dinner guests face-to-face, Matiteyahu realized she would have assumed they would have had nothing in common.
"I'm really passionate about helping people get past the implicit biases that they have without even realizing it," she said.
Matiteyahu and Laura Ciccone are working for other startups by day, while moonlighting to create their dating app.
With a focus on social audio, Blink schedules 10-minute speed dates with partners based on your age range, proximity and sexual orientation preferences. The app reveals only your date's name, and gives you a time to connect.
At the end, users are shown three pictures and have to figure out which one features the person they talked to, in order to test their assumptions. Ciccone sees the app as a kind of antidote to the current crop of dating apps that encourage fast-flipping through profiles to find a mate.
"Studies used to say that people swiped in four seconds. Now it's down to only one second of swiping," she said. "It's incredible, really. But like, is that really how you want to find love?"
Blink hopes to delight its users with unexpected matches, and serve an audience that hasn't been tapped by other apps.
"There are communities marginalized on other dating apps, we are definitely trying to kind of connect with as well. For example, Black women, Asian men, and people with various disabilities — they're not serviced very well by traditional dating apps," Matiteyahu said.
It got its initial funding through a Kickstarter campaign and is now seeking pre-seed funding.Their beta is scheduled to launch on August 6.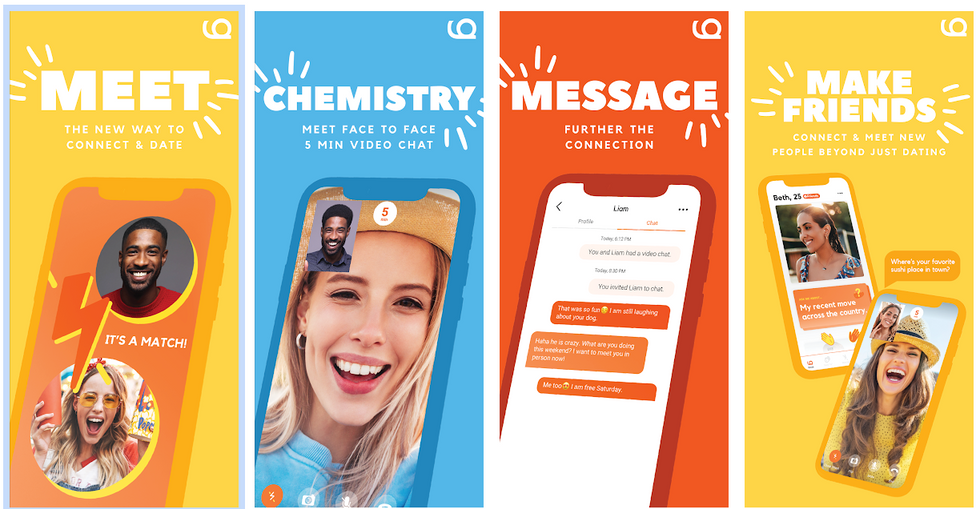 Dating Apps as Trust-Building
Graze takes the idea of virtual speed dating to video.
Launched last March at the start of lockdowns, the app lets users schedule five-minute Facetime calls after matching as a way of ensuring that they've found a good match before heading out on an in-person date.
The app evolved out of child actress Heather Hopkins' dating advice podcast. She said she was seeing so many dating apps promise, and fail, to find users the right date based on an algorithm. Hopkins said she was looking for something more organic.
"There is no science," she said. "It's about, you know, loving yourself. And then being in spaces where you increase that opportunity of meeting lots of different people and having real conversations and seeing what fits that's going to help you find the best person for you."
Though the app is available worldwide, Graze's core users are mainly Gen Z and millenials in Los Angeles and New York.
Graze has so far raised $1.5 million in pre-seed funding and is planning a big transformation, including a new name and a larger leadership team. Despite the challenges, Hopkins said she's looking forward to getting Graze's online conversations translated into real life connections with the upcoming changes.
"Another cool thing that happened to the pandemic is people definitely expanded their preferences, because they're like, 'well, I can't leave my house'. We had loved stories that happened because they were willing to expand those and they traveled to go see each other and hit it off."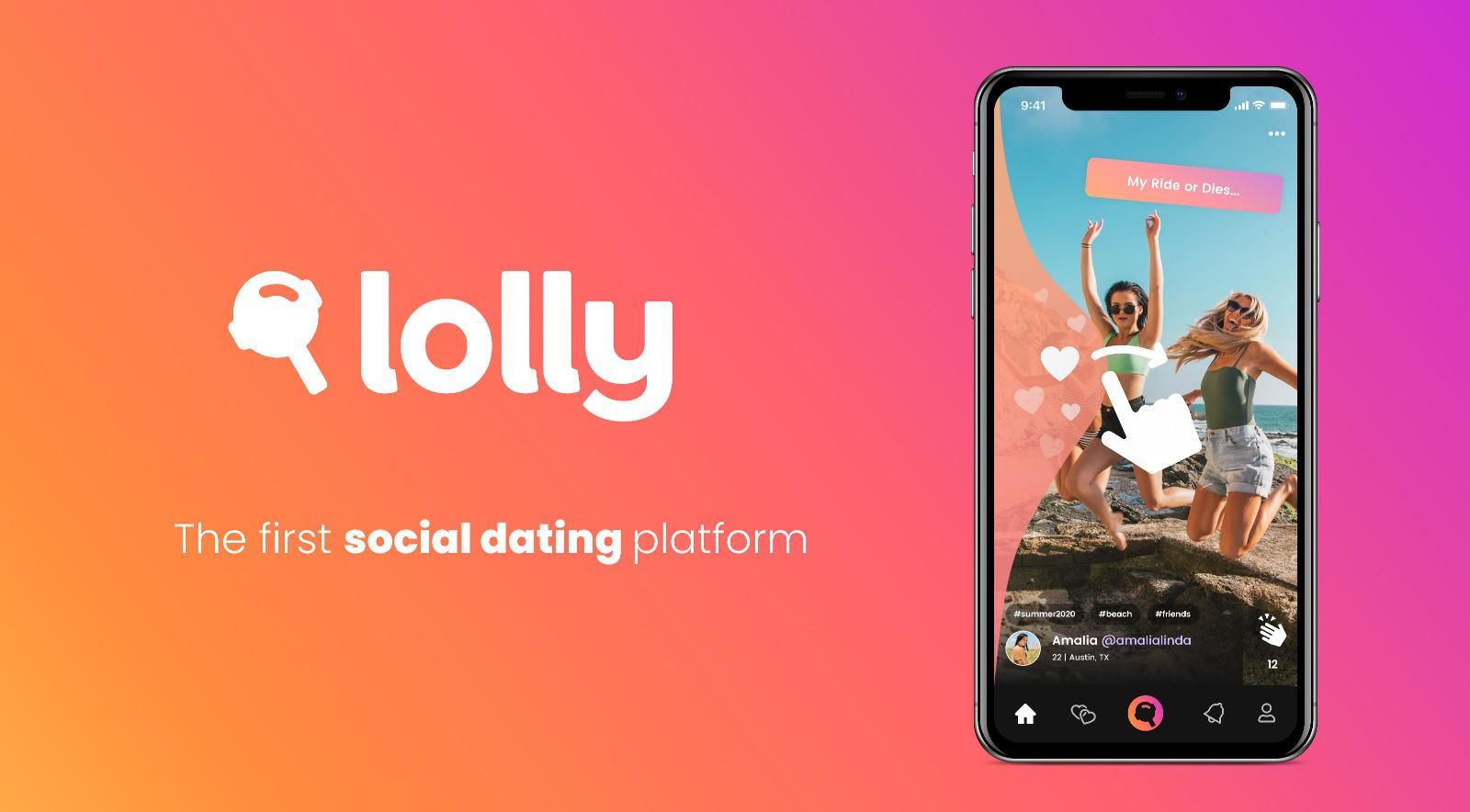 TikTok Meets Tinder
You'd be hard pressed to find a dating-app pandemic success story bigger than Lolly. The video-dating app that sees itself as TikTok-meets-Tinder has exploded in popularity after a soft launch earlier this year.
But co-founder Marc Baghadijian says its success had little to do with lockdowns.
"It doesn't change much — pandemic or non pandemic — people are using any apps. The pandemic actually had no change on our metrics," he said.
Still, Lolly's Gen Z co-founders are bringing in big tech names and celebrities as partners to help in hyping the app.
They include Disney actor Milo Manheim, Mike "Big Mike" Mijalk and "Too Hot to Handle's Harry Jowsey. Baghadijian said the company is also partnering with TikTok and has raised funds from former Ticketmaster executive John Pleasants.
"What is super important is that a lot of the social thought leaders are here. For a lot of the people that make things cool live in L.A. And we have a cool product. So naturally, this is like marriage," Baghadijian said.
Just as TikTok has, Baghadijian said, "made Instagram boring," so Lolly hopes to leverage social video to blow past dating apps like Tinder..
"Gen-Z doesn't like to do a lot of work. And they want to win," Baghadijian adds. "They want to meet people quickly."
Lolly, he said, aims to take all the friction out of online dating and inject more personality into users' profiles. The app is available in the app store, but hasn't yet officially launched, Baghadijian said. He plans to put a marketing budget behind it once a couple pending deals are finalized. "It's gonna be sick," he said. "We're going to be all over the place."