caltech
To most, NASA's satellite images of Southern California space look like a weather map, but the yellow clusters that hover over downtown L.A. and Long Beach don't signify rain. Instead they represent high levels of carbon dioxide, a greenhouse gas that is fueling climate change.
Carbon dioxide levels are at an all time high, despite the pandemic and researchers have been searching for ways to offset it.
The images released this week are the first of what it's calling the most accurate maps from space that show humans' influence on carbon dioxide levels. NASA researchers hope the new data, centered on the Los Angeles basin, can be used to persuade lawmakers to pass more aggressive policies to fight climate change.
They were captured last February by a first-of-its-kind measurement system dubbed the Orbiting Carbon Observatory 3. Located at the International Space Station the device uses a telescope and three spectrometers to measure the electromagnetic spectrum of sunlight to detect carbon dioxide. Launched in May 2019, the project began at NASA in 2012.
It can measure up to 40 locations per day in Southern California, with a focus on L.A. and other areas showing high carbon emissions.
Carbon Dioxide Over the L.A. Metropolitan Area www.youtube.com
JPL research scientist Matthäus Kiel is a lead researcher on the project which released its first map this week. He told dot.LA that researchers decided to focus on Los Angeles first, not just because the NASA-managed Jet Propulsion Laboratory is in Pasadena but because the megapolis has long-standing emissions data.

"We still have a long way to go to provide emissions estimates that will be directly used, but I think we are in a good way," Kiel said. "There's no place like L.A., (where) their emissions are well reported already."
A growing network of sensors on the ground, including a few at JPL partner Caltech, are used by researchers to verify the data from space. Kiel said the plan is to network with universities across the country that have their own emissions sensors to collect and verify more readings.
So far, the satellite readings have been almost exact mirrors of the data on the ground, proving to scientists that it's possible to take these kinds of readings millions of miles away from the Earth's surface.
It's also key that JPL can double-check its data because many environmental factors, from wind to changing weather, can impact the spread and density of CO2.
Kiel said a zoomed-out view from space provides a more accurate way to visualize changes in carbon emissions around the world and he sees its potential for measuring data in remote locations across continents.
"This data can be used to inform policymakers [and] they can use the data to make informed decisions about, for example, emission reduction policies that many cities have in place," Kiel said.
The planet is at a turning point in its climate change battle. An intergovernmental panel told NASA recently that "taken as a whole, the range of published evidence indicates that the net damage costs of climate change are likely to be significant and to increase over time."
These costs include rising sea levels and melting glaciers, changes in rainfall, stronger hurricanes and rising CO2 levels in the atmosphere, which the OCO-3 project at NASA is currently mapping.
By the year 2100, sea levels are expected to rise 1 to 9 feet globally, NASA estimates.
Kiel said he was surprised by just how much local weather changed the CO2 readings that are visible from space, using their OCO-3 instrument.
"Sometimes we saw days where we barely saw elevations of CO2 over L.A. [and] this was interesting to see and something that we haven't seen before that we were not able to monitor before," Kiel said. "it was interesting to see how these values move with the different meteorological conditions."
The Los Angeles metro area is the first place JPL has mapped with OCO-3, but Kiel said the plan is to eventually expand the lens to offer a global view of carbon emissions.
The easiest way to do that is to start in places that already have working sensors on the ground. Kiel noted that NASA might look to map Tokyo, the Bay Area or Boston next, since they already have sensors set up in those areas.
"There's a lot ahead of us," Kiel said. "We usually tend to look to the cities where we have ground-based networks just to make sure we can validate the data before we expand to a wider global sense."
From Your Site Articles
Related Articles Around the Web
Protomer Technologies Inc., a Pasadena-based biopharmaceutical startup, closed a second round of funding to expand the tech platform it's using to develop insulin that adjusts according to a diabetes patient's blood sugar levels.
The undisclosed raise came from the JDRF T1D Fund, a Boston-based venture philanthropy fund that focuses on type one diabetes research.
The pre-clinical stage startup was launched in 2015 by a team of Caltech faculty and alumni to build a "heavy chemistry-based platform," said CEO and founder Alborz Mahdavi, who received his PhD in bioengineering from the university. They're now using the technology platform to create drugs that can activate once they've been injected into patients, including a new type of insulin.
The treatment still needs FDA approval.
Typically, diabetes patients carry with them glucose meters and insulin to track and maintain the sugar levels in their blood. Protomer's product is designed to activate itself automatically depending on a person's blood sugar levels.
"With this insulin, you don't need to worry about that," Mahdavi said. "There's enormous interest in this. This insulin will be completely transformative for people with diabetes."
Mahdavi said the platform could also be applied to other therapeutic settings like neuroscience and oncology. For example, a drug injected in patients with cancer could switch off if the treatment isn't working. It could also activate in a specific region of the body, which means that side effects of chemotherapy would diminish if the drug were "only active locally."
"Imagine you have pancreatic cancer and you're taking an oncology drug," he said. "The problem is that the drug will be active all over the body, which is why you get all these side effects."
Dave Whelan, CEO of BioscienceLA, said several companies in the field are engineering cells designed to fight cancer cells this way. It's a challenge researchers have been trying to crack for a while.
"It's a long time coming," he said. "It's very reassuring to see investments in this space because the last several months there's been so much focus on COVID, and part of that has been at the expense of other disease areas."
As the pandemic ushers in a new way of telemedicine, he sees an urgency in introducing therapeutics that don't require in-person physician attention. Meanwhile, cancer patients and certain diabetes patients may be more at risk if they contract the virus.
"When you see something like this, it just makes me feel good that there's still attention being paid to these diseases and conditions that will be with us long after COVID," he said.
Protomer's first equity investment, also an undisclosed amount, was led by pharmaceutical giant Eli Lilly and Company. Whelan said that move might signify a future acquisition, as big pharma often looks for innovation outside their own companies.
"It's not only an advance for life sciences and care, but because they're making progress and getting additional funding, that helps them grow the whole industry here," Whelan said. "We absolutely need more of that going on in L.A."
Clarification: An earlier version of this post stated that the T1D Fund has spent over $2 billion on type one diabetes research. While its nonprofit parent company JDRF may have spent that much, the T1D Fund has not.
Related Articles Around the Web
Beyond Limits, a Glendale, Calif.-based company that builds human-like reasoning into its artificial intelligence, has taken its tech from outer space onto factory floors and to hospitals.

Now as it seeks to expand its global footprint, the company said it raised $133 million in Series C funding. In addition to an expansion of its services, it hopes to build up its software platforms.
The round was led by Group 42, an artificial intelligence and cloud computing company in Abu Dhabi, and its longtime and ongoing partner bp ventures, an investment arm of the British energy group. Founded in 2014, Beyond Limits is based on technologies developed at Caltech and NASA's Jet Propulsion Laboratory and funded by NASA and the Department of Defense.
"We are seeing unprecedented, world-wide demand for systems that go beyond the limitations of conventional AI," said AJ Abdallat, CEO and co-founder of Beyond Limits, in a statement. "Our cognitive software has the ability to understand situations and place problems in real-world contexts as well as to learn over time."
The company joined up with bp ventures early on when BP was looking for technological ways to prevent another industrial disaster like Deepwater Horizon, the largest recorded marine oil spill. The explosion and spill from an oil rig leased by BP killed 11 people and devastated sea and avian life in the Gulf of Mexico.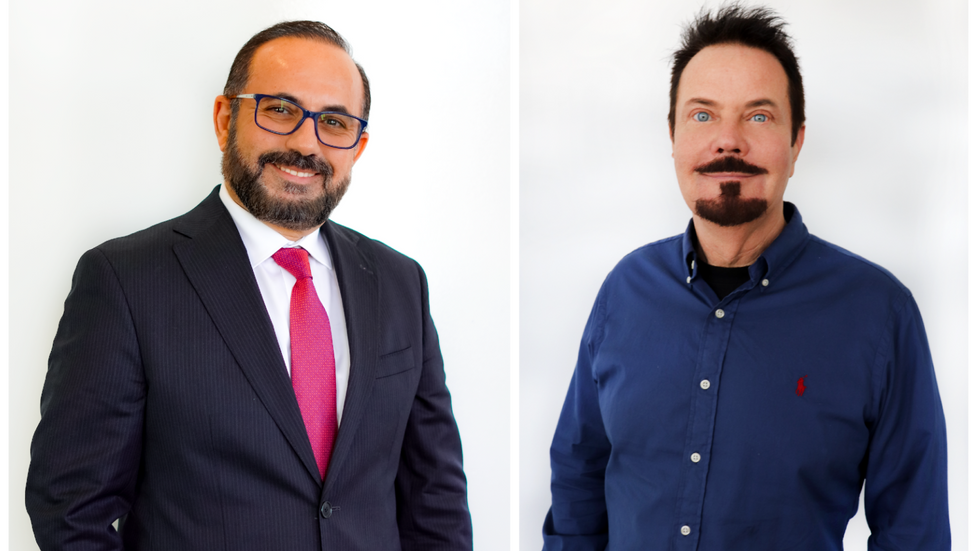 Beyond Limits co-founders AJ Abdallat (L) and Mark James (R).
Beyond Limits' technology uses bio-inspired algorithms that attempt to imitate how the human brain works and provide explainable, transparent data rather than conventional "black box" AI results.

Beyond Limits has worked with a giant energy production company to help expand and increase their production in mature subsurface reservoirs to lower the cost of production. It's also worked with healthcare providers to accurately diagnose patient conditions and major financial institutions on applying cognitive reasoning to fintech.
Beyond Limits said Tuesday it plans to use the Series C raise to launch Beyond Limits Asia, regionally based in Singapore and operating in Hong Kong, Taipei and Tokyo as it develops AI software that mimics human deduction and reasoning. The company also plans to expand into advanced manufacturing and financial services, a representative told dot.LA.
In 2019, the company received $25 million in financing from Minneapolis-based Xcel Energy to build an AI-controlled power plant.