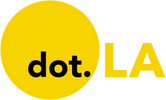 Get in the KNOW
on LA Startups & Tech
X
Yasmin Tayag
Yasmin Tayag
Yasmin Tayag is a science editor and writer. She was previously the lead editor of the Medium Coronavirus Blog and founding editor of Future Human, a publication about science and the future. She was also a senior editor at the health website Elemental and the tech website OneZero. Before that, she was the senior science editor at Inverse. She is most interested in biology, health, the future of food, and the intersection of science with racial and social justice.
Image by Ian Hurley
College kids have hatched some of the biggest ideas throughout tech history, sometimes before they even finish school. But students who aren't as lucky as Mark Zuckerberg or Bill Gates usually have to backburner big ideas to focus on earning a degree and getting a job. Only then can they hope that their ideas will someday see the light of day.
California Crescent Fund, a new student-run venture capital firm that exclusively funds student startups based in Southern California, wants to offer young founders the option to turn their ideas into reality while they're still in school.
Based in Costa Mesa, Crescent, which refers to the arc of schools curving south from UC Santa Barbara to UC San Diego, is run primarily by six student or recent graduate co-founders — or "managing partners" — and a network of student "university partners" in engineering-heavy schools including UC Irvine, USC, UCLA, UCSD and the Claremont Colleges.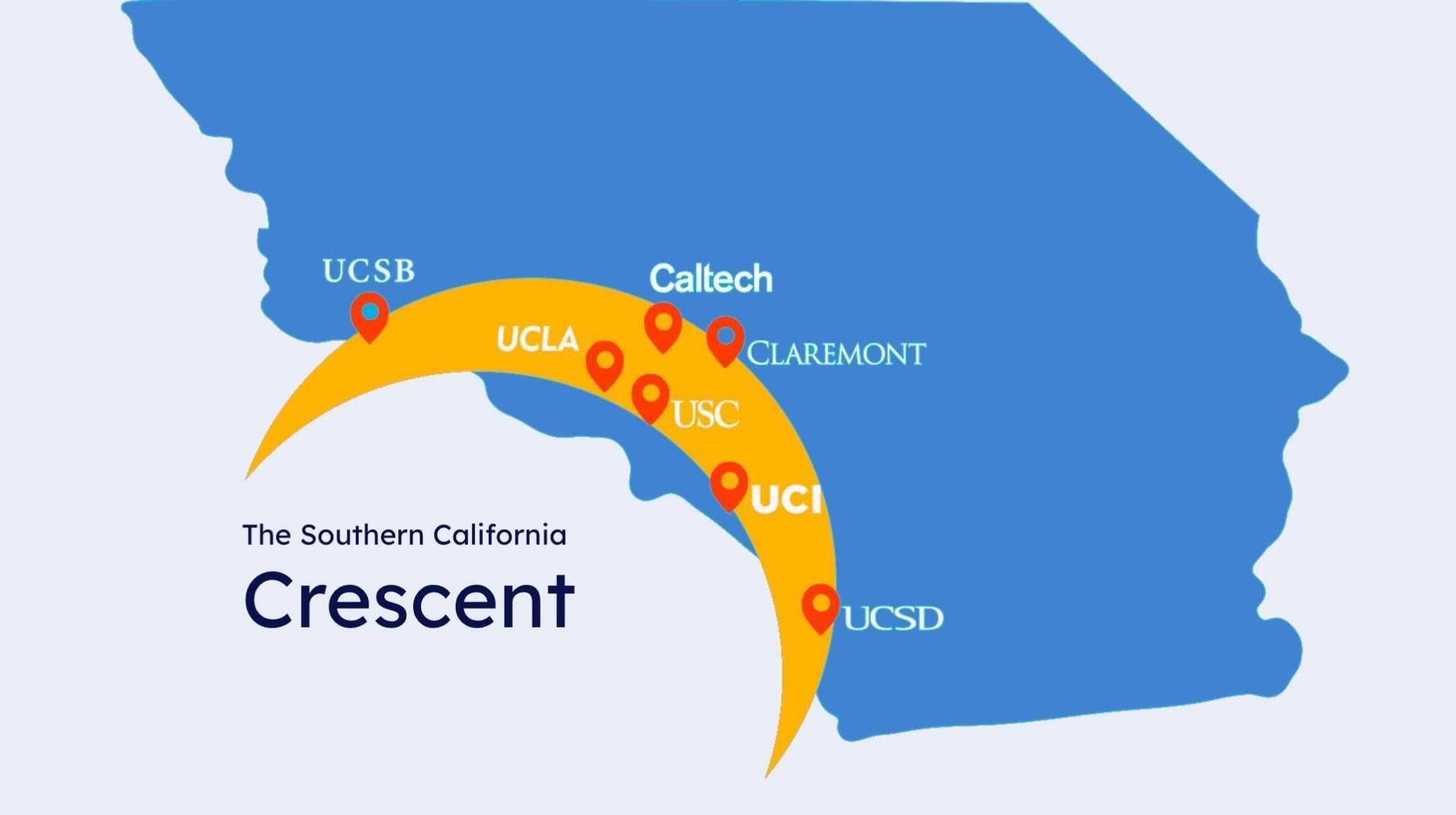 University partners keep an ear to the ground at their respective schools in hopes of finding the most promising startup ideas, which they then pass along to the folks at Crescent. Candidates who are deemed worthy receive a $40,000 check. Since the managing partners began fundraising in December 2020, they've raised $200,000 of soft-circle capital and added one company, Lolly, to their portfolio. Now, they're aiming to raise a total of $1 million in the next six months.

"A lot of these early-stage venture firms are trying to find the best deals" through accelerators, summer programs and scout networks, said Prerit Seth, a co-founder who graduated this year from UCI with a degree in economics and now works as an associate product manager at Citrix. "Having students directly on campus closes that gap." Investors typically spend at most a day or two with startup founders, he points out, but "the student partners on our campuses have known some of their peers for a long time."
Student venture funds are nothing new. The University of Michigan's Wolverine Venture Fund, the country's first student-run VC fund, was founded in 1997. Since then, groups like Contrary Capital, Dorm Room Fund, A-Level Capital and Rough Draft Ventures have sprung up to tap the student creator market. But by and large, said Seth, those funds are focused on Ivy League universities and a handful of Bay Area schools.
All but one of Crescent's co-founders went to Southern California schools, where they observed the wealth of engineering talent —and dearth of startup funding relative to the Bay Area — first-hand. So in the fall of 2019, Keyan Kazemian, a junior majoring in computer engineering at UCI, pitched the idea for Crescent to fellow junior Praneet Sah, who was on the same campus studying computer science and helming the school's Hedge Fund Society. Together they assembled the rest of the team and set out to secure funding from angel investors, institutions and high-net-worth individuals in the region.
"There is not a lot of capital available for the Southern California area," said Sah. "The bridge to that capital is different. We're trying to be that bridge."
Sah said the region's student startup ecosystem is bursting with so many ideas that the fund sees a dozen startups from their target schools every month. "Some with super-interesting ideas, some with straight-up weird ideas," he said.
So far, Crescent has invested in only one company: Lolly, a Gen Z video dating app described as TikTok meets Tinder, which went live in December 2020 and closed a $1.1 million seed round in January with help from the fund's $40,000 investment. A Crescent student partner at the Claremont Colleges named Zach Friedman knew Lolly co-founder Marc Baghadjian and his partners for years and introduced them to the Crescent team in late 2020.
"The thing about the fund that's so amazing is that they know who you are from third grade, because they went to high school, to middle school with you," said Baghadjian. "They know you better than any professional venture capitalist would know. Because they're my demographic and my age, and they get my product, they can give me better feedback than any adult would."
Like Lolly, many of the other consumer startups founded by younger generations are also geared toward youth, like the L.A.-based PearPop, which lets users bid for screen time with their favorite TikTok stars, and Poparazzi, a photo-sharing platform that lets users post photos to their friends' profiles. Funding from a student venture capital fund can help boost the product, and the profile, of youth-led startups, making them more visible to traditional investors. It also allows youth to drive their own tech trends, rather than let older investors dictate them.
According to L.A. Tech Week co-organizer Michelle Fang, student venture capital programs like Crescent are "empowering my generation to accelerate the bubbling tech scene here in Los Angeles beyond traditional means."
"Gen Z is among the first to adopt new products and drive internet trends, from Social Media 3.0 to crypto, and on," she added. Student VCs are "the perfect alignment to empower this same generation to invest in what they know best."
Crescent is currently accepting applications from students online, and though they see a lot of A.I., blockchain and biomedical startups, Seth said the fund is "industry agnostic—we're just trying to understand the trends." And to ensure the fund's perspective on tech remains student-focused, the co-founders, all of whom graduated this year, are preparing to hand over the keys to the fund to the next batch of Southern California students.
Lead art by Ian Hurley.
Editor 's note: This story has been updated to clarify the name of the Claremont Colleges.
From Your Site Articles
Related Articles Around the Web
Miso Robotics
In 2017, a burger-flipping robot named Flippy put fast food workers everywhere on high alert. The automation era of the restaurant industry had begun, ushered in by a $60,000 machine that slapped patties onto a grill, monitored their doneness with AI and thermal cameras, then lay them on buns.
Three years later, Miso Robotics, the Pasadena-based company behind the technology, released Flippy ROAR—short for "Robot on a Rail"—a more streamlined robotic arm with the same capabilities but half the cost. Shortly after, the company opened up availability to small restaurants with a new pricing model that got rid of Flippy's steep upfront cost and replaced it with a $2,500 monthly fee.
Miso's timing couldn't be much better: It has raised $22 million through crowdfunding, has a growing team of 45 employees, and is hitting its stride during a national restaurant labor shortage caused by the COVID-19 pandemic. Miso is now preparing to launch a Series D through its own crowdfunding platform. It's targeting $40 million in capital (with a minimum investment of just under $1,000) — an ambitious figure, but one that if met would further jumpstart the company's bid for restaurant automation domination.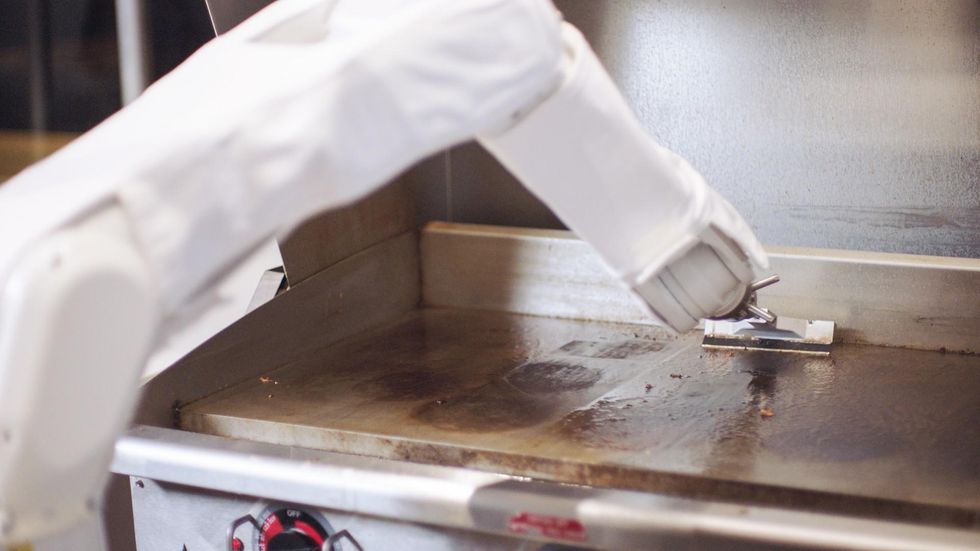 Employment at eating and drinking establishments is 15% below pre-pandemic levels, according to an April report from the National Restaurant Association. Economists blame the shortage on increased unemployment insurance, which they say has disincentivized furloughed or laid-off workers from returning to the industry. Workers argue that the pandemic has made clear that restaurant jobs just aren't worth the low pay, lack of benefits and safety risks, with many seeking jobs in other industries.

"When the pandemic hit we saw the whole food industry wake up and say, AI, automation, robotics—this isn't sci-fi anymore, this is survival," said Buck Jordan, the co-founder and president of Miso Robotics. His company recently hired Jake Brewer, a former executive at CKE, the parent company of Carl's Jr. and Hardee's, to oversee product and business development as its chief strategy officer.
Even before the pandemic, there was already a turnover crisis in the restaurant business. Industry measures in 2019 estimated a turnover rate between 130% and 150% in fast food chains, according to CNBC. Fast food jobs have become so routinized that workers who quit are easily replaceable. In other words, the jobs are designed for turnover — or robots.
Flippy, which can be programmed to do a growing number of kitchen tasks in addition to burger-flipping, has drawn the attention of quick-serve restaurants across the country. White Castle and CaliBurger were early adopters, and the robot was also deployed at Dodgers Stadium and Arizona Diamondbacks' Chase Field to cook chicken tenders and tater tots. (In White Castle's case, company vice president Jamie Richardson said that they were "not dialing down on the number of people in a restaurant" because of the technology, and instead were using Flippy to free up time for workers to focus on order and delivery accuracy. This year, White Castle added 10 new Flippy units to be deployed at franchises across the country.)

Now, with 1.8 million jobs unfilled in the restaurant business and increased interest in social distancing and "low-touch" cooking technology, "there's a massive, screaming problem to address automation in the food service industry," said Jordan. The entrepreneur was first introduced to automation in the Army, where he was exposed to unmanned ground vehicles in his work in tanks and aviation.
"It was a pretty interesting way to think about the future of automation and how robots and computers can do some of those jobs that humans shouldn't necessarily be doing," he said.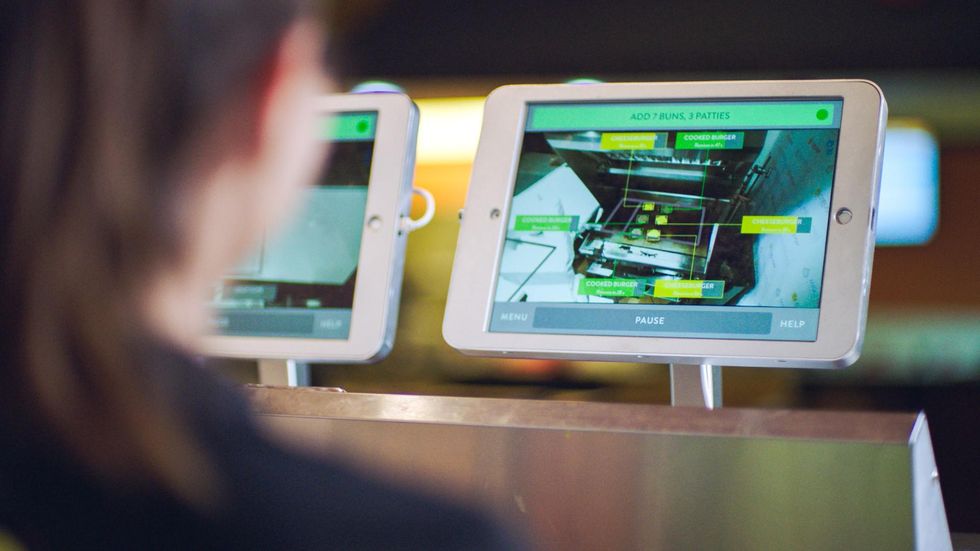 That's not to say Miso is focused solely on automation. This month, it announced CookRight, its most accessible offering yet: a system of two high-definition cameras, mounted over a grill, that use the same AI technology to tell a human cook when it's time to turn over a cut of meat. It costs a restaurant just $100 a month to operate.

CookRight, which can recognize the cut and thickness of a piece of meat cooking on a grill, doesn't involve automation, but it's still meant to increase restaurant revenue by reducing costs associated with food waste and human error. Recognizing when meat is done is one of the most basic skills a cook learns, but humans make mistakes, wasting time and money that restaurants with small margins can't afford. Steaks, for example, are often returned because they're cooked improperly, and the cook must throw out the meal and start over, making the customer wait. Other times, customers eat dishes they are dissatisfied with, decreasing their overall experience of the restaurant.
Jordan said that CookRight, which he likens to an "electronic coach," can help reduce those inefficiencies and ultimately save the restaurant money. It is the same AI technology that powers Flippy's arm and will eventually be expanded to monitor other factors involved in cooking, like the fat content of a piece of meat.
The rise of restaurant robots, which also includes Spyce's robotic kitchen, Creator's burger pipeline, and Costco's Pizza Robot, has raised concerns that automation will eventually replace restaurant workers altogether. Some restaurant executives have argued that labor groups like Fight for $15, which pushes for a fair minimum wage for workers, are to blame for the rise in automation across the industry.
But Jordan insists that robots are not meant to replace human workers. "Automation, AI and robotics — I think they all complement the role of a restaurant worker," Jordan said, "freeing up humans to do what humans do best."
Abraham Pizam, founding dean and professor at Rosen College of Hospitality Management at the University of Central Florida, said that robotics may someday take the jobs of some restaurant workers, but not until the cost of the technology becomes cheaper than labor. But automation, he argues, is not necessarily a bad thing for human workers.
"Peeling potatoes in the kitchen: Who wants to have eight hours a day peeling potatoes when actually there is a robot that can do that?" Pizam said. "You might put the same person in a higher-level, better paying and more sophisticated job."
The labor shortage, said Pizam, is forcing the restaurant industry to reckon with the need for higher salaries, which are necessary to draw workers back from taking unemployment or from other industries that offer better pay and more satisfactory work.
"When the industry is pushed in a corner, they will have no other choice but to look elsewhere," said Pizam. "And robotics will be one of those elsewheres."
Tony Rice II was just a 17-year-old kid living in the Dallas-Fort Worth area when an officer approached his car with his gun drawn, saying he suspected the car was stolen.
"He pulled me over, came up to my car, and actually pulled a gun on me," said Rice. In the end, the officer still gave Rice a traffic ticket. It was only later he said he discovered there had been no corresponding reports of a stolen vehicle.
Rice and his family never filed a complaint about the interaction. "I think we were all just glad that it didn't result in a fatal encounter," said Rice, now 36, whose father grew up in the segregated South and whose mother is an immigrant from Haiti. "Unfortunately in my community, these things happen too often."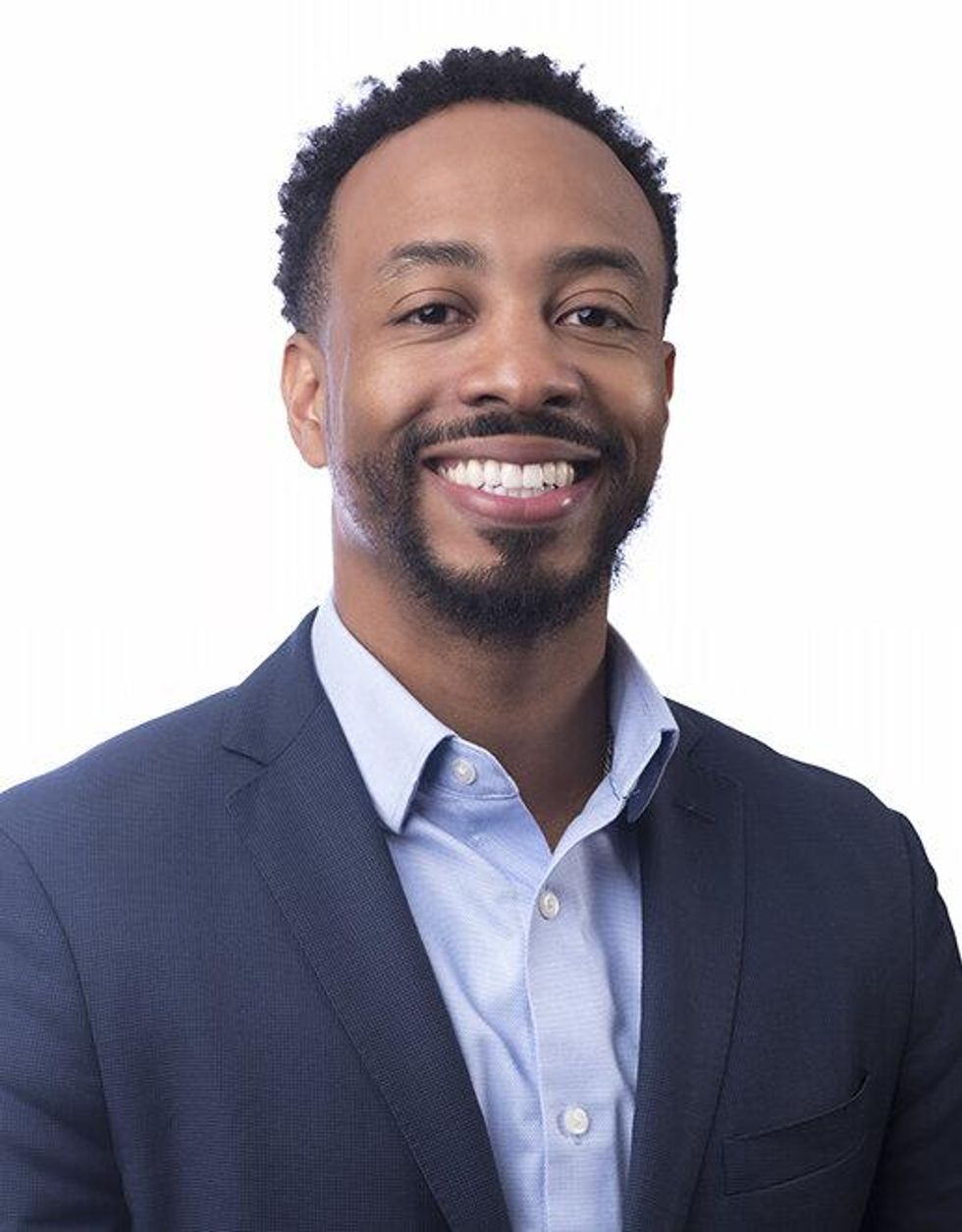 Unarmed founder Tony Rice II
Systemic racism was something that Rice couldn't avoid over the next two decades, even as he was building his career at Google and Deloitte and eventually with his own consulting firm, which helped cities launch tech projects with vendors such as Oracle. He said he was "just not sure how I could help address it."

Then, in 2020, George Floyd and Breonna Taylor were killed by police. It dawned on Rice that he could leverage his personal and professional experience to address police violence in a meaningful way. "Knowing that could have been me," he said, "I thought I was uniquely positioned to create a technology project that could potentially help resolve this disparity."
He began developing Unarmed, an online platform that allows city government agencies to easily gather and manage civilian feedback about law enforcement, including cases involving use of force. The public often doesn't know that they can give feedback about police, he said, and even when they do, they don't know how to do so. He hopes streamlining the process will increase both access and awareness about these options.
So far, Rice has self-funded the company, and he plans to hold a family-and-friends funding round at the end of the second quarter. Though the launch of the completed product is slated for the end of this year, Rice points out that its major functionality is already finalized. "We could deploy tomorrow," he said, adding that the platform can be implemented quickly because it can be installed remotely rather than onsite.

Mock-up videos on the Unarmed website show a streamlined online platform where a user can select to file a "complaint" or a "compliment." Subsequent pages give civilians the option to either provide personal information or file anonymously, and to provide information about the incident, officers involved, details about witnesses and any photo or video evidence. Cases are submitted to a city's oversight officers and labeled with a tracking number, which allows users to check for updates.
Unarmed might seem like an obvious solution, but in many cities there are relatively few avenues for civilians to file complaints about police. While some cities have robust citizen complaint review boards (also known as civilian oversight agencies) that are external to police, most police departments log and review complaints internally.
Even though some departments have "very independent complaint review processes," said Jack Glaser, an expert on policing and racial justice at UC Berkeley's Goldman School of Public Policy, "it is very difficult to get a complaint 'sustained.'" Sustainment occurs when a complaint is found to be supported by sufficient factual evidence and deemed a policy violation. He said complaints about racial profiling in particular are almost never sustained.
Worse yet, Rice has found that while a few cities offer fillable PDFs or forms that can be printed out and submitted, many do not offer any online options and instead require civilians to manually log complaints at the police department, "which is obviously counterintuitive," he said. Further, he notes, many of these services are offered only in English and Spanish, excluding Americans who primarily speak different languages.
Designed with access in mind, Unarmed is geared toward cities that have stated their commitment to police reform. As the Black Lives Matter movement continues to gain traction, the number of such places appears to be growing. Last July in Kansas City, Mayor Quinton Lucas and city council members called on the police to provide data in order to create a publicly available use-of-force database. This still hasn't materialized, however, and the city's police chief is currently under fire for failing to deliver on these demands. With Unarmed, willing cities can organize and manage such databases so that they're positioned to have the biggest impact on police reform.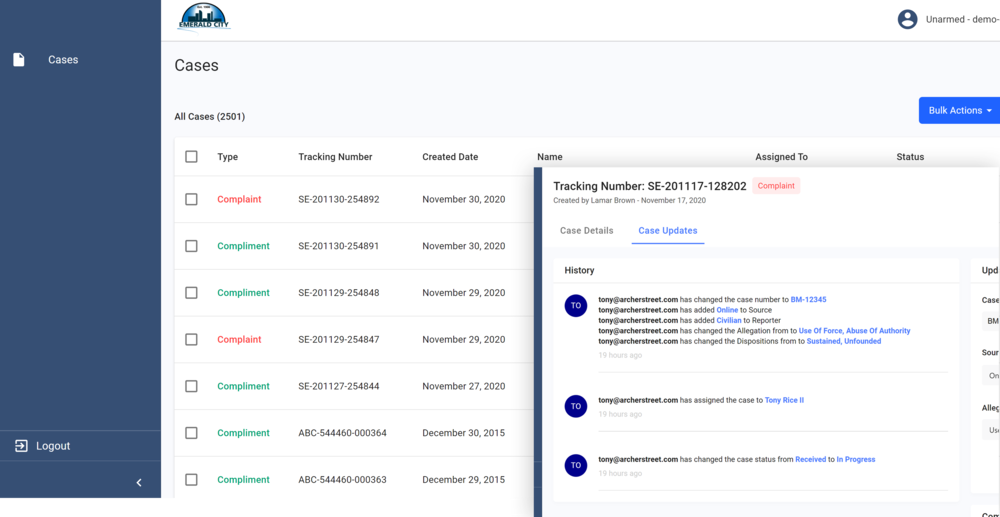 The platform isn't just for citizens; Rice said it can also be useful for police departments because it allows them to log and organize data that they are legally required to report. For instance, in Los Angeles, where Rice is based, police must submit race- and identity-related details of every person that an officer detains or searches — known as "stop" data — to the California attorney general every year. "There's a checklist of different items you need to include," said Rice, "so even including that also makes it more enticing to police departments." Currently, the Callifornia government recommends police use notebooks, mobile data terminals or mobile digital computers for this data collection but doesn't provide any tools.

Rice is "hopeful" that both cities and police departments will show interest in his product. "All I can do is do the outreach, and try to show the problems that exist today and the benefits of being on the platform," he said.
Cameron McEllhiney, director of training and education at the National Association for Civilian Oversight of Law Enforcement, notes a major obstacle to Rice's project: Many cities have limitations regarding the investigation of third-party complaints, an issue that platforms similar to Unarmed have faced in the past. Nevertheless, she adds, "the adoption and implementation of effective, sustainable civilian oversight mechanisms is what we should be striving for."
Glaser sees promise in Unarmed, noting that "anything that standardizes and streamlines these processes will be a step in the right direction." But the real challenge will be ensuring that civilian feedback is registered and meaningfully adjudicated. "It's one thing to collect, categorize and store this information; it's another, and harder, thing to act on it," he said.
Optimistic about the future of Unarmed, Rice is likewise encouraged by the ongoing conversations about diversity in tech, which has led many companies to hire more diverse workers. "There's not a lot of us," he said. "I think it's not only about funding Black founders but Black founders that are making an impact, that can drastically impact people's lives."
From Your Site Articles
Related Articles Around the Web