Image by Ian Hurley
College kids have hatched some of the biggest ideas throughout tech history, sometimes before they even finish school. But students who aren't as lucky as Mark Zuckerberg or Bill Gates usually have to backburner big ideas to focus on earning a degree and getting a job. Only then can they hope that their ideas will someday see the light of day.
California Crescent Fund , a new student-run venture capital firm that exclusively funds student startups based in Southern California, wants to offer young founders the option to turn their ideas into reality while they're still in school.
Based in Costa Mesa, Crescent, which refers to the arc of schools curving south from UC Santa Barbara to UC San Diego, is run primarily by six student or recent graduate co-founders — or "managing partners" — and a network of student "university partners" in engineering-heavy schools including UC Irvine, USC, UCLA, UCSD and the Claremont Colleges.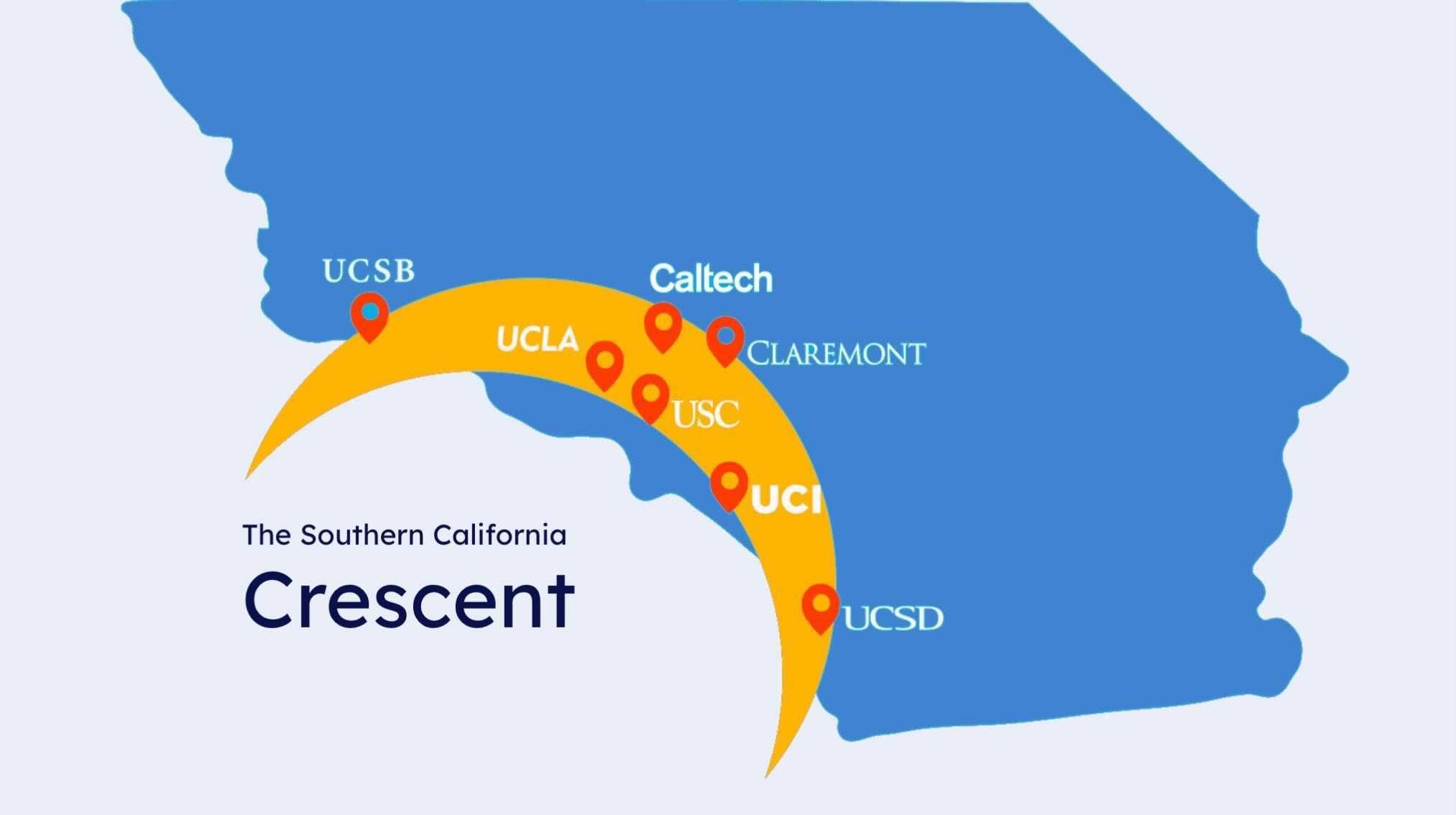 University partners keep an ear to the ground at their respective schools in hopes of finding the most promising startup ideas, which they then pass along to the folks at Crescent. Candidates who are deemed worthy receive a $40,000 check. Since the managing partners began fundraising in December 2020, they've raised $200,000 of soft-circle capital and added one company, Lolly , to their portfolio. Now, they're aiming to raise a total of $1 million in the next six months.

"A lot of these early-stage venture firms are trying to find the best deals" through accelerators, summer programs and scout networks, said Prerit Seth, a co-founder who graduated this year from UCI with a degree in economics and now works as an associate product manager at Citrix. "Having students directly on campus closes that gap." Investors typically spend at most a day or two with startup founders, he points out, but "the student partners on our campuses have known some of their peers for a long time."
Student venture funds are nothing new. The University of Michigan's Wolverine Venture Fund, the country's first student-run VC fund , was founded in 1997. Since then, groups like Contrary Capital , Dorm Room Fund , A-Level Capital and Rough Draft Ventures have sprung up to tap the student creator market. But by and large, said Seth, those funds are focused on Ivy League universities and a handful of Bay Area schools.
All but one of Crescent's co-founders went to Southern California schools, where they observed the wealth of engineering talent —and dearth of startup funding relative to the Bay Area — first-hand. So in the fall of 2019, Keyan Kazemian, a junior majoring in computer engineering at UCI, pitched the idea for Crescent to fellow junior Praneet Sah, who was on the same campus studying computer science and helming the school's Hedge Fund Society. Together they assembled the rest of the team and set out to secure funding from angel investors, institutions and high-net-worth individuals in the region.
"There is not a lot of capital available for the Southern California area," said Sah. "The bridge to that capital is different. We're trying to be that bridge."
Sah said the region's student startup ecosystem is bursting with so many ideas that the fund sees a dozen startups from their target schools every month. "Some with super-interesting ideas, some with straight-up weird ideas," he said.
So far, Crescent has invested in only one company: Lolly , a Gen Z video dating app described as TikTok meets Tinder, which went live in December 2020 and closed a $1.1 million seed round in January with help from the fund's $40,000 investment. A Crescent student partner at the Claremont Colleges named Zach Friedman knew Lolly co-founder Marc Baghadjian and his partners for years and introduced them to the Crescent team in late 2020.
"The thing about the fund that's so amazing is that they know who you are from third grade, because they went to high school, to middle school with you," said Baghadjian. "They know you better than any professional venture capitalist would know. Because they're my demographic and my age, and they get my product, they can give me better feedback than any adult would."
Like Lolly, many of the other consumer startups founded by younger generations are also geared toward youth, like the L.A.-based PearPop , which lets users bid for screen time with their favorite TikTok stars, and Poparazzi , a photo-sharing platform that lets users post photos to their friends' profiles. Funding from a student venture capital fund can help boost the product, and the profile, of youth-led startups, making them more visible to traditional investors. It also allows youth to drive their own tech trends, rather than let older investors dictate them.
According to L.A. Tech Week co-organizer Michelle Fang, student venture capital programs like Crescent are "empowering my generation to accelerate the bubbling tech scene here in Los Angeles beyond traditional means."
"Gen Z is among the first to adopt new products and drive internet trends, from Social Media 3.0 to crypto, and on," she added. Student VCs are "the perfect alignment to empower this same generation to invest in what they know best."
Crescent is currently accepting applications from students online, and though they see a lot of A.I., blockchain and biomedical startups, Seth said the fund is "industry agnostic—we're just trying to understand the trends." And to ensure the fund's perspective on tech remains student-focused, the co-founders, all of whom graduated this year, are preparing to hand over the keys to the fund to the next batch of Southern California students.
Lead art by Ian Hurley.
Editor 's note: This story has been updated to clarify the name of the Claremont Colleges.