usc
usc
The University of Southern California was among a group of universities awarded a $15 million grant from the National Science Foundation to invest in and incubate startups.
The new program is called NSF Innovation Corps Hub: West Region. USC, UCLA and UC Riverside are among the participants, along with Caltech, the University of Colorado Boulder, the Colorado School of Mines, University of New Mexico and the University of Utah. The plan is to add more university affiliates as the program develops.
The colleges will identify potential startups and provide mentoring, campus resources and labs to help standout companies develop. Each university will also monitor work happening in campus labs that might lead to the next big company.
USC Viterbi School of Engineering will lead the program, guided by Dean Yannis Yortsos.
"There is a big diversity of the population in the West," Yortsos told dot.LA, "and so that's something that we also are going to focus on. The idea is to also engage more and more other institutions in this and keep increasing the footprint."
The program will look to invest in scientists, engineers and entrepreneurs who are people of color or "from the many diverse backgrounds of the Western United States."
It won't directly invest in startups. Instead it will look to connect startup companies to potential investors. "We are helping people demystify the process of innovation," Yortsos added.
The USC-led West Coast hub is one of five that the NSF is investing in. Each will receive $3 million every year for five years, contingent on progress milestones, rather than one lump sum upfront.
Yortsos said "the emphasis is on funding deep technology — by this I mean, technology that is not simply creating an app for something, but doing something that has fundamental technological value that can then essentially transform the landscape in different ways, whether this is bioengineering, defense, aerospace [or] artificial intelligence."
Yortsos pointed out that several big technology companies started with support from the government or NSF funds, including Qualcomm, which was created by USC Engineering School namesake Andrew Viterbi.
"Viterbi started with a startup and this startup was funded by National Science Foundation grants," Yortsos said, "then it became what is known as Qualcomm."
"Google, in some sense, came out of intellectual property that was developed by support within Stanford," Yortsos added.
The I-Corps Hub West will also give its startups opportunities to show off their work and court potential investors at technology scouting showcases and by leveraging its existing connections with accelerators and national laboratories. No companies have been selected for this year's class yet; the program begins in January 2022.
The National Science Foundation created the I-Corps in 2011, and a decade later is adding this division to focus specifically on emerging startups in West Coast markets. The NSF reports that since the program's ceration, roughly 1,280 colleges and universities have helped launch over 1,000 startups— and those companies have gone on to raise more than $760 million in funding.

Correction: This story was updated to clarify that USC was not the grant's sole recipient.
College kids have hatched some of the biggest ideas throughout tech history, sometimes before they even finish school. But students who aren't as lucky as Mark Zuckerberg or Bill Gates usually have to backburner big ideas to focus on earning a degree and getting a job. Only then can they hope that their ideas will someday see the light of day.
California Crescent Fund, a new student-run venture capital firm that exclusively funds student startups based in Southern California, wants to offer young founders the option to turn their ideas into reality while they're still in school.
Based in Costa Mesa, Crescent, which refers to the arc of schools curving south from UC Santa Barbara to UC San Diego, is run primarily by six student or recent graduate co-founders — or "managing partners" — and a network of student "university partners" in engineering-heavy schools including UC Irvine, USC, UCLA, UCSD and the Claremont Colleges.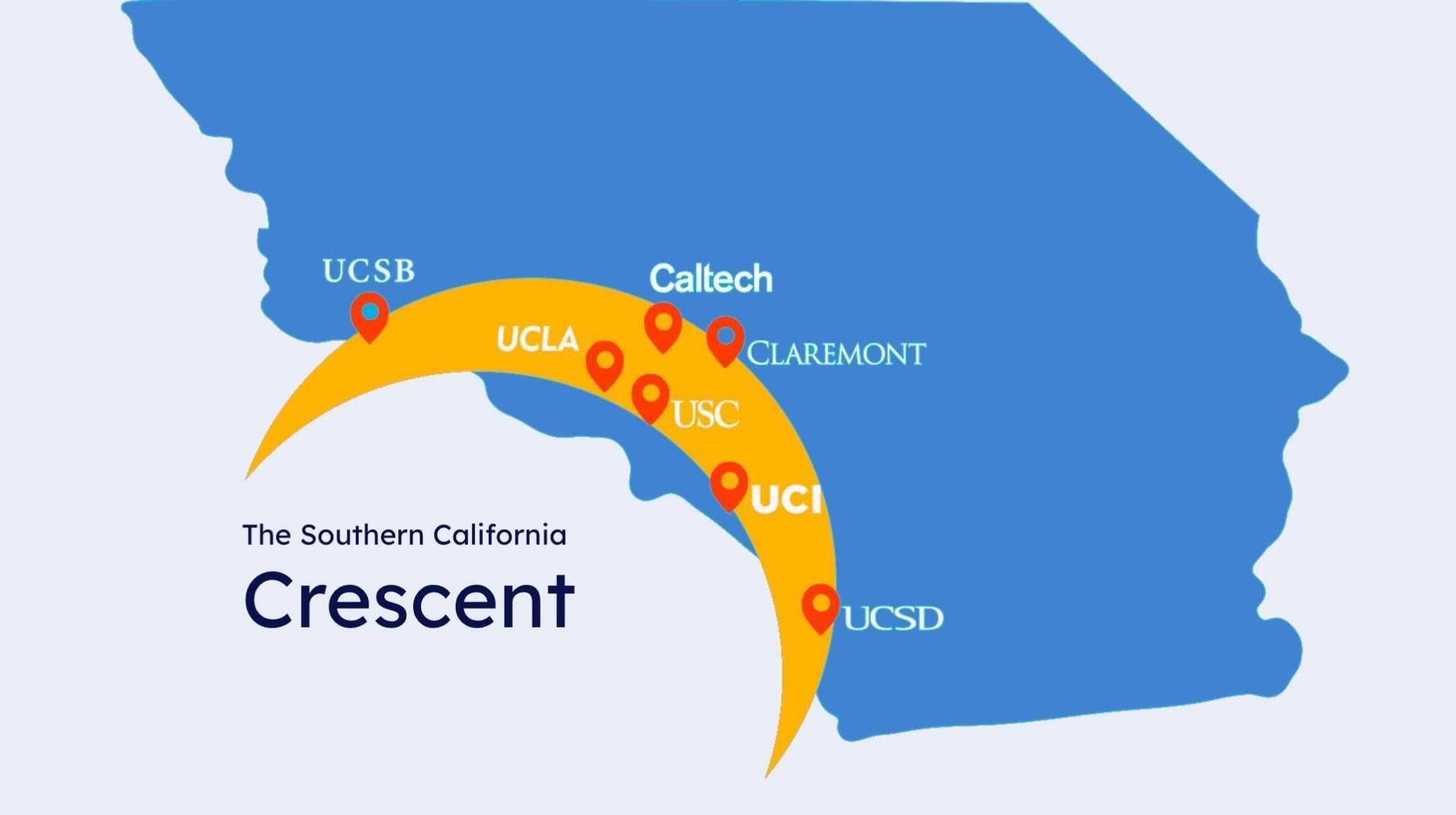 University partners keep an ear to the ground at their respective schools in hopes of finding the most promising startup ideas, which they then pass along to the folks at Crescent. Candidates who are deemed worthy receive a $40,000 check. Since the managing partners began fundraising in December 2020, they've raised $200,000 of soft-circle capital and added one company, Lolly, to their portfolio. Now, they're aiming to raise a total of $1 million in the next six months.

"A lot of these early-stage venture firms are trying to find the best deals" through accelerators, summer programs and scout networks, said Prerit Seth, a co-founder who graduated this year from UCI with a degree in economics and now works as an associate product manager at Citrix. "Having students directly on campus closes that gap." Investors typically spend at most a day or two with startup founders, he points out, but "the student partners on our campuses have known some of their peers for a long time."
Student venture funds are nothing new. The University of Michigan's Wolverine Venture Fund, the country's first student-run VC fund, was founded in 1997. Since then, groups like Contrary Capital, Dorm Room Fund, A-Level Capital and Rough Draft Ventures have sprung up to tap the student creator market. But by and large, said Seth, those funds are focused on Ivy League universities and a handful of Bay Area schools.
All but one of Crescent's co-founders went to Southern California schools, where they observed the wealth of engineering talent —and dearth of startup funding relative to the Bay Area — first-hand. So in the fall of 2019, Keyan Kazemian, a junior majoring in computer engineering at UCI, pitched the idea for Crescent to fellow junior Praneet Sah, who was on the same campus studying computer science and helming the school's Hedge Fund Society. Together they assembled the rest of the team and set out to secure funding from angel investors, institutions and high-net-worth individuals in the region.
"There is not a lot of capital available for the Southern California area," said Sah. "The bridge to that capital is different. We're trying to be that bridge."
Sah said the region's student startup ecosystem is bursting with so many ideas that the fund sees a dozen startups from their target schools every month. "Some with super-interesting ideas, some with straight-up weird ideas," he said.
So far, Crescent has invested in only one company: Lolly, a Gen Z video dating app described as TikTok meets Tinder, which went live in December 2020 and closed a $1.1 million seed round in January with help from the fund's $40,000 investment. A Crescent student partner at the Claremont Colleges named Zach Friedman knew Lolly co-founder Marc Baghadjian and his partners for years and introduced them to the Crescent team in late 2020.
"The thing about the fund that's so amazing is that they know who you are from third grade, because they went to high school, to middle school with you," said Baghadjian. "They know you better than any professional venture capitalist would know. Because they're my demographic and my age, and they get my product, they can give me better feedback than any adult would."
Like Lolly, many of the other consumer startups founded by younger generations are also geared toward youth, like the L.A.-based PearPop, which lets users bid for screen time with their favorite TikTok stars, and Poparazzi, a photo-sharing platform that lets users post photos to their friends' profiles. Funding from a student venture capital fund can help boost the product, and the profile, of youth-led startups, making them more visible to traditional investors. It also allows youth to drive their own tech trends, rather than let older investors dictate them.
According to L.A. Tech Week co-organizer Michelle Fang, student venture capital programs like Crescent are "empowering my generation to accelerate the bubbling tech scene here in Los Angeles beyond traditional means."
"Gen Z is among the first to adopt new products and drive internet trends, from Social Media 3.0 to crypto, and on," she added. Student VCs are "the perfect alignment to empower this same generation to invest in what they know best."
Crescent is currently accepting applications from students online, and though they see a lot of A.I., blockchain and biomedical startups, Seth said the fund is "industry agnostic—we're just trying to understand the trends." And to ensure the fund's perspective on tech remains student-focused, the co-founders, all of whom graduated this year, are preparing to hand over the keys to the fund to the next batch of Southern California students.
Lead art by Ian Hurley.
Editor 's note: This story has been updated to clarify the name of the Claremont Colleges.
From Your Site Articles
Related Articles Around the Web
On this week's episode of the L.A. Venture podcast, meet Scott Lenet, the co-founder and president of Touchdown Ventures — a firm that helps corporations run professional venture capital programs. Before creating Touchdown, Lenet was a managing partner at DFJ Frontier and has two decades of experience as a venture capitalist.
Touchdown Ventures helps corporate funds manage their venture outreach and streamline their investment program. Lenet says Touchdown is working with companies in health care, media, consumer products, agriculture, security enterprise software and has its foot in the door with two different banks.
Despite being a new company, Lenet says every time Touchdown adds an account, they expand their team. He describes the company as a "growing beast" that's "a corporate venture capital and innovation firm first" and a "recruiting and training firm" second. The firm is hiring right now, which is unusual in the venture world.
Education is a very important part of Lenet's work. He wants to upend the "secretive" venture industry by prioritizing training the next generation of venture capitalists and "demystify what this the industry is about." In addition to his work at Touchdown, Lenet teaches the "How to Be a Venture Capitalist" class at USC and "Corporate Innovation" at UCLA for their respective MBA programs.
Lenet is unique among venture capitalists in many ways, but notably in that he believes business needs more regulation. Within his own company, his view is that venture capitalists need to let entrepreneurs manage their businesses, and help their companies thrive from board positions.
"It's my job to keep you safe," He argues. "I think that that should apply to what our entrepreneurs do with their businesses, and our job to protect them as well as their junior people. And this is a business where we're professional fiduciaries for other people's money. Most of the money that VCs invest is not ours, right?"
Tune in to hear more from Scott Lenet on how he runs Touchdown Ventures, tips from his business classes, why he prioritizes training, and how he wants to use venture funds to create positive social impact.
"So I think that probably to me, one of the biggest myths that are still sitting out there is this idea that you have to choose between being strategic and being financial. And I would say it's like a false Sophie's choice. You should not pick one or the other. You should figure out how to maximize both." — Scott Lenet
Scott Lenet is the co-founder and president of Touchdown Ventures.
dot.LA Engagement Intern Colleen Tufts contributed to this post.

Want to hear more of L.A. Venture? Listen on Apple Podcasts, Stitcher, Spotify or wherever you get your podcasts.
From Your Site Articles
Related Articles Around the Web