I Spent a Week Analyzing TikTok's Latest Transparency Feature. Here's What I Learned
Kristin Snyder
Kristin Snyder is dot.LA's 2022/23 Editorial Fellow. She previously interned with Tiger Oak Media and led the arts section for UCLA's Daily Bruin.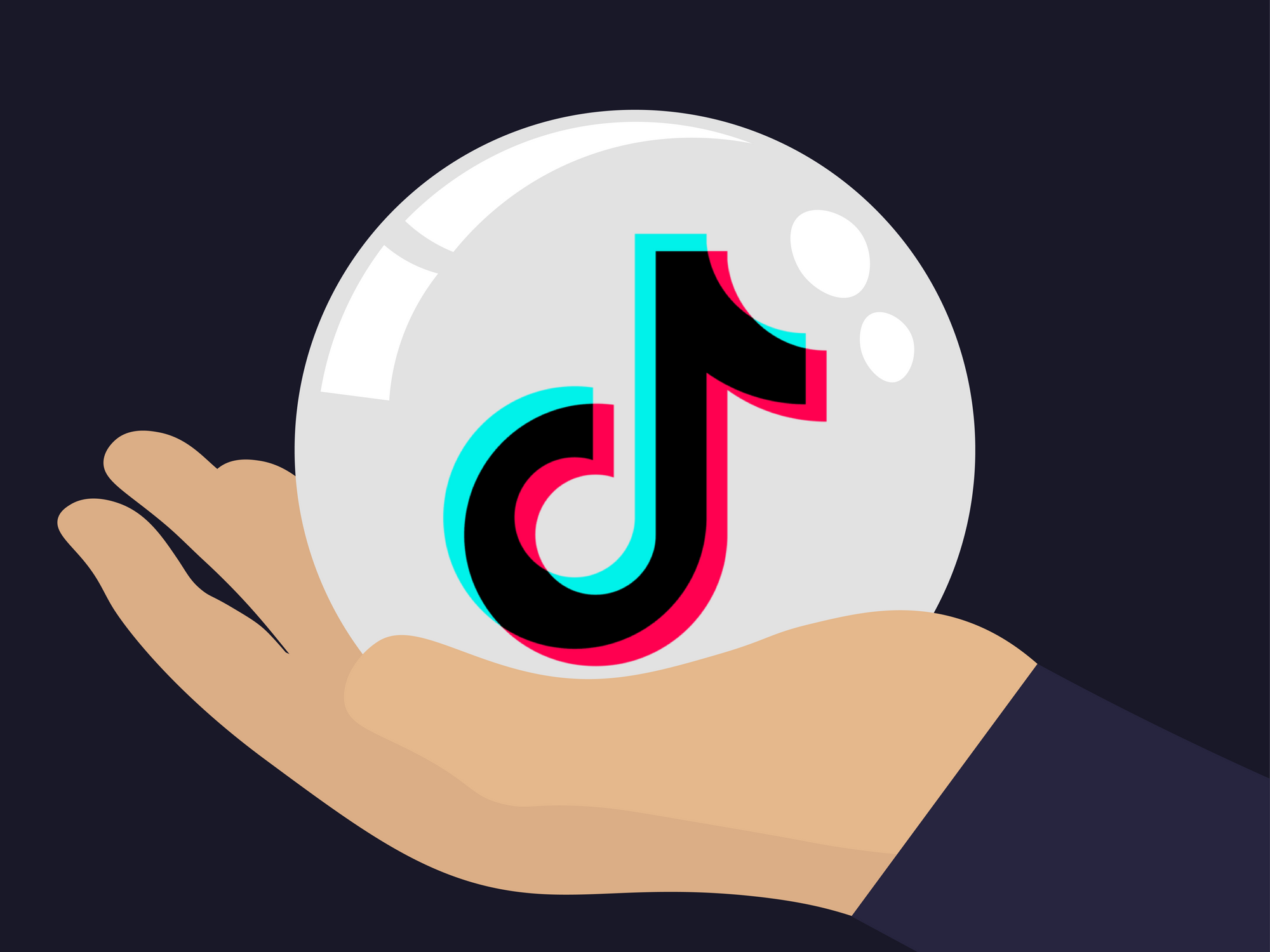 For years, people have questioned why some content is pushed on their TikTok For You Page (FYP). Some have credited the app's mysterious algorithm for predicting their sexuality. Others have gone so far as to suggest that TikTok knew they had IBS before they were even diagnosed by way of finding themselves entrenched in IBS TikTok.

The app's oft-prescient algorithm explains why there was so much fuss at the tail end of 2022, when TikTok announced that it would explain how certain videos populate a user's feed. In other words, everyone, myself included, was eager to get a look inside the proverbial black box that is TikTok's algorithm.
---
The timing of the announcement was also interesting. By offering users a look behind the curtain, it was clear TikTok was attempting to quell some of the chatter around its current legal predicament that's focused on how the company collects user data.
The feature itself, which is meant to provide an explanation for a user's FYP, is found in the"why this video" icon. To access the feature, users click the "share button" on the right side of a video. Once there, curious users can see a bullet point list of reasons why a video showed up in their personalized feed.
Knowing I would be wasting many hours between Christmas and New Years on TikTok, I wanted to find out just how effective TikTok's new feature would be. So I spent the past week and a half trying to make sense of the content that TikTok thinks I'm interested in based on its own reasoning.
What works about the "why this video" feature
One of the first videos I saw that offered the "why this video" prompt (not all videos do despite the announcement giving the impression that it would include every video) was a recipe for Christmas sangria—fitting for the time period and a video made within the last two weeks. But the reasoning TikTok provided was limited to "you shared similar videos" and "this video is popular in your country."
I DM my friends recipes I come across on my FYP, so that could be the primary similarity that the algorithm is noting. But maybe the similarity is videos using the song "It's Begining to Look A Lot Like Christmas," since the festive song was trending on the app. Or maybe the similarity is that the video has over 12,000 likes, and I've shared comparably popular videos.
Other videos, such as a creator predicting what popular influencers will name their babies, prompted similar speculation. Some videos offered the full extent of what TikTok is willing to explain, which is based on interactions, following and physical location. This video of someone visiting a historic cemetery was included because I had shared similar videos, I follow the creator and I typically opt to watch more long videos. Why the algorithm chose that video from that creator instead of another he posted around the same time with roughly the same number of views, however, is unclear.
Reviews of popular movies and books I had watched and read recently also popped up. Any additional reasoning beyond TikTok's lackluster answers, which are mostly limited to having shared related content and enjoying long videos, is up to my own theorizing: I shared a review of "Babylon" with the person I saw the movie with, so it makes sense for the algorithm to push another review of that movie. But this level of analysis comes from my own understanding of the platform, not from TikTok itself.
TikTok seems to limit the reasons to short, repetitive phrases as a way to try and make the technology that drives its algorithm "more easily understandable." But these bare-bones explanations leave me with more questions than answers.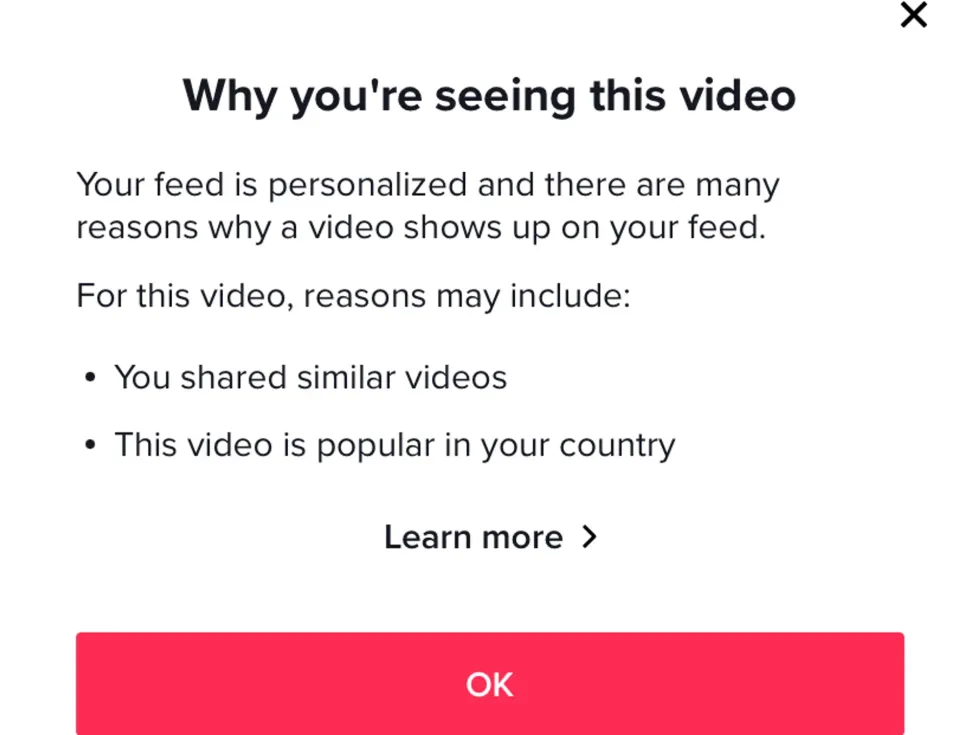 What doesn't work about the "why this video" feature
When a truly baffling video entered my FYP, that was when I was most interested in TikTok's reasoning. Take this video about a tubesnout flounder shared by the Washington State Department of Natural Resources. I was curious as to why the algorithm thought I would care about this random fish, but the video didn't have the "why this video" prompt.
Looking at the tags doesn't tell me anything. I don't live in Washington and I don't recall interacting with any fish-related hashtags in recent weeks. I had similar questions about Minecraft videos, dirt bike content and "Dungeons & Dragons" explainers that infiltrated my FYP.
To that end, I even continue to be served plenty of content that contradicts what the FYP is telling me that I enjoy. For example, if the algorithm suspects I like longer videos, then one would assume I would see hardly any short videos on my FYP. But there are plenty of videos that are under one minute long—even that is an assumption on my part of what TikTok considers a "short" video—that don't offer the option to read the explanation. The same could be said about the videos in languages I don't speak or from other countries that still find themselves in my feed.
More unanswered questions
As part of the "why this video" prompt, there is an additional option to "learn more" following the app's paltry reasoning. The link always goes to this article written in June of 2020, which expands on what the initial explainer already told me: TikTok claims to push videos related to those you have liked or shared, feature similar captions or tags, and match a user's language preference.
That is to say, this is interesting information. But it's not anything new, and it hardly qualifies as the "meaningful transparency" that TikTok is promising. Referring back to information that is two years old doesn't feel like a step toward a new, more forthright TikTok.
In fact, the ostensible transparency feature left me with more questions than answers. My once mindless scrolling is now causing me to stop and think about why, exactly, each video is on my screen. For example, now I'm always wondering what level of interaction—likes, comments or sharing—matters the most for new recommendations. Does liking one video with a trending song doom me to watch unrelated content that also features that song? How does the FYP balance videos from people I follow versus creators I've never seen?
Maybe expecting TikTok to provide that level of information is an exercise in futility. After all, the platform hosts over one billion users, and providing specific details on every single video on every single person's FYP would be an enormous feat. Still, it feels like an empty gesture toward the idea of transparency instead of the candid information TikTok promised to provide.
Kristin Snyder
Kristin Snyder is dot.LA's 2022/23 Editorial Fellow. She previously interned with Tiger Oak Media and led the arts section for UCLA's Daily Bruin.
https://twitter.com/ksnyder_db