delivery apps
Labor advocates got a major win last month when a California Superior Court judge ruled Proposition 22—the controversial ballot initiative that allowed ride share companies to keep classifying drivers as independent contractors rather than employees—was in fact unconstitutional.
Prop 22 was passed in November of 2020 in response to California Assembly Bill 5, which gave gig workers wage and benefit protections. Ride-share companies like Uber, Lyft, and DoorDash built their business model on gig workers. And they spent hundreds of millions of dollars to defend it, lobbying in support of Prop 22 and making it the most expensive ballot measure in California's history.
The Service Employees International Union sued the state in January to overturn the proposition, and on Aug. 20, an Alameda County Superior Court Judge Frank Roesche found Prop 22 violated the state's constitution, rendering it unenforceable. Uber and other ride-share companies have already announced their intent to appeal the ruling, and the case is expected to make its way up to the California Supreme Court.
dot.LA spoke with Catherine Fisk, Berkeley Law professor who wrote an amicus brief in favor of the drivers, about what the ruling means for the future of Prop 22, ride-share companies, drivers and the gig economy at large.
This interview has been condensed for brevity and clarity.
The Superior Court found that two sections of Prop 22 were unconstitutional, both of which you outlined in the amicus brief you and others wrote in favor of the drivers. Which parts of the proposition violated the state constitution?
One argument was that Prop 22 unconstitutionally limits the power of the legislature to provide for a complete and adequate system of workers' compensation. Workers' comp is a program that now every state has that provides a system of no-fault compensation for workers who are injured or become ill in the course of their employment. So legislatures everywhere created systems of workers compensation. Business groups, at that time, didn't want to pay the cost of compensating workers for their injuries and challenged these workers' comp systems often in court, and in many cases found judges to invalidate the workers' comp programs in whole or in part. So in California, the people amended the constitution to require that the legislature have plenary—that is complete power—to provide for a system of workers' compensation. This all happened over a century ago. So in the case of Prop 22, the court found that by carving out app-based drivers from the protections of workers' comp, it unconstitutionally limited the power of the legislature to provide for a complete and adequate system of workers' comp. Essentially, the transportation companies were trying to redo what businesses had done a century ago to eliminate workers' comp for some or all employees. And the court said no, because the California Constitution had been amended in 1918, specifically to prevent that kind of move by business.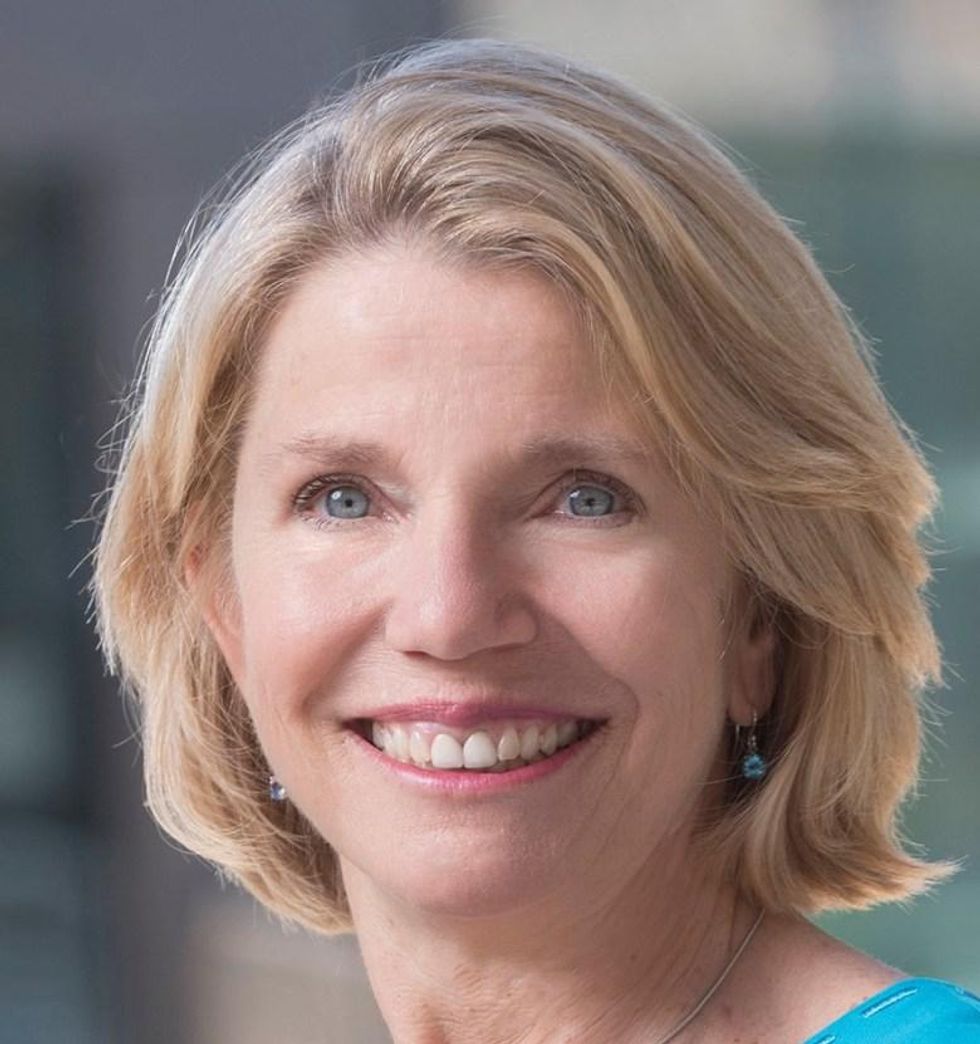 Berkeley Law professor Catherine Fisk
A second argument was that Prop 22 violates another provision of the California Constitution, which requires that any ballot initiative, like any other piece of legislation, must address only a single subject. The purpose of the single subject rule is to prevent voters from being confused or misled about what a ballot initiative would do. In the case of Prop 22, the particular confusion that the court focused on was that Prop 22 prohibits the legislature from enacting a law that would authorize drivers to negotiate collectively through a representative. This provision of Prop 22, which was buried in the fine print, was not described in the advertising in favor of the proposition. It wasn't even described in the voter information pamphlet, or the summary that appeared on the ballot.
Right, I don't remember hearing about that part of Prop 22 at all in 2020.

You had to read every single word of Prop 22. But even if you had read every single word, you wouldn't have understood what this provision would do. Because in order to understand it, you have to understand federal labor law, federal antitrust law, and their relationship to each other. Here's why. The real significance of that provision was that if the workers unionized it would enable the companies to sue the worker union for being in violation of federal antitrust law. There are 50 lawyers in the country who know enough about antitrust law, and enough about labor law to understand that that's what was going on.
So because this was hidden in the fine print and not described anywhere and had nothing to do with what the what Prop 22 said it was about—which was eliminating minimum standards for drivers—this, the court said violated the single subject rule, because it would confuse voters, you could read all the materials and still not understand what you were voting on. So that was another argument that the court found for why Prop 22 was unconstitutional.
Assuming this goes all the way to the state Supreme Court, the Superior Court decision is upheld, what might that mean for the ride-share companies and drivers?
It means Prop 22 will not be in effect, which means that the legislation that Prop 22 was designed to overrule [AB5] will go into effect, which means that drivers of transportation network companies will be entitled to be paid the minimum wage; they will be entitled to be paid overtime if they work more than 40 hours a week; they'll be entitled to protection against discrimination on the basis of race, religion, gender, etc; they'll be entitled to workers compensation benefits if they're injured. It will improve minimum standards for drivers.
And if the decision is ultimately overturned by the state supreme court, what legal options remain, if any, to get those protections for gig workers?
None. Well, to be clear, Prop 22 did say that the legislature could amend it by a seven-eighths vote. In other words, seven-eighths of the entire legislature would have to vote to change any provision of Prop 22. Why seven-eights? Because the proponents of the Prop 22 know that Democrats have a two-thirds majority of the legislature, and so they wanted to make the majority so great that the legislature could not amend it. Federal law can preempt state law or it can supersede state law. So Congress could provide that drivers are entitled to the minimum wage. Congress could provide that they're entitled to unemployment benefits, if they are laid off. Congress could create a compensation system for injured drivers. But it would have to go through Congress. And it's very hard to get anything through Congress.
Right, so high stakes.
Very high stakes.
What are the implications of this ruling then for the gig economy at large?
The gig economy, so called, especially for low-skill work like driving has been based on a low-wage model. Drivers get paid very little. Many are making way less than the minimum wage. They have no protection if they're injured in the scope of employment. And there's no reason that driving for a living has to be a low-wage job. In the 1950s, when truck driving was unionized, driving was a middle-class job.
So really what this fight is about is how to divide the profits of the app-based driving model. Should more of the money that's being made in this work, go to the workers? Or should more go to the investors? I've received a dozen phone calls or emails since the decision came down by people saying they represent investors in this industry who want to talk to me about what it means—I decline all those calls, by the way—because investors are making a bunch of money in this sector, and they want to know whether they're going to keep making a bunch of money, or whether it's going to be less profitable for investors, and more profitable for workers. That's what's at stake here.
Is there a model that could work?
When taxi cabs came into existence, everybody thought, "Oh, that's genius. Imagine being able to stand on the sidewalk and wave my arm at a yellow car, and have it stop for me and take me where I want to go." The real question is, are we going to regulate this innovative business to ensure that drivers are paid decently and have protection in the case of injury. We figured out how to have taxis and regulate them to protect both drivers and the public; cities all had taxi cab commissions that did exactly that, and they regulated fares. We could have the same model for app-based driving. The real question is, are we going to regulate this innovative business to ensure that drivers are paid decently and have protection in the case of injury. It will probably be more expensive. But when everybody said, "Wow, Uber is half the cost of a taxi," nobody thought, "and why is that?"
The thing about an Uber is that companies figured out that you could have a giant fleet of drivers on the road at all times, with zero fixed cost to the company. The drivers pay for the car; the driver pays their own time; the driver pays gas; the driver pays insurance; the drivers pay if they become injured; and the city picks up the cost of the road maintenance. So the company shifted all the risk and all the fixed costs of the business to the labor force, which was genius from the investing standpoint, but terrible for drivers.
As Amazon Fresh and Instacart race to deliver groceries to your front door, a new kind of shopping experience has quietly joined the market.
Enter Robomart's small fleet of Mercedes vans stocked like convenience stores and guaranteed to show up at your house in under 10 minutes.
In West Hollywood, residents who run out of toilet paper or laundry detergent can pay $2 to hail the miniature stores straight to their home addresses. The pharmacy van's sliding doors open to reveal rows of paper products and over the counter medicine. There's also a snack car stocked with cold soda and candy.
"Who's our target demographic?" said Ali Ahmed, founder and CEO of Robomart. "It's pretty much everyone."
The Santa Monica-based company pitches the car as a robot, but that might depend on how you define "automated." Vans are navigated by drivers who are trained to keep the tinted windows rolled up and wait quietly for customers to browse products.
For contactless checkout, the company relies on radio-frequency identification, or RFID, which uses small sensors that pick up movement from little white tabs taped to each item.
After a shift, drivers bring the vans back to an operating zone where REEF, the company known for managing ghost kitchens, replenishes products and counts inventory.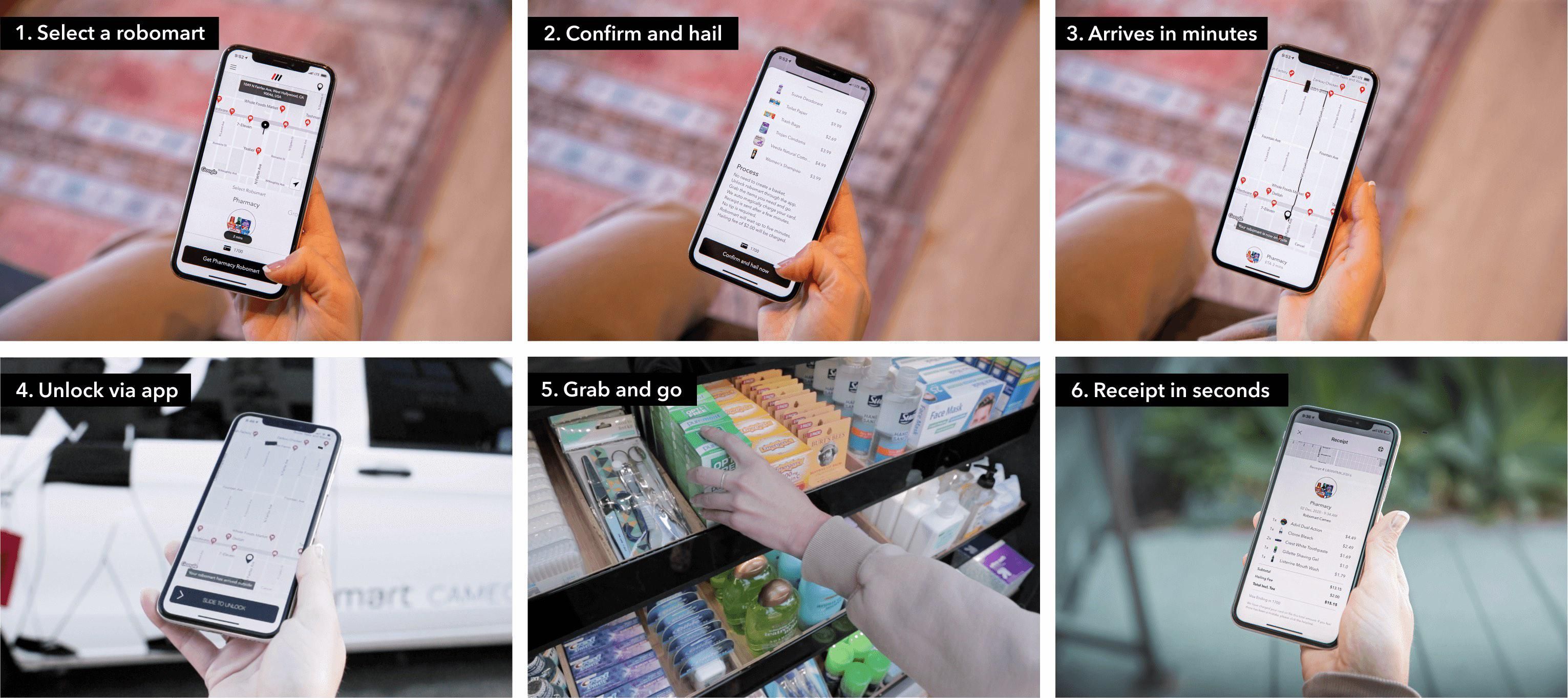 I tried the service out. After hailing the van and waiting a little over eight minutes, my pharmacy Robomart pulled up and I started shopping. The shelves displayed a standard selection of toiletries and medicine cabinet items you might find at a gas station convenience store.
Prices were lower than I expected (the same tube of Colgate toothpaste from the nearest CVS cost $1 more) but variety was limited. And there are still glitches.
The van doors slid shut once I ended my transaction on the app. I idled outside the car for a few extra minutes talking to the Robomart driver when an email arrived listing my purchases, minus a bottle of conditioner I picked up.
Ahmed promptly sent a note to inform me the mistake was a "human error" that he suggested was caused by the Robomart driver. He said my chat threw off the sensors that are supposed to track what customers take. To work properly it requires the driver to leave immediately after the purchase.
He said to fix the problem, he plans on installing a two-way speaker system for customers to chat with the driver or a customer support agent.

Already, there's a small video camera inside each van "as a backup check." Where exactly they're planted and what is done with that footage is unclear.
The van is still somewhat of a beta version and far from what Ahmed first envisioned. His prototype in 2018 was completely self-driving, a dream he's had to put on ice for now as have other delivery and ride hailing services.
Ahmed declined to say how much capital he's raised but said the company is backed by Wasabi Ventures, SOSV, The Automation Fund, Hustle Fund, Archetype Ventures, Hardware Accelerator and W Ventures.
The CEO is eying groceries, deli food and pantry essentials next.
"The alternative, I feel, is actually driving to the store," he said. "We save that entire headache."
From Your Site Articles
Related Articles Around the Web
El Pollo Loco says it will become the first national restaurant company to experiment with door-to-backyard drone delivery.
On June 24, the Costa Mesa-based restaurant chain, known for its fire-roasted chicken, will test "Air Loco," its drone delivery from restaurant kitchens to customers' backyards.
As more and more people ordered delivery during the pandemic, restaurants are looking for alternative cheaper and more efficient ways to bring food to customers' homes. In 2016, Amazon was one of the first companies to discuss using autonomous aerial vehicles to deliver packages to customers' doorsteps in 30 minutes or less. But Amazon Prime Air has yet to get off the ground and into widespread use.
With the Federal Aviation Administration recently approving rules for delivery services to people's homes, it is expected more and more drones will be taking to the skies to make restaurant and other types of deliveries.
For El Pollo Loco, delivery service became a larger part of its business during the pandemic, growing by 250% over the last year, and the drone service is a way to avoid service fees from traditional delivery services like Grubhub, Uber Eats, DoorDash and others that charge up to 30% in transaction fees. It also is a way to make more deliveries more quickly and is expected to be more cost effective and convenient for customers.
"We wanted to lead the way and be the first to deliver a memorable experience to our customers in a cost efficient, fun, and reliable fashion in a way no restaurant brand had previously attempted," Andy Rebhun, El Pollo Loco's Vice President and Digital Officer said in an email.
Other restaurants have tested drone delivery to designated pickup sites, like parking lots, wherein a delivery vehicle will pick up the order from the drop-off site and deliver it to the customer's home for the last leg of the trip. Rebhun said El Pollo Loco wanted to take the step of delivering the items directly to the customer's backyard or front door.
He doesn't think drone delivery for the restaurant industry will be a passing fad.
"I believe drone delivery is one of the more sustainable and cost-effective mechanisms for food delivery in the future," he said. "I believe there will be a bifurcated delivery model in the future where businesses will choose to operate in the most efficient and margin positive mechanism."
El Pollo Loco is launching the pilot with Tel Aviv-based drone startup Flytrex, which manufactures and operates automated drones that travel at 32 miles per hour and use a wire release mechanism to gently lower food orders from 80 feet.
The drone for the service is also outfitted with a fastened delivery box that keeps orders intact, which means customers will receive their orders packed in El Pollo Loco's new special packaging — used to keep food hotter for longer — more quickly than it takes for a conventional delivery to arrive.
When the order leaves the restaurant, the food will be loaded on the Air Loco drone and once it takes off, it will ascend to about 200 feet and start the flight to the destination, Rebhun said. The drone can carry up to 6.6 pounds of food. Once the food is lowered from the 80-foot wire, the tamper-proof sealed delivery bag will detach from the crane and the customer can retrieve their food.
El Pollo Loco will begin its pilot at 10 restaurants, which will be selected within the next 45 to 60 days, the company said. Once the test is completed, it plans to expand to more of its 480 restaurants depending on demand and regulatory approval from the FAA. During the pilot, a select number of El Pollo Loco's Loco Rewards members in Southern California will be surprised with one of the first flights, the company said.
It doesn't appear as though delivery orders will slow down for restaurants.
Analysts predict that online ordering will grow this year even as restaurants open back up to traditional full-capacity dining service. The global online food delivery market is expected to grow from $115.07 billion in 2020 to $126.91 billion in 2021.
The growth rate for online food ordering and restaurant delivery has been 20% in the last five years and is expected to comprise about 40% of all restaurant sales by 2025.
Flytrex launched a pilot program with Walmart in Fayetteville, North Carolina to deliver select grocery and household essential items. It also delivers Starbucks beverages and pastries.
Earlier this year, Pizza Hut Israel said it would deploy drones to deliver pizzas. But rather than delivering directly to customers' homes, the company said the drones would drop-off the orders at a government-approved landing zone, like a parking lot, and from there a driver would make the final leg of the delivery.
In 2019, Uber Eats started testing drone delivery for McDonald's in San Diego.