delivery
delivery
Santa Monica-based wineseller Winc has postponed its expected debut on the New York Stock Exchange.
The IPO was anticipated for this week, valuing the company at around $263 million. Instead, it has been pushed to a later, unknown date, a NYSE spokesperson confirmed in a call with dot.LA. As of Friday afternoon, Winc's expected stock symbol — "WBEV" — was still reserved in the exchange's system, the spokesperson said. Winc did not respond to a request for comment.
Winc offers a wine subscription service tailored to shoppers' palettes. Through collaborations with vineyards and other brands, the company said it aims to churn out as many as 10 new wine brands a year, according to an SEC filing released last week.
Winc aimed to sell five million shares at a price between $14 and $16 that would have netted about $80 million. It also offered its underwriters additional shares worth about $12 million.
As the pandemic shuttered storefronts, Winc saw the upside of an online sales boom. Between subscriptions and deals with wholesalers, the firm says it sold more than 430,000 cases of wine in 2020, up 80% from the prior year.
But while that global catastrophe seems to have helped Winc, another crisis poses a threat to both the firm and the wider wine business.
From Your Site Articles
Related Articles Around the Web
Appetize, a Playa Vista mobile ordering service that delivers food at Dodger games and other large venues , just got gobbled up for $415 million by payment and software service SpotOn.
The acquisition was part of the San Francisco-based SpotOn's $300 million Series E funding round led by Andreessen Horowitz that values the company at $3.15 billion.
Adding Appetize will help SpotOn, which is focused on providing software and management tools to small and medium-size restaurants and retailers, further expand its reach.
Appetize is already being serviced in 65% of sports and entertainment venues like L.A.'s Dodger Stadium and Honda Center in Anaheim, home to the Anaheim Ducks. Their platform includes point of sale devices, self-service kiosks, handheld devices, online ordering, that offer tap or scan payment options, including Apple Pay, Google Pay which allows fans to order from the comfort of their seat.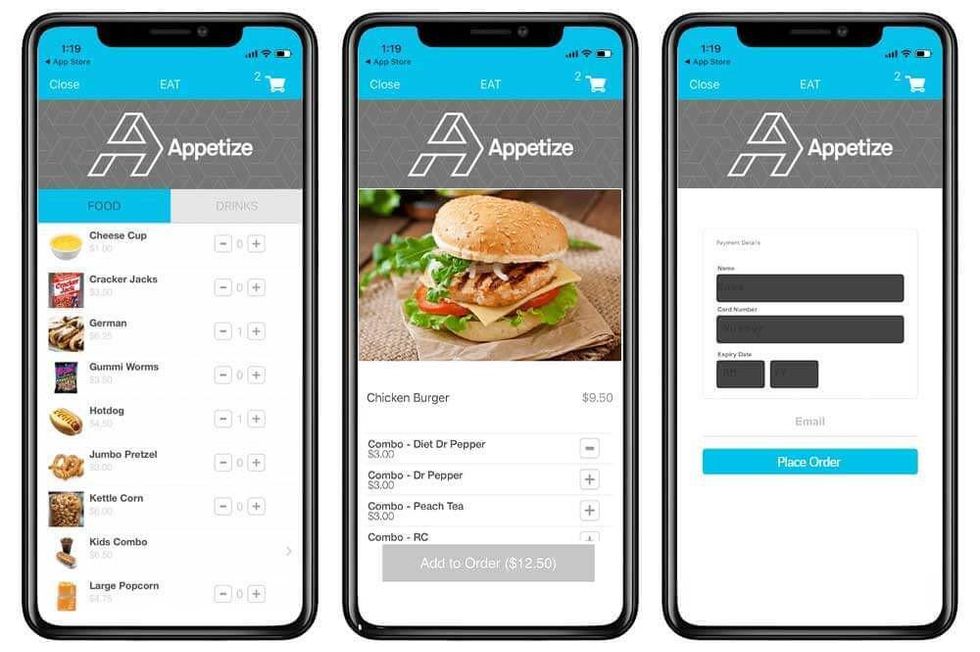 Max Roper, CEO of Appetize will continue running the business, but will take on the role of president of SpotOn Enterprise. "We are super excited about being able to service the end to end market from the coffee shop all the way up to the super bowl stadium level," Roper stated.
The combined companies will have over 1,600 employees, 350 from Appetize and 1,300 from SpotOn and is expected to grow with this acquisition.
Appetize will retain their offices in Los Angeles and employees will continue their roles under the SpotOn Enterprise.
All transactions at each venue are still handled by SpotOn Enterprise, which includes point of sale, kiosk, mobile ordering, and inventory.
"For us, the goal is to provide the best product to the clients we service today and to future clients we will have in the future. The unique thing is being able to service top to bottom and the middle market, no one is able to service that 10-100 store chain," Roper stated.
From Your Site Articles
Related Articles Around the Web
San Fernando Valley residents can now get medications delivered to their door hours after getting a prescription.

California-based pharmacy startup NowRx announced it opened a new fulfillment center in Van Nuys to offer those in the area free, same-day delivery on prescriptions. The service uses robots and AI to fill prescriptions and commercial fulfillment space instead of retail space.
It follows a pandemic-fueled trend of home deliveries. Instacart, after struggling to turn a profit in 2019, did so for the first time during the pandemic. Amazon Pharmacy pushed into the drug-delivery space in November, two years after acquiring PillPack, and pharmacy delivery startup Medly Pharmacy raised $120 million during the pandemic, according to Pitchbook.
But the need for efficiencies in pharmacy came long before the pandemic — robotic pill-packers, home delivery, and e-prescribing have helped pharmacies keep costs down and provide faster service to more people. Most pharmacies often provide prescriptions at razor-thin margins (which is why independent pharmacies struggle and Walgreens counts on purchases of grocery items to offset the cost).
There are some benefits to this on the patient side as well. Most people live within five miles of a pharmacy, but the lack of access to public transportation or time to stand in line means some people delay getting their prescriptions, or forgo it altogether.
"A lot of people in our communities, they end up not getting their prescription in a timely manner," said NowRx CEO Cary Breese. "And that can lead to avoidable hospitalizations and other things."
The tech-enabled company can fill bottles within 30 seconds, and drivers can deliver prescriptions in a matter of two to three hours in some cities, including Los Angeles, Calabasas and Studio City.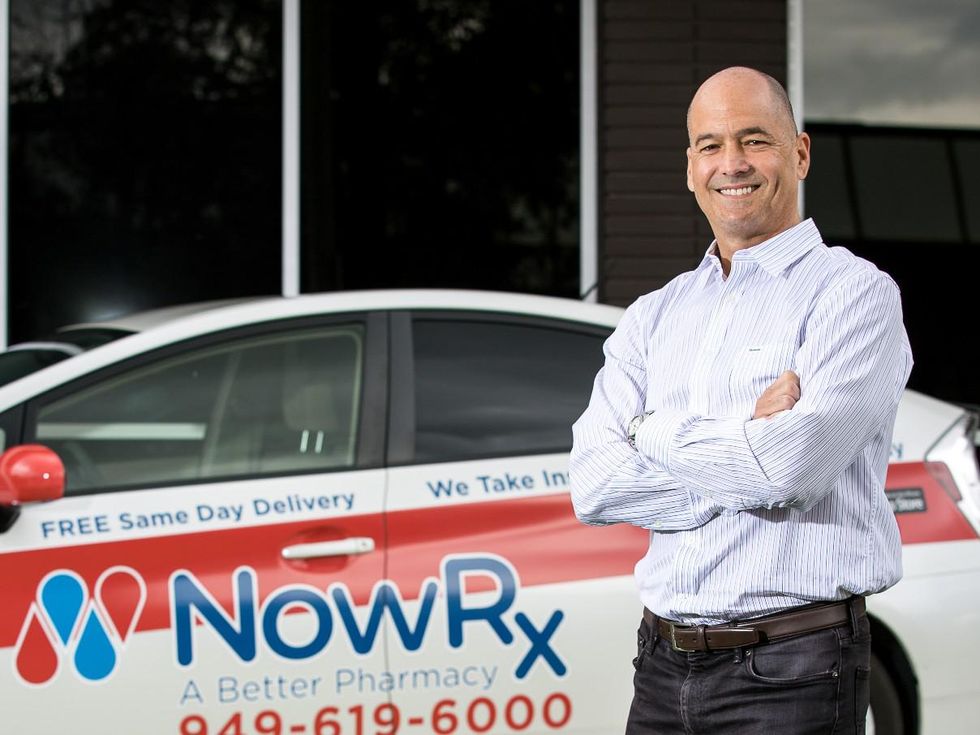 NowRx CEO Cary Breese
But the process has some wondering if pharmacists' expertise is getting left behind — and, with it, patient safety — as they're now able to get medications with little or no interaction with medical experts.

"If pharmacy is just delivering a product, then boy, Amazon should take over," joked Steve Chen, associate dean of clinical affairs at the USC school of pharmacy.
But while some may think pharmacies are glorified fulfillment centers, the process of becoming a pharmacist is a long, arduous road that requires an undergraduate degree, and then four more years of graduate study to complete a doctorate in pharmacy.
It's not for nothing. Around 8,000 people die from medication errors every year, and caring for patients who deal with medication-related complications cost the health care system $40 billion annually, according to a February 2021 study in the academic research journal StatPearls. Many of those issues stem from bad handwriting, or unclear communication around how to take those drugs.
"Medication errors may be due to human errors, but it often results from a flawed system with inadequate backup to detect mistakes," researchers wrote.
Breese argues pharmacists at NowRx have more time to consult with patients since they aren't bogged down with the volume of fulfillment work.
"We feel like that, in the old traditional pharmacy model, that they actually are limited in how much time they can spend with patients."
NowRx allows people to contact their pharmacists through an app if they need consultation on drug doses or when to take their medication, and the company will soon be allowing in-app video calls. It's part of their larger venture into telehealth.
As startups like NowRx add digital marketplaces to their slew of services, Chen says innovation in the pharmacy industry should prioritize medication management services, such as identifying drug dosing issues or potential drug addictions.
"At the end of the day you can skip on drugs, you can try to limit the amount or the cost of drugs for the patients you're caring for," Chen said. "But if they're not getting the right medications for their disease states, and they're at risk for heart attacks, strokes, all these negative outcomes from uncontrolled chronic disease, that cost the health system a heck of a lot more money than the medications."
From Your Site Articles
Related Articles Around the Web